The Vortex, May 9-15 – The Architecture Behind Australia's Greatest Olympic In The Pool Explained In AWS Video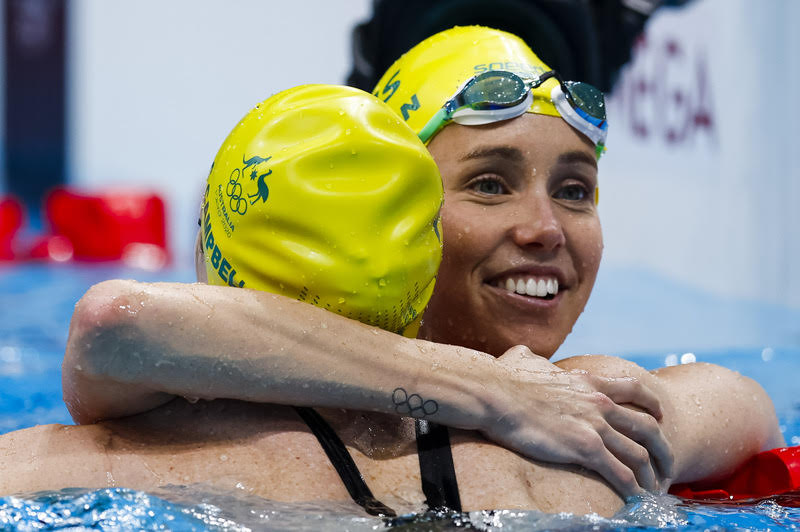 The Vortex is our weekly day-by-day digest of swimnews, views, top picks and links to the best coverage of world swimming and related issues in the Olympic world. Craig Lord is currently on writing retreat and taking a break from usual coverage of the sport but will continue the SOS weekly Vortex round-up
Sunday May 15
Having won 9 gold, 3 silver, and 8 bronze medals along with setting a new world record in the woman's 4×100 freestyle relay in Tokyo 2021, the Australian Olympic Swim team delivered their most successful Olympic games ever.
Gerardo Estaba, in a special episode (video below) of This is My Architecture explores how Swimming Australia use machine learning in the AWS cloud to assist swimming coaches with their relay order decisions. Worth a watch:
And, related and well worth a read:
Saturday May 14
The World Swimming Coaches Association (WSCA) position paper on transgender inclusion in swimming has attracted praise and widespread interest in the swimming community and on social media platforms. This comment sums up the feelings of many who engaged with WSCA's news from Friday:
Well worth a read this weekend: it's a position supported by vast swathes of the elite sports world and far beyond among groups campaigning for women's sport and women's rights in general. Bottom line: Sex Matters; Fair Play Is Essential:
World Coaches – WSCA – Urge FINA To Back Model Of Trans Inclusion That Protects Women Through Birth-Sex Catgorisation
Sweetenham Highlights A Barrier To Abuse Reporting
Bill Sweetenham, the Australian performance-sport mentor to athletes and coaches, has highlighted the importance of creating a safe environment for victims of abuse to come forward and identify those alleged to have abused them by conforming that the coach community and others in swimming knew of rumours and suspicions surrounding John Wright.
In his native Australia, Wright has been charged with more than 20 counts of abusing boys working in swimming programs he led at home in the 1980s and 1990s and faces allegations in South Africa currently being investigated by police there.
Last week, the Mail on Sunday (MoS) revealed that former swimmers at Kingston S.C. in London, England, where Wright was based for around eight years from the late 1990s, have formed a reach-out group in an effort to support any who might have been harmed by Wright.
None have come forward to report sexual abuse but the MoS understands that swimmers have raised concerns about bullying and harassment.
Since that report, the MoS contacted Sweetenham to ask what might have been known at the time Wright is alleged to have been abusing young boys and what might have been done about it.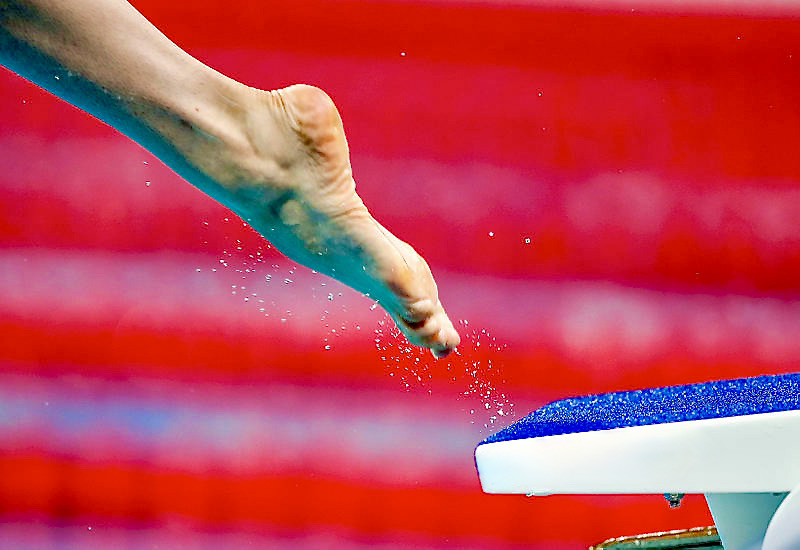 The MoS, assisted by SOS, reports: 'There were always rumours about [Wright] in Australia during his time there, but no proof,' said Sweetenham, who enjoyed a hugely successful reign with the British team between 2000 and 2007. 'Apart from being an accomplished coach, he hid in the shadows with his personal life.'
Sweetenham had approached Ken Wood, the late Australian Olympic coach and a friend of Wright's, with concerns. 'I often asked Ken about the rumours many years ago,' he said. 'Once again, it was a case of many rumours but no proof.'
Sweetenham said Wright's marriage to the mother of a swimmer allayed the suspicions. 'This delivered a temporary cessation of these rumours,' he said. 'Not one person came forward with an official complaint. All smoke and mirrors. Coaches gave him the benefit of doubt.'
Governing bodies can do better when it comes to creating the environment in which abuse victims feel able to come forward and report, say experts. The MoS notes:
'A sport governing body cannot deny responsibility by saying they did not receive a complaint,' Payoshni Mitra, chief executive of the Global Observatory for Gender Equality & Sport, said.
'Often governing bodies prioritise the reputation of the organisation over their duty towards an athlete who has been victimised. Turning a blind eye is not an answer.'
Dr Daniel Rhind, an academic at Loughborough University who has researched topics related to safeguarding in sport, said: 'It has been illustrated by high-profile cases that others can come forward following such disclosures.'
Swim England said in a statement they 'encourage any individual who has concerns relating to this or any other safeguarding matter to contact us'.
The paper also reveals that Charleen Wittstock, later Princess Charleen of Monaco, moved to London for a while in 2001 in order to train with Wright at Kingston while preparing for International events due to take place in Europe. There is no suggestion that Wright abused Wittstock.
Friday May 13
France's Latest Lucas Charge Sacha Velly, 17, Next 'VellyVellyFast' Marathon Man With Sights Set On Olympic Prize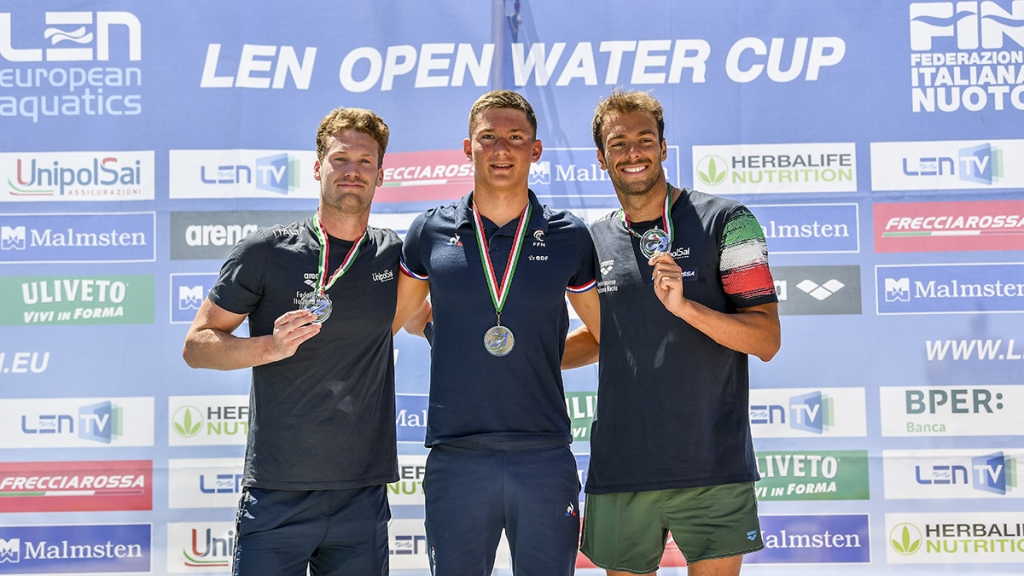 Relative newcomer Sacha Velly is 17, two years out from a home Paris 2024 Olympic Games and showing prospects for French open water success with his first major win in senior waters ahead of Italian local favourites at the second round of the LEN Open Water Cup in Piombino off the Italian coast.
Velly is coached by Philippe Lucas, mentor to Laure Manaudou and, in significant open-water terms, the coach who helped guide 2016 Olympic champion and 2020ne Olympic silver medallist in the marathon Sharon Van Rouwendal, of The Netherlands.
Lucas is a key part of France's preparations for the home Paris Games in 2024 and appears to have a teenage under his tutelage who may one day join the ranks of Dutchmen Ferry Weertman (2016) and Maarten van der Weijden (2008), among other Olympic champions.
Steady as she goes, and first things first, after all, there's the twitter handle to sort out: where Ferry Weertman plucked out the winning VeryFerryFast on Twitter, perhaps young Sacha will make it VellyVellyFast.
That certainly would be fair of the man at the helm of this fight today:
Men: 1. Sacha Velly (FRA) 1:50:30.2, 2. Marcello Giudi (ITA) 1:50:33.8, 3. Gregorio Paltrinieri (ITA) 1:50:41.7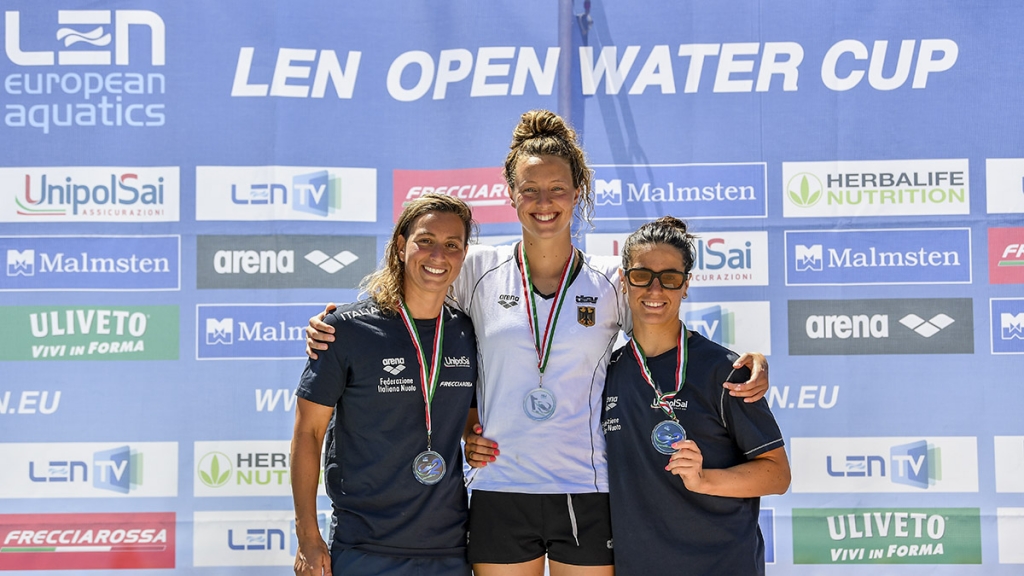 The women's race went to German ace Leonie Beck, while Italians completed the top 3 in both the men's and women's battles:
Women: 1. Leonie Beck (GER) 2:00:35.7, 2. Rachele Bruni (ITA) 2:00:43.7, 3. Giulia Gabbrielleschi (ITA) 2:00:45.0
LEN's media service takes up the stories: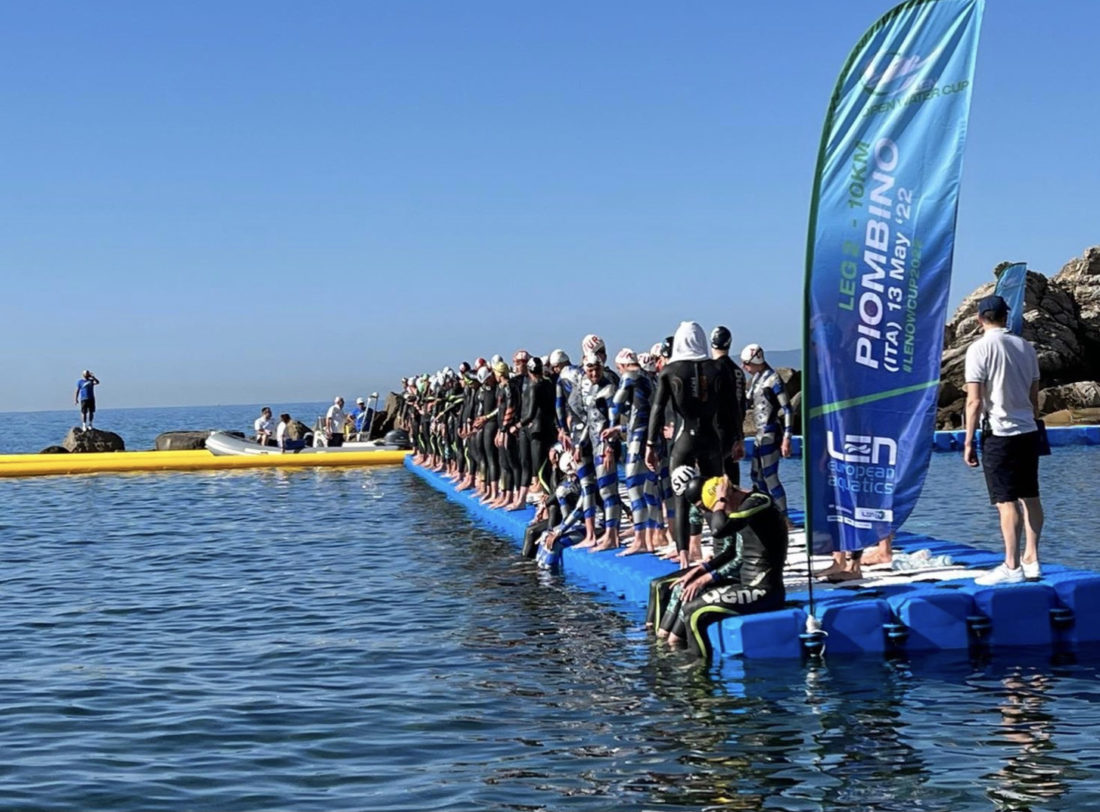 The men's event ended in a surprising outcome: France's latest prodigy, 17-year old Sacha Velly – another brilliant talent from coaching legend Philippe Lucas' stable – swam a smart and ultimately fast- paced race and managed to touch in first ahead of the Italian army.
The hosts' charge was led by Gregorio Paltrinieri and Domenico Acerenza – though they did not appear in the entry list, joined the field in the last minute –, they finished 1-2 last October here in Piombino and also shared the podium with winner Kristof Rasovszky in Eilat (ISR), in the opening leg this season.
However, compatriot Marcello Giudi could outpace them for the silver medal at the end, Paltrinieri finished third – just like in Eilat – while Acerenza had to settle for the fourth place.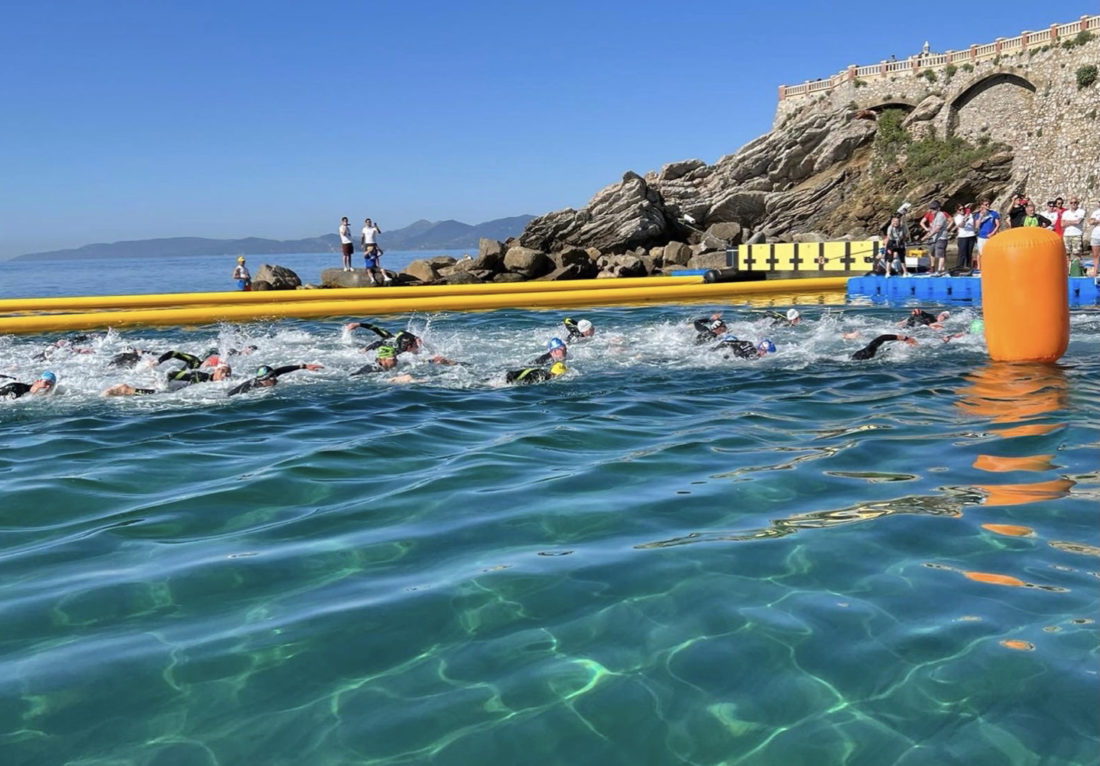 Hungary's Rasovszky was somewhat eaten up by the constant battles – fights were inevitable in a giant field of 101 participants – and he finished 11th this time.
The women's race was a kind of rematch of last October's edition when Giulia Gabbrielleschi out-touched Germany's Leonie Beck for the title by 0.1sec. Now Beck was back and this time left nothing for the touch – she won by 8 seconds, ahead of the other Italian Rachele Bruni and Gabbrielleschi. Two of the Eilat medallists – winner Oceane Cassignol (FRA) and bronze medallist Angelica Andre (POR) – bypassed this leg, and runner-up Ginevra Taddeucci finished 4th this time.
The next leg is coming in a week, the top swimmers will meet at the shores of Sardinia, in Alghero.
LEN Open Water Cup – 2022 Calendar
Leg 1: 24 March, Eilat (ISR)
Winners: Kristof Rasovszky (HUN) & Oceane Cassignol (FRA) Leg 2: 13 May, Piombino (ITA)
Winners: Sacha Velly (FRA) & Leonie Beck (GER)
Leg 3: 20 May, Alghero (ITA)
Leg 4: 10 July, Belgrade (SRB)
Leg 5: 27 August, Kiel (GER)
Leg 6: 24 September, Barcelona (ESP)
Thursday May 12
Kromowidjojo, Weertman, Heemskerk Earn Merit Status At Dutch Fed As Kamminga Honoured For Tokyo Games Silvers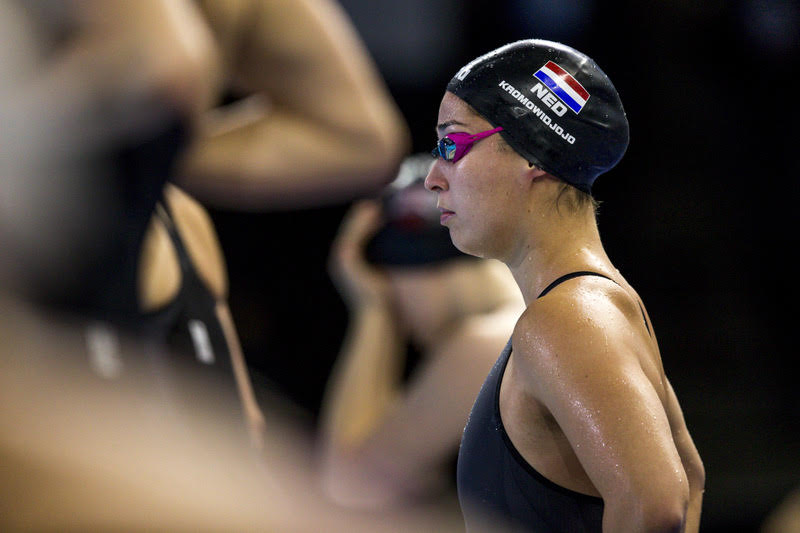 Ranomi Kromowidjojo, Ferry Weertman, who happens to be her partner of the heart as well as former national teammate, and Femke Heemskerk, have been appointed Members of Merit of the KNZB, the Dutch swim federation.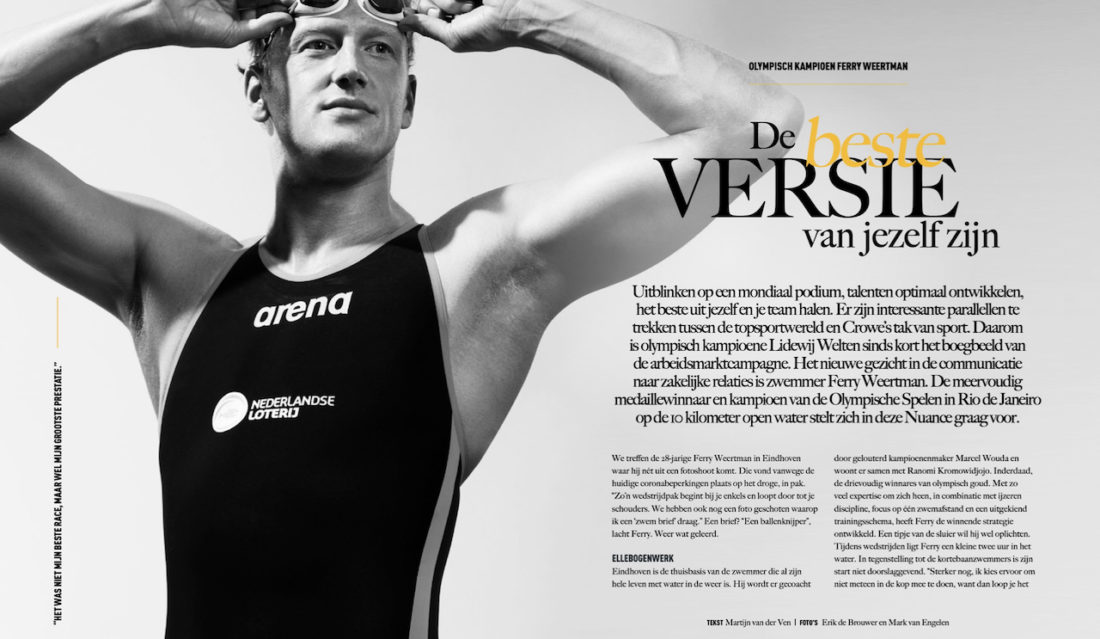 All three made their Olympic swan songs at Tokyo last year.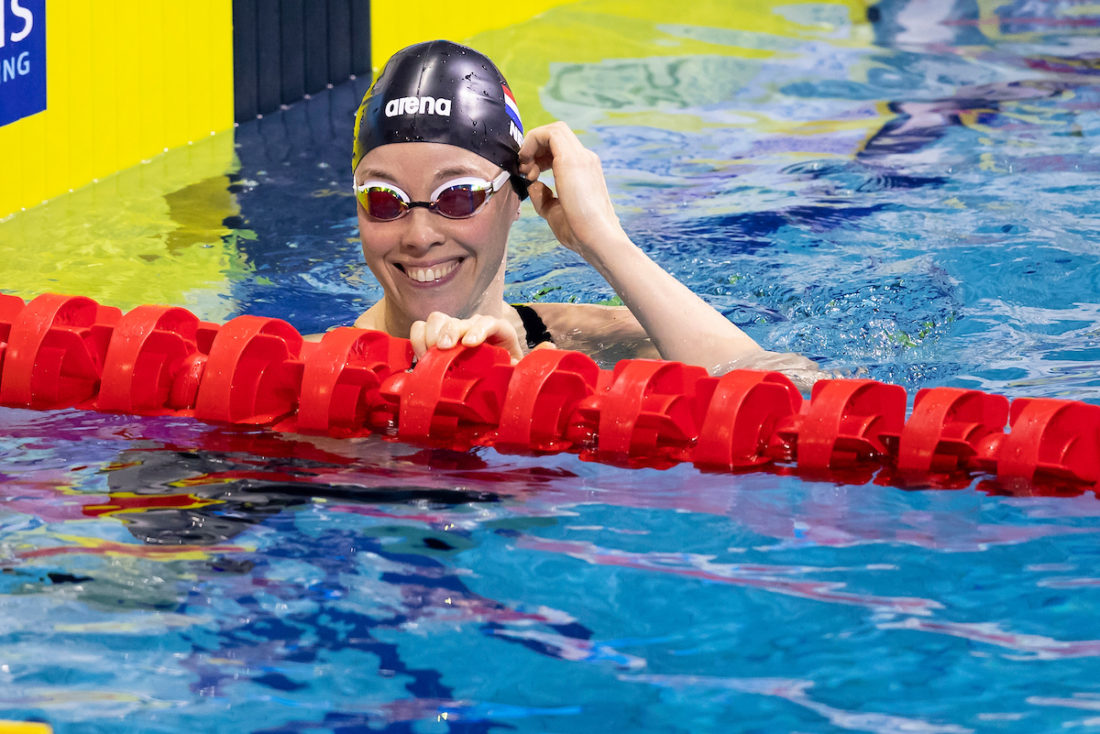 During a farewell evening for the three recently retired swimming aces, Kromowidjojo, double Dutch Olympic sprint champion over 50 and 100m freestyle at London 2012, Weertman, Olympic marathon champion at Rio 2016, and Heemskerk, who capped a career that included Olympic and World gold in relays with the European 100m freestyle crown a touch ahead of Kromowidjojo in 2020, received their honours form Ronald van Ombergen on behalf of the KNZB board.
Performance boss André Cats also handed each of them a statuette on behalf of TeamNL. Cats, technical director of the KNZB until recently, was also honoured, receiving the federation's 'golden pin' for his services to swimming.
Arno Kamminga Honoured For Olympic Silver Double In Tokyo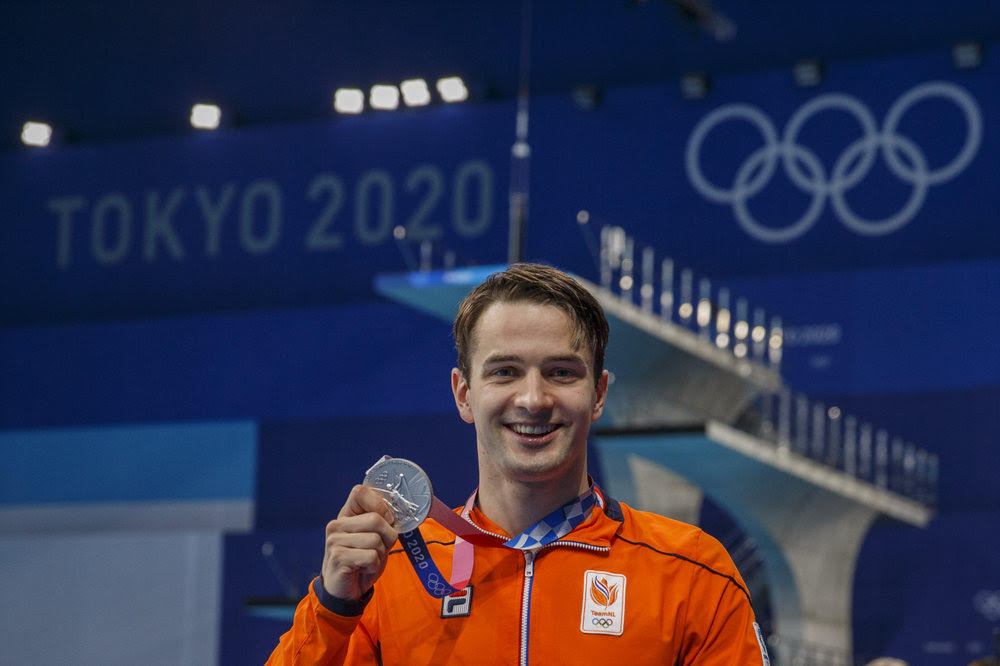 With two silver medals at the Tokyo Olympic Games, in the 100m breaststroke and the 200m breaststroke, Arno Kamminga was awarded the KNZB performance prize for 2021.
Eight others swimmers also waved a fond farewell at the ceremony: Esmee Vermeulen, Kyle Stolk, Maud van der Meer, Joeri Verlinden, Tamara van Vliet, Tim Van Duuren, Chantalle Zijderveld and Querijn Hensen all received a memento for their contribution to Dutch international teams.
Open Water
Kristof Rasovszky & Oceane Cassignol Seek More Gold At 2nd Leg Of Len Cup In Piombino As Europe Leads Way To Bigger Line-Ups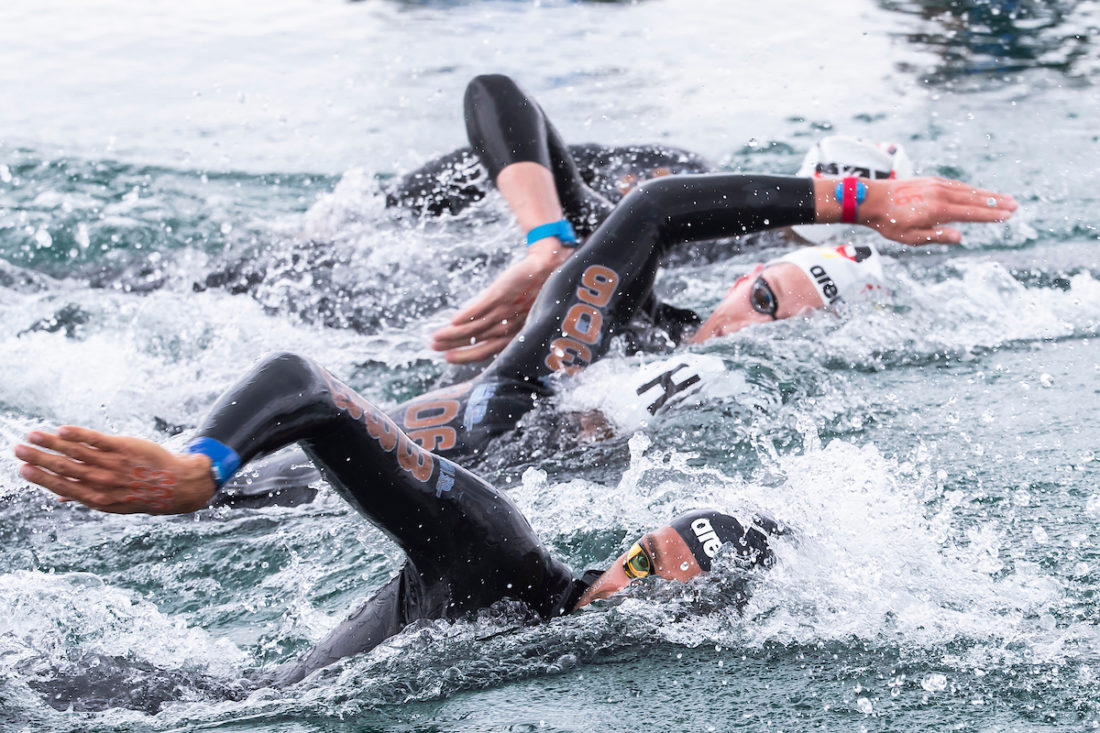 Both victors of the season opener, Hungary's Tokyo Olympics medallist Kristof Rasovszky and France's Oceane Cassignol will be on board for another win in the second leg of the LEN Open Water Cup in Piombino.
Tomorrow will see the latest mega line-up in open water, a trend that Europe is leading the world in with ever increasing numbers joining the fray on race day, in both 10km races, more than 100 names appear on the men's entry list.
Home hopes Domenico Acerenza and Gregorio Paltrinieri, 2016 Olympic 1500m free champion and Tokyo 2020ne 800m silver medallist and marathon bronze medallist, who were second and third respectively behind Rasovszky at the season opener in Eilat on the Red Sea, will be looking for the local crowds, winds and tides to give them a helping hand.
Snap in the women's race when Casignol takes on Italians Ginevra Taddeucci, Giulia Gabrielleschi and Martina de Memme, alongside German ace Leonie Beck.
The warm-up off the Italian coast has included a round of best birthday wishes for Great Britain coach Kevin Renshaw.
LEN's media service notes: After an early October meet last season, Piombino welcomes back the continent's top open water swimmers with a May edition of the traditional LEN Cup leg. This is going to be the second race of the series after a brilliant opener in Eilat on 24 March.
In the Red Sea, Hungary's Olympic silver medallist Kristof Rasovszky managed to out-touch Domenico Acerenza for the title, and a bit ahead of the other Italian great Gregorio Paltrinieri. The latter two are to skip Piombino this time (though they finished 1-2 last October, ahead of Rasovszky) but the Magyar favourite will see a sea of challengers from the home nations, including regular podium occupiers like Simone Ruffini, Matto Furlan or the Sanzullo brothers. Not to mention the French threat, imposed by world champions Marc-Antoine Olivier and Axel Reymond, just to pick a couple of household names from the giant field of 101 entrants.
As for the women's race, Eilat champion Oceane Cassignol is back for more, but runner-up Ginevra Taddeucci will also line up for the start, together with all three medallists from last October, the gold and bronze winning Italians Giulia Gabrielleschi and Martina de Memme, and Germany's top swimmer Leonie Beck.
The event kicks off at 9.00, no streaming will be available this time, but the race can be followed on the scoring platform in real time. For more: visit www.len.eu.
LEN Open Water Cup – 2022 Calendar
Leg 1: 24 March, Eilat (ISR)
Winners: Kristof Rasovszky (HUN) & Oceane Cassignol (FRA) Leg 2: 13 May, Piombino (ITA)
Leg 3: 20 May, Alghero (ITA)
Leg 4: 10 July, Belgrade (SRB)
Leg 5: 27 August, Kiel (GER)
Leg 6: 24 September, Barcelona (ESP)
Wednesday May 11
Team England Completes Commonwealth Squad With Tokyo Olympic Teamsters & Liam Tancock Takes LEN Role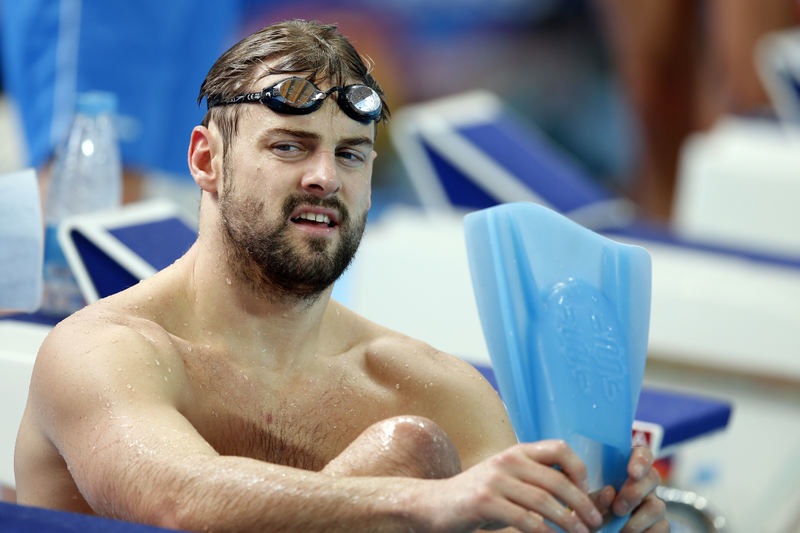 Team England has announced a further 38 athletes as part of the Swimming team for the home Commonwealth Games in Birmingham this summer. Following January's initial team announcement of 10 athletes. The newly announced names complete a 48-stong team of Swimming and Para Swimming athletes.
The team comprises of a variety of former Olympic, Paralympic and Commonwealth medallists, alongside many athletes who are set to make their Commonwealth Games debut. The swimmers will look to 'Bring it Home' at The Sandwell Aquatics Centre from 29 July to 3 August.
This summer, Team England will comprise of over 400 athletes in total, all of whom will look to capitalise on the once in a lifetime opportunity to bring home success in their own country. The swimmers announced today to represent Team England in the pool are:
Swimming:
Freya Anderson (Bath NC), Wirral (Tokyo Olympian)
Adam Barrett (Wycombe Swimming Club), Reading
Lewis Burras (Winchester Swimming Club), Winchester
Greg Butler (Loughborough NC), Staffordshire
Imogen Clark (Deventio Swimming Club), Derby
Freya Colbert (NOVA Centurion), Grantham
Lauren Cox (Loughborough Uni), Leamington Spa
James Guy (Bath NC), Bath (Tokyo Olympian)
Holly Hibbott (Bath NC), Southport
Isabella Hindley (Brompton), London
Jamie Ingram (City of Manchester), Manchester
Cameron Kurle (Stirling University), Glastonbury
James McFadzen (Loughborough University), Loughborough
Edward Mildred (Bath NC), Northampton
Jay Lelliott (City of Sheffield Swimming Club), Sheffield
Joe Litchfield (Loughborough NC), Wakefield (Tokyo Olympian)
Jacob Peters (Bath NC), Bath (Tokyo Olympian)
Laura Stephens (Loughborough NC), Wix
Luke Turley (Bath NC), Bedfordshire
Tamryn van Selm (Millfield School), Orpington
Sarah Vasey (Loughborough NC), Derby
Jacob Whittle (Loughborough NC), Alfreton (Tokyo Olympian)
Mason Wilby, Kentucky
Brodie Williams (Bath NC), Somerset (Tokyo Olympian)
The para swimmers to represent Team England are:
Alice Tai, New Milton
Grace Harvey, Manchester
Hannah Russell, Ottershaw
James Hollis, Manchester
Jessica-Jane Applegate, Great Yarmouth
Jordan Catchpole, Beccles
Louise Fiddes, Welwyn Garden City
Maisie Summers-Newton, Northamptonshire
Michael Jones, Manchester
Poppy Maskill, Middlewich
Rebecca Redfern, Worcester
Reece Dunn, Plymouth
Thomas Hamer, Rossendale
William Perry, Banbury
Team England's swimming team was second on the medal table at the 2018 Gold Coast Games with a total of 24 medals. This included 9 gold, 10 silver, and 5 bronze medals.
On being selected for her first Commonwealth Games, Paralympic medallist Rebecca Redfern said: "It's really exciting, to have a home Games that's so close to my home as well my family can come and watch and support, it'll be really exciting for my little boy to come and see Mummy swim for the first time and especially compared to Tokyo having a crowd back is really exciting, having fans back creating noise and excitement.
"It's the first time I've competed at an integrated Championships with both para and able-bodied athletes as well so that's really exciting to train, live and compete together as one team so that we can learn from each other. I'm really honoured to be part of the team and so excited for it to start."
Glasgow 2014 Commonwealth Games Team England member, Jay Lelliott said: "So I have goals and this is the first stage of my goal, but it's also a huge relief to get through this period because I know what I'm capable of, but obviously the first hurdle is you can turn up [at British Championships] in the best shape of your life and if two or three people beat you you're out of contention so it's all about turning up and being in the best shape possible. It's such a relief but I'm now so excited to get my head down for the Commonwealth Games in the summer now.
"I've got so many great people back at home, all of my squad at the City of Sheffield Swim Club are so excited, my partner Abby was over the moon for me, my family and all my friends knowing about it has been such a heart-warming time and so I feel like I'm not just doing it for me, though I swim for me I feel like I've also got the whole of my team that helped me get to this point and that's just such a rewarding feeling to get there not just for me but for them as well."
Team England's Chef de Mission, Mark England OBE, welcomed the athletes to the team: "We're very pleased to welcome 38 more swimmers to Team England for the home Commonwealth Games this summer. This completes our Swimming and Para Swimming team of 48 athletes in total. I'm looking forward to watching them compete and Bring It Home in the pool over the 6 days this summer."
Liam Tancock Heads New LEN Athletes' Commission
Liam Tancock confirmed as Chair of new LEN Athletes' Committee, will attend LEN Bureau and Congress in Cascais this weekend
LEN noted: "As part of its ongoing governance reforms, LEN is delighted to announce that the inaugural Athletes' Committee has now been confirmed, chaired by the retired British swimmer Liam Tancock. Liam will attend the Bureau meeting and the Congress taking place in Cascais this coming weekend, where arrangements for the first meeting of the committee will be finalised."
Otylia Jedrzejczjak, Bureau liaison Athletes Committee, said:
"After two rounds of requests to the Federations we have received a total of 22 nominations from 16 federations and we are delighted that we have started the process of giving our athletes a real voice in decision making so they can actively contribute to the future of our sport."
Liam Tancock, former World record holder over 50m backstroke, World champion over 50 (l/c) and 100 (s/c) backstroke for Britain and Commonwealth Championship for England, said: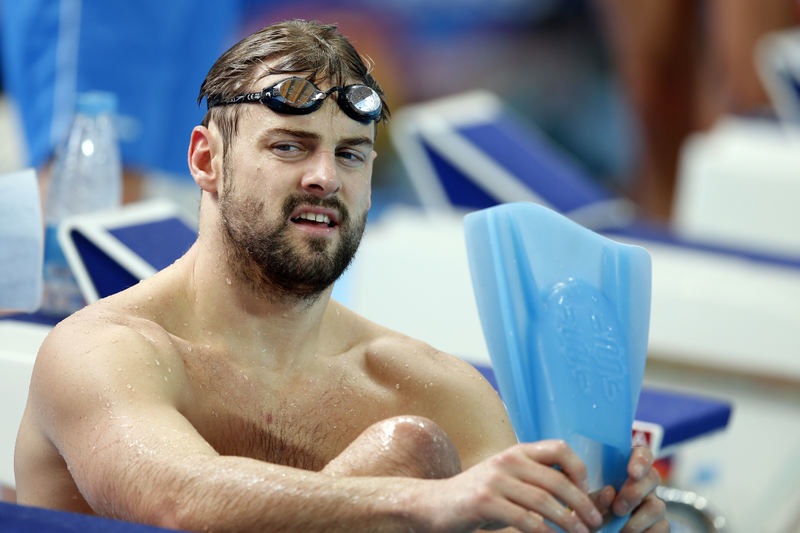 "It's a privilege to be the first chair of the LEN Athletes Committee. I am really looking forward to working alongside fellow athletes who all have valuable experience and insight from across the aquatic disciplines to help guide the group. I am excited to help form a strong foundation for this committee and ensure that the voice of the athletes is represented in the decision-making processes at a very exciting time for LEN European aquatics."

Liam Tancock, by Patrick B. Kraemer back in 2015
The LEN Bureau has appointed 7 athletes to form the initial Athlete Committee with representatives from all disciplines and with respect for the principle of gender equity. This group will now work on the procedure to select/enlarge the Committee in the future to ensure that the athletes also have a voice in the selection process.
The chair of the Athletes' Committee is considered as a member of the LEN Bureau with full voting rights and, as part of the LEN Consitutional reform proposals, the Athletes' Committee will be given two votes at Congress (as if the committee was a country).
The full composition of the LEN Athletes' Commission
Chair – Liam Tancock GBR, Swimming
Vice Chair – Milouschka Smit NED, Water Polo Secretary – Oliver Dingley IRL, Diving Members (all active athletes):
Emma Garcia ESP, Artistic Swimming
Caroline Jousse FRA, Open Water
Andrii Govorov UKR, Swimming
Norbert Hosnyanszky HUN, Water Polo