The Vortex (May 10-16): Tokyo Olympic Holding Camp Hosts Show Signs Of Stress As New Poll Has 60% Of Japan Saying 'Cancel The Games'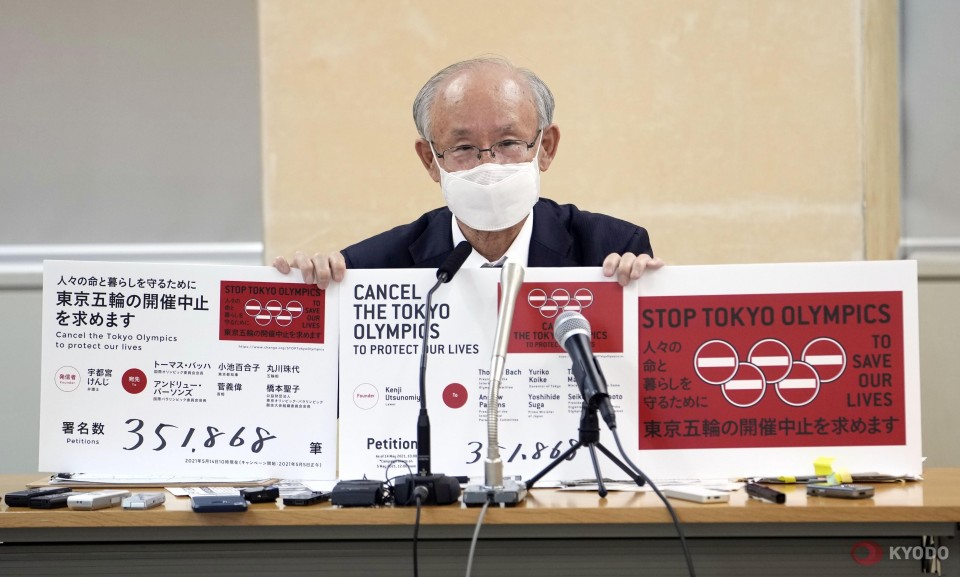 A weekly day-by-day pool, digest and SOS Vortex of swimming news, views, top picks, Olympic snippets and links to coverage of the sport and related issues around the swim world. Please send any suggestions, links and items of news for inclusion to craig.lord@stateofswimming.com
Sunday, May 16
On the eve of racing in the pool at the European Championships in Bupadest, an Olympic qualifier or top-up selection meet for many of the continent's top swim nations, the pressure on organisers of the delayed Tokyo 2020 Games to cancel continues to grow.
The BBC reported this morning that holding-camp hosts in prefectures where the health service is under serious pressure in the latest surge of COVID-19 infections in a country try enduring around 100,000 new cases a week have started to send their apologies to teams with notices of cancellation. No specific cases of cancellation were cited.
At the same time, the latest poll of Japanese sentiment from the Kyodo News Agency suggest that 60% of the nation wants the Games to be cancelled at a time when COVID-19 cases have been growing nationwide and the government has been forced to extend the state of emergency in several regions: Tokyo is among nine prefectures currently under a COVID-19 state of emergency which will last until May 31.
The developments come at the end of a week in which the leader of the Japanese Opposition said that it would be "impossible" to stage a safe Olympics.
Kyodo reports today: "More patients are dying at home due to the difficulty of finding available hospital beds, with the situation worsened by the spread of the new variants and the slow process of inoculation." Only 2 per cent of the nation has so far been vaccinated.
Some polls in other countries also suggest that, beyond those involved directly with sport, there are a large number of people whose taxes effectively subsidise the multi-billion-dollar Olympic industry, in favour of cancellation. In Canada, 42% said they don't think Canadian athletes should compete in the Tokyo Games while 39% said Team Canada should attend, according to one poll.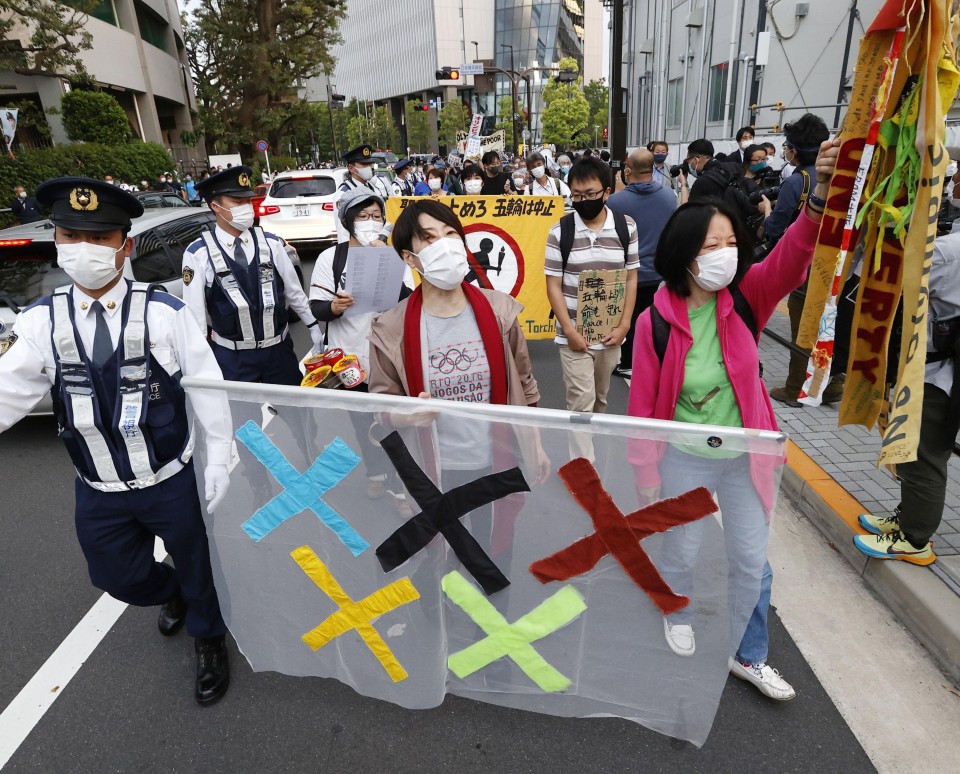 In Japan, 59.7 per cent of people polled want the Tokyo Olympics and Paralympics this summer to be cancelled. Teams and staff are due to start arriving in Japan in less than two months ahead of the Games opening scheduled for July 23 (August 24 for the Paralympics).
The two-day nationwide telephone survey conducted from Saturday also found that 25.2 percent said the games must be held without spectators, while 12.6 per cent favour holding the global sporting event with a limited number of spectators.
The results reflect growing skepticism over holding the games, which had already been postponed by one year due to the coronavirus pandemic, as the country is facing a fourth wave of infections that involves more contagious variants.
Although the Olympic organizers have already decided there will be no overseas spectators so as to prevent the spread of the virus, the survey showed 87.7 percent are concerned that an influx of athletes and staff members from abroad may spread the virus, Kyodo reports.
On Friday, a Japanese lawyer who launched a popular online petition calling for the cancellation of this summer's Olympics urged the Tokyo metropolitan government to call off the Games, saying protecting people's lives from the coronavirus must be the top priority.
Kenji Utsunomiya, who on May 5 launched the online campaign that has gathered over 350,000 signatures, said Japan and the rest of the world are not ready to stage the Olympics and Paralympics due to the global health crisis.
"Holding the Olympics should be welcomed by everyone, but that is not possible under the current situation. So the Olympics must be canceled," Utsunomiya, former head of the Japan Federation of Bar Associations, told a press conference after handing over the request addressed to Tokyo Gov. Yuriko Koike.
The submission of the request comes with only 70 days until the scheduled opening of the postponed Tokyo Olympics.
Uncertainty looms over the Tokyo Games as Japan grapples with surging infections driven by highly contagious virus variants in the capital, now under an extended state of emergency, and elsewhere.
"It is a question of which should be prioritized, people's lives or the event itself," said Utsunomiya, reflecting increased public opposition expressed in recent weeks as many hospitals have become overwhelmed due to the rising number of COVID-19 sufferers.
Meanwhile, the Games organisers will reduce the number of visiting officials to this summer's games to 90,000 or fewer as part of its simplification efforts, Kyodo reported this week. A total of about 180,000 officials from overseas had been expected, compared to 15,000 athletes. Now, organisers want to see a reduction to at least 90,000 officials. All but those officials with a direct job at the Games are welcome, while the circus of committee and commission members often there for the ride with no particular role to play are, in so many words, being asked to stay away.
Saturday, May 15
The Further Rise Of
Claire Curzan
At the TAC Titans Spring Invitational in the United States, junior ace Claire Curzan broke the 59-second barrier for the first time in the 100m backstroke with a strong 58.82. Out in 28.78, home in 30.04, she is the fourth American to go inside 59sec this year, a month ahead of U.S. Olympic Trials. Olivia Smoliga (58.31), Rhyan White (58.43) and Regan Smith (58.77) are ahead of her on the 2021 ranks, while Regan of course, is the sub-58sec pioneer and World-record holder yet to race unrested.
Racing at her home meet in North Carolina, Curzan clocked 56.43 in the 100 butterfly and 24.17 in the 50 freestyle on Friday evening, the dash time setting a World junior record. Sunday brings the 100m free, while Trials next month offers multiple chances for her to make a debut Olympics as a potential multi-medallist.
Curzan turns 17 on June 30, the same day a certain Michael Phelps turns 36.
Friday, May 14
The Two Sevtlanas, Romashina and Kolesnichenko,
Deliver Synchro 'Magic' At Helm Of Russian Gold Rush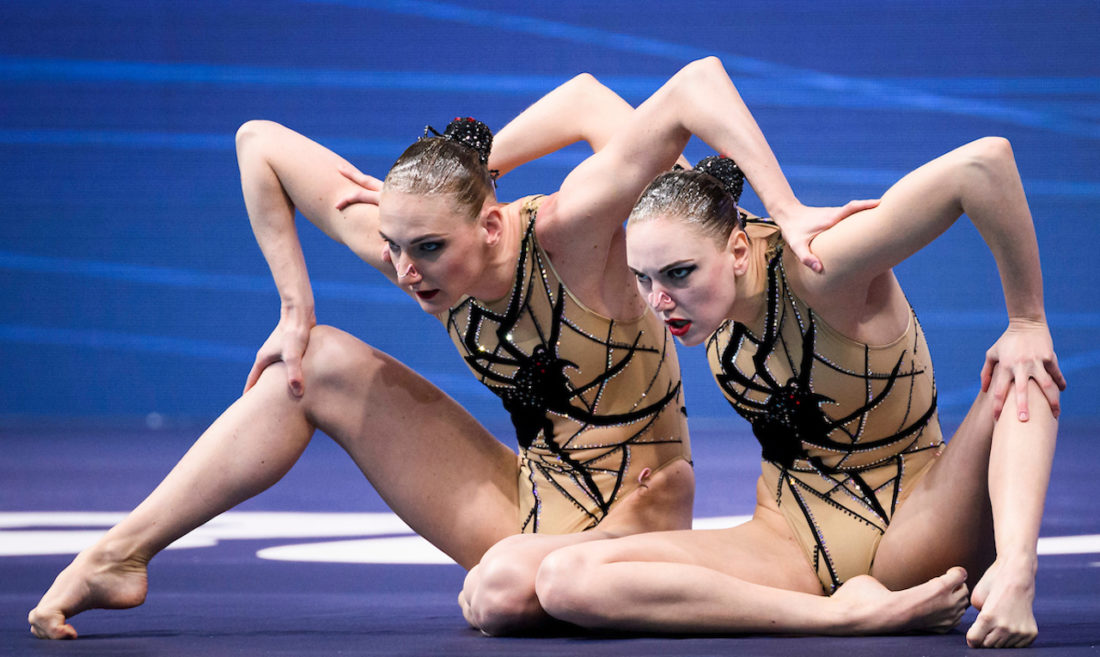 On day 5 at the European Championships in Budapest, the two Svetlana, Romashina and Kolesnichenko scored a perfect 10.0 in a free routine described as "pure magic" to land one of four Russia golds in synchro and diving events as the nation that will not be able to fly its flag at the Olympic Games this summer celebrated a 100th continental diving title.
Svetlana Romashina and Svetlana Kolesnichenko were judged to have delivered perfection in a routine they will use at the Olympic Games in Tokyo, where they will compete under a neutral IOC banner because Russia cannot be represented as a nation at a time of serving its second blanket ban as a result of the systematic doping scandal that has rocked Russian sport for the bulk of the past decade.
As LEN noted, Russians "usually keep their brand new team free routine a top secret in Olympic years in order to amaze everyone at the Games (and not to give the chance for anyone to copy any element of it)", but at the Budapest Duna Arena, Romashina and Kolesnichenko laid out the strength of the performance they will take to Tokyo.
The two Svetlanas – 22 European titles among them going into the event and ion the way to gold No23, delivered "four minutes" of athleticism good enough to merit the first perfect 10 in European Championship waters since 2010. The 10 was accompanied by a couple of 9.9s and a 9.7; room for improvement, then, on the way to their Olympic bid. The last time a perfect 10 flashed up on the board at the Championships was also for Russians – and also in Budapest, albeit on Margaret Island, and then in no less than three events.
The following notes from the LEN media services tell the tale of the rest of day 5 in the Budapest Bubble of 2021: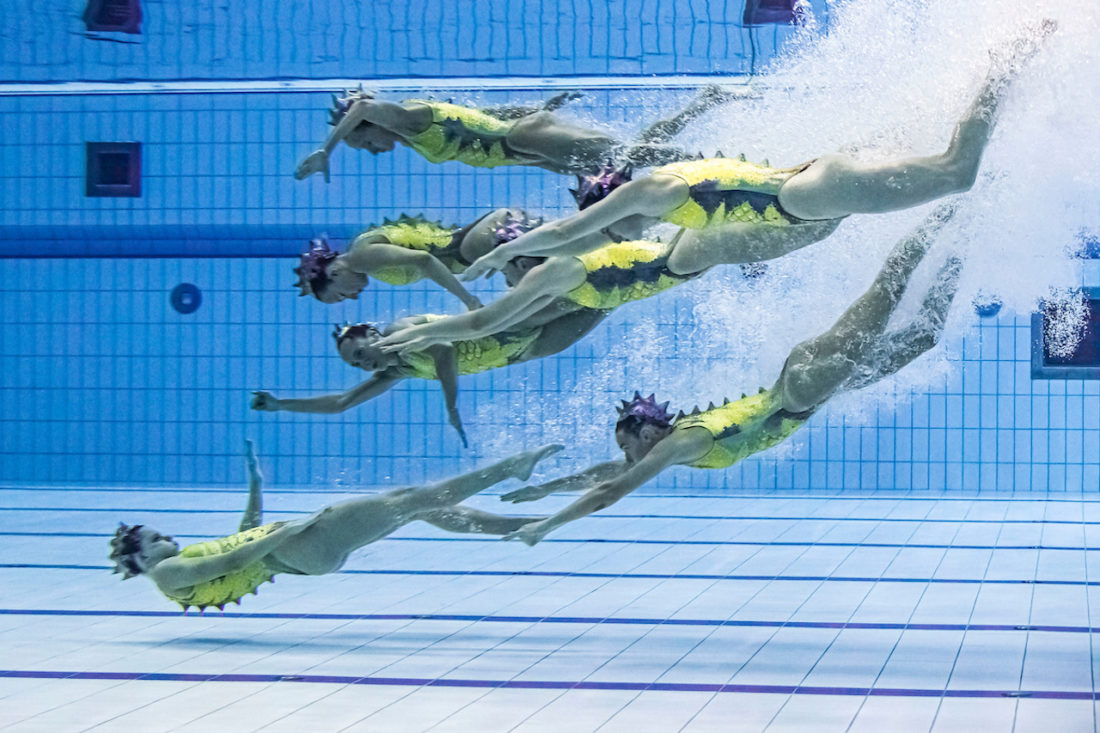 Another Russian gold came in the mixed duet while Ukraine won the team free, here Israel claimed a historic first-ever bronze medal. The diving pool also became Russian territory for this evening, they come first in the women's 10m synchro and Evgenii Kuznetsov and Nikita Shleikher delivered another 1-2 finish for the team in the men's 3m. Kuznetsov earned 525 points in the final, an amazing feat – and a stylish way to clinch Russia's 100th diving title at European Championships.
Just as in the technical final, Ukraine and Austria claimed the other medals, and the mixed duet free also mirrored the ranks of the technical event: Aleksandr Maltsev and Olesia Platonova came first, ahead of the Spaniards and the Italians. The team free event saw history in the making: Ukraine's victory and Spain's silver were expected but for the first time Israel could step on the podium – the team members erupted in joy upon learning that their dream came true.
Russia's golden charge continued in the diving pool. After coming 1-2 in the individual event, the Russians grabbed the women's platform synchro title too. Iulia Timoshinina and Ekaterina Beilaeva sat in the second place before the last round but the Ukrainian pair of Ksenia Bailo and Sofiia Lyskun blew their final dive and was dropped to third. Just to highlight the contrast: while the Russians and the Brits, Eden Cheng and Lois Toulson, received 70+ points for their 407C (inward 31⁄2 somersaults), the Ukrainians earned only 48.06 and that was decisive.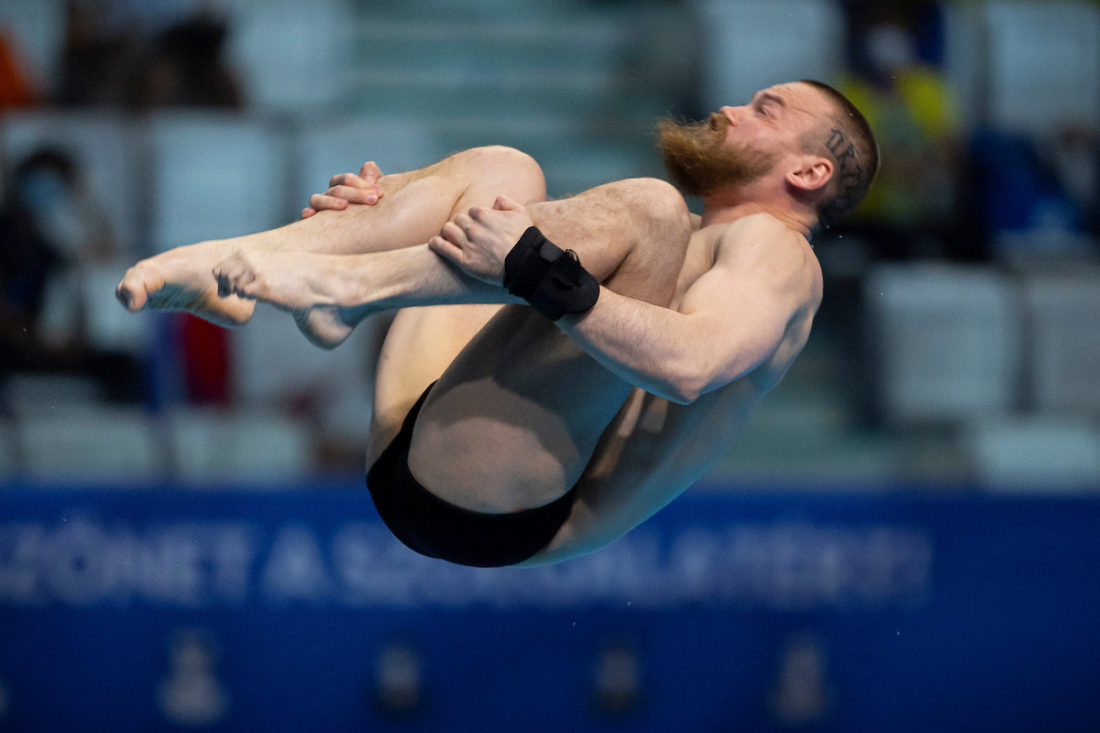 The men's 3m final produced the highest level so far in the diving competition. This evening only tiny mistakes left the athletes in the hunt for the top spots – a mediocre attempt meant an immediate bow-out. The two Russians quickly transformed the final to their in-house duel as Evgenii Kuznetsov and Nitika Schleikher produced outstanding dives. Kuznetsov, parading with huge beard, reminiscent of Viking warriors, kicked off his campaign with three 80+ jumps, while Shleikher came up with a 94.50 pointer in the second round.
Germany's Martin Wolfram could keep up with them, compatriot and former (2010-11, 2014) champion Patrick Hausding, with two titles already under his belt, ran out of miracles this evening and finished 9th. Olympic silver medallist and 2018 victor Jack Laugher had a messy night with erroneous attempts in each even round to end up 6th.
Shleikher even took the lead after the 4th round but Kuznetsov replied in style in the fifth for 94.50 points and he crowned the evening with the week's first 100+-pointer on his last attempt. It secured his third title in this event after 2016 and 2019, but it was the first time he could score over 500 points. In fact, he got 525.20, an outstanding feat – and a stylish way to clinch Russia's 100th gold medal in diving (Soviet Union included) in the history of the European Championships.
Thursday, May 13
Japanese Governors
Refuse To Allocate Hospital Beds For COVID-Infected Olympians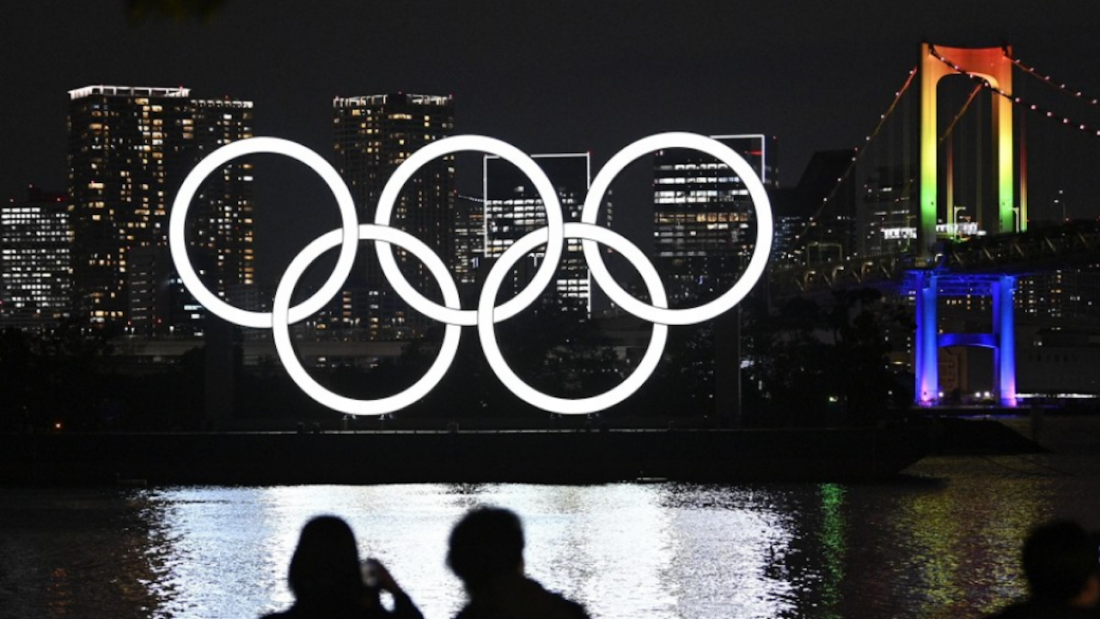 The governor of Chiba Prefecture threw another spanner in the works of Olympic planning for July and August today when he said he did not plan to allocate hospital beds for Olympic athletes infected with the coronavirus.
Chiba Gov. Toshihito Kumagai is the latest in a growing chorus of voices calling on any attending the Tokyo Games this July and August to be denied preferential treatment when it comes to health response. He told reporters that he has asked the organizing committee of Tokyo 2020 Olympics and Paralympics to refrain from being a drain on Japan's medical resources in his prefecture, which neighbours the capital, amid a resurgence of COVID-19 infections.
The latest development will add weight to the argument that athletes and others ought to arrive in Japan vaccinated, despite an International Olympic Committee decision that no vaccination cover is required to attend the Games.
Kyodo reports: "Touching on the organizing body's hope to work with about 30 hospitals in the capital and its surrounding areas during the Summer Games, Kumagai told a press conference he is not considering allowing "precious beds for COVID-19 patients in the prefecture" to be occupied by Olympic athletes or those working on the games.
"Kumagai's comments came a day after the governor of Ibaraki Prefecture said he had rejected a similar request from the organizing body and added the Tokyo Olympics are "not something that must be staged" under any circumstance, proposing that cancellation be considered if the infection situation worsens."
An increasing number of people in Japan have been calling on the government and Olympic organizers to address public health concerns and rethink whether the Games should be held at a time when the country grapples with a rapid spike in infections, some down to new variants.
An online petition calling for the cancellation of the games had received over 340,000 signatures as of Thursday evening in Tokyo. The petition organizer Kenji Utsunomiya, former head of the Japan Federation of Bar Associations, is set to hand in the petition to the Tokyo metropolitan government tomorrow
Opposition lawmakers have also expressed concern about staging the Games, while opposition parties in Japan are fairly united in a view that the Olympics cannot go ahead in July. about holding the event.
The government of Prime Minster Yoshihide Suga and Olympic organizers, meanwhile, insist that the Games will go ahead with thorough anti-virus measures in place.
Wednesday, May 12
How A Supportive Call From Michael Phelps
Helped Skateboarder Ryan Sheckler Flip His Life Around
Skateboarder Ryan Sheckler received an inspiring call from Michael Phelps that helped fuel his sobriety after he sank into alcoholism. Sheckler talks about his experience and the strong role his mother plays in his life in an In-Depth With Graham Bensinger interview.
During his swimming career, Phelps, winner of 23 Olympic gold medals atop an all-time, all-sports record 28-medal haul in swimming, twice fell foul of drink-drive laws and paid a price, got help and has since been able to help others facing similar struggles in his role as an advocate on mental-health and welfare issues that affect athletes but are a part of the human experience far and wide.
Sheckler notes that while he was an a skateboarding event in Oslo, he felt detached, felt he wanted nothing to do with skateboarding, just wanted to "get off the map and go party; I kinda wanted to end it, not suicidal but like I didn't want to be in the publics' (sic) eye any more."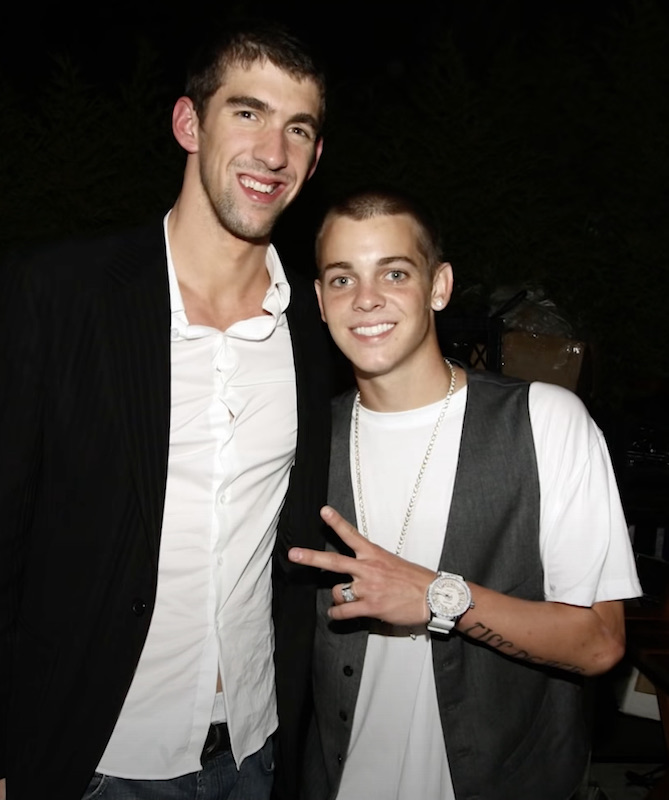 That's when Michael Phelps called. Says Sheckler:
"He had been through similar situation and that he knew exactly what I was feeling … and when I got Phelps calling me, taking time out of his day to give me hope, experience, strength, I was like 'bo, ok, I can do this'. My family and my core group of friends that have never been 'yes men', that have always called it straight, The reason I'm sober today is because they told me 'we see there's a problem, you cannot control this'. I was like 'you're right'."

Ryan Sheckler – image, with Michael Phelps, courtesy of In-Depth With Graham Bensinger video
When Sheckler's 30th birthday came round, he thought that four years off the bottle surely meant he could have the big part, "drink normal' and be fine with that. He couldn't: "That wasn't on the cards for me".
A new cycle of self-harm set in. Sheckler describes himself as "a dry alcoholic" who "had no defence to it".
When he mentioned to his mother that he might need "another round" of help and didn't feel he could face it alone, she and a whole load of others seeking to help arrived at his house but Sheckler went into "defensive mode", including asking them all "how can you judge me when you do this and …", and on and on.
Then he listened to the concerns and "I knew I had a problem". The arrangements had been made and he would leave that day for rehab. The whole second cycle took him out of standard life (or at least the new norm of life in a pandemic) for five months.
Sheckler's Christian faith also played a big role in helping him to turn his life around, he says.
The interview in full:
The Ripple
– Daniel Wiffen's Olympic Journey Celebrated By Year 8s
Daniel Wiffen, the Irish swimmer who took a sledgehammer to his best 800m free (by 18sec) for a 7:52 Irish record and Olympic cut at Irish trials, has inspired a school project at St Patricks in Armagh. Here's the tweet that shows the ripple and how powerful it can …
Tuesday, May 11
Ex-Santa Clara Boss John Bitter
Jailed For Embezzlement, Grand Theft & forgery
John Bitter, the former chief executive officer and head coach of Santa Clara Swim Club and head coach was handed a jail term of three years and four months, the Silicon Valley Voice reported today after judgement was handed down back in March. Embezzlement, grand theft and forgery were all a part of the His four felony charges Bitter faced.
Bitter embezzled a total of $753,698.37 from SCSC, according to investigators. Court rulings from 2019 awarded Santa Clara SC $50,000 in punitive damages.
Monday, May 10
Team USA Is Swimming In Legal Fees
– Sum 'Breached $100 Million Since Rio 2016 Olympic Games'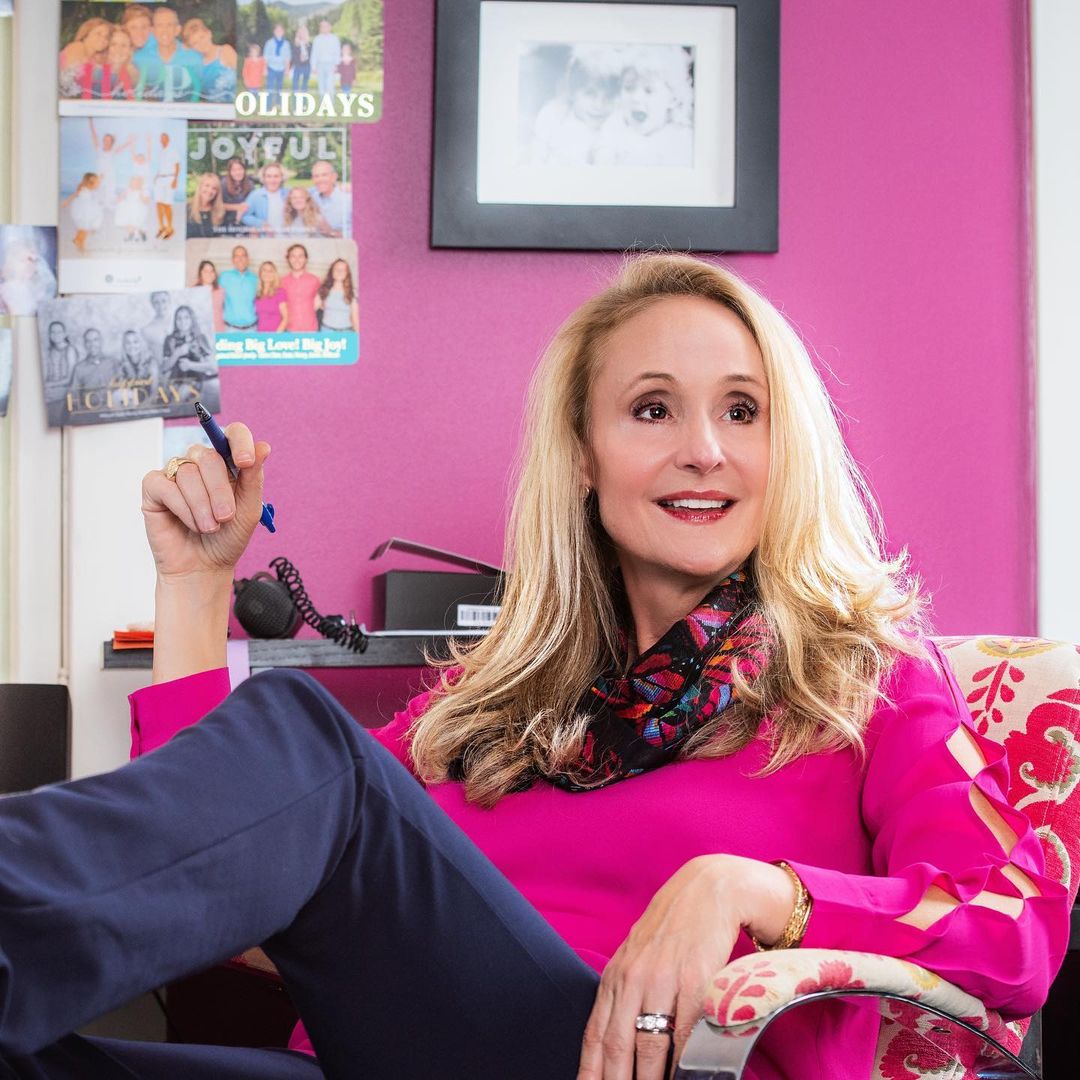 "The Olympic and Paralympic corporation has spotted the enemy, and it is athletes. Now, it is spending money hand over fist to avoid paying athletes to remedy the harms they created."

Nancy Hogshead-Makar, Olympic-champion swimmer-turned-advocate and CEO of Champion Women.
What's that all about? Nancy Hogshead-Makar, the 1984 Olympic 100m freestyle champion in swimming for the USA, was talking to Sportico in response to an investigation into the legal costs of issues that cut to the heart of athlete welfare. Sportico reports:
Since the last Summer Games were played in Rio de Janeiro, the United States Olympic and Paralympic Committee and 50 affiliated national governing body members (NGBs) are on pace to spend well over $100 million in legal bills by the time the torch is lighted in Tokyo in July, according to a Sportico analysis of the nonprofits' tax filings. (that figure is also reported NOT to include the huge sums spent on the Larry Nassar scandal in gymnastics by USOPC member USA Gym).
Already, the amount disclosed by those organizations, from their 2016 to 2019 returns, stands at almost $87 million. In addition to the USOPC—which reported spending $13.6 million on attorneys in 2018—eight NGBs have disclosed at least $1 million on legal fees during this time frame, while four others reported spending at least $500,000.
None of the organizations' 2020 tax returns have been made public; assuming they've filed for extensions, their 990s from last tax year aren't likely to be available until this coming fall. Still, given the extent of several of the organizations' troubles, the safe bet is on legal bills to continue growing.
While the NGBs aren't required to more specifically disclose what the fees are for, previous public reporting and the immensity of certain line items suggests civil-litigation defense is a major source of the costs.
… In its latest Form 990, filed earlier this year, U.S. Soccer reported nearly $19 million on outside legal expenditures between April 1, 2019, and March 31, 2020. That amounted to almost half of what the organization paid in wages and benefits for all its 868 employees over that same period.
These sums encapsulate only what the entities spent on their own lawyers—not what they have or will have to spend on settlement payments, judgments or statutory penalties. The potential settlements involving USA Gymnastics, which currently faces hundreds of sexual assault lawsuits, most involving convicted former team doctor Larry Nassar, are expected to cost several hundred million dollars.
Read The Sportico article in full and learn how some Olympic sports federations are returning zero-spend results or relatively low sums on legal fees (chart includes swimming) but why that may not mean that actual legal costs are mucin higher than shown in tax returns.
Floating Sky Pool Opens In London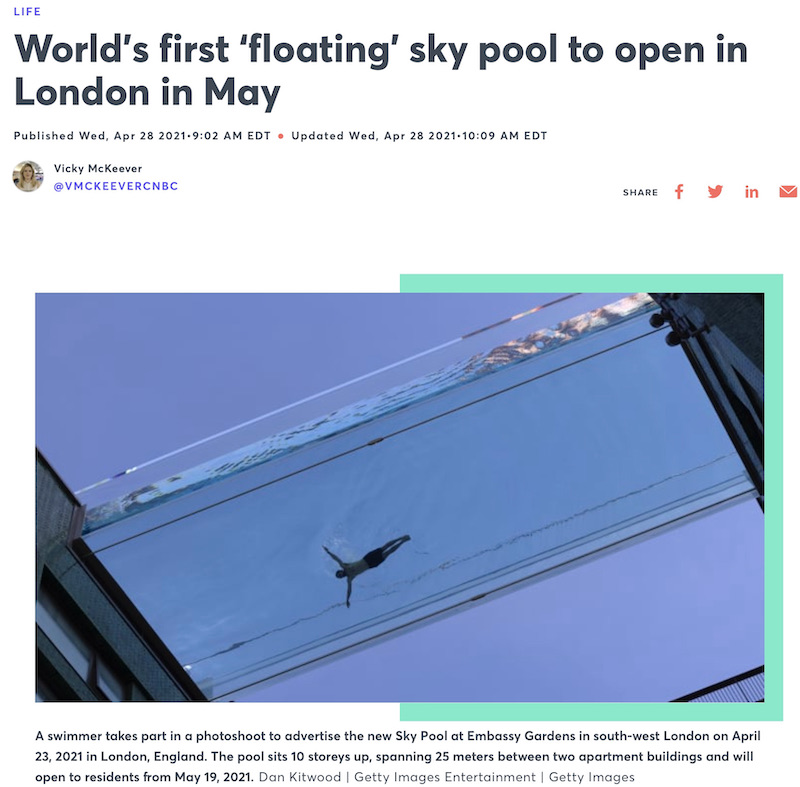 A swimming pool that stretches from one apartment block to another at over 100 feet from the ground, and said to be the world's first "floating" pool, opens in London next week.
The transparent Sky Pool is 25 meters (82 feet) long and stretches across the 14-meter (46 feet) gap between the two luxury Embassy Gardens apartment blocks in south-west London, 35 meters (115 feet) from the ground.
The pool's official opening is scheduled for next Monday, May 19, though only residents of the building and their guests will be able to use the facility. A two-bedroom apartment in Embassy costs more than £1 million ($1.4 million).
Cue sponsor location photo shoot … unless its beyond the price league of swimming.
The April story at CNBC announcing the opening.
Speedy Swimming:
Performances
of the Past Week
Women: Yang Junxuan – 1:54.47 200m freestyle Asian record
There was also a speedy swimming in the 200m butterfly from Zhang Yufei, on 2:05.44. She could race seven events at the Tokyo 2020 Olympic Games. After the 200m butterfly, she told local reporters that she was not satisfied with her effort because it still reflected her "fear" of the event. The Chinese Swim Fans group quoted her as saying that she thinks if she could be braver in her approach to the event and "learn to adjust her metal status before the race", a faster pace would ensue. For this who can speak Chinese, interview in full:
Men: Xu Jiayu, 52.88, 100m backstroke
Xu Jiayu, the World 100m backstroke champion, produced the only day 3-finals effort at China's Olympic trials in Qingdao close to the kind of times that will be required to make the Olympic podium at the Covid-delayed Games in July . On 52.88, Xu Jiayu was an arm swing away from the 52.43 in which he claimed the World title in Gwangju in 2019, the last occasion on which the global swim elite gathered for peak performance championship racing before the pandemic changed everyone's lives and plans.
Xu Jiayu was unhappy with the time. He later revealed that he had not been feeling well before the final but did what he needed to get the job done. Xu was pre-selected for the Tokyo Games: on the eve of trials, the Chinese Swimming Association added a line to its selection policy: any who claimed solo gold at 2019 World titles would get an automatic ticket to Tokyo if eligible on other measures. That line applies to just two Chinese swimmers: Xu and Sun Yang*.
Xu led China to a mixed medley 4x100m World record last year, alongside Zhang Yufei, Yan Zibei and Yang Junxuan: