The Vortex (March 29 – April 4): Ed Accura and the Meaning of Bl-aquaphobia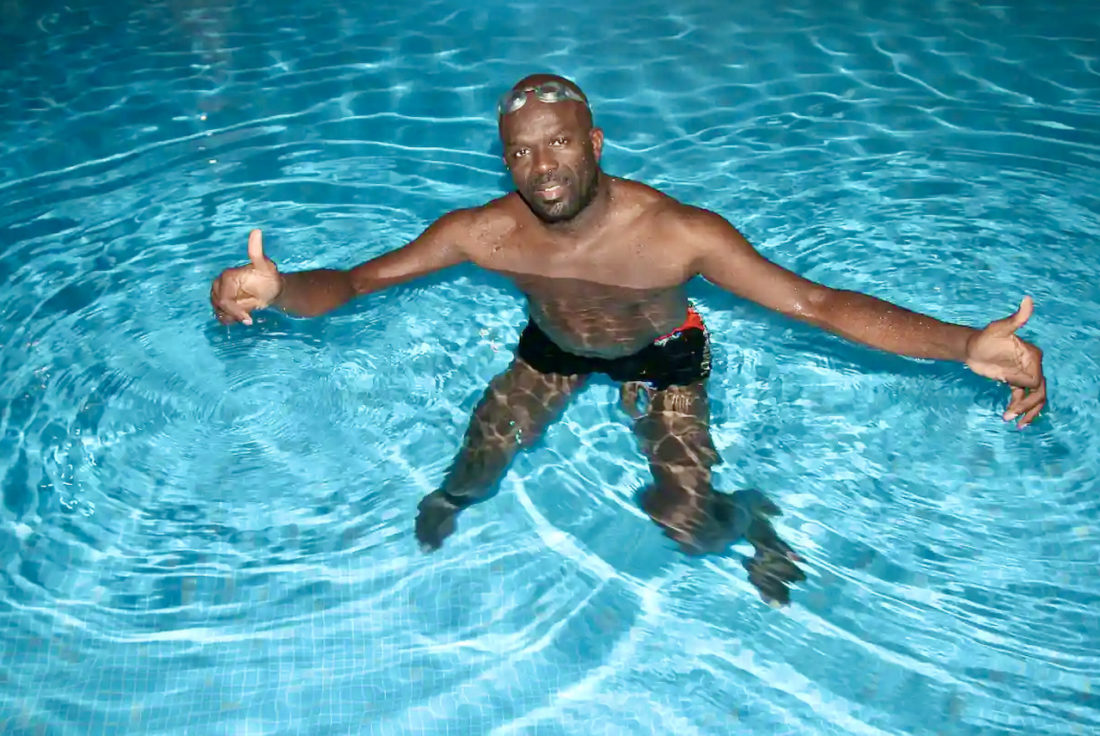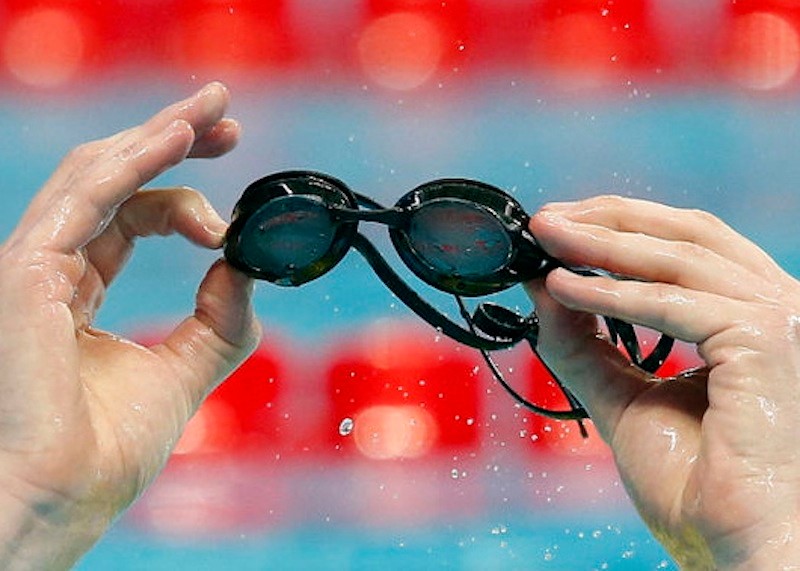 A weekly day-by-day digest and SOS Vortex of swimming news, views, top picks and links to coverage of the sport and related issues around the world. Please send any suggestions, links and items of news for inclusion to craig.lord@stateofswimming.com
Sunday, April 4
Filmmaker Ed Accura was 53 when he learned to swim, and only then through fear that his young daughter might get into trouble and he wouldn't be able to save her.
"I live near the Thames and I said to myself, if anything happened to her and I couldn't help, I would never forgive myself," he tells the Observer. As readers of SOS know, Accura is the man behind the documentary film "Blacks Can't Swim" and a founder member of the Black Swimming Association.
Until then he suffered from what he calls Bl-aquaphobia, a word he coined to describe the inherent fear black people have of water – a fear that's "very, very different" from their white counterparts, he says.
"With white people, it's usually to do with something that's happened – 'I fell into the water, there was an accident', something like that. But there are a lot of black people, myself included, that have aquaphobia and don't even know it."

Ed Accura
According to Swim England, the sport's governing body, 95% of black adults and 80% of black children in England do not swim, and only 2% of regular swimmers are black.
Saturday, April 3
Daiya Seto & Yuki Ohashi Speed To Helm Of 2021 Work Ranks
On the first day of the Japan Swim 2021 meet, which serves as a home-Olympic qualifier, World champion Daiya Seto sped to the helm of the early 2021 World Rankings to retain his Japan No1 status in the 400m medley on 4:09.02 ahead of Yuki Ikari, on 4:11.88 and Tomoru Honda, on 4:13.34.
The women's 400m medley win also translated to a domestic No1 status retained, Yui Ohashi's 4:35.14 also granting her the No1 slot at the top of the global ranks for this year. The podium was completed by Ageha Tanigawa in 4:37.90, and Sakiko Shimuzu, on 4:38.11.
In the men's 400m freestyle, a battle between Ryo Nakajima and Shui Kurokawa went in Nakajima's favour 3:47.00 to 3:47.58, the bronze to Ikki Imoto in 3:50.65.
In semi-finals, Shoma Sato clocked 59.18 at the helm of the 100m breaststroke pace, while Suzuka Hasegawa led the way into the women's 100m butterfly final on 58.30, 0.02sec ahead of Ai Soma with Rikako Ikee, recovered from leukaemia and on the comeback trail with Paris 2024 in her sight, third through on an encouraging 58.48.
Ilya Borodin Sets World Junior & Russian 400IM Mark Of 4:11.17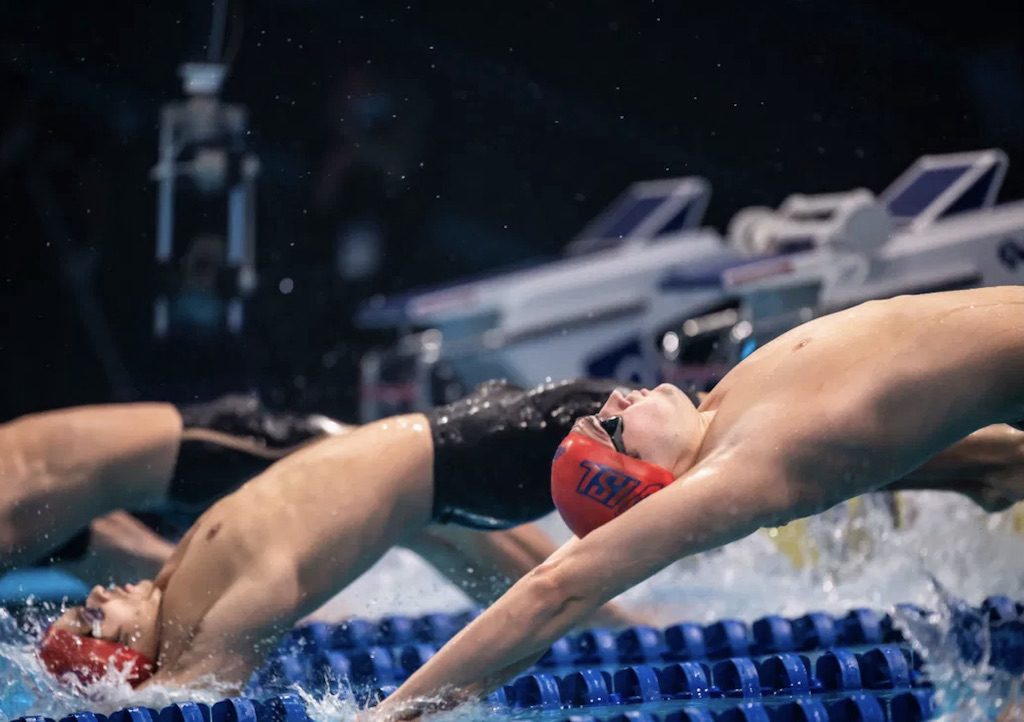 Ilya Borodin set a World Junior and Russian record of 4:11.17 on the first day of Russian Swimming Championships in today, while Kliment Kolesnikov fell just 0.08sec shy of his World record when taking the 50m backstroke crown in 24.08.
There were also strong performances from Martin Malyutin, on 3:45.92 in the 400 free and Anastasiia Sorokina, who clocked 4:43.78 in the 400m medley to break a Russian junior record that had stood for 37 years: Yelena Dendeberova set the mark more than 20 years before Sorokina was born and would go on to claim Olympic silver at Seoul 1988 at the last games to feature a team from the Soviet Union. Malyutin, meanwhile, was on the podium celebrating joint bronze with Duncan Scott over 200m freestyle at the 2019 World Championships.
Back to 18-year-old Borodin: he took down the 4:11.50 World junior mark he established at delayed nationals last year. The Russian record is unarguable but the World Junior standard often comes with a footnote and this one is a must: 4:09.09 was the time Michael Phelps swam at the same age but records only count from the time FINA said they should, which was years after one of many stunning performances in the vault of "the GOAT". That 4:09.09 was a World Record. FINA managed to see past it when considering the start standard for junior records, thus diluting the point of it all somewhat.
Borodin's Splits: 57.68/2:02.06/3:03.06/4:11.17
After his dashing backstroke time, Kolesnikov anchored a Moscow 4×100 free quartet to victory in 3:14.62 in a race that featured a 47.60 blast from Vladislav Grinev.
Friday, April 2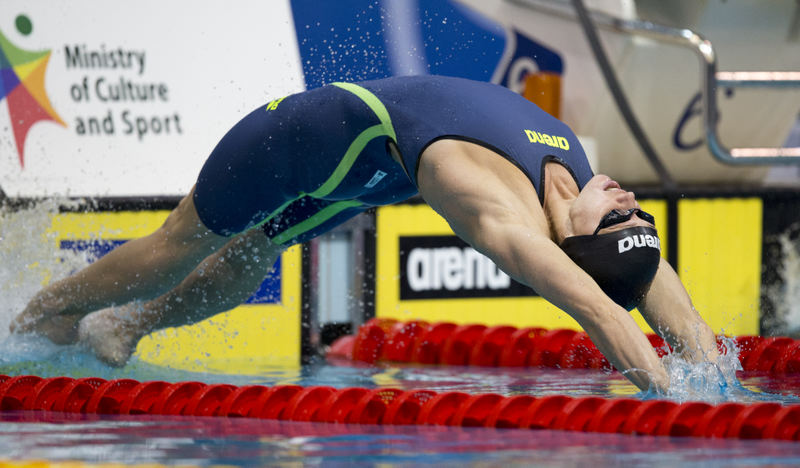 Criminal proceeding has been launched against swimmer Alyaksandra Herasimenia and Alyaksandr Apeykin, the leaders of the Belarusian Sport Solidarity Foundation (BSSF), the Belarusian Investigative Committee reports.
The authorities accuse Herasimenia and Apeykin of 'spreading deliberately false information about the course and results of the election campaign, about events in the social, economic, political, cultural sectors of the society's life'.
"On the Internet and in the mass media, [they] made appeals to foreign states and international organisations to take action aimed at harming the national security of the Republic of Belarus. In particular, under the pressure of the members of the above-mentioned association, a number of major sports events have been removed from Belarus," Friday's press release reads.
The agency claims that Herasimenia's and Apeykin's activity resulted in 'inflicting significant reputational and financial damage to the state, tearing down the country's prestige on the international and political arena, discrediting the leadership of both the sports field and the state'.
The two athletes have been charged with 'calls for actions aimed at harming the national security of the Republic of Belarus which were made through media outlets or the global computer network Internet' (Part 3 of Article 361 of the Criminal Code). The maximum penalty under the article is five years of imprisonment.
Thursday, April 1
Double Snap:
Joshua Kerr & Koby Hall Swim Off – Twice
Here's a NSW Swimming Mighty Blues Mighty Moment featuring Joshua Kerr (Manly SC) and Koby Hall (Novocastrian SC), who had to swim off – twice – at Senior State Age for a Finals spot. Here's what happened:
Wednesday March 31
Daniel Kowalski:
Threats Led To Spiral Of Depression & Bulimia
Daniel Kowalski, winner of gold, silver and two bronzes at the 1996 and 2000 Olympic Games for Australia, went into a spiral of depression and bulimia after he felt cajoled into making his sexuality public.
The former Australian international middle and distance freestyler reveals the depth of his despair and what caused it to Yahoo Sport Australia for its new 'Mind Games' series.
Kowalski came out as gay back in 2010, five years after telling his family and close friends. He only went public after receiving threats: if he didn't come out himself, those calling him would out him.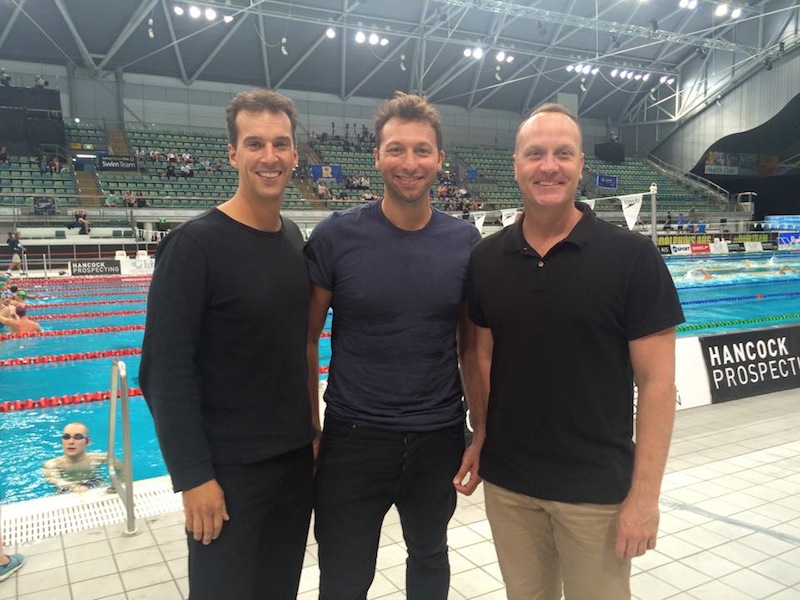 "In 2005 I had accepted who I was and I told my family and my closest friends," Kowalski tells Yahoo Sport Australia. He explains:
"I made a very conscious decision that who I was was between me and them and I didn't feel I had this need to come out publicly. It wasn't until about 2010 that I started receiving calls from a number of publications saying that they were going to 'out' me. I really felt as though a part of me was being taken away and robbed from me, so I decided to take matters into my own hands and chose to come out publicly and did it on my own terms."

Daniel Kowalski

– image: Reunited in 2015: (r-to-l) – Daniel Kowalski, Ian Thorpe and Matt Welsh, Sydney 2000 teammates and medal winners for Australia – courtesy of Swimming Australia Ltd
Listen to Daniel Kowalski talk about Mind Games in the pool, the moment Germany's Jorg Hoffmann sat on his lap in the call room and "scared the living daylights" out of him; why he felt "petrified" at his first Olympics and would have preferred to be a kind watching the Games from back home in his living room.
Read the story in full at Yahoo Australia
Hungarian Squads:
5th Games For Hosszu & Cseh
The Hungarian Swimming Association (MUSZ) have named a provisional Olympic squad, including triple Olympic champion of 2016, Katinka Hosszú and Laszló Cseh, who will race at his fifth Olympic Games at the age of 35 this July at the Covid-delayed Games. Longer lists for the European Championships in Budapest in May.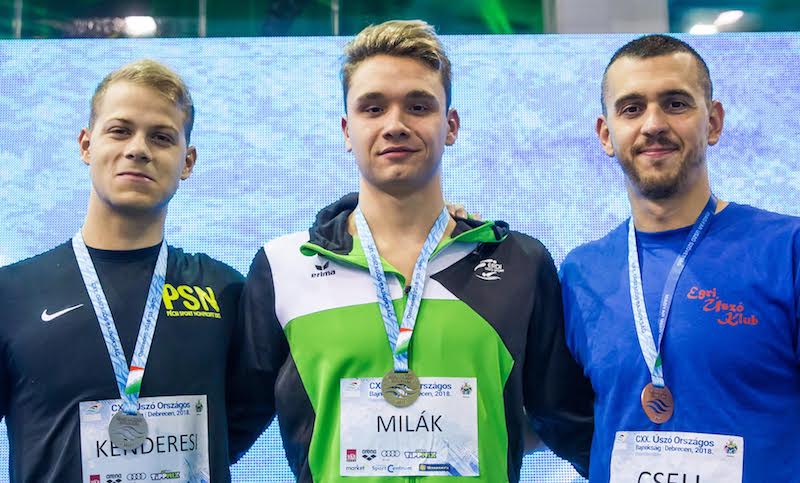 The Budapest Open, on June 16-19, will offer a last-chance saloon for any yet to make the Olympic team but only in events that are not sealed with "protected" status. That status is not conferred on Cseh's 200m medley berth, nor the 200m freestyle berth of Kristóf Milák, who claimed six golds and three national records at Hungarian Championships last week. Swimmers can either unseat a berth holder in "unprotected" events or can replace a swimmer who does not wish to race a particular event. Milák is a certainty for the 100 and 200m butterfly and relay action, his entry in the 200m freestyle is far from certain, he and his coach Attila Semeneci having noted that nothing will stand in the way of the 200m butterfly World champion and record holder giving everything he has to the key targets he's worked for. The teams so far:
Olympic Games:
Men: Laszlo Cseh, Peter Bernek, Kristóf Milák, David Verraszto, Nandór Németh, Dominík Kozma, Gabor Zombori, Akos Kalmar, Gergely Gyurta, Richard Bohus, Adam Telegdy, Tamas Takacs, Mate Kutasi, Tamas Kendersi and Maxim Lobanovskij.
Women: Katinka Hosszu, Boglarka Kapas, Zsuzsanna Jakabos, Fanni Gyurinovics, Ajna Kesely, Katalina Burian, Petra Halmai, Eszter Bekesi, Dalma Sebestyen.
European Championships: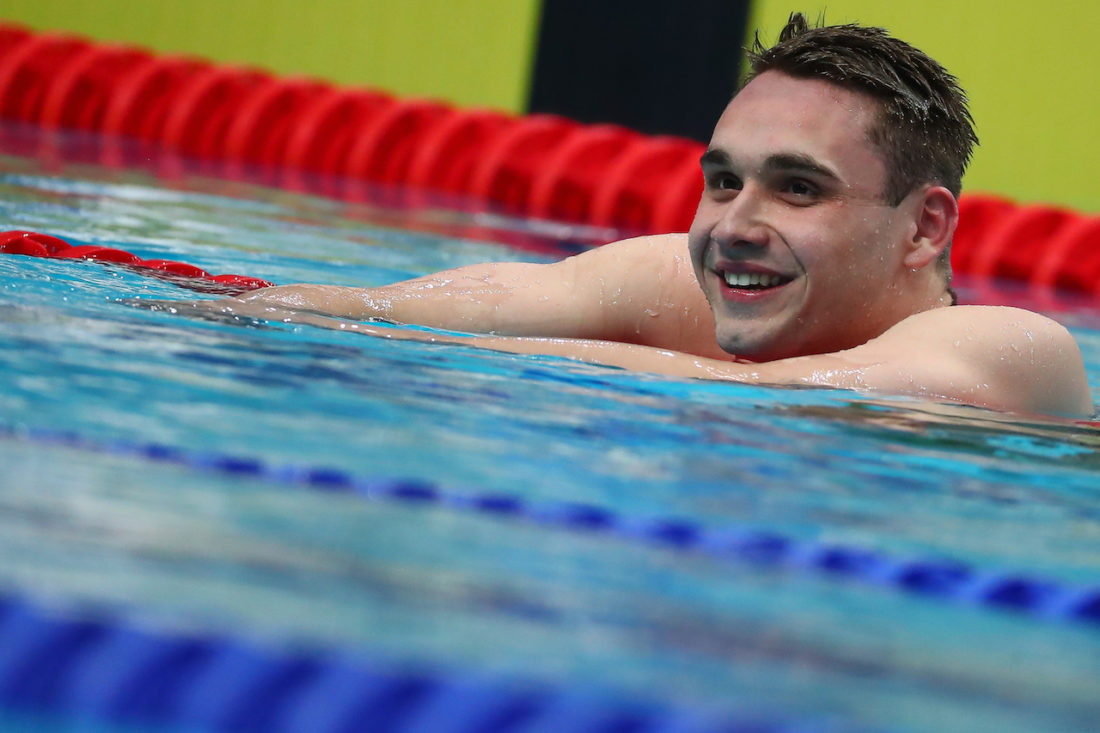 Men (31)
Bernek Péter (1992) BVSC-Zugló
Betlehem Dávid (2003) BÚK Veszprém
Biczó Bence (1993) FTC
Bohus Richárd (1993) BVSC-Zugló
Cseh László (1985) BVSC-Zugló
Gál Olivér (2001) HÓD ÚSE
Gyurta Gergely (1991) UTE
Balázs Holló (1999) Egri ÚK
Holoda Péter (1996) Debrecen SC SI
Horváth Dávid (1996) Kőbánya SC
Jászó Ádám (2002) Pécsi SN
Kalmár Ákos (2000) BÚK Veszprém
Tamás Kenderesi (1996) Pécsi SN
Kós Hubert (2003) UTE
Kovács Benedek Bendegúz (1998) BVSC-Zugló
Kovacsics Márk (2002) UTE
Kozma Dominik (1991) Stamina
Kutasi Máté (1998) Vasas SC
Márton Richárd (1999) Budafóka SE
Kristóf Milák (2000)
Nándor Honvéd Németh Bp. (1999)
Kristóf Rasovszky BVSC-Zugló (1997)
Dániel Sós Vaszprém Sós (1998)
Szebasztián Szas Szabó (1996) Úse Győr
Szentes Bence Szentes (1996) ÚSE
Szöllősi (1998) Szöllősi Martin . VUK SE
Tamás Takács (1998) BVSC-Zugló
Ádám Telegdy (1995) Kőbánya SC
Török Dominik Márk (2002) FTC
Verrasztó Dávid (1988) FTC
Zombori Gábor (2002) Budafóka SE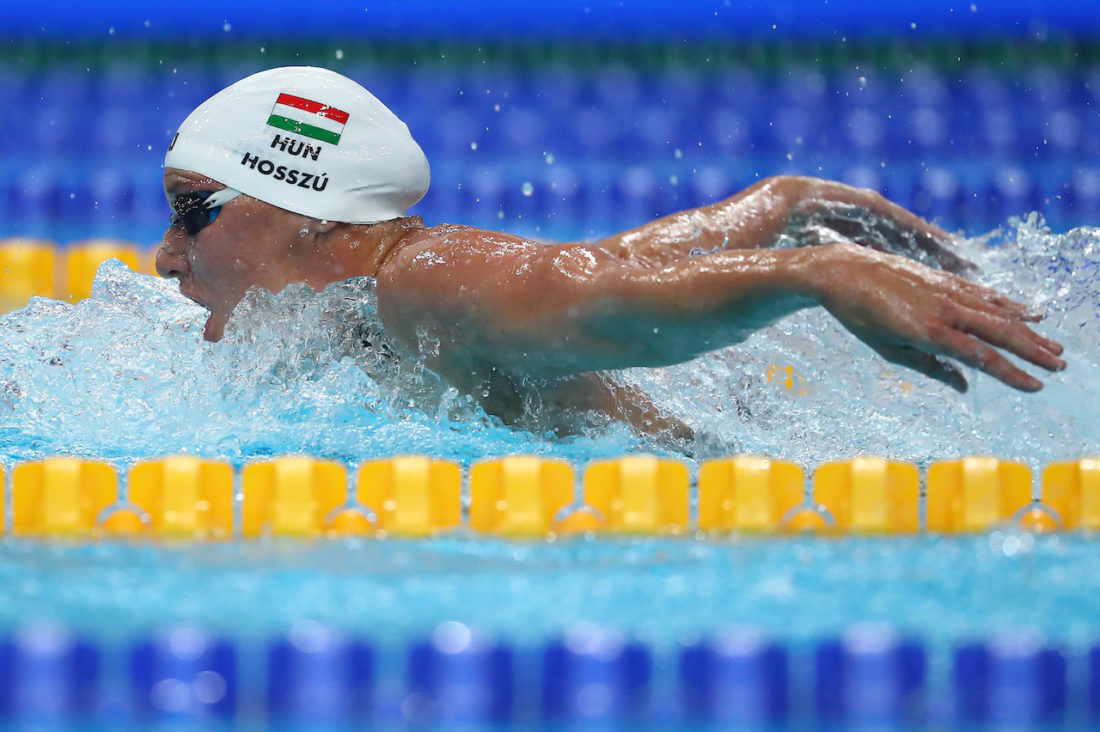 Women (25)
Eszter Békési (2002) Egri ÚK Beatás
Bordás (1992) Hullám '91
Katalin Burián (1995) BVB-Zugló
Fábián Bettina (2004) Szeged UE
Fábián Fanni (2002) Szegedi UE
György Réka (1996) Vasas SC
Gyurinovics Fanni (2001) Vasas SC
Halmai Petra (1997) Kaposv. SI
Hosszú Katinka (1989) Iron Swim
Jakabos Zsuzsanna (1989) Győr ÚSE
Kalmár Alíz (2002) Szombathely SKSI
Kapás Boglárka (1993) UTE
Késely Ajna (2001) Kőbánya SC
Mihályvári-Farkas Viktória (2003) FTC
Olasz Anna (1993) Szegedi UE
Ollé Mónika Beatrix (1999) Stamina TK
Sebestyén Dalma (1997) Győr ÚSE
Senánszky Petra (1994) Debrecen SI
Eszter Szabó-Feltóthy (2002) Vasas SC
Szilágyi Gerda (2003) Stamina TK
Sztankovics Anna (1996) Miskolc SI
Varga Dominika (2001) Délzalai Waterworks
Vas Luca (2000) Szeged UE
Veres Laura (2005) Gyula Castle Bath
Verrasztó Evelyn (1989) FTC
Tokyo 2020:
Lidón Muñoz Added To Spanish Squad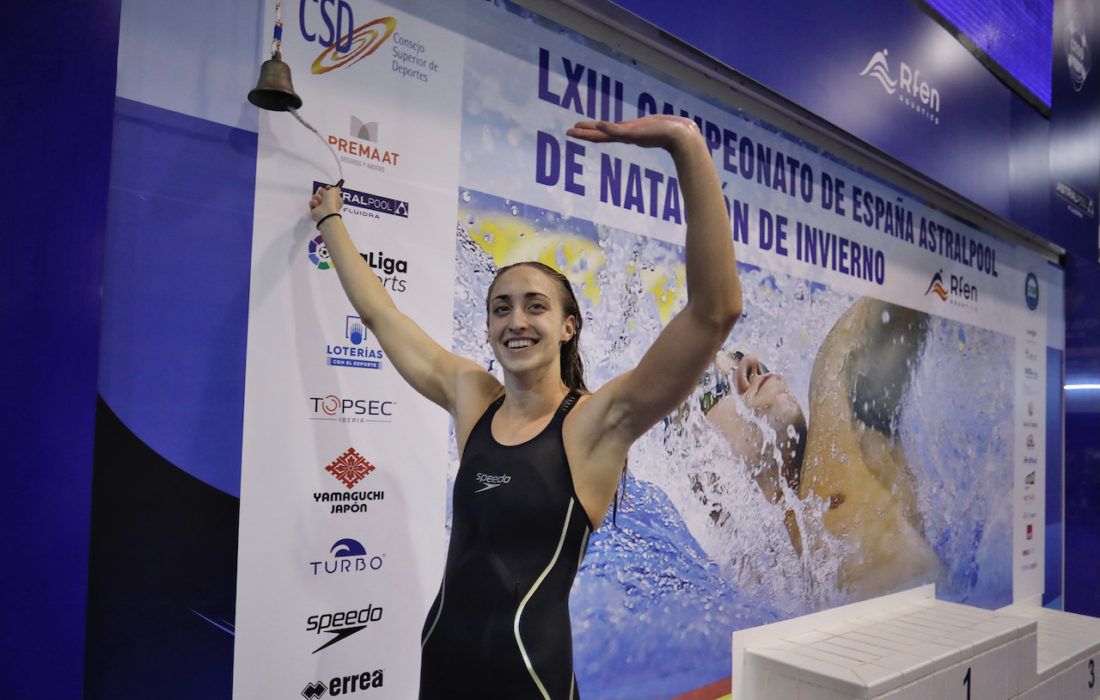 Lidón Muñoz has been added to the Spanish team for the Covid-delayed Tokyo 2020 Olympic Games on the strength of a 54.33sec swim over 100m freestyle in Amsterdam in 2019. The strict policy for selection states that Olympic target times achieved before the pandemic hit would count if the athlete could back up with an equivalent performance.
In adding Muñoz to the Spanish squad, the RFEN, Spain's national swimming federation, noted: "… based on point 3.6 of the Selection Criteria, the Directorate of E.N. has considered including in the selected team those swimmers who met the selection criteria in the 2019/2020 season but had their classification negatively affected as a result of covid-19."
The addition of Muñoz completes a Spanish Olympic team of five women and three men:
W: Mireia Belmonte; Jimena Peréz; África Zamorano; Jessica Vall; Marina García; Lidón Muñoz
M: Hugo González; Nicolás García; Joan Pons.
WADA's Speak Up! Now In Spanish:
'Rompe el Silencio!'
The World Anti-Doping Agency (WADA) announces that its secure, digital whistleblower platform 'Speak Up!' is now available in Spanish, in addition to English and French. 'Rompe el Silencio!' is intended for potential Spanish-speaking informants and whistleblowers (confidential sources) to report possible Anti-Doping Rule Violations (ADRVs) under the World Anti-Doping Code (Code), non-compliance violations under the Code, or any act or omission that could undermine the fight against doping in sport. 'Rompe el silencio!' – which includes a secure app for iPhone and Android devices – is now available on the App Store and Google Play. Details In full from WADA
A Good Read:
Faith Leech: Olympic Gold & Bronze, Retired At 15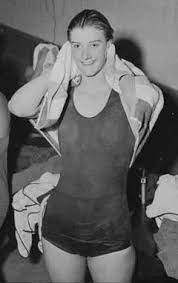 Troy Lennon, the History Editor of the Australian Daily Telegraph (full read – subscription) today tells the story of Faith Leech, Bendigo's first Olympic gold medallist, born in the Victorian city 80 years ago today, on March 31, 1941. Lennon describes Leech's achievements in swimming, her retirement at 15 and then writes:
Although she continued to compete in some local events, into 1957, there would be no more Olympics. The stress of international competition was not good for her health.
The inspiring Leech had overcome some medical conditions that might have crippled other people. In fact, it was her parents' efforts to overcome a back problem that led her into the sport of swimming in the first place. Even after her retirement from elite level swimming she maintained contacts with the sport and even went on to coach swimmers competing at the Paralympics.
She was Bendigo's first gold medallist, born in the Victorian city 80 years ago today, on March 31, 1941. She was the second daughter of Johnstone Leech, a well-known jeweller in Bendigo, and his wife Jessie. Her older sister Robin Yvonne Leech, born in 1938, died of leukaemia in 1940 at the age of two. Jessie and Johnstone were told they would never have another child but were delighted when they had a second daughter. They named her Faith Yvonne Leech. They hoped their second child would escape any debilitating or life threatening conditions but when she was born Faith was diagnosed with a double curvature of the spine. As she grew Leech also had problems keeping food down and Jessie had to feed her small amounts of food in regular doses throughout the day, straining the food through a sieve.
Her condition baffled doctors but Leech responded to a naturopath's recommendation of a diet of fruit and vegetables. She remained skinny and "delicate", so Jessie looked for ways to help her child become stronger …. The family took a holiday and signed Leech up for classes.
At first Leech refused to put her head under the water …
Faith Leech passed away in 2013. Here is one of the last features written about, from the last year of her life, including some of the details of her against-the-odds swimming story.
Tuesday March 30
Swim Lessons Save Lives:
The World's Largest Swim Lesson
The World Waterpark Association is officially opening registration for the 12th Annual World's Largest Swimming Lesson (TM) this Thursday, April 1, 2021. Host Locations can celebrate April Pools Day by signing-up for this year's worldwide lesson.
Tens of millions of children missed the opportunity to participate in aquatics last summer, creating an urgent need for swim lessons in 2021. Organizers are urging aquatic facilities of all types to register for the global, one-day event and to host at least 21 participants (#21in21) to build awareness about the need and importance of swim lessons in their local communities.
The World Health Organization, drowning is the third leading cause of unintentional injury-related death, accounting for 7 per cent of all injury-related deaths worldwide. In the U.S., drowning remains the leading cause of preventable injury-related death for children ages 1-4, and the second leading cause for children under 14.
Despite all of that woe, a 2020 research study completed by the American Red Cross, more than half (54%) of U.S. kids ages 4-17 are not able to perform the basic water safety skills that can save their life.
WLSL organisers note: "The World's Largest Swimming Lesson(TM) provides kids, parents and caregivers exposure to life-saving water safety skills while building buzz and awareness about the importance of teaching children to swim and providing undistracted adult supervision to help prevent drowning.
Aquatics facilities and providers can join TEAM WLSL(R) in their mission to prevent childhood drowning through education by registering to conduct the 30-minute lesson any time of day during the 24-hour event on Thursday, June 17 this year.
In 2019, 20 nations took part in the event, which got up and swimming in 2010, the last annual event involving swim lessons for some 60 million kids.
Here's the 2019 event and what it's all about…
Covid-19 Impact:
Pandemic cited after suicide of water-polo 19-year-old
Huntington Beach family blames coronavirus pandemic after son, 19, killed himself, reads the headline. It is the story of Jack Green, who lost on-campus classes at UC Irvine, his contact with water polo, training and team, and in-person friendships, his parents say. Reporter Allyson Escobar at the Orange County Register, writes:
At more than 6 feet tall, Jack Green was handsome, charismatic and athletic. Following in the footsteps of his father – a former U.S. record-holder on the 1984 Olympic track and field team – Green was a star athlete, playing center in water polo at Huntington Beach High School, before joining UC Irvine's team as a freshman last school year.
While already juggling strenuous school work and practices, Green was struck in March 2020 by an unexpected challenge: the coronavirus pandemic. The campus and his dormitory closed. Practices, games and regular contact with friends ended. Classes went online as the virus lockdown dragged on.
"He went from this huge amount of training all of these years, to suddenly nothing," his father Bill Green said. "He lost his sport, his social group, and online school was not easy for him … everything started to change for him in his life."
Monday March 29
Canadian Bailey Andison Cracks 2:10 over 200IM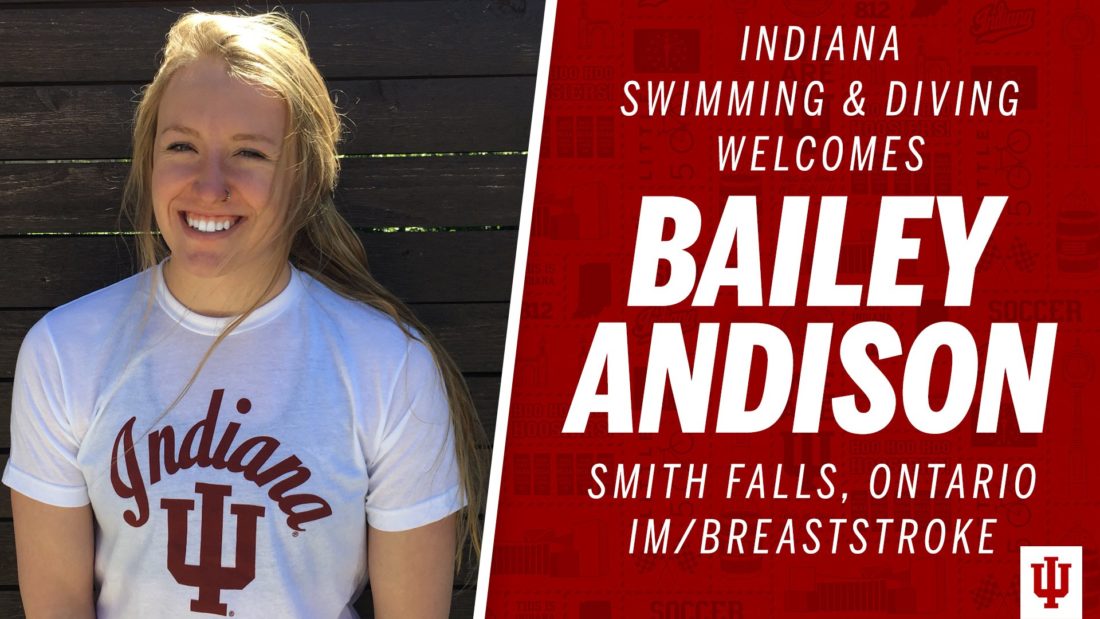 Sectionals in Indianapolis and Elkhart in the United States were headlined by Canada's Bailey Andison, who clocked a strong 2:09.99 for a sub-2:10 debut in the 200m medley. Her 2019 career high was a 2:11.33. Now she heads into Canadian Olympic trials as a serious Tokyo 2020 Olympic ticket chaser in May.
In the men's events, Zach Apple was first home in the 100m freestyle in 48.89, his first sub-49 this season but far from his lifetime best of 47.69, U.S. Olympic trials still three months away.
Swimming Pick Of Past Week:

Kristóf Milák
Nothing, but nothing, topped the efforts of Kristóf Milák at the 123rd Hungarian Championships in Budapest. Milák tells the Hungarian media that he will have a flexible multi-event program at the May European Championships in the same Duna Arena pool in Budapest as he excelled in this past week. Come the Tokyo 2020 Olympic Games, however, he will confine his efforts to his big chances, the 100m and 200m butterfly his core focus, with relays and the possibility of one other solo event on the cards.
Kristóf Milák's best efforts in Budapest last week at a glance:
Here's that last blast:
Competition:
Celebrate Your Efforts & Win AP Plus Kit
Have you run online training sessions, special athlete talks or similar to keep your swimming club going during the Covid-19 pandemic? Well, you could get 100 AP Race Caps and 100 AP Race Bottles by entering a competition launched by Adam Peaty and AP Plus partner Ed Baxter: just show them what your club has done in a twitter response to the below, using tag @apraceplus and #apraceclub:
Tokyo Tickets:
Polish Olympic A'Cuts For Majerski & Bernat
Jakub Majerski, on 51.44 in the 100m butterfly and 16-year old Laura Bernat, on a national youth record of 2:09.81 in the 200m backstroke, raced inside Olympic 'A' cuts in Lublin at the latest stage of the Polish Grand Prix over the past weekend.
Bernat is now only 0.078sec shy of the Polish senior record established by Alicja Tchorz at a time of shiny suits at the Rome 2009 circus of a World Championships that witnessed 43 World records in eight days before non-textile apparel was banned from the start of 2010.
NCAA:
Texas Longhorns – Record 15th Swimming & Diving Title
In United States swimming news, the University of Texas Men's Swimming and Diving team claimed the NCAA Championship Title for a record 15th time at the weekend. The Longhorns concluded the four-day meet at the Greensboro Aquatic Center with 595 points, 27 up on California (568). Florida (367), Georgia (268) and Louisville (211) completed the top 5 teams. The Longhorns have won the team title in five of the last six national championship meets (2015, 2016, 2017, 2018 and 2021), the 2020 season missing from all counts as the Covid-19 pandemic forced cancellation.
Texas Sports reports: "In his 43rd season as head coach, Eddie Reese won his 15th national crown and recorded his 27th top-two national finish and 34th top-three showing. The 15 national titles are tied for the seventh-most of ANY coach in NCAA history (all sports). Reese has led the Longhorns to 41 consecutive top-10 finishes at the NCAA Championships and has now won a national title in FIVE different decades (1981, 1988, 1989, 1990, 1991, 1996, 2000, 2001, 2002, 2010, 2015, 2016, 2017, 2018 and 2021). The University of Texas captured the 56th national team championship (52 NCAA titles) in school history and first since Men's Tennis won the 2019 title."
Tokyo 2020:
Olympic Stamps On Sale In June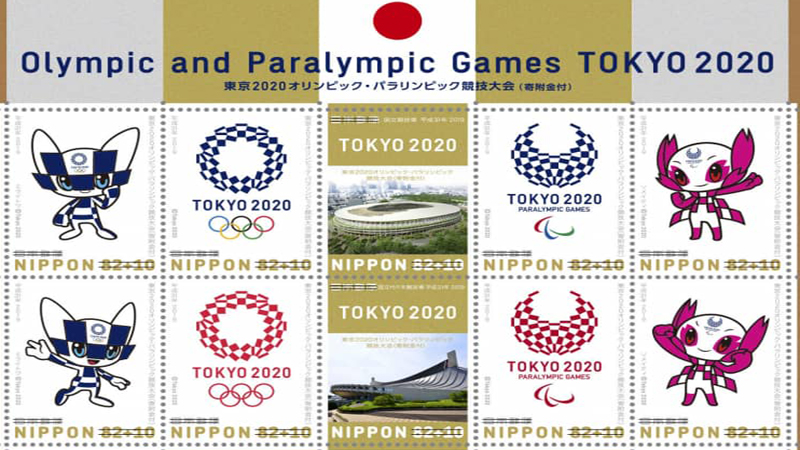 The Tokyo Olympic and Paralympic journey has been a tough one but if all is well by June 23, a month before the Games are dried to get underway in the Japanese capital, there'll be an official stamp of approval, of the philatelic kind.
Japan Post has announced June 23 as the day the official Olympic stamps collection will go on sale at post offices nationwide and online. Each set consists of a sheet of 25 84 yen stamps and is priced at 2,100 yen.
Of the three types, two are designed with 50 Olympic events, swimming included. The other has the 23 Paralympic events. Japan Post plans to sell 1 million of the sets each.
Olympic Torch Run – & Swim:
Nihon eihō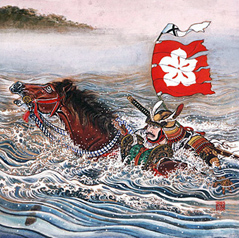 It won't be the first Olympic Torch on the water but in May, when the Tokyo 2020 Relay visits Hiroshima, swimming Torchbearers will demonstrate an ancient Japanese technique known as "Nihon eihō".
Nihon eihō, also called Koshiki eiho and sometimes called "Samurai Swimming", is a Japanese traditional style of swimming. It includes not only the normal swimming, but swimming in armour and combat techniques in the water as a military art, such as fighting techniques in the water and firing a matchlock while treading water. Some schools in Japan also teach seamanship, including focus on safety in water. More about Nihon eihō.
U.S. Tokyo Ticket Holders May Only Get Face Value Refund
According to reports by the Associated Press (AP) agency, CoSport, the Olympic Authorized Ticket Reseller (ATR) in the United States will only refund the face value of tickets bought for the Games but no longer valid because foreign fans cannot travel to Japan for the big event under official Covid-19-restriction policies. U.S. fans will get the face value of the ticket back but a 20% handling fee will be retained by CoSport.
Portuguese
Pace
Test
At the Coimbra "Rumo A Toquio" Meet in Portugal, Miguel Nascimento and Benfica teammate Victoria Kaminskaya made the domestic swimming news headlines with respective efforts of 49.23 in the 100m freestyle and 2:26.16 in the 200m breaststroke. Algerian visitor Oussama Sahnoune was closest to Nascimento, on 49.92, while Nascimento also took the 50m, in 22.28.
On backstroke, Joao Costa pipped Francisco Santos in the 100m, 55.15 to on 55.33, while Santos claimed the 200m win in 1:58.22, establishing a new national record. The standard had stood to Pedro Oliveira at 1:58.83 since the London 2012 Olympic Games, while Santos' 2019 career high was a 1:59.31.
Alexis Santos won the 200m medley in 2:01.53, while the best among women adrift Kaninskaya were Rafaela Azevedo, Algés, on 1:01.52, Ana Rodrigues, on 31.49 in the 50m breaststroke, and Diana Duraes, on 16:26.82 in the 1500m freestyle.
Covid 19 Swimming News:
UK Steady Return To Water
The UK returns to open water and outdoor pools today as Covid-19 lockdown restrictions ease in time for Easter and amid a strong vaccine rollout. Frustrations remain, a return to indoor-pool swimming and training for over 18s set for mid-April as things stand.
Drowning: do you know enough about this global killer? – quiz
Hundreds of thousands of people drown every year. Many deaths go unrecorded, however, and pressure to teach people to swim is not what it might be. Do you know enough? Take The Guardian quizz.
Swimming News
– A Good Read:
Down In Dublin Bay …
At 7:30 a.m. every Friday, the Forty Foot Walrus Winter Swimming Group meets for a 1.2 mile swim, organized by Gerard Kennedy, a long-distance swimmer who has been swimming every day for 10 years, for up to 40 minutes at a time in winter.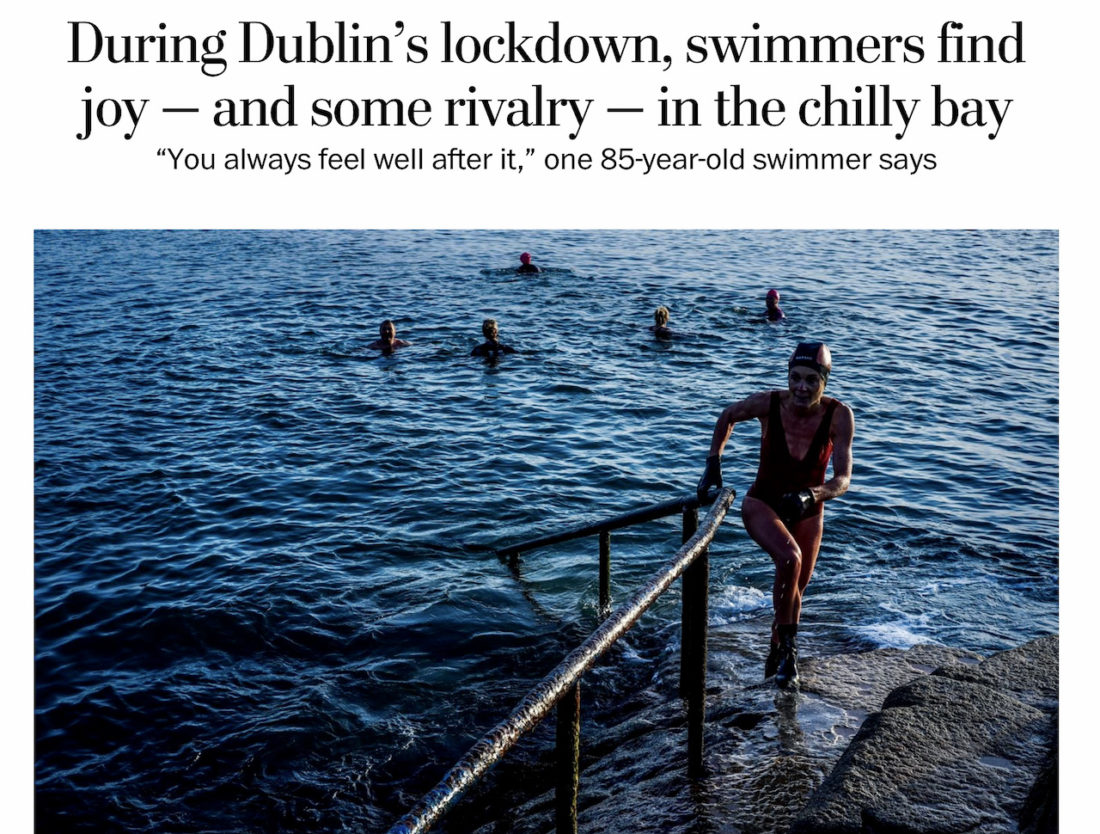 He says he has felt physical and mental benefits; he was diagnosed with arthritis at young age when someone introduced him to cold-water swimming. He says he swam in water as cold as 29 degrees in Antarctica without a wet suit.
He loves seeing the Forty Foot so busy since the pandemic started…
"First of all, it's a free mental health check-in. We all feel good coming out of it and smiling. It doesn't matter what age you are, or who you are. It's there for everyone, even if you just float around."

Image – ragout from The Washington Post feature, Down in Dublin Bay
…As well as signs warning of hazards, new temporary signs at the Dublin bathing spots remind swimmers to "Swim and Go" to keep bathing areas covid-safe. Perhaps, when normalcy resume, future visitors to attractions on Dublin Bay like the James Joyce Tower and Museum may take a swim in the sometimes green sea.
Read more about why sea swimming is becoming more popular and what swimmers have to watch for from Yvonne Gordon at the Washington Post.
What's A Sports Signature Worth?
New research has looked at the most expensive pieces of sporting memorabilia to reveal the sporting stars with the most expensive signatures, with some being worth up to $17,000, according to Casino.org.
See the list at Casino.org:
The average cost of a signature by athlete:
| | | | |
| --- | --- | --- | --- |
| Rank | Athlete | Sport | Average signature value |
| 1 | Kobe Bryant | Basketball | $16,966.49 |
| 2 | Michael Jordan | Basketball | $7,593.22 |
| 3 | Babe Ruth | Baseball | $5,983.34 |
| 4 | Muhammad Ali | Boxing | $5,353.19 |
| 5 | Tiger Woods | Golf | $4,363.57 |
| 6 | Serena Williams | Tennis | $4,121.08 |
| 7 | Jackie Robinson | Baseball | $4,079.51 |
| 8 | Wilt Chamberlain | Basketball | $3,930.26 |
| 9 | Derek Jeter | Baseball | $3,584.45 |
| 10 | Tom Brady | American football | $3,483.79 |
A signature is timeless and since his tragic passing, Kobe Bryant's autograph is worth $16,966.49 and is the most valuable of any sportstar.

To no surprise, Michael Jordan ranks just behind at $7,593.22 being one of the most famous active NBA players. His sneaker collaboration with Nike to create the Air Jordans saw huge success and a pair he wore sold for $560,000 at Sotheby's.

Baseball legend Babe Ruth is a prized name for sporting memorabilia and undoubtedly comes in as the 3rd most expensive signature fetching $5,983.34.
The top 5 most expensive sporting memorabilia of all time:
| | | | |
| --- | --- | --- | --- |
| Rank | Memorabilia | Sports | Value ($m) |
| 1 | Original Olympic Games Manifesto | Athletics | $8.8m |
| 2 | Babe Ruth 1928-1930 Jersey | Baseball | $5.64m |
| 3 | Babe Ruth 1920 Jersey | Baseball | $4.42m |
| 4 | James Naismith's 1891 Rules of Basketball | Basketball | $4.3m |
| 5 | Daniel Lucius Adams' Rules of Baseball | Baseball | $3.26m |
The manifesto outlining Pierre de Coubertin's vision for the modern day revival of the ancient competition holds the record for the most expensive piece of sporting memorabilia ever, fetching just over $8.8 million at Sotheby's.

Babe Ruth appears three times in the top 10 (and 26 times in the top 100), bagging second and third place for his jerseys confirming his baseball legend status.
Golf, boxing and athletics were revealed as the top three sports with the most expensive memorabilia costs (on average).