The Vortex, April 25-May 1 – Katie Ledecky Inside 15:40 For 15th Time As U.S. Trials Conclude With Selection Of 41 For Budapest World Titles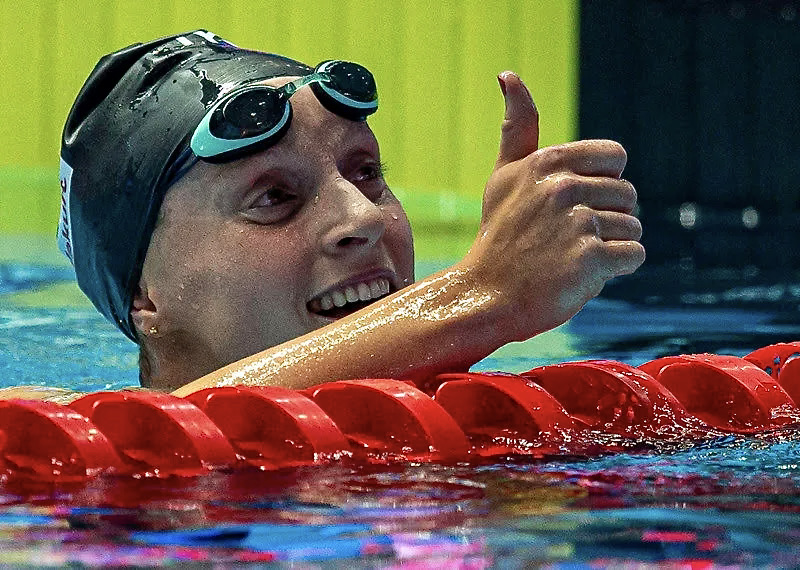 The Vortex is our weekly day-by-day digest of swimnews, views, top picks and links to the best coverage of swimming and related issues. This week, April 15 to May 1, top action is to be found at U.S. Trials in Greensboro. This author is currently on writing retreat and taking a break from usual coverage of the sport but will continue the SOS weekly Vortex round-up
Saturday April 30
U.S Trials in Greensboro concluded with 41 swimmers selected for Budapest 2022 FINA World Championships from June 18-25.
The last session witnessed two U.S. Open records and saw Katie Ledecky take the 1500m freestyle for a 200-1500 sweep in Greensboro, the Olympic champion's 15:38.99 setting a pace almost a second per 100 fastest than her nearest challenger, Katie Grimes, who backed up her open water selection for Budapest with a 15:51.36 berth in the 30-length pool race.
Ledecky produced the swim of the trials with an 8:09 win over 800m freestyle, while Hunter Armstrong made headlines with a World record in the 50m backstroke, of 23.71.
In Budapest Ledecky will seek the 800m crown for a record fifth time, after victories in 2013, 2015, 2017 and 2019.
Ledecky has now been inside 15:40 over 1500m no fewer than 15 times, while Grimes is the second swiftest 16 and under over 1500, after Ledecky, who was 15 when she claimed her first Olympic title, over 800m at London 2012. On Grimes, Ledecky said: "I didn't even really know who she was until Olympic Trials last year. She really burst onto the scene and stayed there ever since and it's great to see. It's great to see someone reach the pinnacle of the sport and then maintain, so I'm really excited about her future.
In other action, there were U.S. Open records for Alex Walsh on 2:07.84 in the 200m medley ahead of Leah Hayes, 2:09.99, and Olympic champion Bobby Finke, on 7:43.32 in the 800m free ahead of Charlie Clark, on 7:50.07.
Chase Kalisz led Carson Foster in the men's 200m medley, on 1:56.21 and 1:56.65; Torri Huske led Erika Brown 24.50 to 24.52, with Gretchen Walsh locked out by 0.01sec in the 50m free; and Caeleb Dressel clocked 21.29 ahead of Michael Andrew's 21.45 in the 50m free
Ledecky, Dressel, Andrew and Curzan top the score for number of solo events aheads in Budapest, each with four targets apiece before relays.
Friday April 29
Regan Smith 57.7 Trials Open Mark Delivers Rematch Of Title Favourites In Budapest 100 Back Battle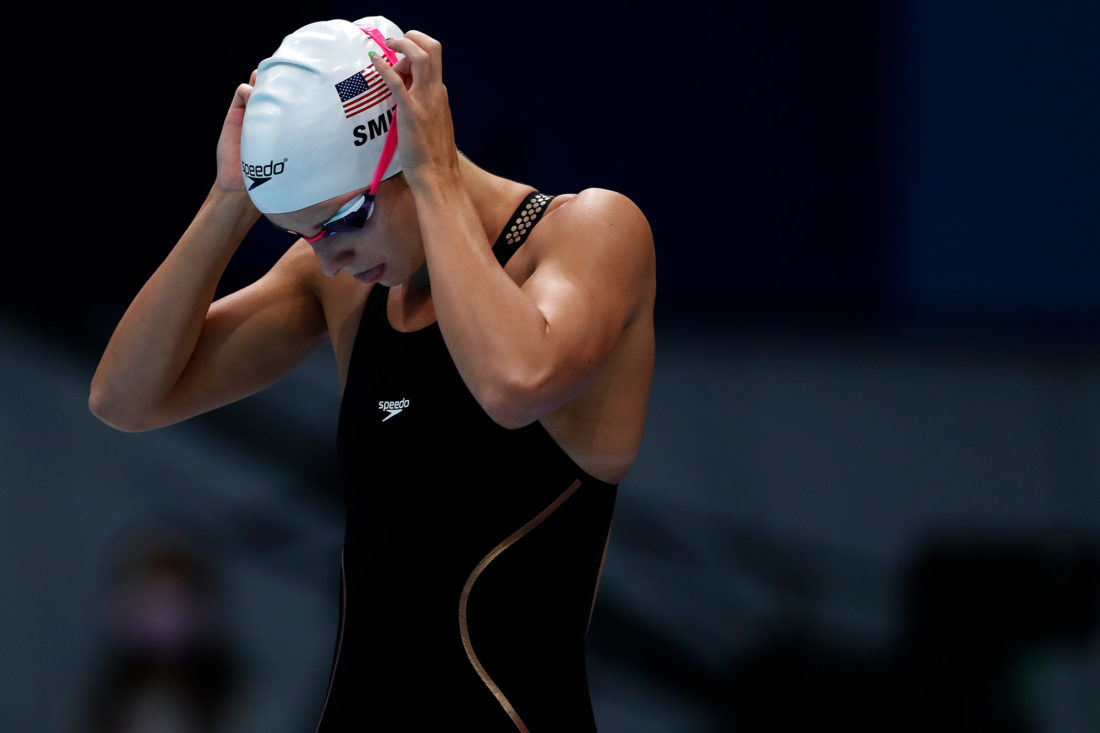 Many of the keenest clashes we saw between Americans and Australians in Tokyo last year will not feature at the World Championships in June but a 57.76 U.S. Open record from Regan Smith sets up another speedy encounter with Kaylee McKeown, the Dolphin who leapt to double backstroke glory at the Olympics.
Smith, who in leading the USA to 4x100m medley gold at 2019 World titles became the first woman ever to race inside 58, was just 0.19sec shy of that blistering 57.57 when her ticket to Budapest for the solo battle and the relay defence.
She had left the U.S. Open record at 57.92 in 2021: for those who wonder, the American record is the fastest ever by an American, while the U.S. Open record is the swiftest time ever swum in domestic waters(and perhaps best described as such rather than the term most commonly used 'on American soil', which would make the dense element in which swimming takes place an absolute breeze).
Smith was followed home by Claire Curzan, 58.39, and Rhyan White, 58.59, both already on the team for Budapest in other events, Curzan in the 100 'fly and White in the 200 back. Said Smith: "It felt really great until like the 80-meter mark and then I died really bad. But I'm really happy with that time. It's a great time for me. I'm really happy to end on a good note."
It was Smith's fifth effort inside 58 and the second swiftest of her career after that pioneering 2019 blast. She will not defend the crown in Budapest, that honour belonging to Canadian Kylie Masse, on 58.60 in 2019 but now an Olympic silver medallist with three 57s to her name, the swiftest of them a 57.70, while McKeown, yet to officially qualify for Budapest, holds the World record at 57.45 and claimed the Olympic crown in 57.47.
A great race ahead.
Same for the men's 100m backstroke, which will go without the Olympic champion, Evgeny Rylov, double banned by FINA as he is, stripped of his Speedo contract as he is.
Having cracked the world dash mark in a blistering 23.71, Hunter Armstrong will enter his first World-title fight as favourite with a new 52.20 high in his vault and defeat of 2016 Olympic champion and 2020ne bronze medallist Ryan Murphy, on 52.46. Justine Rest was third in 52.73.
Armstrong surpassed his previous high bar by 0.22sec, which he set at Olympic trials a year ago. Armstrong fancies his chances: "I'm extremely confident moving into Budapest. That was definitely the scariest swim I've had this meet. Nobody knows I'm a freestyler so the 100 was kind of just going, 50 back happened, but you know because of the 50 back I learned who my competitors were and it all came down to racing. I'm super excited to represent the U.S.A. with [Ryan] Murphy once again."
In other action
Katie Ledecky took the 400m freestyle in a solid and smooth 3:59.52, Leah Smith taking the second berth for Budapest in 4:03.15. Kieran Smith topped the men's equivalent in 3:46.61 a touch ahead of Trey Freeman's 3:46.93.
The women's 100m breaststroke final was led by Lilly King, Budapest bound as title defender on a 1:05.67 at trials ahead of Annie Lazor 1:06.12.
Nic Fink overhauled Michael Andrew in the men's final, on 58.37 and 58.51 at the helm of the World rankings this year. So far is important to note in all events, particularly so in some.
Zhang Yufei Goes '56 In 100 Fly' Time Trials Twice In A Day On Return To Training After Covid Lockdown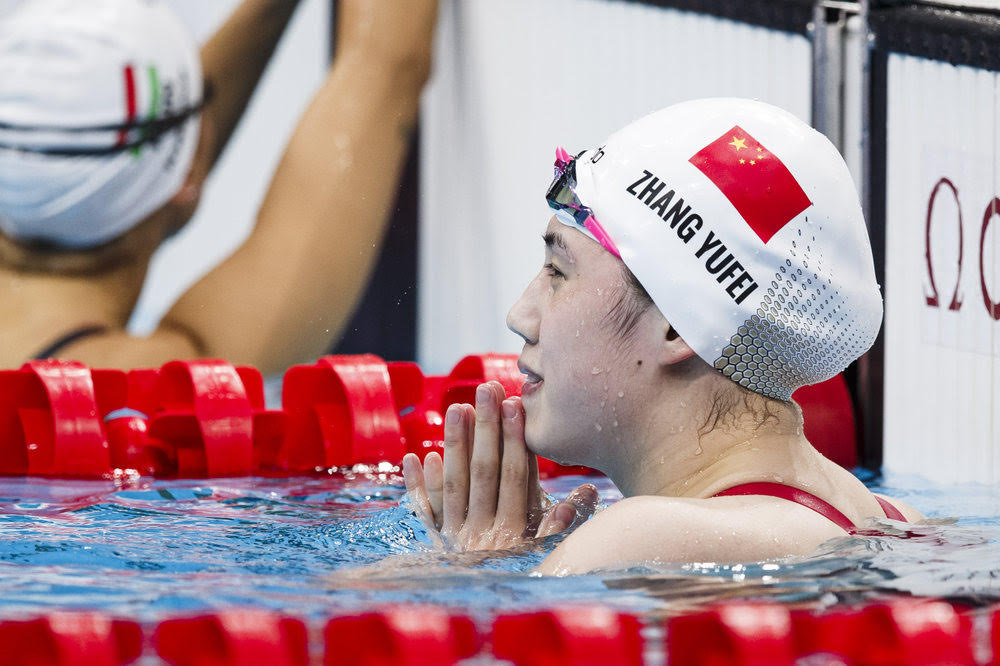 Zhang Yufei, China's most medalled swimmer of the Tokyo 2020ne Olympic Games, has returned to training in Shanghai after Covid lockdown forced pools and other sports facilities to close and citizens, including elite sports people, to stay at home.
Zhang appears not to have lost too much of her fitness, the Chinese swim fans group reporting
via an assistant coach at the program where the 200m butterfly Olympic champion trains that she clocked 56.49 in morning heats and 56.56 in afternoon finals at a time-trial event in Shanghai. The times are a touch outside what took the top two slots at U.S. Trials in Greensboro yesterday for selection to the World Championships (see lower in the Vortex).
Zhang is also reported to have swum 1:59.18 in the 200m free, while teammate Qin Haiyang clocked 59.53 in the 100m breaststroke and 1:59.14 in the 200m medley, according to the fans group reporting on messages posted on Weibo by the Shanghai swim program.
In a report in the past week, Chinese TV noted that all trials events, including World-Championship trials, and the Chinese Swimming Championships have been cancelled this year. The report indicated that Zhang would not be racing at World titles in Budapest in June but is working on a new training plan for Paris 2024.
Along the way, the TV station stated, Zhang is aiming to race in 10 events at the Asian Games in October this year. The news was accompanied by a film of Zhang in training that suggested training in a tank was new to her program. That would be odd: the kind of tank she is shown diving into matches those first introduced by GDR coaches and sports scientists in the 1980s. Flume testing has been a part of China's swimming program ever since.
Luther Paper On Wimbledon Response To Russian War On Ukraine Raises Case For All Sports Authorities To "Create Legal Certainty" Through Human Rights Legislation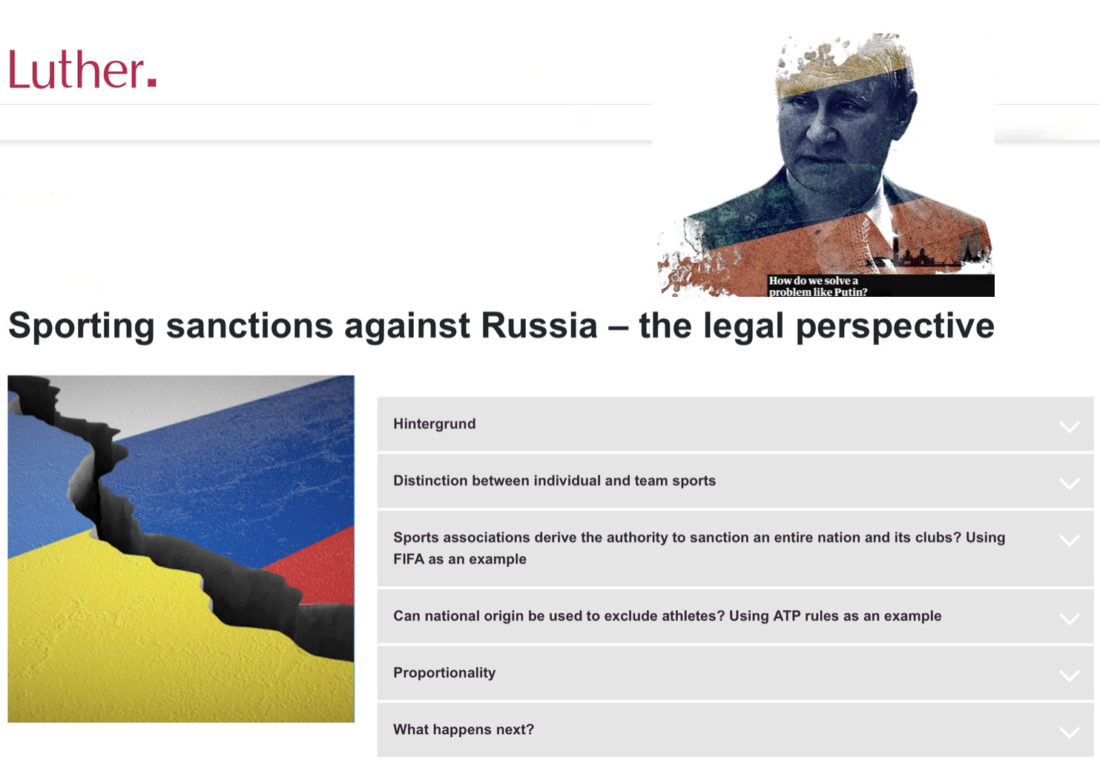 The Russian war on Ukraine has raised challenges for sports authorities, from the International Olympic Committee through the international federations affiliated to it (and others that are not), because their claim to autonomy and doing business in a bubble of their own making has left their rulebooks void of human-rights related red lines that would provide the certainty required when sanctions are deemed necessary.
In a paper at Luther, the law firm, Dr. Marie-Christin Bareuther, LL.M. (Bond), an associate in Hamburg, looks at the issues raised by Wimbledon's decision to take heed of the direction of British state policy on Putin's war on Ukraine in its decision to bar all Russian players from the All-England Club tournament.
Dr. Bareuther suggests that international sports federations create legal certainty where their rule books have shied away from such things, in part, it is widely assumed, because human-rights legislation may be inconvenient to doing business with governments, regimes and event hosts that fall well shy of standards applied in general law far and wide.
FINA's new executive director Brent Nowicki, former counsel for the World Anti-Doping Agency (WADA), gave a strong hint that the aquatics federation will be giving the theme much more serious thought in future when he and FINA president Husain Al-Musallam avoided immediate sanctions on Russians and Belarusians after the invasion of Ukraine on February 24. Nowicki argued that FINA needed to tweak its rules in order to be certain as possible that barring athletes and officials from the aggressor nations from taking part in the World Championships in Budapest in June would not result in a successful appeal to the Court of Arbitration for Sport.
In line with Nowicki's direction, FINA first itself the powers to agree emergency rules at short notice without being subject to the standard provisions of the FINA Constitution.
That included getting round any issues with C15.11 and specifics such as "All motions, applications, and proposals to be considered by the Ordinary General Congress must reach the Executive Director at least three (3) months prior to the Ordinary General Congress", and C 15.12, in which any agreed rule changes "shall not become effective earlier than two (2) months after the decision has been made, unless otherwise decided by the General Congress."
War allows no time for Congress rules and constitutional provisions to be effective.
To get round that, rules that apply to World Championships, FINA's first pressing issue, come into focus. FINA leaders voted in a new bylaw that provides a fast track round current provisions. It reads: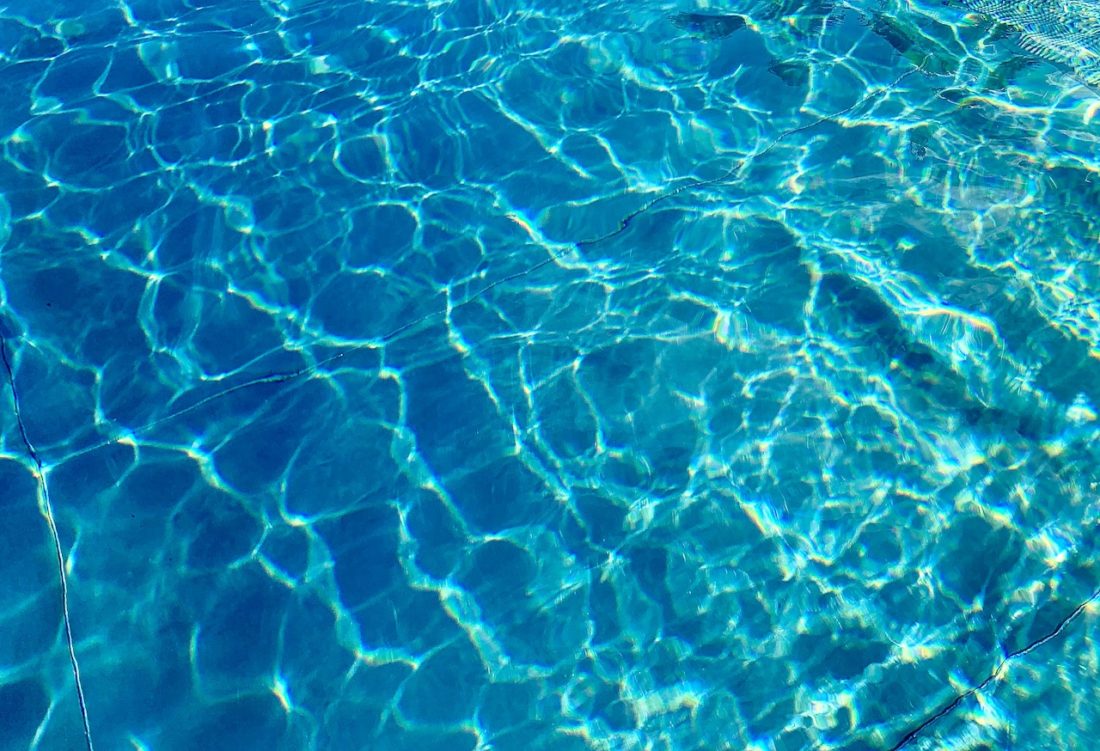 BL 13.18 Conduct of FINA World Championships and FINA Competitions in case of emergency situation

In case of an emergency, the FINA Bureau is empowered to formulate all rules and regulations for the conduct of FINA World Championships and FINA Competitions without applying the one-year notice provided under FINA Rule GR 9.1.3.


FINA Constitution
Nowicki told SOS that the new bylaw "establishes a strong basis for the Bureau to now take swift action in support of our athletes during these difficult times." He added: "Athlete welfare remains our priority and this bylaw gives FINA the ability to conduct a risk assessment and take action if the safety of our athletes is at risk or the conduct of our events is threatened."
In response to Dr Bareuther's paper, work that every international federation ought to be adding to their reading lists on the way to better governance, Dr. Catherine Ordway, Assistant Professor & Sport Integrity Research Lead at University of Canberra (Sports Management), noted as she shared the work on LinkedIn: "In support of fairness, proportionality and balancing the soft power that sports wield, it is really interesting to see that Dr. Marie-Christin R. D. Bareuther, LL.M. (Bond) has picked up on my suggestion that sports organisations: "create legal certainty for these cases in the regulations (e.g. embedding human rights into their rules with concrete consequences after the United Nations making an announcement of human rights violation) in order to counteract divergent ad hoc decisions we see right now".
"If major sports events, such as itf tennis Grand Slams, football (FIFA; UEFA) and the Olympic & Paralympic Games (International Olympic Committee – IOC; IPC) agreed standardised sanctions in advance to specified human rights/ Olympic truce breaches. As discussed with Jack Snape: "I wonder if we couldn't have trigger wording inside the constitutions of each of these bodies so that there are consequences that flow immediately following the United Nations making an announcement of this kind. As soon as that trigger is implemented, then there are consequences that flow." ROC, paper, scissors: Why not all sporting sanctions on Russia are the same (1/3/22)."
Dr. Ordway concludes: "My view is that this would take the uncertainty and debate out of the responses we are currently seeing toward Russian and Belarusian athletes around the world. What do you think?"
Dr. Bareuther responds with thanks and notes: "Wimbledon certainly acted under pressure from the British government. Government and tournament policies are in conflict sometimes (also seen at the Australian Open with respect to Covid this year). With a clear set of rules that, for example, transfers decisions in connection with possible human rights violations to third parties such as the United Nations (which is predestined for this) the current burden of decision-making and inconsistent decisions could be taken away from sport. And the sports world could focus more on sports again. At the very least, it is worth considering and discussing this idea."
Such discussions have already made it to the top tables of some sports authorities as leaders recognise the weakness of their own rules books when it comes to the obvious clash between the reality of war and an Olympic Charter that calls on all to be "neutral". That, some believe, is only attainable if sports authorities can point to legislation capable of negating contracts and barring whole nations on standard human rights grounds when entering partnership and hosting contracts with event organisers around the world.
Sports rules must also cater for the specific nature of sports, as the debate over trans inclusion in women's sport has highlighted, the principle of Fair Play eroded if legislation that insists on no discrimination based on gender is interpreted at face value without specific conditions set out in rules when it comes to categorisation in sport, including men, women, junior, military, student and many other forms of divisions imposed on grounds of the nature of an event and fair play in that context.
Thursday April 28
Armstrong Fires Past Kolesnikov's 50 Back WR In 23.71 As Foster Tops 400IM Ahead Of Kalisz & Finke At U.S. Trials
The American next wave is on a roll, Hunter Armstrong, who made his Olympic debut last year, cracking the World record in the 50m backstroke with a 23.71 blast and Carson Foster getting the better of two Olympic champions with a 4:09 in the 400m medley on day 3 at U.S. Trials for the World Championships in Greensboro.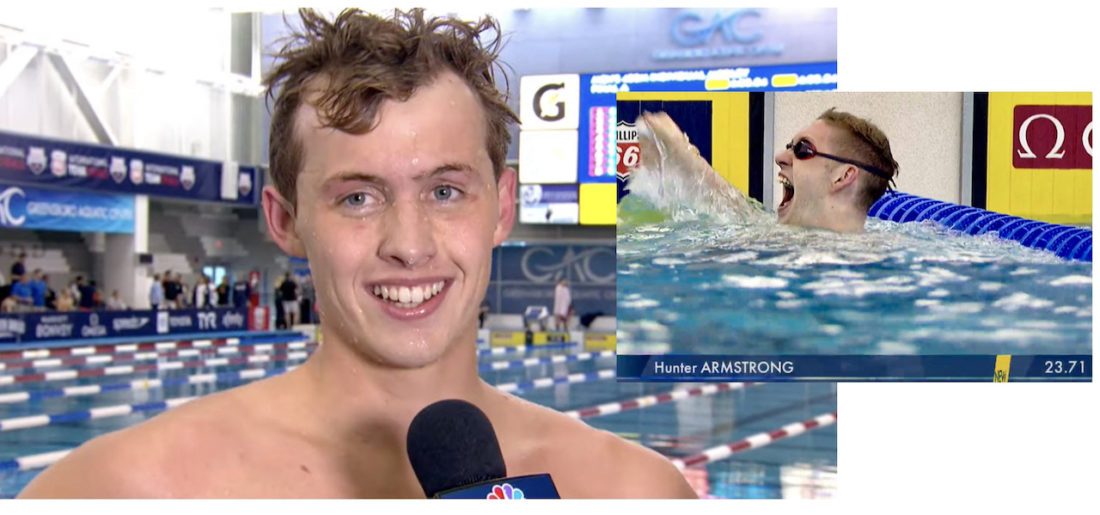 Armstrong will not get to race the previous holder of the global standard holder at the FINA showcase in Budapest in June, courtesy of the bloody and brutal war waged on Ukraine by Putin and Russia. Kliment Kolesnikov set the record at 23.80 last year.
Armstrong, who annihilated his previous best of 25.50 with a 24.00 American record in heats, was followed him by Justin Ress, on 23.92, Shaine Casas locked out in 24.00.
Among the first to congratulate Armstrong was Olympic 100 and 200m champion of 2016 Ryan Murphy, who had held the American 50m standard at 24.24 before Armstrong's heat at trials. Murphy now faces Armstrong in the 100m at trials in Greensboro knowing that he has a much improved rival on his hands, although the 25.5 to 24.0 dip is more reflective of the fewer opportunities to race the dash in peak form. Armstrong was almost on that 25.5 best going through to the 100m and Olympic selection at trials last year:
25.25 – 27.08 – 52.33 Murphy
25.73 – 26.75 – 52.48 Armstrong
Armstrong said: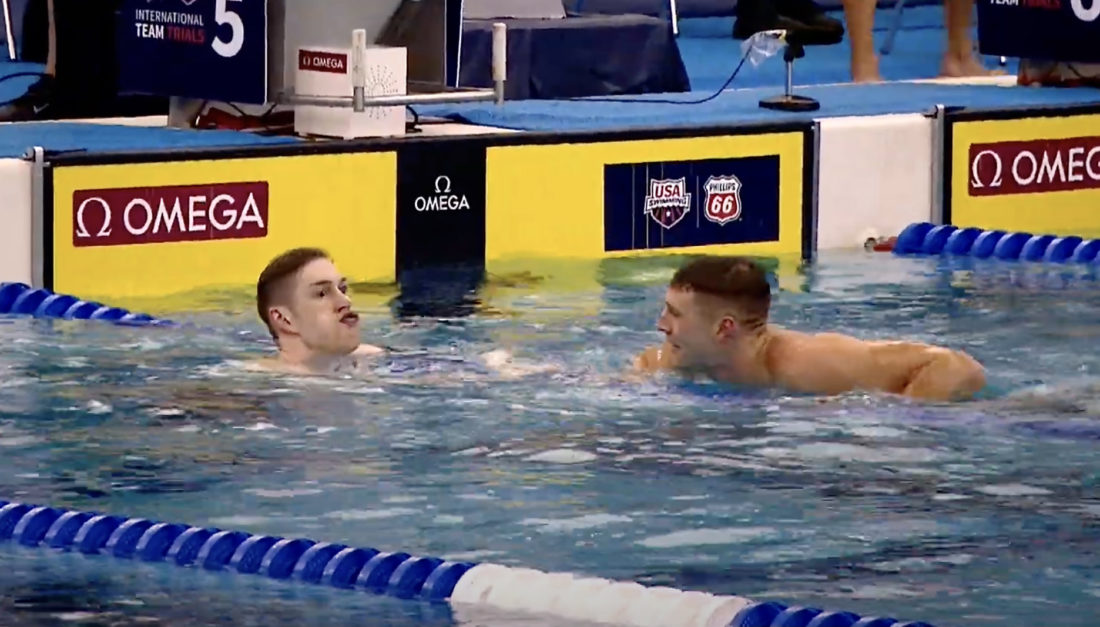 "It was a complete shock. My best time before this was a 25.50 and in prelims I was able to throw down a 24.00 and that gave me hope, but you know Kolesnikov is one of the fastest backstrokers and freestylers in the world. To be up there with him is just incredible."

Hunter Armstrong – image: Hunter Armstrong being congratulated by Ryan Murphy
Murphy yesterday topped the 200m final at trials in Greensboro to book a ticket to Budapest for a race in which the defending champion, Evgeny Rylov, will not be there to defend. Beyond FINA's decision to bar all Russians and Belarusian athletes from its showcase event in response to the Putin's invasion of a sovereign nation, Rylov also received a 9-month suspension after he appeared at a rally in Moscow wearing the pro-war Z-symbol on his sports kit.
A policeman, and therefore public-sector worker, Rylov may have been there of his own volition or may have been bussed in with others in his employment sector who had no choice but to be there cheering on a Kremlin regime likely to end up charged with war crimes and facing trials at the International Criminal Court (ICC).
Hunter Armstrong World Record At Trials
Carson Foster Ahead Of Olympic Champs Chase Kalisz and Bobby Finke
Carson Foster was the sole sub-4:10er in the 400m medley, his 4:09.33 keeping at bay Olympic champion in the event, Chase Kalisz, on 4:10.50, and Olympic 800 and 1500m champion Bobby Finke, who produced yet another of his stinging last length sprints for a 4:10.57 finish that came close to keeping the Tokyo 2020ne king off the team for Budapest worlds but this time Finke's final lap fury was not enough to tip the balance.
In other action, Katie Grimes topped the 400m medley in 4:36.17 ahead of Olympic medallists Emma Weyant 4:37.72 and Hali Flickinger, 4:39.50
Torri Huske and Claire Curzan continued their domestic rivalry in the 100m butterfly to book the top 2 slots for World titles in 56.28 and 56.35 respectively, Kelsi Dahlia third in 57.58.
The men's 100m butterfly produced a 50.20 win from Caeleb Dressel ahead of Michael Andrew, in line for Budapest action with a 50.88, third place to Trenton Julian and a 51.10.
Dressel on his race: "It's all right. Kind of stale, I didn't have the pop, this morning was a lot smoother. That's the whole point of Trials – making it through. We got the job done. Day off tomorrow then the 50 free so we'll be good."
Andrew was back for his own win soon after, on an American record 26.52 in the 50m breaststroke ahead of Nick Finke, on 26.55. The women's dash final went to Lilly King, on 29.76.
Team USA For Budapest 2022, so far: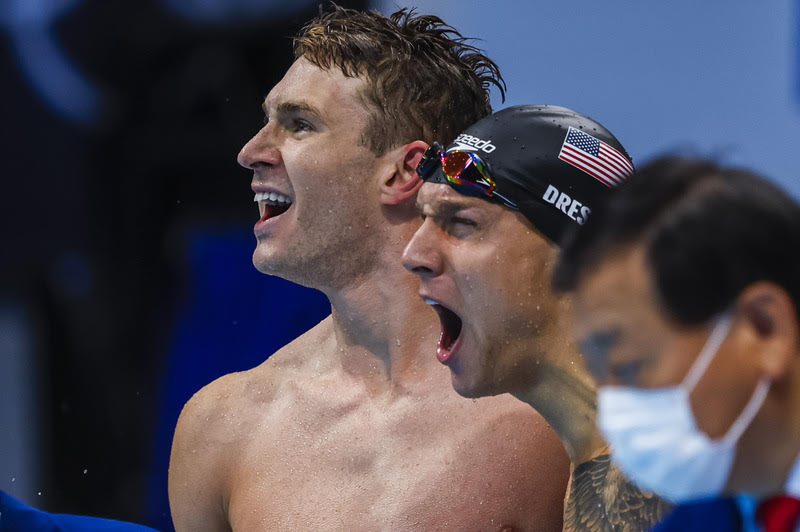 Men
Brooks Curry – 100m freestyle
Caeleb Dressel – 50/100m butterfly; 100m freestyle
Nic Fink – 200m breaststroke
Carson Foster – 4x200m freestyle relay; 400m individual medley
Bobby Finke – 1500m freestyle
Ryan Held – 4x100m freestyle relay
Trenton Julian – 200m butterfly; 4x200m freestyle relay
Drew Kibler – 200m freestyle; 4x100m freestyle relay
Ryan Murphy – 200m backstroke
Kieran Smith – 200m freestyle
Charlie Swanson – 200m breaststroke
Luca Urlando – 200m butterfly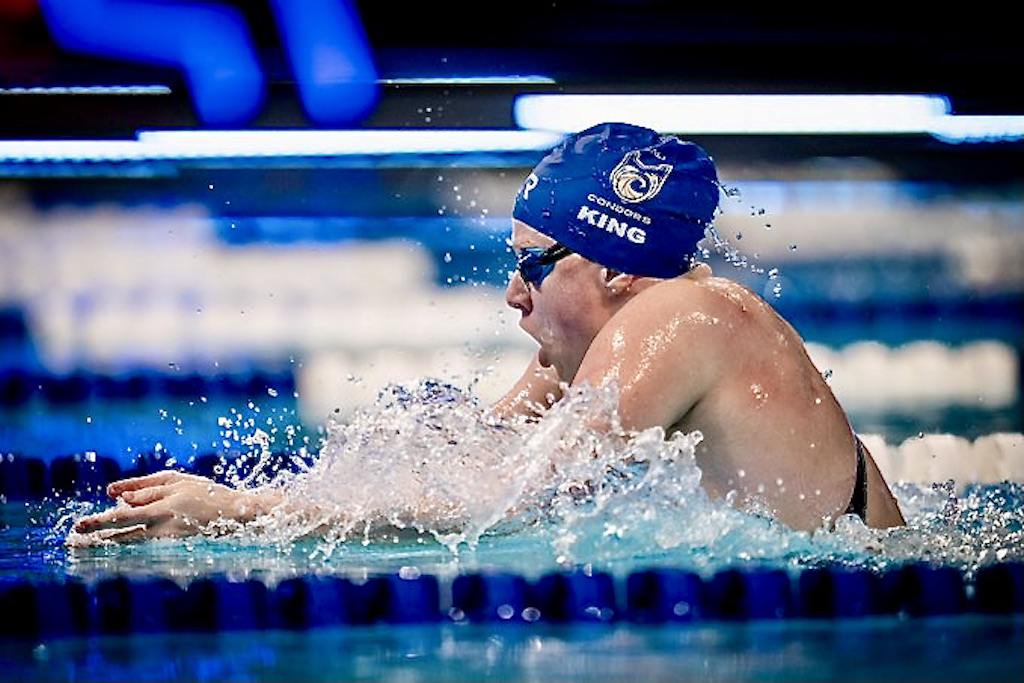 Women
Phoebe Bacon – 200m backstroke
Erika Brown – 4x100m freestyle relay
Claire Curzan – 50/100m butterfly; 100m freestyle
Hali Flickinger – 200m butterfly; 4x200m freestyle relay
Natalie Hinds – 4x100m freestyle relay
Torri Huske – 100m freestyle; 100m butterfly
Lilly King – 50/200m breaststroke
Katie Ledecky – 200/800m freestyle
Leah Smith – 800m freestyle; 4x200m freestyle relay
Claire Weinstein – 200m freestyle
Katie Grimes – 400m individual medley
Wednesday, April 27
FINA To Take No Action On Banned Evgeny Rylov Racing At Russian Nationals: Results Irrelevant
FINA will take no further action against Evgeny Rylov, the suspended backstroke specialist who is racing at Russian Championships in Kazan this week despite the 9-month suspension from international competition imposed on him for his role in a Putin rally in Moscow with a pro-war Z symbol on his sports kit (see lower down in the Vortex for more on Rylov and Russian developments).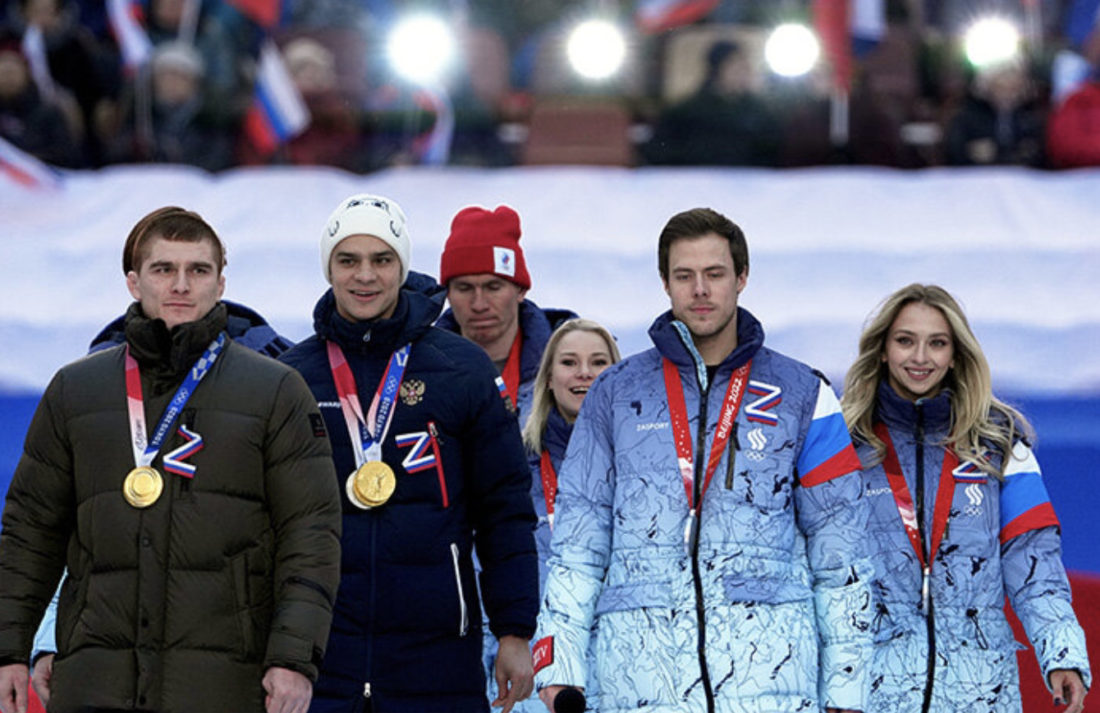 Rylov, the double Olympic backstroke champion at Tokyo 2020ne, will not be able to defend the World 200m backstroke title in Budapest in June nor will he be eligible to race at European Championships in August nor the World short-course championships that look set to be staged in Australia in December (after Kazan was stripped of the event). He is not only barred because of his rally role: all Russians are blocked from racing at World and European titles as a result of Putin's bloody invasion of the sovereign nation of Ukraine.
Rylov finished third in the 100m backstroke on 53.20 adrift Kliment Kolesnoikov, 53.03, and Nikolai Zuev, 53.19. The 200m will be swum tomorrow.
In a statement, FINA noted: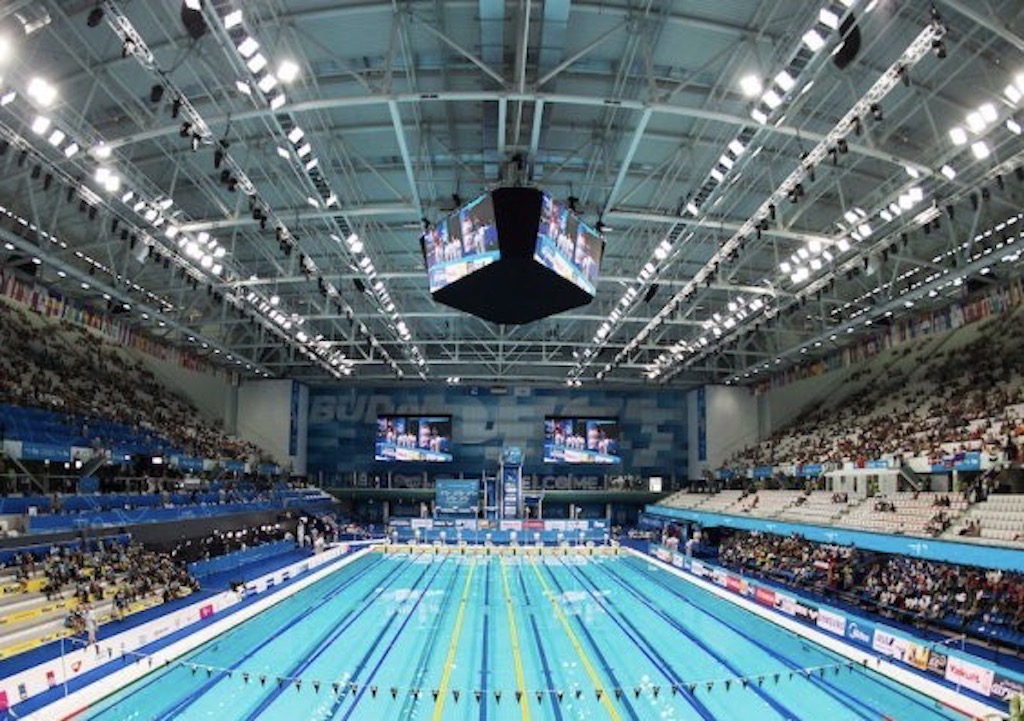 FINA has reviewed Mr. Rylov's involvement in the Russian Swimming Championships and will not be taking any further action. The Russian Swimming Championships was not a FINA-sanctioned event and is not linked to any FINA event, in accordance with the decision by the FINA Bureau on 21 April to exclude Russian and Belarusian athletes and officials from FINA competitions through the end of 2022.

FINA – image, The Budapest Duna Arena, which will host the FINA World Championships from June 18 – by Patrick B. Kraemer
FINA is not entirely disconnected from Kazan and Russia, however: the Kazan centre where the championships are taking place is part of an official FINA Development Centre. The international federation has faced calls to end its links and support for aquatic activities in Russia until such times as the sovereign nation of Ukraine is free of the invading Russian military and able to start rebuilding its country.
Deja Vu At U.S. Trials As WR-Holder Smith Blocked By Bacon & White & Dressel Books Ticket To 50 'Fly World-Title Defence
U.S. Selection Trials: World record holder Regan Smith will not defend the World 200m backstroke title, Caeleb Dressel will defend the 50m butterfly title and four men making their World titles debut in Budapest this June placed the USA among favourites to wrest the 4x200m free crown from Australia.
Trials history repeated itself on day 2 in Greensboro at USA selection trials when Phoebe Bacon clocked 2:05.08, and Rhyan White 2:05.13 ahead of Smith's 2:05.65 in the 200m backstroke. Bacon and White both celebrated career best times. Smith did not.
Deja vu. Smith set the World record in the 200 back semis at 2:03.35 on the way to the 2019 crown in 2:03.69, the only other sub-2:04 seen so far.
At Olympic trials last year, Smith then missed the cut for the 200m and the two young Americans who beat her, White and Bacon, in that order on that occasion, went on to finish fourth and fifth respectively in Tokyo, where the 100 and 200 titles went to Australian Kaylee McKeown in 2:04.68, Canada's Kylie Masse consign and Aussie veteran and former World champion Emily Seebohm third in 2:06.17.
Bacon's time is a U.S. Open record, the fastest ever seen in domestic. trials, but well shy of Smith at her 2019 best. The Open mark had stood at 2:05.68 to 2012 Olympic champion Missy Franklin since 2013. Bacon and White are no poised to meet McKeown and Masse in Budapest, where racing gets underway on June 18.
Another highlight of day 2 at trials was the tight tussle between Caeleb Dressel and Michael Andrew in the butterfly dash. Battle ended with both men inside the U.S. Open record, on 22.84 for Dressel, and 22.87 for Andrew. The Open standard had stood at 22.91 to Bryan Lundquist since 2009, the last season of shiny suits. Dressel will now defend the crown he claimed at Gwangju 2019 in 22.35, a championship and American record.
The men's 200m freestyle final was topped by three 1:45s, Olympic 400m bronze medallist Kieran Smith on 1:45.25, Drew Kibler on 1:45.32 for the second solo berth in Budapest with Carson Foster on the same pace as his speedy prelims efforts, 1:45.66, good for a slot on the 4x200m quarte alongside Trenton Julian, 1:46.69.
Trials done, Smith, Kibler, Foster and Julian will all make their World-title debuts in Budapest and will enter the 4x200m free fray among favourites for the crown. As Smith put it: "That relay is going to be great. Lots of fast times here. We're always all clutch on relays so I'm excited for that swim."
Katie Ledecky took the women's 200m free in 1:55.15 way ahead of the chasing pack, with Claire Weinstein taking the second solo berth in 1:57.08, trials the place where the next wave gets to stake its claim. Leah Smith, 1:57.44, and Hali Flickinger, 1:57.53, completed the top 4 through to 4x200m selection.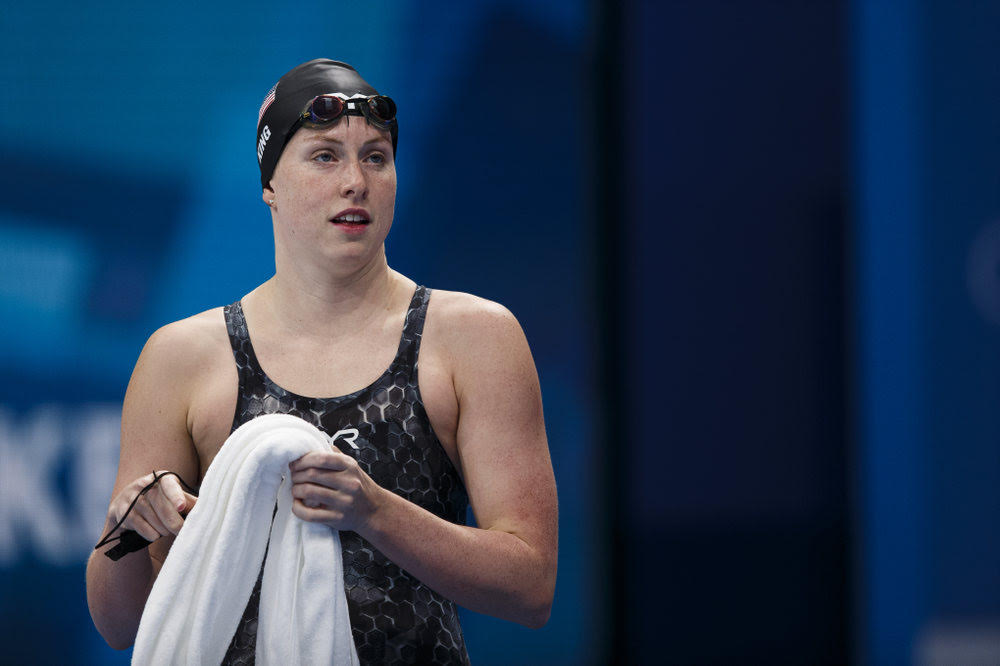 There will be no defender in the women's 200m breaststroke in Budapest, Yuliya Efimova*, suspended for doping in 2014 after a positive test in 2013, barred from Budapest along with all Russian athletes ion response to Putin and Russia's bloody way on Ukraine.
Step up Efimova's nemesis, Lilly King, among those poised for a shot at the title, her trials 2:21.19 getting the touch in a thrilling three-way battle that ended with Kate Douglass earning selection in 2:21.43 ahead of Olympian Annie Lazor, 2:21.91. Douglass' efforts was a personal best by 2.97 seconds.
In the men's 200m breaststroke at trials, a snap on 2:08.84 from Nic Fink and Charlie Swanson took the tickets to Hungary, leaving Jake Foster locked out on 2:09.73.
Former Olympic and World champion Ryan Murphy is an old hand at trials. He took the 200m backstroke in 1:55.01 ahead of Shaine Casas, 1:55.46, third place to Jack Aikins, 1:56.29. Murphy will race at his fourth World Championships, this time without Russian Evgeny Rylov in the lanes alongside him. Rylov, a police officer and double Olympic backstroke champion in Tokyo last year, was banned alongside all Russian athletes but in addition he has also received a nine-month ban over his appearance at a Putin rally in Moscow with a poor-war Z symbol on his sports kit. The incident led to Rylov losing his Speedo sponsorship.
In the other dash final of the day, Claire Curzan topped the 50 'fly in 25.49 a touch ahead of Torri Huske, whose 25.68 blocked Kelsi Dahlia (nee Worrell) by 0.03sec.
Budapest 2022 will unfold without the very best in the world present in all events, the absence of Australian Olympic champions highlighting the difference in seasons and plans between the world No 1 and No 2 swim nations. For the USA, Budapest is the only major international event this year, which is at leats in part why the championships replaced the cancelled Fukuoka event and why swimming now faces four world long-course events in every year up to an including 2025, as things stand. That plan includes staging a World long-course showcase in Olympic year for the first time.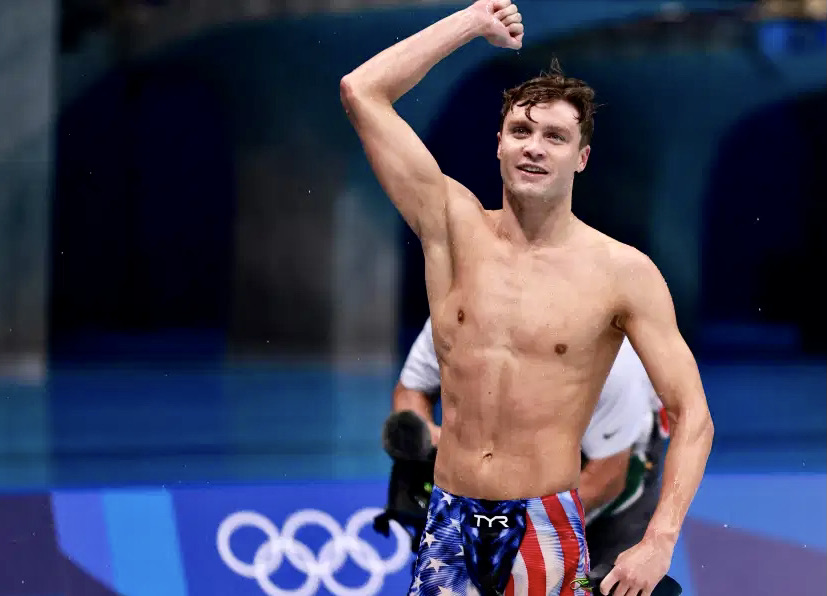 US Team Trials
Athletes in line for selection to the USA team for the FINA World Championships, in Budapest from June 18:
Men
Brooks Curry – 100m freestyle
Caeleb Dressel – 50m butterfly; 100m freestyle
Nic Fink – 200m breaststroke
Carson Foster – 4x200m freestyle relay
Bobby Finke – 1500m freestyle
Ryan Held – 4x100m freestyle relay
Trenton Julian – 200m butterfly; 4x200m freestyle relay
Drew Kibler – 200m freestyle; 4x100m freestyle relay
Ryan Murphy – 200m backstroke
Kieran Smith – 200m freestyle
Charlie Swanson – 200m breaststroke
Luca Urlando – 200m butterfly
Women
Phoebe Bacon – 200m backstroke
Erika Brown – 4x100m freestyle relay
Claire Curzan – 50m butterfly; 100m freestyle
Hali Flickinger – 200m butterfly; 4x200m freestyle relay
Natalie Hinds – 4x100m freestyle relay
Torri Huske – 100m freestyle
Lilly King – 200m breaststroke
Katie Ledecky – 200/800m freestyle
Leah Smith – 800m freestyle; 4x200m freestyle relay
Claire Weinstein – 200m freestyle
---
Berlin Makes Its Pools Cooler To Help Tell Putin He Can Put His Energy Threats On Ice With His Vodka Until Hell Freezes Over
Berlin's lidos will be cooler this summer as the German capital turns the heat down to send a message to Putin that he can take his Russian energy threats and put them on ice with his vodka until Hell freezes over as the Kremlin ordered taps to be turned off for Bulgarian and Poland.
Germans love their Freibäder or Sommerbäder, lidos of sparkling waters often surrounded by grassy slopes and the shade of summer trees. They tend not to be quite as warm as an indoor pool where training and competition takes place, often set at 22-24C but much cooler, too, in early season. Their purpose is fitness, yes, but more than that for many places of fun, relaxation, a chance to cool down on hot summer days.
This week marks the start of lido opening season in Germany's and the state energy provider and lido operators have agreed that they will turn down the heat by at least 2C this year to help German's efforts to become less dependent on Russian gas and in so doing also help Ukraine's efforts to saves lives and boot Putin and his bloody troops out of their sovereign country.
The move to cool pools is to be found across the whole of Germany, Dresden among cities that are also running trials in indoor pools that will see all facilities reduce the water temperature by at leats 1C this year.
Water at the German capital's 16 gas-heated Sommerbäde will be kept below the weather-dependent standard temperature of 22-24C this season, according to a spokesperson for Berliner Bäder-Betriebe, Europe's largest communal pool operator.
In common with many lidos across Germany, three of Berlin's big open-air pools are heated by solar power, in the districts of Gropiusstadt, Mariendorf and Pankow, and will nt be affected by the new policy. The rest will.
"We have made this decision because we wanted to make a contribution to the reduction of gas imports", the spokesman told The Guardian, adding that the measures were not for cost cutting moves but were a "political statement" coordinated with the Berlin senate.
In a related political gesture, all lidos are operating free passes for all holders of Ukrainian passports so that refugees, most of whom want to and intend to return to Ukraine when their country is free of the invading forces and rebuilding can begin. .
Putin's war of aggression in Ukraine has exposed the weakness of Germany's reliance on Russian energy. Coal and oil imports will be phased out this year but Germany has set mid-2024 as the date by which it aims to end reliance on Russian gas, which in 2021 accounted for about 55% of all energy needs in the country.
German minster for economic affairs and climate action, Robert Habeck, of the Green Party, believes that the country's reliance on Russian oil is down to 12% and that can be reduced to nil within days.
Government figures on Russian energy reliance have been disputed, however, in terms of the nature of the contract with Russian supplier Gazprom, among those Kremlin-linked concerns that until recently were major sponsors and influencers in sport, football a key focus.
The deal with Gazprom obliges Germany to pay billions every year up to and including 2030 regardless of whether it accepts/uses/ the supply of gas contracted for. Legal eagles are among those pointing out that such a contract can be broken in the extremis of an illegal war on a sovereign European country and that at a time when Germany is making moves to reduce dependency.
Meanwhile, Berlin's pools are likely to remain attractive to bathers and swimmers this summer: the open-air pools drew 2 million visitors in 2018 and while those numbers dropped during the pandemic, covid-19 restrictions have been largely lifted and lido users have long understood that treated outdoor pools are some of the safest places you'd care to be in a pandemic.
Ang Peng Siong Laments Loss Of Farrer Park As Home Base For Singapore Swim

Ang Peng Siong has spoken of his sorrow over Singapore swimming's forced departure from the Farrer Park Swimming Complex after its use as a national training base.
Ang Peng Siong was the Asian Games 100m freestyle champion for Singapore in 1982 who was ranked No1 in the world over 50m freestyle in the same year with a 22.69 that topped a 22.78 by Rowdy Gaines, 1984 Olympic 100m freestyle champion and triple gold medalist at Los Angeles 1984, in the last Olympic cycle before the freestyle dash became a World Championship and then Olympic event.
Since his racing days, Ang Peng Siong has coached and has served as Singapore head coach in the past decade. In a Facebook post he laments the events that have led to elite Singapore swimming having to vacate its 'home' of the past two decades. His post in full:
GOODBYE FARRER PARK SWIMMING COMPLEX
It is with deep regret that I have to inform all our friends and stakeholders that we will have to vacate Farrer Park Swimming Complex at the end of June with a possible extension being offered to the end of August 2022, after 18 years of using it as our training base.
We have shared many memories together at the complex, and for me, the history goes back a lot further as my late father Ang Teck Bee was a pool supervisor at the pool, which allowed me the opportunity to train and prepare for my early days as a swimmer.
In 2004, Farrer Park was revived with the spirit of a sporting heritage, of which, I knew passionately as a child growing up in a community with sporting legends, friends and neighbours. While discussions with Sport Singapore and Singapore Swimming Association have been ongoing for months, as of date no workable and acceptable solutions have been put on the table for us to ensure that we can continue our programmes with as little disruption.
I can assure all of you that we are not giving up on finding a solution, and we will keep working with the various agencies involved to light a way forward.Over the last two years, we have had to endure the effects of the pandemic and have managed to keep ourselves above water the whole time.
Unfortunately, the lack of a working solution to help us with the move out of Farrer Park will mean that our swimmers, their parents and their training regime may well be compromised.
It will devastate a pipeline with 27 years of history producing champions, including our para-athletes at major games. APSC has also been a pioneer of setting up a club programme for para-athletes and artistic swimming.
In 2012, we introduced club diving creating a pipeline to the national program.Since setting up, we have been able to help our athletes achieved over 200 medals at the Southeast Asian Games and ASEAN Para Games in total. With a conducive training environment, we have been able to provide the best we could for our swimmers.
In the meantime, I would like to thank everyone of you who have supported us at APSC, and to all our staff and coaches who have worked with us over the years. We would not have come this far without all of your support.
Tuesday, April 26
Caeleb Dressel Cooks Up Spicey 47.79 Win Over Brooks Curry In 100 Free As USA Trials Get Underway in Greensboro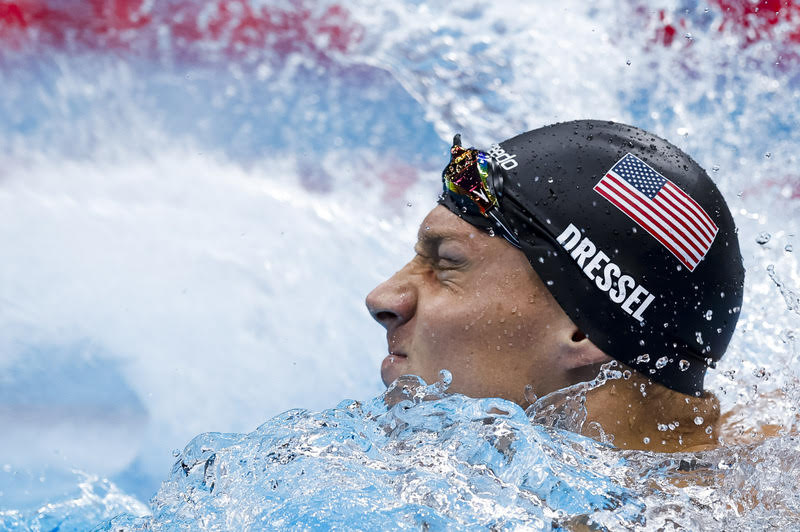 Caeleb Dressel provided the speediest spice in the 100m freestyle with a 47.79 that kept Brooks Curry at bay by 0.25sec on the opening day in Greensboro at USA trials for the World Championships.
The two were split 22.62 and 22.82 at the turn, the Olympic champion ever with the edge. Ryan Held on 22.81 on his way to 48.18 for third ahead of a snap that bypassed the need for official reserve status in the 4x100m free relay: Drew Kibler and Hunter Armstrong both clocked 48.25 and are Budapest bound for the start of action at FINA World Championships on June 18.
There will be no Dressel Vs Kyle Chalmers at World titles in Budapest, the Australian Olympic champion of 2016 having opted to bypass the global event that marks the start of four successive World long-course titles between 2022 and 2025 on a calendar that is bound to water down entries along the way as swimmers and coaches make their choices on the way to Paris 2024.
Here's how the ebb and flow compares, Greensboro to the big moment in Tokyo last year:
22.62 – 25.17 – 47.79 – Dressel Greensboro, a work in progress
22.39 – 24.63 – 47.02 – Dressel Tokyo 2020ne Gold
22.71 – 24.37 – 47.08 – Chalmers Tokyo 2020ne Silver
There were 12 men on 48s in heats of the 100, while half the entries in Greensboro swam slower than Jim Montgomery's breakthrough 49.99 at Montreal 1976.
At the other end of the spectrum, Olympic champion Bobby Finke clocked 14:45.72 in the 1500m freestyle to secure the top berth for the USA in Budapest, while Charlie Clark brought a fine 14:51.78 challenge on the way to his World titles debut as the only other sub-15 effort in the Greensboro race.
In the women's 200m butterfly, the Olympic podium placers from Tokyo 2020ne, Hali Flickinger, on 2:06.35, and Regan Smith, on 2:07.93, topped the final, with Charlotte Hook in third on 2:08.80.
Luca Urlando earned the top selection in the men's 200m butterfly, a 30.28sec last length sweeping him past Trenton Julian for the win, 1:54.10 to 1:54.22. Third place went to Zach Harting in 1:55.09, while Olympic 400IM champion Chase Kalisz clocked 1:56.09 for fourth.
The top four Americans in the women's 100m freestyle all clocked 53s at trials. Though they will not face the best Australian firepower in the 4x100m free at World titles, with Olympic champion Emma McKeon and teammate Cate Campbell among those bypassing Budapest 2022, the favourites for the crown in Hungary come June is likely to need at leats a couple of 52ers in the mix.
Victory in Greensboro went to Torri Huske, on 53.35, ahead of efforts of 53.58, 53.59 and 53.65 from Claire Curzan, Erika Brown and Natalie Hinds. That locked out Kate Douglass, Mallory Comerford, Abbey Weitzeil and Olivia Smoliga, the last three all on 54s and well down from best.
Sun Devils: Herbie Behm Promoted To Associate Head Coach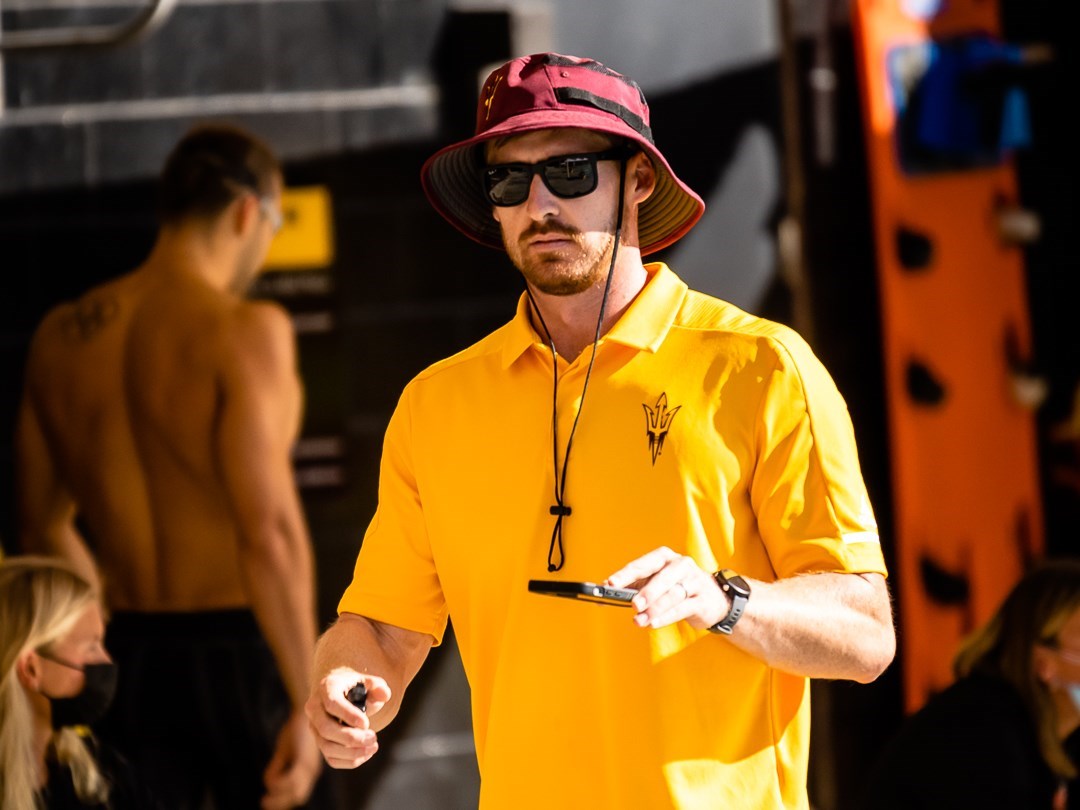 The Sun Devil Swimming program promoted assistant coach Herbie Behm to associate head coach
The Devils issued a statement to noted: "Behm, a former ASU swimmer from 2010-13, has specialized in coaching the team's sprint groups since joining the staff in 2018. Backed by his data-based coaching philosophy, Behm has been instrumental in the development of Sun Devil sprinters, recently helping guide the Men's team to their best finish at the NCAA Championships in 40 years."
Head coach Bob Bowman said.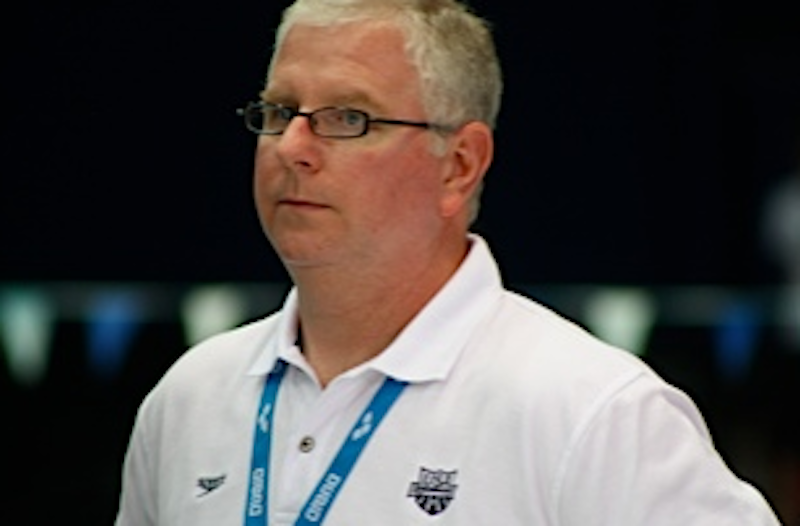 "Herbie is one of the great young minds in coaching today. His data driven approach has elevated our program in countless ways and he is most deserving of this promotion. He has a bright future ahead in Tempe."

Bob Bowman, image by Craig Lord
"I'm so excited to begin a new role with this remarkable team," Behm said. "It's been an incredible journey so far and I feel so lucky to be part of such an amazing group. Special thanks to Coach Bowman, the staff and every single member of this team. I can't wait to continue this journey with all of you. O2V!"
The Sun Devils noted: "With Behm's direction, the Sun Devils have made substantial progress over recent seasons, which included top-five finishes nationally in both the Men's 400 and 800 free relay this year. The Sun Devil Men's team also set new program records this season in the 50, 100 and 200 free races, amongst a handful of other events."
Putin Calls FINA's Rylov Ban Absurd & Russian Suspension From Worlds "Discrimination"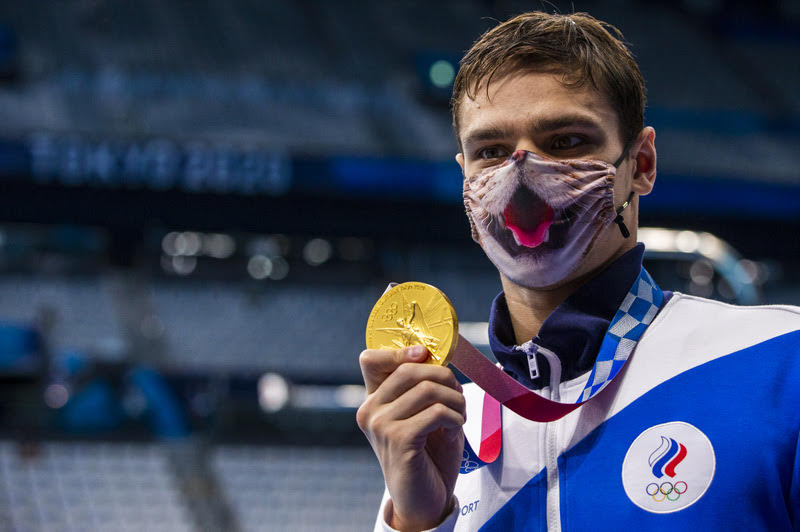 Vladimir Putin, the Russian president responsible for the bloody and brutal war on Ukraine and murder of thousands of civilians, said today that FINA's nine-month suspension of Russian Olympic champion Evgeny Rylov over his role in a pro-war rally is "absurd".
Rylov appeared at a Putin rally wearing a pro-war Z symbol on his sport kit. His suspension and the ban on all Russian and Belarusian athletes from the World Championships was "discrimination based on their nationality", Putin added, without reference to the war in Ukraine and its impact on Ukrainians, including the sports community that called own authorities world-wide to keep athletes and officials from the aggressor nations laying waste to their country out of sport for as long as Russian troops remain on sovereign territory.
Putin was speaking on a day when he was supposed to meet António Guterres, secretary-general of the United Nations, to discuss Russia's war in Ukraine. Guterres, criticised by Ukraine for failing to visit the war-torn country before visiting the Kremlin, was reported by the BBC to have been kept waiting by Putin while he discussed many other matters he rates more highly than human life, such as "the future of Russian sport".
Putin's comments on Rylov and Russian swimmers in general follow his fall from grace in Olympic circles, the International Olympic Committee having stripped him of the FINA Order and FINA having stripped him of the FINA Order.
The Russian Swimming Championships (link to results for those who wish to know) are being held over six days from April 24-29. The championships would normally serve as selection trials for World and European titles but Russians and Belarusians are banned form taking part in the FINA showcase in June and the LEN showcase in Rome in August.
Trials & Tribulations: Putin & His Fondness For Doping Controversies
In his chats about sport while Ukraine is burning and the meaning of trials and tribulations takes on life-and-death dimensions, Putin handed an honour to doped skater Kamila Valieva for her part at a Beijing Winter Olympics tainted by more Russian doping controversy.
Valieva's performances could not have been achieved with the help of any banned substances, says Putin, the head of a sports system that has long been soaked in doping and accompanying controversies, including use of state security services to switch anti-doping samples through fake power points in the official IOC-accredited laboratory at the Sochi Winter Games of 2014 with pre-prepared 'clean' samples held in a secret laboratory housed and hidden in a room next to the official lab.
It was in the same year that FINA, then led by Julio Maglione, the Uruguayan Olympic Committee head described in this Outside deep-dive into FINA's dispute with the International Swimming League led by Ukrainian energy sector billionaire Konstantin Grigorishin as a man Putin "loves". The feeling often seemed reciprocal.
Valieva, who turned 16 on Tuesday, failed a doping test at the Russian national championships last December but the result was only revealed on February 8, a day after she had already helped the Russian Olympic Committee (ROC) win the team event at the Beijing Games.
The case cast a shadow on Russians' participation at the Games as they already faced increased scrutiny over separate doping sanctions that saw them compete without their flag and national anthem.
Today, Putin said of yet another Russian teenage athlete with a positive drugs test to her name: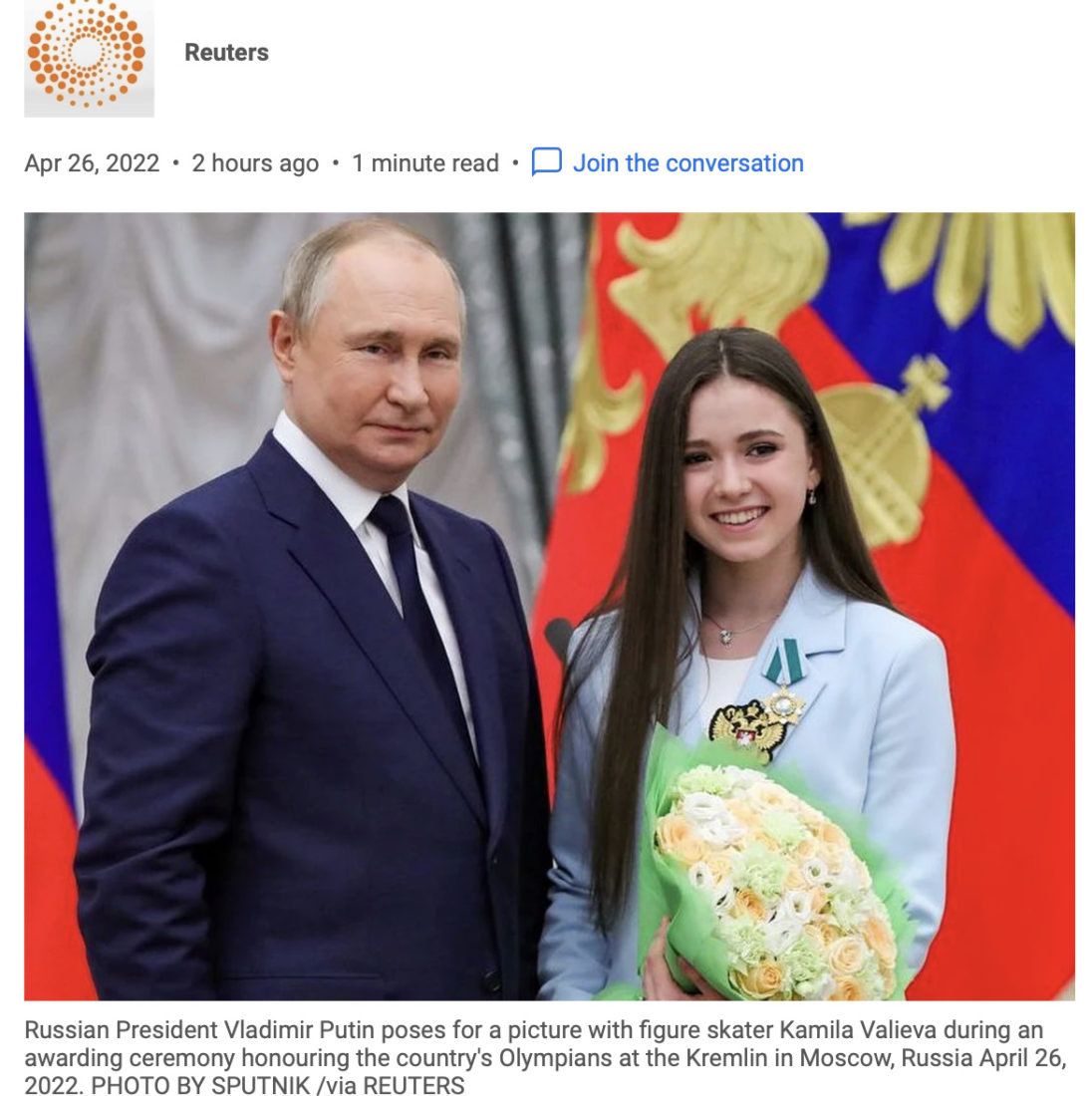 "Through her work, she brought the sport to the level of a real form of art. Such perfection cannot be achieved dishonestly with the help of additional substances, manipulations. We very well know that these additional substances are not needed in figure skating."

Putin with Valieva – courtesy of Reuters via the Toronto Sun, screenshot
In Beijing at the Winter Games Valieva, favourite to win Olympic gold, was cleared to compete in the women's single event in Beijing by the Court of Arbitration for Sport, but stumbled to fourth place with an error-laden free skate. She became the first woman to land a quadruple jump at the Olympics during the team event.
The IOC decided not to award any medals for the figure skating team event at the Olympics until Valieva's doping case has been resolved, something that could take months.
Trials related to Russian sport have taken on a new dimension this season as the International Criminal Court (ICC) joins others in investigating evidence of Putin's war crimes in Ukraine.
Monday, April 25
Joe Schooling To Ponder Paris 2024 Campaign After SE Asian Games
Joe Schooling, the 2016 Olympic 100m butterfly champion, is to reassess his plan for the 2024 Olympics after the Southeast Asian Games in Hanoi, Vietnam, next month, the first of his trials and challenges in 2022.
Schooling, 26, is also schedule to race at the Asian Games in Hangzhou, China, later in the year, but he is unsure about making it to Paris for what would be his third Olympics. Speaking to Singapore Yahoo News, he said: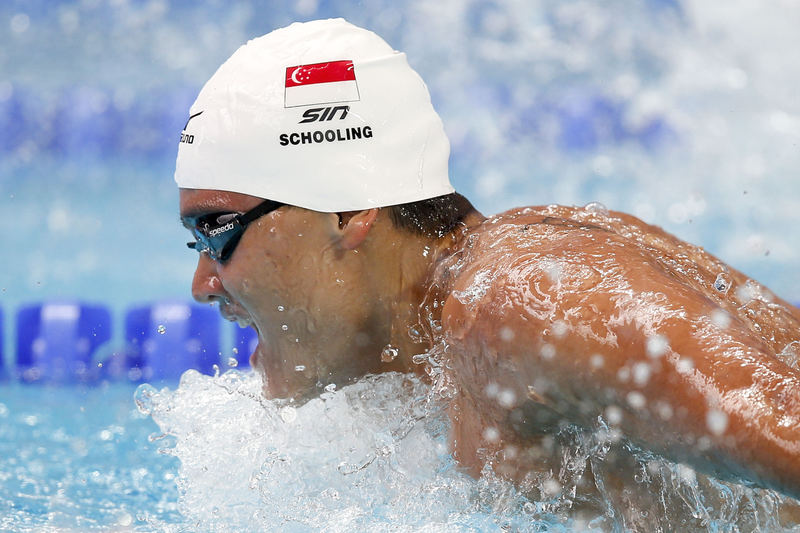 "I'm going to be 27 this year, and there are a lot of things outside the pool that I'll want to move on to after I'm done swimming. Right now the question is, 'Okay, do I still want to do Paris? Or do I stop and reassess where I want to go after the Asian Games?' Also, how do I balance what I need to do (national service)-wise and getting the training I need? Because if this schedule persists, I don't think I can make it to 2024 in Paris."

Joe Schooling – photo by Patrick B. Kraemer
April 25 – Memories of A Swimming Life In Portugal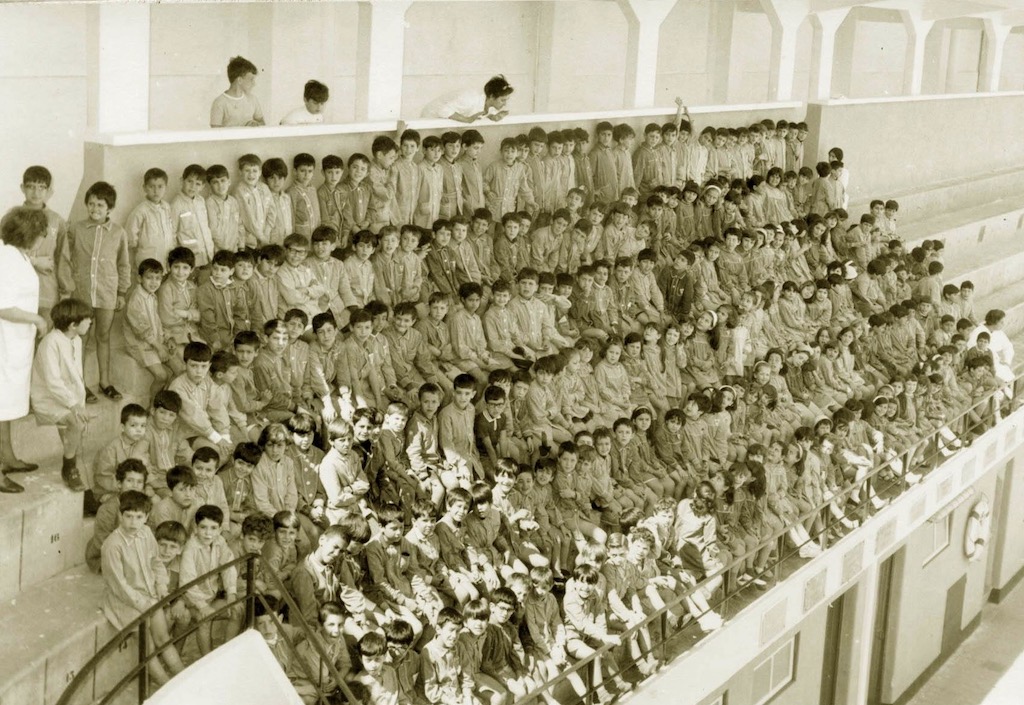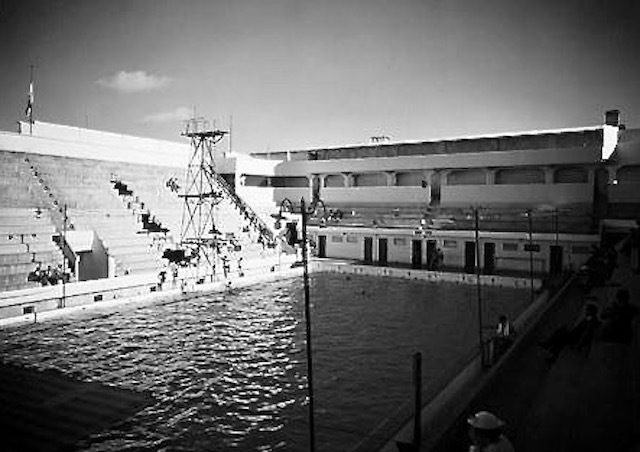 On April 25, 1974, Portugal lived through the Carnation Revolution. Soldiers stormed parliamentary and other official buildings, rounded up the incumbent far-right government heads and shipped them off to their destinies in exile. The country would be a democracy. Too celebrate the day, here is a memory of that day from the perspective of a young swimmer, for whom Portugal will be forever home from home: