The Trials, Triumphs & Turbulent Waters Of World Champions Smith, Ledecky & Dressel On The Trail To Tokyo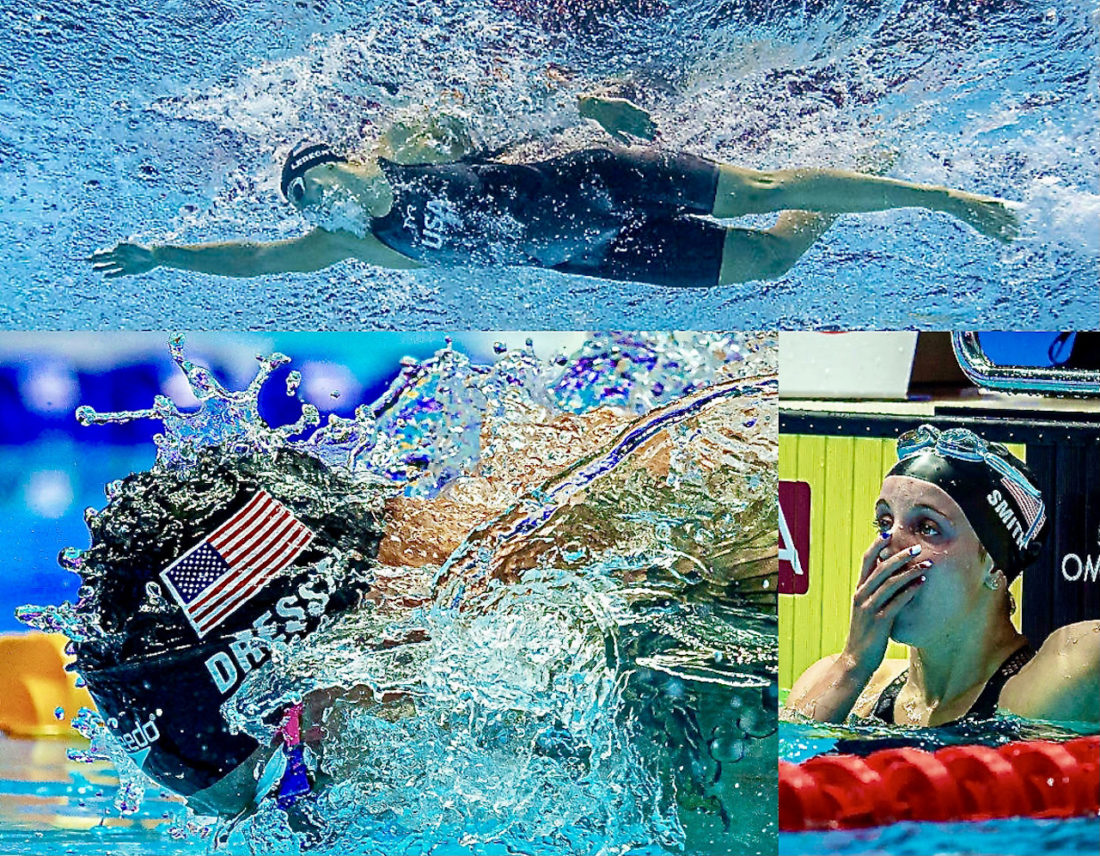 There have been cracks in the American canvas the whole week long at U.S. Olympic Trials in Omaha and while it is true that every cycle of Games brings its tribulations, the third-place finish of Regan Smith in the 200m backstroke uncoupled the golden hope of a stunning 2:03.35 World record from the reality of a pandemic, the passing of time and the altered Olympic dynamic it delivered.
Many of the spills from U.S trials down the decades get dissolved in the wash. Some remain as reminders to crystal-ball worshippers that their art is a kindergarten painting class: fun but apt to be overtaken by the next spill of a paint pot or jug of water.
Others, such as Pablo Morales' miss in 1988 as World 100 'fly record holder, remain etched in memory because they belong to the Book of Redemption.
Paris is three years away. Who knows. Smith is not down and out, of course: she's through to the 100m battle in Tokyo and everything is in play but dreams of a double are sunk, as is hope of backing that 2:03 World title up with what in 2019 looked likely to be among those few efforts from painting class that might get hung up to dry and kept as a treasured memory.
When Smith sent jaws dropping along with the scale of 200-back aspirations among others at Gwangju World titles in 2019, the closest to her 2:03.69 were a trio of 2:06s: the 2:06.26 of Kaylee McKeown, the 2:06.62 of Kylie Masse, and the 2:06.67 of Margherita Panziera.
The form of 2019 and the form guide it had started to shape for Tokyo 2020 have been flipped on their head by the timing of a pandemic.
Today in Omaha, McKeown having moved on to 2:04, Panziera 2:05 and Masse yet to fire over 200m after an opening 57.70 Canadian record in the 100m on day 1 at Toronto trials, Smith was the one posting a 2:06 – and that happened to fall the wrong side of another 2:06 and a winning 2:05.73 from Rhyan White.
Smith Succumbs To White & Bacon In Hunt For Home
The Omaha race was tight throughout but the World champion had the edge all the way to the last turn, at which point a 32.68 split from Gwangju coming home to a 2:03 might have suggested "she's got this". She hadn't – and this is how it panned out:
29.50; 1:01.64 (32.14) 1:33.77 (32.13) 2:05.73 (31.96) Rhyan White
29.61; 1:01.26 (31.65) 1:33.79 (32.53) 2:06.46 (32.67) Phoebe Bacon
29.25; 1:01.01 (31.76) 1:33.56 (32.55) 2:06.79 (33.23) Regan Smith
28.68; 0:59.45 (30.77) 1:31.01 (31.56) 2:03.69 (32.68) Smith – Gwangju WR, 2019
It is often said that trials in the United States breeds champions because it means the USA has a squad of survivors who can handle what the world has to throw at them. There are moments when the Wild-West in all that stands out. White and Bacon will now make their Olympic debuts and doubtless they will be extremely competitive among medals hopes. Smith was the golden shot in the event and her absence will make the blade of USA challenge in Tokyo that much sharper.
Men's 100m Butterfly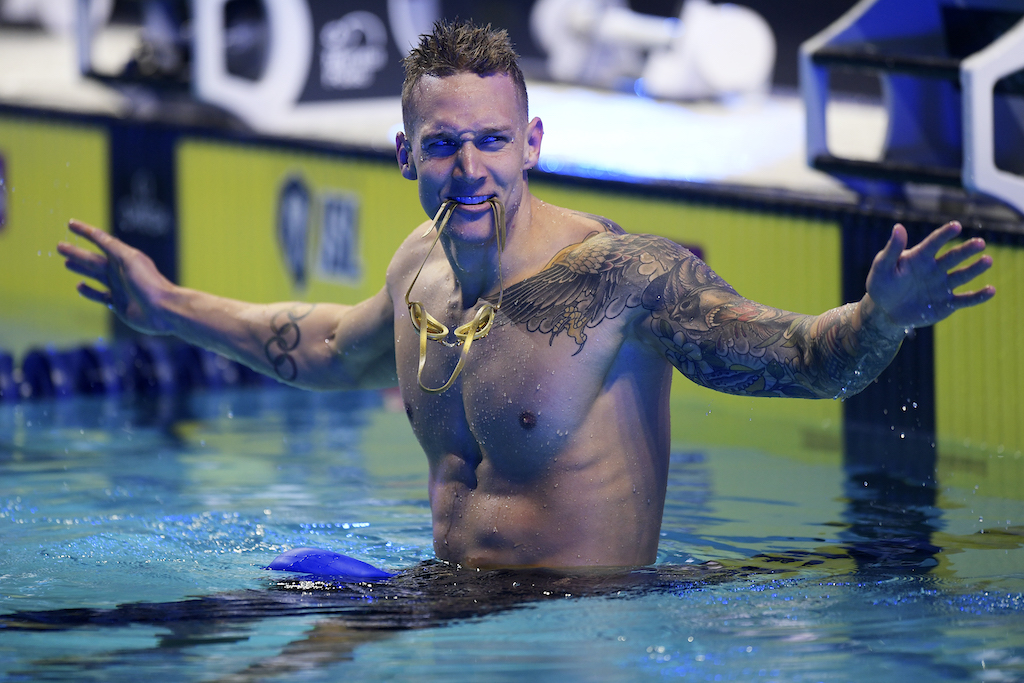 Hard not to have noticed the flood of 'world-record on the way'; 'how much will he break it by' in the somewhat frenzied and far-fetched realm of swim social-media livestream of consciousness on the flow out there after Caeleb Dressel clocked 50.17 and then 49.79 in heats and semis. As the flotsam and jetsam of enthusiasm floated past with oceans of words chaining the American speedster to the thread of Spitz, Biondi and Phelps (and woe betide him if he doesn't stack up as a superstar), this thought occurred: 'why would he'? As in, break the world record.
Did he need to? Is Tokyo not, perhaps, the better place to leave no powder dry? Dressel, at 49.50 back in 2019 for titles global and 'all-time swiftest on the wing come rain or shiny suit', was out in 23.16, home in 26.71, his 49.87 stopping the clock 1.32sec before the next man took another ticket to Tokyo, Tom Shields on 51.19.
Stop the clock right there: a moment worth a firework and a specific honourable mention for Shields, racing for CAL, and the two others who led the class action against FINA on behalf of athletes the world over and their right to chose where they work and who they work with in the world of swimming.
Take A Bow Tom Shields, Katinka Hosszu & Michael Andrew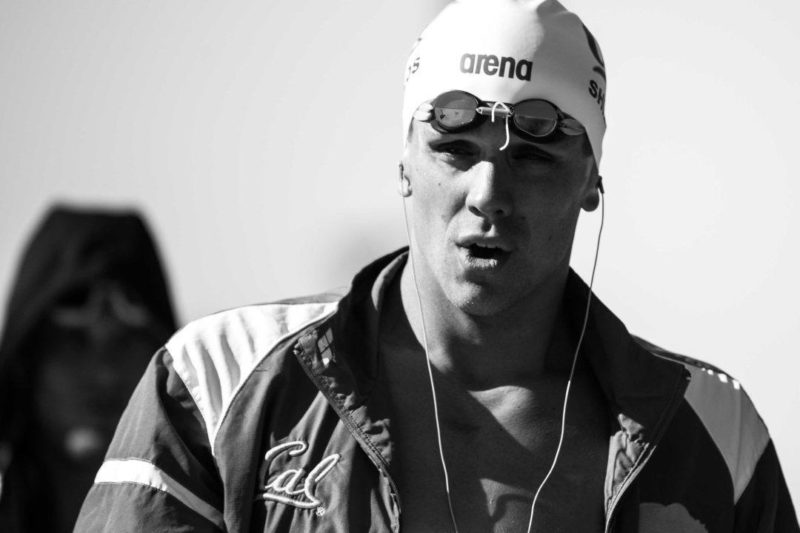 Tom Shields, Katinka Hosszu and Michael Andrew will now all be in Tokyo, she representing Hungary four years after three golds and a silver at Rio 2016, they for the United States. Tokyo will not be a Games at which a whole dining hall of athletes might take to its feet to applaud the arrival of a great champion whose earned the respect of peers, the pandemic putting off the return of such moments until Paris 2024, perhaps, but somehow at the Games, perhaps fellow swimmers will find a way of showing their appreciation for the three aquatic musketeers who put their name to the reform process in a legal challenge that contributed significantly to the end of any notion that the international federation could or should be ruin as a monopoly.
A new era is underway at FINA. There is a mountain to climb but the potential for genuine reform, a new start, the opening of dialogue with swimmers, coaches and others is tangible at a time when the Swimmers' Alliance, holding hands with Global Athlete and peer athlete-representative groups, has turned a page, its Board now building. Courtesy of Hosszu, Shield and Andrew, the International swimming League and all those who have supported and backed it, there will be a different way of doing business and a chance for swimmers to make their professional dedication translate to professional pay, recompense and reward.
Dressel, who is already on a recognisable yet, in swimming, rare endorsement trajectory, is the exception not the rule in his sport, in more ways than one. Shields has charted his own waters, too, but they will serve as guides for generations of swimmers to come, even those who he kept off the team in Omaha today: his 51.19 was followed by a 51.64 from Luca Urlando, a young hope who must now wait three more years after finishing third in both the 100 and 200 this week. May Morales light his way.
Dressel was back in the fray later in the session, a 21.51 stamping a ticket to lane 4 of the 50m free showdown ion the last day of action in Omaha. Andrew , on 21.55, will race in lane 5; lane 3 to Nathan Adrian in 21.78.
With Smith out, Dressel in, there remained one more Gwangju 2019 World champion to be tested on the day…
Women's 800m freestyle – Katie Ledecky Gets The Job Done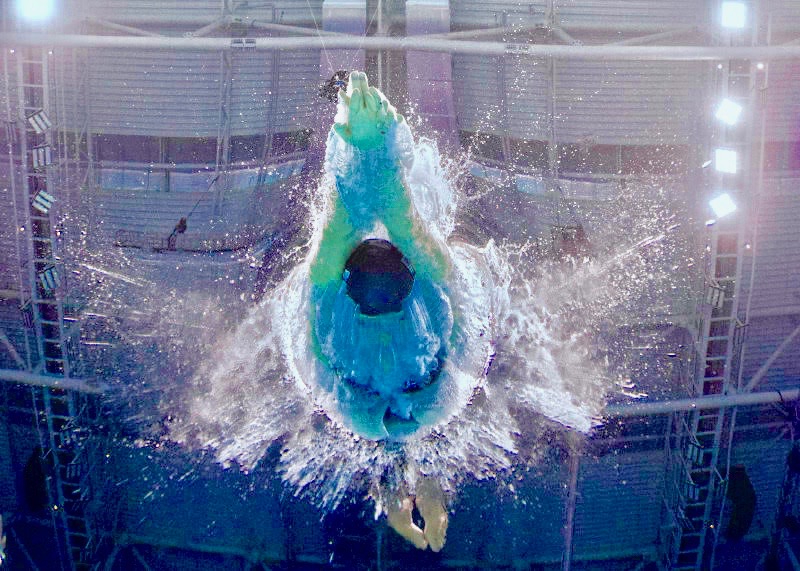 Cue weeks of 'can she, will she, won't she, this fast, that speed' and much else after Katie Ledecky delivered a fourth freestyle victory with another effort that can be described as 'workaday' or 'getting the job done' only in the context of her own career.
Hands up all those who would love to boast an 8:14.62 800 free on their list of PBs? For Ledecky, that's entry No26 on a career list topped by the stunning 8:04.79 World record in which she retained the Olympic crown at Rio 2016. Four years before that, aged 15 at London 2012, she emerged as one the great revelations of the Games (and since then has been the most enduring) with an 8:14.63. She was 0.01sec inside that in Omaha today.
Perhaps it won her a bet. Either way, the world's biggest hauler of gold in the pool among women those past decade, is where she aimed too be: in the fight for keeping the 200, 400 and 800m titles and aspiring to become the first-ever female 1500m Olympic champion as the longest race between walls joins the program for women and helps create gender parity in swimming events at the Games for the first time in history 109 years after Stockholm 1912 welcomed "the fairer sex" to the party in the pool.
Ledecky is the third woman to three-peat at the U.S. Olympic Team Trials, after legends Janet Evans, in the 400m freestyle (1988, 1992, 1996), and Mary T. Meagher in the 200m butterfly (1980, 1984, 1988).
And closest to Ledecky in the 800m? Katie Grimes, on a personal best of 8:20.36. Born in 2006, Grimes was just 2 when Rebecca Adlington claimed 400-800m golds at Beijing 2008, and just 6 when Ledecky lifted one of those crowns from Adlington's head at London 2012.
Now, she's off to her own Games sporting a time Ledecky has raced inside 43 times, including the 8:19.78 then best she swam at U.S. Olympic trials in 2012 at the same age as Grimes.
Ledecky is now 24 and she faces another series of gruelling challenges. Her monumental career, her recovery in Gwangju and performance in the 800m suggest that what Ariarne Titmus says of Ledecky 'she won't have it all her own way' is true flipped in a mirror: neither will anyone have it their own way with Ledecky in the same race.
Ledecky swam alone in Omaha, as she often has in many of her races. She started out under world-record pace but tailed off, leaving a hint of what might be. Her thought on being out far ahead of the field?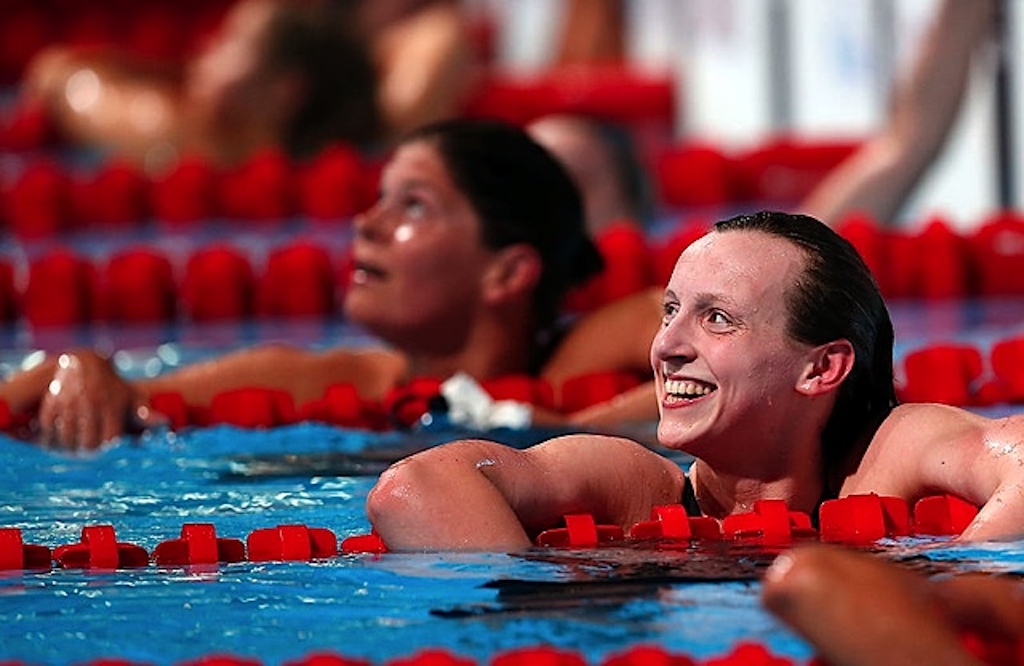 "It's challenging. Sometimes I feel like I'm going faster than I am. It was a fine swim. I thought I'd be a lot better than that given how good my prelim swim felt."

Katie Ledecky – image – back in 2013 after one of her greatest battles, against Lotte Friis, of Denmark, in the 1500m free at World titles in Barcelona – Photo by Patrick B. Kraemer ©
Fifteen-year-old Katie Grimes outraced veteran Haley Anderson for the second spot at the Olympics, knocking more than 11 seconds off her personal best to touch second in 8:20.36.
Anderson, who already made the Olympic team in marathon swimming, just missed out on a race at the pool. She finished 15-hundredths of a second behind the youngster after a race covering 16 laps.
"Speechless," said Grimes, who races for a club in Nevada. "I wasn't expecting that. I just wanted to finish it. I'm so honored to be in this meet, to be going to Tokyo."