The Olympic Prospects Of David Popovici At 16, An Age At Which Diana Mocanu Took Sydney 2000 Double Gold For Romania After Euro Junior Crowns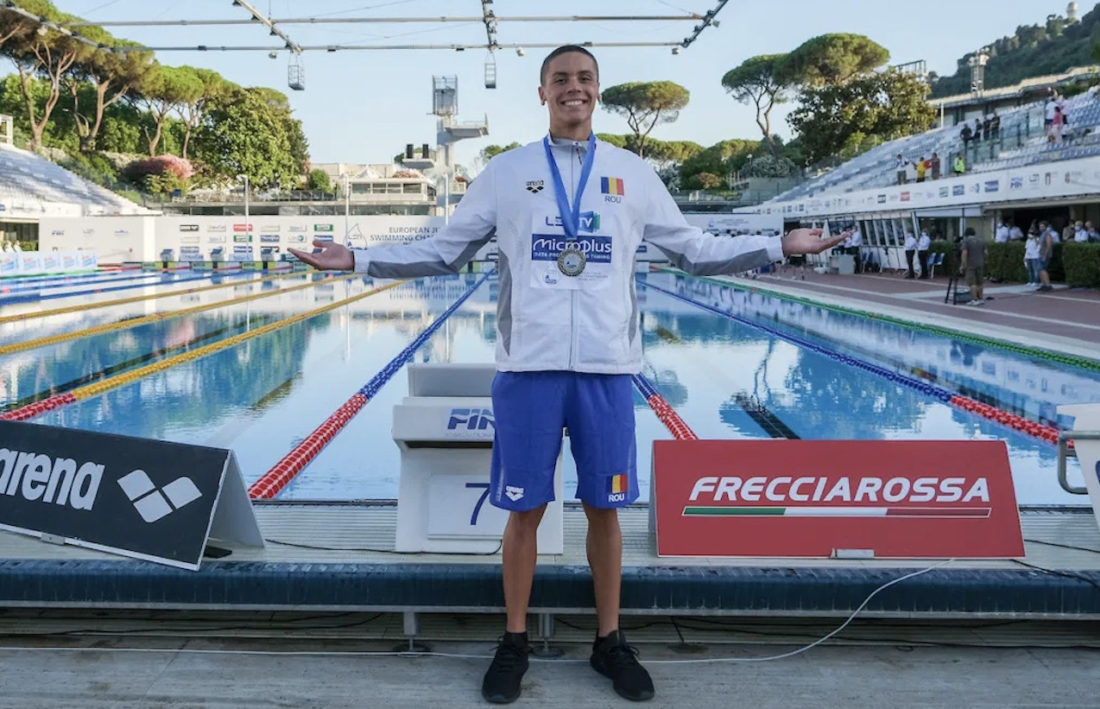 When David Popovici, a 47.56 World Junior Record in the bag from day 1 relay action, takes to his blocks in lane 4 for the final of the 100m freestyle at the European Junior Championships in Rome tomorrow, he may look back 21 years for inspiration from another Romanian.
Diana Mocanu took the continental youth showcase by storm on the way to double gold at the Sydney 2000 Games as her country's first Olympic swimming champion. So, who knows: perhaps Popovici will be muscling in on the medals at the pandemic-delayed Tokyo 2020ne Olympic Games, the timing of which has seen the Romanian 16-year-old shift from fine prospect in the long-grass to Danger Boy shorn and shaven for the unexpected summer that now stretches before him.
That 47.56, a 100m championship record, is all the more impressive when we consider its context of a time that ranks 10th all-time in textile ahead of the finest, swiftest blasts of a string of greats of 100m free racing, any age, and the biggest part of the current wave of the best there-and-backers in the world.
Popovic's 47.56:
On 48.08 (23.32) in his semi-final this evening at the Foro Italico pool, Popovici booked his place in lane 4 for the showdown ahead Portugal's Diogo Ribeiro, on 49.34, and Britain's Ed Mildred, on 49.36 at the helm of the first line-up.
Standing 190 tall (6′ 2″), weighing in at around 80kg (about 175lbs) and coached in his hometown of Bucharest by Adrian Radulescu, Popovici, from this season onwards, is now mightier on the 100m clock than Popov, Alex Popov, ever was, for example, and in prevailing waters, he's a hot shot for the Olympic podium, as is anyone on 47.5, even though at least two are looking at a time of 46 in Tokyo.
No 16-year-old has ever travelled as fast as 47.56 over 100m freestyle. Consider that drop from a sizzling best of 49.82 at 14 (fastest ever for that age and faster at 14 than Jim Montgomery at his 1976 Olympic-pioneering 49.99 best) pre-pandemic as European Olympic Youth Festival champion and record setter, and where it fits in the thread of history and the prevailing picture of 100m racing it is woven to.
In Olympic waters, Popovici's best compares to this selection of soaring moments:
47.58 – Kyle Chalmers (AUS) – Rio 2016 Gold in WJR, broken by Andrei Minakov in 47.57 last year
47.52 – Nathan Adrian (USA) – London 2012 Gold
47.80 – Pieter Timmers (BEL) – Rio 2016 silver
47.80 – Brent Hayden (CAN) – London 2012 bronze
47.84 – Pieter van den Hoogenband (NED) – Sydney 2000 Gold
48.17 – Roland Schoeman (RSA) – Athens 2004 lead to 4×100 Gold
Good for bronze at shiny suited Beijing 2008: Alain Bernard (FRA) 47.21; Eamon Sullivan (AUS) 47.32; Jason Lezak USA) and César Cielo (BRA) 47.67
And also faster than the best ever of …. Minakov, Rooney, Morozov, Roberts, Metella, Chierighini, Apple, Feigen, Cielo (textile best, 47.84, 46.91 World record from 2009 shiny suits season), Agnel (2012), Nakamura, Scott, Pieroni, Phelps (48.08), Lezak (48.17 textile best); 48.21 , the fastest ever from Alex Popov (RUS), which stood as the World record 1994-2000.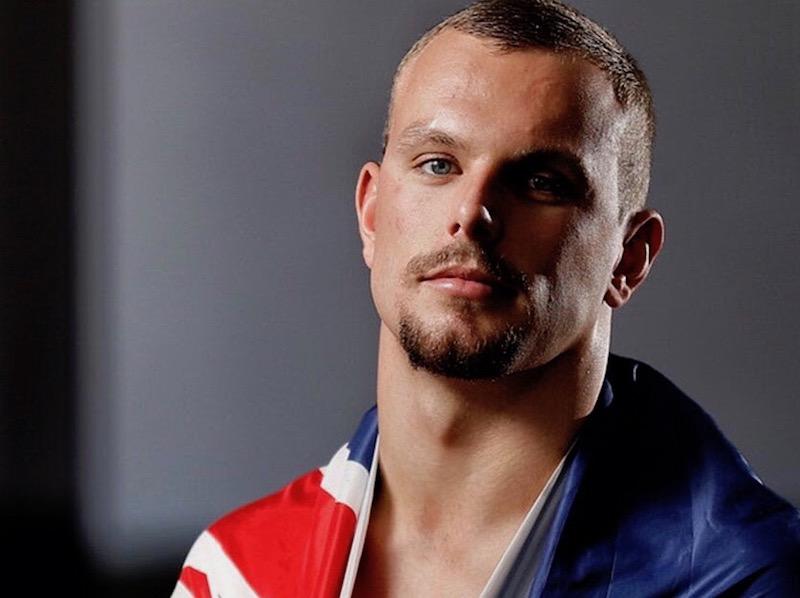 Then there's the splits that suggest Popovici has something in common with Kyle Chalmers, who in 47.58 ended Australia's 48-year drought when he claimed Olympic gold at Rio 2016 aged 18:
23.14; 47.58 (24.44) WJR 2016 Chalmers
23.07; 47.56 (24.49) WJR 2021 Popovici
For those assuming Popovici is in with a shout of Olympic gold in Tokyo: here's where the pace got to at the deep end at Gwangju 2019 World Championships, where Caeleb Dressel posted a pioneering 46.96 to become the fastest 100m man we've ever seen unaided by a shiny suit and an Olympic champion. An arrow point away was Australian Kyle Chalmers, who rattled the 47 barrier a fingernail shy of death on 47.08 for silver behind the American.
On 23.07, Popovici would have turned 7th in Gwangju … on his way to bronze. The splits of Dressel and Chalmers point to the American being a different there-and-backer, a man they're going to have to stay as close to going out and then aim to catch and run down going home:
22.29; 46.96 (24.67) Dressel
22.79; 47.08 (24.29) Chalmers
Add in ahead of Tokyo and from this year, Kliment Kolesnikov, who won't be able to fly his flag in Tokyo but will be aiming to fire beyond the 47.31 career high he posted this season, and Italian Alessandro Miressi, on 47.45 for silver behind the Russian at European titles in May.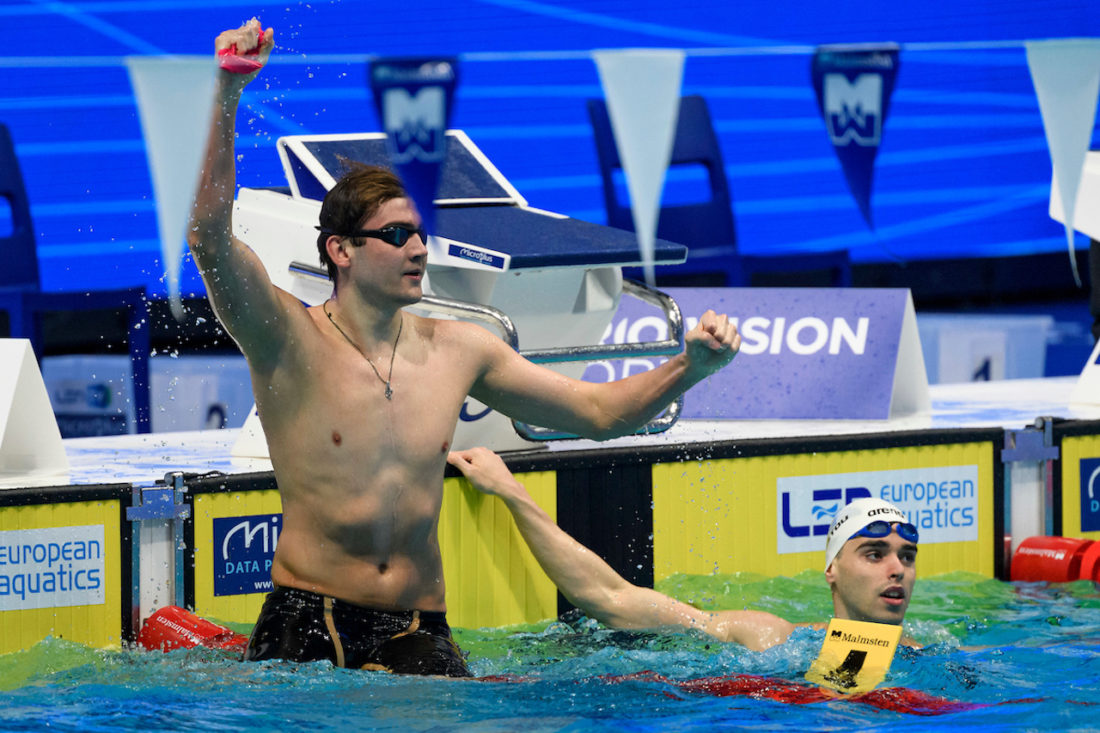 Here's how the European top three swam on to the podium in Budapest back in May:
22.50; 47.37 (24.87) Kolesnikov CR
22.70; 47.45 (24.75) Miressi
22.83; 47.74 (24.91) Minakov
A huge challenge for a 16-year-old. Even so, a swing of an arm faster and Popovici is a predator among the fastest racing pigeons in the history of swimming in anything but shiny suits. Danger Boy with an "itchy" (ici) beyond his Popov.
Time-warps are virtual, of course (at least for now and in the thread of swim history), and Popovici has some catching up to do if he wants to match Popov and the Russian Sprint Tsar's pioneering 50-100m double double victories at the 1992 and 1996 Olympic Games, with Sydney 2000 delivering another podium for Popov. It was at those same Games that Romania's Diana Mocanu made her move.
At 15 In 1999, Mocanu won the European junior titles in the 100m and 200m backstroke (1:03.03 and 2:15.64) and finished sixth in the 200m backstroke (2:15.08) at senior European Championships. In May, 2000, Mocanu leapt to times of 1:01.54 and 2:11.62 to win silver medals in both events at the European senior championships. She then returned to the European Junior showcase to retain the 100m crown in 1:01.85.
Less than three later, Mocanu became a household name back home, her first victory unfolding in the 100m in 1:00.21, just 0.05sec behind the 1994 world mark of He Cihong (CHN), and then in the 200m in 2:08.16, 2.09sec ahead of world champion Roxana Maracineanu, racing for France after having been born in Romania before the family moved to France when she was 9.
Maracineanu is now the Sports Minister of France in the Government of President Emmanuel Macron, some of her work pioneering in the realms of equality, opportunity and the fight against abuse in sport.
David Popovici The Pioneer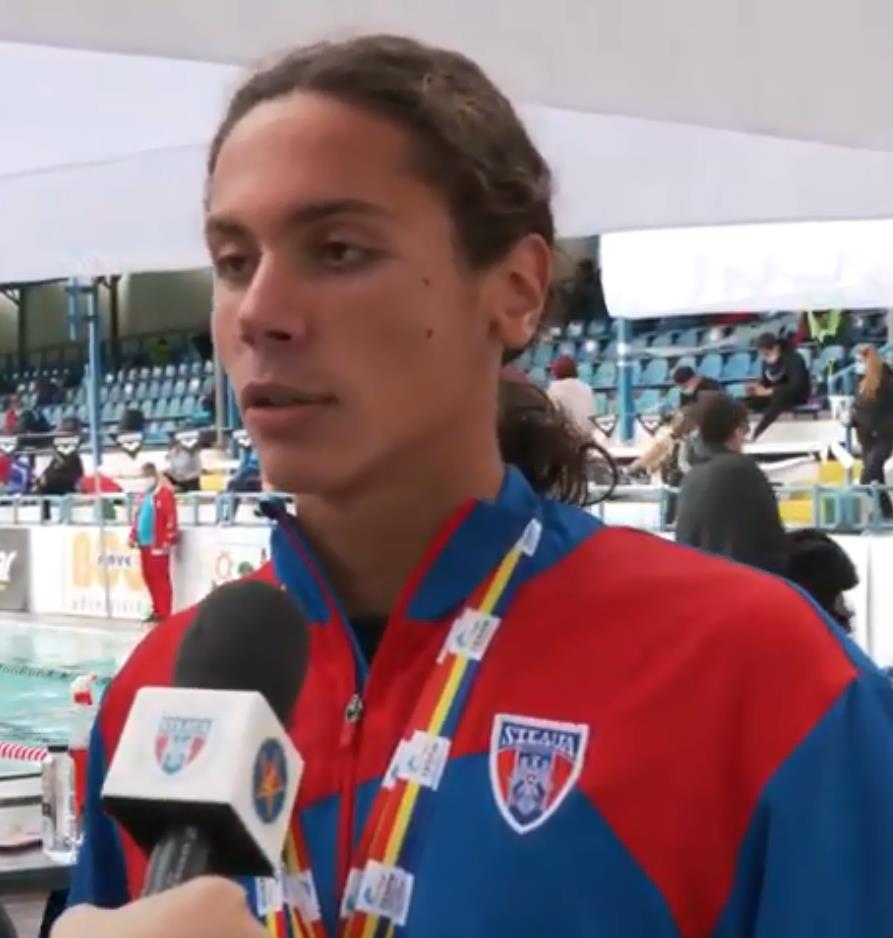 David Popovici is also a pioneer: he first broke 50sec at 14 two years ago in Baku at the European Youth Summer Olympic Festival, where he claimed gold in the 100m and silver medals in the 50 and 100m freestyle.
His best times that last pre-pandemic summer were 23.03, 49.82 and 1:50.14. Now, they line up as 22.43, 47.56, the World Junior record of yesterday, and 1:46.15, clocked last month in Bucharest for an improvement of almost 4sec year on year, via a 1:49 and two 1:48 efforts this year. If Olympic gold or even medals of any colour at that level don't tend to appreciate being banked on, one wager is far more certain: Popovici's speed curve in senior waters has only just begun.
Popovici first showed the extent of his progress in the past year when he cut through the rounds of the 100m freestyle at Budapest 2021 European Championships with three national records: heats, 48.30; semi, 48.28; final, 48.08, 0.34sec away from bronze claimed by Russian Andrei Minakov, whose World Junior mark Popovici shaved back by 0.01sec yesterday.
The Romanian's new high would have been good for bronze in Budapest. Now, the Romanian is in the midst of a European Junior Championship campaign on his way to an Olympic debut that evokes memories of his fellow Romanian Diana Mocanu.
Memories of Mocanu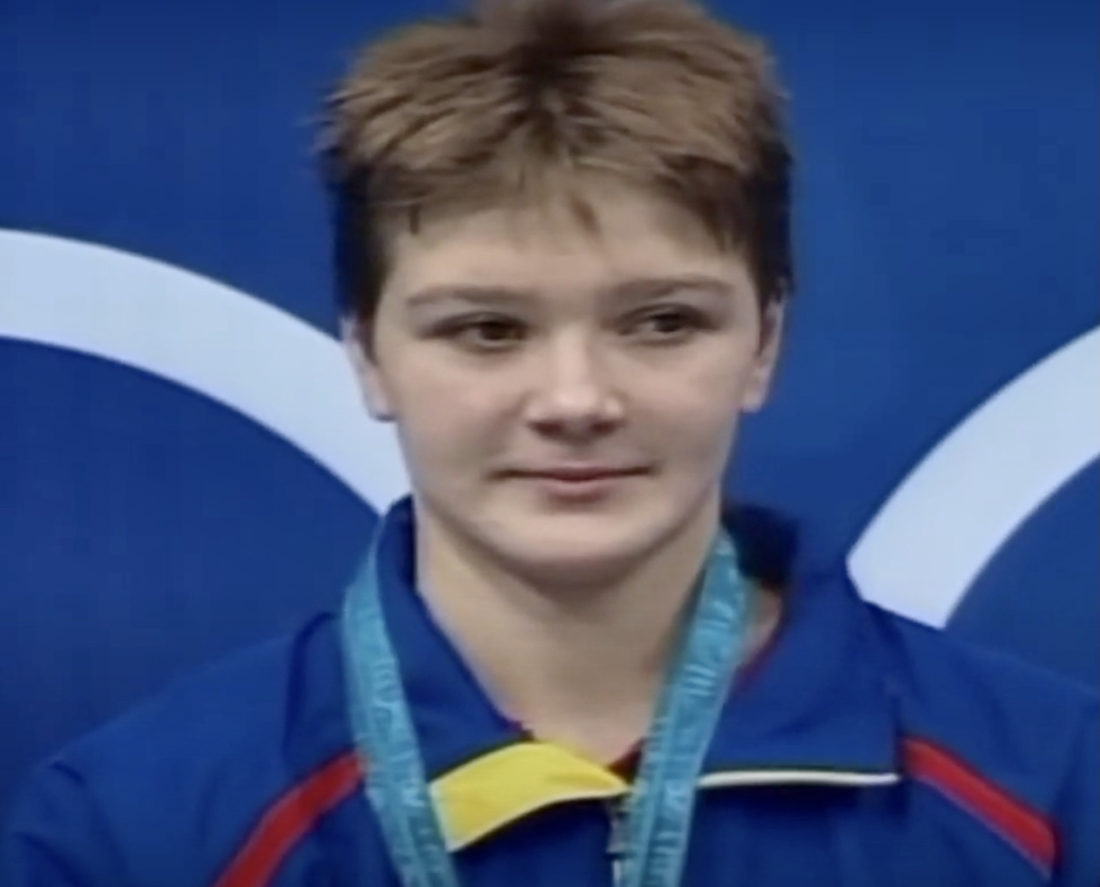 Mocanu's 200m time at Sydney 2000 was then there third fastest in history, at a time when Hungarian Krisztina Egerszegi dominated the all-time rankings with her sensational 2:06.62 World record from 1991 in the midst of a career that included three Olympic titles (1988, 1992, 1996) over 200m backstroke and doubled the membership of the Triple Crown Club 32 years after Dawn Fraser became the founder member with a third victory over 100m freestyle (1956, 1960, 1964).
This year at Australian Olympic trials, Emma McKeon and Cate Campbell – who today was named the first woman swimmer to serve as Games flag-bearer for Australia, the role now a joint one for the first time at Tokyo 2020ne and Down Under involving a second slice of pioneering history – led four Aussie 100m sprinters into the history books as the first domestic line-up ever to produce four 52sec blasts.
During Fraser's prime Olympic years as the first woman to race inside the minute over 100m freestyle, the men's world record progressed from a 55.4 (John Hendricks, AUS) to 52.9sec, the time France's European champion of 1962, Alain Gottvalles, clocked at a meet in Budapest in September 1964 a month before he finished fifth in the Olympic final at Tokyo 1964 in 54.2, the title to American triple-gold winner Don Schollander in 53.4.
The clock is one thing, the race another; the Olympic final something else, where time and place and race collide with the will to win and the form of fortune come the hour on one big day.
A Set Of Wheels For Mocanu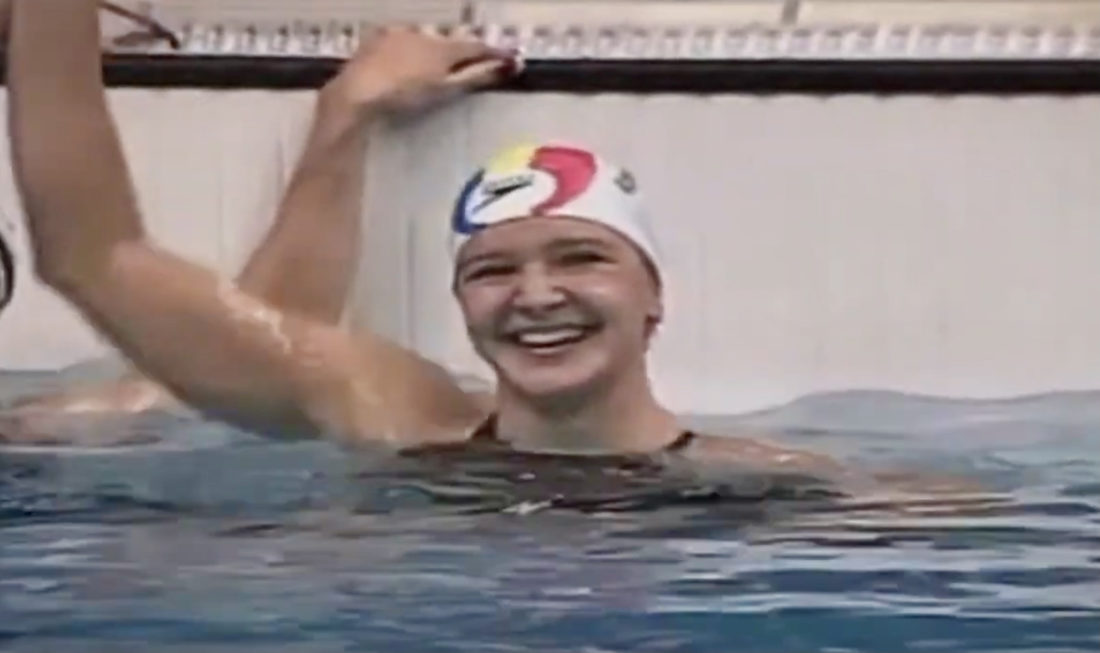 That 'one-big-day-come-the-hour' spills into the rest of life. Coached by Laura Sachelarie in her hometown of Braila, Diana Mocanu returned home to find a car awaiting her as a present. She said she was happy, while noting that not a single member of her family held a driving licence.
In 2001, Mocanu claimed the world 200m title (2:09.94) and finished second to Natalie Coughlin (USA) in the 100m (1:00.68).
After she missed the qualifying standard for the Athens 2004 Olympics, Mocanu announced her retirement in September that year. No longer passionate about the sport in which she excelled, at least in terms of competition and the training required to win, she took up coaching and sports administration. She now works for the Romanian Olympic Committee.
Sydney 2000 Gold For Mocanu In The 100m …