The New Alliance Focus Of Ranomi Kromowidjojo – 50:50 Revenue Share With Governors For Next Wave Of Olympic Swimmers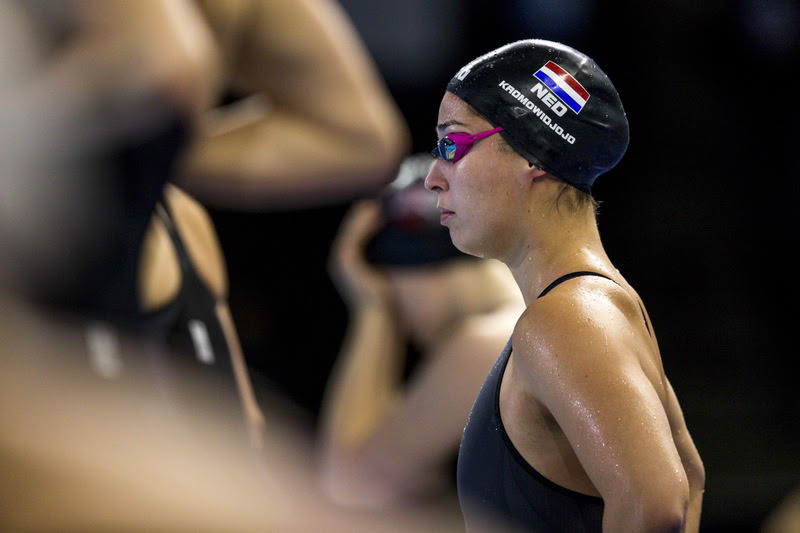 Ranomi Kromowidjojo, the Dutch sprinter with three Olympic golds and a silver in a vault stacked with 42 international victories atop 83 podium places for The Netherlands since 2007, will return home from Tokyo after racing at her fourth Games this July with a goal for Los Angeles 2028: as a Board member of the new International Swimmers' Alliance, she aims to help the get the next generation of Olympic swimmers well on the way to a 50:50 revenue share with FINA and other governing bodies come the L.A. 2028 Games.
The revolution in the pool, which gathered massive momentum with the birth of the International Swimming League, is not all about the money: if Ranomi and the swimmer-representative Alliance are to make their realm a member of the club of wage-and-benefits professional sports, then constitutions, rules, competition focuses and formats, welfare, safety and athlete rights, including direct access to dialogue and decision-making, will all be in play on the way to the Paris 2024 Olympic Games.
As Tokyo says farewell to the world after a monumental and particularly challenging effort to stage the Covid-19-delayed Games this July and August, Ranomi Kromowidjojo will be on her way to bring her head into the books that explain how swimming differs so radically from the big pro-sports. Beyond the obvious gap between the $450 Million net worth of Roger Federer and the $3m cited for Caeleb Dressel at the upper end of swimmers' experience of rewards and recompense (at an estimated $80m, Michael Phelps, with his astonishing 23 gold atop 28 medals 2004-2016, is said to be worth $10m less than Usain Bolt, but the American G.O.A.T. is an outlier, an outer-orbiter if ever there was one), spot the difference: 
The Olympic sport is heavy on bureaucracy and development projects that have even been described at the top tables of swimming governance as aid-for-votes schemes and criticised by would-be recipients who say they never saw a penny from the purse sent to their national federations, while athletes ca count themselves lucky to have access (most get nothing) to less than 10% of all revenues in an average year. 
The Pro-Sports realm is light on bureaucracy, heavy on income, which is shared at a rate much closer to Ranomi's goal off 50:50, on top of which there are no rules that restrict the size of sponsor logos not much beyond invisible dimensions when it comes to audience awareness and in return for wearing the brands of a corporate/organisation sponsor, the pro-athlete can expect a decent cut from revenues that extend to image rights.
Back to Ranomi Kromowidjojo. The 30-year-old has long passed the test when it comes to angles of buoyancy, the position and pull of a hand and arm, the beat of a kick, reaction off a block, winning mindset, the importance of quality sleep, training sets aerobic and anaerobic and all that other stuff that contributed to her being 2012 double Olympic sprint freestyle champion, topper of 15 World and 24 European podiums down the years.
Now she's about to put herself to the test in a different dimension of her world: swimming governance. Beyond her latest Olympic mission, the Dutch ace tells S.O.S. that she will soak up knowledge of a different kind, read up on the governance, political and financial structures of her sport with a view to being a champion of athlete interest, welfare and swimming as a sport fighting fit for the 21st century.
Much has changed in Olympic sport since Aussie rower Henry Pearce was among star amateurs writing legendary lines into Games history at the Amsterdam 1928 Games.  In his sculls quarter final he was in the lead when a family of ducks strayed into his lane. Pearce pulled up, let the ducks pass and then pressed on to win his round on the way to a final in which he claimed single-sculls gold by defeating Kenneth Myers of the United States by 9.8 seconds. His Olympic-record victory also earned him the Philadelphia Gold Cup, which represented the amateur champion of the world. This is what amateur meant: on the way to Amsterdam, Pearce attempted to enter the Diamond Sculls at the Henley Royal Regatta in England but they turned him down citing a rule that barred "Who is or has been by trade or employment for wages a mechanic, artisan or labourer." It took nine years to have that rule stripped from the books.
In a little inside that timeframe, by the time the Dutch are celebrating the Amsterdam Games Centenary as Los Angeles get set to follow Paris as the third Olympic host of the 2020s, Ranomi wants swimming to be a fairer place for the professional swimmer in much the same way as Pearce was a pioneer steadily sculling antiquated attitudes out of history.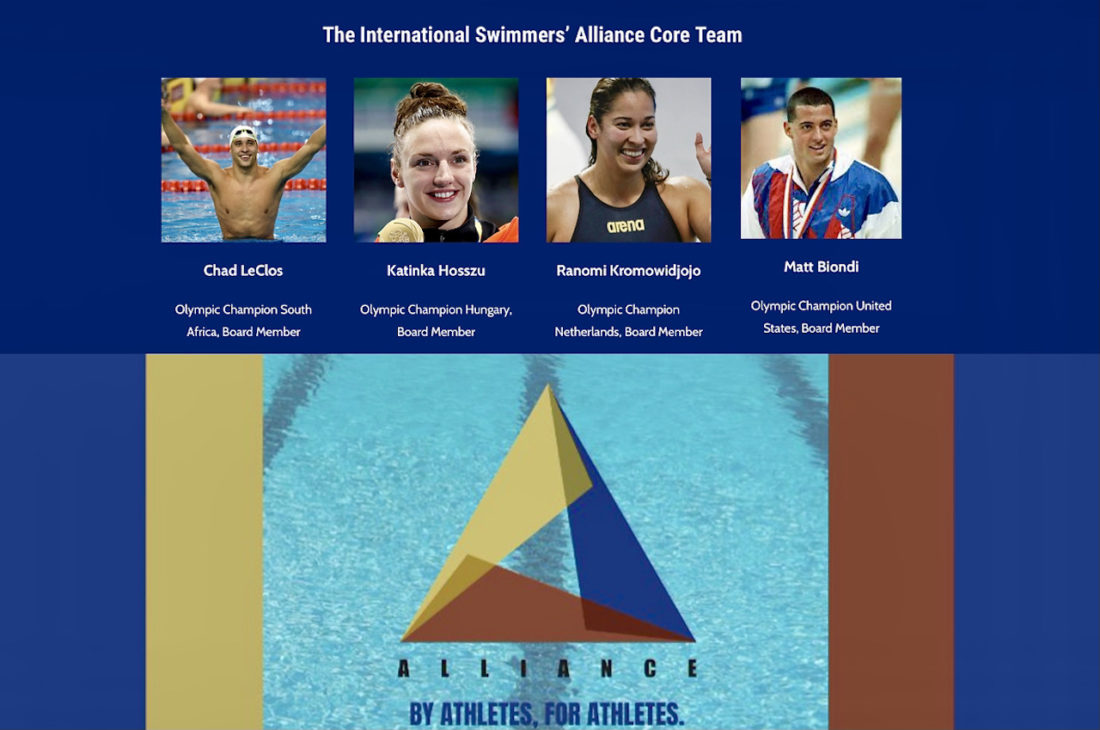 She has set herself a "personal" goal as one of four core Board members of the International Swimmers' Alliance by the time those who follow her line up at the Los Angeles 2028 Olympic Games, she wants them to be swimmers getting at least close to that 50:50 revenue share with FINA and other governing bodies.
After autumn prep, Ranomi and fellow Alliance members are keen to enter a dialogue with swimming bosses. They want change, they want a new start, one in which the world of swimming does not feel as though it turns to the tune of a bureaucracy bent on limos, lifestyle and trinkets that drain good money from hosts and sponsors that would rather spend more on the point of it all: the athletes and performance sport. The best swimmers in the world have made it clear through their backing of the International Swimming League: they want both fair say and pay in return for Fair Play.
It need not and should not be personal, the Dutch sprinter indicates. What is being asked of FINA leaders is no more than a standard part of any process of improvements aimed at keeping any corporation or company, any business relevant, lean and at the top of their competitive game.
As a swimmer whose ISL profile lists her interests as "Helping others reach their potential" Ranomi puts it like this: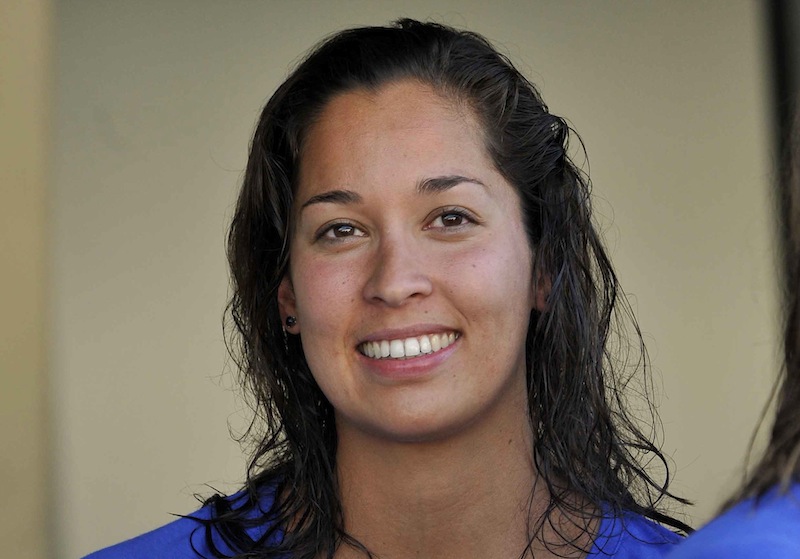 "We need to talk. If you just keep going on in the same way for many years with the same people, it doesn't matter if it's the FINA board or a big company or, let's say, a professional swimmer: if you do the same things in the same way with the same people every day, you get the same results. If they don't talk to swimmers and others and don't want to listen … well, it's time to talk … there's a long way to go."

Ranomi Kromowidjojo – photo by Gian Mattia D'Alberto / lapresse, courtesy Arena
Ranomi On Thinking Between Olympics, The ISL, New Approaches & Financial Models
The ISL revolution knocked down the door to dialogue with FINA leaders and in 2020, the League's Bubble of Budapest Season 2 was the only global swimming event staged after the COVID-19 coronavirus started to spread across the world and a pandemic was declared. Not only did Season 2 tho ahead but ISL founder and funder Konstantin Grigorishin made it all part of a solidarity camp and the start of nine months of monthly wages for more than 300 of the world's best swimmers to tide them over through to the Tokyo Games.
The majority in swimming were not so lucky, says Ranomi, reflecting thankfully on the opportunity the league afforded her, team-mates on fellow Alliance Board member Katinka Hosszu's Team Iron and rivals on other pro-teams: "I was really happy not just with racing but, indeed, to keep in touch with swimming and what we love most about it. We were very fortunate. We were able, the pro-athletes, to keep on training in the pool. The pools in The Netherlands have just opened last week. So, for club swimmers, it was terrible."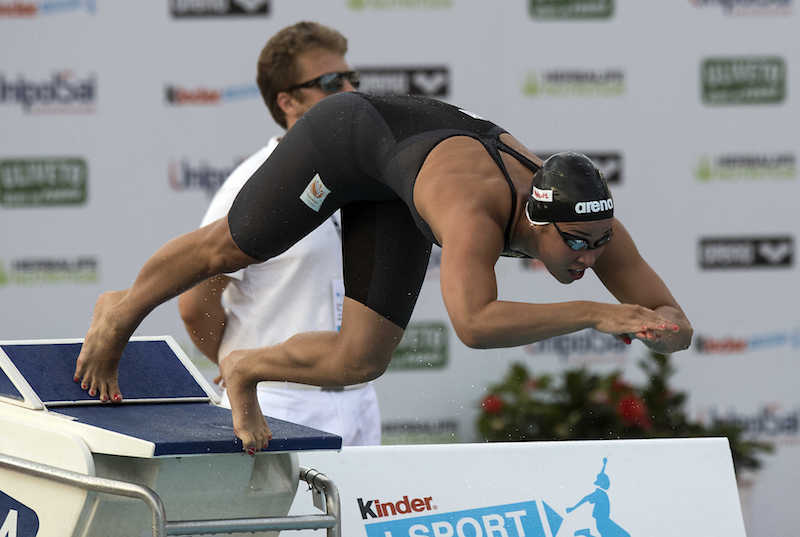 "It's definitely been very hard for, let's say 13-14, 15-years olds, when they are in a phase when they are thinking whether to go training or whether to go to a party with their friends. So to keep motivated for many months when you don't have any goals and you don't know when you can go training again, it's really difficult. The pools have reopened, so now it's about waiting for when we can plan some meets, hold competitions."
At the deep end of the pool, the League has not only thrown swimmers a lifeline: the whole sport has been shaken from its spell of long morning heats, evening semis and finals and championship formats dragged from big meets with swollen programs extended to eight and even nine days and then squeezed into monotonous World Cup meets attended by far too few of the best and watched by far too few, even among fans of the sport yearning for a meet format that leaves the Olympics for the Olympics but finds a way to showcase the thrill of racing, the building and bonding of teams, the sport-ainment of the swim in a package that pays swimmers a living wage and raises the potential for them to attract sponsors and backers as athletes with a profile too often denied by the constraints of traditions, rules and roles beyond their sell-by date.
When FINA asked domestic federations how they intended to deal with swimmers deemed to have broken the global regulator's monopolistic rules governing engagement with "non-affiliates", swimmers finally flipped. They had reached the limit of their tolerance with governors. They would no longer be the subservient stars, would refuse to be the underpaid generators of revenue paying for bureaucrats to fly business (to their cattle) sleep, wine and dine in five-star hotels, get carried around in limos, take lucrative per diems at the heart of a tribe of self-electors granting themselves the power to bestow top honours on questionable world leaders and regimes, refuse to act when some honoured for their "services" to swimming were handed criminal records for athlete abuser, fraud and other misdemeanours and pay hefty fees to folk hired to discredit critics.
This month, Brent Nowicki was named as FINA's new executive director at a Congress that saw Husain Al-Musallam voted in, as sole candidate, as FINA president. The former pilot from Kuwait, who has been at the FINA top table for 25 years, spoke of a new start. It is what athletes are asking for, will request formally and, ultimately, if required, demand. Says Ranomi Kromowidjojo: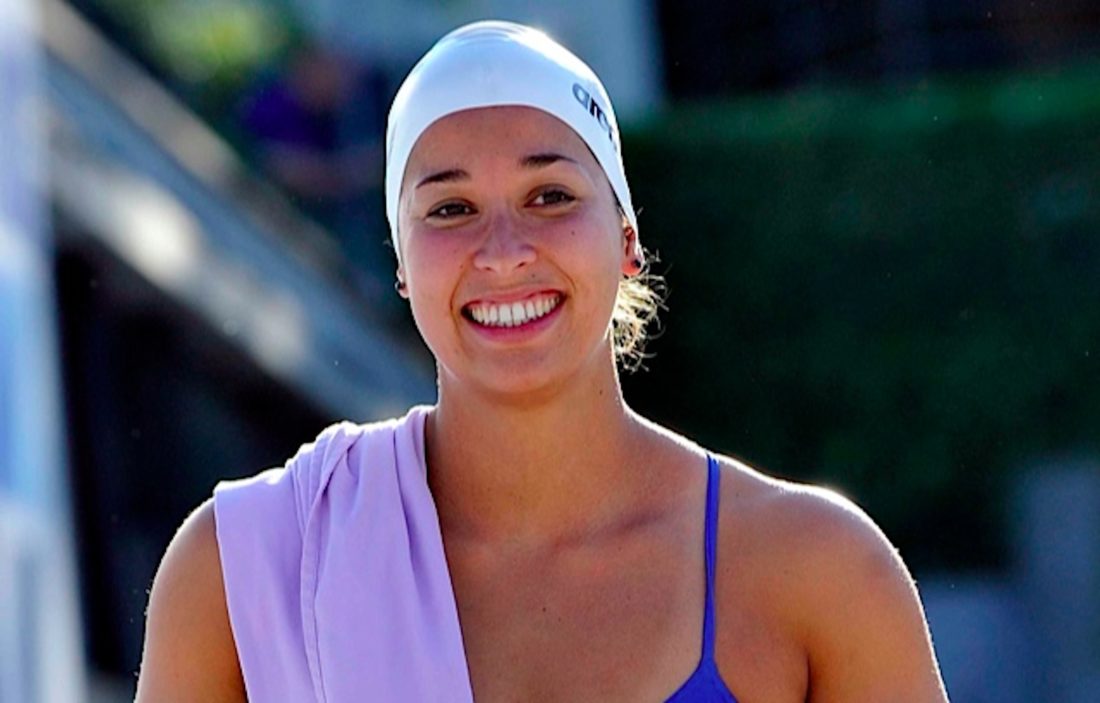 "I think we have to communicate with each other. Not you and me because I think we share many of the same thoughts, I mean we with them. I already found out as a s swimmer for many years that if I have a goal and I'm working on it, I would rather do it today than tomorrow. That's not exactly how it works in real life: you have to be very patient and to have a lot of meetings… but, we have to start talking with each other, for example, FINA should start to talk to the athletes."

Ranomi Kromowidjojo – courtesy of Arena
She points to what amounts to hypocrisy, inconsistency and discrimination at the heart of FINA's structure as an example of word, not matching deed, nor even Constitution.
"They [FINA] do have an athletes' committee. Ferry (Weertman, the Olympic marathon champion who is Kromowidjojo's partner) is on the committee as an Open Water [representative] and they have very strict rules on gender equality, for the athletes' committee. Then for the 'higher people'…".
Ranomi laughs in the same way that any intelligent , impartial observer would. Even though the FINA Constitution insists on no gender discrimination and rules on equality apply to the athletes (numbers on committee, events in the pool, prize money and so forth), those standards are not applied to the Executive, to the Bureau nor to many other commissions and committees that make up a bureaucracy significantly larger than that you will find in the worlds big Pro-Sports.
FINA's gender bias and "this is a man's world" culture and count are among reasons why the global aquatics regulator has consistently found itself at the bottom of the league of Olympic sports when it comes to assessing the quality of governance. The only way is up.
"I'm not someone who insists on having an exact number of women to men in various positions but," says Ranomi as she emphasises the next two words as if she wants us to interpret her opinion more as an 'I know', "I think there are a lot of women who can be at the higher places in FINA. In The Netherlands, we have women's quotas and it's said that you have to make those rules or set those quotas, otherwise you won't get women on top [in leading, decision-making positions]. I think a lot of women are qualified and are well willing to get there. I hope it's just a matter of time."
I note that the provisions of the FINA rule book and Constitution are often good but their application is too often poor. It is at the crossroads where rule, word, deed  and culture depart that athletes would like to engage – indeed they are going insist on engaging –  with FINA. Ranomi highlights a wider point, however "The Alliance is not just about dialogue with FINA and the big governing bodies but also for individual swimmers who have serious doubts or questions.
"Personally, I have a good relationship with our national federation. I know the people and the 'president', except we don't call it 'president' [the head of the federation is the Chairman of the Board]. But I'm not sure that all swimmers around the world are on a good footing with their federation or can say or do what they like to. There are improvements our own federation can make but then we don't have it bad."
Bad would be what?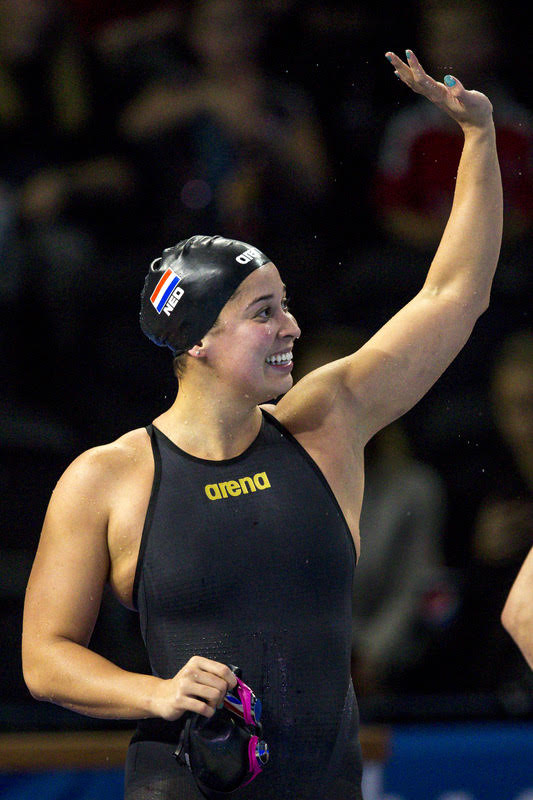 "I think the consequences of speaking out as an individual swimmer are massive. So I think if we stand together or at least, to go back to your question on the goals of the Alliance, a short-term goal would be to spread the word out to swimmers that we are here and we are listening and we want to work together to have a better and bigger voice.  It's not just about money or more money. It's much bigger than that."

Ranomi Kromowidjojo – Photo by Patrick B. Kraemer / MAGICPBK
Suits, backstroker wedges, blocks and several other "things that have a direct impact on athletes" spring to mind from the large catalogue of "things athletes were never consulted over".
Ranomi recognises the complexity of representation in a sport that has retained a sense of "be grateful for what you've got" even as prize money came in, even as prize money for a relative few grew to relatively decent rates. She says:  "On the one hand, the people [who were active swimmers] from 10 or 20 years ago say 'well, you have to be thankful, to appreciate what you get; you can live from swimming; you can earn money from swimming or swimming competitions'. That's something you could have said in the United States but 10 years ago I would not have said in The Netherlands that you could swim to earn money.
"That is changing. But on the other side, speaking to other swimmers, they get crazy when you ask them how much they are earning: from the federation, zero, because the federation just doesn't have money to give away. But they do pay for our training, for our coaches, for our training camps and that's something that a lot of other countries, with good swimming programs, don't have and they have to pay for their own coach and training camps. On the other hand they earn a lot more money than I do or they may earn less but they don't have to pay taxes on that the way I do."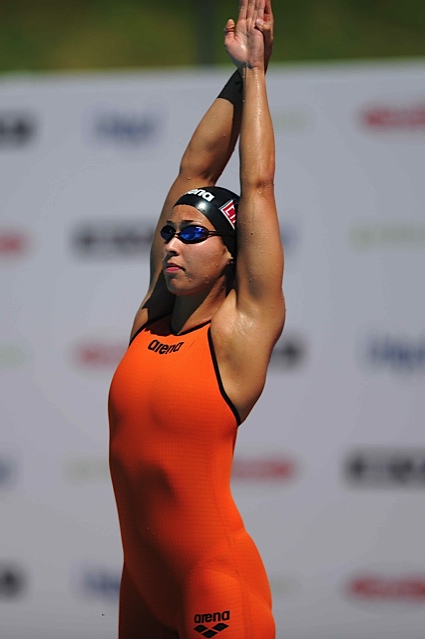 "Some things have changed. In Holland some people still ask me 'what do you do for a living' and I say I'm a swimmer and they say 'yeah, but what do you do for a living? Do you work?'. Well that has changed a lot in the past five or 10 years, which is a good thing.  I do understand that people think that you would not be paid for the one race a year that they see; they don't see the work [or the rest and quality sleep essential to the job, I suggest]. Right, but I do understand that to change the [perception] of the sport we do need a league or [other] seasonal competitions. We can't rely on just the Olympics once every four years."

Ranomi Kromowidjojo – by La Presse, courtesy of Arena
FINA pays out around 5-7% of its revenue to swimmers in prize money (some counts suggest 12 and even 20% but I've never seen the figures to back up such claims). The international federation has been keen to note the development money it pays out and the funds that go to national federations in assistance funds. Among less well known and much bigger ticket items, however, are things such as the $20m-plus spent on a new headquarters building in Lausanne, a price that is "worth more than a years in rent", says ISL founder and billionaire Konstantin Grigorishin, who also notes that if he were a stakeholder in FINA he would be asking to see a breakdown of the budget on the Lausanne property, which local real-estate experts have estimated to be worth more like $10m. The FINA accounts note the project and its costs but the reader cannot tell precisely what $20m plus was spent on.
I mention to Kromowidjojo that the headquarters project was something a great many people in aquatic sports appeared to know nothing about. Beyond an ironic chortle, she confirms that she was among those who had never heard of the new HQ project. All part of the post-Tokyo learning curve on the way to a better understanding of how FINA works, what may be transparent and what may not be.
The League has not only created a showcase for swimming: it's also been a catalyst for change at FINA, whether that comes from within or is forced  on the federation by athletes and others and has seen the global regulator step down from a dictatorial tone to an acceptance that it will have no choice but to engage with its key assets, listen, learn and act if it wants and semblance of its status quo to survive, particularly in the context of "building back better" after the coronavirus pandemic has waned just as the athlete voice has waxed.
Says Ranomi: "Five years ago, I would have said 50:50 [revenue share with FINA] sounded impossible but now, well – especially after reading all your articles and then after Tokyo I will get into the books and study a lot because I don't have the numbers I need right now but we need to know – I don't say we have to get to 50:50 in the next five years but let's say by the next Olympics and then within two Olympics, so seven years and half-way between the next 5 and 10 years,   we need to improve that number. That's my personal goal."
We'd started out conversation with me asking 'why have an Alliance; why was it needed?" She replies: 
"Well, I think it's obvious why we need a Swimmers' Alliance. Swimming needs to improve. I think it's not just about national swimming or swimming in my own country, The Netherlands, but about [the global picture]. It's such a big sport, a worldwide sport with so many athletes and I think there hasn't been much improvement in the last, well, let's say 10, 20 years, except for the times and the records people set and how swimmers are swimming faster. If you look at rewards and prize money, the way the sport is organised, well, we have to go in the direction of the big sports in the world, football, American football in some ways but also track and field/athletics in other ways. 

"They [World Athletics] have their Diamond League, for example, and swimming just has the Olympics once every four years and then, for the majority of the people, for sports fans, it's kind of, well, that's it. As swimming fans, of courses we know there's so much more but I think we need to start working on getting more professional." 

Ranomi Kromowidjojo at London 2012 on her way to double gold – photo by Patrick B. Kraemer / MAGICPBK
Ranomi is not only talking about athlete commitment and attitudes and understanding that what they do is their job. She and the vast shoal of the world's best swimmers who stand with her and are part of a first generational wave of swimmers for whom having 'Thirty-something' on the clock is the new norm. Longevity of careers and of excellence comes with a more mature outlook on what needs to happen if the growth of swimming is to make the leap from easy political soundbite to genuine gains in the ranking of sports that are professionally organised, have lean bureaucracies and expect to see around half of all revenues go to the stars off the show generating the dollars, crowds, viewers and readers beyond niche and the sport's own backyard pool.
An insiders' chat ensues and we agree that swimming is a sport those who have grown up in it and around can understand but is also too often unfathomable to the wider potential audience.
Ranomi recalls some questions she's faced from well-wishers who recognise her when she's out shopping for groceries. "They'll ask me, during the season, 'are you still swimming'? That's not just the last year but the last 10-15 years but people just see you on the TV and in the newspapers during Europeans, Worlds and Olympic Games, so it's twice, maybe three times a year at most but we are training the whole year round for those moments." 
It reminds me of the people who, with no ill-intent just through a lack of knowledge, walk through a press room or past your desk in the media stand when the last relay of the day is done and ask if they'll see you in the restaurant. Just how they think that at 9.30-10pm you might get the quotes, write three versions of a lead story, plus other material, produce and send it all to live or office for print and still have time to get to dinner before you turn into a pumpkin is anyone's guess (if you think it sounds fairly easy, try it at home in comfort-zone conditions: write 2,500 reasonably smart words packed with facts, context, reaction and colour of the moment in the next two hours on five separate events for different outlets on different platforms, including production, sizing and uploading photos, writing and placing headlines, captions, ticking all the SEO boxes, launching and then pushing out to social media – and don't forget to do it all with disco music belting out in the venue to help the cleaners sweep and scrub in rhythm; if you want to make it a touch harder, go for meet last-night mode and perform the exercise while a team of 100 builders hammers down the scaffolding in the seating all around you). 
Remote coverage that has become the standard of niche coverage in swimming is truly much easier to handle – but not nearly as memorable nor does it scratch the sides of lasting, meaningful experience. 
Anyhow, it's similar for swimmers and swimming: it isn't only some media who ask daft questions and a few that cause the kind of issues that led to Naomi Osaka withdrawing from the French tennis Open of late. The fact is that the wider public beyond swimming fandom doesn't know a great deal about the lives of swimmers nor does it get what 56.99 over 100m breaststroke means; and some assume that if Michael Phelps can win 23 gold from 28 Olympic medals, it can't be nearly as hard as scoring a goal in football. They don't know the half of it, let alone the 0.1 of it. But … that's a job for swimming if swimming wants to grow.
Ranomi and her Alliance allies share that view and they want to engage with governors and explain why. That includes the sound of hammer hitting nail on head in calm, impeccable English: "So, people don't know you and then it's not very attractive for big companies and sponsors to invest in swimming."
I mention a German TV advert for a water company. It's a thing of great beauty .. but the cascades and splashes of clear water that makes it all so aquatically aesthetic are not caused by the swing of Albatross arm or the flutter of Franzi foot. It's a football that sends the droplets flying before a soccer star best not quoted beams from the screen to tell you that if you drink Brand  X, you too could be fit as a fiddle, jetting around in a e-bourghini and wintering with your people in Gstaad any day soon.  What a shame swimming is not a sport that makes the swimmer synonymous with water, fitness, lifestyle; and, what has swimming made itself synonymous with beyond its own community, in the way strawberries, cream and Pimms spell Wimbledon and contribute to a seasonal soar of racket sales year-in, year-out every June?
Season. What's a swimming season? The Olympic Games. Beyond that, only those who know, know, while those who don't are left to think way too much in a world in which other sports established their connections with communities well beyond niche a long, long time ago. Says Ranomi: 
"Swimming is not sexy. Swimmers are not heroes or, like, superstars. I think the ISL is the first step towards what [the League] set as an [ambition]: make the swimmers superstars; make them heroes. I think they're doing a great job by starting with the swimming league with a season of competitions so that people can follow you."

Ranomi Kromowidjojo

– photo by Patrick B. Kraemer
There will come a time when people expect it to be there on the calendar. It's "exciting", she says.
I recall a sports editor who once said to me "the trouble with swimming is that swimmers are boring". Well, if you allocate 250-300 words and expect to get the result and the names in, there's not much scope for describing a personality…
"Yeah, I do understand," says Ranomi, "because first of all, when I'm swimming, when I'm behind the blocks, you can't recognise me; when I'm swimming a 50 or a 100, only if you're a swim fan do you know which lane I'm in and only when I take my cap off at the end can [the non-fan] tell 'ah, that's Ranomi'. And then we're gone." She adds to a description all the more pertinent because it comes from one of the best swimmers in the world:
"It goes by quite quickly, there are many, many events, many gold medals to share. There's not just one champion – but [that said] we don't need just one event in swimming; its okay that we have many events – but we have to make swimming more sexy, more attractive."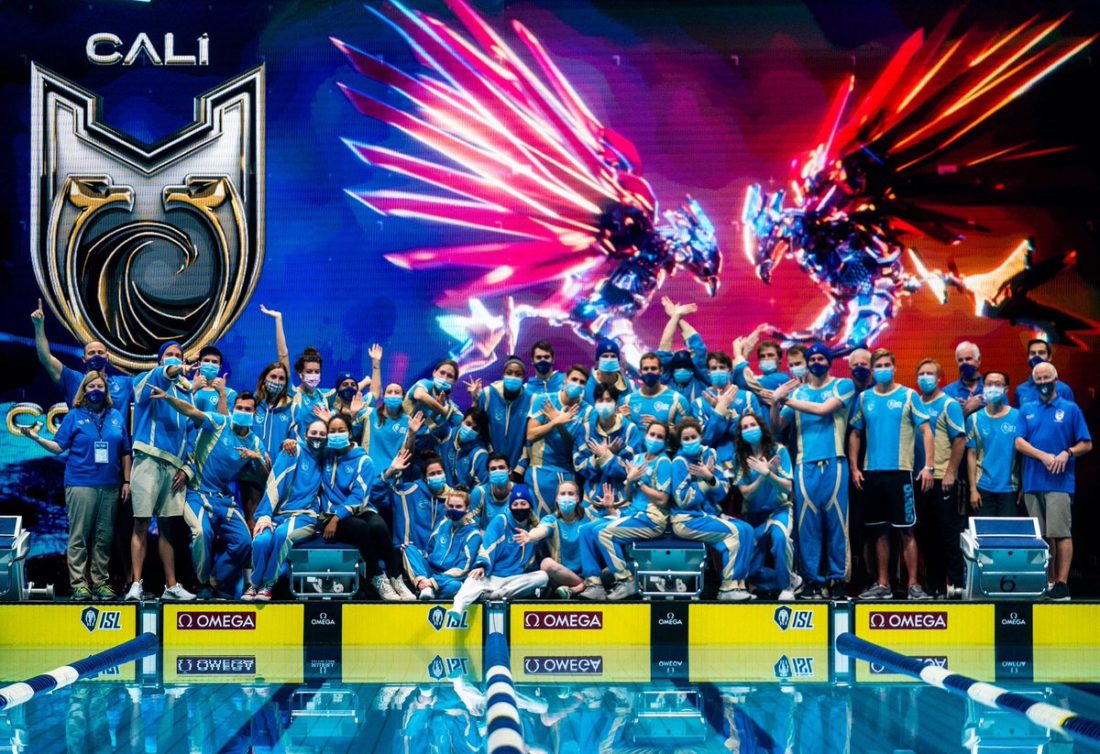 In the League, national-flagless but branded pro-teams that mean you can get behind your favourite squad in the way that happens in football and other sports, is helping. Swimmers want governors to shed off the tried, tested and definitely the failed and join them in charting a new course for their sport long after the warning signs were there for to be seen by anyone with an eye to see.
If it is about 20 years since major agencies took World and other short-course events off their list of "must-cover", then in the past decade, even the showcase World long-course Championships have slipped down the league of interest among mainstream media outlets. At the 2019 event in Gwangju, the top team, once more, was the United States … and yet, you could count the number of journalists representing mainstream American media outlets on one hand.
Down the decades, swimming not only stuck to its traditional championship format of long morning heats, evening semis and finals but extended the program from a 5 and 6-day event to what in Tokyo will be a meet stretching over nine days with more events on the schedule, including the introduction of the mixed medley relay, than ever before in history.
The journalist or broadcaster covering football, tennis, golf, basketball, baseball, cricket, F1, rugby and so on has one 'game', one main target for all competitors to focus on, be that a team or solo event. In swimming, the World Championship program of 29 events grew to 32 events by 1998, 40 events by 2001 and 42 events by 2015. That has all been part of a bolt-on diet that must now be reconsidered on a number of levels as swimming's economic reality, as pointed out by Ranomi above and the likes of John Atkinson in Canada, among others far and wide, is unmasked by a pandemic making wealthy men of mask makers.
Open and direct dialogue with the regulator and the governors of the sport is essential at a time when FINA (all the more so others) is highly likely to have to cut its cloth to suit a coat fit for the leaner trim of a performance sport fighting for its place among big predators on the plains for competitive world sport.
The ISL and the athletes who led a class action against FINA may well have made the road ahead all the easier to travel if governors can acknowledge the past so that others can let go of it. There is scope for new management engaging in talks with athletes and coaches and partners and sponsors and media and others. As Ranomi puts it:
"The first step is being involved. And that's why both Ferry and I are very happy to give something back to the swimming community" through athlete advocacy. "We want to see it improve. It's a long way to go but if we can change some little things, then I would be happy."
Two champions' "little things" may well be very big things to others. For Ranomi, it's a question of giant oaks growing from tiny acorns. One of the most heartbreaking moments of her pandemic was having to cancel the Ranomi Cup, the eponymous competition for children that she attends in person each year so that she can spread the word, the joy, the inspiration. I recall a feature I wrote a while back own the theme of "Swimbledon" and what swimming might look like as a pro-sport generating its own wealth, with athletes, past and present, at the heart of all consideration. Swimming as a family day out was a part of it, the sport in need of making a season not just with events but moments of inspiration that would ripple out and reap rewards.
As an inspiration herself, Ranomi understood very well.  "We had kids crying on Instagram when we had to cancel because of Covid, of course," she says. "And parents were like 'oh, my kid is crying, what should we do? …  I was like, 'well, I'm crying too… because I can't swim either and we don't know what the future holds.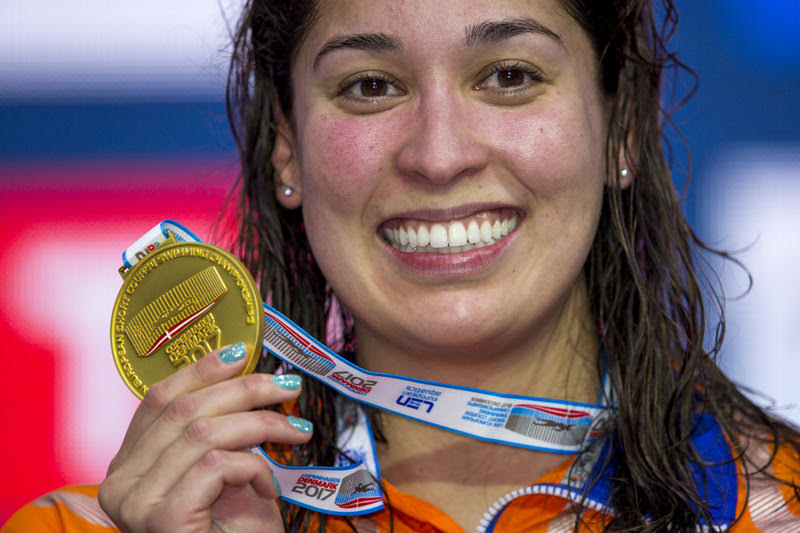 "It's very special to see and to feel what it's like to have just one minute of signing an autograph, making a photo and just having a little chat with a child can do for a little swimmer. The funny thing is I'm now at an age when my younger teammates are showing me pictures of where they were much younger and they had photos with me after London and after the Beijing Olympics. They were really young kids and now I'm training with them, which is a crazy thing."

Ranomi Kromowidjojo – by Patrick B. Kraemer / MAGICPBK
We recall the photo of when a kid caller Joe Schooling met a superstar called Michael Phelps long before "Gold For Joe Schooling Head Of Historic Triple Silver for Michael Phelps, Laszlo Cseh & Chad Le Clos". Says Ranomi: "That's lovely but it's so much more than just a picture. It's about hope and nurture and inspiration. For me, that one minute to take to wave to or say hi to a kid it can make a big difference. Unfortunately I can't do it all the time, every day, all day long but to be kind to other people is something a lot of people could learn from."
It is in that spirit that she will approach swimming governors down the road beyond Tokyo as swimmers, coaches, parents, support staff and others the world over wave a banner and say a quiet mantra of 'all strength to her and the Alliance'.
More from Ranomi and the Alliance in the run of days…