The Mighty Milak Mesmerises With Three Lengths Circa 2040 Before Settling On A World Record 1:50.34 Circa 2032 – Marchand Past Esposito, 2002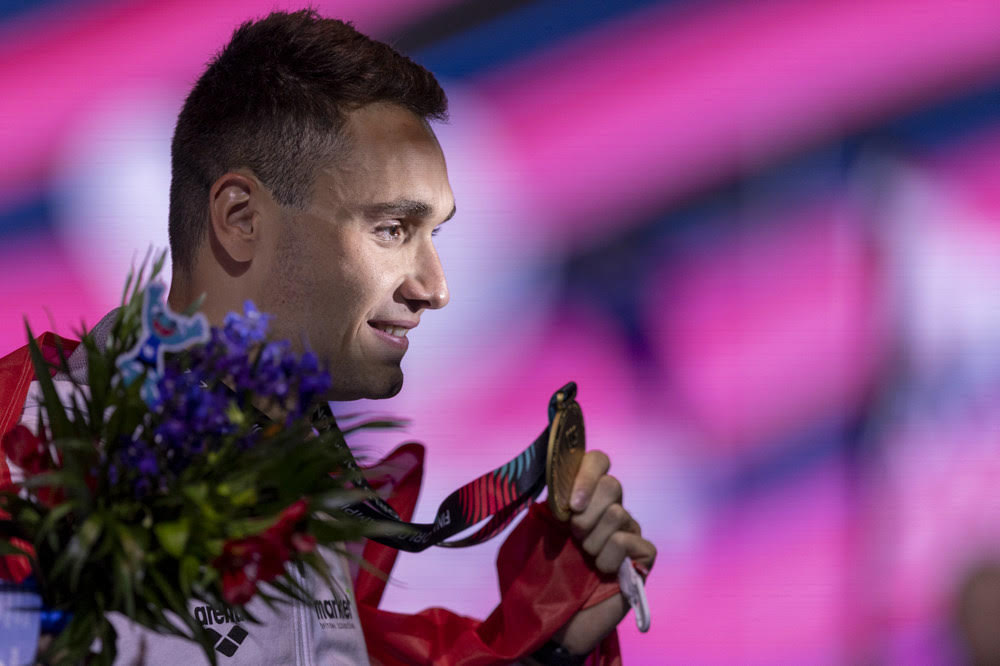 The flutter furious, the swim a soar, the might and fight in Kristof Milak mesmerising as the Hungarian flew towards a World record more sensational than the promise of unimaginable and otherworldly splits allowed us to fathom, the very notion of disappointment in a 1min 50.32sec blockbuster over 200m butterfly as ludicrous as it was tangible.
"It wasn't a good swim. It wasn't a smart swim": Milak's verdict, though he didn't discount what it could mean the next time round.
Let's get to the test he travelled and the timewarp twist in the tale:
24.19; 51.89 (27.70) 1:20.51 (28.62) 1:50.34 (29.83) Milak Budapest 2022
Comparisons:
24.66 52.88 (28.22) 1:21.57 (28.69) 1:50.73 (29.16) Kristof Milak Gwangju 2019 WR
24.76 52.88 (28.12) 1:21.93 (29.05) 1:51.51 (29.58) Michael Phelps Rome 2009 WR
Milak's winning margin was a match of the second biggest ever, at 3:03sec, a snap with Phelps over Wu Peng in 2007. Milak's 2019 win by 3.13sec over Daiya Seto remains the margin of dominance to beat.
The silver today went to Leon Marchand, of France and ASU, where he's coached by Bob Bowman, he who guided Michael Phelps to eight World records, starting at 1:54.92 in 2011 and ending at 1:51.51 in 2009, via a textile best of 1:52.09 in 2007 that suggested his 1:51.5 in leggings in 2009 needed no shiny assistance.
In Marchand, who set a World textile best of 4:04 in the 400IM on day 1 in Budapest and turned seventh at half way of the 'fly today, Bowman has France's greatest hope in the pool at a home Olympic Games in Paris in 2024 and the French record he set today was big: it had stood to Frank Esposito, a former teammate of Leon's mother, Céline Bonnet, and father, Xavier Marchand, at 1:54.62 since French nationals on April 18, 2002. Twenty years.
The bronze went to Japan's Tomoru Honda in 1:53.61, which locked out Olympic bronze medallist Noe Ponti, of Switzerland, on 1:54.29, all having edged past the man closest to Milak at the last turn, Britain's relay giant, 2015 World 200m free champion and a man of courage, James Guy. The price was paid this day after a big post-Tokyo break but the reward is there to be had on the way to Paris.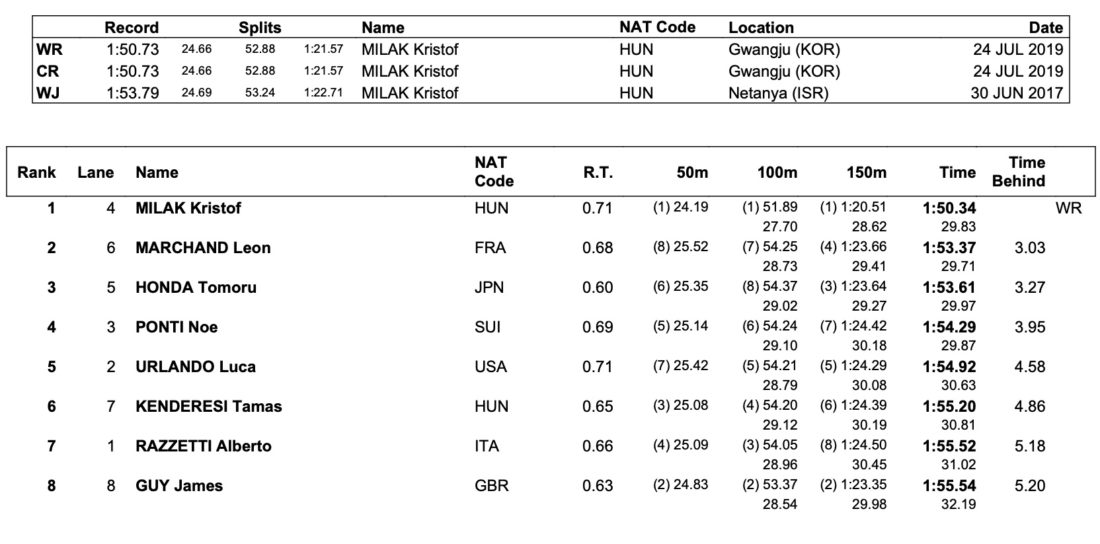 Milak Chasing The Virtual He's Making Real
Milak, who clocked 46.89 in the Hungarian 4x100m free relay at the start of the championships, soared away from the 2022 crew as he tested his ahead-of-curve capacity to chase down virtual contenders circa 2032, splits circa 2040.
If Milak's first turn left him 0.47sec inside his 2019 pace, by half-way the clock screamed – 0.99sec, the home crowd urging him on just as he had asked the Hungarian announcer to make sure they did, though, well, not so early on. Surely he would feel the impact of travelling the first half of a 200 'fly as fast as Mark Spitz's first world record over 100m freestyle in 1970, as swift as Aaron Peirsol's 100 backstroke world mark in 2009?
Apparently not. Off he went, thundering down to the last turn like a winged creature from Avatar plunging from cliff down rock face and out into the blue of the unknown. Thump: – 1.06 inside. The gain was gathering pace. For a little while down the home swim itv felt like he might carry it off and the world would have its first 1:49 200 'fly superhero standard to marvel at.
Half way to base, Milak began to understand what Peter Pan feels like: he was being caught by his own shadow, a red line denoting his 2019 World-record pace. The Hungarian pioneer hung on. 1:50.34, 0.29sec shaved from his and the world's personal best of bests, his high of Gwangju and the moment he whistled past Phelps' record and drew plaudits from the Olympic legend ands his legendary mentor.
Milak slapped the water in delight. He would later say that 1:49 was not what he'd come for this day. He'd looked for a 1:51 in time with his Tokyo victory effort to be the best he might hope for in the early stages of having switched coach from long-term mentor Attila Selmeci to Balazs Virth, guide to Hungary's other 'fly World-title holder of 2019 Boglarka Kapas and a member of the coaching team that worked with former Olympic and World 200m breaststroke champion Daniel Gyurta.
Speaking through a translator, Milak suggested he would not be swimming the race in quite the same way again. It had not been a "smart" swim. He had been taken by the crowd and the home-pool moment. A 1:49 was achievable. He had little doubt, if any, about it:
"1:49, yes, I can achieve this. I just need a little bit more time to achieve this, and I really want it. If you look back and analyse the swim, the first 50 was stronger than ever, and that's why the next three were weaker than usual. All in all, it wasn't a good swim. It wasn't a smart swim. I was driven today by the crowd. For the 1:49, I probably need a little bit more training, and I need to swim smarter, and then I can achieve that."

Kristof Milak – by Patrick B. Kraemer
Now he would use the speed mustered on the way to 200m for a shot at gold in the 100m, which may go without Caeleb Dressel the American a hand ahead of him for gold in Tokyo last year and the defending champion here in Budapest. After a 47.9 in 100m free heats today, Dressel withdrew from the semis and potentially the whole meet, on medical grounds.
No details were given, though one beyond his control might have helped provide an answer to the question to swim or not to swim: David Popovici, the Romanian 17-year-old, clocked 47.6 in heats and then 47.13, a World Junior Record, in the semis. That's good enough to rattle even a man of Dressel's rattling pace and place of high respect in the ranks of the Titans of speed. Whatever it was all down to, Milak will race on to his next goal: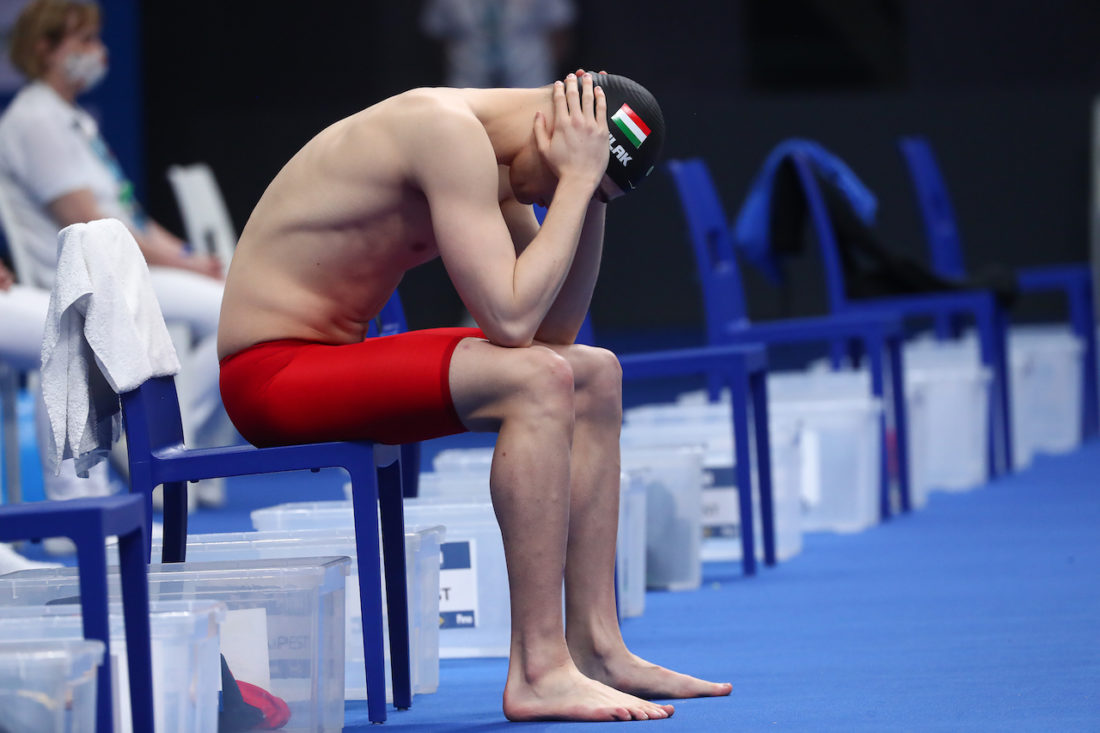 "I have a goal in the 100 gold, or maybe silver… maybe a World record: that's what all my focus will be on, seeing what I can achieve. It would be great to do it here in my home pool. I'll need to fight for it."

Kristof Milak – courtesy of the Hungarian Swimming Federation
Milak relished of going head-to-head with Dressel in his home pool. He believes that with the wind and his fans at his back, the American is beatable. Very grateful to the crowd for stirring him on to a World record, Milak had approached the Hungarian pool announcer before the race and asked him if he would get the crowd to encourage him loudly in the last 60m of the race. He'd be needing it to emerge with a personal best.
Satisfied but not over the moon. Perhaps, he was asked, the 50k cheque for a World record would help. Milak preferred not to speak about the money. It was a touchy subject because in Hungary sports stars get well paid, well funded, well supported and that was not the case for all.
"For me the whole thing is about chasing the times, nothing more," he said.
Budapest 2022: Schedule; Prize Money; Start Lists & Results; Where To Watch; FINA Pay-Per-View; Tickets; Covid Regs