The Last Lap Of Legend John Konrads Is Done: World Swimming Mourns Passing Of Aussie Distance Great At 78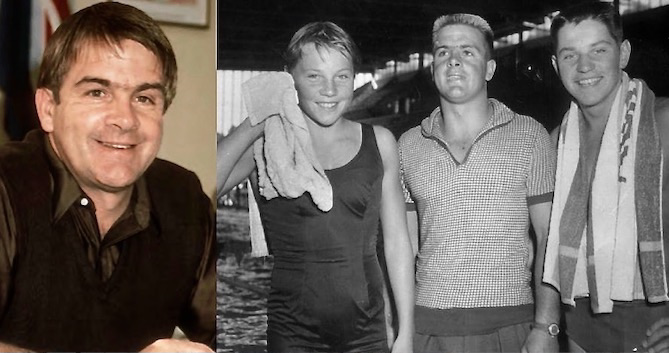 Obituary – World swimming is mourning the passing John Konrads (21 May 1942 – 25 April 2021), the Australian Olympic and Commonwealth Champion who passed away at the age of 78 on Sunday.
Konrads, who was born in Latvia and emigrated to Australia via Germany when he was just seven, was among the earliest 'Olympic swimming celebrities' in his country, alongside his sister Ilsa. They were known as "The Konrads Kids", swimming sensations of the late 1950s and early 1960s. coached by Don Talbot, who passed away last November.
In his racing days, John Konrads established 26 individual freestyle world records between 200m and 1500m. At the Rome 1960 Olympic Games, he claimed gold in the 1500m freestyle, as well as two bronze medals.
When Konrads Stepped Up
To Take Rose's Crown
In Rome in 1960 in the hallowed waters of the beautiful Foro Italico pool of the Eternal City, John Devitt claimed silver in the 4x200m relay alongside John Konrads, world record holder over 400m but third behind Rose and Tsuyoshi Yamanaka (JPN). The 1500m was a different story.
Coached by Don Talbot, Konrads took up swimming on medical advice given to his parents after their son contracted a mild case of polio. Between January 11, 1953 and February 27, 1960, the son of Latvian immigrants set 11 world records over 200m (2), 400m (4), 800m (3) and 1,500m (2).
Four days later, after a disappointing 400m in which he finished third and kept bronze after a protest from Britain over Ian Black's claim to having finish third was dismissed, Konrads delivered over 30 laps, racing tactically on the shoulder of George Breen (USA) until the 1,100m turn, after which he pulled away – taking Rose with him – to a 17:19.6 Olympic record 2.1sec ahead of his teammate, with Breen earning bronze.
Talbot's autobiography "Nothing but the Best", relates the coaches version of events in try Talbot style – and then relate the memory of the swimmer who backed up the story in words that showed just what the coaching had brought: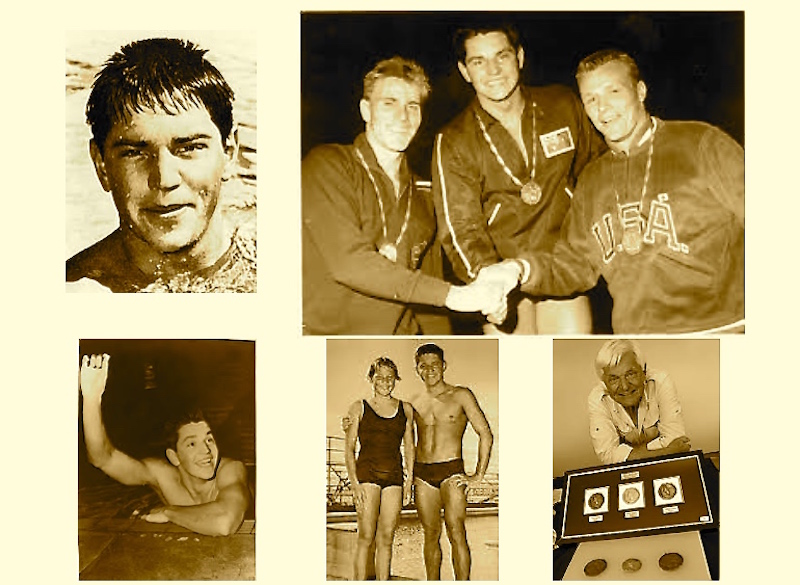 "When you performed badly it wasn't a pleasant experience to go back to the coach. And I knew I had performed badly. I didn't understand all the reasons why. But, after the medial ceremony he pulled me aside and said 'tough luck mate. Now for the 1500 on Friday night'. He just cut off the past in three words and started building my vision of the future, which was the 1500."

Don Talbot – on the right as a young coach with two towering talents on his hands, Ilsa and John Konrads
Don Talbot (RIP) also wrote about the pressures of the age that the Konrads faced: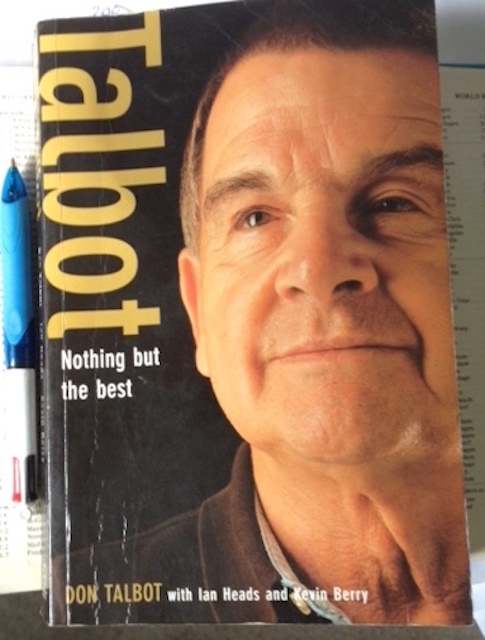 "As for John and Ilsa, they were absolutely fawned on, doted fin by everyone they encountered. If you think its tough what Thorpie has had too face up to today, it was twice as bad for the Konrads Kids back then, and they had no professional backup. Later, they gave John a television show and he just couldn't handle it. I wasn't in a position to advise him because I knew nothing of the impact it would have on his life and was not able to prepare myself for it, let along help him."

So high was the profile of the 'Konrads Kids' that Time-Life sent out two of their best people, photographer John Dominik and journalist Scott Levitt to do a special story on them. They took thousands of slides of the pair of them, and gave most of them to me, most of which in turn I gave away to people interested in the Konrads' story over the years."

Don Talbot
Born Jānis Konrads in Riga, Latvia, John Konrads emigrated with his parents Janis and Elza, grandmother, elder sister Eve and younger sister Ilsa in August 1944. First stop was Germany. Latvia was occupied by German troops during the Second World War and then by Soviet troops as the spoils of war were divided east and west.
The Konrads lived in Germany until 1949, awaiting news from the United States about their immigration application. It was turned down – so they went Down Under instead. They were first located at Greta migrants' camp near Maitland, New South Wales, before being relocated to a camp at Uranquinty, in mid-western New South Wales at what had been a base for the Royal Australian Air Force.
Janis Konrads taught his children to swim to prevent them drowning in the many watering holes and dams around the camps. Conditions were harsh and John Konrads contracted polio. Swimming was the therapy recommended, water the element in which he thrived.
His father eventually took a job in Sydney as a dentist, and the family settled in Pennant Hills before a move to Bankstown. Meanwhile, Elza enrolled in the University of Sydney's dentistry program to upgrade her qualifications but could not complete the course because of the demands of raising three children.
The move to Bankstown would prove to be a godsend for Australian swimming. The Konrads siblings attended Revesby Primary School, where one of the teachers was a certain Don Talbot. He was also an assistant to Frank Guthrie as the Bankstown Swimming Pool. Guthrie was Olympic coach in 1956 and 1960 and was mentor to the likes of Olympic medallists Lorraine Crapp, Jan Andrew, Gary Chapman, John Monkton and Sandra Morgan.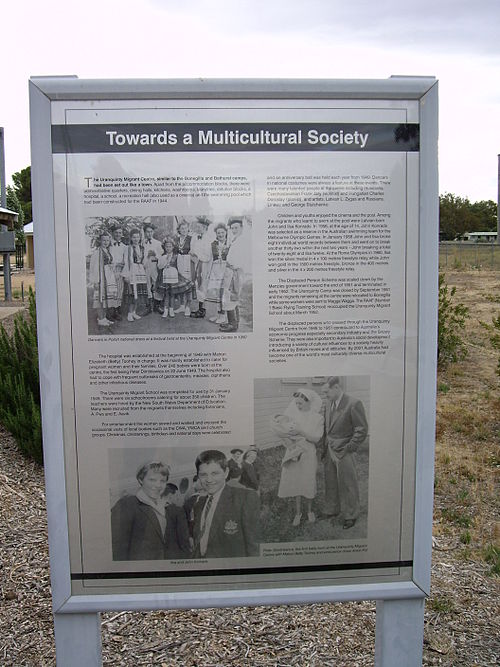 Konrads joined the Bankstown club in the 1953–1954 season. He showed more than promise, winning the club's junior 880yd freestyle trophy in his first year. By 1956, his first world record was in the bag at 14 years of age, along with his first Australian junior 440yd freestyle title. He made the Melbourne 1956 team but did not actually compete there, his place on the squad that of a reserve.
The Konrad Kids were fit: John and Ilsa cycled to the Bankstown pool before sunrise for two-hour workouts each morning. After school, they would cycle back to the pool for another session with Talbot.
In 1958, the dividends started to flow: in Sydney in January, in the space of just eight days, John. Konrads broke world records in the 200m, 220yd, 400 m, 440yd, 800m and 800yd, for a total of six world records. He set another eight in February and March, including a 1500 m and 1650yd world record, and proceeded to win the 220yd, 440yd and 1650yd freestyle at the Australian Championships.
After the three golds of the Empire Games in Cardiff the same year, Konrads followed up in 1959 with six world records in the same six events as he did in January the previous year. He also became the first person to sweep the freestyle events from 110yd to 1650yd at the Australian Championships. That achievement earned him the Helms Award. In 1960, al focus on the Rome 1960 Olympics, Konrads set world records in the 400m, 440yd, 1500 m and 1650yd. His 220yd effort was also a World record but the event would not be reintroduced to the Olympic program until 1968 after an absence of 64 years.
The story of Rome 1960 is told below and through the rich history of the Foro Italico John Konrads it forever bonded to.
After the Games, Konrads accepted a swimming scholarship at the University of Southern California but he was never the same swimmer again. By 1964, his form meant that he qualified form the 4x200m free as a reserve and watched from the stands as his 1500m free crown pass to teammate Bob Windle.
Beyond his racing days, Konrads coached and rose to head of the Australasian division of L'Oréal. He later established a consultancy and advertising firm.
Stolen Medals Returned
After 24 Years
Thieves stole John Konrads' Olympic and other medals back in 1985. It took until 2009 for the medals to reappear, he revealed in September 2011. "When I rediscovered them, I realised how important they were," Konrads said, when he first told the story to reporters Down Under.
Retrieving his medals at a police station near Geelong had been "very emotional", John Konrads noted. Police swooped when a woman tried to sell the medals to a collector in the US. Konrads said of the moment he was told that his medals had been recovered:
"It was almost like being up there on the dias the first time."
Since then, the prizes have been on display at a museum in Canberra that paid $37,078 for the Konrads collection. Then 69, Konrads said of his medals at the unveiling of his collection at the museum:
"I don't want to put them in my vault, I don't want them in my attic."
He said that he would have liked to donate the medals to the museum but the financial crisis had taken a toll on his finances and the money would come in handy.
The former swimmer, whose sister Ilsa was also a world-record holder in distance freestyle, said that he was happy to think that his collection would not suffer the same fate as that of fellow Australian Olympic champion Freddie Lane, winner of two gold medals at the 1900 Olympic Games. Lane lost trophies and an Art Deco bronze horse statue when his home was destroyed by fire.
Konrads also lost a treasured memory: a picture of himself with boxer Cassius Clay (later Muhammad Ali) at the 1960 Olympic Games. Said Konrads:
"I had a photo on my own camera, which I have lost, of him and me with our golds around our necks."
Itv was 2011 and Konrads was asked about Aussie distance freestyle prospects at the impending London 2012 Olympic Games at a time beyond Ian Thorpe and Grant Hackett. He said: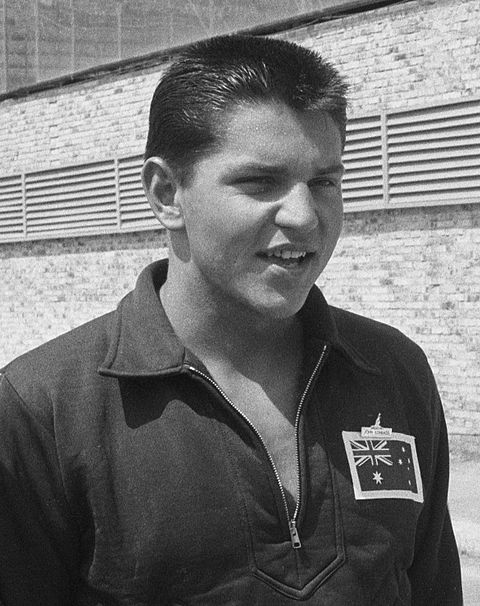 "Disappointing to see no one in the men's distance. I don't accept the theory no one was interested in men's distance because Thorpie and Hackett were in the way. It's the other way around, kids get inspired by champions."

John Konrads – image courtesy of Wikipedia
Tributes To John Konrads
Led By Kieren Perkins
The year before his Olympic triumph, in 1959, then teenager John Konrads won every Australian freestyle title. By then, he had already become a household name: in 1957, he set the first of his world records, of 4:21.8 over 440 yards (400m) freestyle. It was January 12th and Konrads was 14 years old. He would turn 15 in May that year.
In 1958, Konrads enjoyed a stellar Empire and Commonwealth Games debut in Cardiff, Wales: he was 16 by the time he claimed three gold medals, over 400, 1500m and with mates in the 4x200m freestyle.
Kieren Perkins, the Australian swimming great and fellow 1500m freestyle Olympic champion and world record holder who is currently president of Swimming Australia, paid tribute to Konrads who he said was a great role model to him: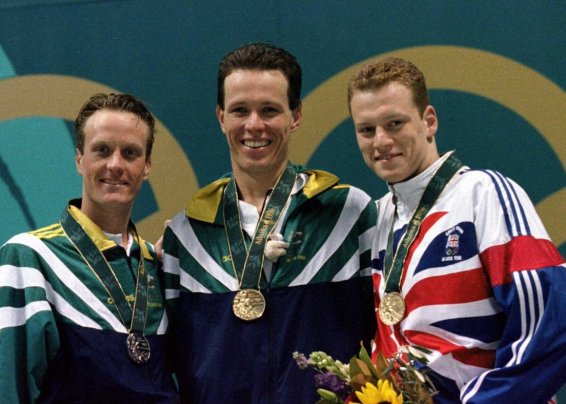 "Firstly, on behalf of Swimming Australia I'd like to send my condolences to John's family, friends and loved ones – it's a terribly sad time. John's story is quite amazing, it's one of resilience and perseverance. To arrive in Australia as a young boy from Latvia who couldn't swim, to then attend an Olympic Games as a 14-year-old only a few years later is remarkable.

"During his peak in the 1950s and '60s John dominated the Australian swimming scene and achieved sensational feats in the distance freestyle events. The 1500m race obviously holds a very special place in my heart and I was lucky to have role models and mentors like John shine a light on this event for Australia – his feats helped cement it as an iconic event for our country at every Olympics."

Kieren Perkins – image – 1500m gold No 2 For Kieran Perkins – The 1996 Olympic 1500m free podium, Kieren Perkins, centre, Australian teammate Daniel Kowalski, and Britain's Graeme Smith
John Bertrand, the SA Hall of Fame chairman and former chairman of Swimming Australia, also paid tribute to John Konrads, saying:
"As a swimming sensation in the 1950s and 60s, John Konrads dominated the world swimming scene, breaking every freestyle world record between 200m – 1500m by the time he was 15," Bertrand said.
"His career tally of 26 individual world records is an incredible record.
"He was a proud Sport Australia Hall of Fame member with an extravagant sense of humour who will leave a lasting legacy around the world.
"Our condolences are with his sister Ilsa, the Konrads family and the many lives John touched within the swimming and broader communities."
From the Craig Lord Archive – May 2016
A Masterclass from Coach John Konrads, With A Nod To
Master Coach Don Talbot
How lucky the master squad at the Clarence River swim club at the Yamba Pool of late: they held a workshop, the man handing out the tips John Konrads, 1960 Olympic 1500m freestyle champion and the first man ever to hold world records over 200, 400, 800 and 1500m freestyle.
Next January will mark the 60th anniversary of the first of 13 world records established by Konrads (200m, 3; 400m, 4; 800m, 3; 1500m, 2; 4x200m – 1).
The summer of 1958 accounted for six of the standards, all within two months, for Konrads, then just 15.
He was 14 and four months shy of his 15th birthday when he clocked a global standard of 4:21.8 over 440 yards (400). Three years on, he had taken the mark down to 4:15.9.
By the time Konrads was celebrating hitting it for six in that Aussie summer of 1958, his 13-year-old sister, Ilsa, had already established two world records of her own, over 800m freestyle. Konrads once told The Australian:
"It was unusual because we were both very young and we beat records by such large margins. In the 1500m race I broke the 1956 record set by American George Breen by 24 seconds."
The Konrads hailed from Riga in Latvia. John was seven when his family migrated to Australia. He learnt to swim in "a 25m concrete tub" at a converted RAAF base near Wagga Wagga, where newly arrived migrants were housed.
At 11, he walked out on to a deck under the command of Don Talbot at the Bankstown Baths in Sydney. Three years on, he was selected for the 1956 Melbourne Olympics as a reserve but everyone stayed healthy, so he never got a swim. That didn't stop him soaking up inspiration: " … Dawn Fraser was a superstar by then and I felt privileged to be walking alongside her in the Olympic village."
His first world record in January 1957 is engraved in his heart and mind:
"The first world record was a very profound feeling of satisfaction because Don [Talbot] had all these plans laid out. There was excitement but the ethic of those days was, 'Don't get a swelled head'. The shaking of the fist in the air that they do today – the culture of that time didn't approve of that behaviour."
Three golds in the bag at the "British Empire and Commonwealth Games" (just Commonwealth from 1978) in Cardiff, Wales, in 1958, Konrads headed with sister Ilsa and teammates to the Rome Olympics.
Nerves got the better of Konrads when he started to overthink everything. He told The Australian: "I was sleeping badly, I had jet lag, I started to think, 'Hey, what if I lose?'"
Bronze followed in a tight 400m, the decision for bronze a slightly controversial one, Ian Black, of Britain on the same time as the Australian but handed fourth by the finish judge. Britain's protest was rejected and the result stood. Teammate Murray Rose achieved a successful defence of the crown ahead of the same silver medallist, Japan's Tsuyoshi Yamanaka, by precisely the same margin as he had won in 1956, 3.1sec.
Talbot writes in "Nothing But The Best": "… the protest was dismissed but John's face was hanging on the floor. 'Listen John', I said. 'it's no goo worrying about it now. Let it go. The 400 is something beyond your control now. Let's just look at the 1500 and make sure there are no mistakes and get in there and win it. Just get in there and do what you know you can do. We know that Murray is strong at the back end of the race. Well, so are you. You're a pretty damn good swimmer. Don't let him get you'."
Years later, Konrads would recall the moment:
"When you performed badly it wasn't a pleasant experience to go back to the coach. And I knew I had performed badly. I didn't understand all the reasons why. But after the medals ceremony he pulled me aside and said 'Tough luck mate. Now for the 1500 on Friday night'.

"He just cut off the past in three words and started building my vision of the future, which was the 1500."
Result: Konrads, gold, 17:19.6 OR; Rose, defending champion, silver, 17:21.7; George Breen (USA), 17:34.7.
Even so, the imperfect result haunted. "Rome was a bit of a disappointment," he would say decades on. "Ilsa [4th, 400m in the days when there was no longer distance free event for women at the Games, and silver in the 4x100m medley relay] and I were great swimmers but not great competitors. With hindsight, I'd lost focus."
There was bronze in the 4x200m free in Rome, too, behind the United States and Japan, the Australian golden shot dealt a blow when Jon Henricks had fallen ill on pre-Games training camp.
Konrad raced on to Tokyo 1964, raced in the 4×200 relay heats, watched his teammates finish fourth in the final and Bob Windle lift the 1500m crown that had been his since Rome 1960. John Konrads then returned home to retire from racing.
He then enjoyed two decades of success in business, but his career "went into meltdown" due to alcoholism and bipolar disorder, a condition not diagnosed until 2001. When 64, Konrads spoke to The Australian about why he had thrown his support behind The Black Dog Institute in NSW to help others with mood disorders.
At 74, Konrads was to be found assessing the Clarence River Masters one by one, including video playback, something he never had access to in his racing days. He offered tips and guidance with his Swim Easy System.
Talbot reveals in "Nothing but the best" that all the while he was talking `Konrads round from bronze to a winner once more, he was in fact "angry". He notes:
"Bronze medals in those days were looked on by Australians as nothing, and were rated with silvers as 'throwaways'. I was determined that we (John and I) would win the 1500 metres."
The throwaway theme continued when one of the members of the 4x200m free relay that claimed bronze after being tipped for gold – the swimmer not named in Talbot's book – threw his medal against a wall with the words 'Shit! Look at it! It's even the colour of shit!'
Better times lay ahead for the status of Olympic medals and the coaches that helped the swimmers win them. As Talbot writes: "Until the early 1960s it could be fairly said that the coaches existed as the unwanted outsiders of the sport of swimming…".
Never mind the early 1960s: FINA has still to this day to respond to a polite request from Australian coach and mentor Bill Sweetenham for the international federation to submit to independent review of structures, processes and finance. Not even a polite reply. He and the 17,000 plus members of the World Swimming Coaches Association and domestic counterparts very much "unwanted outsiders" to this day, it seems.