Teri McKeever Accused Of "Bullying & Verbal Abuse" By Ex-CAL Berkeley Swimmers In Orange County Register Report
The USA's elite swimming program is in the headlines once more for all the wrong reasons, this time over an investigation by The Orange County Register in which Teri McKeever, the first woman to head a USA women's Olympic team, stands accused of "bullying and verbal abuse" by former CAL swimmers in a torrid tale that includes allegations of body shaming and behaviour said to have sparked suicidal thoughts in one swimmer.
Under a headline and subhead that reads "UC Berkeley swimmers allege coach Teri McKeever bullied and verbally abused them for years – Swimmers describe a toxic culture that led to a number of mental health issues and an unresponsive administration", reporter Scott M. Reid sets out a catalogue of complaints from 19 college-level swimmers dating back to "at least 2014", some of which were lodged with the college in California but none of which have led to a ruling against McKeever.
It is not known whether complaints were also lodged with other U.S. sports authorities beyond UC Berkeley. It is known that McKeever is a coach who has received plaudits and praise from the Olympians who she has guided, at Cal and for her work as head women's coach at the 2012 Olympic Games (see archive below).
In the exceptionally long report on the allegations, Reid seeks comment from college heads and coach. Neither was available for comment but the college issued the following statement:
"The allegations that you have described are serious and deeply disturbing and, if proven to be true, would indicate there has been conduct the university would not tolerate," the statement said. "However, Cal Athletics is regrettably unable to respond to allegations that involve personnel issues and/or privacy rights. We wish that were not the case given how seriously we take allegations of the sort you have shared with us.
"Due to campus policies and confidentiality requirements, generally the campus cannot comment on any case (including whether a case does or does not exist) unless that case has resulted in a finding of violation of campus sexual violence/sexual harassment policy or nondiscrimination policy, and that case has resulted in disciplinary action.
"However, we can discuss our processes: When anyone in Cal Athletics is made aware of any instance or allegation of a violation of university policy involving a coach (or staff member or student-athlete), such as those you have shared, those allegations are referred to the appropriate campus department(s) for investigation. Athletics does not have its own specific conduct process nor does it investigate allegations or cases on its own, but follows the university's policy and works in concert with campus professionals who are responsible for those areas.
"Every member of our staff shares a strong commitment to the success of our student athletes – academically, athletically and developmentally. We have in place best-practice policies and procedures that enable Cal Athletics to respond quickly and comprehensively when there are allegations of misconduct by coaches that are inconsistent with our values or applicable rules and policies."
The report highlights one alleged incident in which swimmer Abi Speers, a member of the 2013-14 Cal team, was suspended from the team in April 2014 for telling McKeever and Cal assistant coach Kristen Cunnane that she felt "very uncomfortable" completing a survey in which swimmers were told to rate and rank their teammates.
The survey was anonymous and was part of a program known for setting high standards of "one-team " attitudes and behaviour in which support for fellow team members was expected at all times.
Cunnane, who would resign her post as assistant coach to the team in 2015, described the survey as a "cornerstone to our program" in a follow-up email to Speers.
McKeever, Speers alleges, "called that night and screamed at me for a half-hour. I was just shaking. I hyperventilated."
Speers says she then apologised in writing and noted that she assumed she would be expected at practice.
"This is not that simple," McKeever responded in an email, Reid reports. "Please do not attend any practice or coach-initiated team activity until I have time to schedule a meeting with you."
Speers, a 27.00sec 50m freestyler in 2013, with a best of 26.2, left the college's swim program shortly thereafter but continued her academic studies at Cal Berkeley* (in the first post of this article, the impression was given that Abi Speers had left the college, not just the swim program).
At the centre of the allegations is Danielle Carter, a club-level swimmer who in a high-performance program was told, according to the swimmer, that she was "worthless". Carter says she attempted to commit suicide and that McKeever told her that she was being "selfish" when she confided in a teammate. What is not explained in the Reid article is why and how that may make sense in the context of the performance program Carter had committed to.
The specific allegations were not put directly to McKeever before publication but her employer was informed. Reid's long feature listing a catalogue of allegations and published May 24, notes: "SCNG contacted the Cal athletic department last Wednesday, May 19, to request an interview with or comment from McKeever. A Cal spokesman was informed of the allegations contained in this report. Cal was provided a noon Friday deadline by SCNG. That deadline was later extended at Cal's request to the end of business Friday. That deadline passed without any response from McKeever. On Monday morning, McKeever, through a Cal spokesman, declined to comment on this report."
College swimming in the U.S. includes many Olympians but does not denote elite Olympic standard through the ranks and is akin to moderate-to-good club standard swimming in Europe. The brief to the coaching staff is 'world-class performance', not community sport.
Reid's report outlines the allegations of a very different experience to that told by swimmers who achieved Olympic success when guided by McKeever.
There is another side to the story of one of the United States' most successful coaches, an Olympic head coach indeed who emerged from London 2012 able to celebrate not only the biggest medal haul of any women's team at the Games but the accolades and plaudits of the likes of Olympic champions Natalie Coughlin and Dana Vollmer and Olympic bronze medallist Caitlin Leverenz.
Back in 2014, Vollmer and Leverenz travelled to the World Aquatics Development Conference in Sweden and gave a series of talks and presentations. They spoke about the system that had taught them to respect teammates even if those teammates were not the most natural of friends.
Here is what came of a post-presentation interview on the culture at UC Berkeley with two of coach McKeever's Olympic-medallist success stories and it is repeated here from the SwimVortex archive because of the stark contrast between the experiences told by leading swimmers in 2014 and those told today by different swimmers about very different events they claim to have unfolded at least as far back as 2014, as told by the OCR in a report that will surely spark inquiry and include questions over who knew what and when and what came of the complaints alleged to have been made:
The SwimVortex Archive, 2014
Dana Vollmer & Caitlin Leverenz On The Art Of Celebrating Difference at Camp McKeever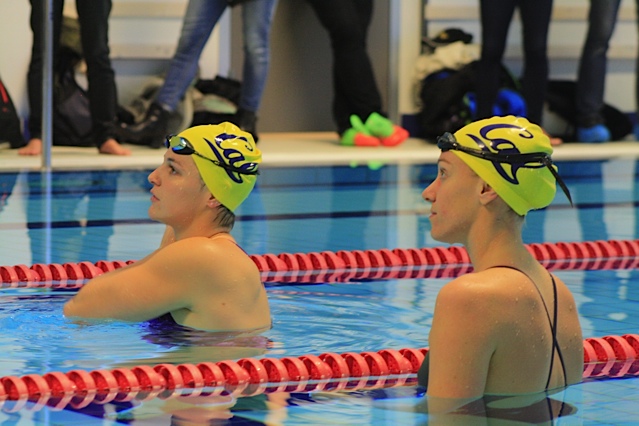 When reflecting, some years ago, on an Olympic campaign at which he ended up on the podium but some of his women teammates fell shy of potential, David Davies told me that the difference in approach between genders was important to understanding what might have gone wrong. He was not suggesting that he understood the issues just simply that he recognised that there were important differences to be understood – and understood they must be if the point of the exercise was to ensure that all got the best out of themselves in the water on the biggest occasion of all. It is what they'd worked for.
With a bemused smile on his face, he recalled arriving in the Olympic village, putting his bags down on his bed and settling fast on the notion of 'I'm home, I feel fine, I know what I have to do". He "couldn't quite believe" what he heard stage left among the women on the Britain team: much energy devoted to the comfort of beds, what was and was not in the bathroom, how long it took to get to the dining hall, what kind of food was there, was not there, what view could be had from different rooms, who might have a better room than someone else, the colour of the curtains and much else along a spectrum of stuff more fitting to a shopping trip or a holiday than an Olympic campaign.
The themes of goal-setting, process, purpose and focus on task at hand, as well as how best to create harmony on teams, whether all male, all female or all together with what is often a largely male staff on most teams, are ever with us. No-one dies if team dynamics are wrong at the big meet in swimming but you can kiss goodbye to the best possible outcome, be that at Olympic, college or just about any other level you care to think about.
At London 2012, the US women's team celebrated a towering rate of success. That was not only down to the form of the athlete and the work done with the coach, we heard from many of the American women in London. It also came down, they said, to the leadership of head women's coach Teri McKeever.
At the World Aquatic Development Conference in Lund, two of those under McKeever's guidance at CAL Berkeley, the University of California, explained how and why and much more on a pathfinding day from a sorority of thinkers.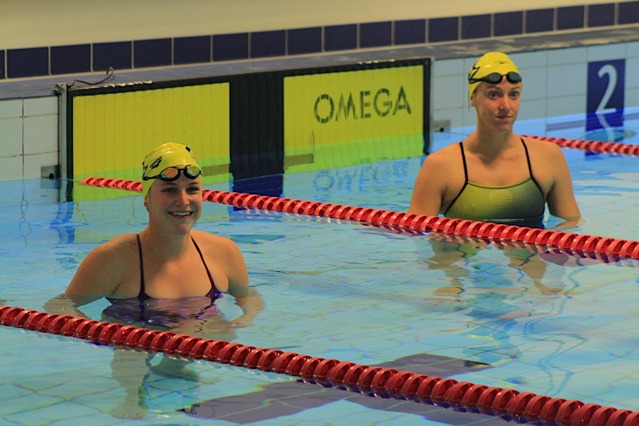 "Females need healthy emotional expression": so read one of the headings on a two-day double act from the American Olympic podium placers, Vollmer the 100m butterfly champion in world-record time, Leverenz the bronze medallist in the 200m medley in London.
Yes, it is about the difference between men and women. It is also about the difference between women and women. And about awareness that can be helpful to those who want the best out of their charges but may go about the task in a way that will leave coach and athlete shy of target.
"We can all bottle up emotions but sometimes that happens because of the responses we get when we do explain how we're feeling," says Vollmer.
"I've had so many coaches who I've gone to and said before a race 'I'm nervous' and they've said [cue military tone and brace yourself for a hearty slap on the arm or back] 'don't be nervous, forget about it and just swim'. The reality is that it's not going to happen like that."

Dana Vollmer – image by Patrick B. Kraemer
Leverenz adds: "Expressing your emotion is a part of life. Sometimes, I just need a good cry and I need to get it out. It doesn't mean to say I won't swim well. It is about allowing myself to express emotions. It is important to me, to who I am and how I perform."
Important to how a whole team performs, too, sometimes. There is, added Leverenz, "a time and a place to express emotions". She noted that when a college team of 20 to 25 women get together and a race goes badly, "that's no time to make a scene, start throwing things around; it is not an appropriate time and place to do that". One of the first reactions she feels after a bad swim is anger but true angry person as much as the emotional wreck is not going to be the athlete who stands up and races well.
Managing such things must be done well before race day and has been part of the learning curve for Leverenz and Vollmer. In their two joint presentations, they spoke of team culture, creating safe environments and shared their views on honing women athletes in a way helpful not only to world-class performance: their eyes were always on much more than the medal and the clock.
Good health, physical and mental, a safe place, one that works for women in particular ways, a rounded life beyond racing days and much else pertinent to performance formed part of a constant focus on wellbeing as the foundation to any success, one critical to the process that may one day lead to prizes. The gold in all they had to say was to be weighed in much more than podium prizes, success also measured by and made possible through relationships and friendships built in what might have been a hopeless place – but for best practice.
From Rocky Start To Respect
"I can honestly say I didn't like her," said Vollmer of Leverenz, to nervous laughter from the audience while standing in the lights next to her national and program teammate and friend. The Olympic 100m 'fly champion's delivery and stance hinted at the meekness in her nature (I hate shouting, I don't do confrontation), one that stands in stark contrast to the boldness in Leverenz, who, come her turn to recall their early days together at CAL Berkley, the University of California, said: "For my first two to three years at CAL, Dana and I were not friends at all. I'm bold, aggressive, I swim 400IM, I call people out."
"I swam 100, I'm sensitive to other people's feelings," Vollmer recalled. "To be called out was just so embarrassing for me but now I know that it was a real growing experience as well … to now know we are good friends is a great thing. She has a different way of swimming and competing and that works for her and I learned to respect that that was her way and that it worked for her."
Vollmer admitted that come the big day, she wants attention, reassurance and presence of the coach on her way to the starting blocks. A tricky situation, perhaps, when a day at the Olympics brings the 400IM and 100m 'fly rounds on the same day and McKeever is the USA women's team head coach and personal mentor to both Vollmer and Leverenz.
It was actually easier than the surface suggests. "I almost pride myself on being independent," said Leverenz through an infectious smile. "She [McKeever] gives me a hug and says 'you've done the work, you're in great shape, go get 'em". In contrast, Vollmer notes:
"I like her, Teri, with me at warm up and I also want her to walk with me to the ready room because I get so nervous."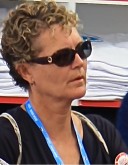 Leverenz added: "Everyone has their own situation … we learned to accept that another way is not the wrong way. Its just different." Whereas she wanted to be alone on the way to the blocks (and should be approached with caution if she messes up in any way – "I do get angry if people say 'good job' when its not"), Vollmer is happy to tell anyone – and does tell her coaches: "I like having someone there".
Which is why McKeever, left, went all the way to the call-room in difficult circumstances at Barcelona world titles last summer and offered last-minute words of comfort such as 'its ok if you don't get a medal, I love you anyway and we'll work it out'.
Impossible not to notice the emphasis on "I" when Vollmer and Leverenz speak. It is deliberate, encouraged, even called for in the interests of self, team and what they call 'community' when referring to the sporting sorority of upwards of 20 swimmers on coach McKeever's CAL squad. Getting women to get on and work together in a large group without allowing perennial problems to take root is the work of a good gardener, effort not just for one season, one team, but repeated each passing season as freshers arrive and others move up the ranks and at some stage move on.
Those dynamics can only happen "through a lot of growth and individual work with coaches," said Leverenz, with a nod to Vollmer. "We were forced to work together, we both had input in a lot of way … we were with each other in the same environment and it took a lot of growth to get to a place where we can celebrate our differences. When it comes down to it, we've ended up working really well together."
They talk Of A Winning Culture
They spoke to the things that athletes and coaches needed to recognise in the interests of harmony:
communication skills
an ability to have hard conversations
an ability to be honest with yourself and others
the creation of a safe environment for conversation
the ability to deal with drama head on in that safe environment
recognise that every athlete is different and that coaching is a hard job
Community
Leverenz and Vollmer told the audience that a college swim team, with all its diversity and difference in personalities and performance standards, is "a community of different people who come together for a common cause". The purpose was to function effectively and give of their best in the water. Said Leverenz: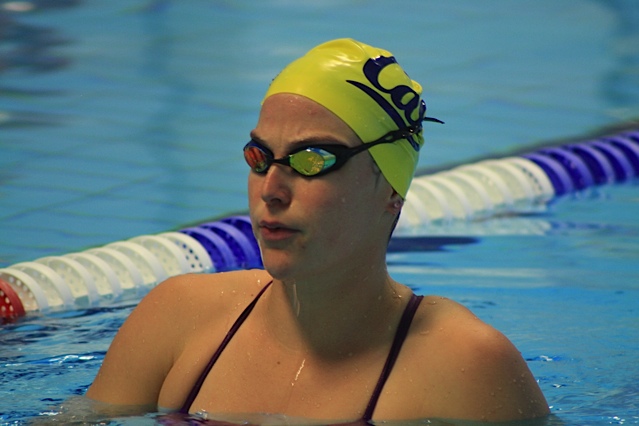 "Community is a better word than team. A community is stronger when it draws on its weaknesses and strengths together and works in unison. Not everyone is going to be on the national team but that doesn't mean they are not making valuable contribution to scoring and the team."

Caitlin Leverenz by Craig Lord
That the thought extended to the USA Olympic squad. Leverenz highlighted the role of Natalie Coughlin, 2004 and 2008 100m backstroke champion and another McKeever charge at London 2012: a relay heats swim then "an amazing role … helping teammates to do better … getting water, checking in before people raced … team USA was good in London because we had people like Natalie willing to accept a different role beyond her own swimming".
The Safe Room Of McKeever's Team Meetings
Vollmer recalled women's teams before the London Olympics as "a group of individuals" whereas in 2012 "it was the first national team I'd been on in which every girl took the team concept on board … yes, you there to swim on your own but that also means that you can behave as a team".
She explained: "The team concept makes CAL and the USA so good at relays. I personally get so much energy from knowing why our combined success might mean so much for Caitlin or another teammate, knowing about her ups and downs along the way to the Olympics and what it means to her.
"Rather than focus on any personal desires for gold, it is about tapping into those desires in the others, about fighting for each other, leaning on each other."
Both CAL charges reached the ultimate podium. Both had also felt the bitter sting of disappointment along the way, neither making the cut at the 2008 Olympic trials when both looked like they would make it. Vollmer was four years on from the 16-year-old who made it to Athens 2004, where she won relay gold three years after starting her collection of international treasures at 13 with a towel signed for her by Susie O'Neill in 2001.
The long journey transcends swimming for Vollmer, Leverenz and others lucky enough to pass through CAL and the McKeever program. At the heart of good communication beyond the one-on-one sessions that coach holds with athlete, are the "safe environment" of team meetings.
All are encouraged to say how they feel in a way that speaks to that important 'I' – as opposed to "she did that and she said this" – and allows people to express their concerns, emotions, life situations and moods while knowing that all of that will stay in the room. It is within that safe environment that the women can ask for advice, listen and tap into the experience of others should they chose to do so.
"As a group, it allows you to say 'I'm sick', or 'I'm sad'," said Leverenz as a way of explaining why she may not be wearing her brightest smile in training one day.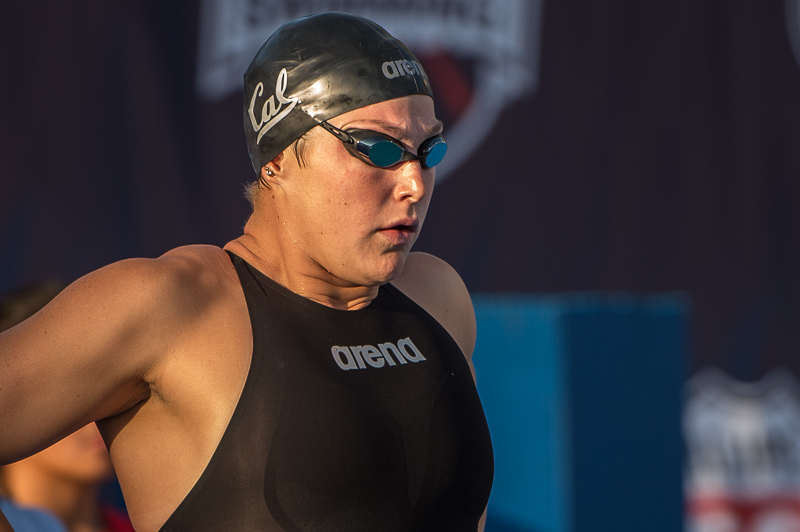 "It doesn't mean that I need someone to hold my hand, just that that's how it is. As women, we want to help people and give guidance … the power of listening is amazing. Just being with a person and telling them what you have to tell them and expect a nod is often enough."

Caitlin Leverenz, courtesy of arena
It's A Woman's World
Asked if they would mind if a man was there, both swimmers believed there were moments when that would not matter – and noted that on national teams there are almost always men there when the women meet – but the value in women-only meetings such as those held at CAL was priceless. It was not simply about matters women may feel more comfortable talking about with other women, there were certain approaches and ways of doing things that women felt more comfortable with than men would – and being comfortable with things was part of the exercise in cohesion and team spirit.
Vollmer explained how group activities that are "impactful on team cohesiveness" include moments when she will have just 30 seconds to express her feelings on a particular situation at hand that may involve two points of view. "During this 30secs I say what I have to say; she then has her say in 30 seconds and we move on." The aim is not to make everyone the same but to accept and even celebrate difference and make sure that what might have had a negative impact on the group is at worst neutralised. The deal is: that's how we feel – and this is where it ends.
McKeever employed a similar approach for the London 2012 squad and Vollmer noted that she had never felt "more connected" to her teammates: "I knew what to say to teammates and what not to say to teammates." As part of the exercise in building such understanding, McKeever had the swimmers write down on stickers how they perceived and what they knew of another member of the team. Positive message flowed backwards and forwards.
A male coach present, unnamed by the swimmers, rolled his eyes at some point. What was all this McKeever stuff about. Later, after he had seen the impact of the exercise, the male coach was enthusiastic. Important to note that several leading male coaches I know have used similar exercises to build respect on squads, such things part of the story of the impact of the early years of Bill Sweetenham in Britain, for example.
Even so, there are places that men can go but may not quite get it. As Milt Nelms, who works with the CAL group and McKeever from time to time, put it after witnessing an "incident" that was solved with several exchanges but hardly a word spoken: "It was like the thing with a dog whistle – you know they can all hear it but you can't hear a damn thing."
Call it what you will: a deeper understanding, drama aversion … the language of celebrating difference.
Vollmer On McKeever, 2014
Dana Vollmer says that she has been "blessed with fantastic coaches" throughout her time in swimming. "Looking back at my experience and then looking at all those stories of horror [abuse of many kinds part of the story of swimming], I feel so lucky that the people around me were more interested in me as a person not as an athlete with potential to be good.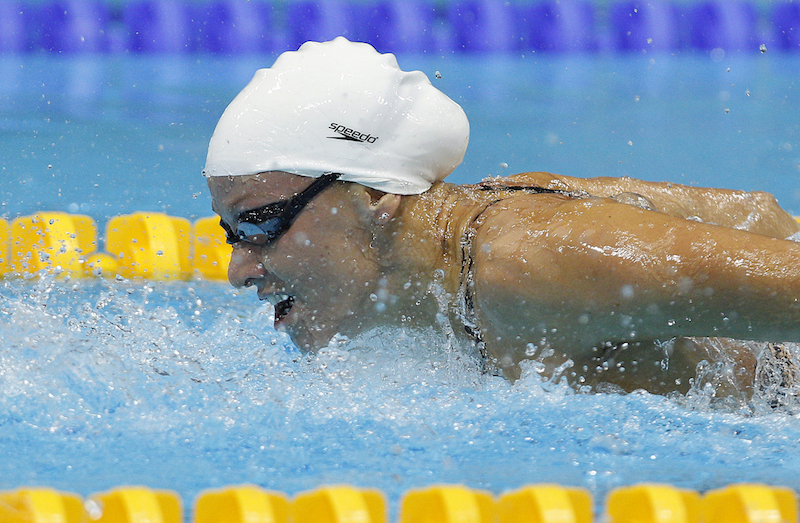 "Teri McKeever wants me to be a well-balanced human being, someone who can go on and be prepared for the rest of life and cope with the different challenges out there because of what you faced in your career as a swimmer."

Dana Vollmer by Patrick B. Kraemer
Ron Forest coached Vollmer in her youth in Texas. He would give his young pupils goal sheets, the emphasis for each child to look at what they could do and see how they might improve that, how they might make progress measured against self not whether they were winning a race or beating the kid in the next lane.
Said Vollmer: "I would write down 10 little goals to get there, to where I wanted to be and thought I could be. We would take each stroke and write down five ways to improve each of those."
When she was 13, she wrote down 57sec as her goal for the 100m butterfly. At the time, her best was a 62. "I always had lofty goals," she said through a broad smile that was reflected back at her from a captivated audience.
Vollmer adds: "Even in my career today, it is important to set little goals. Even now, I am striving and wanting to go better in Rio than I did in London. It was a world record. So, how do you got about that? How do you go about getting better than that? For me, it's about having five good turns in workout, focussing on some small thing and improving this or that aspect of my stroke: those little goals set every day are just as important as the big goals I have."
Good habits are formed through good guidance and a coach, Vollmer told coaches, could be "such a big influence in life". She feels so blessed because those who have guided her have regarded her first and foremost as "Dana, human being" not "Dana, potential medallist". Says Vollmer: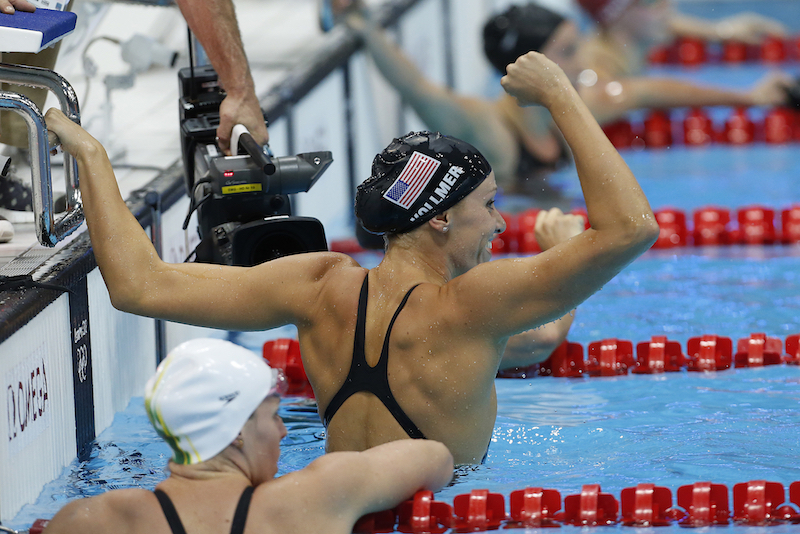 "My club coach cared more about me as a person. I was able to make it through all the different challenges because I believed I had a friend, a mentor and guide taking me through these challenges. Everyone struggles at some stage with feelings of burnout. How you handle that will determine how it works out."

Dana Vollmer – Olympic gold in the first sub-56sec 100 'fly – Photo by Patrick B. Kraemer / MAGICPBK