Team Miley & The Father-Daughter Dance That Rocked The Pool Party On Medley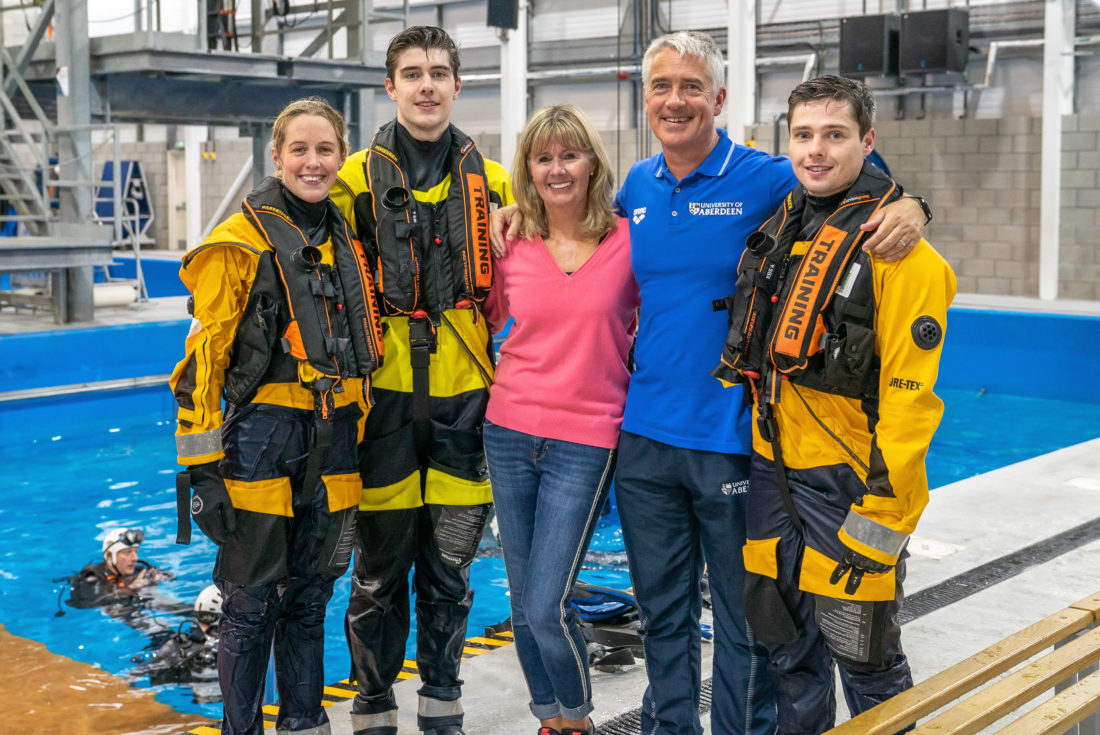 Team Miley has been a tour de force in swimming for the past quarter of a century, the international career of Hannah Miley taking off a decade after her father Patrick had developed the pioneering Aquapacer. On the day Hannah retires and talks of her plans for the future, here's a big read on a grand adventure
The self-reliance of a daughter with a capacity to "meet with Triumph and Disaster And treat those two impostors just the same", as Kipling put it so brilliantly in "If"; the ingenuity of a father and the support of a mother who brought balance and managed the Richter scale of swimming passions in a family of one coach and three swimmers underpin the success of Team Miley.
Hannah Miley, who retires from racing today and has spoken about her plans for the future, was coached by her father Patrick Miley, a former swimmer, triathlete and a military man who spent 32 years working as a helicopter pilot, including emergency missions in treacherous conditions out to oil rigs in the North Sea.
He set his daughter's swimming schedules from an early age but he was often absent from sessions and Hannah would work alone at the small Inverurie pool that was home to the Garioch Swimming Club she became a member of at six. Since then, she has swum the equivalent distance of four laps around the British coastline, much of it through sheer determination, discipline and dedication.
Team Miley took something of an unorthodox approach to performance sport – and it worked. Hannah tells SOS:
"I think the dynamic of my relationship with my dad is so much better now because of all that. Because Patrick wasn't a full-time coach, being a helicopter pilot, he had to trust that I would take the sessions away and do them. I could have easily sat in the changing rooms and said 'no, not doing that' – though I could never lie anyway; my face goes a very bright red! – but that's not me. I would give him feedback from the session and would be honest with that and he would feed that back into the next session and the next."

Hannah Miley – Image: Hannah and Patrick Miley at home in Inverurie – Photo by Euan Duff, Duff Company Productions
Hefty log books, many handwritten and illustrated with stick figures and cartoon sketches depicting Miley's mood and reaction to the work she was set, started in 2002, when Hannah was 12. Her drawings include, alongside a particularly tough set, a corpse on a coffin holding a bunch of flowers; another shows a figure whose arms had fallen off and lay mangled on the floor. "That was a pull set and I hated full sets; I was much happier with a kick set," says Hannah, now able to laugh at what once wasn't funny.
The stack of logs is now taller than a swimmer who included boxing, actual and clever, as part of her preparation for the pool. Hannah punched well above her weight in water.
Indeed, her name has a special place in swimming lore: it was Australian great Ian Thorpe who coined the phrase "he's lost a Hannah!" after former teammate and Olympic medallist Geoff Huegill shed more than 45kg on the comeback trail to Commonwealth 100m butterfly gold at Delhi 2010.
Those were the Games at which Miley claimed the first of her two 400m medley titles for Scotland. She was 5ft 5 and weighed a little over 52kg at the time, which meant that she was around 1.5 stone (about 10kg) lighter and more than 2 inches (about 5cms) shorter than the average weight and height of her rivals in the final of eight. Those dimensions and "disadvantages" she refused to see as that, were the hallmark of a career that included 28 international podiums for Britain and Scotland between 2004 and 2018.
Along the way, she confirmed her pugilistic approach to swimming by including boxing in her program. Light welterweight MGM fighter Lewis Benson witnessed Miley's training regime and said:
"Hannah is an absolute machine. She's up at 4.45am every day, runs to the pool before training and then trains both morning and afternoon. What she has to do is unbelievable, so fair play to her. Her strength and conditioning is so good and to be honest, she wasn't that bad when I was teaching her how to box! She threw some pretty good punches."
Asked about her size and age in 2018 as she approached the defence of the Commonwealth 400m crown for a second time at 29 in a sport traditionally seen as one of teenage stars, Miley said: "I want people to know that I'm a fighter. I might not be the tallest, I might not be the strongest but I'll always be the hardest working athlete I can possibly be. I hope to make an impression on people and show that age is just a number. You can still work hard, achieve dreams, goals, no matter what age you are."
Hannah will still swim and provide mentoring and coaching assistance at the University of Aberdeen performance program headed by Patrick but her racing days are done and all concerned have mixed feelings.
Contemplating his daughter's not-unexpected decision, Patrick reflected on the "double-sided nature of transition". A full-time coach and head of the Aberdeen University Performance Centre in Scotland since 2016, he tells SOS: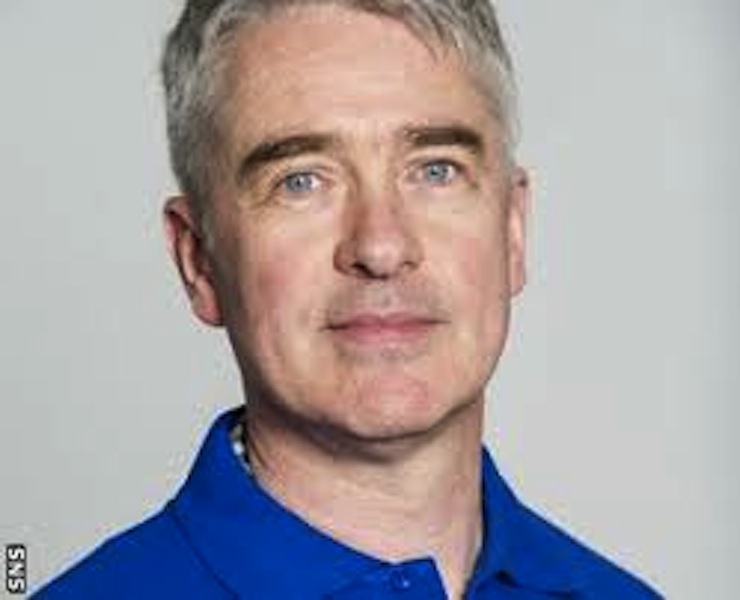 "There's highs and lows. There's painful sides and extremely happy times to look back on. Hannah has taught me a huge amount. I've observed her and learned from that down the years. She's been a tremendous asset to my learning and other people's learning. Her moving on is tinged with a little sadness at the fact that her racing career is coming to an end but also sadness when I reflect there's nothing replacing it, particularly in her event in Britain."

Patrick Miley
That, he believes, comes down to changes in "the environment in which young people are growing up". He describes the log books as manuals in "chasing a dream" that has become more elusive because of a growing emphasis on sprint events and a move away from the "big workloads" required to achieve what his daughter and others achieved through volume work that did not ignore quality, as is too often suggested by those more minded to cut corners.
Team Miley Alma Mater – Garioch ASC
There was no cutting corners with Patrick Miley on watch. Having learned to swim in Aviemore, the resort town in the Cairngorms National Park in the Highlands of Scotland, Hannah joined Garioch Amateur Swimming Club when she was six. Patrick was a regular but part-time coach there.
He was often absent from sessions and Hannah would work alone at the small Inverurie pool that was home to the Garioch Swimming Club she became a member of at six. Since then, she has swum the equivalent distance of four laps around the British coastline, much of it through sheer determination, discipline and dedication.
Patrick taught Hannah to swim when she was three. He tells me with a beam on his face that he had started to wonder much earlier what kind of swimmer she might be as he rubbed and 'flexed' her feet to see how flexible she was.
By the time she was six, fledgling 'training' sessions were part of the fun. The father-daughter partnership would work together at the Garioch club for the next 21 years, through thick and thin, against odds and in spite of a flood of injuries, mishaps and "a huge learning curve" along the way.
Looking back on a career that offers far too much for anywhere beyond the binds of a book, Patrick tells SOS:
"I've been very lucky working with Hannah because she's been really good at coping with our relationship in the pool and with conditions and even the uncertainty of it all at times. There were moments when it was just chaos – but she coped. We both had to change and adapt over the years, but I came to believe that it was also a huge advantage for me to be her coach. I knew exactly what she was eating, if she'd slept well, if she had any problems, if she felt under the weather, what was going on in her life beyond the pool. But even more than that, she knows herself extremely well and makes her own decisions."

Patrick Miley – image, with Hannah Miley at home in Scotland – photo by Euan Duff, Duff Company Productions
To foster that independence, coach and dad knew, too, that daughter and charge needed moments away. Hannah spent time with Matt Brown's group in Perth, Western Australia, Bennett's mentor Peter Banks in Florida, and back in 2007-08 and again this past Olympic cycle with Fred Vergnoux, first in Edinburgh then in the Sierra Nevada at altitude with Mireia Belmonte.
Patrick recalled: "We both needed a break sometimes, and Fred was very helpful. He is so passionate and has helped make Hannah even stronger."
Team Miley's Pool Party "Down To Patrick's Ingenuity", Says Hannah
Even in his absence, Patrick rarely considered himself to be "off shift" when it came to thinking what his daughter might benefit from in pursuit of being the best she could be. There was also a thirst to quench: he wanted to know how his knowledge of flight might be useful in water.
The shelves of his library include books on how birds fly; how helicopters fly; how air moves and behaves around objects moving in particular ways; and the same for water. Once asked to describe what speed felt like, he spoke of that moment as a boy when he stuck his hand out of the window of a moving car and felt the air flutter, billow and play across skin and bone, the lift and drop dictated by the element providing some clues to what governs motion, direction, speed and pattern of movement.
Shift those gears from body to mind and we find Miley still on the wing approaching the landing pad from an angle others might not have spotted.
On the eve of the 2016 Olympic trials, Hannah and Patrick Miley sought a distraction from the pressure and expectation building and on the way back from the Tollcross pool in Glasgow where she became only the third Scottish woman in any sport ever to retain a Commonwealth title. They decided on a film. Rocky? Chariots of Fire? The Mileys have never taken an orthodox approach to the pursuit of world-class performance. Eddie the Eagle was just the ticket.
As Patrick put it: "There's nothing like watching the most spectacular failure in Olympic sport to calm the nerves and feel inspired."
Miley senior understood something about risk, invention, ingenuity and thinking outside the box, his training in the British military accounting for some of that alongside his own boyhood experience of only being able to get to swim training if he was self-motivated.
Roaring through his life on fast-forward, he once told me that he'd been a boy who grew up "knowing that you either work for it or call it a day … there was no cushion, no-one to pick you up and carry your bag for you".
Getting to and from training meant walking, taking a bus, walking once more for an hour, no cars, no lifts, no being chauffeured about. That helped when it came to his military rites of passage, the regime, the discipline, the self-reliance in him all fairly solid. He was also fairly strong on taking nothing for granted, while seeking solutions where others might have lost hope.
The Eagle Has Landed … Just A Bit Shy Of The Runway
At the flicks that night Team Miley found they had more in common with Eddie the Eagle (Edwards) than they thought as they watched the tale of the plucky no-hoper who was to the Olympic Games what Don Quixote was to windmills.
They recognised the DIY approach to elite sport, the amateur improvisations that helped sweep the Eagle from no-hoper, past several death-wish ski jumps and on to Britain's Winter Games team; and they smiled knowingly at a life stacked with multiple injuries that required improvisation to keep Miley moving in the pool, latex gloves, sponges and spanners all a part of the tool box.
Miley, 26 at the time, was glad to lag the Eagle's count of 30 injuries in 60,000 jumps, including two skull fractures, a damaged kidney and a broken jaw as she revealed a catalogue of disasters because "it just sounds like an excuse".
In fact, excuse it never was. Indeed, there was almost always a solid reason why Miley's adventure and achievements could be described as "against the odds".
In 2006, Miley fell gravely ill and ended up in isolation for two weeks at the tropical diseases unit of Aberdeen Royal Infirmary. Her temperature spiked at well above 40C. She lost 6kg and weighed just 45kg when she returned to the pool several weeks before her first Commonwealth Games: an amazing 4th place in the 400m medley.
Along the way, there was a break here, a tear, there, a rip somewhere else. Then there were some challenging moments that were followed by responses from Hannah that gave a glimpse of the young girl Patrick had told "kick the cat out", when the family pet had been "leaping on things and annoying us all", only to watch her do just that.
"I knew then I had a very literal daughter," he said. One determined not to have circumstance get the better of her too. Patrick tells a story that epitomises Hannah's mindset: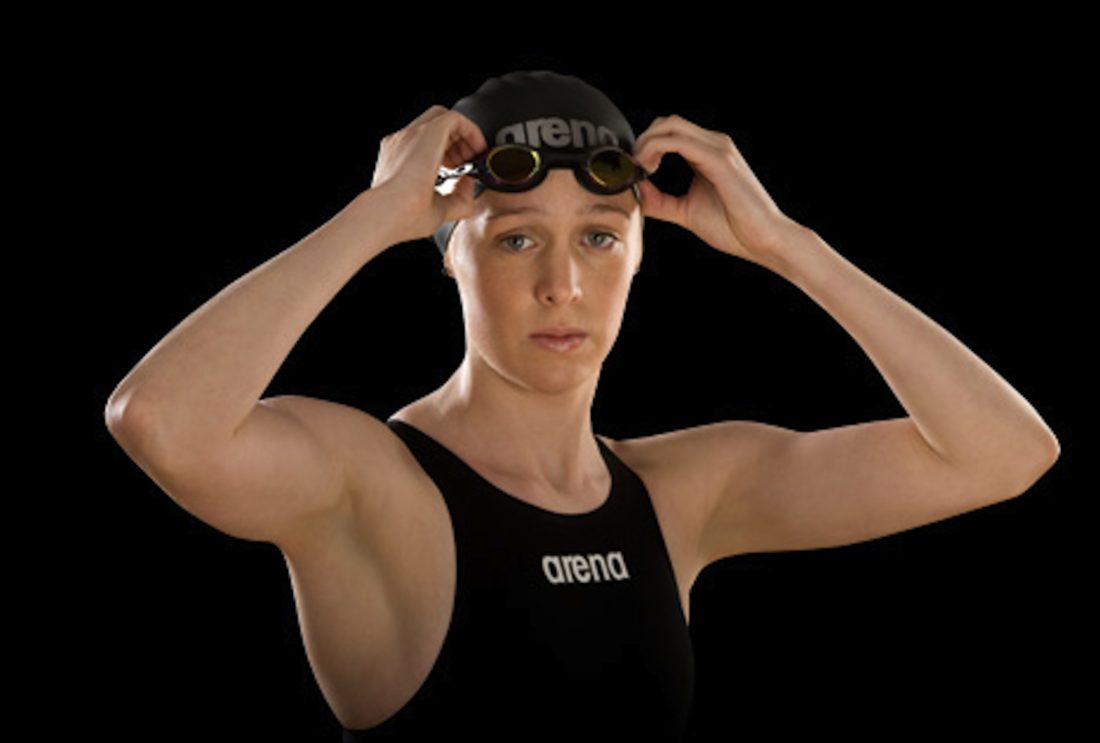 "Some days, she would get out of the car on the way to morning training and run the rest of the way to the pool while we went on in the car. One day, it got a bit beyond the time she would normally take to get there and I started to worry a bit. Then she walked in, red in face and a little bit flustered. She'd been chased by dogs that were loose on the farm she had to run through to get to the trail. There were two paths to the pool from where we dropped her off: one through the farm, another that also went through woods and fields but avoided the farm. The next day, I thought she'd take the other way and avoid the farm but she didn't. She went for the challenge of being chased by dogs."

Patrick Miley – image: Hannah Miley, courtesy of arena
The partnership spent many years juggling 25-yard, 25-metre pools, one of which had to be closed down when the leaks to the boiler room were so strong that there was a serious risk the entire floor would cave in and take the swimmers with it.
It is, naturally, to his daughter's success story that Miley senior turns when seeking to persuade the next wave that they have a lot of hard work as well as fun to get down to. He recalls the journey when he says:
"Without question people in the past had to do something pretty dramatic to get the level of training they need because of the lack of facilities here. With Hannah we had to travel 160 miles to Stirling just to get long-course training. A 25m pool is an excellent facility to train in. But when you are working towards the Olympic Games and other long-course meets, you need to be training and pacing in those distances. It is almost like two different sports. If you trained footballers and only used half the pitch you would have a different style – and outcome."
Back in 2007, when watching the Wimbledon Grand Slam tennis final, Patrick Miley was amused to learn that French challenger Marion Bertoli (pipped for the All-England title by Venus Williams that year) had a maverick of a father who had developed several unusual training methods. Some of it sounded rather familiar, not least of all the drive to leave no stone unturned and to invent new ways or new ways of measuring and monitoring, if there was a good chance it might help.
It was in that spirit that Patrick invented the Aquapacer, the first ever digitally controlled earpiece and swimming training aid that was used by Olympic champions Brooke Bennett and Ian Thorpe and Olympic silver medallist Paul Palmer, as well as the late coach Richard Quick's group and Misty Hyman.
Years later, Hyman would respond to Hannah, who had admired the American since she was a 12-year-old watching an inspiration race to unexpected 200 'fly gold at the Sydney 2000 Olympics, when the Scot sent her a direct message about a tweet. Hannah recalls:
"One of the biggest messages which stuck with me from that was when she said 'swimming's your best degree'. Now, I see that even more clearly. I could always have gone into coaching after my swimming's over but developing that degree and looking at the world I know in so many different angles has been hugely fascinating. I was once given a task of 'describe yourself without using your accolades' … I ended up coming up with 'Hi, I'm Hannah Miley. I am a full-time body movement enthusiast and part-time puppy trainer (read on to find out why). Movement in water is so fascinating for me and that ties in with what I'm working on with my business."
The latter will bring challenges but she's stared plenty of those down before. The last big one of her career was the fourth place in her last Olympic final, a medal missed by 0.15sec after eight gruelling lengths. As stated elsewhere in our Miley retirement coverage, frustration was balanced, if that equation were possible, by the obstacles she faced on the way to Rio 2016.
In June 2015, on a last training camp in Spain before the World Championships, Miley watched as a dumbbell in the gym "crushed my finger … It looked like it was split wide open and I thought 'oh, that's a lot of blood'; I could see white bits and it didn't look good. The doctor patched her up, emergency stitches and waterproof plasters were applied and she was back in the pool not long after. Two days later, "the cruel finger of fate" as she put it with a laugh, turned her way again: Miley was cycling back from training along the Barcelona sea-front when a drunken Polish cyclist collided with her wheels and head-butted the swimmer from her saddle. The finger hit the floor first. Crack. Broken. "I didn't know which was worse, the finger or the smell of alcohol coming off him."
The doctor told Patrick Miley to "keep her out of the water". Not happening, said the coach. He searched the local chemist for something better than water-proof plasters. Condoms were rejected. A latex washing-up glove was cut and fitted. Back to the water.
Hannah swam on. She'd seen similar Patrick work arounds before. At the height of the bodysuits crisis in 2009, Patrick popped into British DIY store B&Q to buy radiator insulation to line his daughter's training suits to see what all the fuss was about. Hannah recalled through laughter: "We've always tried to think a way around a barrier. It was the Radiator Suit. The trouble was that every time I dived in, bits of insulation would fly out of my suit in every direction."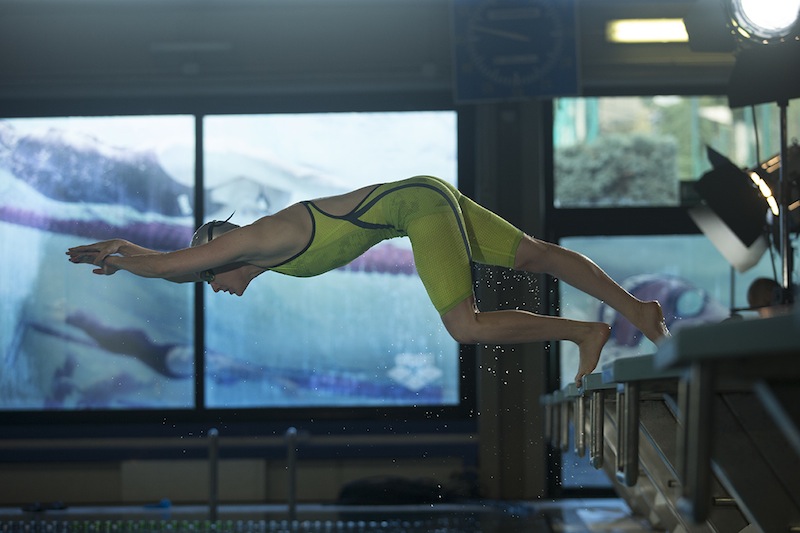 Then there was "The Sponge" – a whole range of them, no less, in different sizes from luxury bath down to the pan-scourer, strung out behind her on a string to cause resistance as she swims at different speeds and on different strokes, a spanner in the works helping to weigh the sponge down below the surface layer of the swimmer.
Along the train of discovery, there were tears of joy and sorrow. "I felt like a Calamity Jane with all the injuries and the news about my mum, one following the next but Patrick and a variety of experts was never far away," says Miley, who looks back on the events of 2015 and 2016 with mixed emotions. She tells SOS:
"Broken finger, cracked sternum, mum just diagnosed with skin cancer … and then to come fourth. It felt like such a deflate after all that had happened. It felt as though everything that could go wrong went wrong. Then the swim had gone so well, it was my best time in all three Olympic finals, so to then finish fourth felt like a kick in the teeth. It was just so hard to process.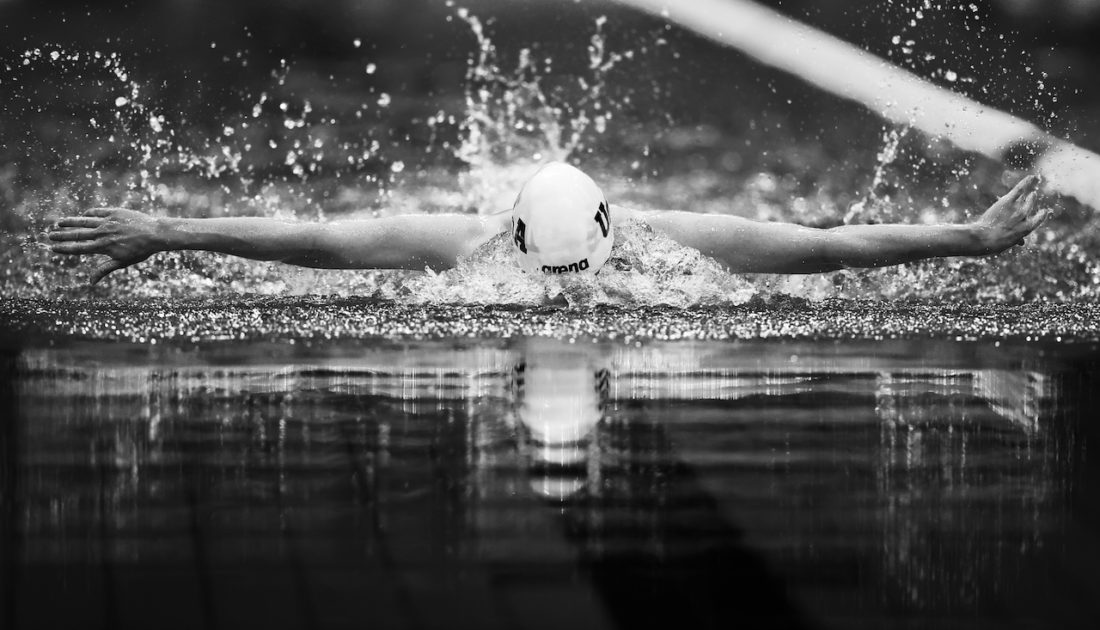 "I was in a dark space. I was still processing what had happened with my mum and I just felt so annoyed with myself that I'd missed this opportunity. I should have been on that podium. For me, it felt like I threw away an opportunity. I'd trained so hard and I was really struggling to come to terms with it. It felt like all had been going so well despite the setbacks and then at the last hurdle something had tripped me up."

Hannah Miley – photo by Georgie Kerr, courtesy of British Swimming
Despite all of that, Miley says that "my only regret was not taking some time off after Rio, to rest and process it all. I threw myself into work, a World Cup tour and by December when a tendon in my ankle snapped, I thought 'perhaps this wouldn't have happened if I'd taken a break, not just kept going under stress.
Hannah believes she was suffering a form of depression but is no fan of self-diagnosis.What she knows for sure is that her ability to live up to the courage of Kipling's "If" was sorely tested.
She has come to see the blessing not the curse.
"I still wonder what 0.15 looks like, is it two blinks of an eye? Looking back I absolutely believe that Rio was the biggest turning point in my career. I was devastated not to be on the podium, but it has turned into one of my biggest life lessons, which I'll always be grateful to have.
"Reflecting on my performance I can say hand on heart that the final I swam in Rio was the best performance I could have given at the Games. I know that success isn't always about winning medals, and I know that don't need medals to validate who I am as an athlete. My self-worth is far more important.
"That was a real epiphany moment for me and because of that, while I missed out on a medal, I do consider Rio a career highlight, as it has taught me so much more than winning a medal would have done."
The Support Network & Providing Shoulders For The Next Generation To Stand On
Family and those closest to her were the therapy she needed – and it was there waiting for her. Says Hannah: "I remember moments when I would get home and just cry and cry, for no particular reason. I'd call my mum to say 'I'm crying and I don't know why'. She was always there to talk to me for as long as I needed."
Miley notes the big part played by her fiancee Euan Duff in helping to lift her out of the doldrums and the "feelings of depression" that resulted not only from the near miss but what that meant immediately after. On the way to Rio, Miley had refused to see him for several months to avoid "distraction". Duff, who runs his own photo and video production company and athlete media agency, waited patiently and in 2017 he followed tradition, asked Patrick for permission and then popped the question on a visit to the panda enclosure at Edinburgh Zoo that Hannah had been told was a birthday treat but emerged from with a ring around her finger.
Miley would never have got to her retirement day had she listed all those she feels have helped her down the years but family comes first. If her father has been her coach, then her mother has been the manager of Team Miley and the glue that held it all together, while her brothers Alastair and Joseph have been towers of strength, stretching to taking on the social-media trolls that rear their heads when a result is less than their version of perfect.
There were plenty of those after Miley's fourth place by 0.1sec in Rio – and on the way home when she was made to feel the gulf of 0.15sec in a way that feels at odds with TeamGB's "One Team" philosophy Says Miley: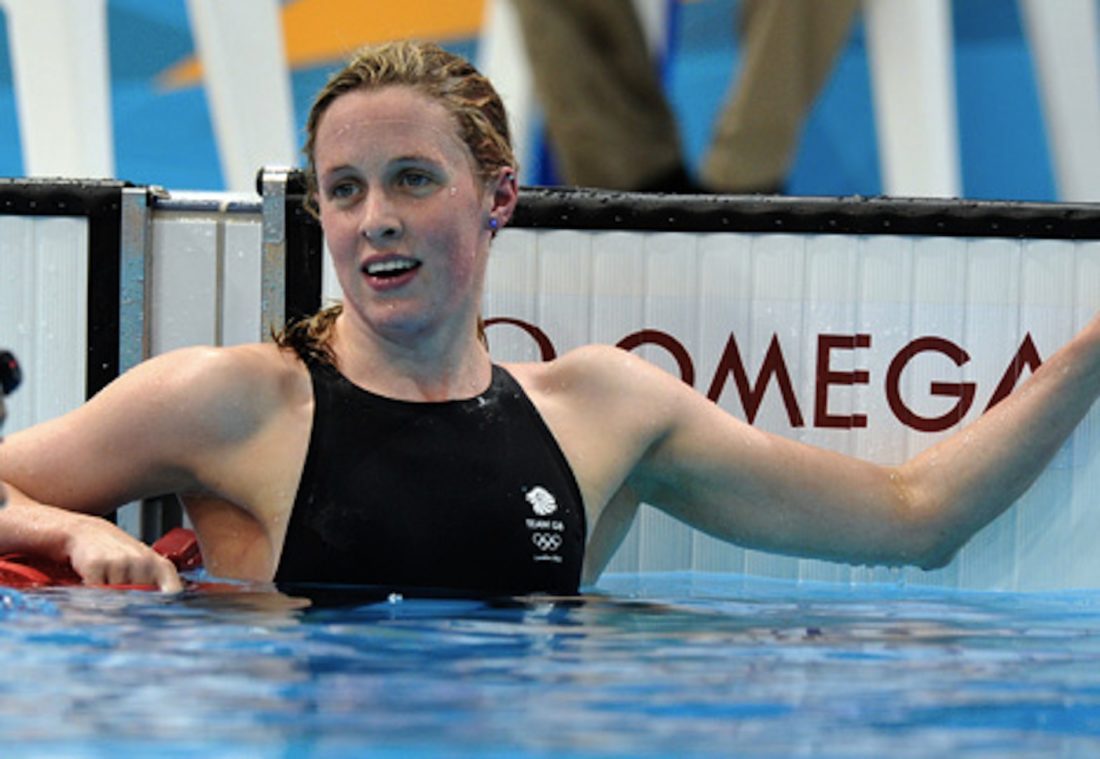 "It comes down to what may seem like small things but take the journey home: when you get on the plane, you go right to the economy section and the medal winners go left. Then, when we arrived back from Rio, we all had to sit for an hour on the plane after landing while the medallists had photos taken, went through to a reception and celebrated with their families. And when you finally get off the plane, there is no-one waiting for you. None of the lights, none of the celebration, none of the family reunions. You are reminded just how huge 0.1sec can be. It's not that you want to take anything away from the athletes who made the podium, of course, but they call it one team. At that point it feels like something else."

Hannah Miley – photo courtesy of arena
Coaches feel such things too, of course. All the more so, perhaps, if they're the father of the swimmer minding the gap between First and Business class with
champagne and a reception or cattle class with an orange juice and a long and lonely way home.
On her relationship with her father, Hannah notes: "It was not all plain sailing, of course. Like any relationship you have your ups and downs but I think it's important to have that because you learn a lot about the other person and it teaches you and develops you in how to respond and respect the other person, assuming the other person is also responding and respecting you as well. I think our relationship through swimming has taught us both some great lessons and helped us to overcome some of the obstacles to achievement in performance sport."
If Patrick's passion for swimming was "intense and full-on", then it was Carmel who provided the balance and perspective the young Hannah needed. "She was the best team manager for us," says Hannah of her mother.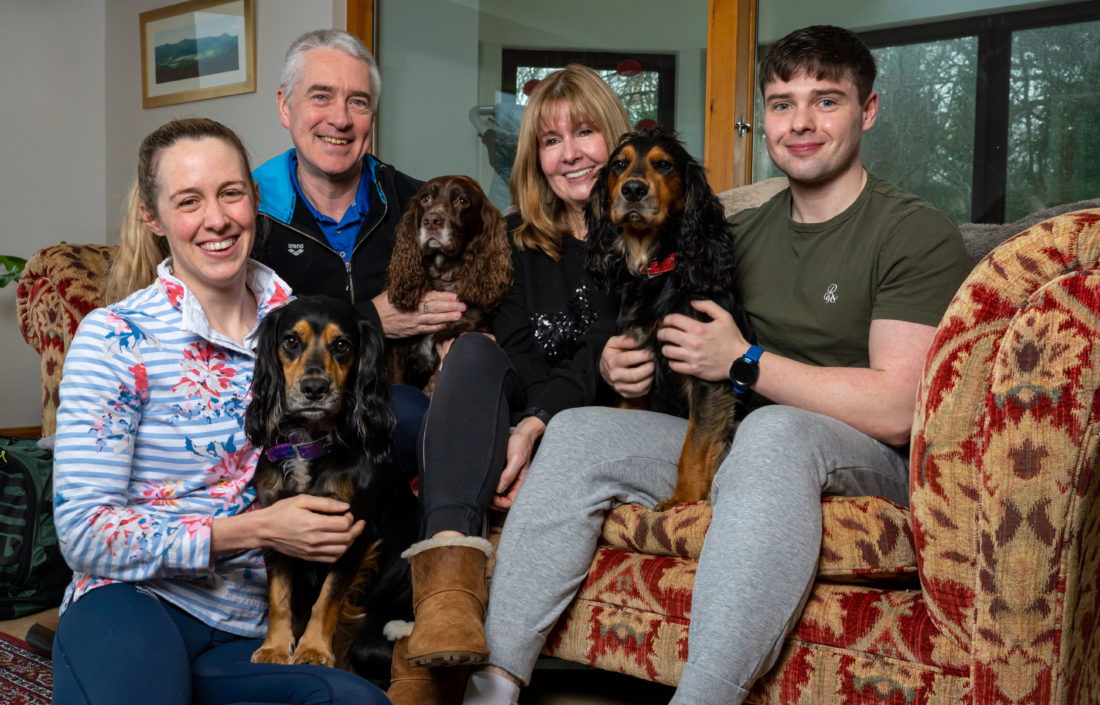 "My dad was, well, you could say obsessed but his interest and love for the sport was very intense but I just wasn't at that same level yet and I was into all sorts of other things. My mum was pretty good at working out when enough was enough. She would just say 'right, let's sit down, have our tea, have a conversation that is not swimming related'."

Hannah Miley – image – Most of Team Miley at home with their Working Cocker Spaniels – photo by Euan Duff, Duff Company Productions
She also notes the gentle encouragement and awareness that her father fostered in her. At 10, she had written her goal down in her swim book "standing with gold round my neck on the Olympic podium". But, she adds, "You were writing it down because everyone did to …some extent. It was only when I won silver at the European Junior Championships in 2005 that for the first time I felt yes, it could actually be something to aim for. That was Patrick's doing."
He had a Petrol Coupon souvenir book of the 1972 Olympic Games but at the time his family didn't have a car and so he could not collect the stickers. Instead, he wrote in every single result of each of the medallists, including the times for each of Mark Spitz's then record seven gold medals.
In her early teens, Patrick showed the boom to Hannah and she worked out that she would have won 10 gold medals with her best times. "Wrong swimmer at the wrong time but the penny dropped and I could see what might be possible and believe it," says Hannah.
Now, almost 20 years on, Miley looks back at those who inspired her and sees not the medals but the values and processes she takes pride in. Rebecca Cooke, who held the British 400m medley record before her and was Commonwealth distance freestyle champion for England in 2002 and 2006, is among those Miley looked up to.
She says: "It's not the medals that impressed me; it was the values she held, the dedication, discipline, determination she had. Those were the things I most admired. That, not the medals, inspired me. I was always motivated by the people and the effort and the intensity, how they overcame adversity and setback. They don't have to be covered in medals: sometimes it's just about who they are and the effort they're putting in."
That "extends to those who have provided constant support: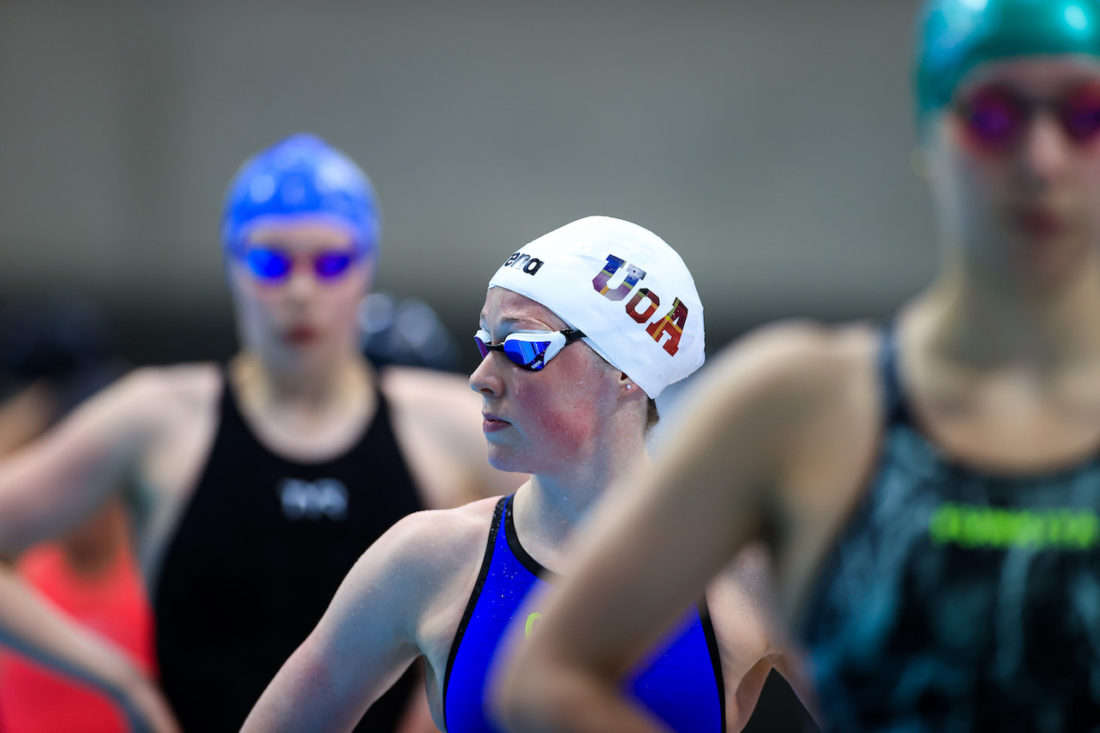 "My mum, my dad, my two brothers like my family. My grandparents, too. I've learned to swim for myself but there has always been a big part of me that does it for others. On the podium in Budapest in 2010, when I won the European 400IM title, I thought of my grandad who passed away in 2001. He was such a big fan of me and my swimming and before he died from stomach cancer he said 'you know, I'm never going to see you swim at the Olympics. I hoped he was watching that day in Budapest, and all the others, too."

Hannah Miley – image – getting ready to race at her last Olympic trials – photo by Georgie Kerr, courtesy of British Swimming
A Scottish Rhapsody For Miley In Hungary
That moment in Budapest and a victory over Katinka Hosszu in the Lion's Den of Hungarian swimming on Margaret Island was one of the best, if not the best, battles of Miley's career. The crowd was against her, the skies turned slate, the home-crowd vuvuzelas drowned out the few "Go, Hannah!" cries on a wind that seemed bent on backing the local – yet still Hannah Miley delivered a performance that pummelled expectation back into its box.
Hosszu was the reigning World champion at the time but the shiny suits had been sunk and that day in Budapest was all about a swimmer more adaptable, more determined, more capable of responding to a return to textile and the loss of a buoy that ought never to have been.
Under the headline "Miley Mashes Home Hopes In 400IM", I wrote that day:
In a shiny suit of the kind now banned, Miley had clocked 4:32.72 for 4th in the world title final won by Hosszu in 4:30.31 last summer in Rome. A year later, a new era underway, Miley was just 0.2sec away from the world record that had stood to 2007 world champion Katie Hoff (USA) before the advent of polyurethane suits in February 2008.
"I just felt brilliant," said Miley, coached by her father Patrick in Garioch, Aberdeenshire. "Dad told me to trust in what we've done to get ready for this, to relax and take it as another experience. I really enjoyed the race, it was so much fun." The time, she added was "unbelievable, unexpected", while she realised that she had now placed "massive expectation on my back" ahead of another battle, against world record holder and Olympic champion Stephanie Rice, of Australia, at the Commonwealth Games in October on the way to a home Olympics in London 2012.
Hosszu was just inside her best textile time, as were the next two swimmers home, the events of 2009 failing to stand in the way of a celebration of swimming that was not lost on an appreciative home crowd. Hosszu, back in Hungary for the past fortnight, said that the silver did not disappoint her but the time on the clock did. "I probably started the race too fast. I'm hoping to go better in the 200IM and 200 free."
Hosszu and Miley have history: in 2005 on the first occasion that they met in competition, the Hungarian won gold at the European Junior Championships, Miley, on her Britain debut, taking silver. That moment is one that has lived with Miley. "It was euphoric … words cannot describe how excited and happy I was. It was a real turning point in my career, it made me realise that this is what I wanted to do. I want to swim. It was a significant event early in my swimming career, giving me the confidence to believe in my potential," said Miley. The two met again later that year at their first international senior selection event, the European short-course championships.
"I've gone so close, so many times but to win that first international title is just amazing," said Miley. "I was here in 2005 as a junior and in 2006 at this same event, and didn't medal but tonight everything just fell in to place. To do it against the world champion in her home pool is the stuff of dreams. I knew I was in there throughout the race, it just felt so right. I've done a lot of work on my backstroke and that benefited me tonight. All that hard work that my dad (coach) and I have put into this sport has finally paid off with my first international medal. I'm just so happy to give something back and hope I've made my family proud."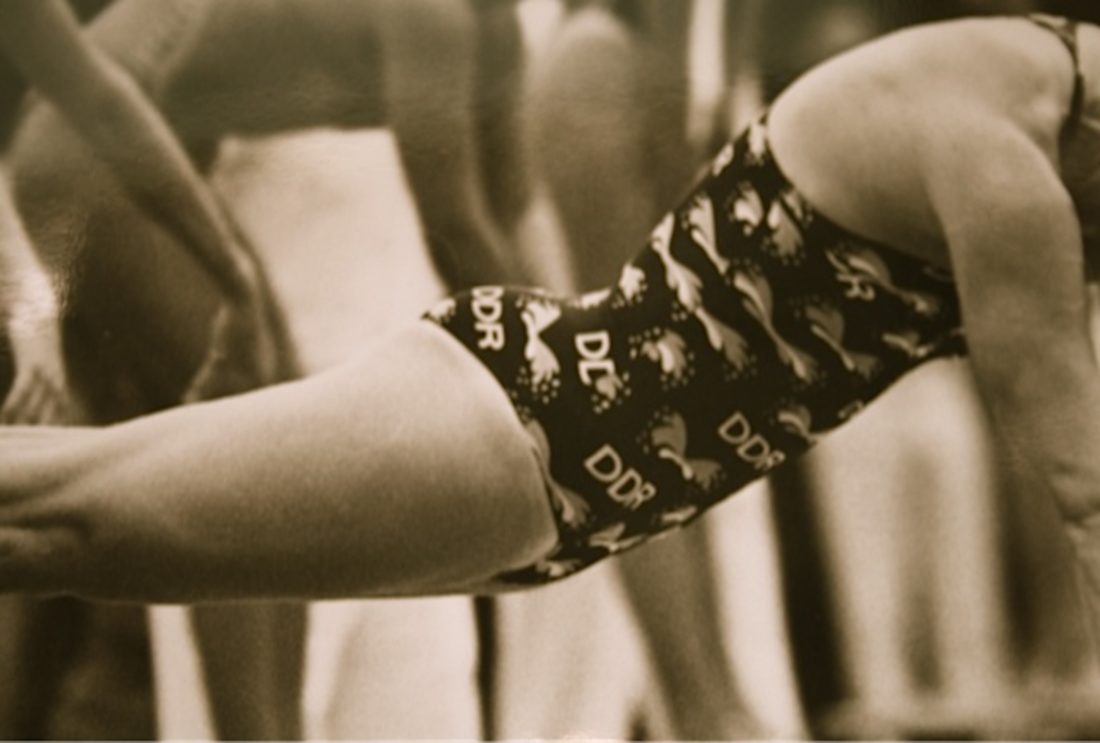 Miley, who uses the Aquapacer metronomic training device invented by her father, is the first British woman to make the 400m medley podium since a teenager Sharron Davies took bronze behind two East Germans in 1977 at the age of 15. The best result Britain had enjoyed until last night in the long medley down the long years had been a silver medal for Olympic 200m breaststroke champion Anita Lonsbrough back in 1962, though important to note that, as it was with Davies, the girls of the 1970s and 1980s more often than not didn't stand a chance of getting past the fastest of the GDR at the height of East Germany's systematic doping era.
Patrick Miley told The Times: "I'm just really emotional. She's an inspiration for me – and I'm her coach." Family and partners in the pool, Team Miley had tweaked preparations this year to take account of the swimmer's maturity and passage into the realms of seniors racing with more experience.
The champion describes well what her coach means to her: "There is a strong relationship between the two of us, and as an athlete I couldn't ask for anything better: he knows me best, he knows my limits and will push me if he knows I can go that little bit further. He has ensured that I can operate independently too; this is vital to the way that we work as a team.
"Parents play a huge role in my success, as I still live at home. The family environment is the best. I am studying at Robert Gordon's University in Aberdeen and enjoy the contrast and challenge that this brings. My brothers (Alastair and Joseph) are also swimmers. I guess the best way to describe us is Team Miley."
End of archive
That family narrative has neither changed nor been diminished down the years. Hannah extends the thought and thanks to 'family' beyond her immediate tribe.
Arena, her sponsor, has a special place in her heart. She recalls: "In 2010 when I signed up you don't feel like a statistic. You're not forced to wear any kit that doesn't suit you; they ask for your feedback and design products based on what they hear and what you tell them. They were always supportive, always encouraging, always there for you – just like family."
Miley feels the same way about her alma mater in swimming, Garioch Amateur Swimming Club, the University of Aberdeen program where she ends her career, Scottish Swimming and British Swimming.
"I appreciate very much all the help that I got, especially as a teen, when the funding was a big help for the family. World-class sport comes with a lot of commitment and costs and the help given when an athlete is funded is critical to the outcome," says Hannah, who makes special mention of "unsung heroes".
"I was at Garioch for over 20 years and I can't thank enough the volunteer coaches, parents of other swimmers, who stepped in to help when Patrick was away flying," says Miley.
Scottish Swimming's National Coach, Alan Lynn, said: "Hannah will be missed on the National Team for her resilience, competitiveness and total focus on performance. I hope she continues to be connected to Scottish Swimming as a mentor to swimmers and coaches, passing on her knowledge and experience."
What Will Follow The Fast Lane
Alongside Hannah's work with the FitrWoman app and its value to female athletes seeking ways to cope with the impact on performance of menstruation cycles, Miley will focus on the help that pilates and body movement can provide.
When she looks back on all the minor setbacks and injuries, she is grateful for her father's ingenuity and the sports scientists and practitioners who played their role.
During the pandemic, Hannah qualified as a pilates teacher through MK Pilates, Says Hannah:
"For me, it's about moving well to feel well. Pilates has been a big part of my own preparation in sport. I started it when I was 13/14 and it and Alison Fantom helped me stay intact until my shoulder popped out at 31."
Her physio was Alison Fantom, who before retirement in 2019, Alison "was the glue that held me physically and emotionally together". She adds:
"I didn't get to work with many females as an athlete, everyone was male so she was a real key part to helping me understand my emotions and view things out with my training bubble. She was very much a wise owl, a fairy godmother and an excellent physio all rolled into one!"
Hannah would have needed that and a miracle to make it to what would have been her fourth Olympics. Hopes of racing at Tokyo 2020 were dashed by the pandemic. She had held on for the Games before having shoulder surgery on a tear that had gone unnoticed for too long by experts who at first were baffled by the pain she felt. When Tokyo 2020 became Tokyo 2020ne, it became impossible to put the surgery off any longer. Laura Paterson took on the physio role and helped Hannah through post-surgery rehabilitation, allowing Miley to make it to Olympic trials but not in the shape of the swimmer she had been.
Now, Miley intends to use all the lessons she learned as an athlete and working with "some great people" to pass on her skills and experience to girls and women in schools, sports clubs and in business.
Pilates will be incorporated into her business plans but there will still be room=, through her work with Patrick, to pass on flotation skills so advanced that they have become a teaching model on the meaning of "feel for water" in her sport:
That side of Hannah will outlive her racing days in the pool. "It's why I'll continue to swim even though I won't be racing anymore. It ties in with mental well-being, mental health and female health," says Miley. "It's a really important area that can help a lot of people. I love challenging my body: pilates is not quite yoga, it's more "functional" but like yoga it works on posture and links directly to wellbeing.
I've been doing quite a lot of one-to-one sessions with people and I've loved doing that. I've worked with athletes on Zoom, too: it's not quite the same as being there in person but that's what we've had to do during the pandemic. It ties into the package that I'm working on. And being able to transfer it all to the corporate world has also been fascinating because in many regards sports performance should be no different to business performance: if you want to be at your best, the tactics and the education and understanding of the menstrual cycle and how it affects you physically can also affect you physically in the business world.
Puppy Love – Poppy Targets Scottish Crown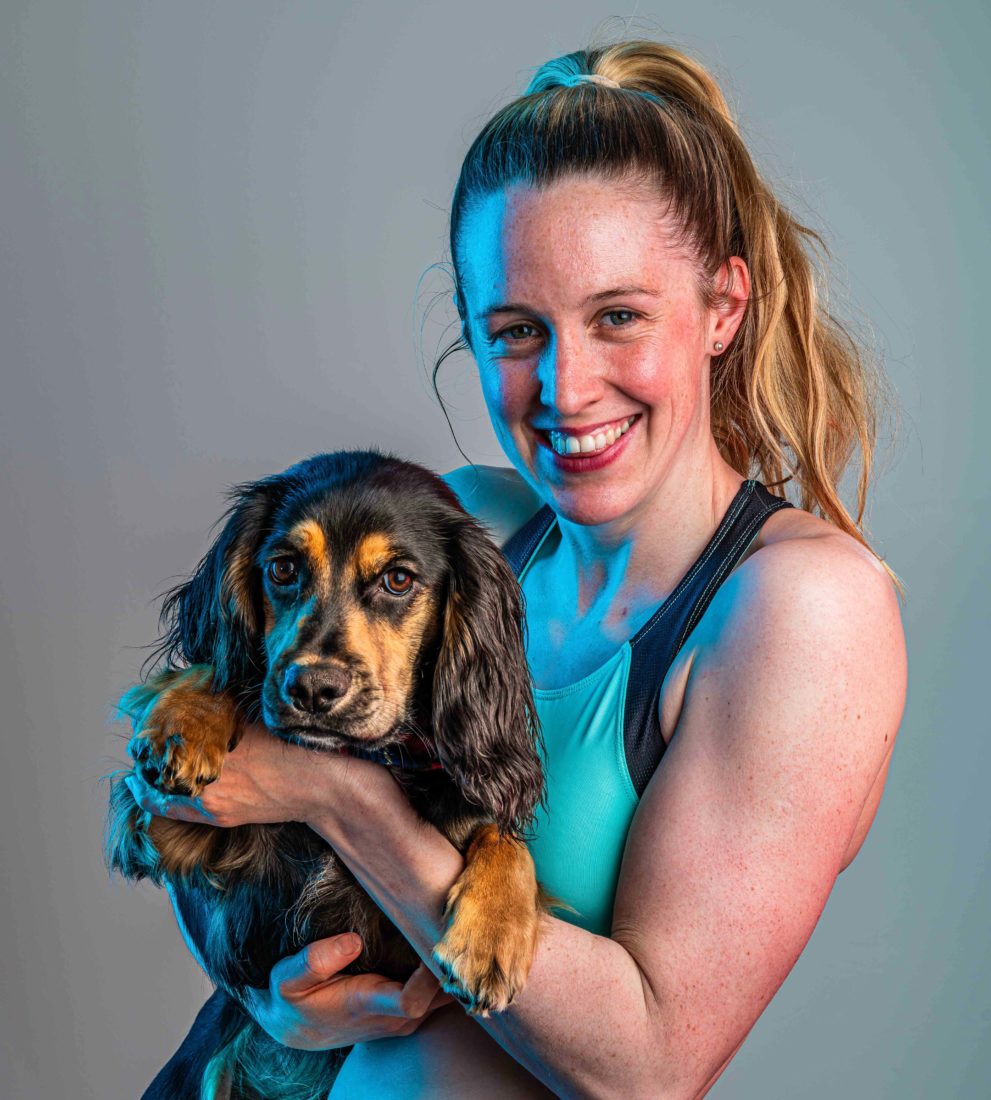 Miley's learning curve on "body movement" extends to her hobby, puppy training. As a way of engaging young audiences and teaching them to think beyond their own language and experience, she takes Poppy, her own Working Cocker Spaniel, on her tours of schools and sports clubs. "Where the human can tell you what's sore, what's hurting, how they're feeling, the dog, the horse, can't so you have to assess what's going on based on what you see and how they move," says Miley.
Miley and Poppy will feature on "Scotland's Best Dog", airing on BBC Scotland on the evening of December 16.
With a nod to her Working Cocker spaniel, she notes that the breed is described as being loyal/chaotic/loveable. She's eager to please and just wants to be on you/near you at all times. She loves being active and has funny little quirks.
"The more I try and describe Poppy the more I realise I'm describing myself. The theory of dogs and their owners are alike is scarily true!"
Giving Back
Hannah started out as a fan with an autograph book.
In a lovely tribute at Scottish Swimming, she tells the home community:
"I remember going to the Olympic Trials in Sheffield in 2000. Speedo had created loads of posters of the likes of James Hickman, Karen Pickering, Graeme Smith etc. Don't ask me how, but I managed to secure a set of these posters and like all the other young kids at the meet, I was hanging over the balcony when the swimmers went by, trying to secure autographs.
"It was Graeme Smith who stopped and took the time to sign it for me. It really must have inspired me as I remember the moment so vividly even to this day, and that poster was on my wall for a long time."
When asked what advice she would pass onto young, up and coming swimmers, Miley told Scottish Swimming:
"Be patient with what you do. Consistency is key and don't be afraid of setbacks. Setbacks don't define you, what defines you is how you overcome them. As long as you have passion and drive to go forward, you will enjoy the journey."
Fan at the start, Hannah is now helping the next wave of wide-eyed potential. Scottish Swimming noted: "We are delighted that Hannah stays connected with our sport, sharing her experience, championing girls in sport and delivering talks and pilates sessions to Clubs across Scotland. She is also the Ambassador to our Young Volunteer Programme."
Farewell, Hannah Miley, racer. Here's to the next chapter … Sláinte 🥃