Tatjana Schoenmaker Throws Down 1:04.82 Olympic-Record Gauntlet To Book Ticket To Semis Showdown With Lilly King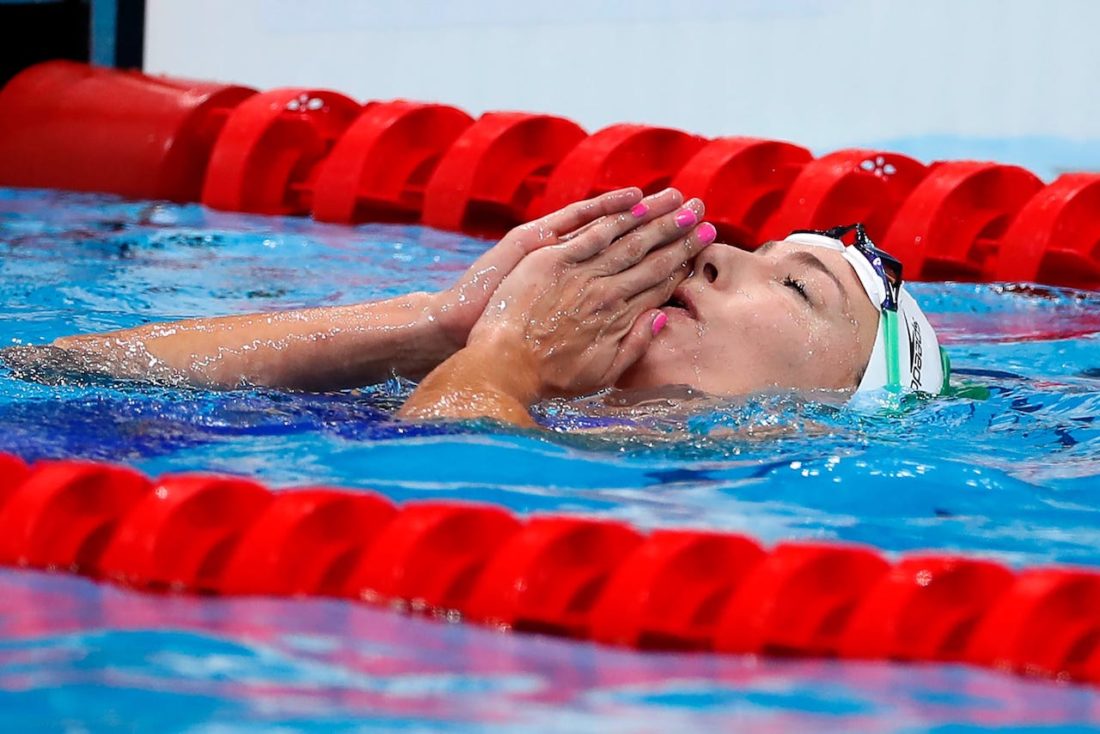 Tatjana Schoenmaker felt doubly able to call herself an Olympian at last when she laid down a 1:04.82 Olympic-record and Africa-record gauntlet in the first race of her Games career, the heats of the 100m breaststroke, in Tokyo this evening.
There were also three Olympic records in the 100m backstroke, as Kylie Masse, then Regan Smith, then Kaylee McKeown took down the women's standard one after the other, heat after heat, just over and just under, twice, the 58sec mark.
The South African shaved 0.11 seconds off the Games standard set by American Lilly King at Rio 2016. The continental standard of 1:05.74 that she established in April this year looks well past its sell-by date now that Schoenmaker has become the sixth member of the sub-1:05 club all suits and fifth all-time in the lounge reserved for those wearing textile and nothing too shiny.
The other textiles are King, 1:04.13 World record from 2017; Ruta Meilutyte, on 1:04.35, a global standard back in 2013; Yulia Efimova*, on 1:04.36; and Rebecca Soni, on 1:04.91 at 2011 World Championships. Lofty and troubled company in the mix. Says Shoienmaker: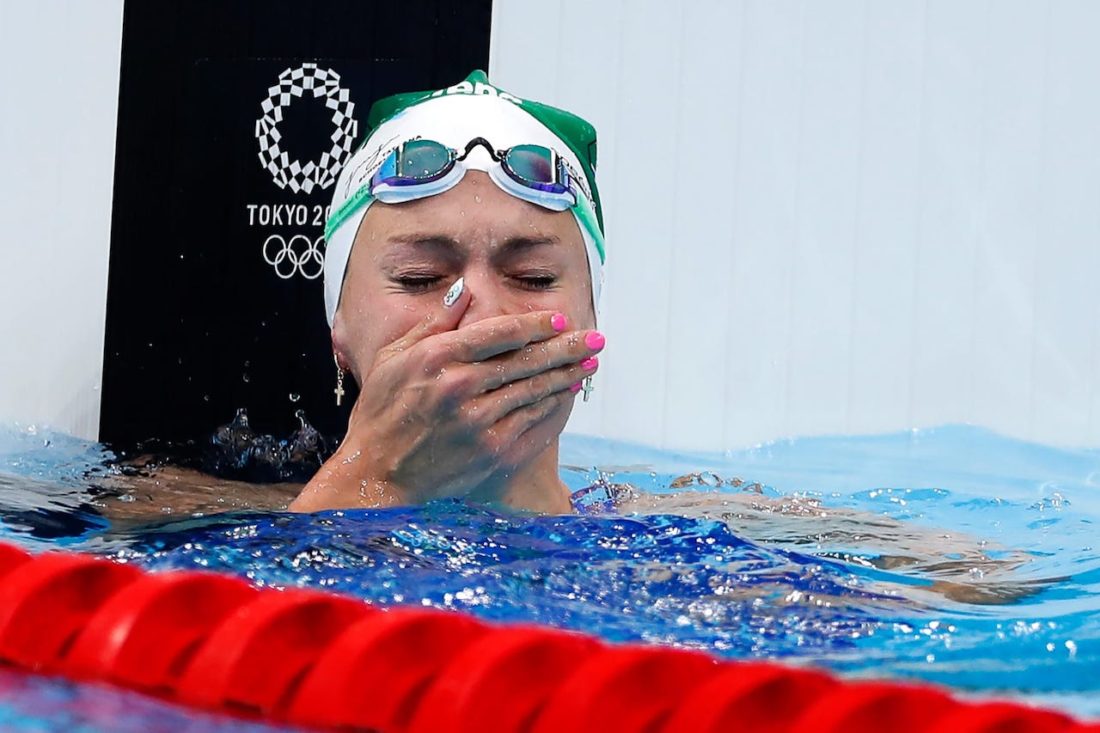 "I am very shocked. It was my first swim so I can finally say I am an Olympian now. I am very happy with that: I didn't expect that at all. Obviously my 200 is always a little better but it was a good swim and I think most of the girls are still going to swim much faster tomorrow so I am just trying to get into the final and just have a lane there. The 100 is not my race so that is why I was so shocked. I am very excited to race all the amazing girls I didn't race today."

Tatjana Schoenmaker – courtesy of Speedo
Asked about other South African breaststroke swimmers, questions focussed on Cameron van Der Burgh, the London 2021 Olympic 100m breaststroke champion, not Penny Heyns, the 1996 double Olympic breaststroke champion. On Van der Burgh, Schoenmaker said: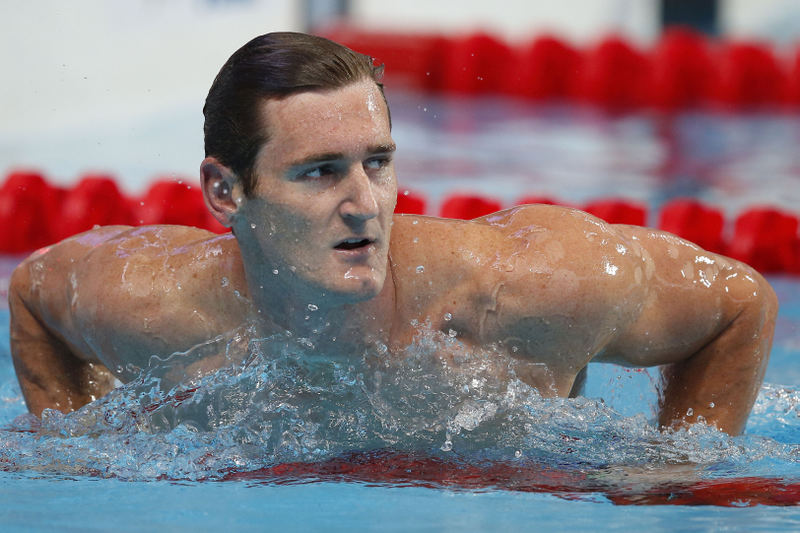 "I spoke to him: we had interviews for our team page, our Team SA page – it was weird me interviewing him because he is a legend. They are very supportive some of our top guys especially Chad (Le Clos) being the most experienced one in the team giving us advice and by him looking really relaxed I think it just calms all the first one's nerves a little."
Schoenmaker was travelling fast enough for one of her two swim caps to almost fly off: but for her goggle straps, her private sponsors cap was desperate to escape the confines of an Olympic deal.
Team Speedo athlete Schoenmaker was wearing a cap supplied by arena in its deal with the South African Sports Confederation and Olympic Committee. The cap started to slip off during her speedy race.
Speedo suggested: "Thankfully, instead of the incident causing an increase in drag and slowing her down, it was revealed that 24-year-old was wearing a Speedo cap underneath, which stayed in place throughout and allowed her to storm to victory and go into the final as the fastest woman in Olympics history."
Schoenmaker said: "I obviously saw that they were catching up a bit at the end and I was getting quite tired… I didn't expect that, very happy with that as a first race. In the end, I was feeling a bit tired. My stroke rate was much higher so I could feel I went out strong.
"I'm not sure what my going out time was but it was probably my PB. I'm happy with my time and I feel like this has taken a mountain off my shoulders, so now I can just enjoy racing like the world's best."
Schoenmaker now faces defending Olympic champion, World champion and record holder Lilly King, who clocked 1:05.55 at the helm of the last heat off prelims.
Almost all key names sailed through: the one that got away was Benedetta Pilato, the World 50m record holder from Italy. She was DQ'ed because her feet were deemed not to have kicked in an even field.
Women's 100 breaststroke – qualifiers: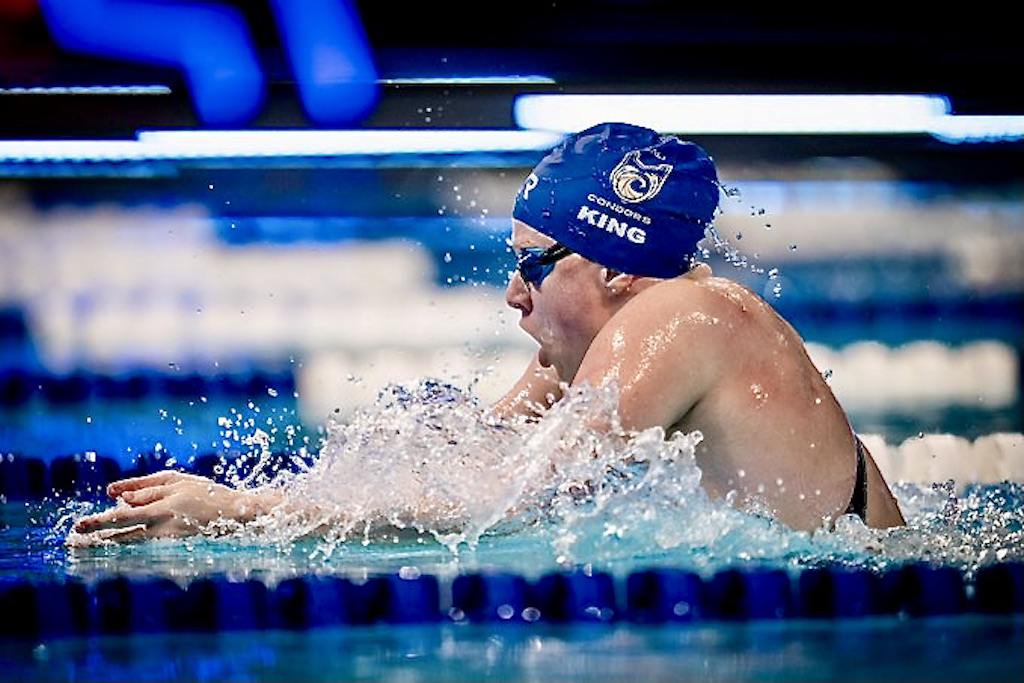 Tatjana Schoenmaker, South Africa, 1:04.82 Olympic record
Lydia Jacoby, United States, 1:05.52
Lilly King, United States 1:05.55
Sophie Hansson, Sweden, 1:05.66
Martina Carraro, Italy, 1:05.85
Evgeniia Chikunova, Russia, 1:06.16
Ida Hulkko, Finland, 1:06.19
Yuliya Efimova, Russia, 1:06.21
Mona McSharry, Ireland, 1:06.39
Tang Qianting, China, 1:06.47
Sarah Vasey, Great Britain, 1:06.61
Chelsea Hodges, Australia, 1:06.70
Lisa Mamie, Switzerland, 1:06.76
Eneli Jefimova, Estonia, 1:06.79
Katryna Teterevkova, Lithuania, 1:06.82
Anna Charlott Darcel Elendt, Germany, 1:06.96
Qualifiers in other semis
The women's 100m backstroke Olympic record went down ion three successive heats this evening:
Women's 100 backstroke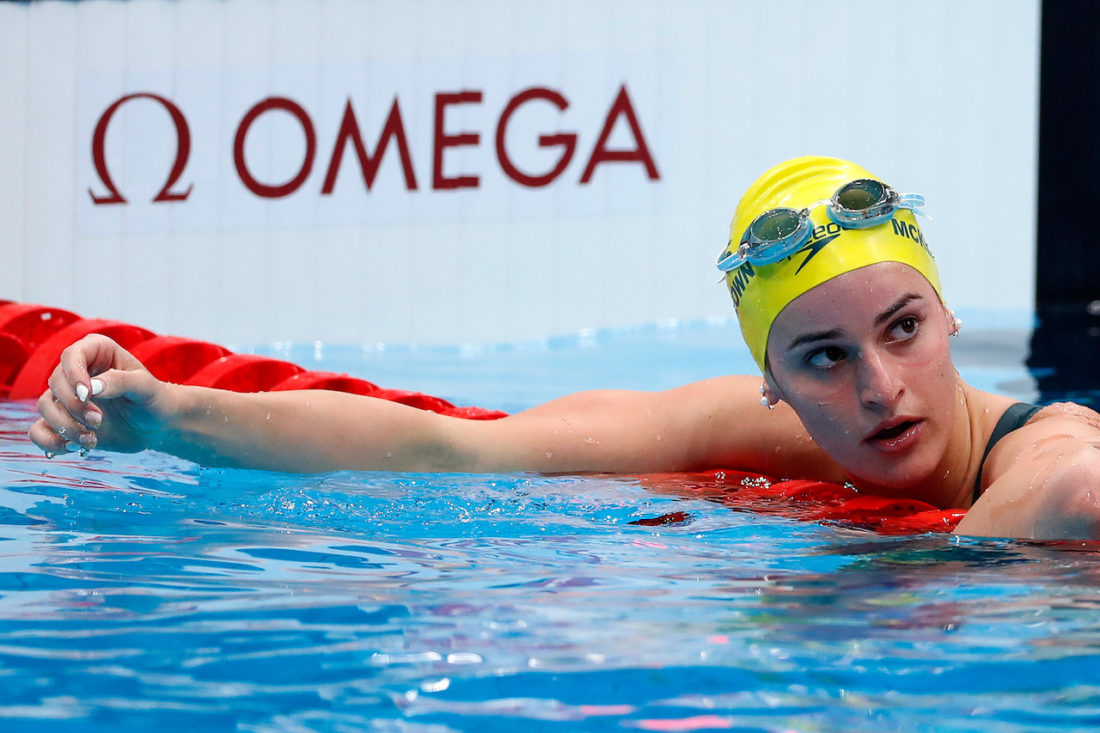 Kaylee McKeown, Australia, 57.88 Olympic record
Regan Smith, United States, 57.96 Olympic record
Kylie Masse, Canada, 58.17 Olympic record
Kathleen Dawson, Great Britain, 58.69
Emily Seebohm, Australia, 58.86
Rhyan White, United States, 59.02
Kira Toussaint, Netherlands, 59.21
Margherita Panziera, Italy, 59.74
Peng Xuwei, China, 59.78
Marila Kameneva, Russia, 59.88
Taylor Ruck, Canada, 59.89
Anastasia Gorbenko, Israel, 59.90
Anastasiia Fesikova, Russia, 59.92
Cassie Wild, Great Britain, 59.99
Maaike de Waard, Netherlands, 1:00.03
Anna Konishi, Japan, 1:00.04
Men's 200 Freestyle
Sunwoo Hwang (Korea) 1:44.62
Fernando Scheffer (Brazil) 1:45.05
Tom Dean (Great Britain) 1:45.24
David Popovici (Romania) 1:45.32
Duncan Scott (Great Britain) 1:45.37
Martin Malyutin (Russia) 1:45.50
Stefano Ballo (Italy) 1:45.80
Thomas Neill (Australia) 1:45.81
Danas Rapsys (Lithuania) 1:45.84
Townley Haas (United States) 1:45.86
Kregor Zirk (Estonia) 1:46.10
Nandor Nemeth (Hungary) 1:46.19
Kieran Smith (United States) 1:46.20
Velimir Stjepanovic (Serbia) 1:46.26
Antonio Djakovic (Switzerland) 1:46.37
Stefano di Cola (Italy) 1:46.67
Men's 100 Backstroke
Kliment Kolesnikov (Russia) 52.15
Thomas Ceccon (Italy) 52.49
Xu Jiayu (China) 52.70
Mitch Larkin (Australia) 52.97
Ryosuke Irie (Japan) 52.99
Yohann Ndoye-Brouard (France) 53.13
Ryan Murphy (United States) 53.22
Evgeny Rylov (Russia) 53.22
Hugo Gonzalez (Spain) 53.45
Mewen Tomac (France) 53.49
Guilherme Guido (Vrazil) 53.65
Robert Glinta (Romania) 53.67
Isaac Cooper (Australia) 53.73
Marek Ulrich (Germany) 53.74
Hunter Armstrong (United States) 53.77
Apostolos Christou (Greece) 53.77