Tatjana Schoenmaker Strikes African Gold In 2:18.95 World Record King & Lazor Follow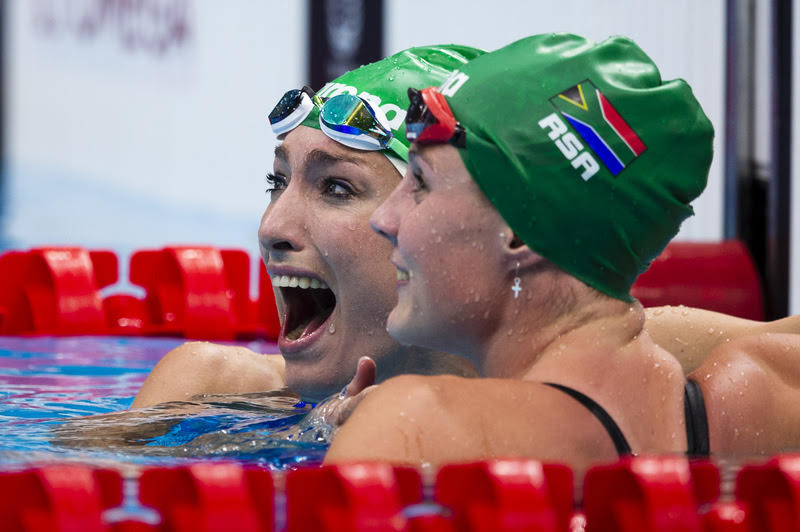 Tokyo 2020 Olympic Games – Women's 200m breaststroke – South Africa's Tatjana Schoenmaker was the star of day 6 finals here at the COVID-delayed Tokyo 2020, a 2:18.95 World record over 200m for her countrywomen's first Olympic gold in the pool since lightening struck twice for Penny Heyns in 1996.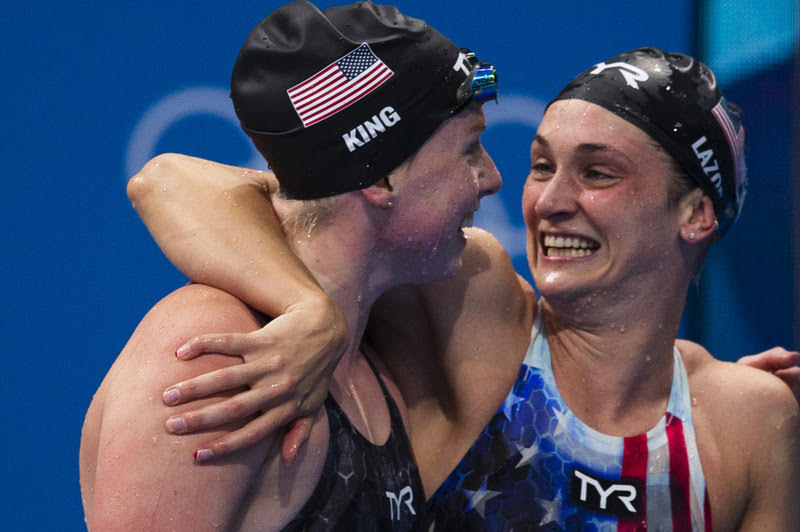 The silver went to Lilly King, the 2016 Olympic 100m champion who set a blistering pace and held Schoenmaker to a draw for much of the last lap until she could hold her no more. King's 2.19.92 , off a 1:06.47 at half-way, was the first of two American bites at the cherry, Annie Lazor home in 2:20.84.
In a touching group hug that looked like a relay celebrating after a win but for the fact that Schoenmaker and her young teammate Kaylene Corbett were joined by King and Lazor as the sorority celebrated a soaring swim and what it held at bay.
Schoenmaker, 24, took down the 2:19.11 set by Denmark's Rikke Moller Pedersen at the 2013 world championships in Barcelona.It was the third world record at the Tokyo Aquatics Centre, the first having fallen in the 4x100m freestyle (Australia) and the 4x200m freestyle (China) for women.
"I wasn't expecting that at all," said Schoenmaker, who added to her silver in the 100 breaststroke and is the first big success for South African women in the sport since Heyns was feted by Nelson Mandela for her 100 and 200m victories at Atlanta 1996.
The whole experience was surreal, said the 24-year-old after battle: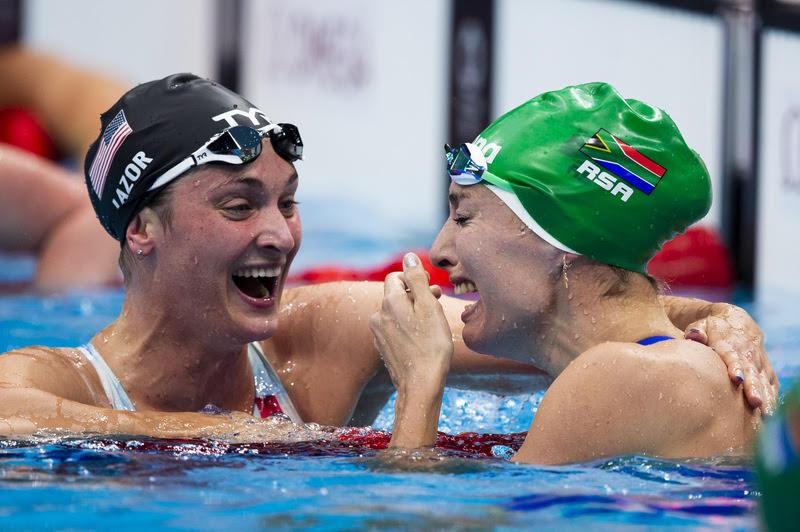 "It couldn't have been a better race. I feel like it really hasn't sunk in yet. We were even saying before the medals, like, did we just swim? (laughs) The whole process went really quick. So, yeah, I feel I was very excited to finally also finish my individual races and I'm excited to go home and celebrate just being at the Olympics with my family and stuff."

Tatjana Schoenmaker celebrates with with Annie Lazor
The ebb and flow to a World Record
31.64 – 1:07.06 (35.42) 1:42.48 (35.42) 2:18.95 (37.35) Schoenmaker WR
31.27 – 1:06.47 (35.20) 1:42.57 (36.10) 2.19.92 (37.35) King
32.73 – 1:08.61 (35.88) 1:44.73 (36.12) 2:20.84 (36.11) Lazor
At 2:18.95, 24-year-old Schoenmaker was travelling at the speed of the men's world record set by John Hencken in 1974, two years before Britain's David Wilkie stunned the American with a 2:15.11 World-record victory at the 1976 Olympic Games as the only non-American man to claim a title in the pool in Montreal.
Schoenmaker's stunning victory led to celebrations back home and in Tokyo:
Schoenmaker, 24, appeared at her post-victory news conference with a face mask that bore a cross and the Latin phrase "Soli Deo gloria" (Glory to God alone). She explained: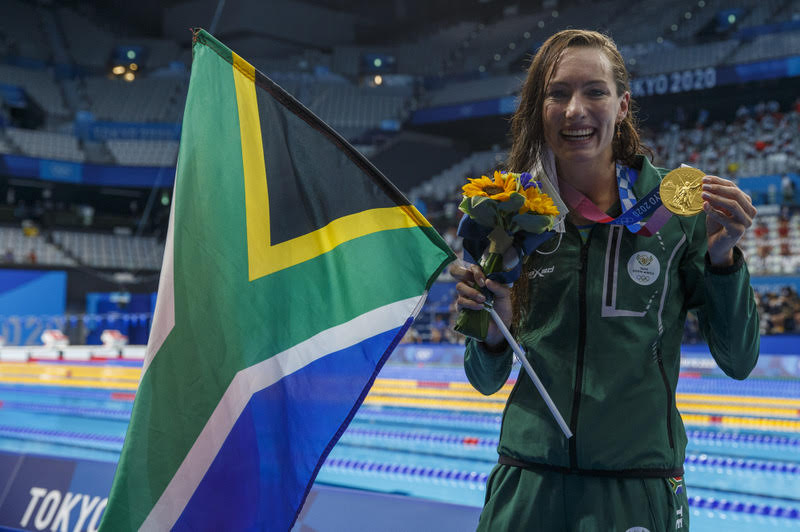 "Really just in every race, to focus on myself and believe that God's power will come through. Whether that means I come last or not as long as I focus and know that I did everything from my side and God did the rest, I think I would have walked out of here with so much peace no matter what the outcome."

Tatjana Schoenmaker – by Patrick B. Kraemer
Schoenmaker had not been aware of King's rapid first 100m and continued strength down the third lap until the final turn. A glimpse sideways underwater off the wall and Schoenmaker spotted the threat on the wing in 1 looking straight back at her. She said:
"I was just really trying to focus on my own race, I think the only time I was out of my own lane was when we turned together like, 'hey!' She definitely pushed me."
Laughing, King said: "Yeah, we looked at each other." She described Schoenmaker's performance as "awesome" and that to set a World records ta an Olympics was especially hard: "The pressure is a lot higher than it normally is. But obviously, that didn't matter for Tatjana."
The South African's win contributed to a picture the United States is not often familiar with: no gold medals at all for the Americans today. In all likelihood, there will be more over the final weekend of action here at the Tokyo Aquatics Centre but this day ended with the gold count a match: USA and AUS on 6, ahead of China, 4, and Great Britain, 3.