Sydney 2000 – 20 Years On: When Pieter Van Den Hoogenband – AKA The Eindhoven Express – Sped Towards The Pantheon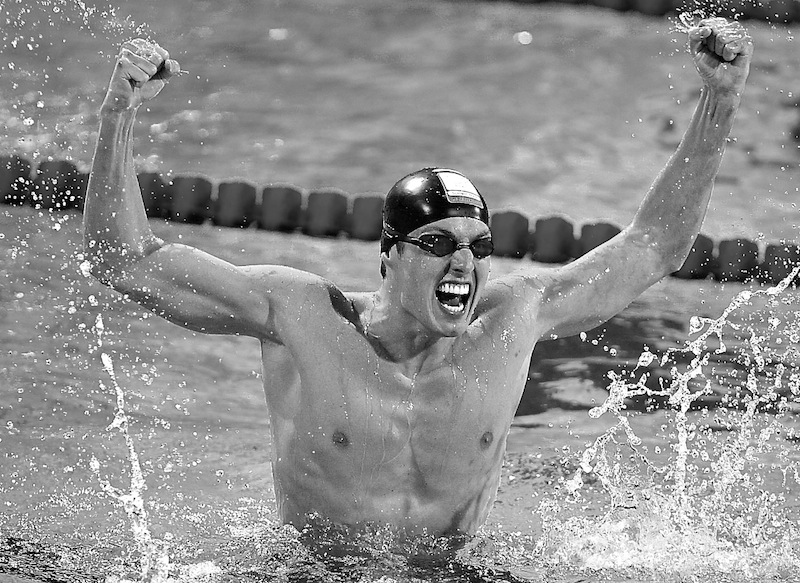 "I kept a book of all the records of 9-, 10- and 11-year-old boys in my bedroom. I wanted to be the best at every age. There were a lot of talented swimmers, but they stopped because of the pressure of the sport. But I enjoyed it"

Pieter van den Hoogenband, born under Pisces in March 1978, on his passion for the pool
In an era that witnessed the longevity of Alexander Popov (RUS), the ascendancy of Ian Thorpe (AUS), Grant Hackett (AUS) and Michael Phelps (USA), the flying Dutchman is the only swimmer who can claim to have beaten all of those greats in events in which all five of them held world records.
This past week marked the anniversary of Pieter Van Den Hoogenband's elevation from promise to deliverance at an Olympics that saw the waters turn orange with golden victories from Dutch sprinters.
Thorpe arrived at his blocks for the 200m freestyle heats on Sunday September 17 as the national 17-year-old hero who has claimed two golds on the opening day of action in Sydney: 400m free, 4x100m free, day 1 in the pool a crackling bolt of a starter. The four-lap party got started with Hoogie on 1:46.71 and Thorpey on 1:46.56, an Olympic record.
Semi-final No1 at Homebush and Hoogie shaves 0.16sec off Thorpe's world record with a 1:45.37. Gauntlet chucked. Thorpe responds with a 1:45.37. Aussie poolside commentators nabbed Thorpe for instant response for crowd reaction in the venue: he'd watched the Dutchman take down his world record – was he saving himself for the final and did he think he could crack back and take a third gold in world-record time in the final?
A little flustered, the teenager said he'd try his best. It wasn't long before head coach Don Talbot had the gob on the stick up against a proverbial wall in the tunnel leading off the deck: process, process, process, and you just blew it, what the hell were you thinking about putting our boy in that situation going into an Olympic final?
Thorpe had grown up being told 'step 1, step 2, step 3, make sure you do A, B and C' – the outcome will follow; we don't talk about world records and gold medals. Yet there it was, right in front of a roaring home crowd: do you want both, Thorpey? Yes but best not get distracted; best stick to what he and his coaches knew very well what he was capable of if he swam his own race.
Come the final, Thorpe did not swim his "own race". He was led into blistering early pace by a man bound for the first sub-48sec 100m later in the week. The splits of the duel that ended in a 1:45.35 matched-world-record victory for Van Den Hoogenband and a 1:45.83 silver for Thorpe – and a crystal ball ahead to Fukuoka 2001 World Championships – tell the tale of the outcome that was and the outcome that might have been. At the last turn in the final, the two men were precisely matched at 1:18.21. A Thorpe victory ahead, surely.
It didn't turn out like that, though.
Long after the Sydney Olympics, Talbot would write in his autobiography [After day 1 and Thorpe's 400m free and the men's 4x100m free victory]: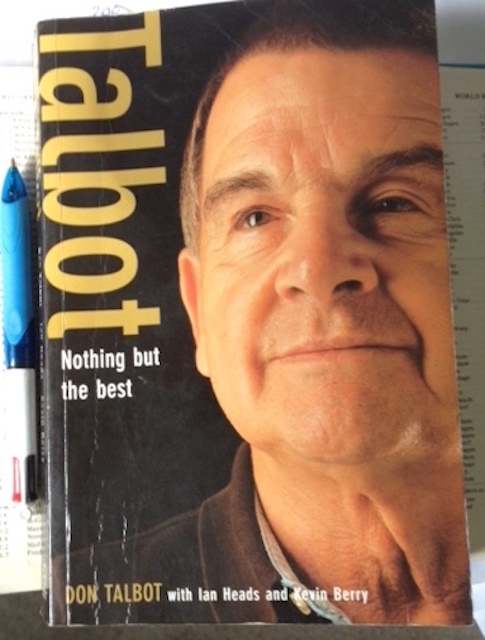 "Frankly, we lost it a bit that night. The whole world went crazy. I was saying to coaches 'You've got to get these kids down and get themselves calm'. We all tried but the excitement level was fever pitch, and when the kids came back on the ensuing days they were less ready than they should have been."
Thorpe had day 1 in his legs and Van Den Hoogenband, the sharper sprinter, knew it. How then to beat the young Australian in form? Take him out super fast and hope that he's got nothing left in his legs coming home, that's how – the model screaming out from the splits of the semis. Look at the first 100m speed, glance though the 50 splits and focus on the last lap in the context of what preceded it:
FINAL
24.44; 50.85 (26.45); 1:18.21 (27.36); 1:45.35 (27.14) Hoogie Gold
24.48; 50.90 (26.42); 1:18.21 (27.31); 1:45.83 (27.62) Thorpey Silver
SEMIS
24.51; 51.12 (26.61); 1:18.31 (27.19); 1:45.35 (27.04) Hoogie
24.95; 52.03 (27.08); 1:18.67 (26.64); 1:45.37 (26.70) Thorpey
Here's a lesson learned and an 18-year-old out to prove it in another race with Hoogie:
Fukuoka 2001
24.81; 51.45; 1:18.26; 1:44.06 (25.80) – Ian Thorpe WR, world title
24.67; 51.43; 1:18.46; 1:45.81 (27.35) – Hoogie, silver
The day after the Sydney 200m final, Pieter Cornelis Martijn van den Hoogenband raced into lane four of the 100m final with the first sub-48sec effort (47.84) and 24 hours later took the crown in 48.30 to Popov's 48.69.
The years between the Olympic Games brought six silver medals at the 2001 and 2003 World Championships and it was silver again in the 200m behind Thorpe at Athens 2004, when both men fended off Phelps in what was the American's only solo defeat at those Games in a battle dubbed a touch prematurely the Race of the Century.
The 100m final in Athens saw the Dutchman retain the crown in 48.17 to 48.23 for Roland "the Blade" Schoeman(RSA), Hoogie sharing the podium with Thorpe, on 48.56 for bronze, one last time.
Van Den Hoogenband was at his best when it most counted, the Olympic Games. The sprint double at Sydney 2000 granted Hoogenband a shot at membership of a club founded by Johnny Weissmuller (USA) in 1928 and refreshed in 1996 by Alex Popov: at Athens 2004, they were – and remain – the only three men ever to keep the 100m crown since 1896.
Along came shiny suits, the world changed… and though Hoogie made the final at Beijing 2008 in the 100m (and swam the fastest time of his career without swimming the best swim of his career), there was scant chance of him matching the pace of the best of the buoyed that year as he sought membership of the triple-crown club with Dawn Fraser (AUS) and Krisztina Egerszegi (HUN).
The shiny suits cut short another of Van Den Hoogenband's ambitions. The Eindhoven Express enjoyed winning from an early age but he also wanted more than that. After stopping Popov and Thorpe in Sydney, Van den Hoogenband said:
"I'll stay Olympic champion for the rest of my life, but what I really want to do is break records by so much that they will stand for years … I'd like to be the Bob Beamon of swimming."
Pieter the Great's 47.84sec world record from the Olympic 100m freestyle semi-final at Sydney 2000 may not have survived five Olympic Games as Beamon's "leap into the next century" did but it remained on the books until March 21, 2008, when, racing in the Dutchman's home pool at the European Championships in Eindhoven, Alain Bernard (FRA) clocked 47.60, a day before shaving a further 0.2sec off the standard for a 47.50 victory in a non-textile bodysuit that put the clock on fast-forward and some.
A swimmer by the time he was 4, Van de Hoogenband grew up in a sports family, his father, Cees Reyn, played water polo and worked as team doctor to PSV Eindhoven football club as a member of the FINA Medical Commission, while his mother, Astrid Verver, was a European junior silver medallist in the 800m freestyle in 1971. At 14 their son began to train with coach Jacco Verhaeren, who was only 23 himself at the time. In 2007, as Van den Hoogenband celebrated his 29th birthday on the eve of Melbourne 2007, Verhaeren recalled: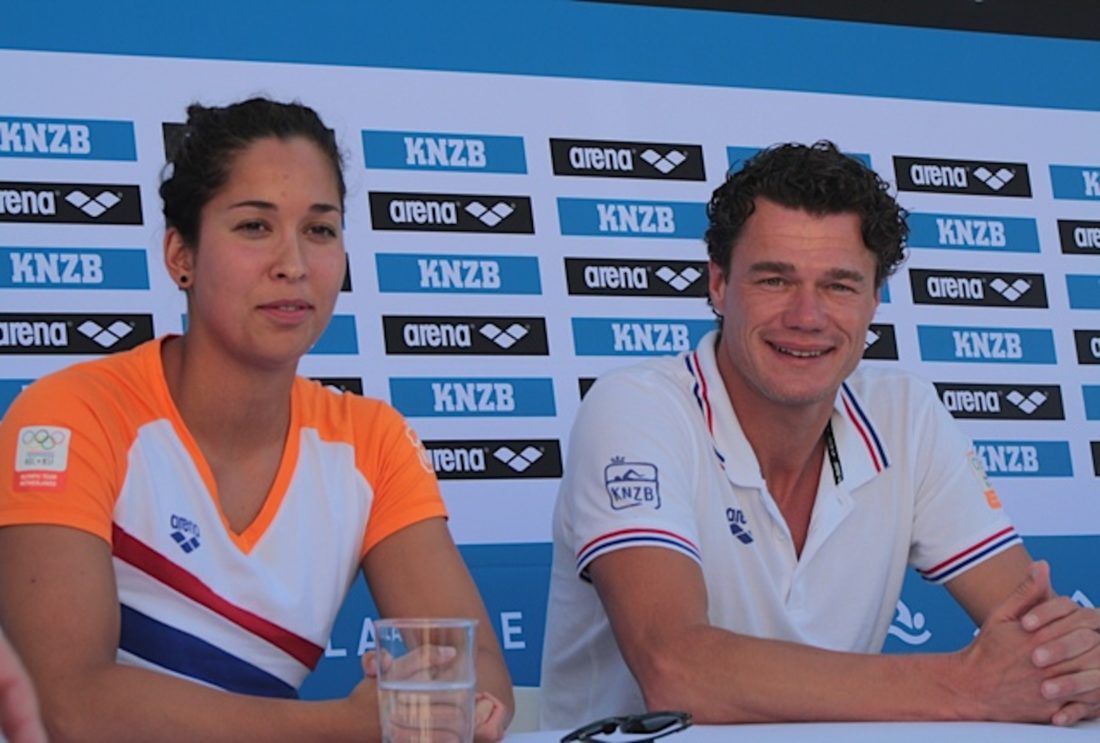 "Pieter said to me 'ah, now you're officially half my life'. I grew up as a coach and he grew up as an athlete at the same time."

Jacco Verhaeren, with one of his other Olympic champion sprinters, Ranomi Kromowidjojo
The foundation of Hoogie's success can be put down to his mother and father in more ways than nature. Astrid van den Hoogenband, who was coaching the Dutch team in the mid-1990s, was frustrated that Dutch swimmers with potential had so little support. Cees VD Hoogenband, connections in many fields including soccer, in the phone book, made some calls, to cut a long story short. He created a small swim foundation and signed up 20 initial sponsors who each paid $2,500 to fund a coach. The initiative would lead to contracts for the Dutch team from Philips, Speedo and others, while the money stretched to opening a swim school in Eindhoven.
Meantime, Van den Hoogenband was impressive at 15 – with medals at the European Youth Olympics held in Eindhoven – and at 16, when he became the first boy to win the 100m, 200m and 400m European junior titles. Frustration followed with fourth-place finishes in the 100m at the 1995 European Championships and the 100m and 200m at the 1996 Olympic Games in Atlanta, before he obtained a bronze in the 200m freestyle at the 1998 World Championships in Perth.
His big breakthrough finally came in 1999 in Istanbul: he defeated Popov in both sprints, his 48.47 victory in the 100m faster than Popov or Matt Biondi (USA) had ever swum in championship conditions.
Bronze in the 50m freestyle at Sydney 2000 made Hoogie only the second man ever – after Biondi in 1988 – to make the Olympic podium on all distances from 50 through 100 to 200m.
Beyond back surgery, Van den Hoogenband took silver in a 2007 world-title 200m freestyle final won by Phelps in a 1:43.86 that felled Thorpe's world record. Beijing was Hoogie's swansong in fast water.
Van den Hoogenband married Minouche Smit, a former Dutch international. They have a daughter Daphne (born 23 June 2007) and a son Sander (born 13 September 2009). In September 2012 the couple announced their separation.
Four years on from Sydney 2000, Van Den Hoogenband traded places with Thorpe in the 200m freestyle at Athens 2004 as the Australian claimed a magnificent middle-distance double. Over 100m freestyle, however, the Eindhoven Express retained the crown in a scotching battle with Roland Schoeman:
Pieter Van Den Hoogenband – 100m defence: