Swiss Investigators Open File On Allegations Of Financial Irregularity At LEN; Bureau Warned Of Repercussions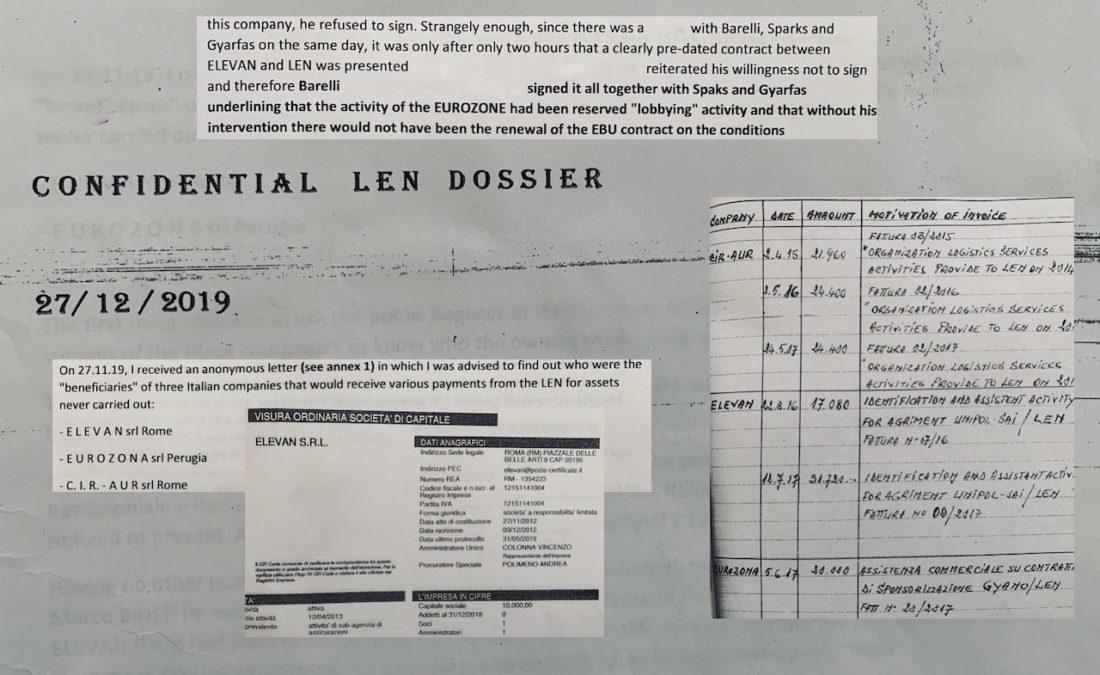 Leaders at the European Swimming League (LEN) and its domestic-member federations have been warned that they could be held liable under Swiss federal law if they are found to have ignored allegations of financial irregularity at the continental federation, which they were made aware of last December.
The cautionary note is laid out to members of the LEN board (the Bureau) in a letter from honorary member and former President of the European Swimming League Bartolo Consolo after he attended a meeting with Fraud and Money Laundering Department investigators of the Swiss Criminal Prosecutor's Office of the Canton Vaud, held a police headquarters in Nyon, Switzerland, last Tuesday.
On the table were documents that Consolo, current president of Swiss Swimming and LEN Life Honorary President, sent to leaders at LEN last December and governors at FINA in March naming companies paid for work by the European federation without the approval or knowledge of the board of the continental organisation, barring three officers who are also members of  the ruling Bureau of FINA, the global regulator for aquatic sports, as revealed in an investigation with The Sunday Times, the Australian Daily Telegraph and the Frankfurter Allgemeine Zeitung in May.
Leaders at the European Swimming League (LEN) and its domestic-member federations have been warned that they could be held liable under Swiss federal law if they are found to have ignored allegations of financial irregularity at the continental federation, which they were made aware of last December.
On the strength of Consolo's efforts, submissions and clarifications – information that was largely known to the members of the LEN board last December – the Swiss Prosecutor has opened a case file and will start to call witnesses to account from the end of this month.
That will bring to three the number of official investigations opened into the allegations of financial irregularity at LEN, including inquiries by the Public Prosecutor's Office of the Italian Swimming Federation and by the Italian Olympic Committee (Ethics).
The Swiss city is home to LEN, one of 38 International sports federations, including the International Olympic Committee (IOC) and FINA, the global aquatics regulator, based in Switzerland and subject to Swiss law.
In an update sent to the LEN board yesterday, Consolo, a lawyer by profession, states that at his meeting with investigators left him in no doubt:
"At this stage, I must mention, that any Bureau member (or person) that is aware of the accusations but opts to ignore them, could also be held accountable under Swiss law.
Former President of LEN and an honorary member of the top tables of both the European and global (FINA) governing bodies for aquatics sports, Consolo's investigations following a tip off from a whistleblower last autumn, led to allegations that Paolo Barelli, the Italian President of LEN, kept secret from fellow Board members at LEN and the European Broadcast Company the existence of companies and payments to those companies made for 'consultancy' and other work.
Barelli has denied any wrongdoing. He explained to members of the LEN Bureau at a meeting in January that he had invested significant resources of his own – in money, time and through the use of his private offices and those of the Italian swimming federation (FIN) that he has led for the past 20 years – in lifting the European body out of a financial hole to robust economic health through partnerships, sponsorships and selling broadcast rights.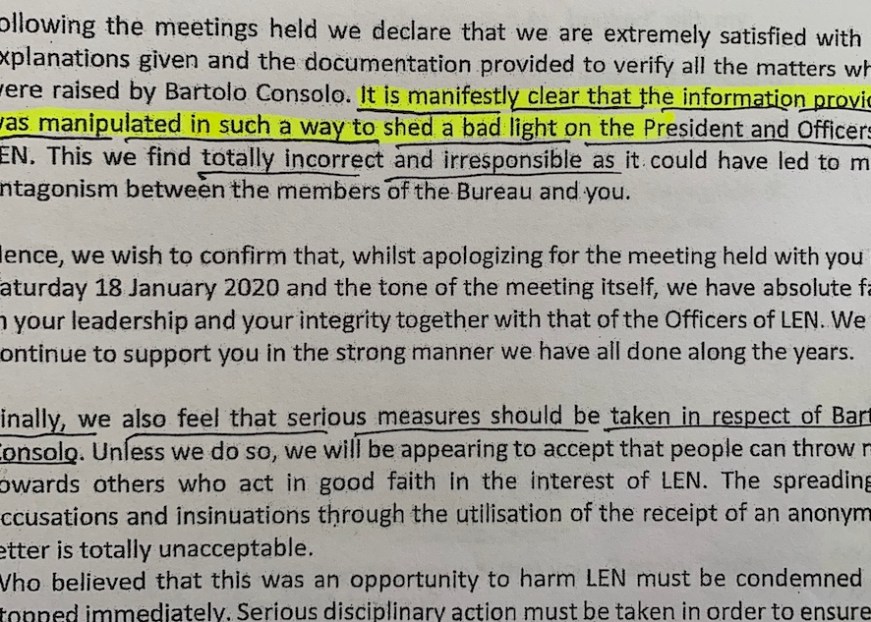 It was, therefore, only right that Barelli should seek compensation and return on his investment, the incumbent LEN President argued. Consolo responded by writing to board members to remind them that there were proper mechanisms for submitting expenses and gaining authorisation and that the nature of the companies in question, their ownership and payments made to them by LEN needed further investigation.
Six Bureau members not only accepted his explanations and apologised to Barelli for questioning him during a meeting held on January 18 this year but rejected calls by Consolo to hold an independent inquiry, accused him of "throwing mud" at LEN and its leadership by raising matters that were held up in a "totally incorrect and irresponsible" way and called for "serious measures" to be taken against him.
It will now be for state investigators to decide where truth and justice rest.
Consolo's efforts to have the matter dealt with internally resulted in "me finding myself in a place I never thought it possible to be in all my years in sports leadership". Contacted by Swimming World for comment, he said:
"Suddenly, I was the problem because I had raised these serious issues. I was encouraged to back down, I faced threats to have me removed from my position, not allowed to attend meetings."
As head of the Swiss federation, Consolo is directly answerable under Swiss law if he suspects and then wishes to raise allegations of financial irregularity. In the wake of the FIFA scandals and other financial scandals in world sport, Switzerland has tightened its laws and regulations on fraud related to sporting organisations.
An Italian citizen, Consolo said that he had made serious efforts to persuade the LEN board to further investigate the companies and payments at the heart of his concerns but had been "deeply disappointed and saddened by the response I got". He told Swimming World:
"I had no choice but to follow my responsibility in law. I could not just ignore this. We need explanations for such things: what are these companies, who do they belong to, what were those payments for, who authorised them."
That meant filing his concerns with the relevant legal authorities, namely the offices of the criminal prosecutors of Switzerland and Italy, as well as the Ethics Panels of CONI, the Italian Olympic Committee, and FINA.
The first three authorities have all opened case files on Consolo's submissions, while FINA has yet to send an official reply to the Honorary member who heads Swiss Swimming and reported to the global governor for swimming back in March. Just as leaders at LEN are answerable to Swiss authorities, so too are top officials and members of the FINA Bureau.
Officers Of LEN And FINA
Those at the heart of the inquiry into allegations of financial irregularity are senior officers not only at LEN but FINA. Barelli is a vice-President of FINA, while, according to Consolo, two other members of both the boards of LEN and FINA, Britain's David Sparkes and Hungary's Tamas Gyarfas, are co-signatories with Barelli to a percentage-fee agreement with a company called Elevan, which is said to have acted as an agent charged with raising the value of broadcast rights secured with the European Broadcast Union.
The key issues with that agreement are that no other members of the LEN board knew about the existence of Elevan nor any agreement with it, while the EBU has stated that did not work with third parties and that all negotiations with LEN were direct between the directors of the federation  and the EBU.
At the time the Elevan agreement was formed, all three LEN officers were heads of their national swimming federations: Barelli was (and remains) president of the Italian federation, Federnuoto; Gyarfas was, but no longer is, President of the Hungarian swimming federation, and Sparkes was the paid Chief Executive Officer of British Swimming but stepped down from that role in 2017, a move that cleared his way to joining the FINA Bureau (paid national-federation directors are excluded from eligibility to the top table of FINA).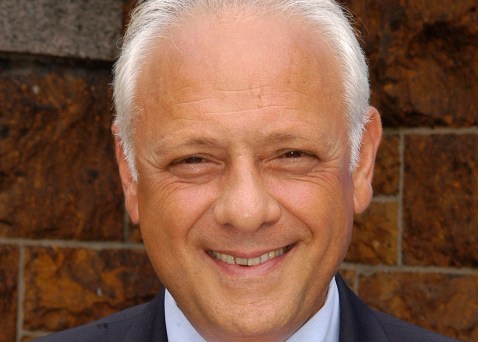 All three men and others connected to the organisations they represented at the time could be called to provide witness to the Swiss investigation. In his letter to LEN-member European swimming federations, a copy of which was obtained by Swimming World, Consolo notes:
"Considering that the legal seat of LEN is in Nyon, Switzerland, Swiss Federal Law applies to LEN. The allegations brought forward in the documents, if proven true, are considered an official crime under Swiss law. The Swiss legal system is currently very active in prosecuting possible breaches of Swiss laws. This is due to the damage to the image of Switzerland in the world brought on by International Sporting Federations like FIFA (Sepp Blatter and Gianni Infantino), IHF, AIBA and others that have their headquarters in Switzerland. The Swiss law has even been amended by an article concerning embezzlement and financial wrongdoing by International Sporting Federations (Lex FIFA).

"This means that I had to take action, both as a Swiss citizen, and as a member of the Bureau of LEN. Had I chosen not to, I could be prosecuted myself for withholding evidence. This would be catastrophic for me and also for the Swiss Swimming Federation."
After noting the sequence of events that led to him taking matters beyond the European league, Consolo writes:
" … according to Swiss law such accusations must be officially investigated. Therefore, not wanting to end up as the only culprit, I had no other choice than to hand over the documents to the prosecutor general. Now it is up to the Swiss legal system to investigate and to decide. I believe this is also in the interest of LEN to secure its international credibility."
It is at that stage that Consolo issues his warning:
"At this stage, I must mention, that any Bureau member (or person) that is aware of the accusations but opts to ignore them, could also be held accountable under Swiss law.

I hope that these explanations will help many of you, by thoroughly assessing the facts, to understand the actions linked to them. I also hope that you will share my effort to bring transparency, clarity and new enthusiasm to LEN and the European Swimming Family."
The first witness to be called by the Swiss investigators is Paulo Frischknecht, the former Director of LEN. Of Swiss and Portuguese descent, he is obliged to hand over any documentation and information relevant to the case if required to do so. Frischknecht said in May that he would cooperate with authorities if called to do so.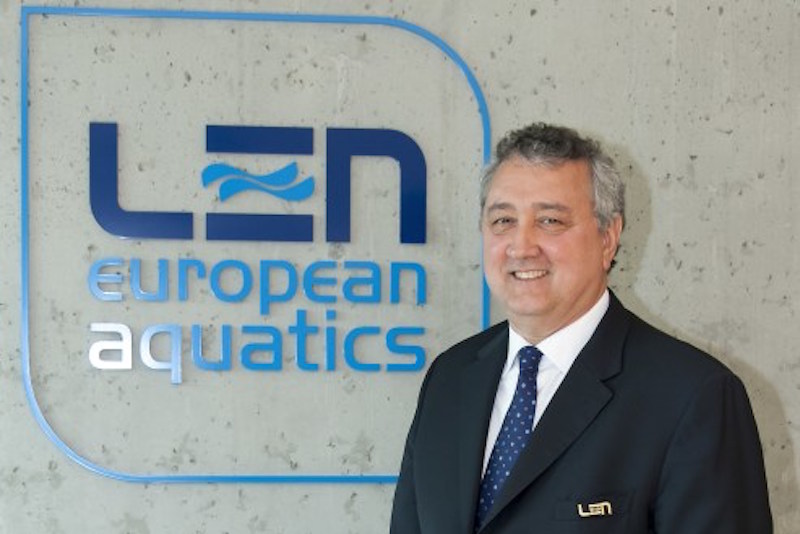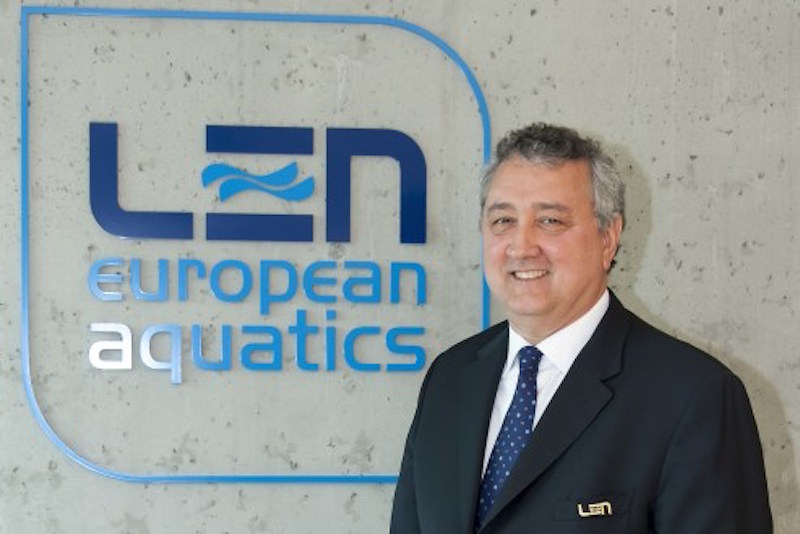 Registered in Italy as an insurance company, Elevan also received fees in 2016 and 2017 for "identification and assistance activity" related to a lucrative LEN sponsorship deal with insurer UnipolSai, records sent to prosecutors show.
The documents now with investigators also point to a support package to LEN of 850,000 euros from UnipolSai, which threw a lifeline to the European federation at a time when Barelli was leading efforts to get the European aquatics federation out of a financial hole.
Part of those efforts included revenue from rights to broadcast swimming and other aquatics sports on television. LEN's contracts with the EBU run to more than 13 million euros since 2013.
Elevan is one of three companies at the heart of the allegations of financial irregularity that only Barelli, Sparkes and Gyarfas, who runs the FINA Aquatics magazine, appeared to know about within LEN, former directors of which have indicated to Consolo they knew nothing about.
Between 2014 and 2017, fees were allegedly paid to two other companies, CIR-AUR and Eurozona, both registered in Italy as property companies, in a string of payments worth between euros 20,000 and 24,400 for "organization logistics services activities" and "commercial assistance". CIR-AUR is majority owned by Barelli.
Gyarfas, meanwhile, awaits further hearings in a trial in which he stands accused of ordering the murder of businessman Tamás Portik in Hungary more than 20 years ago. He denies any wrongdoing. The prosecution in the case, opened in February this year, will call 52 witnesses and rely on "documents, experts and, most importantly, audio recordings recorded by the former between Tamás Portik and Tamás Gyárfás".
L'Expresso: Links To Florida Among Companies At Heart Of Allegations Of Financial Irregularity
Last month, the Italian weekly magazine L'Espresso followed up investigations into allegations of financial irregularity at LEN by Times, Telegraph and FAZ reporters with a deep look at the companies at the heart of the allegations now before legal investigators and ethics panels. Journalist Vittorio Malagutti stated that companies close to Paolo Barelli had also signed contracts with the Italian Swimming Federation. Malagutti wrote:
"… for some months now, the 66-year-old, who has spent life between swimming pools and politics, first as an athlete then as a sports and parliamentary manager, has been forced to swim against the current. A bad history of assignments and consultations follows him. Money given by LEN to companies dangerously close to him.
Barelli, asked by L'Espresso to comment, said: "There has been an internal audit and LEN has taken note of the investigation's assessments."
However, Malagutti then notes: "… that story seems far from closed … Internal FIN documents and corporate accounts describe a long business trail that goes all the way to Florida, the United States, and finally leads to Italy. Procurement, sponsors, consultancy: a pinwheel that has awarded a few lucky ones close to the great head of national swimming, a money machine that can count on around 180 thousand members and boasts a budget with revenues of over 40 million EUR, of which a third, through the CONI (Italian National Olympic Committee) comes from public contributions. Only football, of all the Olympic sports, can count on more substantial state funding than those earmarked for FIN."
The story behind allegations of financial irregularity "is complicated and unfolds over several years", L'Espresso writes.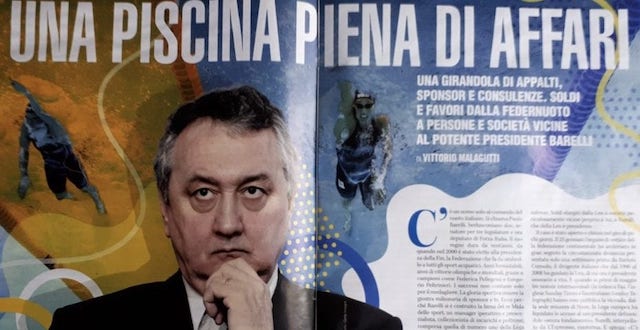 Malagutti starts with Eurozone, "a tiny company based in Perugia". He notes :
"On 3 October 2016, the FIN board chaired by Barelli gave the go-ahead for a contract that entrusts the Umbrian company with the search for new sponsorships and the management of relations with suppliers. The contract is worth €35,000 a year, to which any commissions should be added in the event of agreements with new commercial partners. A year later, as revealed by the papers filed in the complaint submitted to LEN, the Eurozone itself collected €20,000 as compensation "for commercial assistance" in a sponsorship contract for LEN led by Barelli. A great start, if you consider that the Perugia company, a limited liability company, was born only in March 2015 with a paid-up capital of €2,500."
Almost all (97%) of the capital of Eurozone, Malagutti reveals, is provided by Prime International Consulting, based in Miami, Florida and the property of Italian Mattia Fella.
In 2018, one of his daughters, Cristina Fella, was hired by the Italian swimming federation following an unpaid internship.
Malagutti names others said to be "closely associated" with Barelli. One of them is Giuseppe Leoni, who was on FIN's payroll with a consultancy contract that expired at the end of June this year. L'Espresso notes:
"In 2011, Leoni created a property service company in Miami named Miami Global Service. And his partner in this initiative was Fella. Now Leoni is the sole administrator of a small Roman company, Punto Sport. Here the circle closes because Punto Sport is 90 percent controlled by Barelli. In the shareholders' register, with a 10% stake, the other shareholder is Antonio De Pascale, Federal Councilor of FIN. Punto Sport has an established sports center in Rome, in the Portuense district, the Villa Bonelli sporting center, with a swimming pool and gym not far from the Aurelia facility, the historic Capitoline swimming club founded by Barelli in the 1980s."
Cutting a long story short, an agreement is signed with Eurozone in October 2016. A year later, "the public company Terna, listed on the stock exchange, financed a part of the national swimming youth team with €70,000 and the Fella company is paid a commission of 20 percent (€14,000) on the value of this contract", writes Malagutti.
After Italian swimmers celebrated a fine result at the 2017 World Championships in Budapest, a dinner for 600 guests is held on September 23 that year to honour the success. The organiser is Eurozone, assigned the dinner just five days before it was held. The costs allocated are €70,000. The exercise, Eurozone in charge, is repeated in 2018 and 2019, with respective figures of €76,000 for 650 guests and €83,000 for 550 guests.
Malagutti also notes that CIR-AUR is 80% owed by Barelli and headed by De Pascale:
"Between 2014 and 2016 CIR-AUR, an acronym for Costruzioni Immobiliari Romane Aurelia, has issued invoices to LEN for approximately €70,000. At that time Barelli was already at the top of the Continental Federation and therefore, in practice, he would have given green light to payments to himself. Another fact should be noted. The sole director of CIR-AUR is Franco Concordia, aged 83. The same Concordia who in 2020 is a consultant to FIN with a contract signed by Barelli himself, this time as federal president.
On the role played by Rome-based company Elevan, headed by Andrea Polimeno, "an insurance agent who has long been in excellent relations with Barelli", writes Malagutti . L'Espresso's report notes:
This time the payments, about €48,000, would have been the compensation for the assistance activity in the sponsorship contract stipulated by Len with the Italian insurance group Unipol Sai, a contract that is worth €850,000 for the period 2016-2022. Not just that. Elevan would also have participated as a consultant in the negotiations for the sale of television rights on swimming competitions."
It is not clear whether the money assigned by agreement actually made it to Elevan. The investigation into allegations of financial irregularity will consider that and other agreements, payments and transactions.