Swimming Mourns Loss Of Professor Malcolm Cameron, Pathologist & Mastermind In Fight For Clean Sport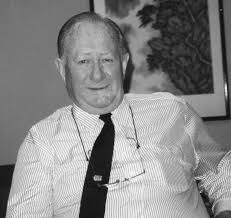 Obituary – from the Craig Lord archive – June 15, 2003 – James Malcolm Cameron, a professor of forensic medicine at the University of London, pathologist and head of swimming's Medical Commission, died at his home in Kent yesterday (Saturday) at the age of 73.
During his time as professor of forensic medicine at the University of London, Professor "Taffy" Cameron became a leading campaigner in the fight against doping in world sport.
As head of the Medical Commission for the International Swimming Federation (FINA), Cameron was the man behind the downfall of Michelle Smith de Bruin, the Irish swimmer who won three Olympic titles in 1996 but was subsequently suspended for four years after tampering with an anti-doping test sample. 
A leading international forensic scientist who played a pivotal role in the 1980s Australian court case in which a dingo was said to have carried off and eaten a baby girl and who worked with the team that identified the Turin Shroud, Cameron was one of the key brains behind the undoing of a generation of cheats in swimming.
Drawing on his experience of criminal investigations, Cameron believed that testing competitors after races would no longer catch the serious cheat. Instead he sent out-of-competition testers to test swimmers when they least expected a knock at the door.
It was he who advised doping testers to meet the Chinese national swimming team a month after the World Championships in 1994 as they arrived in Japan for the Asian Games; and it was he who, at the suggestion of two swimming journalists, advised testers to arrive at the home of Smith-de Bruin in Ireland on that fateful January morning in 1998 when the rest of the elite swimming community was gathered for the World Championships on the other side of the world in Perth, Western Australia.
The sample collected was found to contain such a high concentration of whiskey that Professor Cameron and his medical commission adduced that had the drink passed through the swimmer's body naturally, it might have caused her death by alcoholic poisoning.
The world body suspended Smith-de Bruin for "tampering" with her doping test sample, an offence considered as severe as the taking of banned substances themselves. In the subsequent appeal case before the Court of Arbitration for Sport (CAS) in Lausanne, it emerged that, despite the whiskey and pursuit of 'manipulation' as the anti-doping offence, a precursor of an anabolic steroid had been traced in Smith's sample.
After this author broken the story of Smith de Bruin's impending brush with anti-doping rules in 1998, Professor Cameron received a warning from FINA director Cornel Marculescu, the Romanian having falsely suspected that the British scientist had told me that the Irish swimmer was heading for trouble. He did no such thing.
Any who knew Professor Malcolm Cameron as the crusader for clean sport he was, would also know that the Prof was a Pro with a twinkle in his eye: a man who knew he could not break confidences, he would answer direct questions with a Shakespearean quote – the rest was up to you and what you might make out of it from the resource of your own brain and knowledge.
Professor Malcolm Cameron: Already Much-Missed
One of the architects of international swimming's anti-doping rules, considered to be among the world's toughest, Cameron, known affectionately as "Taffy" to friends in sport, earned widespread respect from peers, coaches, bureacrats and swimmers alike. His days as a young rugby player helped to mould a strong sense of right and wrong. 
Two weeks before he died, he was inducted into the International Swimming Hall of Fame (ISHOF) in Fort Lauderdale, Florida, for his outstanding contribution to helping to make swimming a drug-free sport.
Cameron wrote several leading papers on drowning immersions and anti-doping procedures. After graduating from Glasgow University in 1952, he worked tirelessly for drugs-free sport. He was a member of FINA's Doping Doping Review Panel since 2000, a member of the International Olympic Committee's working group on harmonisation of doping rules" a member of the Council of Europe's Anti-Doping Monitoring Group between 1990 and 2000.
While honorary medical officer (1976-2000) for one of Britain's oldest and most successful swimming clubs, Beckenham in Kent, and the Kent County Amateur Swimming Association, he wrote the book of his club's history.
Until 2000 he served as the honorary medical officer of the Amateur Swimming Association and Amateur Swimming Federation of Great Britain. He was a member of the Medical Advisory Sub-Committee of the British Olympic Association since 1976 and a member of the Drug Abuse Advisory Group of the Sports Council since 1988. His contribution to anti-doping rules earned him the highest administrative honour in world swimming, the FINA Gold Pin.
During a long and illustrious career in pathology, Cameron was appointed emeritus consultant to the British Army in forensic medicine and also served as honorary civil consultant to the Royal Navy and Royal Air Force. He was a Director of the Department of Forensic Medicine at the London Hospital Medical College (1970-1992) as well as honorary consultant to the Royal London Hospital (1967-1992). He was the past president (1978) and general secretary (1970-1985) of the British Academy of Forensic Sciences, serving as editor (1969-1995) and consulting editor of Medicine, Science and the Law from 1995 onwards. He was a past president (1985-1987) and a member of Council of British Association of Forensic Medicine. 
Internationally, he served as the Honorary Professor in Forensic Medicine in the China Medical University, Shenyang, in China since 1988 until his death. In 1993, he was a Bleasdale Memorial lecturer in Kyoto, Japan.
Through his work in pathology, Cameron was a member of 25 learned societies including the British Association of Forensic Medicine (president 1985-1987), the Association of Police Surgeons of Great Britain and the International Society for Prevention of Child Abuse and Neglect.
Cameron worked on cases that included the official British autopsy of Rudolf Hess in 1987.
Cameron, who served as professor of forensic medicine at the University of London from 1973 until 1992, performed the first post-mortem on Hitler's former deputy after he was found unconscious in the grounds of Spandau prison in 1987. The full report was not published, but his conclusion was that the main cause of death was choking. Although the examination took place in the presence of British, French, American and Soviet officials, his conclusions were challenged by Hess's family.
Cameron was the prosecution's forensic specialist witness in the case against Lindy and Michael Chamberlain, the Australians charged in connection with the disappearance of their daughter Azaria near Ayers Rock in 1982. The couple were convicted and subsequently exonerated by the Northern Territories Court of Appeals. The case was depicted in the 1988 film, "A Cry in the Dark", starring Meryl Streep and Sam Neill.
Professor Cameron's wife, Primrose, died in 1999. They are survived by their only daughter.
Added, January, 2004: Peer tributes to Professor Malcolm Cameron
Related: The next open hearing of a swimmer facing an anti-doping case at CAS – Sun Yang