Swimming Mourns David Wright, Kiwi Coach & SwimWatch Scribe Who Called Out The Wrong Of Governors Failing Athletes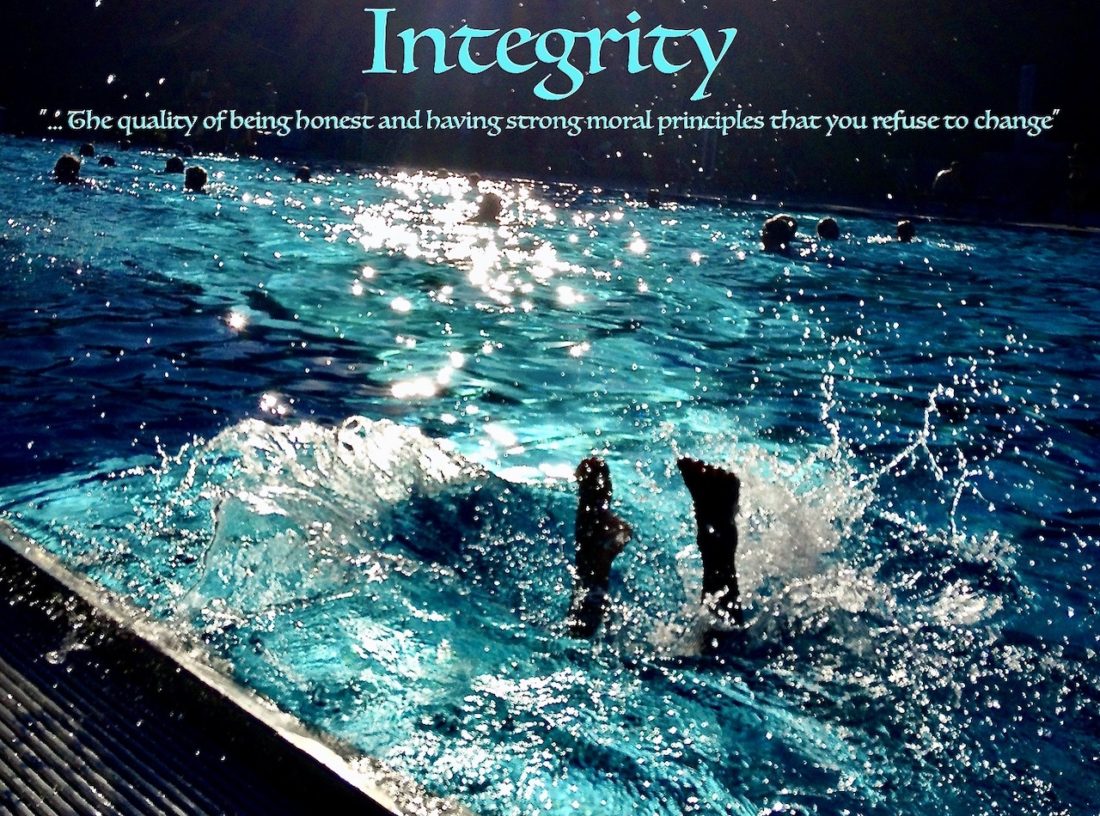 David Wright has passed away after a struggle with illness, and, under such sad circumstances, one might expect all of New Zealand Swimming (and many beyond) to mourn.
Some may not, David, coach and a Cassandra for his sport, having held their feet to the fire at his SwimWatch International blog. Here at State of Swimming, we mark his passing with a simple tribute in honour of the key role he played in holding governors to account for their failures as guardians and gatekeepers of athlete interest and welfare.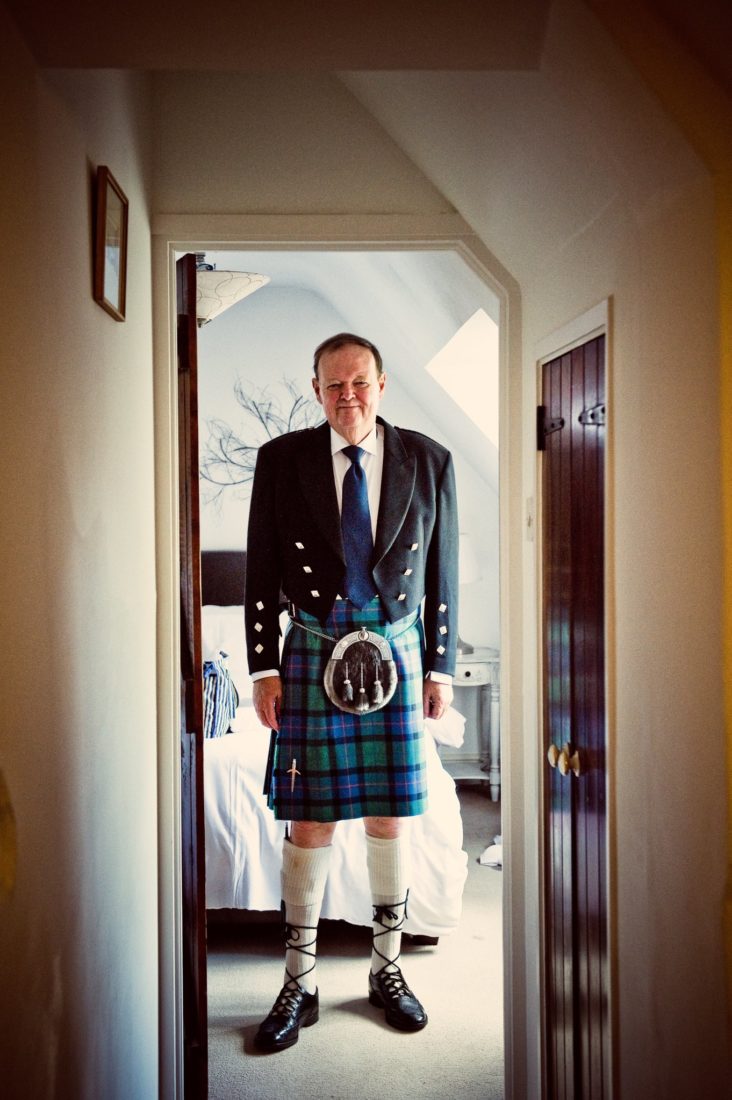 Myriad were the issues David Wright took up with the powers that be in New Zealand but if one stood out as representing the reason why he ploughed time and energy into SwimWatch and why his work spoke to the desperate need for the eye of Cassandras on the water in the best interests of athletes, it was the case of a world record set in circumstances – through no fault of the athlete – that ought never to have been, rules and safety standards ignored, truth denied and those who told it told they were wrong to do so when clearly they were right.
David Wright, who will also be remembered for his work with athletes down the decades, was the man who raised the flag.
Back to Kiwi National Short-Course Championships, 2014. Lauren Boyle broke a world s/c 1500m freestyle record: 15:22.68, August 9. Terrific swim and no aspect of it raised any concern as far as the athlete, her achievement and her world-class capacity were concerned.
She not only set a high standard in the pool that day, however: she set a standard of competence and behaviour that governors fell well shy of. The Wellington pool, as Wright noted correctly, had been set up in a way that broke FINA's Minimum Pool standards in its Facilities Rules. 
That's to say: a whole national championship unfolded in conditions that broke rules written by safety experts and put in place with athlete safety and welfare in mind. The guardians of swimming and swimmers knew it but turned a wilful blind eye. Let that sink in.
The Wellington pool was shallower than the required FINA Minimum Standard Pool rule that is made obligatory in more than one place in the FINA rule book, including a World Record Application Form that called, and still calls, on the referee or other official to confirm that "All FINA Rules" were complied with when the new standard was set.
Critical to note: minimum pool depths are set because everyone, from athletes to learn-to-swim kids can (and have) suffer(ed) broken teeth, cracked heads and, worst of all, life-changing and life-threatening head and spinal injuries. Experts set the limits with such athlete-safety measures in kind.
New Zealand Swimming signed the World record form knowing that Facilities Rules had not been upheld, while FINA backed the domestic federation by ratifying the record and issuing the following reply to this reporter: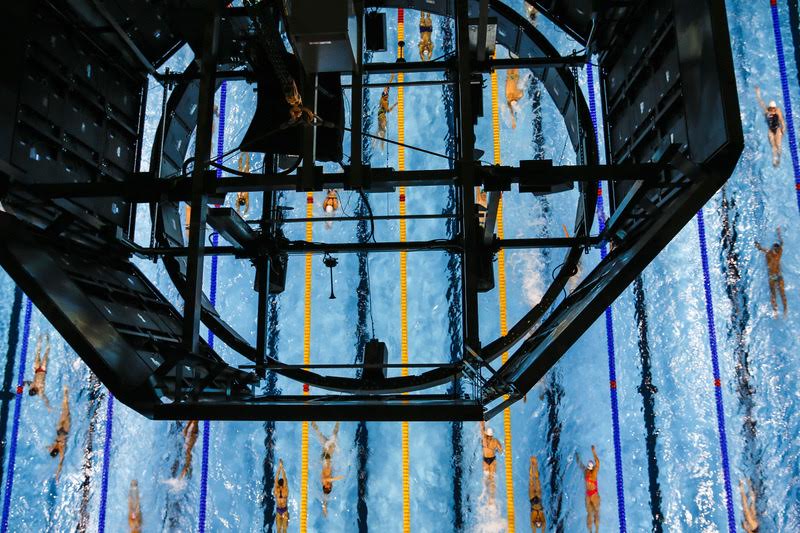 "…there is no specific requirement concerning the depth of the pool when considering the application for a World Record."

SwimWatch put governance under the spotlight – Photo by Patrick B. Kraemer
Well, clearly that could not be right, given that Facilities Rules include stuff like the length of pools, the definitions of long- and short-course, the width of lanes, the height of blocks and other matters of standardisation absolutely critical to the measurement and ratification of World Records.
So, I tried again, asking: "… how would it be possible for any event at which a world record is set to overrule minimum FINA standards on facilities… ". The reply came back that the powerful Technical Swimming Committee, of which USA Swimming's long-time member Carol Zaleski is chair, had dismissed the need to follow facilities rules designed to ensure athlete safety, noting: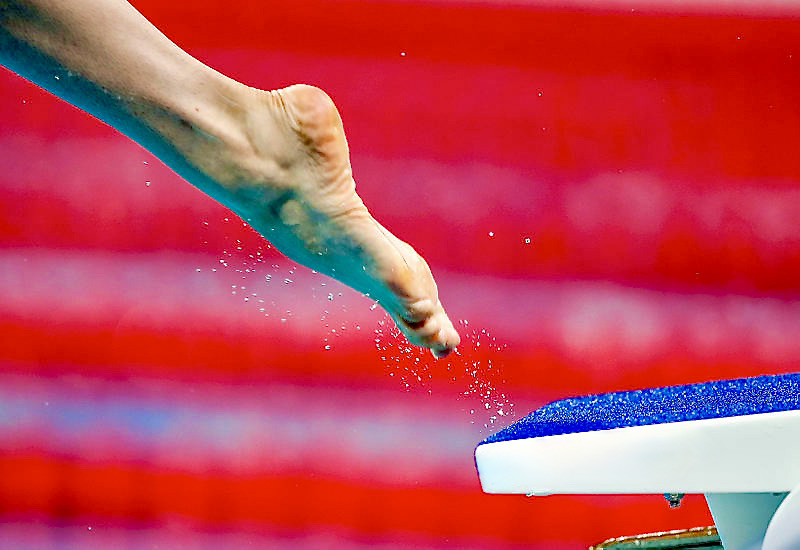 "…the TSC also confirmed the application from New Zealand, specifying that there is no specific requirement for depth in the WR procedure".

Photo: Red warning on the water – by Patrick B. Kraemer
Absolute codswallop, of course. A case of interpreting the rules to whatever warp you want if the rule doesn't suit the hour. Three years on, in 2017, I asked the FINA Athletes' Commission, headed by double Olympic champion of 1996 Penny Heyns, to take a view on whether Facilities Rules are a part of the "All Rules" that must be observed for World-record ratification. Their reply: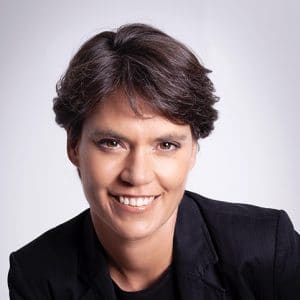 "Regarding the facility rules and world records – as far as we know the facility rules do apply when a world record is set."

Penny Heyns – Photo courtesy of A-Speakers
Correct. Penny and fellow athletes, having existed in a culture that expected them to represent the organisation ahead of athletes, could hardly have thought otherwise. Here's another reason why, unless my eyes deceived me… straight from the FINA rule book:
"All other events held under FINA rules should be conducted in pools that comply with all of the minimum standards contained within these Facilities Rules."
That would include the national Championships of all member nations, New Zealand included.
It was clear what FINA, then led by friend-of-Putin Julio Maglione as president and Cornel Marculescu as director, should have done: uphold the record, given that the athlete was not at fault nor was anyone injured that day, and then slap the New Zealand federation with a warning and penalty to send the right and critical message to every federation.
Namely: we, the guardians of aquatic sports at the heart of the Olympic Movement and signatories to the Olympic Charter, will not tolerate anything that places athletes at risk; we will enforce our rules, particularly rules designed to ensure safe and fair play in a way that let's every parent in the world place their trust in the old adage: 'Come on in, The Water Is Lovely', clean, safe, our sport a place where integrity and athlete welfare are paramount.
That New Zealand Swimming and FINA made the mistakes they did make is one thing; the attempt to dismiss Wright's intervention and the red flags of others who asked questions as the work of trouble causers shames each and every one of those involved.
This day, swimming has lost one of its Cassandras. That's no small thing given the trail of woe in the water far and wide, from Deena Deardurff Schmitt, an Olympic champion 50 year ago at Munich 1972 when already a victim of abuse at the hands of a coach honoured yet by the International Swimming Hall of Fame, all the way through the GDR era of legion denial and damage, on to the ultimate sorrow of the sport, the death of Fran Crippen, and the harm inflicted in the Sun Yang cover up.
Different people have different roles to play in the guardianship of athletes and sport and advocacy for athletes and their best interests. David Wright played his part by refusing to give way, by insisting on raising a red flag when one was needed.
In her brilliant book "Wilful Blindness" (nothing and everything to do with sport), Professor Margaret Heffernan pens a chapter on "Cassandra". She writes: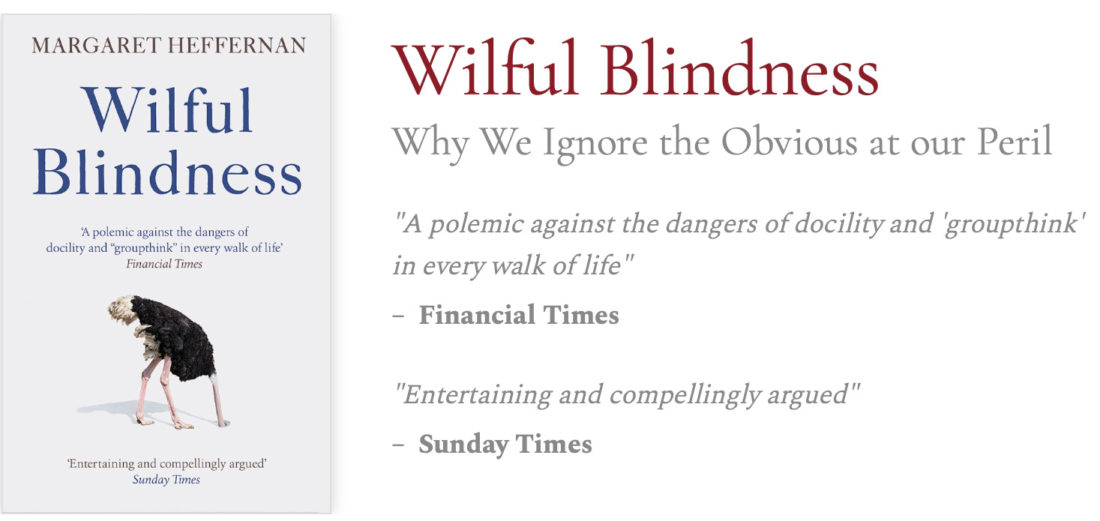 "The world is full of Cassandras, individuals whose fate it is to see what others can't see, who are not blind but compelled to shout their awkward, provocative truths. That's why, after any industrial or organizational failure, individuals inevitably surface who saw the crisis coming, warned about it, and were mocked or ignored."

Wilful Blindness – by Prof. Margaret Heffernan
Sound familiar? Well, it was familiar to David Wright.
RIP David. Swimming will miss you, whether it knows it or not.
David Wright is survived by his daughter, Jane Copland, a New Zealand international in her racing days – and, like her dad, a writer. Sincere condolences to Jane and her family.