Swimming Australia Plunged Into Crisis Over Details Of Shocking Abuse Report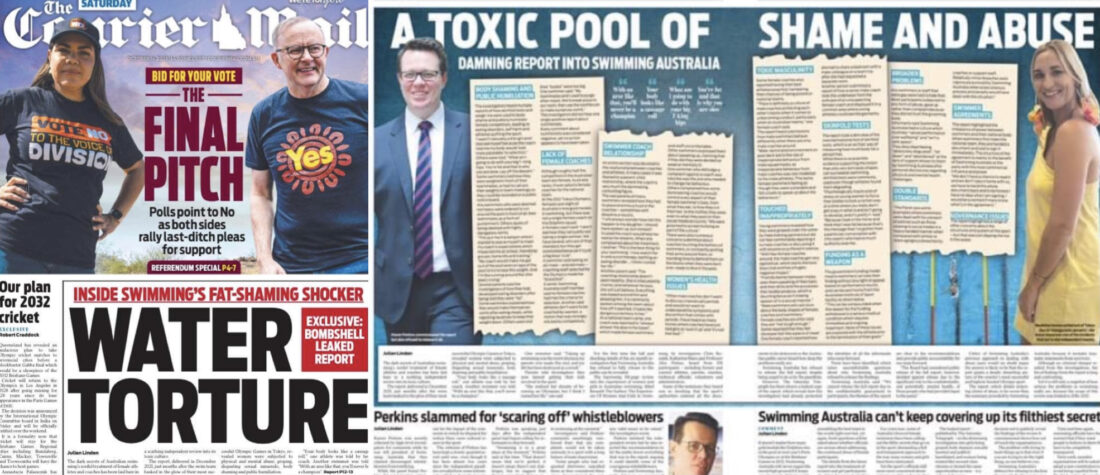 There are two types of 'Voice' being heard this day in Australia: the one over which the nation will vote on whether native Australians will be guaranteed a say in Government, and the one in which the voices of female athletes have plunged Swimming Australia and Australian swimming into crisis this morning.
The shocking details of an independent report into abuse of female athletes that the national aquatics federation refused to publish today makes the front pages of some of the biggest newspaper titles in Australia alongside the biggest vote the nation has faced on the meaning of voice and who has the agency and status to have their's heard.
The swimming-abuse report, which led to an apology from Swimming Australia, had been stamped "confidential" and the detailed accounts of whistleblowers and whistleblowers were even reported to have been shredded in an effort to safeguard the identities of those revealing their experience to the inquiry.
However, that reasoning was no impediment to the revelations in Australian newspapers that do not name anyone who did not name themselves or wish to be named in the articles penned by reporter Julian Linden.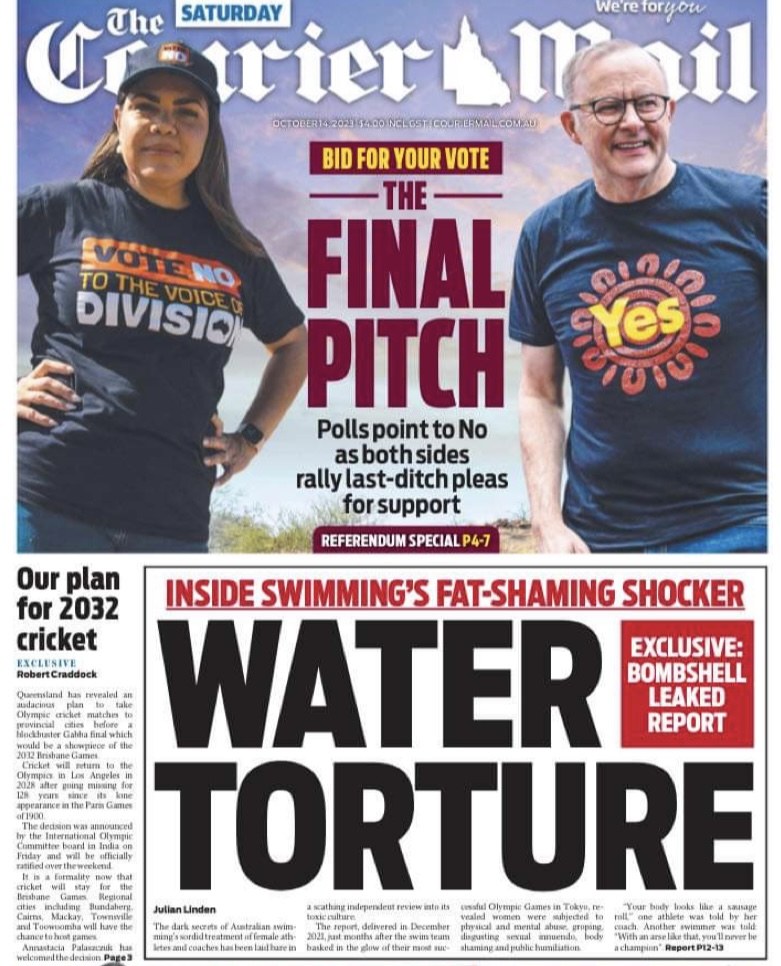 Linden's report exposes the detail of the review into the experiences of female athletes in swimming. The articles described "the harrowing stories of physical and mental abuse, body shaming, and humiliation" and "the dark secrets of Australian swimming's sordid treatment of female athletes and coaches".
The news broke in News Corp newspapers The Courier Mail and The Saturday Telegraph on the eve of a vote in which state federations and other affiliates of Australian swimming are reported to be ready to tell World Aquatics that they will accept some but not all of the constitutional changes that global regulator is demanding on threat of membership suspension for the No1 women's swimming nation in the world.
The independent report, delivered in December 2021 just months after the Dolphins delivered Australia's most successful Olympic swim campaign in history at Tokyo 2020ne, reveals that women were subjected to "physical and mental abuse, groping, disgusting sexual innuendo, body shaming and public humiliation".
A few lines from the report:
"Your body looks like a sausage roll," one athlete was told by her coach.
Another swimmer was told: "With an arse like that, you'll never be a champion."
The culture was so bad one elite swimmer wishes she never took up the sport.
"Taking up swimming was the worst decision my parents ever made (for me), and my life has been destroyed as a result of it."
Parents, too, told investigators they now lament getting their kids involved in the sport.
"She realised her dreams of becoming an Olympian, but I think I ruined her life."
The 114-page review titled "Beneath the Surface: The experiences of women and girls in swimming", was compiled by investigators Chris Ronalds, Katherine Bates and professor Alex Parker. They heard from 158 participants, including former and current athletes, parents, coaches, technical officials, volunteers and administrators.
Citing the leaked report, Linden reports: "Some of the testimony they heard was so shocking that the sport's authorities ordered all the documents to be destroyed so the Australian public never heard how deep the problems really are."
In a statement issued to News Corp, Swimming Australia explained its decision not to publish the report: "We cannot release the full report due to the confidentiality guaranteed to participants, the themes of the report are clear in the recommendations and provide public accountability for our steps forward.
"The Board had considered public release of the full report, however, decided against release due to the significant risk to the confidentiality, and potentially mental health, of those people who had provided input to the panel."
Australia Swim Legend Perkins Responds To View That His Worlds 'Discouraged Whistleblowers'
Kieren Perkins was the man in the hot seat as president of Swimming Australia at the time of the report but today, News Corp reveals that he was secretly criticised by investigators for comments which they claimed discouraged whistleblowers from testifying to the review into allegations of abuse.
Linden writes: "While the panel found Perkins did not intend to intimidate potential witnesses, Australia's highest-ranked sports official was still singled out for the impact of the comments in which he disputed the notion there were cultural issues in the sport."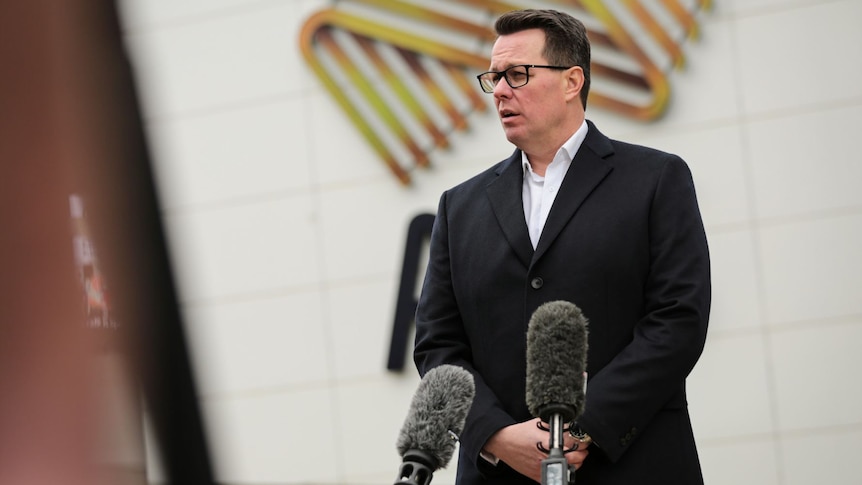 However, statements such as this from Perkins were likely to discourage some women from coming forward with information critical to the review: "Swimming is in a great place at the moment. That doesn't mean that we're perfect, it doesn't mean there's not challenges, but to suggest that there's some kind of deep endemic issues is miles away from the mark … I defy anyone to suggest there's a cultural issue in swimming at the moment."
Perkins said in a statement to the Australian papers: "I 100 per cent stand by the decision to not publish the report in full. It was not a decision taken lightly at the time and was made due to the confidential nature of the contents."
Now the CEO of the Australian Sports Commission, he recalls the apology given by Swimming Australia after noting that confidential processes are an essential part of encouraging witnesses to come forward with information. He added: "Publishing the report would put the mental health and safety of athletes at risk and undermine all future reviews that ask for confidential involvement of athletes and the overall integrity of cultural reviews."
There is wisdom in those words, say experts in whistleblowing processes, However, in response to questions put on related issues by SOS in several countries, senior figures also note that a lack of due process, transparency and a failure to use redacted documents so that details of independent inquiries can be made public in the public interest contributes to bad practice.
That includes injustice and harm to coaches and others who have been accused of abusive behaviour and even suspended indefinitely as a result, without ever having been given a fair hearing or granted due legal process. In some cases, the term "several' when considering the number of complaints on an issue and the scale of a problem has been proven to have come down to less than half a handful of witnesses but made to seem as if an entire sport is overrun with rogues and abusers.
Meanwhile, Perkins understood that "39 of the 46 recommendations have been completed with work on the others underway."
Linden's report runs through the following themes (noted below with a few examples of the culture women faced) highlighted in the review as being at the core of the shift isn culture and practice in Australia swimming:
BODY SHAMING, PUBLIC HUMILIATION
"I wasn't naturally a thin girl and I starved myself because the coach told me my body would 'look more palatable' to selectors."
"What am I going to do with your big f***ing hips."
Some swimmers weighed in front of their teammates or forced to call out their weights in team meetings before the measures were posted on a public notice board.
swimmers deemed "too fat" forced top run around the pool in front of all their teammates as a form of punishment.
Parents reported their daughters had developed eating disorders after being told they were "fat"- "We'd sneak pizza to our room, then use the toothbrush to make ourselves vomit."
Girls told their "boobs" were too big.
Questions about nutritionists were considered negative
Skin fold tests were subsequently ruled out of bounds.
SWIMMER-COACH RELATIONSHIP
One parent told the investigators: "The coaching relationship doesn't seem healthy. She is infatuated by (her coach) and whatever he says she will just believe. Everything was based around him and pleasing him… it looks like dangerous territory. "
"We were groomed to accept bullying as part of the culture."
Some teenagers testified that they saw coaches graphically sexting their mistress or overheard them discussing their sexual conquests or referring to attractive female parents as "yummy mummies".
Other issues:
LACK OF FEMALE COACHES
At the 2021 Tokyo Olympics, females won eight of Australia's nine gold medals in swimming, but there was not a single female coach on the Dolphins squad. A female coach said: "I don't see how they can justify not taking a single woman. We have several coaches who are of that standard, but they get overlooked because it's just a big boys' club".
A senior Swimming Australia staff member said no female coaches had met the criteria for selection. Another said athletes don't want to be coached by women, a notion that was strongly refuted by competitors.
WOMEN'S HEALTH ISSUES
"Often male coaches don't want to discuss (menstrual) periods and would not want to understand the symptoms and discomfort that comes with periods.
This issue is particularly pertinent to the trans inclusion debate in which female athletes in many sports have been forced to accept biological males in female competition despite sex-based science and biology being the most significant reasons why the gateway to sport has two doors: men and women. The development pathways of the two binary sexes is hugely distinct as a result of male testosterone development. In June 2022, World Aquatics (then FINA) voted to exclude any athlete who had developed through Tanner Stage 2 male puberty, thus ring-fencing the women's category in aquatics for females)
At least one of those who complained of abuse to the swimming review is a campaigner for biological males to be allowed access to female competition.
TOXIC MASCULINITY
"Male dominated environment on pool deck led to the rise of inappropriate behaviour from male squad mates, as inappropriate behaviour from male coaches was role-modelled to the male athletes. This led to female swimmers feeling as though they were vulnerable and felt unsafe to speak up about the behaviours."
INAPPROPRIATE TOUCHING
"Friendly banter between males sees them speaking of their balls and their dicks and the processes their bodies produce which is daunting because it is being spoken of in a sexual manner. Male swimmers will cast slurs about the body shapes of female coaches and swimmers."
GOVERNANCE ISSUES
"The power of the Board is seen by many as acting primarily or principally to protect and promote the interests of these coaches over the real interests and issues of swimmers. The focus is perceived to be on outcomes, principally medals, and the prestige that goes with the coach who trains the medal winner rather than the actual medal winner."
SWIMMER AGREEMENTS
"The structure of the agreement is mainly to the benefit of Swimming Australia as the party with the most commercial influence and power.
"They give us the athlete agreement either on the night of making a team, or on an orientation day, and asked to sign and hand back immediately. We don't have a chance to read it and we don't take it home with us, we have to hand the whole document back and to be honest I have no idea what I am signing. I would be surprised if many of the swimmers know what's in the agreement."
HOMOPHOBIA
"Any swimmers or staff that were gay were told to hide their sexuality."
The report found that most participants who are subjected to any form of abuse, gave up rather than complain because they did not trust the governing body.