Swimmers' Alliance Seeks Peace & Power With FINA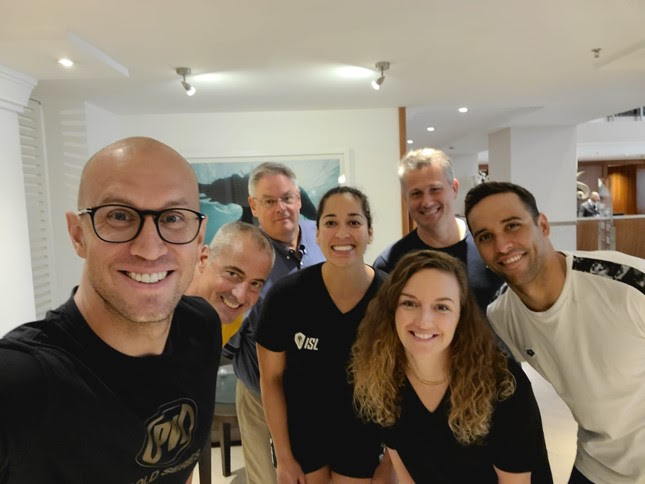 On the 40th anniversary of the first time athletes got to address the International Olympic Committee with their concerns and their collective voice, the International Swimmers' Alliance – ISA – held its first post-Olympic board meeting on the sidelines of season 3 of the International Swimming League (ISL) and confirmed that it is to meet the new FINA leadership this December with a view to building a better working relationship.
"With the Olympics now over, and most of the Board members in one city, it was the perfect opportunity to get together and build some momentum" said ISA founding Board member Brent Hayden (main image, left, with Matt Biondi, Alliance Manager, to his immediate right).
Formed in response to the calls from professional swimmers worldwide for independent representation, the International Swimmers' Alliance has a goal to improve personal and economic opportunities for all elite swimmers by elevating the sport into the modern era. The ISA noted that it "aims to engage in positive dialogue with the IOC and swimming's international governing body, FINA, to bring about the change needed to modernise the sport".
The ISL and, separately, in a class action led by swimmers on behalf of fellow aquatic athletes, the sport has been at legal loggerheads with its global regulator for more than three years. Action in American courts is still active.
Matt Biondi, Alliance manager, has been invited by FINA Chairman Husain Al Musallam to the upcoming World Championships in Abu Dhabi this December to set up "a positive working relationship".
In a statement, the ISA noted:
"The Alliance's goal is collaboration, but at the same time hold those accountable at FINA when not acting in the best interest of the athletes."

ISA
Among the first items on the agenda was the adoption of the organization's initial Mission Statement – To be the independent voice of international competitive swimmers.
Board member Katinka Hosszú, the triple Olympic cghampion of 2016, added, "We are looking for a seat at the table whenever international swimming competitions are planned".