Swim Ireland Challenges FINA Flip-Flop On Irish 4x100m Medley Relay invitation To Tokyo Olympics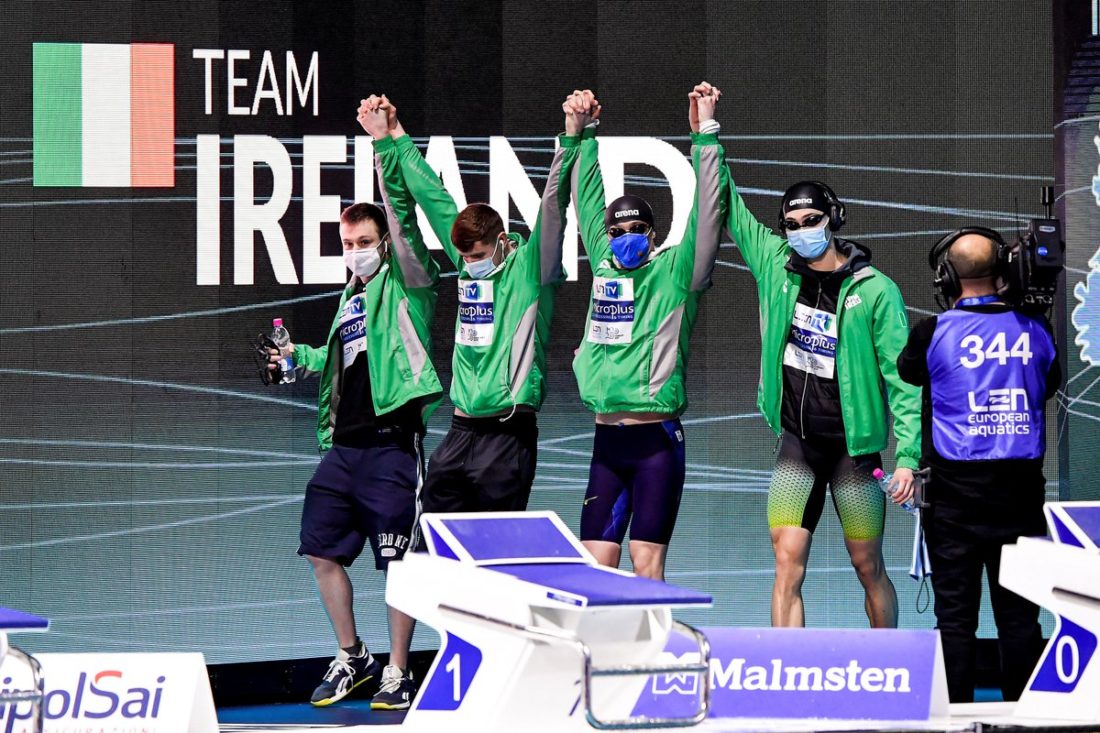 FINA farces that hurt athletes are nothing new so the latest one, the withdrawal of a place for the Swim Ireland men's medley relay at the Tokyo Olympic Games within 24 hours of the invitation being issued, will come as little surprise to many in the sport.
Swim Ireland, which was among role-model federations in the handling of the huge challenges delivered but the Covid-19 pandemic, today announced its decision to challenge the latest FINA flip-flop after it received an invitation for its men's 4x100m medley relay team to race at the Tokyo Olympic Games (as a world top 16 team and one of four teams to be added for Olympic action beyond the best 12 at 2019 World titles) only to accept and then have the offer withdrawn the following day.
Imagine the impact on the athletes who toasted with family, friends, coaches, sponsors and supporters on Saturday evening only to be told "sorry, our mistake, you'll have to sit this one out".
Swim Ireland issued the following statement:
Swim Ireland can confirm that we received correspondence on Sunday, June 6 from FINA rescinding their invitation for Ireland to compete in the Men's 4x100m Medley Relay at the Tokyo Olympic Games.
Having received and accepted FINA's invitation to compete on Saturday, June 5, we are extremely disappointed that FINA have told us that the invitation was issued in error, particularly given the impact on the affected athletes.
Our [ Swim Ireland ] intention is to challenge the decision and we are currently exploring all options in this regard. 
The invitation for Ireland to compete in the Men's 4x200m Freestyle relay is unaffected. The Tokyo Olympic Games will be the first time since 1972 that Ireland has competed in a swimming relay and the first time ever that an Irish male relay team will compete.
Olympic Games Relay Qualification Procedure
16 countries participate in each swimming relay at the Olympic Games. The fastest 12 teams in the heats at the 2019 World Championships in Gwanju, South Korea gained automatic qualification for Tokyo 2020. The four remaining spots are filled based on performances at FINA designated meets during the qualification period, which ended on May 31, 2021. 
End of statement.
One of those slots was granted to the Swim Ireland quartet before an error was spotted. Among questions are: who among FINA leaders will take responsibility (the captain always goes down with the ship, as they say)? And given that FINA is responsible and that FINA is organising the Olympic competition in the pool on behalf of the IOC, will it now allow Lane 9 to be used and issue an apology to Swim Ireland and the Irish swimmers told on Saturday that they had just made history only to have that history written out of other book a day later?