Swift Season Of Summer McIntosh Starts With 4:01 Canadian 400 Free Record & Tickets To Worlds For Six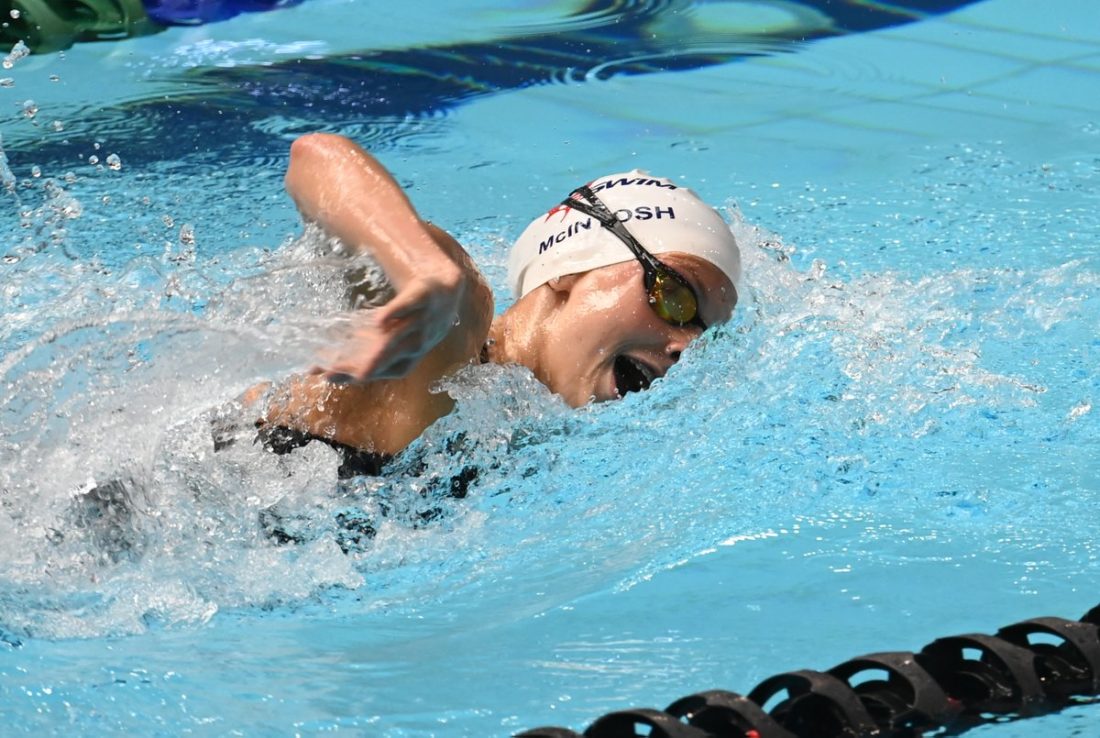 The dynamics of women's distance freestyle shifted by Katie Ledecky 2012-2022 and subject to the tilt and turn of Ariarne Titmus in Tokyo last year have a season of Summer McIntosh to look forward to on the way to Paris 2024, the Canadian 15-year-old having just taken down her own national record over 400m freestyle with a 4:01.59 ticket to World titles in Victoria.
Day 1 at Canadian trials at the Saanich Commonwealth Place opened with McIntosh the national standard bearer with the 4:02.42 she clocked for fourth place in Tokyo last year.
Today, the ESWIM teenager moved the pace on in a race against her will to be at her best and the clock measuring her ambitions. It struck 4:01.59, 11th best all-time, some 10sec ahead of those who followed her on to the podium, namely her training pace partners Katrina Bellio, 4:11.06, and Ella Jansen, 4:11.15.
Out in a swift 57.74, McIntosh turned on 1:58.28 half-way, reached the 300m mark by 2:59.71 and then put in the only length in the race that took over 31sec: all the rest were 30s barring the first two, a biting 27.75 opener and the 29.99 that gave her the kind of start she will need to start to be up with World and Olympic champion of 2020ne, Titmus, and three-times World and 2016 Olympic champion Ledecky as battle begins.
Speaking through Swimming Canada, McIntosh said: "Going first I didn't know what to expect and I didn't know what I was capable of. I'm quite happy to drop time off my Olympic race."
Canada has looked mostly to its women for medals on the big occasion since the days of Olympic medallists Ryan Cochrane and Brent Hayden, the latter a World champion in 2007 who made a fine comeback for Tokyo 2020ne and recently retired anew for a new chapter. Finlay Knox is along current-gen in Canada working on having the Maple leaf flutter over the podium in the fast pool.
Into the 200m medley battle in Victoria today with a Canadian record of 1:58.07 from last June, Knox, SCAR, emerged with a ticket to Budapest 2022 World titles in June sporting a new national standard, of 1:57.50 (24.71; 54.77; 1:29.27). The global test in June will be followed by the Commonwealth Games in Birmingham, a chance for Knox to move it on again in the company of the likes of Olympic silver medallist Duncan Scott, of Britain and Scotland.
Knock felt there was more to come. He said: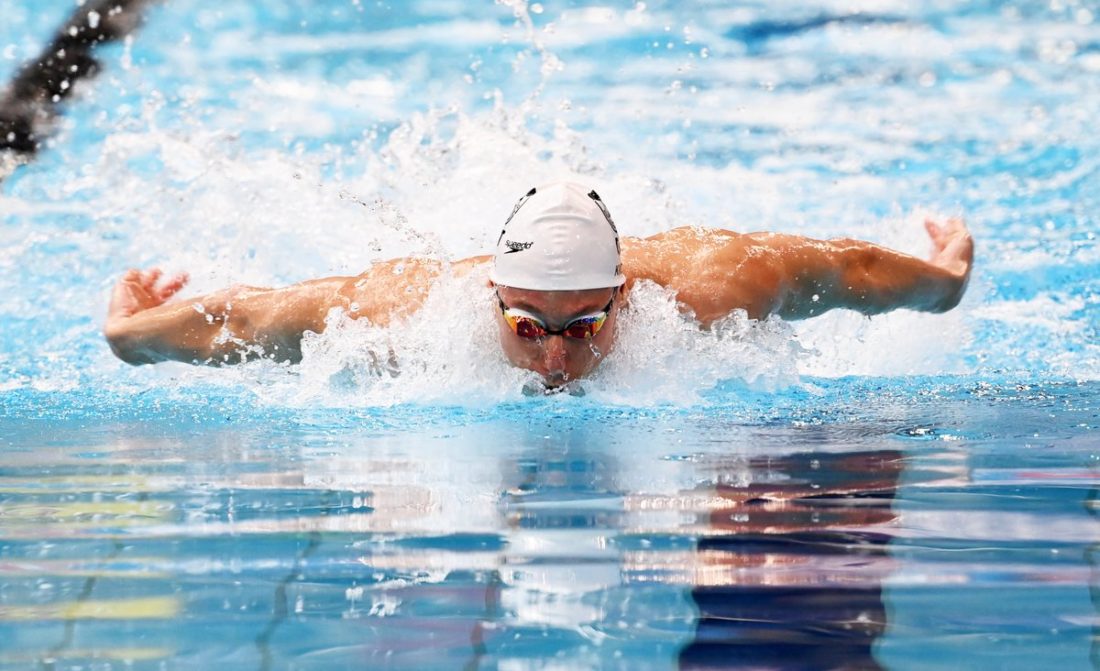 "I felt like I was a little distracted in the ready room, trying to figure out when I was swimming. I still managed to swim fast. I gave my everything tonight. I know there is a lot of room to work for this summer. I can't wait."

Finlay Knox, image courtesy of Swimming Canada
One through to Budapest in the men's 200IM, two through in the women's 200IM, courtesy of a tight tussle between Sydney Pickrem, TSE, and Mary-Sophie Harvey, CAMO, with Tess Cieplucha, third in 2:12.03. The battle of qualifiers:
27.96; 1:01.53 (33.57) 1:39.29 (37.76) 2:10.58 (31.29) Pickrem
28.49; 1:01.62 (33.13) 1:39.89 (38.27) 2:10.98 (31.09) Harvey
Down in the ranks of the race, 13-year old Halle West, of Manta SC, clocked 2:18.21 to overtake Summer McIntosh (2:18.42) as the swiftest Canadian at 13 over 200IM.
The women's 100m backstroke also produced two inside the Budapest cut, Olympic medallist Kylie Masse, TSC, on 58.48, Taylor Ruck, SCAR and Stanford, on 59.67, a hand ahead of Ingrid Wilm, on 59.75, Harvey back in the fray after her medley qualifier, on 1:00.90 in fourth.
There were no qualifiers on FINA A time in the men's 100m back nor the 400m free, the respective finals won by Javier Acevedo, MAC, on 54.37 – 0.3 shy of the FINA A mark but good enough for Swimming Canada to nod him across the line, a place on the medley relay in the mix should Canada select one – and Jeremy Bagshaw, on 3:52.01.
McIntosh Heads Six Day 1 'A' Qualifiers: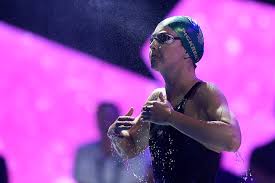 Women:
Summer McIntosh – 400 Freestyle
Kylie Masse – 100 Backstroke
Taylor Ruck – 100 Backstroke
Sydney Pickrem – 200 medley
Mary-Sophie Harvey – 200 medley
Men:
Finlay Knox – 200 medley