Sweet 47.30 WJR At 16 From David Popovici For World No1 Heading To Olympic Debut In Tokyo
David Popovici is 16 and he just rocketed a 47.30 World Junior Record, off a 22.97 to half-way in the 100m freestyle final at the European Junior Championships to go top the helm of the 2021 Worlds rankings on his way to an Olympic debut that threatens fireworks from the Romanian teen in Tokyo.
The record makes Popovici the 5th fastest all-time in textile and puts him in the Top 10 and 10 all suits, shiny and all. Beyond the speed, it is the flow, the technique, the ranginess and lankiness of Popovici's freestyle that catches the eye. He's racing ahead of his age, ahead of his peers, ahead of the bend and curve where you might expect to see 16-year-olds, even brilliant ones.
As Kevin Renshaw, head of Team GB in Rome, put it: "Watching that was a thing of beauty".
Out in 22.97, back in 24.33, David Popovici is the fastest teen there's ever been 100m freestyle – and he has three more seasons in that age band on the way to the Paris 2024 Olympics he had been tipped for sprint stardom at. Sometimes time warps, leaps and bends. It did in Rome today as David Popovici raced well beyond his age peers, the silver to Britain's Ed Mildred, a year older than the Romanian, and on a big personal best of 48.77 as the only other boy-to-man under 49.
The World junior mark had stood to David Popovici since the first day of action in Rome two days ago, when he clocked 47.56 leading Romania to silver in the 4×100, free relay behind Russia. Now its 47.30:
Popovici, 1m 91 tall with a wingspan of 2m 05, has chucked down a big gauntlet to the best there and back men in the world. Consider the Gwangju 2019 World Championships top 2 at the last big occasion before Tokyo and the pandemic that caused the one-year delay the Romanian teen is about to benefit from:
22.29; 46.96 (24.67) Dressel
22.79; 47.08 (24.29) Chalmers
22.97; 47.30 (24.33) Popovici in Rome Today
In response to a question from S.O.S at the Team USA Swimming press conference today, World champion and the fastest man ever in textile, Caeleb Dressel, said of Popovici's 47.30: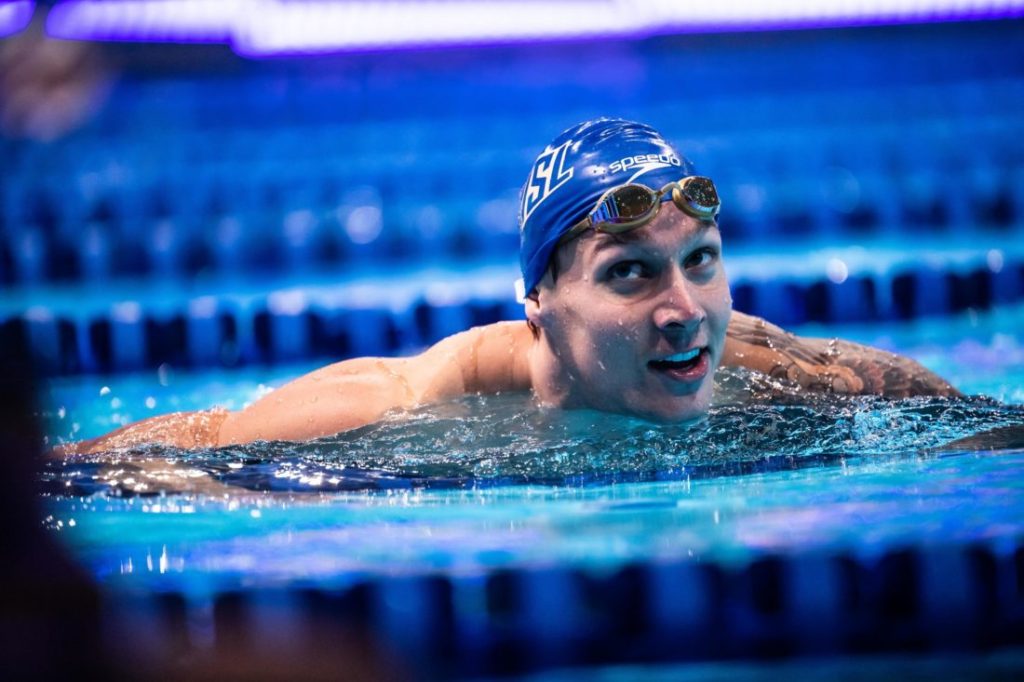 It definitely grabbed my attention, the time but even more how he's swimming it. I wasn't doing that king of time at 16, I was just seeing how fast I could get out."

Caeleb Dressel by Mike Lewis, courtesy of the ISL
Dressel, who has forced a 'catch-me-if-you-can' theme on his rivals by pressing down on the 22sec mark at half-way in the 100m, described Popovici's 24.33 home length as "impressive".
Then there's the 2021 To 10 World Rankings among seniors gunning for glory in Tokyo:
47.30 EURJUN21 Popovici, David, 2004, ROU
47.31 RUSNAT21 Kolesnikov, Kliment, 2000, RUS
47.39 USAOLY21 Dressel, Caeleb, 1996, USA
47.45 EUROPE21 Miressi, Alessandro, 1988, ITA
47.59 AUSOLY21 Chalmers, Kyle, 1998, AUS
47.72 USAOLY21 Apple, Zach, 1997, USA
47.74 EUROPE21 Minakov, Andrei, 2002, RUS
47.84 EUROPE21 Nemeth, Nandor, 1999, HUN
47.85 RUSNAT21 Grinev, Vladislav, 1996, RUS
47.87 GBROLY21 Scott, Duncan, 1997, GBR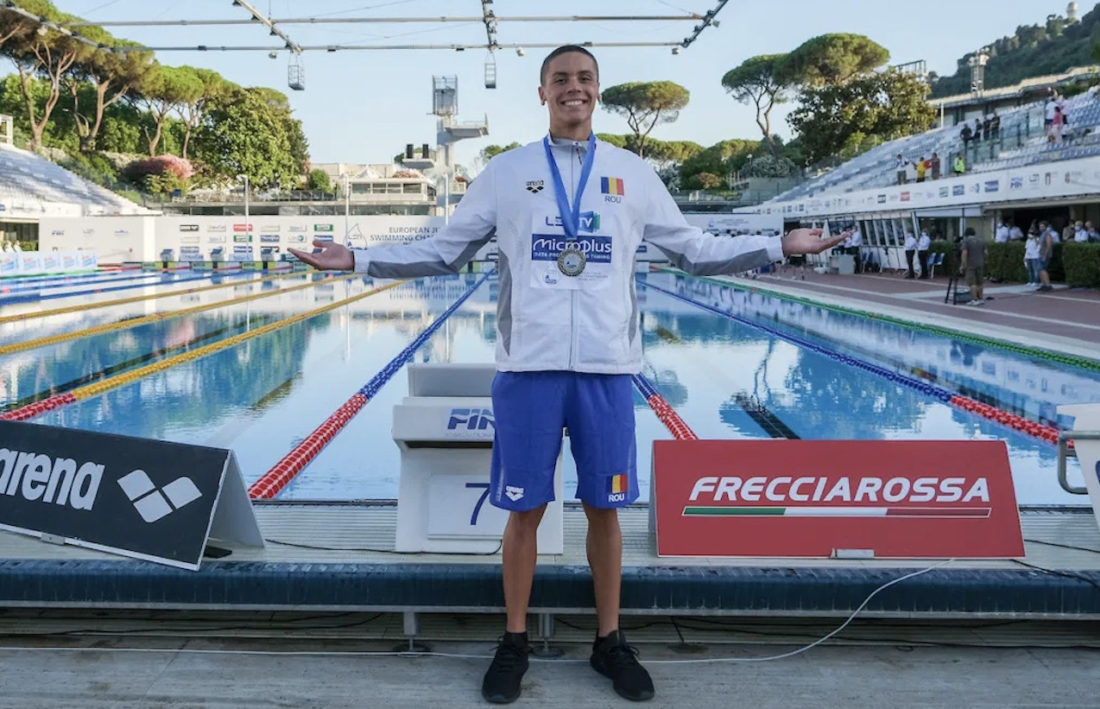 David Popovici is now 5th all-time in textile, having risen from 10th and leap-frogged Kolesnikov to muscle into a club of sprint elders… those in bold heading for the Tokyo battle.
46.96 Dressel, Caeleb, 1996, USA 2019
47.04 McEvoy, Cameron, 1994, AUS 2016
47.08 Chalmers, Kyle, 1998, AUS 2019
47.10 Magnussen, James, 1991, AUS 2012
47.30 Popovici, David, 2004, ROU 2021
47.31 Kolesnikov, Kliment, 2000, RUS 2021
And… a Popovici has quick chat with Brett Hawke after his 47.30
Out in fourth on 23.75, Mildred fired home in 25.02 to win the race of the best of the rest behind David Popovici, the bronze to Poland's Mateusz Chowaniec in 49.37, that locking Russian Vladislav Reznichenkov out by 0.03sec, Portugal's Diogo Ribeiro making it a race of five sub-50s on 49.52. It was Reznichenkov who had rescued Russia from defeat by Romania in the day 1 relay after Popovici had granted his team a massive opening advantage.
Championship Mark For Markova
Day 3 finals witnessed another Championship record when Russia's Anastasia Markova clocked 2:08.41 for the 200m butterfly title ahead of Bosnia and Herzegovina's Lana Pudar, 15, on 2:09.59. The bronze went to France's Lucie Delmas in 2:10.42.
Ukraine celebrated gold in the 100m breaststroke courtesy of Volodymyr Lisovets and a 1:00.28, just 0.01sec ahead of Lithuanian Aleksas Savickas, the bronze to Italy's Simone Cerasuolo, on 1:01.56, after having gone sub-1:01 in the rounds but, under pressure, managing to hold off a challenge from Austria's Luka Mladenovic, on 1:01.63.
Erika Gaetani, of Italy, kept her powder dry in the 100m backstroke, on a 29.70 at the turn. On the way home to gold she sailed past France's leader at half-way, Mary-Ambre Moluh, who turned in 29.09, almost a full second ahead of Britain's 400IM winner from day 1, Katie Shanahan, on 30.07. Gaetani powered to gold in 1:00.65, while Moluh hung on for silver but found herself in a snap with Shanahan, both on 1:00.93.
The 200 medley delivered more celebration for Turkey as Berke Saka beat the rest to the last wall in 2:00.04, the podium completed by Ukraine's Vadym Naumenko, 2:00.65, and Germany's Cedric Buessing, 2:01.84.
Another gold came Turkey's way when Mert Kilavuz delivered the latest in half a dozen Turkish records to fall in three days, his 15:02.22 fending off Hungarian David Betlhem by a fingernail, silver claimed in 15:22.28, with Turkey getting another bite of the cherry when Yigit Aslan stopped the clock in 15:05.08 for bronze.
Were it not for Popovici, we might be writing a touch more about Turkey this week but the stream to senior waters is flowing… and time will tell where a surge in standards is heading.
The session came to a close with more relay gold for Russia in the girls' 4x100m medley, on 3:50.25 ahead of a 3:51.48 from Great Britain, Katie Shanahan collecting her second silver of the day to add to her 400IM gold on day 1, the podium completed by Ukraine, on 3:54.03.