Summer Sings A Song Of Swimming Greatness With 4:25.87 World 400m Medley Mark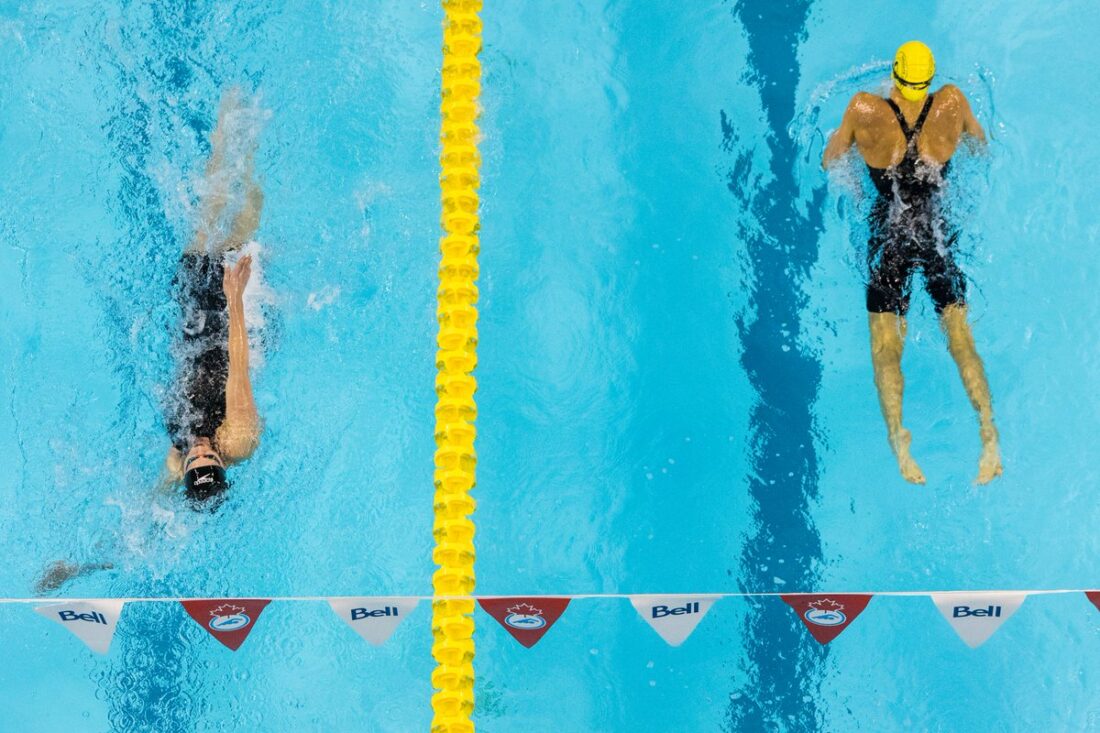 Summer McIntosh, 16, sang a song of swimming greatness at home in Toronto this evening: the first Canadian to hold the World 400m freestyle record, she is now the 400m medley global standard, too, after a phenomenal 4:25.87 blast at National Trials.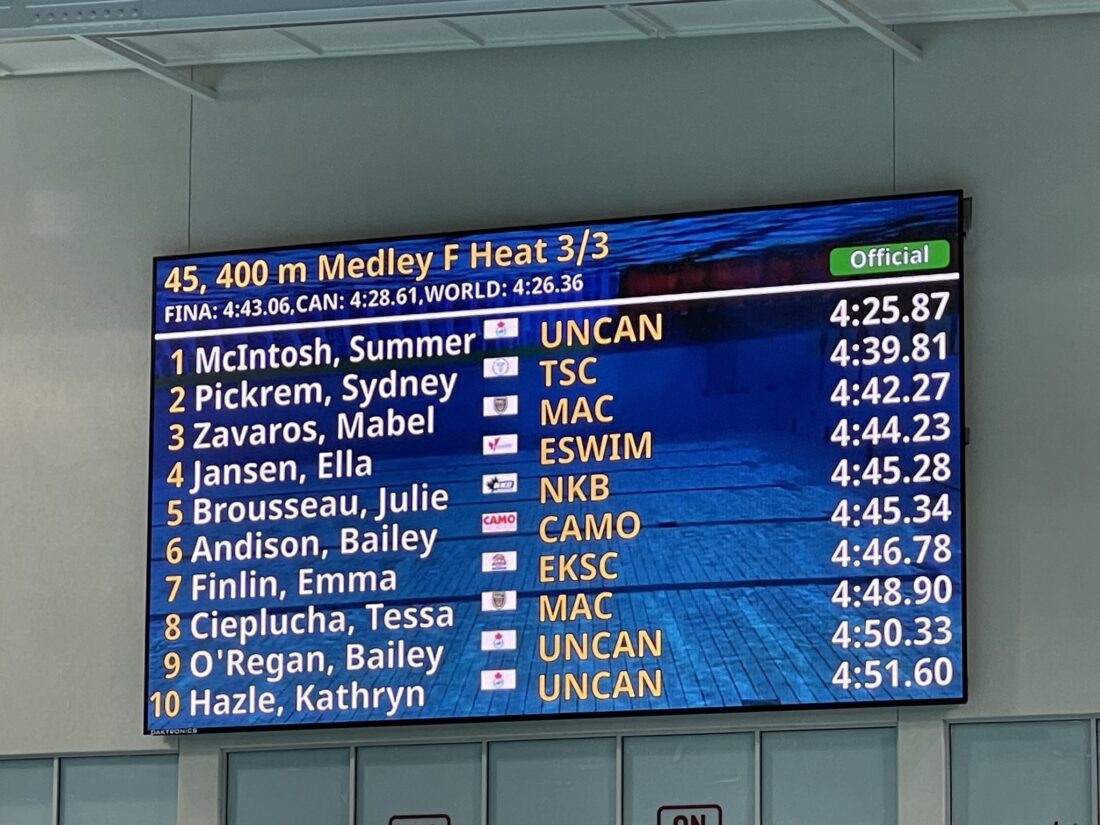 The Canadian's swim, which makes her the first woman in history to hold the global 400m free and IM marks, had little in common with those of the previous two standard bearers, Katinka Hosszu, of Hungary, and Ye Shiwen, of China, respectively the 2016 and 2012 Olympic champions.
McIntosh's "weakness" , as the split below show, is breaststroke. The rest was a flow of pure strength, a 1:00.56 finish on freestyle a reflection of the closing power of the 2022 World medley and butterfly champion who took down the World 400m freestyle record in 3:56.08 last Wednesday.
Under world record pace after butterfly and backstroke and far enough ahead to be swimming breaststroke between the yellow lane markers before the rest had reached the "red" (blue in the Toronto pool) on backstroke, Summer set a scorching pace. A cheer of "Go!" from the 1,000-strong crown at the Toronto Pan Am Sports Center accompanied each breath she took on breaststroke when the record line caught her up. Hosszu's pace was ahead of McIntosh by the 300m mark but coming freestyle splits of 30.87 and 29.69 drew her back to the history trail ahead of the Hungarian.
After her battle with the clock, Summer McIntosh, an Etobicoke Swim Club member now coached by Brent Arckey at the Sarasota Sharks in Florida, said: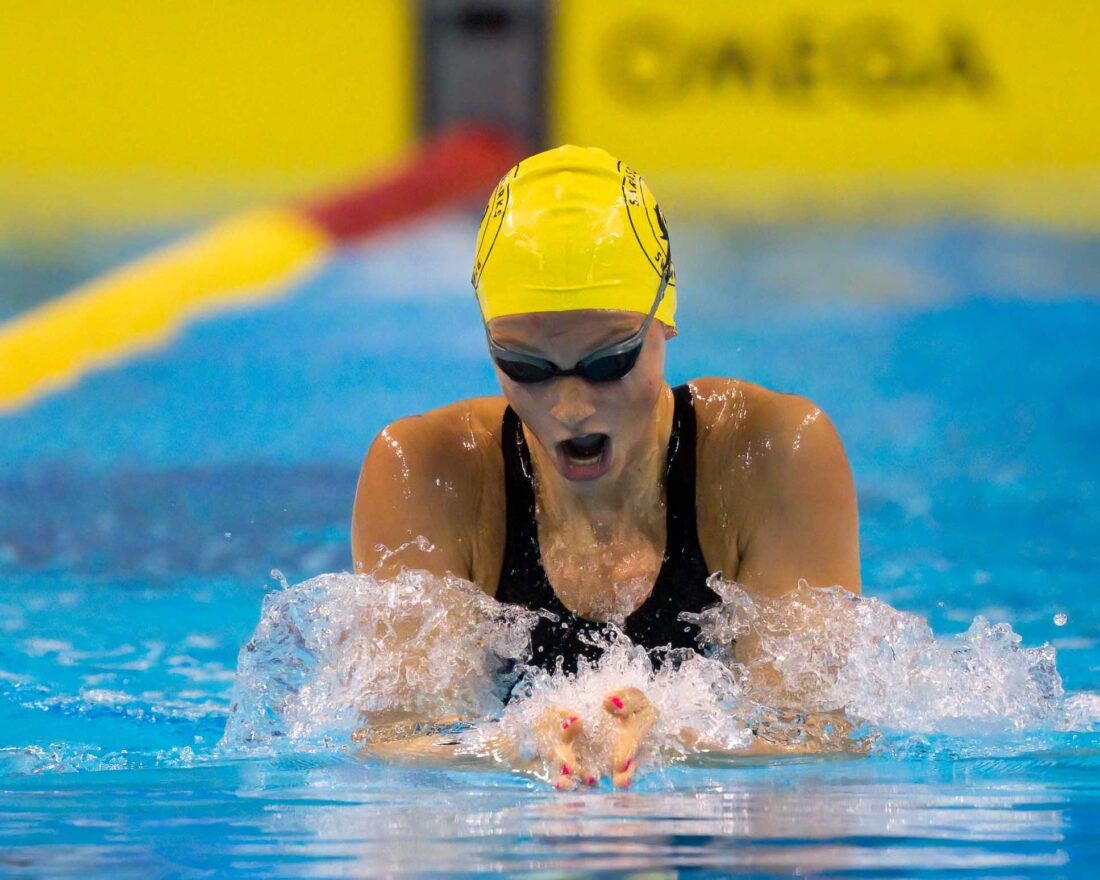 "I heard the crowd. That's the first time I really vividly heard the crowd during my race, especially in the breaststroke. It's amazing to have all my family and friends in the stands cheering me on. It really helped me that last 100 metres."

Summer McIntosh, photo courtesy of Swimming Canada
The effort made showed on the swimmers face and in her legs as she emerged from the fight:
It's not the swiftest finish ever, of course: Ye Shiwen's 58.68 made headlines around the world the day after The Times reported it as the first moment in Olympic swimming history when a woman covered the closing stages of a swimming final as fast as her male peers.
59.47 (31.65) 2:06.39 (1:06.92) 3:25.31 (1:18.92) 4:25.87 (1:00.56) Summer McIntosh Toronto 2023
1:00.91; 2:08.39 (1:07.48) 3:24.50 (1:16.11) 4:26.36 (1:01.86) Katinka Hosszu WR Rio 2016 gold
1:02.19; 2:11.73 (1:09.54) 3:29.75 (1:18.02 ) 4:28.43 (58.68) Ye Shiwen WR London 2012 Gold
On that score, there's a bit of a lag between McIntosh and the men. It was 1976 when another Hungarian got down to 4:26 to hold the World record in the 400m medley: Zoltan Verrsazto, the men's 1975 World 200m backstroke champion who's son David would win 17 international championship medals for Hungary in the 400m medley including two long-course World silvers and three European titles. When Verrsazto's 1976 standard fell, it went to American Rod Strachan for Olympic gold at the Montreal Olympics in Canada later that same year.
The 4:25 stunner made it four World marks in as many days: two World senior records, in the 400m free and medley and World junior records in the 200m butterfly and the 200m medley.
Summer is the first person to ever hold long-course world records in both the 400 IM and 400 free. The closest comparison is to Australian great Shane Gould, who claimed Olympic gold in the 200 and 400m freestyle and 200m medley, all in World records, at the 1972 Olympic Games, alongside silver in the 800m freestyle and bronze in the 100m freestyle, a feat that remains unique among women: five solo medals in the pool at a single Games.
American Janet Evans also comes to mind: the Olympic 400m free and medley champion of 1988 is among those who might have been World-record holder in both events had it not been for the 1980-82 4:36 efforts of the GDR's Petra Schneider, who was among those who gave witness against doctors and coaches in the German doping trials of 1998-2000. The evidence that the GDR* doped its athletes was overwhelming.
The IOC has done nothing about to this day. The course of history was changed and generations of women swimmers, in particular, were hurt, both sides of the wall and in various ways. The IOC looked the other way even in its own jurisdiction. In 2021, World Aquatics' new leadership promised this author to consider the evidence long in the public domain on the likes of Dr. Lothar KIpke, one of those convicted of boldly harm of minors as the trials drew to a close in 2000. Several previous attempts to raise the issue with FINA and its old management, including a unanimous request from the press committee in 2014, had fallen on deaf ears. Under the direction of president Hussain Al-Musallam and Director Brent Nowicki, World Aquatics stripped Kipke of the honour he received from the global regulator in 1986, the year Cornel Marculescu became the first FINA director at the start of a 34-year tenure.
Meanwhile, Summer's pioneering pace also made her the first Canadian since Alex Baumann in 1984 (200 and 400 IM) to hold two long-course world records at the same time, and the first Canadian woman to accomplish the feat since Elaine Tanner in 1967 (100 and 200 back).
A trials is not the towering challenge of an Olympic Games but If there was any doubt that McIntosh would struggle with an unprecedented schedule of 200 and 400m swims on freestyle, butterfly and medley at the one meet, the teenage sent them splashing on the rocks with a display of aquatic mastery on the way to the "stepping stone" of World titles this July in Fukuoka on the way to a date with destiny at the Paris 2024 Olympics in July 2024.
Summer bloomed in the race and then after as she spoke about having dreamed of breaking the 400IM world mark since she was 11: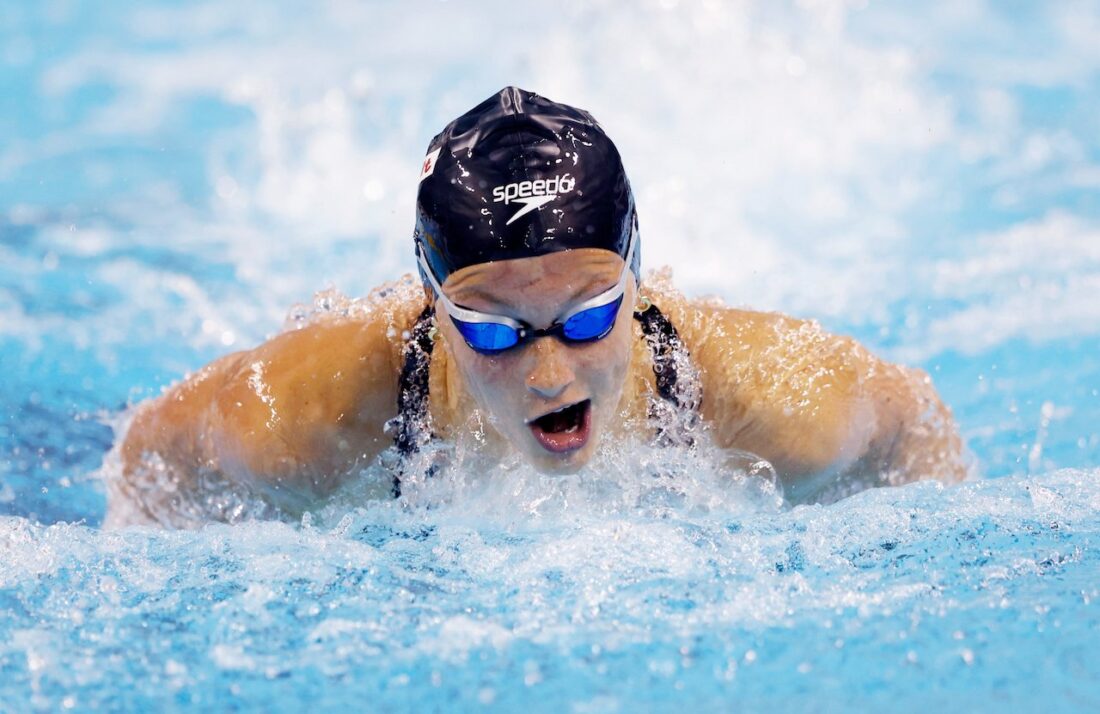 "I've been hoping to get a world record, especially in the 400 IM, since I was probably 11 years old. To now actually achieve it is something that kind of blows my mind. To be honest, I never thought I would actually break a world record. Going into tonight, I knew it might have been a possibility. But I was really just trying to focus on executing a good race, technique wise, and give it all I had."

Summer McIntosh, photo courtesy of Swimming Canada
The celebrations began the moment the clock stopped, Canada performance director John Atkinson hot on the trigger:
In Budapest last June, Summer McIntosh became the first 15-year-old to claim the World 400m medley title since American Tracy Caulkins in 1978 at the height of a doping crisis in the sport and in an event that includes its fair share of controversy down the years. Summer now joins Caulkins on the list of World record holders.
Summer McIntosh Joins Tracy Caulkins On Medley WR List
| | | | |
| --- | --- | --- | --- |
| 4:40.83 | Tracy Caulkins (USA | 23 August 1978 | West Berlin, West Germany |
| 4:39.96 | Petra Schneider (GDR*) | 30 March 1980 | Leningrad, Soviet Union |
| 4:38.44 | Petra Schneider | 27 May 1980 | Magdeburg, East Germany |
| 4:36.29 | Petra Schneider | 26 July 1980 | Moscow, Soviet Union |
| 4:36.10 | Petra Schneider | 1 August 1982 | Guayaquil, Ecuador |
| 4:34.79 | Chen Yan (CHN) | 13 October 1997 | Shanghai, China |
| 4:33.59 | Yana Klochkova (UKR) | 16 September 2000 | Sydney, Australia |
| 4:32.89 | Katie Hoff (USA) | 1 April 2007 | Melbourne, Australia |
| 4:31.46 | Stephanie Rice (AUS) | 22 March 2008 | Sydney, Australia |
| 4:31.12 | Katie Hoff | 29 June 2008 | Omaha, United States |
| 4:29.45 | Stephanie Rice (AUS) | 10 August 2008 | Beijing, China |
| 4:28.43 | Ye Shiwen (CHN) | 28 July 2012 | London, United Kingdom |
| 4:26.36 | Katinka Hosszú (HUN) | 6 August 2016 | Rio de Janeiro, Brazil |
| 4:25.87 | Summer McIntosh (CAN) | 1 April 2023 | Toronto, Canada |
In Toronto, Sydney Pickrem also met the qualifying time for the 2023 World Aquatics Championships in Fukuoka, Japan (July 14-30), finishing second in 4:39.81. The two-time Olympian had already qualified earlier this week in the 200 IM and 200 breast.
Meanwhile, Summer McIntosh has flourished very young in the pool. The career trajectory of the triple Olympic champion who's record she broke was a very different one:
From The SwimVortex/SOS Archive: Rio 2016 Olympic Games, Day 1 Finals, Women's 400m medley
The transformation from a woman who once raced her peers to one who dominates them is complete. Reminding us of the kind of dominance over 400m medley that we last saw in the age of Petra Schneider in 1980, Katinka Hosszu, of Hungary, added another line to a truly unique profile: 4:26.39. A world record of enormity – and that from a winner who is six years older than the average age of champions in the event down the years.
The world mark had stood at a controversial 4:28.43 to China's Ye Shiwen, who at 16 in London raced to gold at the same pace as the men in the equivalent final over the last 100m on freestyle. Hosszu's tale is not void of controversy, either.
The sighs and sinking spirits all about you up on the media bench are a sign of the times. These are a Games at which seeing is not necessarily believing, skepticism heavy in the air.
Hosszu not only dominated her event but raced it in a way that her rivals could not cope with and may never be able to fathom. This is not a newcomer in their midst; it is an athlete they have known for many a long year. Now they barely recognise her.
Take the breaststroke split of a woman who in textile has left her former self behind in all events and strokes and distances on the world-championships program since 2013: 1:16.11. As the splits below show, 1:18 was about where she's been before Rio.
Among the world-class rest, the silver went to American Maya Dirado (USA) in 4:31.15, the bronze snatched at the last stroke by Spain's Mireia Belmonte in 4:32.39 over Brit Hannah Miley's 4:32.54. Said Hosszu: "Its just crazy that I've been able to swim 2sec faster than anyone else ever – it's just crazy"
She added: "I've been chasing that world record for quite some time now. It's been over seven years I've been thinking about it. This morning swimming so close to the record … I knew I could go faster. Honestly, I didn't think I could go this much faster but it was just unbelievable that I have been able to break it by this much."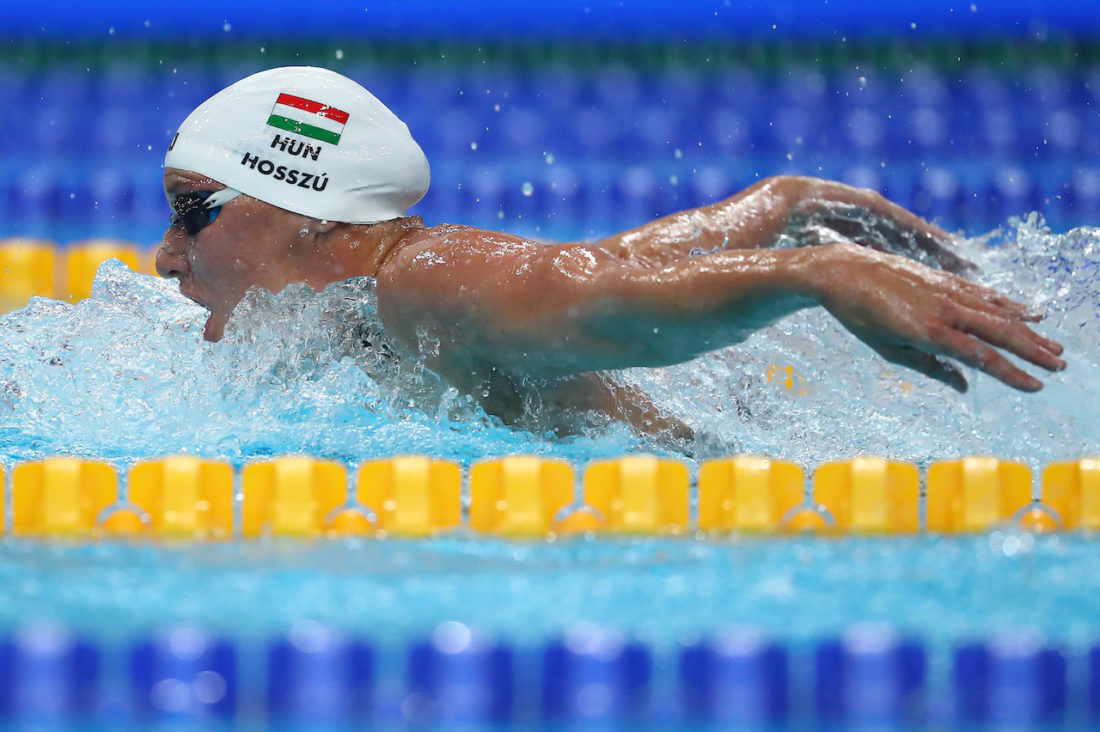 "It's been a long journey for me. In 2012, after graduating college and basically turning pro, I felt like London was my time to do it. I felt a lot of pressure and was super-nervous before the final. I remember not enjoying it, I just wanted it to be over. I was just afraid about what happens if I don't win."

Katinka Hosszú – courtesy of the Hungarian Swimming Federation
DiRado's take: "I wasn't even worried about (Hosszu) being ahead. I was just looking around making sure that I would be on the podium. That's an amazing time. I looked at the board and I was shocked for her, so congrats to Katinka. That's amazing. It was a lot of pieces and a lot of hard work coming together after a lot of years of training, and to be able to do that at the Olympics and get a silver medal is just unbelievable."
Margins Of Victory
Schneider won by 10sec, Tracy Caulkins by 9 at boycotted Games. Set those apart and Hosszu's win stands out in the history of the 400IM.
The world record cannot be compared to Ye's pathway to a bizarre result. For the most part Hosszu was racing 5sec inside the pace of Ye in London, falling shy only on freestyle but by then the world record was well within her grasp. The rest of the line up looked as though they had stumbled into a timewarp and found themselves in the wrong race.
Ponder the splits
1:00.91; 2:08.39 (1:07.48) 3:24.50 (1:16.11) 4:26.36 (1:01.86) Hosszu WR
1:02.77; 2:10.94; 3:29.04; 4:31.15 DiRado
1:02.16; 2:12.74; 3:31.07; 4:32.39 Belmonte
1:02.93; 2:13.08; 3:29.84; 4:32.54 Miley
There are four seconds between Miley and Hosszu on the clock of best times over 200m breaststroke in favour of the Commonwealth champion. That had often shown up in medley races. Not today.
Miley and Belmonte have trained together and shared common goals. Today, a fingertip decided that Belmonte would add a bronze to her two silvers from London 2012 and Miley, who knew a time when she was quite capable of beating Hosszu – and did, would not quite manage to get a medal. Said Miley: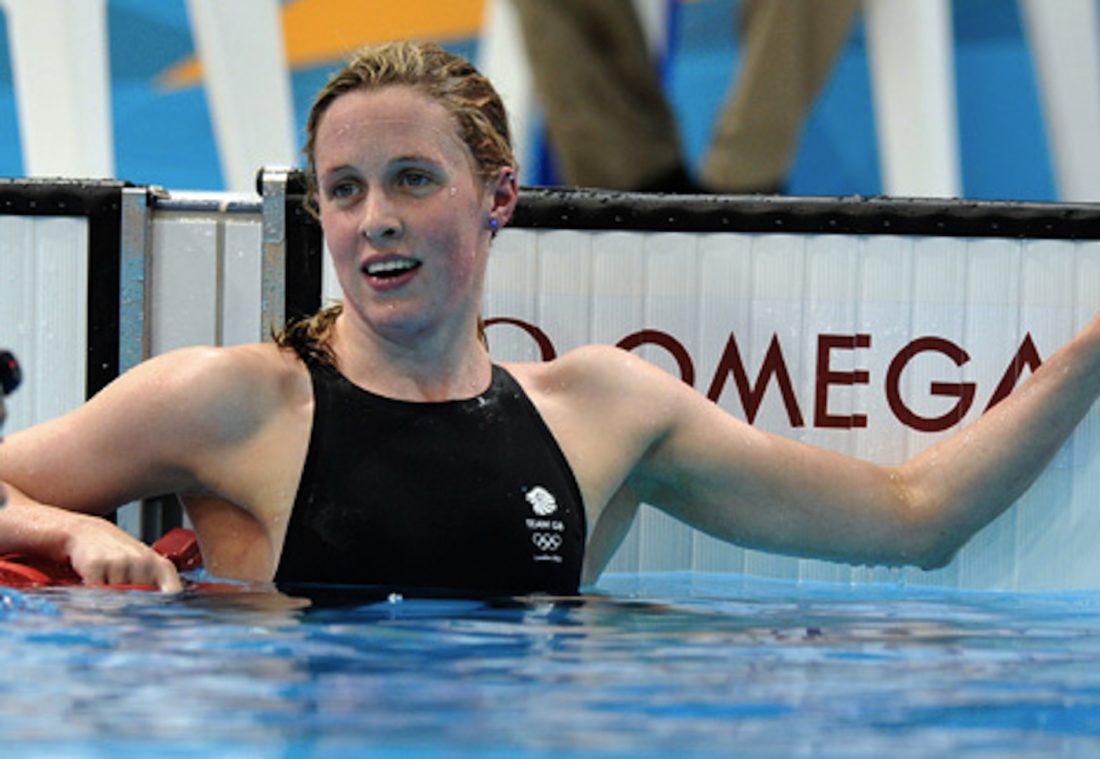 "I'm not letting this Olympics define my whole career. The journey still continues. My first Olympics I was 6th, London I was 5th and now I'm 4th. I'm happy but disappointed, It's tough but that's sport, it's brutal. I could see her coming back and I was willing myself to grow an extra two inches. Your body is screaming for oxygen. I had to push through that pain. When I didn't see the lights I thought, 'Oh pants'.

Hannah Miley, Photo courtesy of arena
Heading in Different Directions
How different are the journeys of champions 2012 and 2016. The contrast was stark in lunchtime heats as Hosszu and Ye headed in opposite directions from London to Rio return.
The Hungarian, fourth in 4:33.49 back at London 2012 at 23 years of age, took down the European record with a 4:28.58. The world record proved a touch too far, still, Ye Shiwen's controversial 4:28.43 at the age of 16 for gold in London standing the test of time.
Hosszu raced well inside Ye's pace, turning 3sec ahead of target at the 200m and over 2sec inside at the 300m mark but Ye came home in 58.6, as fast as the blocked in London, an Olympic first, while Hosszu managed a 1:02 flat this morning.
The dominance of Hosszu is part of a truly unique profile in sport. Nowhere is it possible to find anything remotely close to the transformation of a 24 to 27 year-old who has wiped out her best pre-24-age form in every single world championships events, stroke and distance since 2013.
She had known success in her pre-2013 days, of course but even there the picture is like no other you will find in swimming history. Take the 400m medley:
2009 – 4:30.31 in shiny suit was her swiftest time ever. Beyond that, she had four swims from 2012 between 4:32.8 and 4:33.77, her 4:33.49 for fourth in the London 2012 final just shy of her all-time textile best of 4:32.83 from a grand prix event in the US that same year.
2010 – textile best, 4:34.68, nothing else inside 4:36 that year
2011 – season best, 4:30.31
Then things started to change:
2013 – six sub-4:40s, topped by the world title in 4:30.41 and one other swim under 4:35, a 4:32.72 in world-title heats
2014 – 14 sub-4:40s, topped by efforts of 4:31.03 and 4:31.53 at European titles, two others swims inside 4:35; 18 swims inside 4:45
2015 – 33 swims inside 4:45; 26 of them inside 4:40; 10 inside 4:35; 5 inside 4:33; 4 inside 4:32; all topped by the world title in 4:30.39
2016 – 18 efforts inside 4:40; 10 swims inside 4:35; 8 swims inside 4:33; 5 swims of 4:30 or better; 3 swims inside 4:30; 2 swims inside 4:29, including heats and final here in Rio.
To describe that list as extraordinary falls shy of expressing the magnitude of it all compared to what the best of the rest of medley swimmers in history and now have managed, let alone managed from 24 to 27 years of age.
The upturn coincides with America Shane Tusup becoming Hosszu's coach – later husband. He recently explained to Karen Crouse of the New York Times that he knew it could work but "also knew that someday they might come to regret it".
The antics of the coach and the public displays of affection and what borders on the opposite are often the talk and even concern of peers on the deck.
Jessica Hardy (the American breaststroke specialist who tested positive for a banned substance at 2008 USA trials and served a suspension but was able to prove that the product she had taken did not list the banned substance in the contents even though they were there) trained with Hosszu whe the Hungarian was based at Trojan in Los Angeles. Hardy told Crouse: "I've seen a lot of inappropriate and not-O.K. behavior in Shane. I've seen coaches exhibit that kind of behavior in training, but this is another level. It's scary."
Hosszu and Tusup tell Crouse that they have been able to separate their relationship as athlete and coach from that of wife and husband.
Hosszu reflects on her London 2012 Games three years after lifting the World crown over 400m medley and two years after being well beaten by Britain's Hannah Miley for the European titles, when she tells Crouse: "In London, I was so scared of what's going to happen if I lose. It was awful, really. I just felt like: 'This is my time; I need to show it. It's now or never.' I put this pressure on myself."
What followed was the creation of a brand (Iron Lady): she would show nerves of steel and race in every event she could get to, exhaustively and often all arounbd the world – and often at a pace that very few, if any, of her rivals could contemplate when in heavy training phases.
It all started on World Cup tour and Hosszu became FINA's favourite star, an athlete who to them proved that swimming could be a spectacle all year round and that swimmers could change the way they went about things: no more need for long periods of intense training away from competition.
The model, of course, simply does not work for the bulk of swimmers, who are still at school and could not possibly travel as Hosszu does. Not in the sense that her efforts were slow or soft but Hosszu's multiple wins on World Cup Tour – which made her a FINA-prize millionaire – were won in the absence of the bulk of her world-class rivals. The bottom line: the World Cup is poorly attended.
Crouse highlights the obvious, as we often have, when it comes to spouse and coach relationship that turns into altered profile and big-counce success late in a career: Michelle Smith de Bruin and her minder on deck back in 1996, Erik de Bruin. Both have been banned from sport for falling foul of anti-doping rules, he before the triple-gold result of the swimmer in 1996, she two years after those events.
Crouse notes Tusup as saying that when he took over Hosszu became "a 24-hour athlete". Crouse writes: "Tusup and Hosszu are like pool water and chlorine: You are not likely to find one without the other. Over a 15-hour period in late November in Budapest, the only time they were apart was to change clothes or use the bathroom. They never exchanged a cross word, and they never appeared to wilt, perhaps because of the four espresso shots over ice that serve as their daily pick-me-up."
Hosszu described the spouse-coach act as "definitely difficult" but also rewarding. "He's pretty hard as a coach," she said, "but at home he's supersweet and loving and really funny. So we can laugh a lot."
Asked what attracted them to each other, Hosszu tells Crouse with a laugh: "We're weird; we're different; we're not normal. We're ourselves."
Crouse describes Tusup, 28, as a man with a "weekend bodybuilder's physique and several tattoos, including one of his wife's world-record time. His manner can be brusque. His emotions are on a tripwire, causing some people to keep their distance".
He is, says Hosszu, impatient and a perfectionist and that is what has helped to improve her times. No doubting that those have improved, some of them off the chart, her 2:06.12 world 200IM record for the world title last year one of the very pointy cases in point (never under 2:10 before 2013 in textile suit).
Hosszu described him as impatient and said that when he made refinements in her strokes, especially her backstroke, "he expects me to get it perfect right away."
She added, "That's why I've improved so much." She does not mention the endorsement of supplements that Hungarian team sources say are taken in "very large amounts and is why they never seem to get tired – he takes them too".
There is no suggestion from the sources of illegality but what is clear is the physical transformation in Hosszu, who talks about changes to technique when video footage of her then and now also point to gains in power as being at least as significant.
Self-belief lagged talent, the couple suggest. "Since I started working with Shane, I have a lot more confidence," Hosszu says. "It's crazy to think I still need Shane telling me: 'Yes, you are great. Yes, you can do that.'"
In another parallel with the tale of Smith, who was described by coach Deryk Snelling as "one of the hardest workers I've ever seen" in the days when she was 20seconds slower on a 400IM, coach Dave Salo, at Trojan tells Crouse that Hosszu was one of the hardest workers he had ever seen. The exception was in the weight room, where Hosszu was "soft".
That power element of the picture has changed radically.
Salo said he was happy to see "a leaner and meaner" Hosszu swimming "the way people always thought she was capable" but he suggested to the New York Times that there is reason for concern.
"I think the biggest issue with her is her husband. I think you have to look at her motivation. Is it fear or confidence that is driving her?"
There are reports of Tusup screaming in Hosszu's face, using bad and even what some may interpret as threatening language. Last year at the world championships, Tusup fell into an argument over that when an Australian coach intervened and told him to calm down. A top FINA official also approached Tusup to remind him that "it is about her, not you", a source present at the time told SwimVortex.
Crouse reports an incident in which Tusup was said to have told Hosszu, after she swam below the standards he had set her at a grand prix event in the United States, that she should stay in the water and drown. The night was said to have ended with Tusup and Hosszu making their peace.
Hardy, meanwhile, reports that she and Hosszu have not spoken a word since a 2013 meet at which Tusup told Hardy not to speak to his charge. Of late, a long time friend and photographer who has supplied Hosszu with many free photos down the years has been treated to a similarly cold shoulder.
Hardy said: "He said I was distracting her. She seems happy with the dynamic. I have empathy, but I don't think she needs or wants anybody's assistance."
Hosszu described her relationship with Tusup to Crouse as "pretty complicated. I'm definitely more the one who's laid-back. Because he's so emotional and he really wants us to get the goals we set for ourselves, that's probably why he's able to be that way."
Tusup defended his behaviour when he told Crouse he was not a bully, explaining:
"That's what it appears a lot of times. I get a bad rep in the U.S. because these parents in the stands, they're going, 'He's such a jerk; he yells at her when she doesn't swim fast.' No, the hard part of swimming is that there's a lot of times you just settle for O.K., and we agreed that the goal was never to settle for O.K., that we're going to keep pushing, even if we don't get it, to be great, to be amazing, to be legendary."
Such descriptions will, of course, be left to others, including fellow athletes and peer coaches, to decide on.
Time and trust in the system will also decide: Petra Schneider never did test positive in international tests and she kept the prizes she won at the Olympic Games and World Championships. As that and much more recent history has demonstrated, a declaration of "I never tested positive" is no iron guarantee, tragic as that is for all athletes and how upstanding performance is even in the absence of any evidence of rule breaking.
Schneider's 4:36sec victory at Moscow 1980 would have made every podium in the 400m medley all the way into the new millennium, and then every final ever since all the way to the Rio 2016 showdown, in which the East German would still have finished top 8 – 36 years later.
Let's pick an outstanding time from a legend and see where a world-record win would have finished 36 years later:
1972: Shane Gould (AUS) 4:19.04 – 400m freestyle
2008: 4:19.04 would have finished 32nd in heats at Beijing 2008
Hosszu, like all others, is in the hands of those who will decide how to tackle anti-doping in future in a way that protects clean athletes. Samples from Rio and the run-up will be stored for 10 years and rested when new technologies emerge.
End SwimVortex/SOS archive