Summer McIntosh Throws Down A 3:56.08 World-Record Gauntlet For Titmus & Ledecky To Chase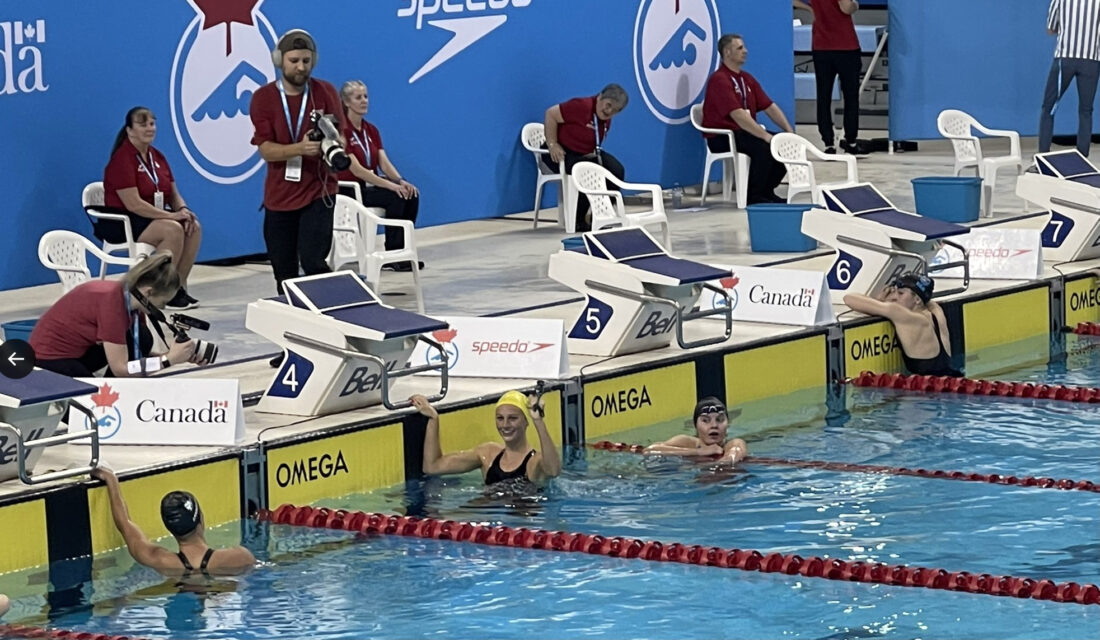 Summer McIntosh, 16, has become the first Canadian ever to hold the women's World record over 400 metres freestyle with a 3:56.08 blast on the opening night of Canada's World-Championship swimming trials in Toronto.
(highlights from other sessions in Toronto, unless separate reports are posted, can be found at the end of this report)
McIntosh's new standard swept her inside the 3:56.40 at which Australian Olympic and World Champion Ariarne Titmus took down American Katie Ledecky's mark by 0.06sec in May 2022. The prospect is real for a Paris 2024 women's rival to the Athens 2004 men's Olympic 200m freestyle final dubbed 'the race of the century' between Ian Thorpe, Pieter Van Den Hoogenband and Michael Phelps (whose excellence comes back into focus in the story of David Popovici).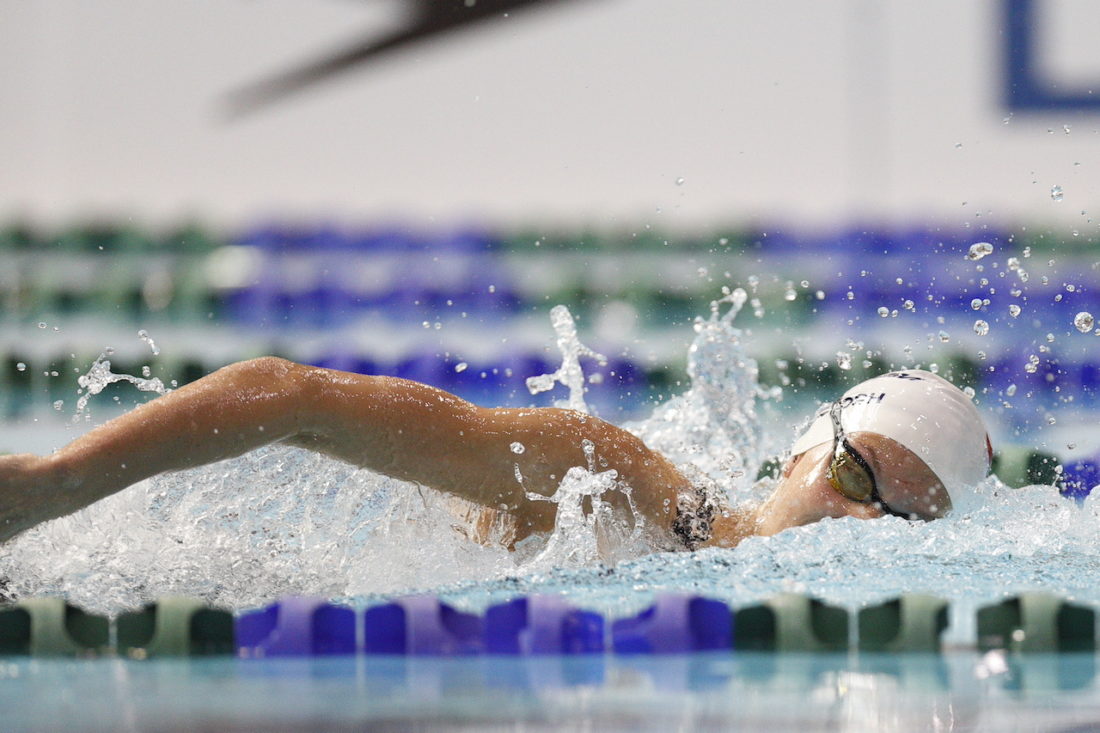 Yes, the label 'race of the century' was somewhat premature, perhaps, but if the women's 400m freestyle lives up to the billing building, we're looking at one of those epic moments when every hair stands up on every neck as the whistle blows, the gladiators take to their blocks and the silence hums with the sound of anticipation.
That race is set to unfold courtesy of McIntosh, a two-times World champion last year in Budapest at the age of 15, Titmus, Olympic 200 and 400m champion, and Ledecky, with an unprecedented string of Olympic victories over 200 (1), 400 (2), 800 (3) and 1500m (1) since her first title aged 15 at the London 2012 Games.
The women's 400m global standard has been set 31 times by Americans since Ethelda Bleibtrey in 1919, and eight times by Australians in all that time. McIntosh added a Maple cover to that history this evening as she sped well inside World-record pace for the first 300m of ambition before nailing the standard to her mast 0.32sec to the good for the first World senior record of her career.
The Phenomenal Flow of McIntosh En Route to The World Record:
56.46; 1:55.91; 2:55.84; 3:56.08 WR – McIntosh, Toronto 2023
Compared:
57.13; 1:56.99; 2:57.37; – 3:56.40 WR – Titmus, Adelaide 2022
57.05; 1:57.11; 2:57.62 – 3:56.46 WR 2016 – Ledecky, Rio Olympic Gold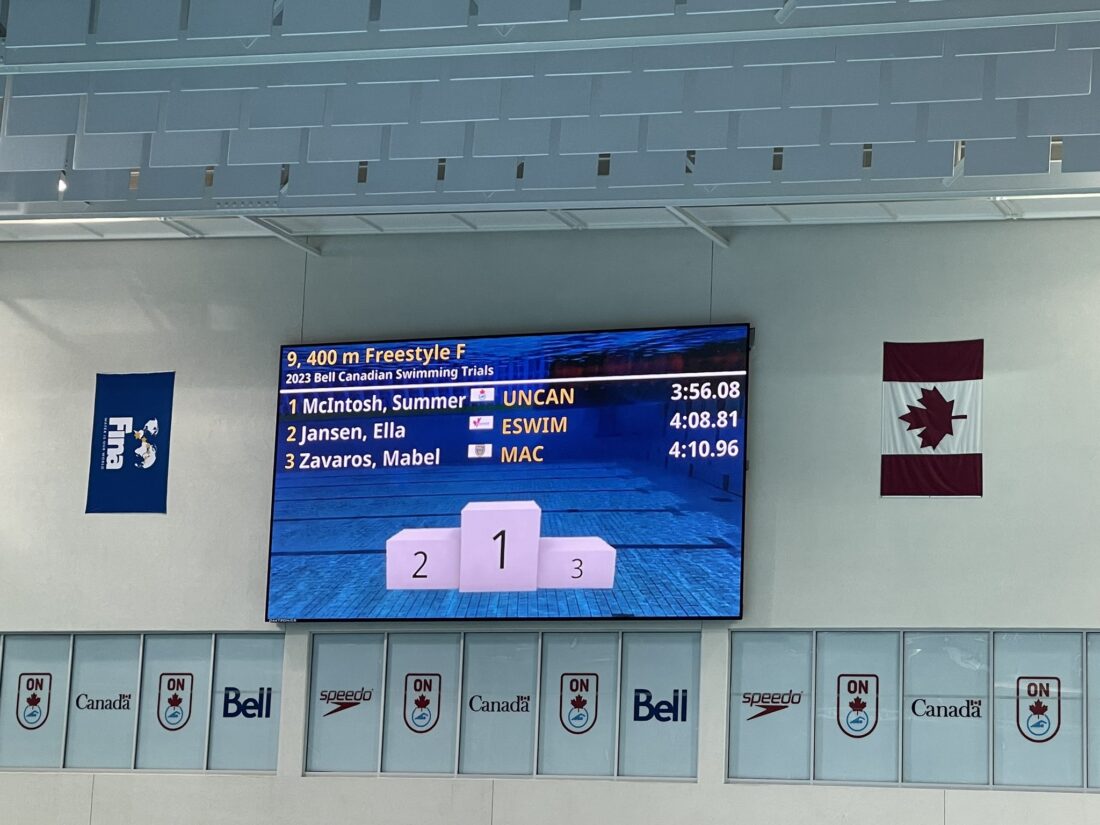 The battle a week beyond the spring solstice was Summer Vs Clock, the nearest rival 12 seconds back by the close of business. The new world-record holder told media in Toronto: "Going into tonight, I didn't think the world record was a possibility, but you never know," McIntosh, who posted quotes from Ledecky on her bedroom wall as a child setting her sights high, had a previous best of 3:59.32, clocked for Commonwealth silver behind Titmus last year in Birmingham.
Until tonight's race, the Canadian had been fourth fastest in history, Italian ace Federica Pellegrini, queen of the 200m freestyle with Olympic (1), World (4 in 8 podiums!) and European long-course titles (4) to her name, having been the first to break the 40-min mark back in shiny-suited 2009.
"Whenever I get the chance to compete at one of my home pools, where I trained for two years, and to compete in Canada there's always that extra little bit left in my races to finish and make them proud," said McIntosh.
She welled up when thoughts turned to her family: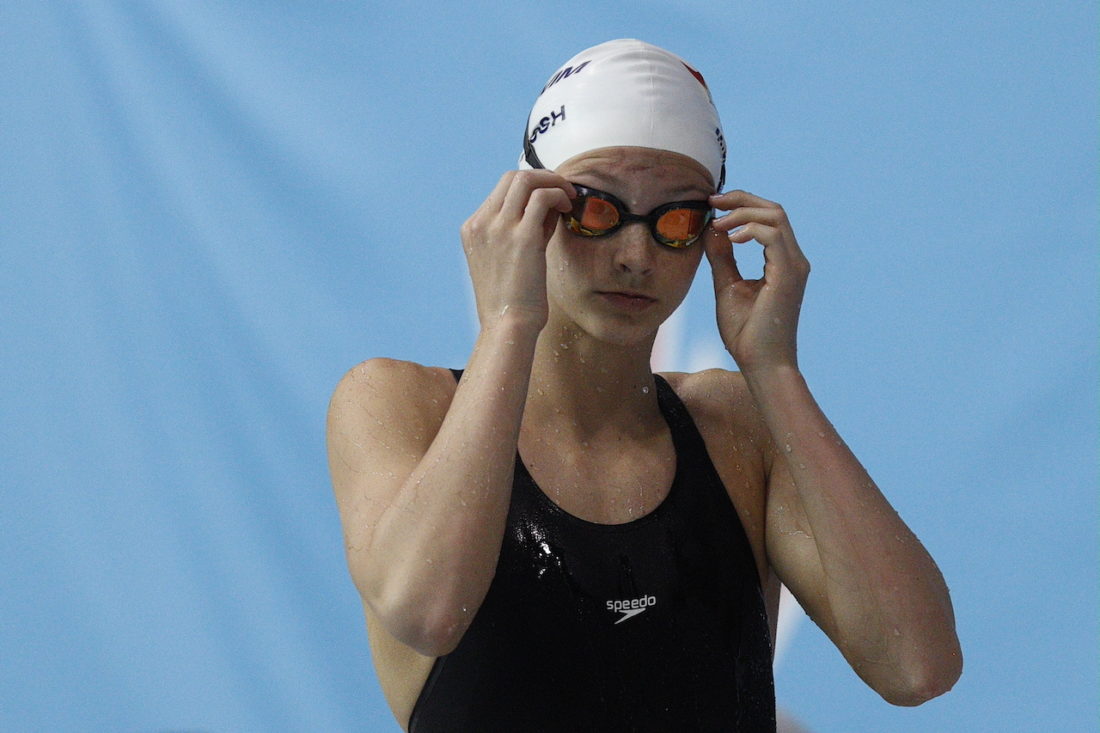 "Thank you for everything, it means the world to me and I love you guys. Over the past few years I've put my life into this. To be the best I can be. To achieve something like this, it was very unexpected. It was never in my dreams to do this tonight or even a few years ago. This just blows my mind."

Summer McIntosh, Photo courtesy of Swimming Canada
Last June in Budapest, McIntosh became the third-fastest woman in history in the 400m medley as the first 15-year-old since Tracy Caulkins in 1978 to claim the World title in that event. The Canadian also claimed the 200m butterfly crown and now holds the World junior records in all three of her best events.
McIntosh, 16 years and 7 months old, moved her full-time training base to Sarasota, Florida, and coach to the Sarasota Sharks Brent Arckey last year, while Ledecky is based at the home of the Gators in Gainesville with coach Anthony Nesty and team a few hours drive away in the same Sunshine State.
Summer's swim earned coach Arckey plaudits from Swimming Canada's Performance boss John Atkinson:
The youngest world record holder ever over 400m freestyle remains Aussie legend Shane Gould, who first set the mark in 1971 aged 14 years and 7 months, a year before she achieved what no other female swimmer has matched since: five Olympic medals (3g in world-record times on freestyle and medley, 1s, 1b) in solo events at a single Olympics. The only man to have achieved the five solo medals feat is Michael Phelps, he of a tally of 23 golds in 28 Olympic medals that no other athlete in any sport has come remotely close to throughout Olympic history.
The youngest world record holder ever in swimming is the late Karen Muir, the South African locked out of international competition by the apartheid regime in her country and the ban it prompted. Karen was 12 years, 10 months and 25 days old when she claimed the World Record in the 110-yard backstroke in 1965. She passed away aged 60 in 2013 after a fight with cancer.
World Record Progression Since 1978
| | | | | |
| --- | --- | --- | --- | --- |
| 4:06.28 | Tracey Wickham (AUS) | 24 Aug 1978 | World Championships | West Berlin |
| 4:05.45 | Janet Evans (USA) | 20 Dec 1987 | US Open | Orlando, USA |
| 4:03.85 | Janet Evans | 22 Sep 1988 | Olympic Games | Seoul, South Korea |
| 4:03.03 | Laure Manaudou (FRA) | 12 May 2006 | French Championships | Tours, France |
| 4:02.13 | Laure Manaudou | 6 Aug 2006 | European Championships | Budapest, Hungary |
| 4:01.53 | Federica Pellegrini (ITA) | 24 Mar 2008 | European Championships | Eindhoven, Netherlands |
| 4:00.66 | Joanne Jackson (GBR) | 16 Mar 2009 | British Championships | Sheffield, United Kingdom |
| 4:00.41 | Federica Pellegrini | 27 Jun 2009 | Mediterranean Games | Pescara, Italy |
| 3:59.15 | Federica Pellegrini | 26 Jul 2009 | World Championships | Rome, Italy |
| 3:58.86 | Katie Ledecky (USA) | 9 Aug 2014 | USA Championships | Irvine, United States |
| 3:58.37 | Katie Ledecky | 23 Aug 2014 | Pan Pacific Championships | Gold Coast, Australia |
| 3:56.46 | Katie Ledecky | 7 Aug 2016 | Olympic Games | Rio de Janeiro, Brazil |
| 3:56.40 | Ariarne Titmus (AUS) | 22 May 2022 | Australian Championships | Adelaide, Australia |
| 3:56.08 | Summer McIntosh (CAN) | 28 March 2023 | Canadian Swimming Trials | Toronto, Canada |
McIntosh, Titmus and Ledecky may meet in the 400m freestyle this July in Fukuoka at the World Championships. Ledecky is still the star to beat over 800 and 1500 metres but she would have to race into uncharted waters to keep the youngsters at bay in all future 400m clashes and it remains to be seen what the American's Paris 2024 program will look like at what would be her fourth Games.
McIntosh, whose mother swam at the 1984 Olympics and whose sister competed at the world figure skating championships last week, was 14 when she finished fourth in the Tokyo 2020 (in 2021) 400m freestyle final, a race won by Titmus by a touch over Ledecky and in which the Canadian became the youngest swimmer to race an individual Olympic swimming final since 2008.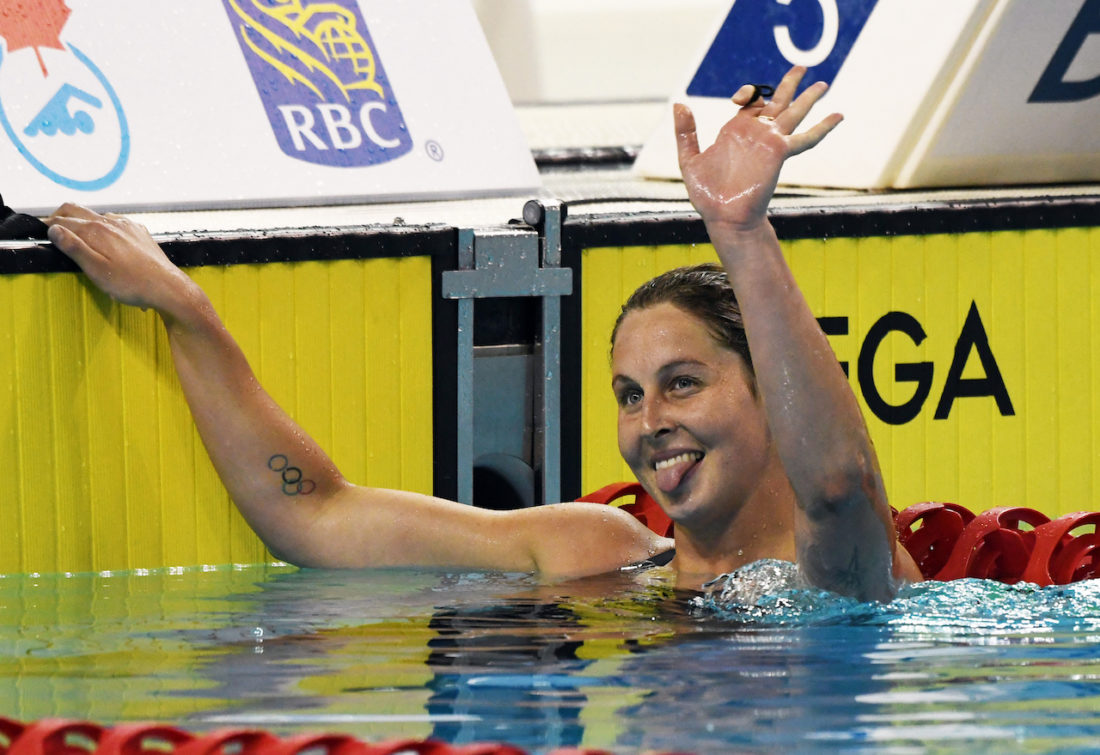 Best of other finals:
200m breaststroke:
W: Sydney Pickrem, 2:24.63; Kelsey Wog, 2:25.26
M: Brayden Taivassalo, 2:11.28; James Dergousoff, 2:11.48
100m backstroke
W: Ingrid Wilm, 58.80; Kylie Masse, 59.00
M: Javier Acevedo, 53.83; Blake Tierney, 54.49
Toronto Trials – Results in full.
Days 2 Highlights – National Marks For Liendo and Acevedo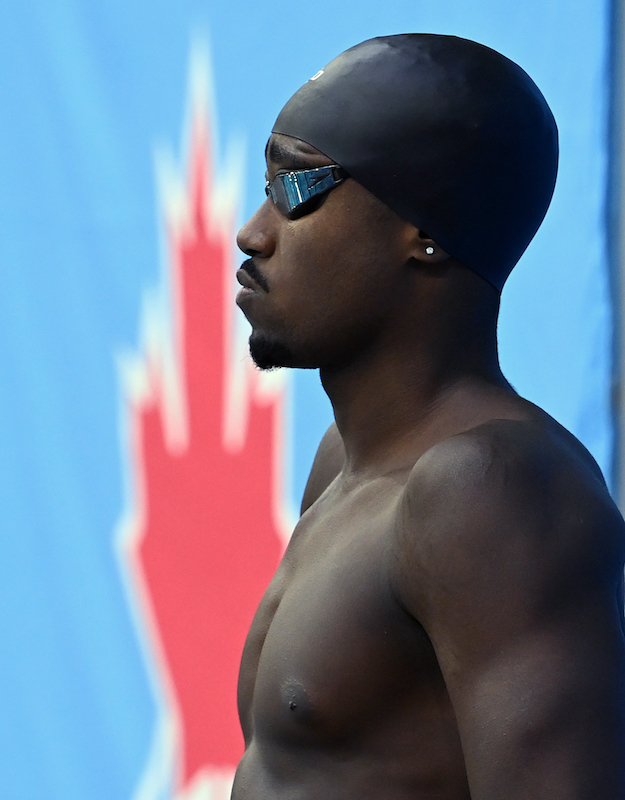 Canada's flyers flew into contention for World-Championship prizes on the second day of Trials in Toronto, Olympic champion Maggie MacNeil and national teammate Josh Liendo both in fine fettle.
In the 100m finals, MacNeil was out in 26.44, home in 56.54 (30.10), Katerine Savard out in 26.77 home in 57.81 (31.04), while Liendo set a Canadian record of 50.36, inside the 50.78 standard he set in prelims.
Liendo was racing off the back of a speedy NCAA display of sprint force and efforts topped in the league of the outstanding only by three magnificent performances of Léon Marchand, of France and coach Bob Bowman and team's Arizona State Sun Devils.
Out in 23.62, Liendo returned in 26.74, his nearest opponent Ilya Kharun, on 51.45.
Javier Acevedo topped his 24.97 Canadian mark with a 24.90 victory in the 50m backstroke, the women's win going to Kylie Masse in 27.79, while the distance freestyle finals went to Emma Finlin, on 16:20.61 over 1500m and Eric Brown, on 7:56.96 in the 800m.
Day 3 – Another Summer Scorcher Building As McIntosh Versatility Shines With a 2:06.89 WJR Over 200IM
.