Summer McIntosh 1:56.1 – The Swiftest-Ever At 14 Over 200 Free – & Kelsey Wog Join Team Canada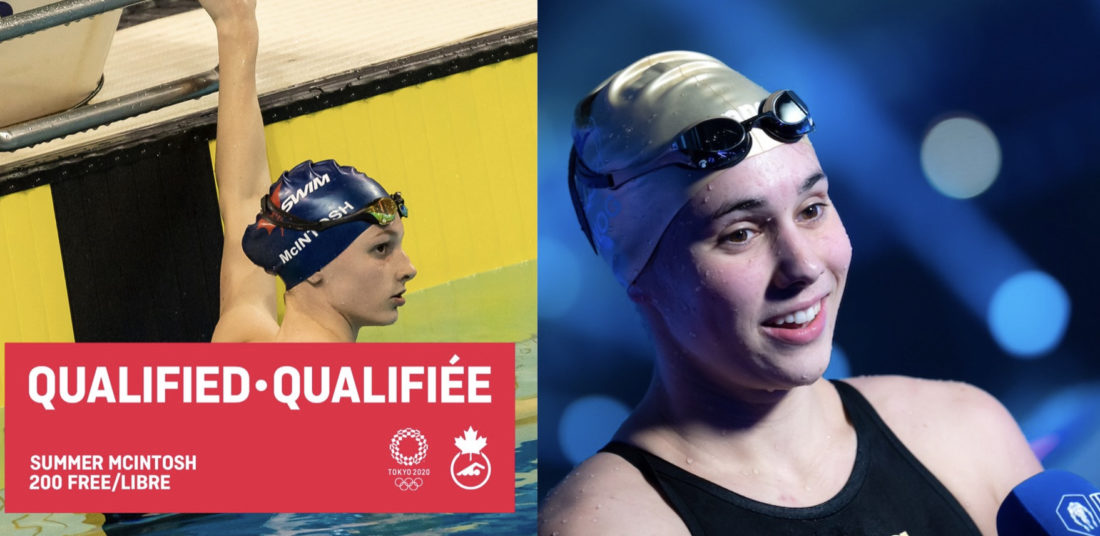 Summer McIntosh and Kelsey Wog added their names to the Canadian team for the Tokyo Olympic Games on day 2 at trials in Toronto, a 1:56.19 from 14-year-old McIntosh in the 200m freestyle one of the most outstanding efforts in that event for one so young down the decades.
Several young teens have held the World record in the 200m freestyle at 14-15 years of age, the prime examples Shane Gould, of Australia, who set the first of her three 200m global standards at 14, and American Sippy Woodhead, who claimed the World title at Berlin 1978 in a flag-bearing 1:58.53.
Other notables who went on to make the Olympic podium over 200m free after posting sizzling time at 14 include Germany's Franziska Van Almsick, on 1:57.90 at the 1992 Olympic Games, and Sweden's Sarah Sjostrom, on 1:57.34 at Swedish nationals in 2008 after she had become the youngest European 100m butterfly champion in history.
Removing the relativity of time, McIntosh is the fastest 14-year-old in history and she sped to her 1:56.19 in a race with pre-selected Penny Oleksiak, who at 16 became the youngest Canadian to become an Olympic champion when she matched American Simone Manuel in the 100m freestyle final at Rio 2016.
McIntosh shadowed Oleksiak, her training partner at the High Performance Centre – Ontario, to the 100m mark, and then put in the sole sub-minute return in the fight, at 59.44, her last length a 29.43.
Team Test
Third place in Toronto today went to Rebecca Smith in 1:57.76, which may be good for a 4x200m relay berth when selectors name teams, as might Katerine Savard's 1:57.79 for fourth. Though she missed the final of the 200m free today, Taylor Ruck, national record holder at 1:54.44, had already been pre-selected for the Canadian team, alongside with others (see below).
How McIntosh Raced On Oleksiak's Coat-Tails To Half-Way:
27.26 56.75 (29.49) 1:26.76 (30.01) 1:56.19 (29.43) Summer McIntosh
26.78 56.49 (29.71) 1:27.21 (30.72) 1:57.24 (30.03) Penny Oleksiak
26.96 56.55 (29.59) 1:26.95 (30.40) 1:57.76 (30.81) Rebecca Smith
McIntosh earned Swimming Canada's "Bell Performance of the Day". She is the latest in her family to achieve athletic success; her mother Jill Horstead was an Olympic swimmer in 1984 and her sister, Brooke, competed in figure skating at the 2020 Winter Youth Olympics.
Summer McIntosh emerged from racing to say: "Family is everything. My mom drives me to practice every day. They are all just so supportive."
Oleksiak's take on her teammate: "I love Summer. She's all gas and no brakes. I love her work ethic and she's so strong mentally in and out of the pool."
That "all gas no brakes" comment has purchase:
McIntosh, whose home program is Etobicoke Swim Club, had held the Canadian 13-14 age mark at 1:57.40 for less than a day: she raised her career high bar from 1:57.65 in heats this morning. She will race at the Tokyo 2021 Olympic Games aged 14, her birthday not until August 18. Swimming programs and as a sport across the world has struggled during the pandemic but McIntosh is a key example among those who make their Olympic debut earlier than they might have done courtesy of the year-long delay to staging the Games.
China's Ai Yanhan became the fastest 14-year-old ever over 200m free when she clocked 1:56.46 at Chinese Championships in 2016.
Oleksiak, now No3 on the Canadian all-time 200m list adrift Ruck and McIntosh, stamped a ticket she was handed back at the start of the year when Canada named a squad of pre-selections for Tokyo to take account of the challenging circumstances of the pandemic:
Kylie Masse (Lasalle, Ontario), 100m and 200m backstroke
Margaret MacNeil (London, Ontario), 100m butterfly
Penny Oleksiak (Toronto, Ontario), 200m freestyle
Sydney Pickrem (Halifax, Nova Scotia), 200m breaststroke, 200m and 400m individual medley
Taylor Ruck (Kelowna, British Columbia), 100m freestyle
Markus Thormeyer (Delta, British Columbia), 200m backstroke
Kelsey Wog Brightens Canada's Medley Relay Outlook
The A cut set at 1:07.07, Kelsey Wog built confidence with a 1:06.92 in heats before taking the win in the final on 1:06.77, off splits of 31.42 and 35.35. Fastest there and back, Wog had the close company of Rachel Nicol, on 31.65 at the tuning up for her medley signature was Sydney Pickrem, on 1:08.17, after 1:08.30 in heats.
Wog's selection confirms Canada as a fighting force in a medley relay that boasts Masse, MacNeil and Oleksiak/Ruck.
In other finals…
Peter Brothers, having won the 400m free on day 1 but found. Himself outside the cut for Tokyo, lived the same pattern today in the 200m free, the target time at 1:47.02, his 1:49.07 good for the win.
Gabe Mastromatteo, on 1:00.11 in heats, clocked 1:00.75 to win the men's 100m breaststroke.