Summer McIntosh On 1:55.3 For 200 Victory In Victoria, With Oleksiak, Ruck & Sanchez Up For Relay Battle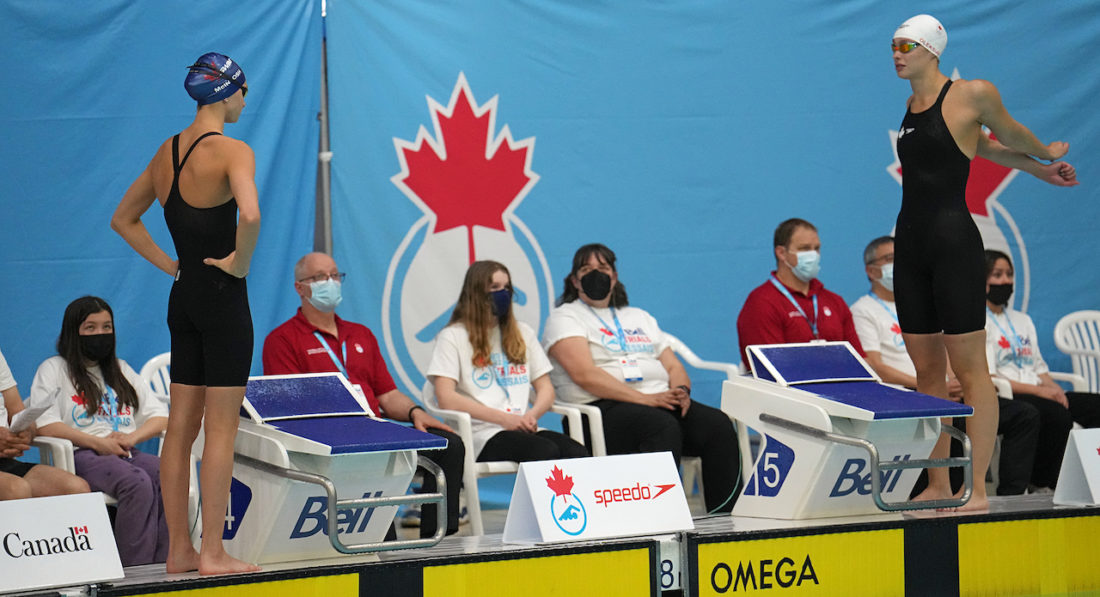 Summer McIntosh, 15, is heading into a season of plenty, if a lifetime best of 1:55.39 for victory in quality company over 200m freestyle on the third evening of finals at Canadian Trials in Victoria is the signpost it looks like: onwards and upwards to the battle among the best of the best.
With her second win of the week after a career-high 4:01 Canadian record in the 400m, McIntosh got the better of Olympic bronze medallist over 200m at Tokyo2020ne and Rio 2016 champion over 100m, Penny Oleksiak.
The top two and fourth home, Kayla Sanchez, all train at the High Performance Centre – Ontario, while NCAA champion Taylor Ruck, at Stanford, took third, all three on 1:57s, respectively 1:57.01, 1:57.60 and 1:57.61.
The top four in Victoria qualify for relay action at World Championships in Budapest in June. They made up the quartet that set a national 4x200m record of 7:43.77 in the Tokyo Olympic final last year behind the three teams that raced inside the pre-race World record, namely China, USA and Australia in that order.
This year, the Canadians also have the Commonwealth Games, in Birmingham, England, in high summer, on their list of targets.
Of racing Oleksiak, winner of seven Olympic medals at the past two Games, McIntosh, racing in her second summer of senior contention after her Olympic debut last year, said: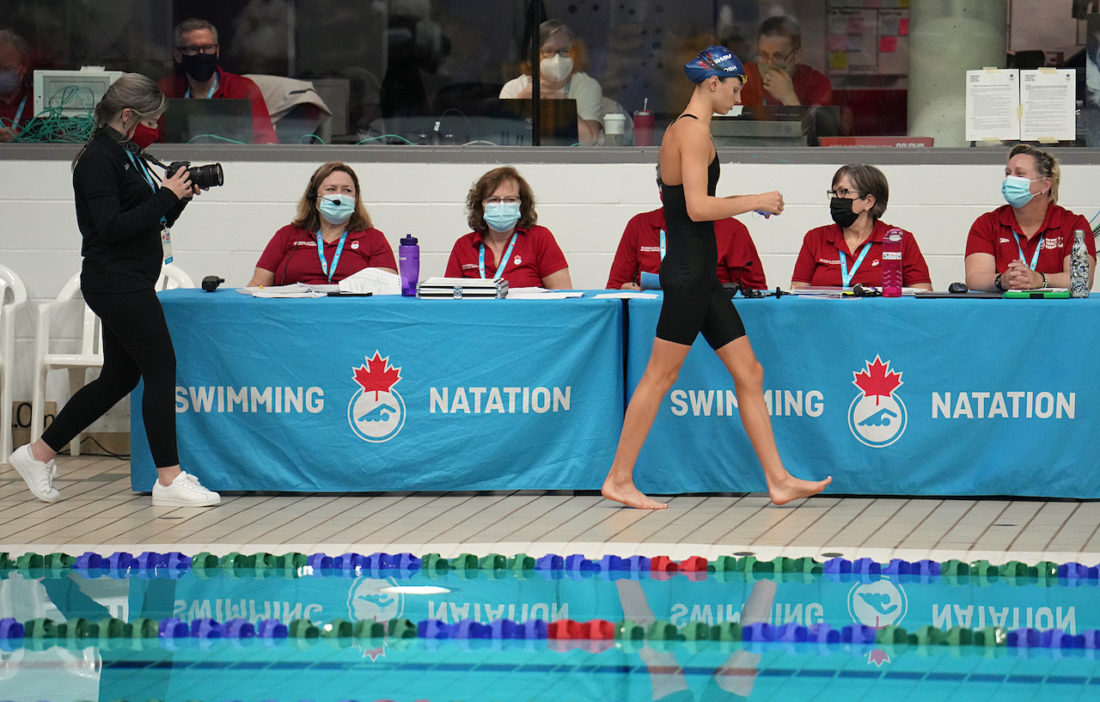 "I try not to focus on who it is that I am racing with or who I am trying to beat. It's more who is beside me. I'm just trying to get my hand on the wall first. It is kind of a surreal thing to race people I have looked up to. It's just a great opportunity I get to have."

Summer McIntosh – image – walking away with a second gold and ticket to World titles, by Adrian Lam, courtesy of Swimming Canada
For Oleksiak is was a work-day test she passed in that she secured her passage to World titles. Speaking through Swimming Canada, she said: "I was going to try to be a hero, then I decided in the last 75 (metres) I just needed to touch second. I was trying to look past Summer and see where those girls were. I'm just glad I have my spot for this summer."
 
The third session of finals at Trials celebrated two newcomers to Team Canada for World titles when Sophie Angus took the 100m breaststroke in a personal best 1:07.60 and Patrick Hussey, with a fourth place in the 200m freestyle in a lifetime best 1:50.67 claimed a berth on the 4×200 squad.
The 200m final went to Ruslan Gaziev in 1:47.44. Finlay Knox on a best of 1:47.92 in second, with Jeremy Bagshaw third in 1:49.25.