SOS Review & Awards 2021 – The Best Of Times, The Worst Of Times, The Season Of Light & Darkness At Swimming's Watershed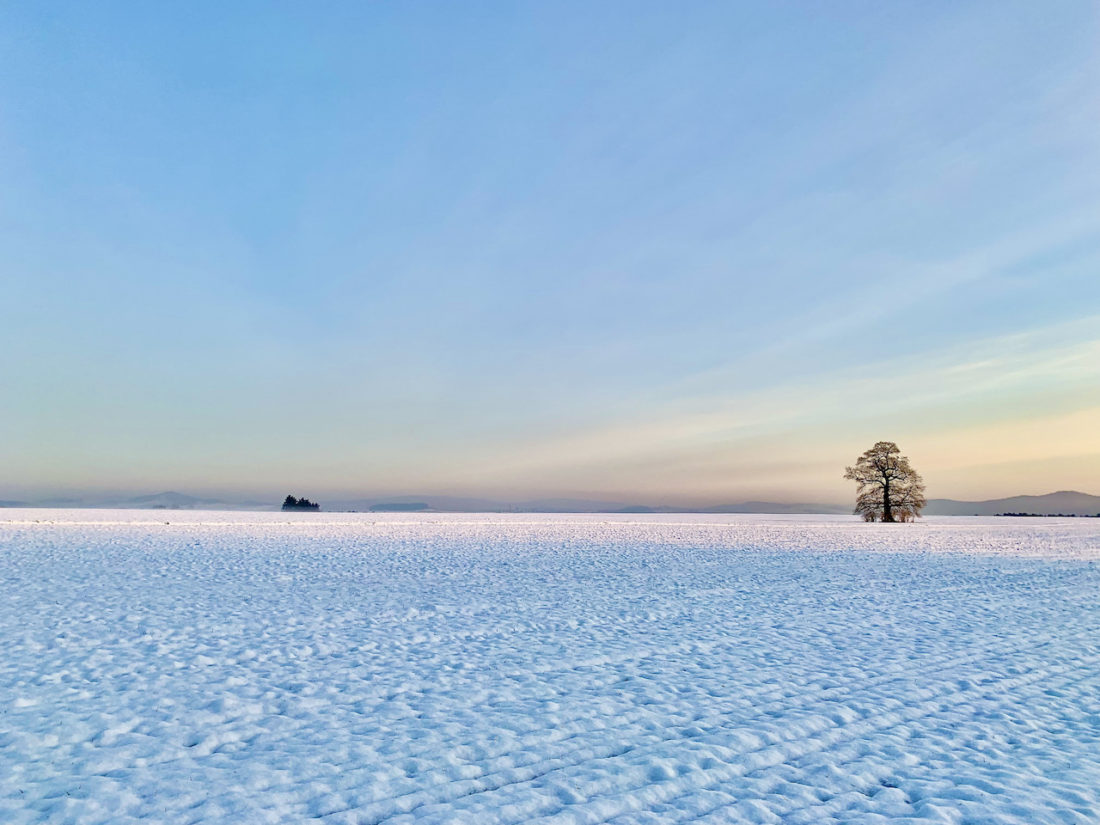 "It was the best of times, it was the worst of times, it was the age of wisdom, it was the age of foolishness, it was the epoch of belief, it was the epoch of incredulity, it was the season of light, it was the season of darkness, it was the spring of hope, it was the winter of despair, we had everything before us, we had nothing before us, we were all going direct to Heaven, we were all going direct the other way – in short, the period was so far like the present period, that some of its noisiest authorities insisted on its being received, for good or for evil, in the superlative degree of comparison only."
― Charles Dickens, A Tale of Two Cities
What a way to start a book. Dickens' brilliant gateway to his (A) Tale of Two Cities, with its aquatic symbolism, resonates in a time of pandemic as we approach the 220th anniversary of the great author's birth.
A Happy & Healthy 2022 To All SOS Readers and the Wider Swim Community
The end of 2021 places us on the cusp of the third year of a pandemic that has highlighted the state of swimming and the great gulf between the elite end of the pool and the birthing pool of champions, the source of excellence, the foundations clubs and programs frozen out for long stretches well beyond the first lockdowns that affected the Olympic and International Swimming League of the swim spectrum.
There have been winners and losers in the pandemic and swimming in general in a sport in rehabilitation, its traditional sources of often highly subsidised funding – including the biggest aquatics stream of them all, the hidden Bank of Swim Parents – under pressure at various levels.
A FINA Reform process, with promise of an Integrity Unit, is underway and some elements of it speak to the deep end of elite racing and the shallower end of the tank, where development and what many nations take for granted is either a very tall order and challenge or nigh impossible. In the middle of the devil and the deep blue sea, there is the development and survival of the birthing pools, local clubs and associations that underpin the strength of the sport – and account for its vulnerability.
On the trail towards better governance, integrity started to get the upper hand in our times, evidence of that to be found in the suspension of Sun Yang confirmed, the stripping of honour from Dr Lothar Kipke finally coming to pass after decades of campaigning, and a pledge from FINA to consider how it might reach for reconciliation as a way of righting some of the wrongs and helping to heal the deep wounds of swimming history. There is much work yet to be done.
On the competition frontline, the highlight of the year was the delayed Tokyo Olympic Games.
SOS Coverage of The Tokyo 2020 Olympic Games in 2021: Comprehensive review and links to coverage of every final at the Games
At SOS, one of our key focusses is to cover the issues swimming struggles to acknowledge and face up to head on, including a poverty of coverage on abuse of various kinds and a failure to call out leaders who have fallen shy of integrity by very wide margins. Jumping on the band wagon of a breaking news story and writing or podcasting it up as if you were the very champion of good causes long after having ignored all the red flags and warning signs along the way and after having given more voice and credence to the blazer than the athlete, survivor and victim, is a part of that poverty and failure.
And in 2021, that applied to the two overriding challenges for the sport:
Women's sport and ensuring that it is a safe and fair place for women. This will be the campaigning issue of 2022 here at SOS, three years after we published this (it took niche media all that time and the niche of a niche NCAA case to catch up, and then, perhaps, only because it saw the way the wind was blowing in its community of readers. Has that niche media in the U.S. asked the sport's leadership, including senior figures at FINA, why they have sat on their hands while the runaway train was hurtling down the track towards their sport and women's sport in particular? No, is the answer to that, in my opinion. The question is: why not?
The FINA Reform Process. There are no awards for those driving that process this year, words and good intentions yet to be followed through with the essential Holy Spirit in the divinity of change: deed.
It is with the second point in mind that we start our awards with The Carlile Cup.
The State of Swimming – SOS – Awards, 2021
Carlisle Cup – Lifetime Achievement: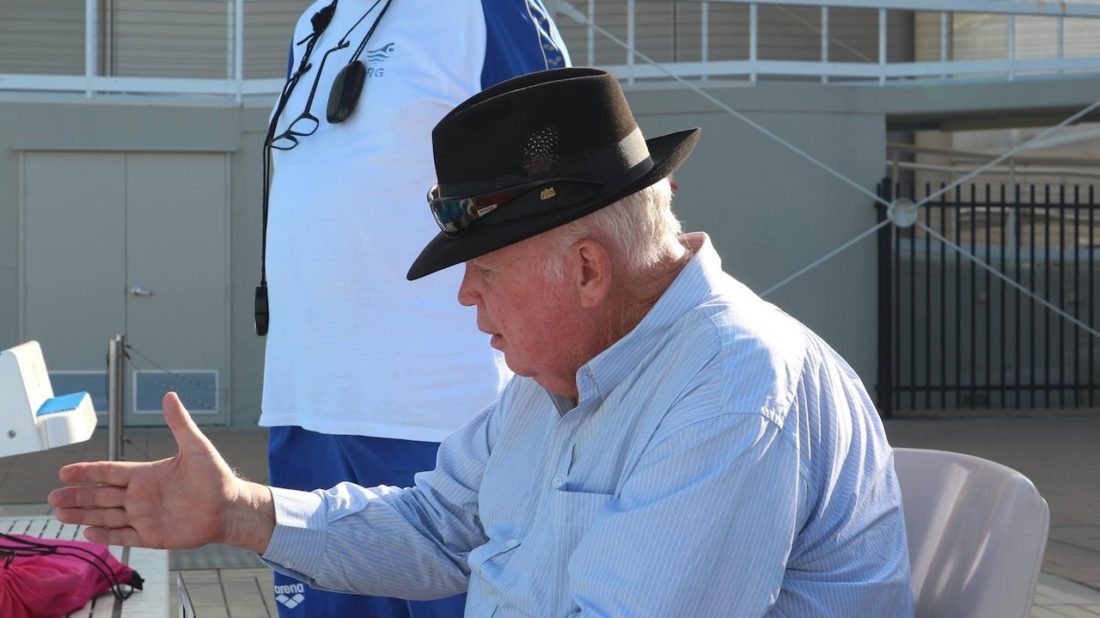 The Carlile Cup, named after and in honour of Forbes Carlile, is granted to those whose contribution is not only deep in decades but delivered leadership and pioneering progress to swimming.
This year, it goes to Bill Sweetenham, the Australian coach and athlete mentor whose contribution to outcomes both competitive and political in 2021 are undeniable. Of late, his work was recognised with Life membership of Swimming Australia.
Here is what we recognise him for, as a few examples of his work and contribution to excellence in and the betterment of swimming:
His mentoring of coaches in Australia and how that fed into the knowledge and practices that helped deliver the most successful Olympics in the pool for the Dolphins
His leadership role in calling on FINA leaders to submit to a review and reform process back in 2014-15. Not once but three times was his message and plea, backed by members of the World Swimming Coaches Association and peer organisations around the world, sent but ignored. Seven years on, when FINA announced its reform committee, issued its report and recommendations and then celebrated the news that those had been accepted by Bureau and then Congress, there was not a single mention of any of those who were not only ignored but ostracised when they suggested the very same measures down the past two decades, measures summed up by Sweetenham's pleas in 2014-15.
Forbes Carlile spent a lifetime raising similar (and some of the same precise issues) and bering roundly ignored by governors in swimming. We can't ask him but I think he might now be saying 'good to see at long last, thanks to all those who have called for it for many a long year – now let's see what they actually do'. It is in his honour that we honour Sweetenham this year, this last day of 2021.
The scope of Sweetenham's work and influence is impossible to capture here but in this article on exchanges between the mentor and Australian coaches, we gain insight into the kind of approaches, dedication, mindset and commitment to learning at all levels of a career that underpin Australian coaching and swimming success.
And here is more on the times, the work and and the mindset of Bill Sweetenham published on SOS:
Swimmers Of The Year
Open Water Swimmers of the Year:
Short-Course Swimmers of the Year:
Women: Siobhan Haughey – HKG – WR 200m freestyle, 100 and 200m World titles and bronze in the 400m + ISL Season for Energy Standard
Men: Florian Wellbrock – GER – WR 1500m freestyle (in a four-way battle; who said 1500 was 'too boring for TV'? I disagree) – listed here for short-course, a feat that stretches his powers from open water and the long-course pool to the confines of 25m racing: Olympic marathon crown – Olympic silver, 1500m freestyle – and a swimmer locked out of the ISL because they don't do distance and care little for the times on the clock, apparently (they should – and there are ways to be smart and entertaining ways to go about it but so far they have not been explored)
Solo Performances Of The Year:
Women: Tatjana Schoenmaker (RSA) – 200m breaststroke, Olympic gold, WR
Men: Caeleb Dressel (USA) – 100m butterfly, Olympic gold, WR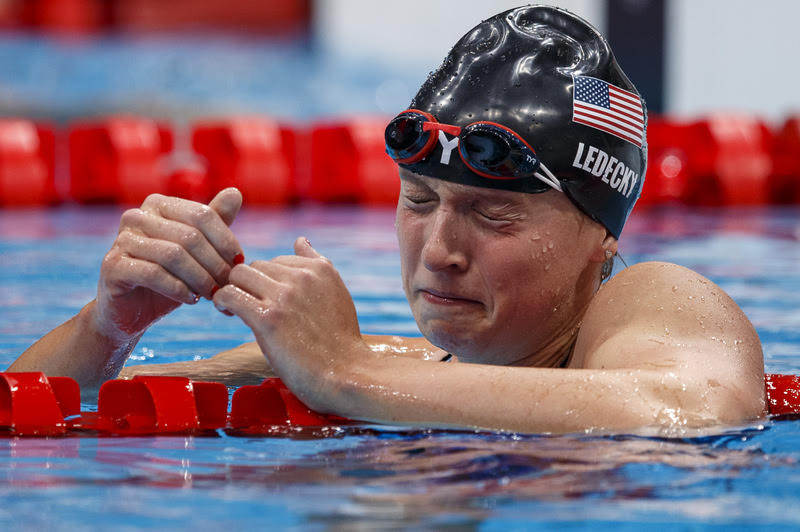 Winning Streak Warriors
Women: Katie Ledecky USA – unbeaten over 800m freestyle (and 1500m, though she was forced to bypass that event at 2019 World titles) since she made her international breakthrough with Olympic gold in 2012. Her distance times were off her best – but that made her impact and soaring achievement no less thrilling.
Men: Adam Peaty GBR – unbeaten over 100m breaststroke in the long-course pool since he made his international breakthrough with European and Commonwealth titles in 2014. His times were not what he'd worked for but they were comfortably good enough to get the prizes he sought, barring the men's medley relay silver, which will shine in the corner of his eye all the way to Paris 2024.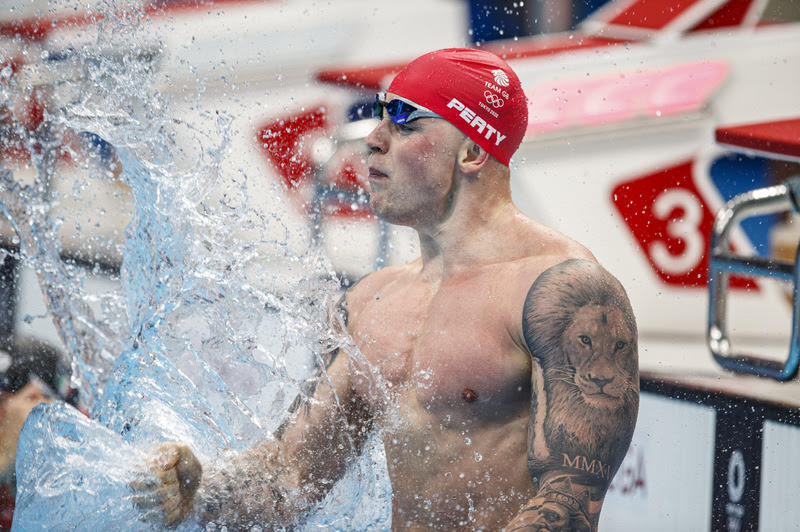 Those two athletes proved themselves to be warriors beyond the straight pursuit of speed and times and victory in the fast lane: the maturing and perspective of Katie Ledecky in the narrower context of blistering battles with Ariarne Titmus and in the wider context of life and the leadership role and athlete voice of Adam Peaty were a significant part of the swimming story of 2021, the times we live in and the changing role of the athlete in the direction sport is headed.
Fast-Finisher Of The Year
Bobby Finke (USA) – the warning sign was there when Finke crushed those he had shadowed in the 800m free final at Tokyo202One. He then repeated the same trick over 1500m – and got away with it. It may be trickier to repeat next time of asking: Finke's phenomenal finishing speed delivered lessons the American's opponents will surely have paid keen attention to. We live in a time when 800 and 1500m battles, while overlooked by the ISL, a great force for change in the sport and yet in its infancy on a learning curve of its own, have become much more than standard "two-horse race" stuff. The depth in the Tokyo and then Abu Dhabi distance battles meant that every race was at least four-way to the closing stages of fight.
Mind-The-Gap Merit Award: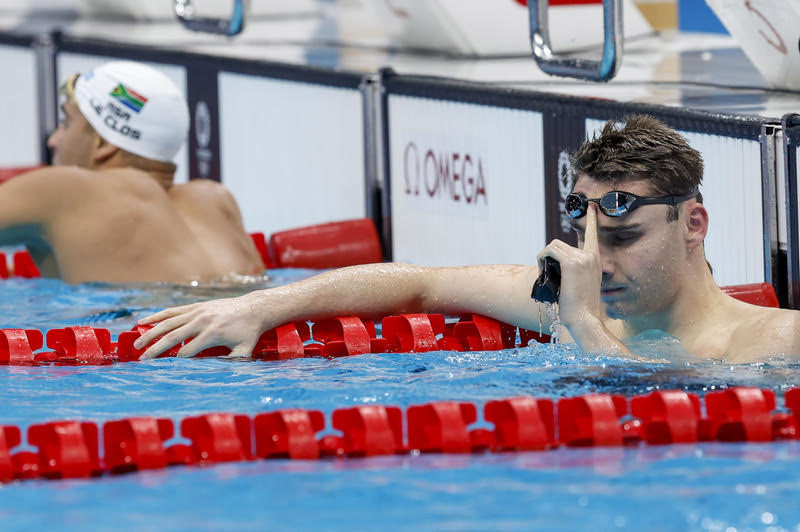 Overall and men: a tie on the scale of dominance in their event when it most counted –
Kristof Milak (HUN) – 1:51.25 OR, 200m butterfly, Olympic Champion and just shy of his own World record: Victory represented the biggest margin of victory in any event in the pool, both genders, at Tokyo 202One, at 2.48sec, or 0.72sec on each 50m length
Florian Wellbrock (GER) – The dynamics of open water swimming are barely comparable with the kind of measures that help us assess the relative relationship between one magnificent swim and another in the pool (and all such measures are debatable and imperfect, one way of another). One this is for sure, however: Florian Wellbrock's Olympic marathon victory, in a year that also saw him make the podium in the Olympic pool, and end the year on a high as World short-course champion and new record holder in the 1500m freestyle, was one of the Mind-The-Gap moments of 2021.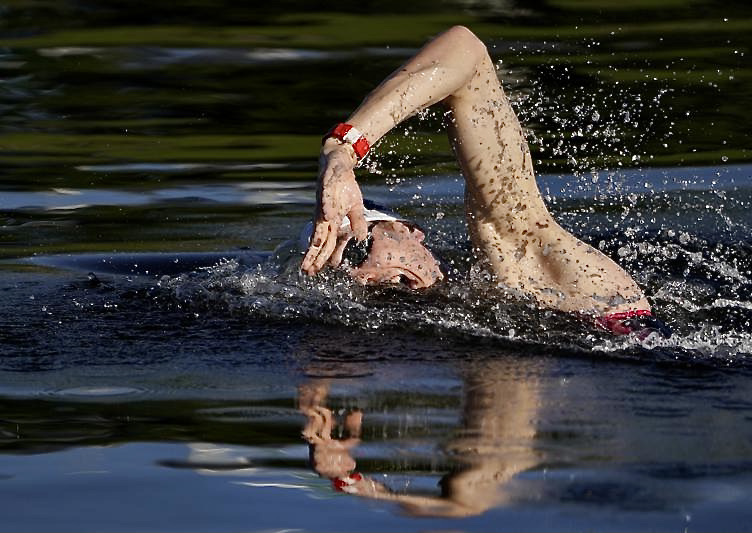 As I wrote on the hour: "The 'splits' for each buoy and lap read like the form guide for the greatest horse in history – 1,1,1,1,1,2,1,1,1,1,1,1,1 – 1 hour 48:33.7sec. And in sweltering conditions at the Odaiba Marine Park in Tokyo Bay.
French challenger Marc-Antoine Olivier was the only man who ever led Wellbrock, the 23-year-old double World champion of 2019 who got locked out of the medals in fourth place over 800m in the pool last week before claiming bronze in the 1500m adrift the winner of both those races, American bolter Bobby Finke, the fastest last-50 man in the history of swimming speed relative to distance.
Coached by Bernd Berkhahn at Germany's high-performance centre in Magdeburg, Wellbrock set a speed to distance record of a kind, too, today, in a race that ended with Hungarian Kristof Rasovszky and Italian 1500m champion on 2016 Gregorio Paltrinieri on the podium with the German ace on 1:48:33.7 and 1:49:01.1: 25.3 and 27.4sec behind the champion. That's a relative ocean.
Women: Zhang Yufei CHN – her 200m butterfly victory by 1.54sec marked biggest gold-to-silver gap in any women's race.
Coaches Of The Year
Men: Gregg Troy for his work with Caeleb Dressel; Bernd Berkhahn for his work with Florian Wellbrock; Mel Marshall for her work with Adam Peaty; Dave McNulty for his work with the Britain men's team as Bill Furniss' "best polisher"
Women: Michael Bohl (AUS) for his work with Emma McKeon; Chris Mooney for his work with Kaylee McKeown; Dean Boxall for his work with Ariarne Titmus – and all for the contribution made to a stellar Australian women's team result; and Norimasa Hirai for his long-term work with Yui Ohashi.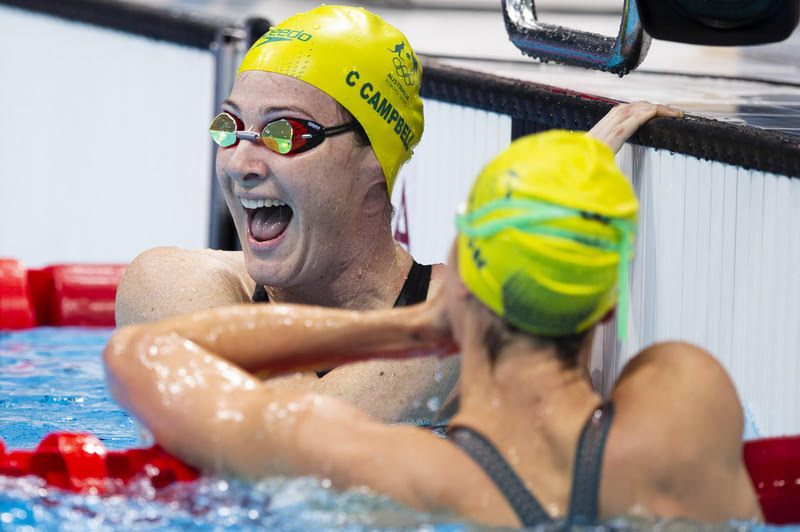 Team Trophy 2021
Overall and women: Australia
Men: United States
Team Impact Cup
Overall and women: Australia
Men: Great Britain
Perseverance Prize
Women: Cate Campbell (AUS) – a bronze in the 100m freestyle five years after the trauma of Rio 2016 was just a part of a towering tale of perseverance and coming through. She might have quit in hard times but the champion in Campbell won the day and in Tokyo there was gold in the 4x100m free for another World record and title retained and the delivery of gold in the 4x100m medley to end the most successful school-wide Olympic swim campaign ever for the Dolphins.
Men: Bruno Fratus (BRA) – 50 free – London 2012: 4th on 21.61 seconds, just 0.02 seconds behind teammate César Cielo when the 2008 champion claimed bronze; Rio 2016, a home Games and in a season in which he required treatment for chronic back pain: 6th in 21.79. Tokyo 202One in 2021, the Olympic cycle five years not four: at 32 years of age, Fratus makes the podium, with bronze in 21.57, the fastest of his three times in Olympic finals.
Comeback Trail Trophies: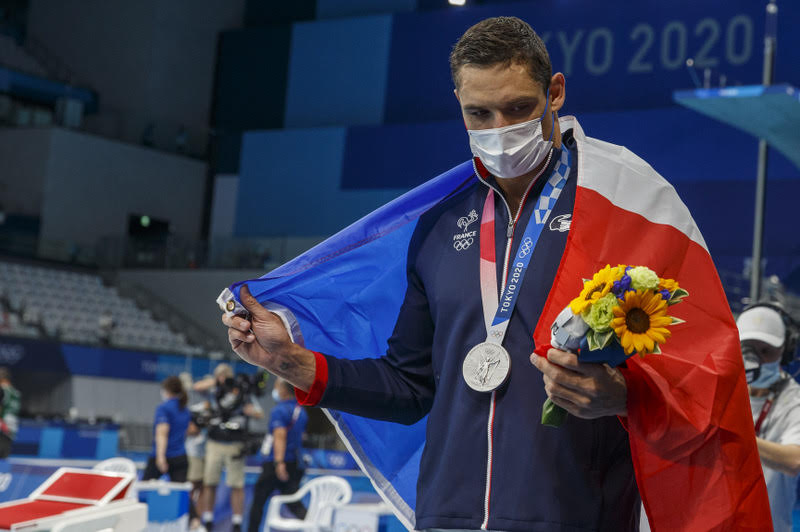 Florent Manaudou (FRA): 50m freestyle: Olympic gold 2012; Olympic silver 2016; he left the fast lane after Rio but in 2019 committed to being a pioneer of the International Swimming League. In Tokyo, it was silver once more, a feat that granted him only the second ticket to the club of sprinters who made the dash podium at three consecutive Games, the founder member of which was Gary Hall Jnr, off the USA (1996, silver, 2000, gold with teammate all-time comeback king Anthony Ervin – champion once more in 2016 – and gold alone on 2004).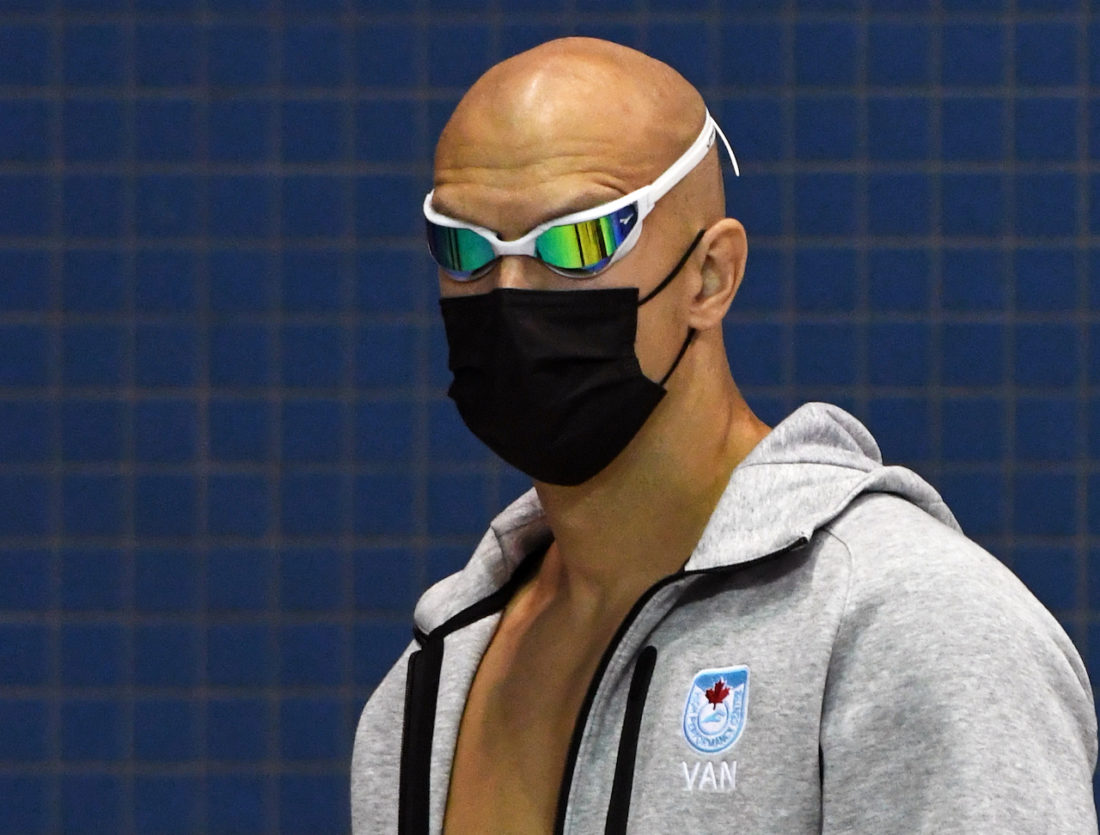 Brent Hayden (CAN) – World 100m freestyle champion in 2007, he retired after claiming bronze in the Olympic 100m final at London 2012.
After seven years away from the pool, Hayden announced a comeback in September 2019. Just six months into training, Hayden met the Olympic "A" Qualifying time with a 21.97 over 50m freestyle. All plans were delayed when the Olympics was knocked by the Covid-19 pandemic. In 2021, Hayden won the dash at the Canadian Olympic Trials in 21.82, a chunk inside the FINA "A" standard of 22.01.
He would represent Canada for a fourth time in Olympic waters come Tokyo 202One, his times back to very best. Once Japan, he pulled from the 100m for fear that the two-length challenge might trigger the back spasms he had suffered from.
Hayden's return was widely credited for providing a boost to the struggling Canadian men's program: the Maple 4x100m free, which had arrived in Tokyo with a goal of simply making the final, battled beyond expectation to claim fourth place just 0.3 seconds behind Australia. Hayden's leadoff split of 47.99 made him the oldest man, at 37, ever to race below 48sec over 100m freestyle.
In the dash in Tokyo, Hayden made the 50m semis, in which he fell just 0.04sec shy of making the final. He emerged to say: "It is such a weird state of confusion when you are torn between the pure competitor in you who realizes you missed the finals by 0.04 seconds and the human who realises that … at 37 years of age, I came within only 0.04 seconds from the Olympic final."
Top Juniors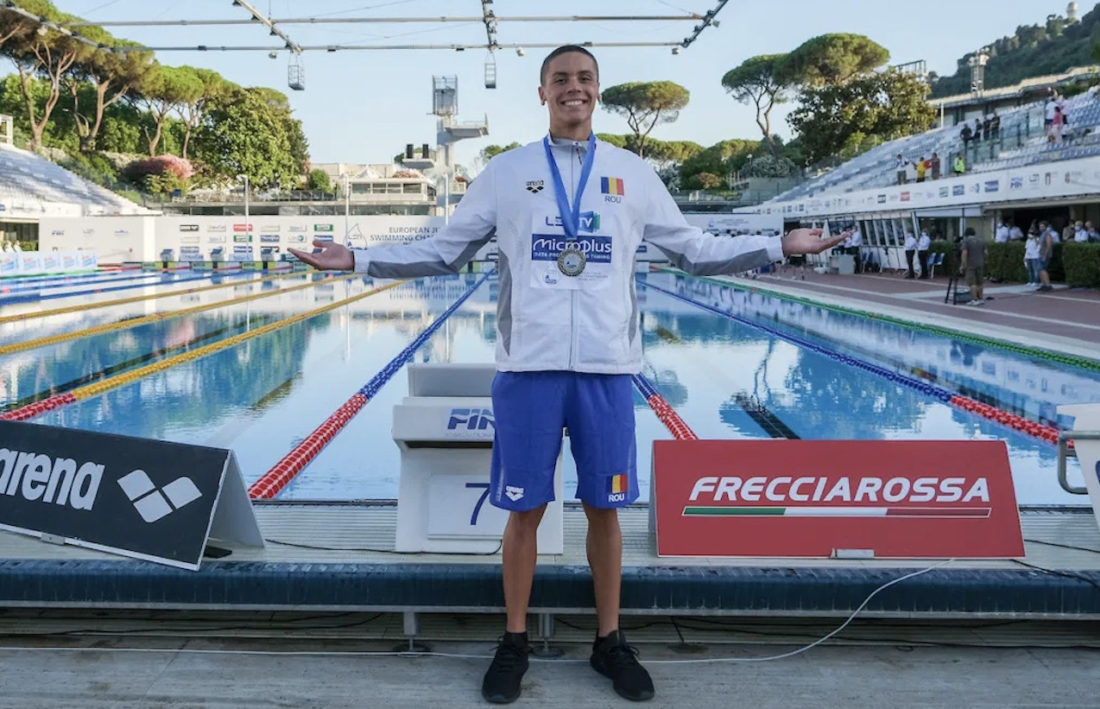 Girl: Mollie O'Callaghan (AUS) – 2 gold, 1 bronze in relays for Australia at her debut Olympics (her absence from the 4x200m free final after a World Junior record of 1:55.11 made headlines in Australia as a candidate for coaching mistake of the year, the Dolphins inside pre-race World record time in the final but confined to bronze when it might have been gold for a sweep of all women's relays.
Races of the Year
There were many great clashed to choose from but here are two examples, among several, that had hairs standing up on neck – asking to state a favourite among all the great races this year is like asking 'which of your children do you like most'. Impossible and daft. Two thrillers as examples, the first one of those races, like the men's 200m freestyle at Athens 2004, highly anticipated, ending with all promise delivered with a winner but no losers.
Women: 400m freestyle – Ariarne Titmus Vs Katie Ledecky
Men: 200m freestyle – GBR teammates Tom Dean and Duncan Scott split by 0.04sec for gold and silver
Continental Cups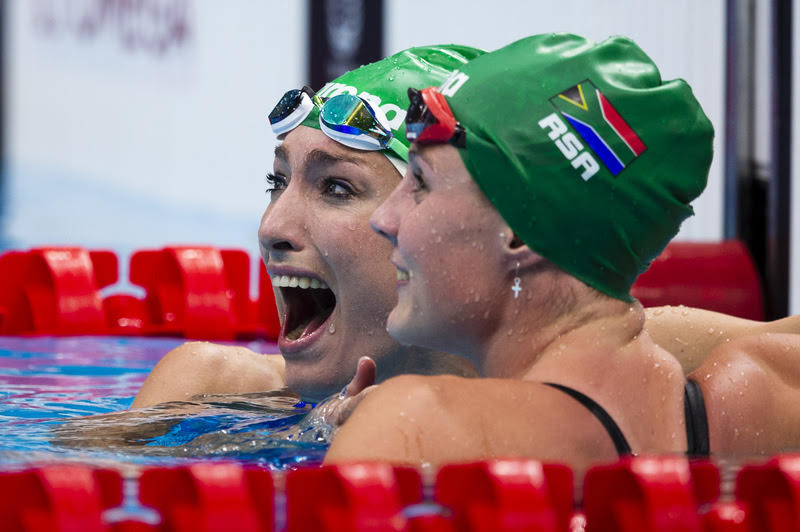 The regional swimmers of the year
Africa – Tatjana Schoenmaker (RSA) and Ahmed Hafnaoui (TUN)
Americas – Katie Ledecky (USA) and Caeleb Dressel (USA)
Asia – Yui Ohashi (JPN) and Wang Shun (CHN)
Europe – Sarah SJostrom (SWE) and tie: Adam Peaty (GBR), Evgeny Rylov (Team Tchaikovsky) and Florian Wellbrock (GER) – each had claims on different counts, title retained, dominance, double and distance stretch
Oceania – Emma McKeon (AUS) and Zac Stubblety-Cook (AUS)
Quartet Cup – Relays
The Best of Times, The Worst of Times
We end where we began, on the theme of 'the best of times and the worst of times' in 2021. Here are two categories that reflect the challenge
Betterment of Swimming Prize
Likith Selvaraj Prema – the Indian swimmer honoured integrity, honesty and fair play when he faced up to corrupt practices and exposed wrongdoing at an Olympic qualifier, the Uzbek Open. It proved the case that times at the meet had been manipulated. It all ended up with FINA doing the right thing and eventually, through process that reached the Court of Arbitration for Sport, welcoming a ruling that backed Prema's campaign for justice. Bravo, Likith!
Recognition also goes to FINA president Husain Al-Musallam, who is driving a reform process at the international federation and backed up his stated intentions with two statements that speak directly to the change of direction long overdue at the helm of swimming and aquatics governance. These two statements relate directly to the two big challenges cited at the top of his article, namely women's sport and FINA reform, two issues this author, this site and its predecessor SwimVortex, and before that our work with Nick Thierry at SwimNews, have long campaigned on:
Women's sport: Dr Lothar Kipke no longer has his FINA honour – part of a reform process that must lead to reconciliation and recognition for generations of women impacted by a variety of forms of abuse, including systematic doping and sexual abuse, their voices ignored by governance leaders for decades. Husain Al-Musallam has offered hope. One of his pertinent quotes along the way to him delivering on several key pledges since he became president of FINA in June: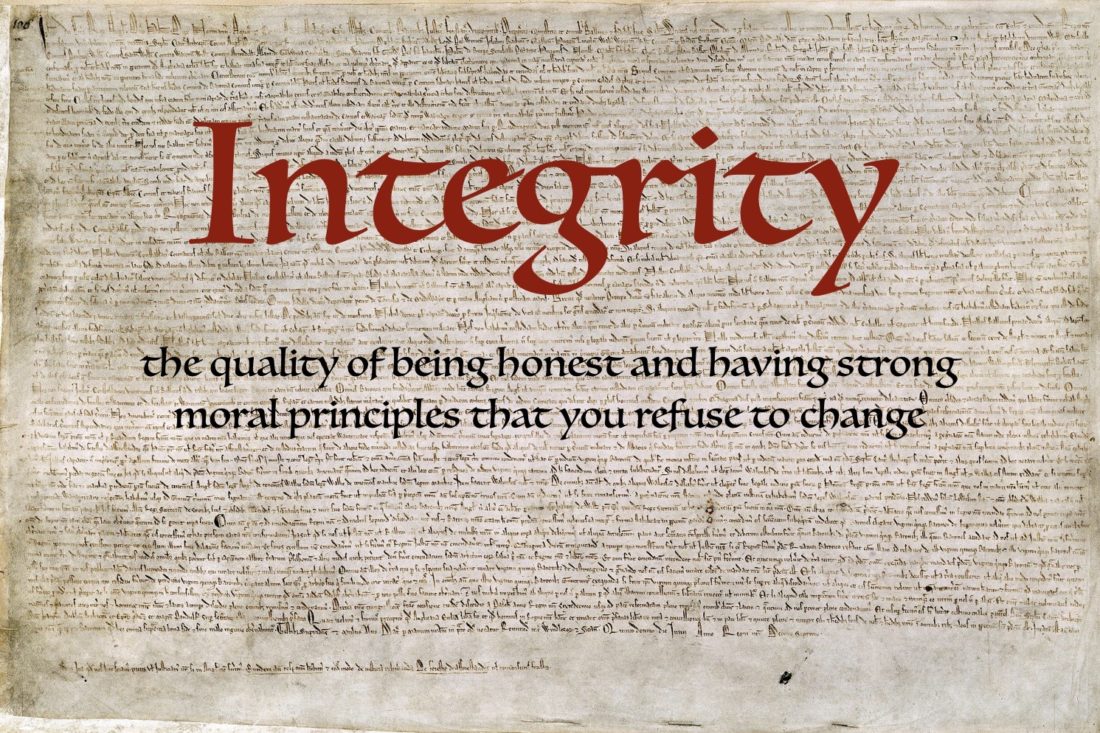 "Fina understands the concerns of athletes who have competed against others subsequently proved to have cheated.

"Athletes work their entire lives for a mere chance to compete for a medal, yet alone win one.

So when athletes are denied the reward they worked so hard to achieve, Fina must do everything it can to right this wrong.

"Fina is committed to building aquatic sport on the strongest possible foundations. This is why Fina has begun a wide-ranging process of reform, part of which is the proposal – already approved by the Fina Bureau – for the creation of an independent Aquatics Integrity Unit.

"Once established, the independent Aquatics Integrity Unit will investigate the matter to determine what recourse may be taken in support of Ms Davies and all similarly-situated other aquatics athletes."

FINA – Integrity Counts, image by Craig Lord
2. Integrity. What times we live in. Here is what Hussain Al-Musallam said in response to the CAS decision that backed Likith Prema's campaign: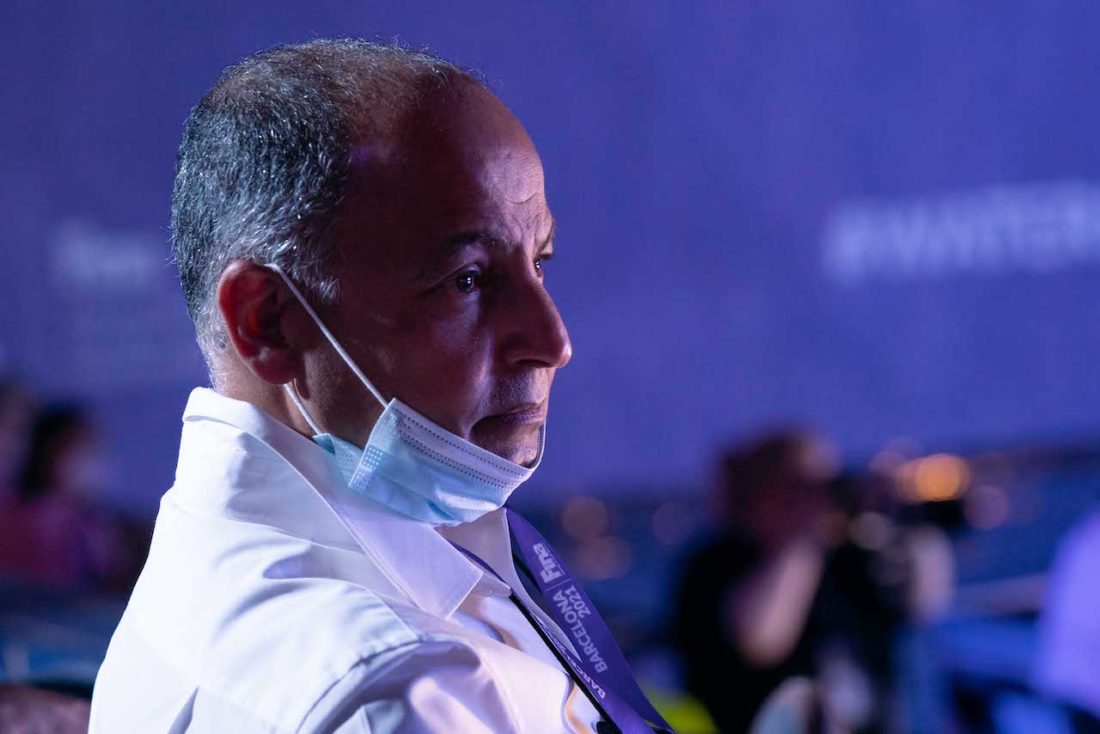 "It is imperative that FINA recognise aquatics competitions to ensure that the results are not manipulated, that the results are valid and reliable, and that the competitions comply with the standards set out in the FINA rules.

FINA cannot accept a lessor standard. Any attempt to manipulate results will be punished according to the relevant FINA rules. Put simply, FINA will not stand for any forms of cheating or event manipulation."

FINA – image, Husain Al-Musallam, courtesy of FINA
And, finally …
The Worst Interview of the Year In Swimming:
All our awards are, of course, the opinion of this author. That's the nature of most awards, even those based on a mix of the subjective and objective. In my view, the below is stacked with the kind of stuff the FINA reform process must NOT be about. It's about 15mins long and the part that attracts the eye is the last half of the poolside interview by Mel Stewart, the 1992 Olympic 200m butterfly champion, at U.S. Olympic Trials. Forget the first-half chat with then brand-new FINA director Brent Nowicki. It's what follows when Nowicki steps out of show that wins our prize, the reasons for which I will leave to you to work out, with this tip – look not just for what's there but what's missing:
The Best Swimming Deep Dive Of The Year
Alex Perry – The Plot to Kill The Olympics – Read It and Weep for swimming …. a short extract: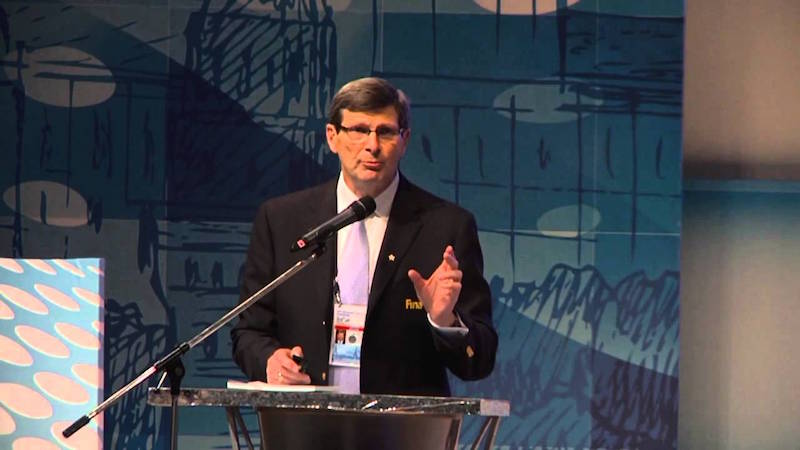 Discussions went nowhere. Marculescu habitually digressed into details, such as the name of the ISL, which he proposed changing to the World League Swimming Clubs Association. He sulked about Grigorishin's friendships with swimmers. At one point, the two sides produced a memorandum of understanding proposing that FINA and the ISL "enter into a cooperation which will be mutually beneficial for swimming." But in early 2018, Marculescu became increasingly unavailable, and Grigorishin concluded that FINA wasn't interested in an agreement.

By then, Grigorishin had other reasons for feeling disquieted. He says that Olympic officials he met often assumed that since he was Ukrainian and rich, he was "like them, fully corrupted." They would hint at how much they were making from money laundering or embezzlement, then "immediately start to negotiate about some kickbacks." Meanwhile, in Ukraine, Grigorishin heard that Maglione had come visiting, looking for kompromat: dirt. Email from the time between Marculescu and FINA's American vice president, Dale Neuberger, reveal that they saw the ISL's challenge to FINA as existential. "We must win, we will win," wrote Neuberger. Marculescu wanted to punish swimmers who swam for Grigorishin. Neuberger preferred to go after national officials. "Hurt them badly," he wrote of one country federation, adding of its chief: "We must kill him … suspend him for years." At one point, Grigorishin received an anonymous text that read: "Konstantin can have everything for $150 million." When Grigorishin's new managing director, Ali Khan, asked officials in Europe and the U.S. for help in talking to FINA, he found them terrified. "In some instances, it got down to one individual saying, 'I don't want this to cost me my job,'" Khan said.

Alex Perry – image – Dale Neuburger, FINA Treasurer and board member of the International Swimming Hall of Fame, parent company of niche media outlet Swimming World
The Thunder From Down Under Award
Ian Thorpe was wronged. And here is how.
An extract: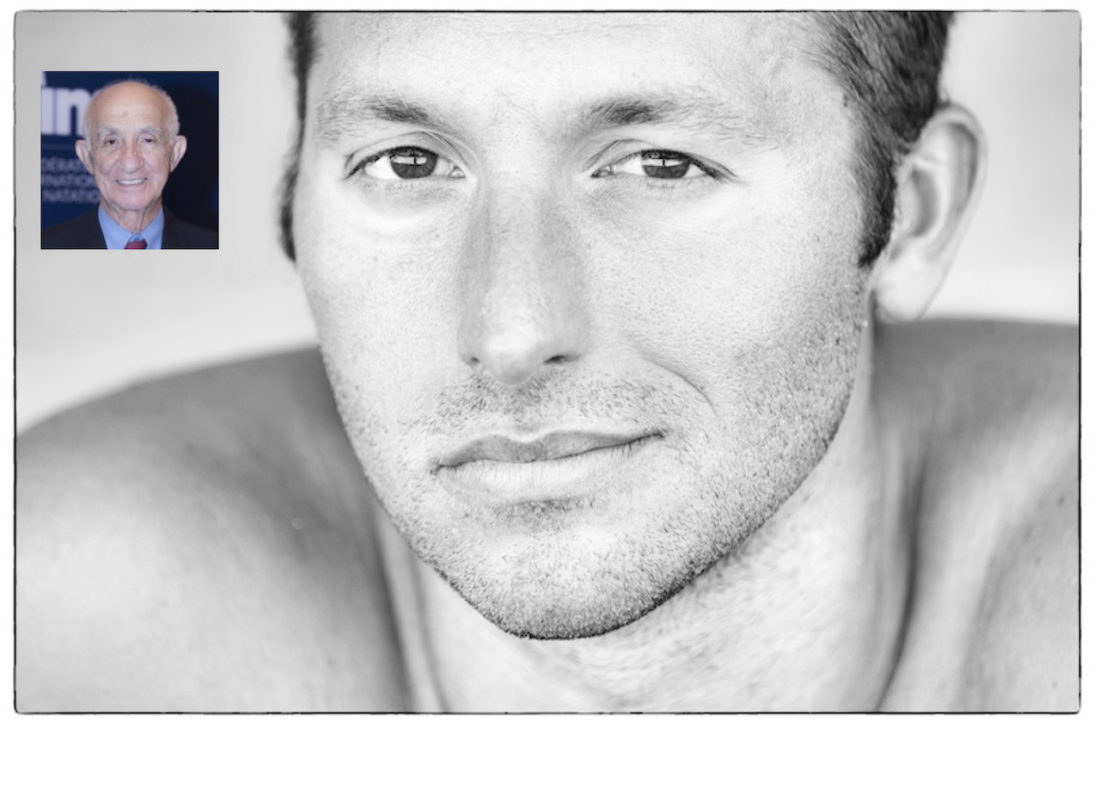 World swimming's new boss, Husain Al-Musallam, has called for an independent investigation into a leak of the private medical records of Ian Thorpe during an anti-doping case that was marked "no case to answer" by experts until FINA decided to chase the Australian down and take the matter to the Court of Arbitration for Sport.

Such an independent investigation would mark the first time a sitting FINA president has backed an inquiry into a predecessor, given a claim that it was Mustapha Larfaoui, former boss of the international regulator for swimming, who identified Ian Thorpe as Athlete X in a 2006-07 case file of a suspected adverse finding that had been closed because anti-doping experts had concluded that the swimmer had no case to answer. 

Until leading French sports newspaper L'Equipe printed his name after he was said to be identified bythe then FINA president himself, Ian Thorpe knew nothing about a laboratory report into further investigation of an anti-doping sample he had submitted while training in California with a view to making a comeback after a break following his roaring Olympic follow up at the Athens 2004 Games, including gold in the 200 and 400m freestyle. 

In a report by Julian Linden and Craig Lord, as part of the Australian Daily Telegraph's investigation series into past FINA misdemeanour, Independent witnesses allege that Larfaoui was the member of the International Olympic Committee (IOC) and then member of executive board of the World Anti-Doping Agency (WADA) who revealed Thorpe's name to a L'Equipe's reporter. Whether he did so inadvertently or deliberately may be among questions for any independent inquiry.

Daily Telegraph, Australia – Julian Linden, Craig Lord – Image – Ian Thorpe – by Patrick B. Kraemer

… Ian Thorpe had no case to answer said anti-doping experts but FINA pursued him and its most senior officer, then president Mustapha Larfaoui, is said to have revealed Thorpe as the identity of an unknown athlete who was never informed of any anti-doping issue until L'Equipe the story in 2007