Sjöström A Class Apart On 24.3, Isabel Gose 4:05 in 400 Free Good For Germany Ticket To Worlds &  Anastasia Gorbenko Rattles Her Own 200IM Record In 2:10.4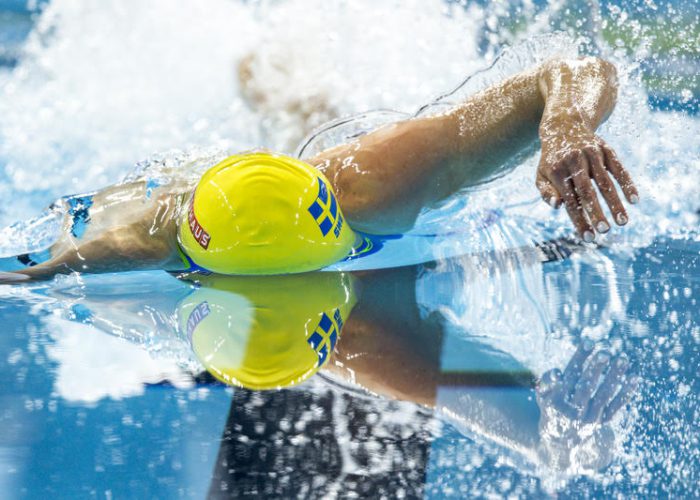 Olympic silver medallist Sarah Sjöström, Södertörns Simsällskap, threw down a 24.31sec gauntlet to absent rivals in the 50m freestyle on a penultimate evening of finals at the Stockholm Open that saw Germany's Isabel Gose book a 4:05.55 400m free ticket to World Championships in Budapest in June and Israeli teenager Anastasia Gorbenko rattle her own national record on 2:10.43 in the 200m medley ahead of 2016 Olympic champion Katinka Hosszu.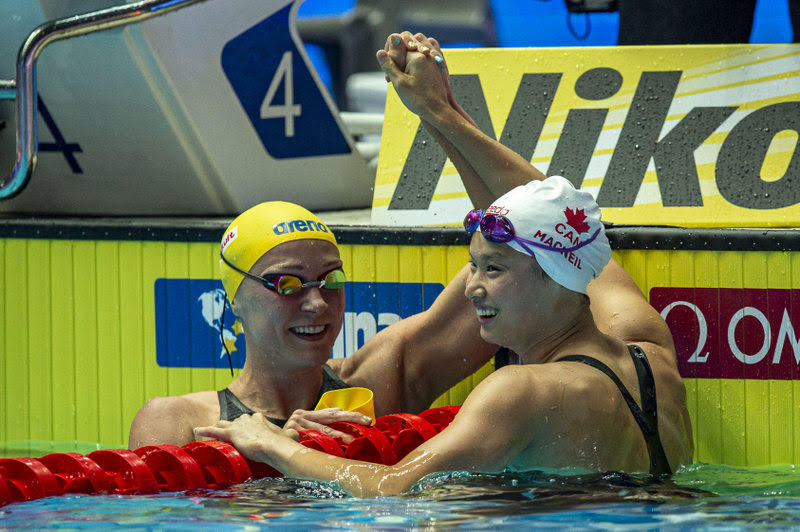 Sjöström was racing the clock, in a dash final with Julie Kepp Jensen of Denmark her closest opponent on 25.06. The Swedish ace holds the World record at a stunning 23.71, a time neither she nor Olympic champion ahead of her in Tokyo, Emma McKeon, of Australia got to when making the podium in Japan with Danish defender Pernille Blume last year.
If any swimmer had a reason to be a little down on topped in Tokyo it was Sjöström, who slipped in the ice and broke her elbow in a Swedish winter in February 2021, putting at risk any Olympic appearance at all.
Exceptional healing and rehab got the sprinter to her blocks but she ran out of time to get back to her best for the defence of the 100m butterfly title and she finished 7th in the final. On the last day of racing at the Games, however, she sped to a 24.07 finish for silver, McKeon on 23.81, an Olympic record, and Blume on 24.21 for bronze.
Yesterday, Sjöström showed signs of heading back to top form on butterfly when she clocked 56.70 to win the 100m butterfly in Stockholm, the time swifter than her 56.91 in the Olympic final last year.
In the 200m medley, Anastasia Gorbenko, Israel's Olympic semi-finalists of last year on 2:10.70, clocked 2:10.43, a touch down on her Olympic heat of 2:10.21 and the 2:09.99 European record she set for the continental crown 0.04sec ahead off Britain's Abbie Wood in Budapest before the Games.
Today, Gorbenko, who had warmed up for the medley with a 2:10.84 win in the 200m backstroke, kept at bay 2016 Olympic champion Katinka Hosszu, on 2:13.14 and preparing for another home World Championships five years after Budapest last hosted the FINA long-course showcase at the Duna Arena. In third place was Lisa Nystrand, 15 and racing for Simklubben Neptun, her 2:16.54 a qualifier for the European Junior Championships.
Germany To Select World Titles Teams By End Of Week
The German squad based at the Magdeburg performance centre arrived in Stockholm in the shape required to secure national-team selections for international events all summer long, starting with Budapest 2022.
Like teammates Lukas Märtens and Florian Wellbrock, Isabel Gose did not disappoint. Her 4:05.55 effort in the 400m free was a meet record that came off split of 58.89, 2:00.94 and 3:03.78. Next home was Olympic 1500m bronze medallist and now Florian's wife, Sarah Wellbrock (nee Kohler), racing for her home club Schwimmgemeinschaft Frankfurt, on 4:13.78.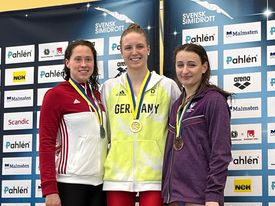 Gose had a target of 4:07 to clear she wanted to make certain of being the fastest in Germany this year. At the Berlin Open Lea Boy, from Würzburg, clocked a lifetime best of 4:08.10 ahead of Julia Mrozinski (Wiesbaden/4:09.30). Mrozinski has a 4:07 on the books this year from a meet in the USA in January.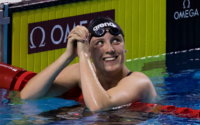 Gose sailed well past any domestic challenger today as German selectors meet after racing in Stockholm is done to nominate its team for Budapest 2022 on the basis of a qualification window that's been open all year.
In other action, Kregor Zirk, of Estonia, got the touch in a tight 200m butterfly podium chase, his 1:57.51 fending off Belgium's Louis Croenen, 1:57.58, and David Thomasberger, of Germany, on 1:58.10.
Sophie Hansson, Helsingborgs Simsällskap, took the 200m breaststroke inside FINA 'A' cut for Budapest, on 2:24.00 ahead of Denmark's Thea Blomsterberg, Swim Team Odense, on 2:26.19, with the Czech Republic's Kristyna Horska third in 2:27.32.
Other winners included Andreas Vazaios, of Greece and Loughborough University in the UK, on 48.98 in the 100m freestyle; Slovakian Richard Nagy, racing for his club SK Dukla Banska Bystrica, to a 4:20.69 over 400IM, and Romanian Robert Glinta, who set a meet record of 53.48 ahead of Apostolos Christou, of Greece, on 53.59, and Marek Ulrich, of Germany, on 54.35.