Siren Call From Surfing Spirit Of Duke Says There'll be No Comeback For Shiny Suits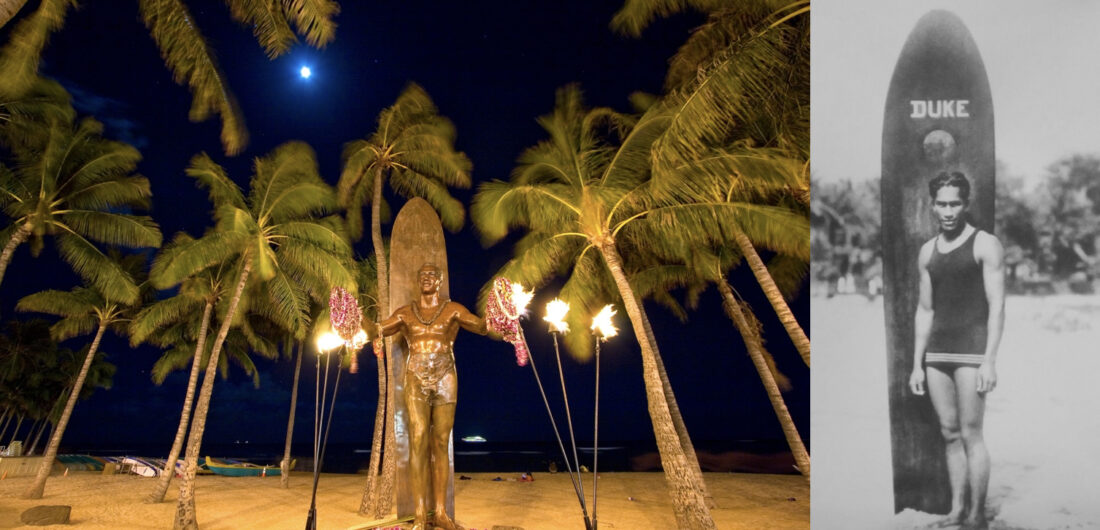 Neoprene & polyurethane are toxic for our oceans so the surfing industry is developing sustainable boards and fully recycled wetsuits over a century after legendary Hawaiian father of modern surf Duke Kahanamoku rode the waves.
Over a century since legendary Hawaiian father of surf Duke Kahanamoku was out on the wave, there'll be no comeback for the 2008-2009 shiny suits from the pool racing in which he made his Olympic name in a realm that will welcome surfing to the Games at Paris 2024.
Surfing development sends a message to any swimming brands still trading in Open Water neoprene suits that they will need to catch surfing's wave.
In an interview with seven times British women's surf champion Lucy Campbell, BBC Climate and Science reporters Claire Marshall and Malcolm Prior note: "Environmentalists are concerned by the mass production of polyurethane surfboards and neoprene wetsuits."
Surfing has long had a wholesome image of a sport and lifestyle in tune with nature and care for ocean environments. However, green campaigners say the manufacture and export of polystyrene and polyurethane boards and neoprene wetsuits makes a thumping carbon footprint. It is estimated that more than 8,000 tonnes of neoprene wetsuits end up in landfill every year.
Kit made of polyurethane and neoprene were banned from swimming from 2010 after a period of 23 months during which a farcical 43 pool world records fell in just eight days at the 2009 global long-course showcase for the sport in Rome.
Campbell calls out her sport and its kit makers for their dependence on kit made out of such non-textile materials and tells the BBC that there are already examples of how brands can be more sustainable and how they can have less impact on the environment.
Plastic boards covered in toxic resins and non-biodegradable wetsuits are not the answer. Nor are they the answers for swimming, neither pool nor open water, for a variety of reasons, including all those raised by this author's campaign to have the shiny suits sunk in 2008-10 and the need to keep artificial toxicity out streams, rivers, lakes, seas and oceans.
Campbell will now openly work with or accept sponsorship "from brands with a clear sustainability ethos", she tells the BBC, explaining": It's often hard to turn down a big pay check, if they're a brand that isn't sustainable, but it's definitely more worthwhile in the long run."
Kit makers have heard her message, namely: "I think that they need to take the onus and make that difference. It may come at a higher price but I think eventually that price will come down as technology advances."
The BBC cites a long-standing study that estimated the manufacture of a traditional polyurethane board, covered with epoxy resins and exported across the globe, could be responsible for producing the equivalent of up to 250kg of carbon dioxide."
Add that to the travel required to get to the waves and the average surfer's carbon footprint is said to be "50% greater than the average person's."
Read the BBC's report in full and find out what industry is saying.
Related: From the Craig Lord Archive, December 12, 2019
What's Owed To Duke Kahanamoku As Paris 2024 Plots Olympic Surfing In Tahiti 15,706km Away
It isn't quite an Olympic record if you take a ship but as the crow flies the 15,706km distance between Paris, where the biggest multi-sports event on the planet will be staged in summer 2024 and Tahiti, set to host new surfingevents, would be the biggest gap between Olympic venues at one Games.
The choice of the French Polynesia island for the 'Paris 2024' Olympic Games surfing events is subject to International Olympic Committee approval and would mark the biggest distance between base and outpost in Games history – breaking the Melbourne 1956 record by 100km or so (by crow).
Back then, the equestrian events were held in Stockholm, Sweden, 15,589km away from the Australian host city due to the strict quarantine requirements of Australia.
Had surfing, potentially another outlet for the swimmer who wants a break and change form the black line, been a part of the Games back in the early days, then American Duke Kahanamoku, the "Father of Surf", might have double his tally of four golds won at two of the four Olympics he made it to, 1912-1932. Yes, a 20-year span.
Born on August 24 1890 in Haleʻākala, Honolulu, the Kingdom of Hawaii, Duke Paoa Kahinu Mokoe Hulikohola Kahanamoku left the world aged 77 on January 22, 1968. What a ride he had!
At a glance:
1912 Stockholm – Gold: 100m freestyle; 4x200m freestyle
1920 Antwerp – Gold: 100m freestyle, 4x200m freestyle
1924 Paris – Silver: 100m freestyle
Duke was surely smiling down as the International Surfing Association (ISA) today welcomed the recommendation by Paris 2024 for the Olympic Surfing competition to be staged at the world-renowned reef break, Teahupo'o:
ISA President Fernando Aguerre said: "We have been very pleased to work closely with the Paris 2024 leadership team on this process for selecting a host location for the surfing competitions for the Paris 2024 Games. We salute the five candidatures, which were all excellent and well-known surf destinations, but Tahiti was truly exceptional in offering our athletes, and our sport, spectacular conditions for optimal competitions.
"For us, Tahiti represents the authenticity of our sport and the ISA's mission to celebrate surfing's unique culture and lifestyle, while also recalling the long history and heritage of our sport from its Polynesian origins.
"Ultimately, our commitment is to the athletes and the sport and we have no doubt that Teahupo'o will offer an amazing platform for the world's best athletes to shine. For this, we were not surprised by the full support of our Athletes Commission for this choice.
He added: "Selecting Tahiti as the Olympic venue is also a testimony to the Paris 2024 spirit of creativity and innovation, while preserving the genuine values of surfing. We applaud our friends in the Paris 2024 team for their courage and originality in making this landmark proposal.
"Surfing is a sport for the new era of the Games and this approach by Paris 2024 demonstrates how our values are aligned. Our sport's connection to the environment also makes Tahiti a fitting choice – with a bespoke concept that will deliver a sustainable and low carbon impact event.

"I'm totally convinced we can stage a fantastic Olympic Surfing event in Tahiti that builds on the success and legacy of our debut at Tokyo 2020, inspires the world and continues to celebrate our sport's unique value and culture on a global stage."
ISA Athletes' Commission Chair, Justine Dupont (FRA), said that athletes also supported the Paris 2024 decision: "All of the top athletes I've consulted are super excited about the proposal of Tahiti to host Surfing at the Paris 2024 Olympics. The famed waves at Teahupo'o are revered among surfers all over the globe, and will draw an unprecedented level of attention and excitement to the Games.
"The athletes are stoked that our opinion held such weight in the proposal. Our voices are being heard and shaping the future trajectory of our sport through Tokyo 2020, Paris 2024, and beyond."
Stockholm 1912 – Paris 1924 – Paris 2024 – LA 1932
Duke Kahanamoku was was one of the towering figures of twentieth century sport, not just for his achievements in and in the water but for the impact he had well beyond his wave, his popularising of surf and swimming and the span of his years on the edge of his game.
.A four-time Olympian in swimming and two-time Olympian in water polo, Duke inherited his name from his father, Halapu Kahanamoku, who was christened "Duke" by Bernice Pauahi Bishop, the last descendant of King Kamehameha I.
The elder Kahanamoku was born in 1869 during a visit to the Islands by Prince Alfred, Duke of Edinburgh, and it was in honour of Alfred that the baby the oldest of seven children – was named "Duke". Kahanamoku took to the water as a youngster and as a teenager he could be found, along with his five younger brothers and friends, at Waikiki Beach, where he developed his strength and honed the swimming, surfing and canoeing skills that he would later share with the world.
Swimming in Honolulu Harbour in his very first meet, the 1911 Hawaiian AAU Championships – the Duke equalled Charlie Daniels' 50yd freestyle world record of 24.2. It was his 100yd swim, however, that prompted disbelief.
The unknown 21-year-old Hawaiian beach boy coached by William T Rawlins clocked 55.4, 4.6sec faster than Daniel's global standard. Even the Hawaiian officials who watched the record-shattering performance were shocked, though they carefully documented each swim, noting that the competitors had raced against the tide and that Kahanamoku's nearest challenger was some 10yd away.
They also had the course assessed by a registered surveyor four times: once before the meet began and three times after the 100yd freestyle race. It was about 18 inches too long. Exuberant Hawaiian officials notified the headquarters of the US Amateur Athletic Union (AAU) in New York: "The world's fastest swimmer is here in Waikiki. His name is Duke Kahanamoku, and here are his times".
Disbelief followed. A statement from AAU President Gustav T. Kirby read:
"Unacceptable. No one swims this fast. Hawaiian judges alerted to use stopwatches, not alarm clocks! To my mind, this matter should be treated very carefully and with extreme caution before the 100 yard record is to be accepted. If his 55 2/5 seconds were accepted and he should afterwards compete in the U.S. or Europe and be beaten, the correctness of his 55 2/5 seconds would be seriously questioned as well as the good faith of the AAU. For this reason, I would like to see Kahanamoku beat the fast men first and have the record accepted afterward." [Imagine telling Adam Peaty that! ? ]
Duke went on to win five Olympic medals – three gold and two silver at four Games between 1912 and 1928. In 1932, he played water polo as a member of the L.A. Athletic Club Water Polo Team, which failed to make it into the final at the home Olympic Games as a time when clubs, not only national selections, were allowed to enter.
In 1912, despite the chilly waters of a venue fed by an open-water stream, Kahanamoku claimed his first crown in 1:03.4. The Hawaiian would not have had a chance even to swim in the final had it not been for the gallant sportsmanship of his chief rival, Cecil Healey (AUS). Due to a misunderstanding about the schedule, none of the three Americans showed up for the semis and they were declared disqualified. Healey appealed to the meet committee, convincing them to let the Americans swim in a special heat.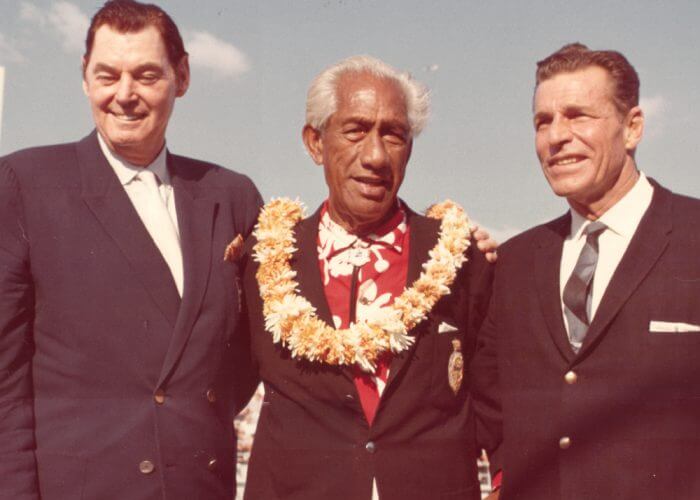 Kahanamoku, pictured above with Johnny Weissmuller, left, and Buster Crabbe, wanted to leave nothing to chance and in that spirit he equalled Kurt Bretting's (USA) world record of 1:02.4. In the final, Healey finished second to his Hawaiian friend and rival.
He was counted among the fallen at the Battle of the Somme in the Great War and was much-missed when Kahanamoku, at 30, defended his sprint crown at the 1920 Games – twice.
After the first final (1:00.4, world record), Bill Herald (AUS) protested that Norman Ross (USA) had swum in his path. Contrary to some references, Ross, 400m and 1,500m champion, was not disqualified, but he chose not to compete in the re-swim won by Kahanamoku in 1:01.4.
Four years later, 34 year-old Duke sought an unprecedented third consecutive Olympic title over 100m. But time had moved on: 1924 was all about the Roaring Twenties, Gay Paris and Johnny Weissmuller. With a time of 59.0sec, Tarzan-to-be set an Olympic record at the helm of an American sweep, while Kahanamoku and his brother Sam finished with times of 1:01.4 and 1:01.8. The crown had passed.
Father of Surf
Kahanamoku made his name as an Olympic champion and the fastest man in water, but his fame rolled out across the globe on a high wave for many years after he had left the race pool. Known as the father of both international surfing and surf lifesaving, he was the embodiment of Hawaiian culture and its 'aloha spirit' to millions of people around the world.
Defeated by Weissmuller and with a nod to progress in the pool as he was ageing, 42-year-old Kahanamoku called it a career in the pool – but not the water: he set off across the world on a tour that would spread the swimming and surfing word far and wide.
He'd done it before: in between Games in the 1920s Kahanamoku had moved from Hawaii to southern California, bringing with him the lore and love of surfing. His presence in-pool and on-beach attracted the attention of movie moguls and the swimmer played minor roles in several Hollywood movies.
Not entirely comfortable on the silver screen, the Hawaiian felt totally at home on the wave, and surfing became his calling. Favouring his trusty "papa nui" board – a 16ft, 114llb, long board made of koa wood – the Duke circled the globe planting seeds of a surfing culture on Oahu's North Shore, Queensland's Gold Coast, the swimming-mad metropolis of Sydney, New Jersey's Atlantic City, California's Santa Cruz, and countless other cities, towns and beaches in between.
He not only taught youngsters how to surf with long boards, but with the more manoeuvrable smaller boards as well. Along the way, he suggested his audiences might like to try a few other aquatic sports he pioneered; tandem-surfing, wind-surfing and wake surfing.
Duke also showed, in dramatic fashion, the usefulness of the surfboard in lifesaving: on June 14, 1925, he played a central role in a rescue off the coast of Newport Beach, California. A fishing boat with 29 men aboard had capsized in rough surf. The Duke, who was at the beach to take advantage of the large waves, grabbed his surfboard and paddled out to the struggling men. Using the board, he paddled back and forth, ultimately saving eight men.
Two other surfers saved an additional four men. Later, Newport's police chief lauded Kahanamoku, describing his efforts as "the most superhuman surfboard rescue act the world has ever seen."
Surf lifesaving was born – and has since saved countless lives.
After he retired from competition, Kahanamoku remained in the public eye, welcoming visitors to Hawaii as the Islands official welcome ambassador and served 13 terms as the Sheriff of Honolulu from 1934 to 1961.
Walk along Kalakaula Avenue and coast the famous Waikiki Beach today, and you come across the bronze statue of the Duke at Kuhio Beach, his surfboard leaning on a tree behind him, powerful arms – often lovingly draped in colourful leis – outstretched in benediction over his beloved Hawaiian Islands.