Siobhan Haughey Makes Stellar Year Epic With 1:50.31 WR Victory To Become Hong Kong's First World Champion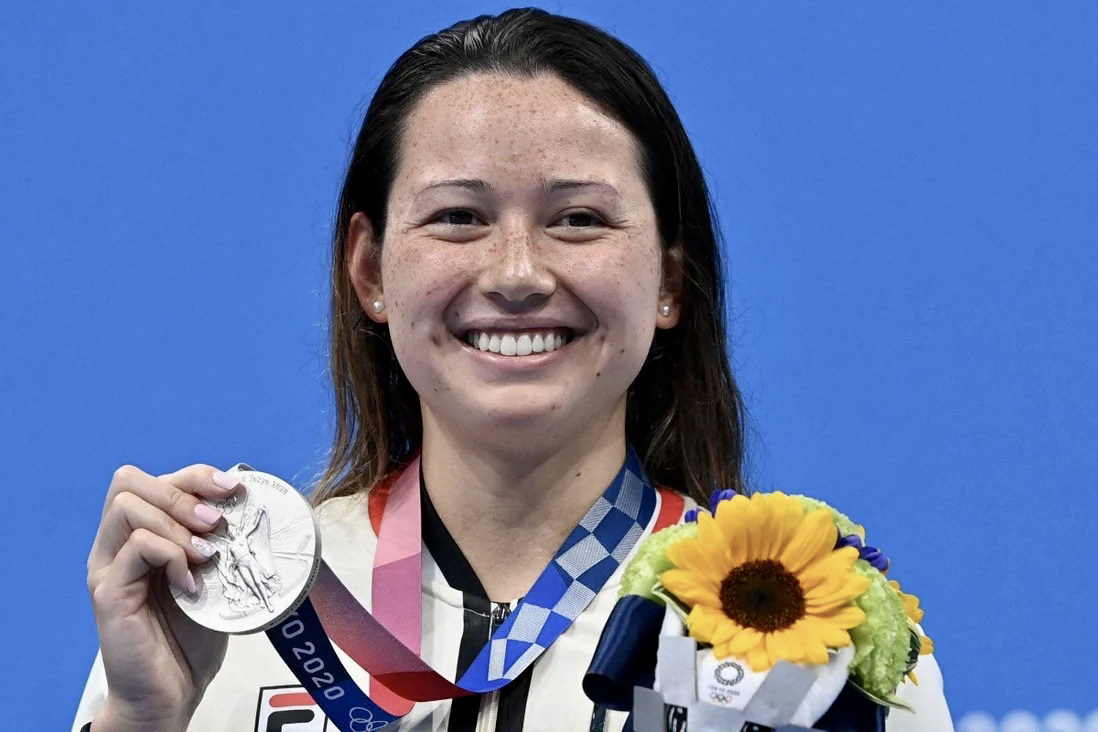 Siobhan Haughey made a stellar year epic with a 1:50.31 World-record victory in the 200m freestyle on the first day of action at the FINA winter short-course showcase in Abu Dhabi, making her Hong Kong's first World champion and record holder.
Olympic silver medallist in the 100 and 200m freestyle in Tokyo back in the summer, Haughey had had her eye on becoming a pioneer beyond her country and made hay while her biggest rivals were away.
Haughey led from gold to gold and a $50,000 bonus cheque ahead of Canadian Rebecca Smith, on 1:52.24 for silver, and American Paige Madden, on 1:53.01 for bronze a touch ahead of Slovenia's Katja Fain and a 1:53.48.
Sarah Sjostrom was absent but her 1:50.43 world-record pace from August 2017 and 1:50.78 championship pace from 2014 were in focus the whole way as Haughey chased history.
The splits:
26.20, 53.81; 1:22.03; 1:50.31 – Haughey WR Abu Dhabi 2021
25.99, 54.45; 1:22.61; 1:50.43 – Sjostrom WR August 2017
26.29, 54.66; 1:23.04; 1:50.78 0- Sjostrom CR December 2014
Haughey, who made the only impact in the race on the all-time top 10, emerged to say: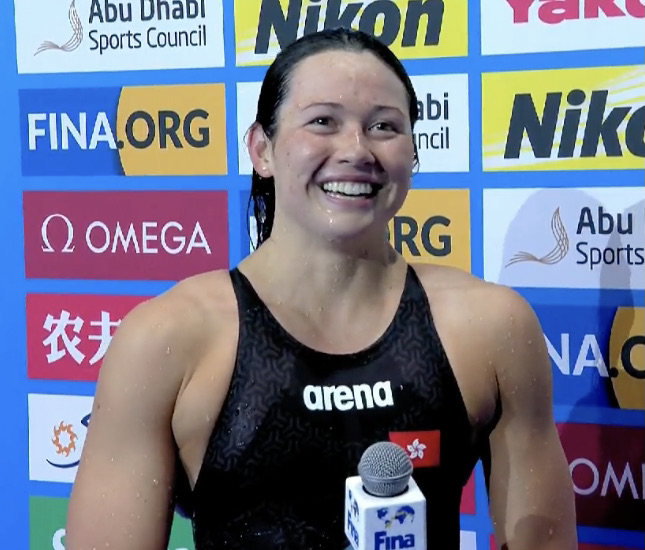 "I'm really happy with it, words can't describe it. I'm happy that I finally did it, to be Hong Kong's first world champion and world record … I'm incredibly happy."

Siobhan Haughey – image by Patrick B. Kraemer
In other action beyond a high 5(0k) from Haughey
Men's 200m medley – Gold For Daiya Seto
Consolation for what might have been at a home Tokyo Olympics it was not but Daiya Seto had a smile back on his face after claiming the first men's medley crown of the championships.
A podium placer in 2012, 2014 and 2016, Seto, of Japan, took the title for the first time in 1:51.15sec in a race that featured Olympic gold and silver medallists Wang Shun, of China, and Duncan Scott, of Britain. Neither of them made the medals today as they raced through a winter season that will lead to an early World long-course Championships and the bigger target next May.
Wang has a best faster than today's winning time and was a two-time defending champion but his 2021 target was behind him, in Tokyo.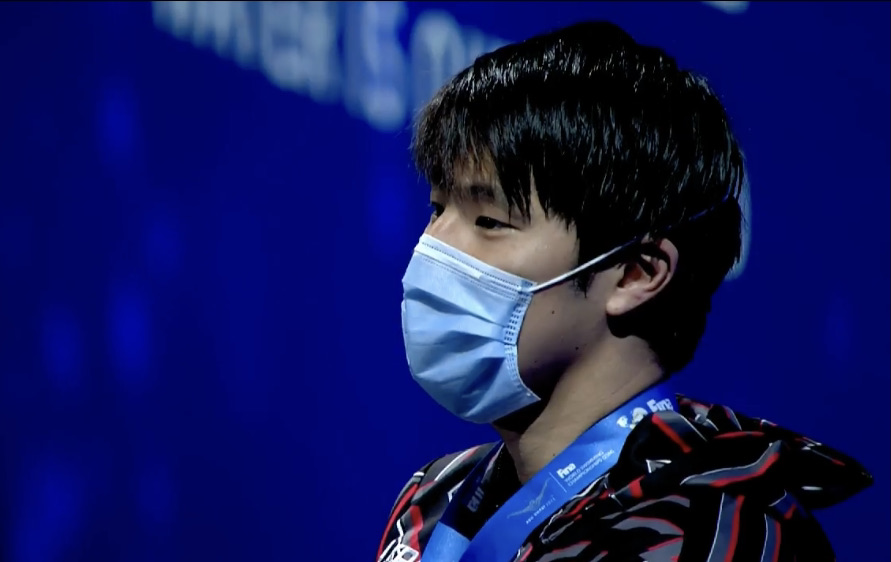 Seto dominated the race in the little pool today and fell half a second shy of his best – 1:50.66, the third swiftest all-time. The silver went to Carson Foster, of the USA, in 1:51.34, seventh fastest ever, the bronze to a man who had lifted the 200m butterfly title an hour earlier and was still pumping, Alberto Razzetti, of Italy, on 1:51.54, 12th all-time.
At the helm of the all-time rankings is the only sub-1:50 ever seen: Ryan Lochte, 1:49.63, for the 2012 World title at a pace no-one has come close to since.
Seto had his eye on getting closer but this day could not. He said: "I'm so happy but I wanted it to be faster. Not bad." He thought he had a chance of winning all three medley titles in Abu Dhabi. The feat was achieved twice by Lochte, in 2008 and 2010, before he retained the 100 and 200m titles for a second time in 2012.
Men's 400m freestyle – Gold For Felix Auböck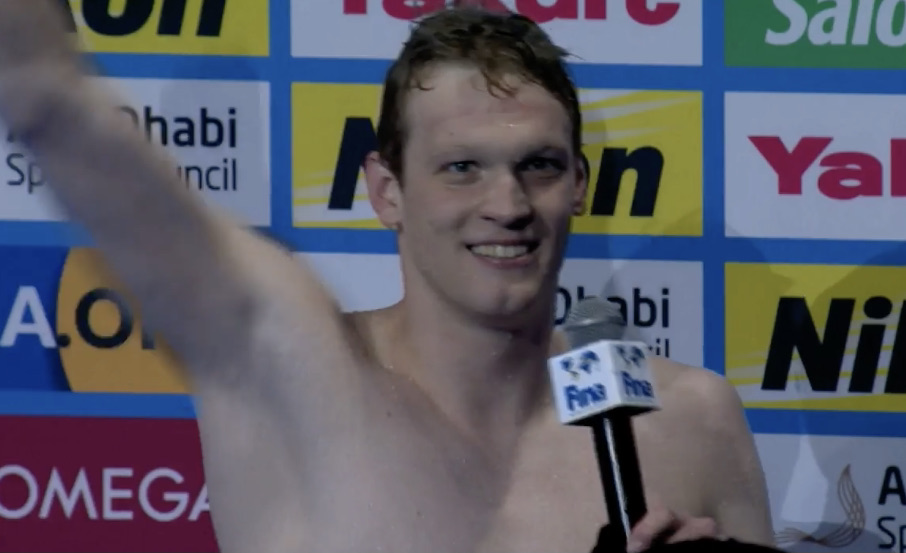 Felix Auböck became Austria's first 400m freestyle World champion when he claimed gold in the opening final at by holding off Lithuania's fast-finishing Danas Rapsys 3:35.90 to 3:36.23.
The bronze was close: Switzerland's Antonio Djokovic clocked 3:36.83 to lock Italian Marco de Tullio out of the medals in 3:37.83.
A graduate student at Loughborough University in Britain, reading International Financial and Political Relations, Auböck said: "I don't know what to say. I came here wanting personal bests. This race was what I wanted to do and recover well and become world champion!"
Men's 200m Butterfly – Gold To Alberto Razzetti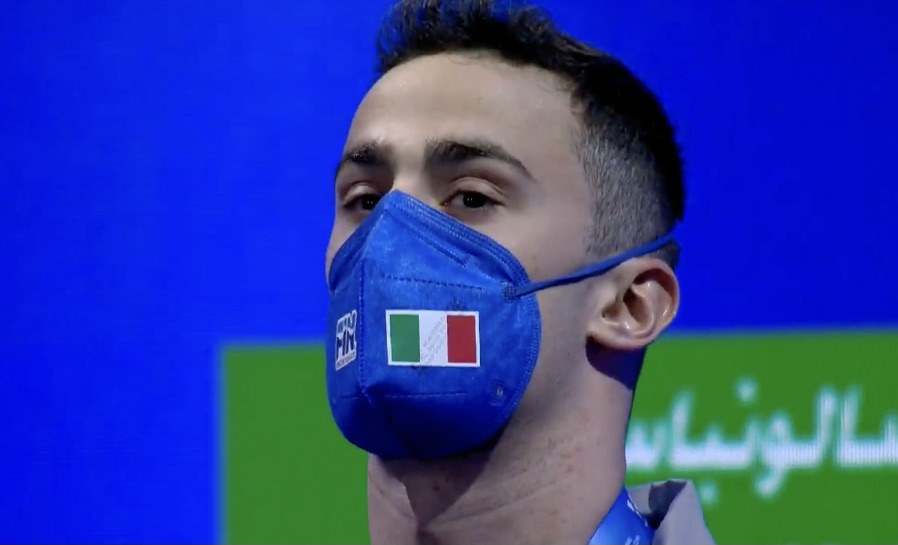 Alberto Razzetti added the World title to the European crown he claimed in Kazan last month, the Italian's 1:49.06, off the swiftest last 100m of all in the final, fending off a challenge from Olympic medallist Noe Ponti, of Switzerland, on 1:49.81, and, on 1:49.84, the man who delivered the fastest last 50m of any in the battle but left it too late, Chad Le Clos, the South African who claimed the crown in 2010, 2014 and 2016.
Women's 400m Medley – Gold For Tessa Cieplucha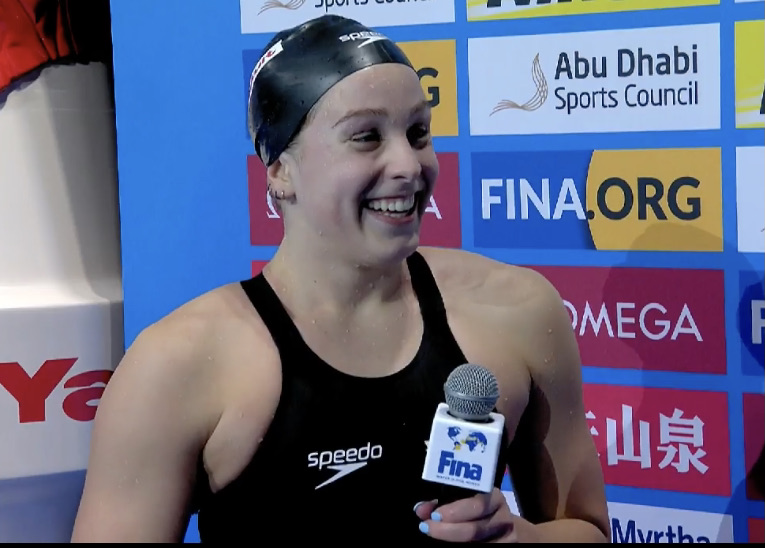 Gold for Canada, courtesy of Tessa Cieplucha in 4:25.55, silver for Ireland, courtesy of Ellen Walshe in 4:26.52, the podium completed by American Melanie Margalis in 4:26.63, her USA teammate Emma Weyant less than a second away but locked out after having led for the first half of the race.
After butterfly, Cieplucha, who has honed her race skills on International Swimming League tour, was never out of the top 2. She took the lead by the 250m mark and never relinquished her advantage on the way to a personal best by 2secs and within sight of the Canadian national record of 4:23.68 set by Sydney Pickrem in ISL racing a year ago.
Pickrem's absence reflected a reality of these championships: a fine line-up but far from the best it could be as swimmers juggle the demands of a cluttered and chaotic calendar and commitments made all the trickier by the challenges of the pandemic.
Walshe, coached by Brian Sweeney, had taken down the Irish senior record in heats, on 4:30.78, wiping out a standard that had stood for 27 years since Michelle Smith, disgraced by an anti-doping violation in 1998, clocked 4:36.84 back in 1994 at the Paris round of the World Cup that year.
Walshe marched the standard along this evening with a 4:26.52 for a place on the podium that had Irish swimming eyes more than smiling.
Women's 4x100m freestyle – Golden Snap For Canada and the USA

Snaps for gold are rare but almost unheard of in relays at any level, let alone World Championships. Yet, there it was: the title went to Canada and the United States in 3:28.52, Sweden taking bronze in 3:28.80, missing by 0.28sec a moment that would have written a new line in all swimming history, a triple snap for gold.
The moment marked the first time two teams had stopped the clock together in a World Championship relay and a first at s/c worlds but not the first global relay golden snap: at Fukuoka 2001 World Championships, Australia got disqualified in the 4x200m free because Petria Thomas leapt in for joy before others had finished the race; it looked like the USA had taken gold but the Seiko timing showed that Great Britain was the champion quartet; the Americans protested but FINA stuck with Great Britain; later, on grounds that the timing system may have malfunctioned, FINA awarded snap golds to the Americans but the result sheet shows yet that which was accepted as official on the day 20 years ago.
Canada featured Kayla Sanchez, Olympic 100m butterfly champion Maggie MacNeil, 200m free silver medallist today Rebecca Smith and comeback 'fly ace and former Commonwealth champion Katerina Savard.
The Americans who matched them: Kate Douglass, Claire Curzan, Katherine Berkoff and Abbey Weitzeil, whose 51.50 split life the USA from third to a golden snap on the last leg and was the second swiftest effort of all in the battle.
The fastest was from a standing start: Sweden's Sarah Sjostrom is making her way back to best form after the challenges of a broken elbow last winter. On 51.45, Sjostrom gave a hint of the threat she is to the 100m crown at these championships. She was followed by teammates Michelle Coleman and the Hanssons, Sophie and Louise.
The Dutch quartet was just 0.06sec outside the medals in a top four well clear of the rest.
Men's 4x100m freestyle – Russian Gold
Russians Kliment Kolesnikov, Andrei Minakov, Vladislav Grinev and Alex Shchegolev took the crown in 3:03.45, overhauling Italy on the last leg, the United States third and The Netherlands just locked out to match the same outcome ion the women's final.
Italians Alessandro Miressi, Thomas Ceccon, Leo depilano and Lorenzo Zazzeri took silver in 3:03.61. Americans Ryan Held, Hunter Tapp, Shaine Casas and Zach Apple took the bronze in 3:05.42