Shymanovich & Mates Return As Neutral Athletes Caught In A Neutrality Mission Impossible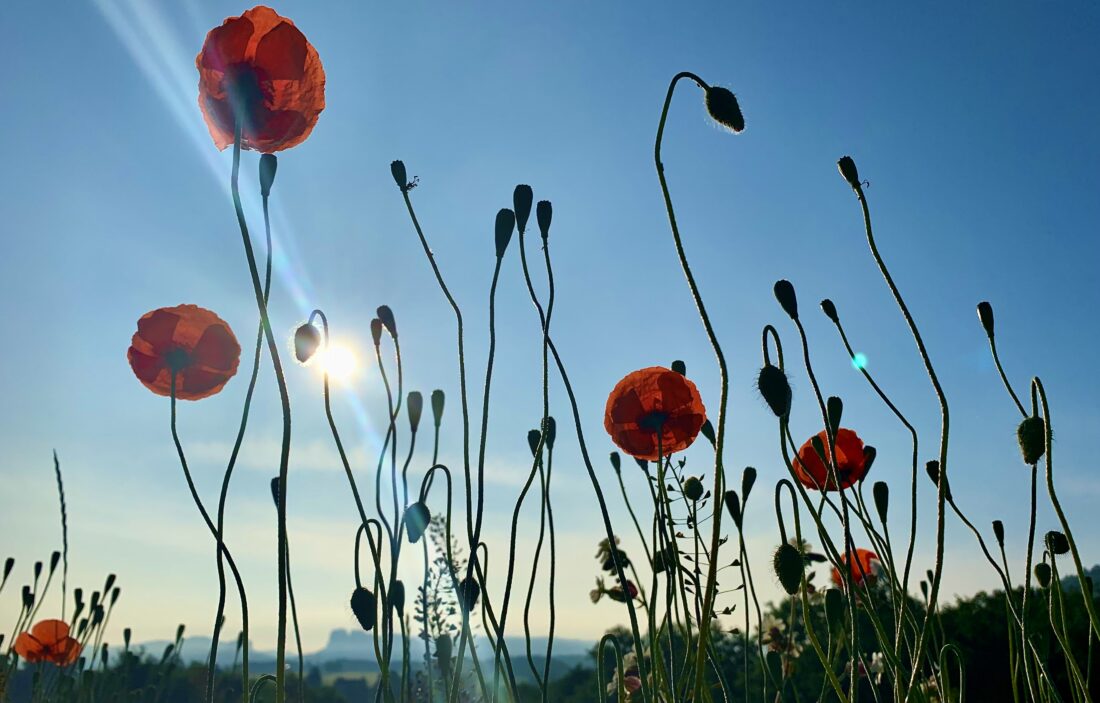 Ilya Shymanovich is one of four Belorussian swimmers allowed to return to World Aquatics competition as Neutral Athletes this morning in Budapest despite a remaining ban on them when it comes to events organised by Europeans.
Shymanovich, Anastasia Shkurdai, Alina Zmushka and Anastasiya Kuliashova, as well as their coach and national-team head coach Andrei Lipnitsky have been given a green light to return to international waters by World Aquatics. The swimmers are not wearing national colours and livery and are registered on start lists and results as "N/A", no longer not applicable or available but a Neutral Athlete back in the race.
They returned via a test established by the Aquatics Integrity Unit that keeps the bar on any linked to military or state institutions out of action but allows athletes deemed to be "neutral" (in reality a mission impossible when it comes to a war Putin and the judiciary under his thumb bar Russians from calling a war).
The swimmers will race as N/A at the last round of the World Cup in Budapest, which is underway this morning and ends on Sunday evening. Shymanovich, who raced recently at Russians national championships, clocked 1:00.59 in lane 5 of heat 7 of the 100m breaststroke this morning, with World champion Qin Haiyang on 59.19 in the next lane, and beyond him 2016 and 2020ne Olympic Champion Adam Peaty in lane 3 on 59.93. Qin and Peaty went through, Shymanovich is first reserve for the final this evening.
World Cup Results in Full at Omega
Editorial comment:
Who does Neutrality Serve & Have IOC Bosses Served It?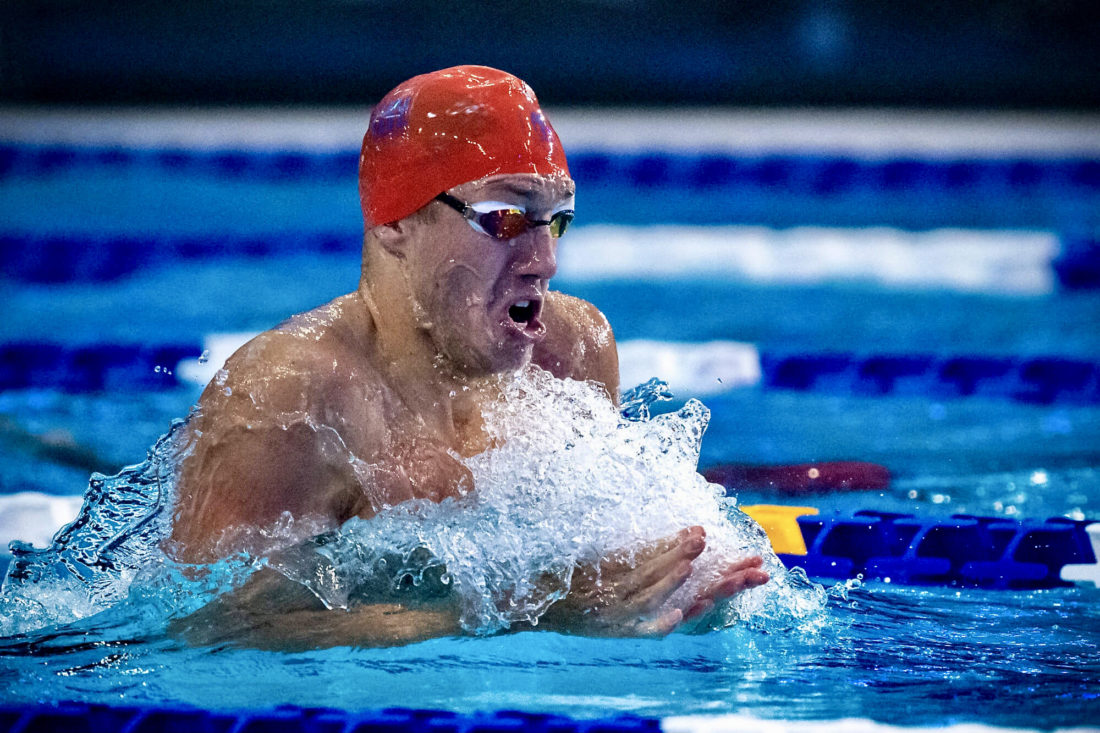 First and foremost, for the most part, it isn't the athlete's fault – and neither should that guarantee a ticket back to the race.
Meanings:
Neutral: not supporting or helping either side in a conflict, disagreement, etc.; impartial
Impartial: treating all rivals or disputants equally
However sympathetic we may feel for any athletes caught up in the folly of men in power, whatever anyone thinks about allowing athletes who hail from aggressor nations back into competition, one thing is clear: there are no Ukraine swimmers entered in the World Cup underway in Budapest.
They cannot be neutral and are not impartial. Many of them have spent more than a year in forced exile from their country with neighbouring hosts; many grandfathers, fathers and elder sons of their families are largely still back home defending their country from the illegal invasion ordered by Putin.
The war waged is not confined to Ukraine, where the murder of citizens, the kidnap of children and the devastation to infrastructure by Russians, with the support of Belarus, are elements subject to war-crime investigations.
How does neutral fit with that?
The knock to the World economy, the reallocation of budgets and energy and focus that might have been devoted to many other critical matters of this world, including the consequences of climate change and what can be done about it, coagulate with the blood dripping from Putin's hands.
Meanwhile, sport goes on. Not for Ukrainians on this World Cup nor, in all likelihood, for Ukrainians training to make it to Paris 2024 but well aware that if Russians and Belorussians get a ticket to the next lane, their tickets may never be stamped. Years of hard work and dedication washed away. We hear less about that from the International Olympic Committee than we hear about how unfair it would all be to tell athletes from aggressor nations that, sadly, they will have to sit this one out.
There is yet a chance that we would be in Paris to witness the return of Russians to the exclusion of Ukrainians.
You can imagine the girth of the grin on Putin's grisly face at such an outcome.
These are the realities of the world that neither the IOC nor World Aquatics, nor any sport nor any of the rest of us can avoid. There simply is no neutrality to be had under such circumstances.
The IOC's leaning and logic takes us back to the Great War. Football at half-time in the slaughter as the very image of the brotherhood of men (and they were indeed all men in the game, in the slaughter, hiding behind the desk of decision-making back then).
None could be neutral; nor were they impartial. Impossible with a gun in your hand, an order in your ear and a flag that must be flown.
That moment of "neutral" was, in fact, a brotherhood of insanity's response to insanity: play, shake hands and then back to the trenches to wipe out each other's lives, Owen's Dulce et Decorum Est hanging heavy in the air long before its posthumous publication in 1920.
Back to 2023. It's Tchaikovsky these days for Russian athletes caught in a trap not nearly as painful as that Ukrainian athletes find themselves in: if one is a cage with a lock created by Putin in the knowledge that sports organisations will supply the key and throw open the door as long as 'neutral' replaces RUS and its red flag, then the other is a bear trap created by Putin and snapped tight around the ankles of every Ukrainian athlete handed a Hobson's Choice: they will feel the pain if they go to Paris and feel the pain if they stay away.
Easy for those in sport who are not directly affected to say "athletes should not be drawn into politics". The message resonates on some levels, of course.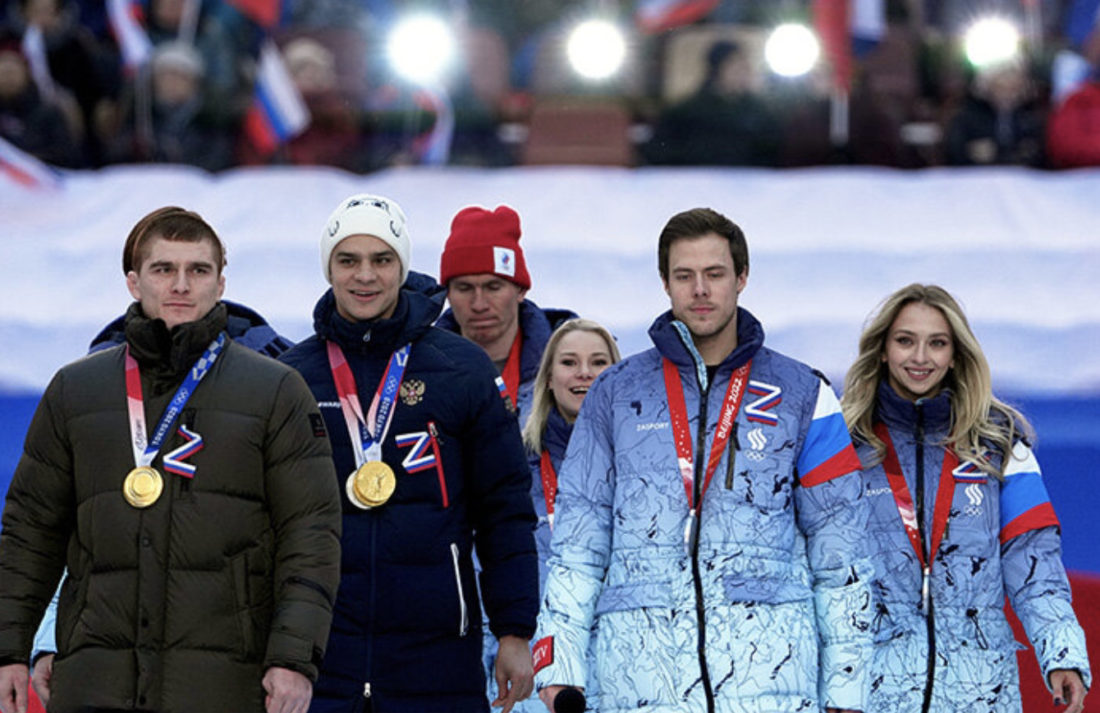 But how does it resonate if you place yourself in the shoes of a Ukrainian athlete who has lost teammates to a Russian gun; to a Ukrainian athlete who knows all the venues and sports places they grew up in and around lie in rubble; to a Ukrainian athlete who was once great friends with but is now the sworn enemy of a Russian now banned even under World Aquatics conditions for wearing the Z symbol of war but hoping to be given a chance to defend an Olympic titles in Paris; to a Ukrainian athlete who has lived in exile unable to return home since spring 2022; to the Ukrainian athlete who left their father at home to fight for the future of their country; to a Ukrainian athlete whose best family friends include people who's children were taken by Russian forces and whose kidnap is subject to war-crime investigations.
How does neutral fit with that?
None of the above (from a long list of many similar scenarios) is theory. It's the reality for those who are now told to embrace the half-time spirit and prevailing culture convenient to generals in an era and at a time when three days in a life on the front at the Battle of the Frontiers, the Battle of the Somme and the Kaiserschlacht accounted for about 60,000 souls from a death toll of 9.7 million military personnel and about 10 million civilians between 1914 and 1918.
They should not have to shake hands at half time either side of an Olympic Truce before a return to hostilities. Ukrainians should be granted a priority to Paris 2024 in any circumstance where the IOC is faced with the choice now on the table: either you have Ukrainians at your Games or you have Russians and Belorussians there and risk a race back in time to that stretch of boycotts in 1976 (different reasons), 1980 and 1984.
Sport should not be dragged into any of the pain that flowed from those boycotted Games but responses to such events and sorrowful times from within the sports community suggest few lessons have been learned. At the shallow end, we have a Hall of Fame in Swimming that has honoured Americans who didn't make it to Moscow because of the boycott ordered by their Government; yet a Hall of Fame that does not include women beaten to a pulp and denied their just rewards in Moscow by the systematic cheating of a nation who's athletes are in the Hall of Fame.
At the deep end we have an IOC that learned nothing from the events of the 1970s and 80s when it comes to how you keep world politics at bay and out of your self-declared bubble of autonomy.
As the IOC grew into a huge business empire, it embraced a culture of pressing the flesh and quaffing with every passing dictator and dodgy regime. The deal was simple: we'll tell the world that we have Rule 50 because we don't do politics; we'll tell athletes they'll be punished if they raise such matters as human rights when the lights are on; and in return for faces saved and the propaganda of doing your bit for the youth of the world, you, tricky people of power, danger and cash, will ensure our non-profit coffers are full, our wage bill is the envy of every athlete and our gravy train is stacked with flutes filled to overflowing.
Done said the dictator.
How does neutral fit with that?
And so it is that we still hear language from the IOC such as "Russia is a very important member of the Movement … and so…", with no mention of the doping crisis that has been a huge theme for the past decade nor any open discussion about how you manage a situation in which athletes operating and living under coercive conditions cannot expect to be invited to an Olympic Games to compete alongside the athletes of a nation whose family and friends and neighbours have been murdered and whose infrastructure has been destroyed because Putin thinks those elected to serve in the Government of a sovereign country are "Nazis".
The IOC has long wanted to follow a ban on Russians and Belorussians with any system it can muster to return to the athletes of aggressor countries the status that has never been removed from Olympic officials from those countries, including some with undeniable links to the Kremlin and the Duma and the decisions that flow.
We're now in a place where the rights of Russians and Belorussians are on the way to topping the rights of Ukrainians to say, reasonably, "under the circumstances, we do not want to compete against anyone from the nations occupying parts of our country, robbing us of our right to sovereignty, murdering our citizens etc etc".
The World Aquatics model may well be along the lines of that the IOC is working on for Paris 2024, even though the Mayor of Paris and almost 40 key sports nations have said they support the Ukrainian position and do not want Russians and Belorussians at the Games next summer shy of Putin and his thugs leaving Ukraine territory and agreeing to reparation talks.
To have Russian presence in Paris would simply write the next chapter in a long history of IOC appeasement of brutality and coercion, the peak of which saw IOC members raising their arm and saluting Hitler in swastika-soaked stadia at Berlin 1936.
A horrid history that brings us right up to the present and the words of Israeli swimmer Anastasia Gorbenko and the words of Egyptian swimmer Abdelrahman Sameh, who says he has received death threats over his support for Palestine in the wake of a murderous terrorist attack on Israel by Hamas. Expect more such sorrow if the IOC call it wrong on Russia on the way to Paris.
Sameh brought his experience to light on the deck of a World Cup event in Athens. He was not neutral nor was he impartial.
As Gorbenko notes in a social media post (and as we've seen before), the politics and hatred underway in the Middle East has been allowed to spill into sport and is a constant experience of the lives of swimmers: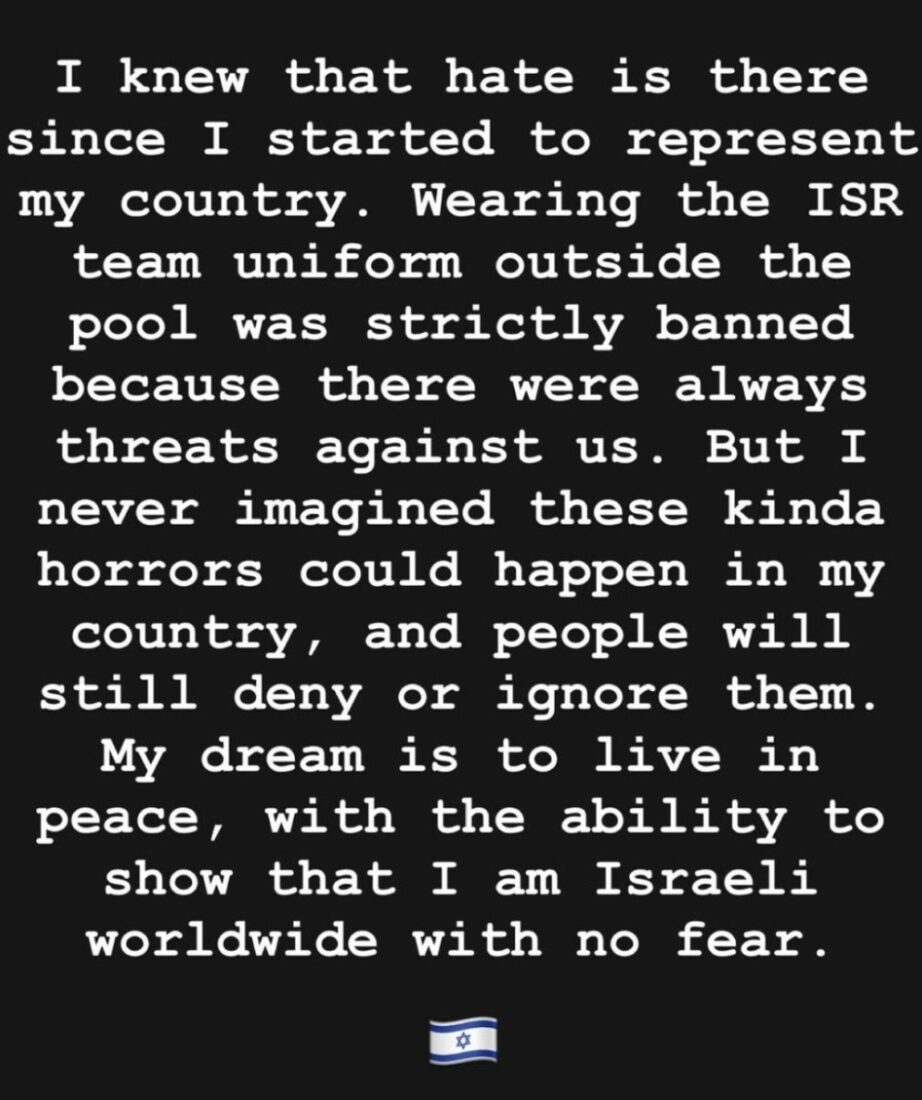 With no fear. That's the kind of message that Thomas Bach and others at the IOC should have been expressing to fear-leader Putin all along. Instead, they quaffed with him and gave him honours. And then said 'we don't do politics'.
Gorbenko's horrid experience is not new for Israel's swimmers. We look back to 2013, at the height of Russia's doping crisis on the way to the Sochi scandal and the invasion of Crimea in 2014, and we recall Dubai organisers of the 2013 FINA World Cup in the United Arab Emirates being accused of breaking the FINA Constitution barring "any discrimination against national Federations or individuals (competitors, officials, judges, delegates, etc.) on the grounds of race, sex, religion or political affiliations".
Dubai hosted the fourth round of the World Cup in 2013 and Israel's then leading swimmer Gal Nevo emerged from racing to say: "In order that our national flag and name wouldn't appear, the results of every race we competed in were not publicised. Competitors swim with us in the heats in the morning, and expect to see the results on the scoreboard in order to know whether they've qualified for the final. But on the screen they're already broadcasting the next race, without mentioning the names and times from the previous heat."
"I watched the broadcast on television of the race in which Amit [Ivry] won a medal. She swam in lane 1, but the broadcast focused completely on the other half of the pool. Of course, there weren't any results [announced] and it was impossible to know whether she'd finished in third place."
"Three years ago, following a drawn-out, diplomatic-security saga, the Israeli delegation landed in Dubai for the FINA World Swimming Championships (in a 25-meter pool). During the opening ceremony, the announcer mocked the delegation and addressed it by its initials, ISR. The organizers did everything in their power to downplay the presence of Israelis in the emirate.
"… when the Israeli national swimming team returned to Dubai for a World Cup series event (2013), they were again ignored. This time there was no ceremony with a walk-past by national delegations, but in everything related to the scoreboard and television coverage, the organizers prevented the word "Israel" or the Israeli national flag from appearing, thereby causing disruptions both to television broadcasts and in publicizing race results poolside."
The damning evidence is reflected in this photo from the time:
"Everyone was really surprised to learn what had caused this situation," says Nevo. "For some, the penny dropped and they said 'Wow – that's it! Now I realize why we couldn't see all the results on the scoreboard'."
"They didn't expect it and didn't believe that politics had been brought into the event in such a crude way. I, for one, was surprised by the tremendous amount of empathy the other swimmers showed for us."
Impossible to be neutral, impartiality a pipe dream.
Alongside Ivry and Nevo, other Israeli swimmers to make finals were Guy Barnea and Yakov Toumarkin. "They sort-of boycotted us, but our achievements made their ignoring us much more prominent," says Nevo. "It happened too many times, and swimmers from other countries began to notice the phenomenon."
John Leonard, then Executive Director of ASCA responding to concern among his peers and others in the sport today, summed it up perfectly when he said: "If you (the IOC and International Federations) don't want Politics in Sport, then don't allow any."
FINA issued warnings to member federations United Arab Emirates and Qatar – and a guarantee, in a statement, that there would be no repeat performances when Dubai and Doha hosted FINA events the following year.
At no stage, however, did any of that mark any slowdown in the growth of influence of Middle East nations in the ranks of FINA governance. And that can be said of many others from around the world in varying circumstances down the decades.
Consequences for athletes are still not matched by consequences for the modern-day equivalents of the editors and lanistas of the age of gladiators.
The day every person in a position of authority in the Olympic movement straying into politics can be slapped with a penalty as fast as FINA slapped two clean swimmers and Sun with a warning in 2019, is the day that "neutral" becomes more believable to the genuine benefit of athletes and sport.