Short Chucks A 3:42 Gauntlet As Ledecky, Titmus, McIntosh Line Up For 400 Showdown & The Foster Vs Marchand Match Is On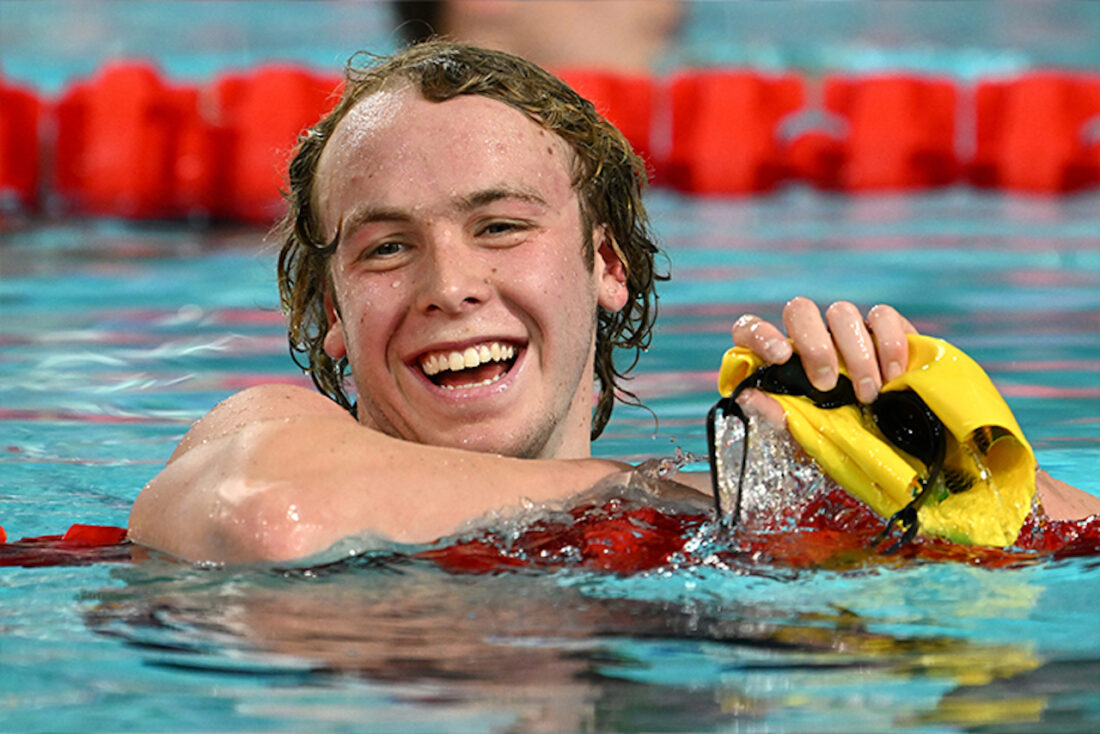 Australian Sam Short lit up the first morning of action at the World Aquatics Championships in Fukuoka by chucking a 3:42 gauntlet at the helm of the 400m freestyle, the women's heats of which put the big showdown in place, Katie Ledecky, Ariarne Titmus, Summer McIntosh through in that order within an arm swing of each other.
The men's 400m medley also promises a thriller, Carson Foster and Leon Marchand set to battle side by side in the middle lanes.
Results in Full from Omega – World Aquatics
M400m Freestyle – Sam Short Under World-Record Pace With A Lap To Go
Australian champion Sam Short, 19, was inside world -record pace at the last turn in the 400m free heats. He booked lane 4 for the final in a 3:42.44 effort he made look like a cruise.
Murray Rose, Kieren Perkins, Ian Thorpe Grant Hackett. Mack Horton and defending World champion Elijah Winnington. All Aussie global leaders in the 400m at some stage in their careers. Short may be next. Winnington went through in seventh on 3:44.63, a potential outside smoker two years after Ahmed Hafnaoui of Tunisia used the blindside of a lane on the edge to claim a shock Olympic gold. He went through fourth fastest, after Austrian Felix Aubock and Brazilian Guilherme Costa, all on 3:44s, with Germany's Lukas Martens and South Korea's Woomin Kim.
A cracking final in prospect: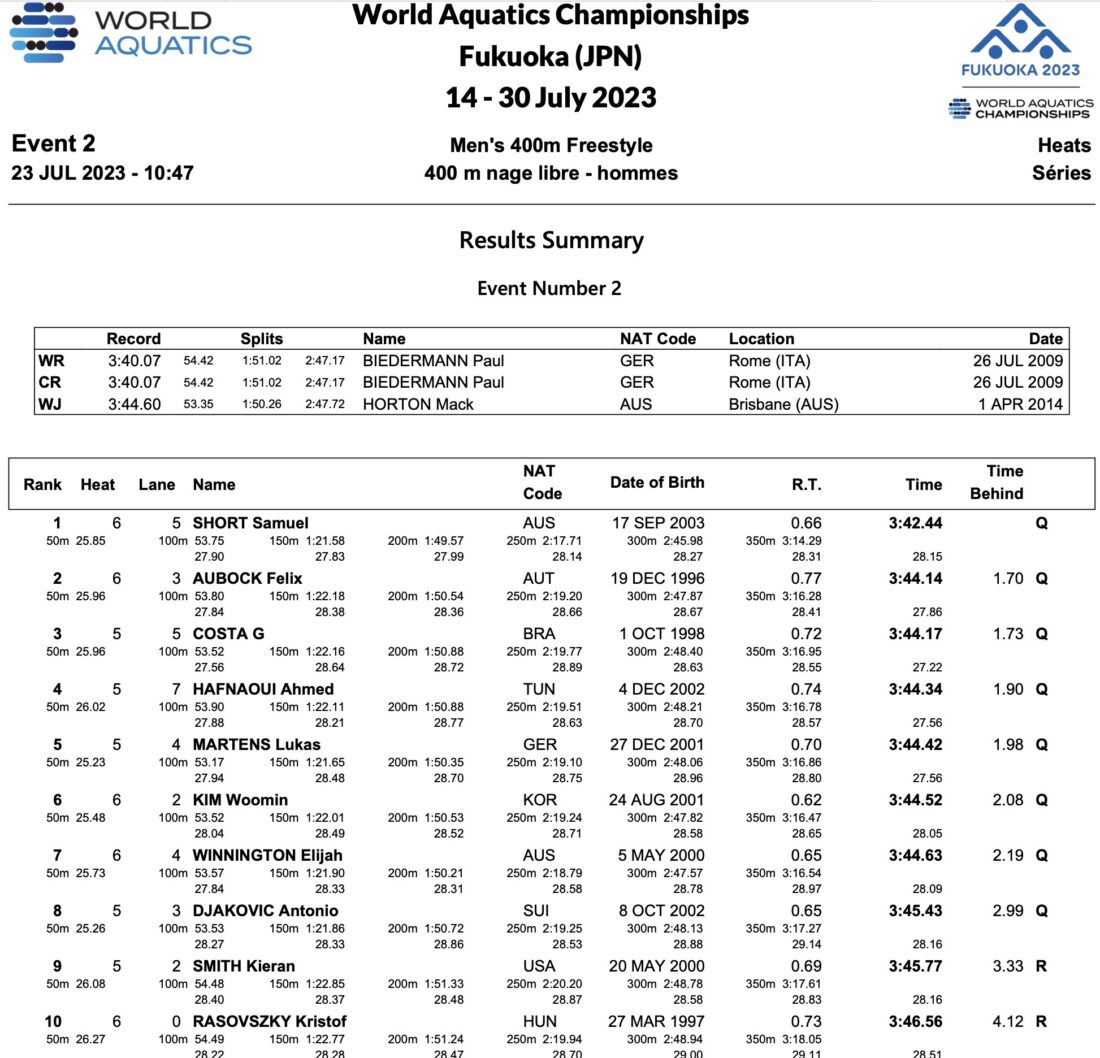 W400m Freestyle – The Ledecky, Titmus, McIntosh Showdown
The result sheet says it all. One of the highlights of the entire championship is hours away, Katie Ledecky, the 2016 Olympic champion, Ariarne Titmus, the 2020ne Olympic champion and Summer McIntosh, the World record holder who has overtaken both previous standard bearers, on the blocks side by side: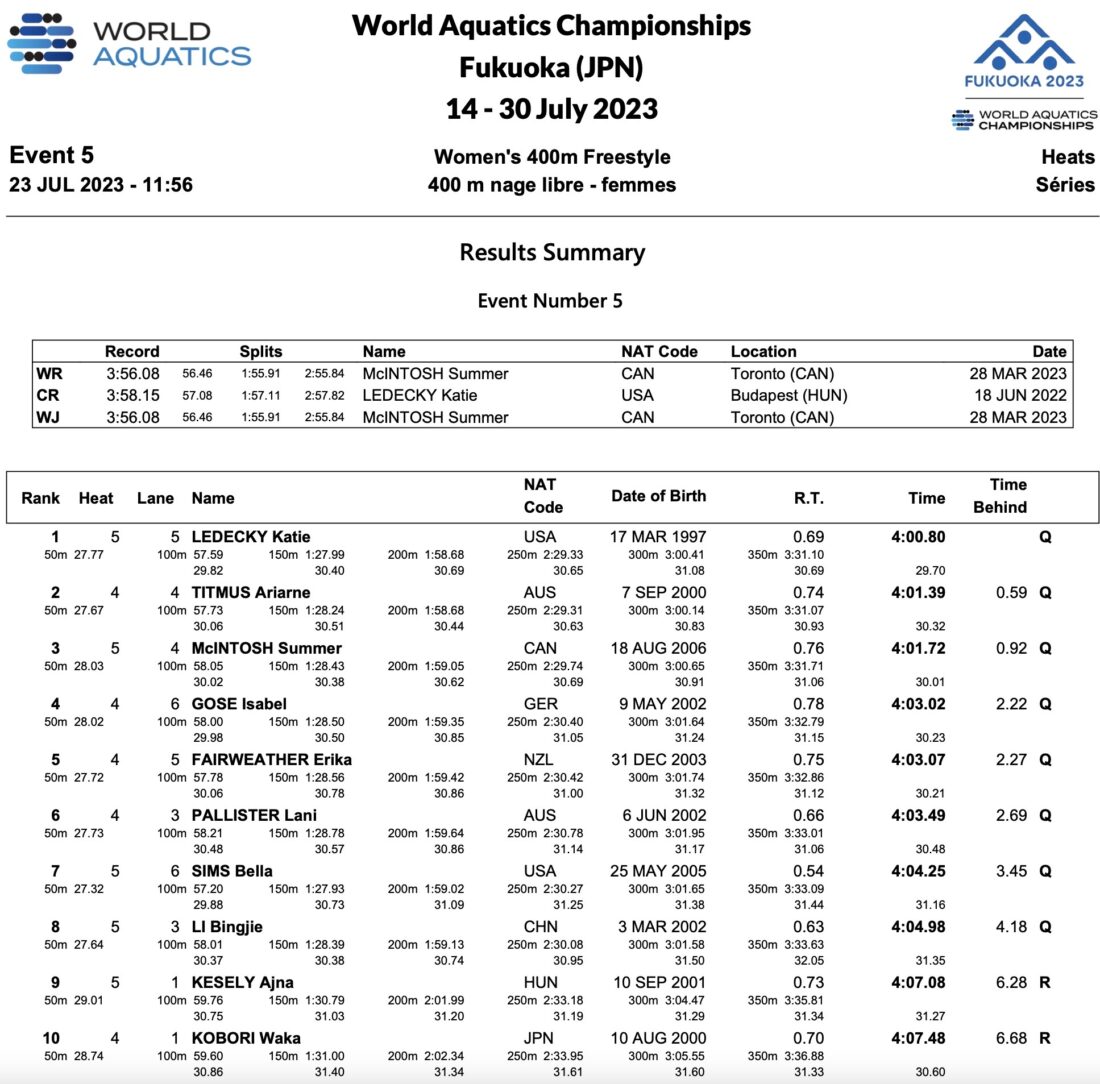 M400IM – Foster & Marchand Vs The GOAT Legacy
All calm on the 400m medley front, as the favourites for the 2023 World title – Leon Marchand and Carson Foster – line-up as contenders for the honour of drawing a line under the world-record legacy of Michael Phelps. Let's see how close they get: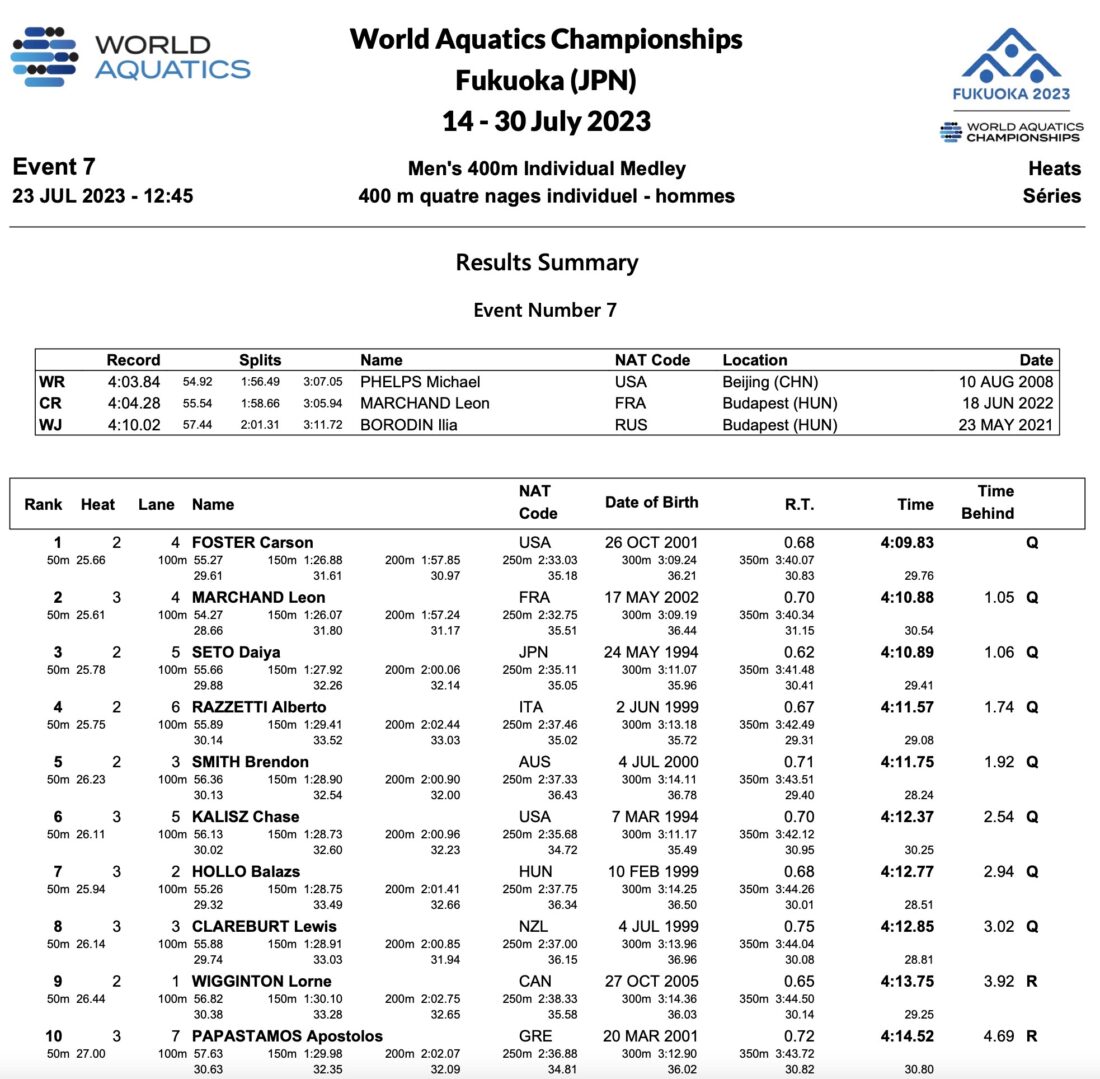 W4x100m Free – Aussie Dominance Ahoy
Shayna Jack blasted a 52.28 to get the Dolphins rolling towards what looks set to be another successful defence of the crown and Australia's No1 status as the dominant force of 4×100 free racing in recent years. The USA, Netherlands and Great Britain were next through.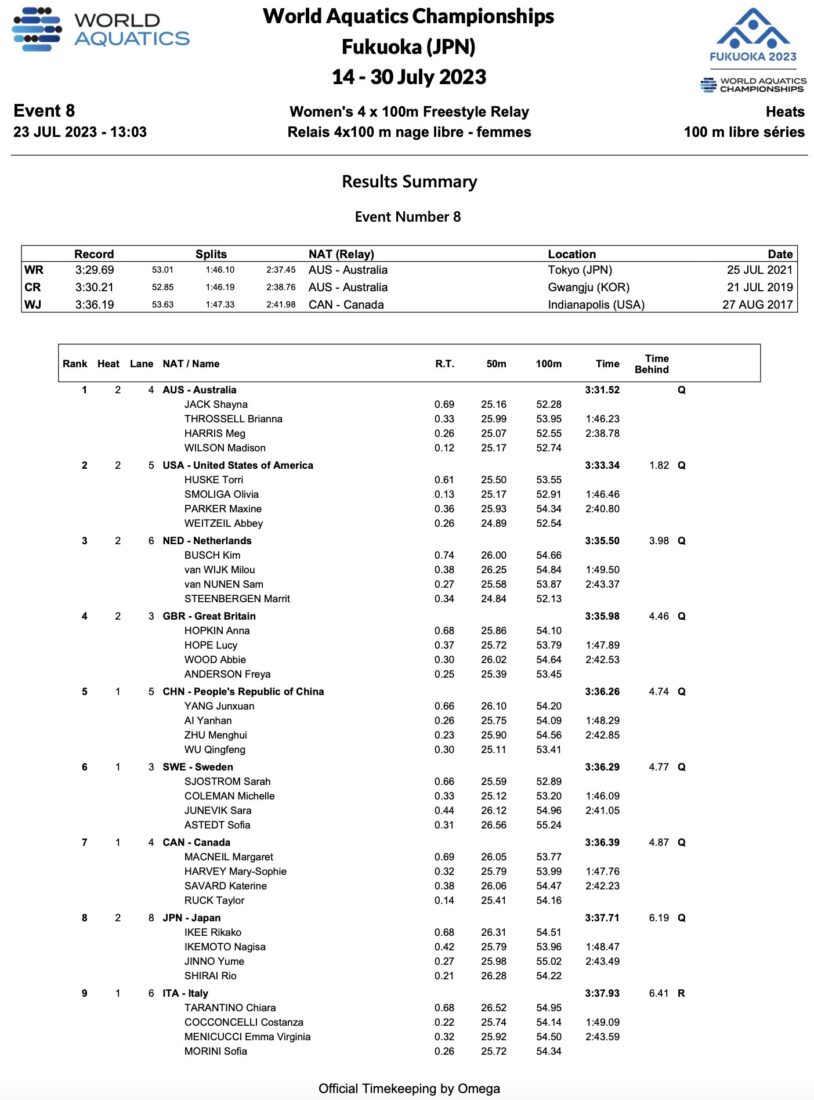 M4x100m Free – USA Leads The Way
All big contenders through but Great Britain, in with a chance of showing its growing strength in the event, was disqualified when Jacob Peters, a swift 50 'fly in the bag earlier in the session, left the blocks 0.04sec too soon. That was after Matt Richards had shown great form: 22.41 out, 46.89 back.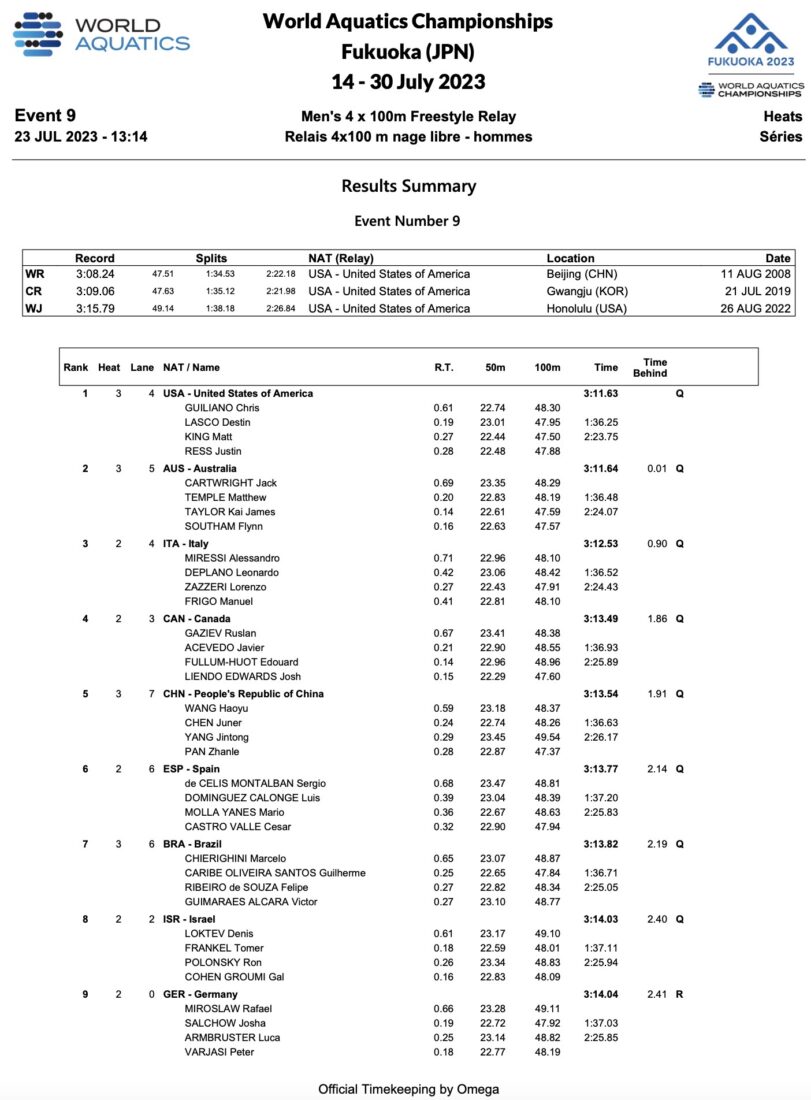 Into Semi-Finals
M100m Breaststroke – Sub-58ers Qin & Kamminga Set Morning Pace On 58s
Adam Peaty, the 2016 and 202One Olympic champion, is away healing and making hay for a Paris 2024 harvest, his heart beating this season for next as the only man ever to break 57sec. His 56.88 World record is unlikely to be cracked this week. It tops the best 17 performances ever in the 100m breaststroke: all owned by the British ace. Two others have broken the 58 mark and they were at the helm of heats pace in Fukuoka this morning.
Chinese hope Qin Haiyang (57.93 best) and Dutch double Olympic silver medallist Arno Kamminga (57.80 best) got the action going at the Marine Messe Hall in Fukuoka, Qin on a sharp 58.26, precisely the time in which Nicolò Martinenghi claimed World and European crowns last summer.
Kamminga was next through to semis today in 58.71, with Germany's Lucas Matzerath on 58.74 to emerge as the new national record holder, then standard having been held since 2021 by Fabian Schwingenschlogl at 58.95
Martinenghi (59.04), Nic Fink (59.38) and U.S. teammate Josh Matheny (59.40) followed: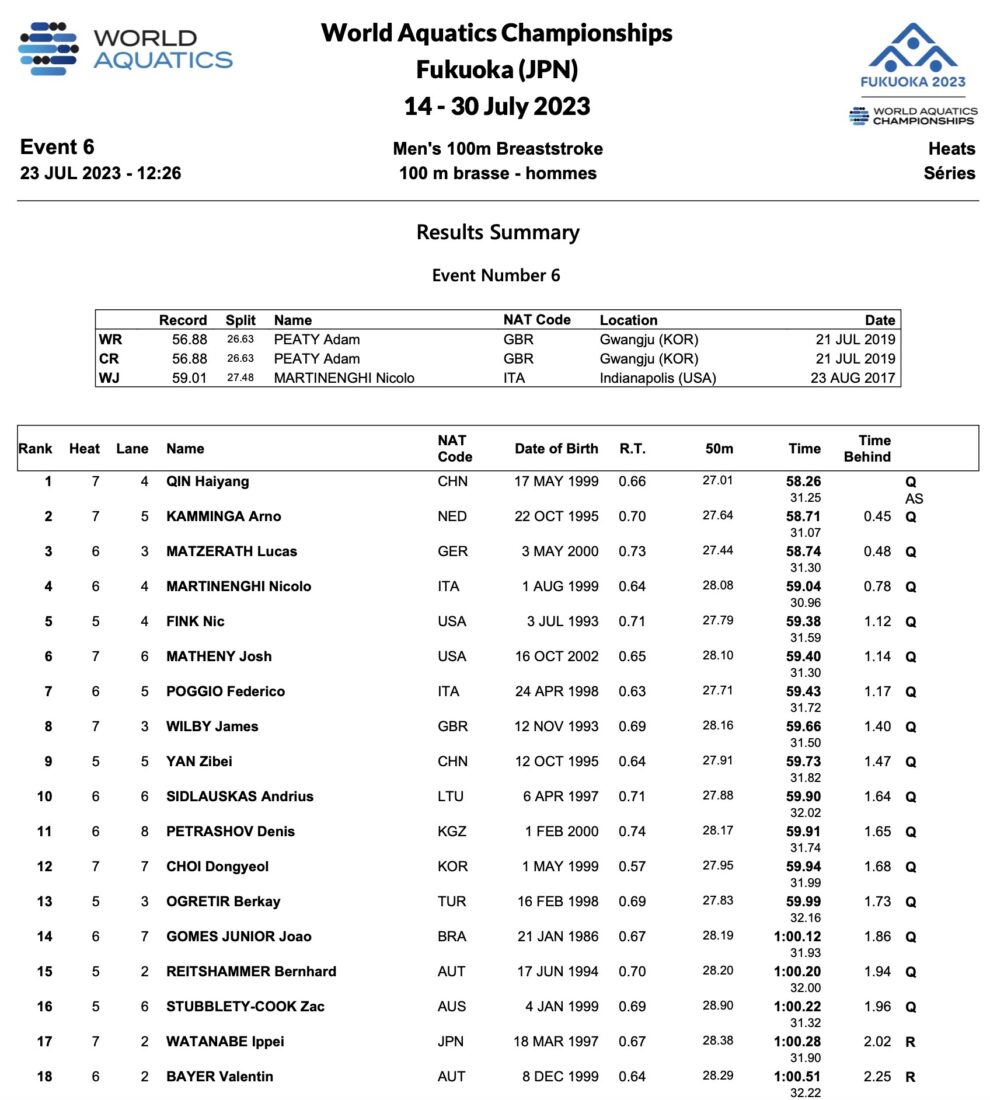 M50 Butterfly – Maxime Grousset Sets French Record with 22.74 Opener
Three went under 23, the first of them Frenchman Maxime Grousset in a national record of 22.74, 0.1sec inside the 2015 mark of Florent Manaudou and the shiny suit mark of Fred Bousquet he match.
Great Britain's Jacob Peters and Trinidad & Tobago's Dylan Carter also cracked 23 this morning, while Egypt's Abdelrahman Sameh also took out a national record, on 23.10. Through to semis: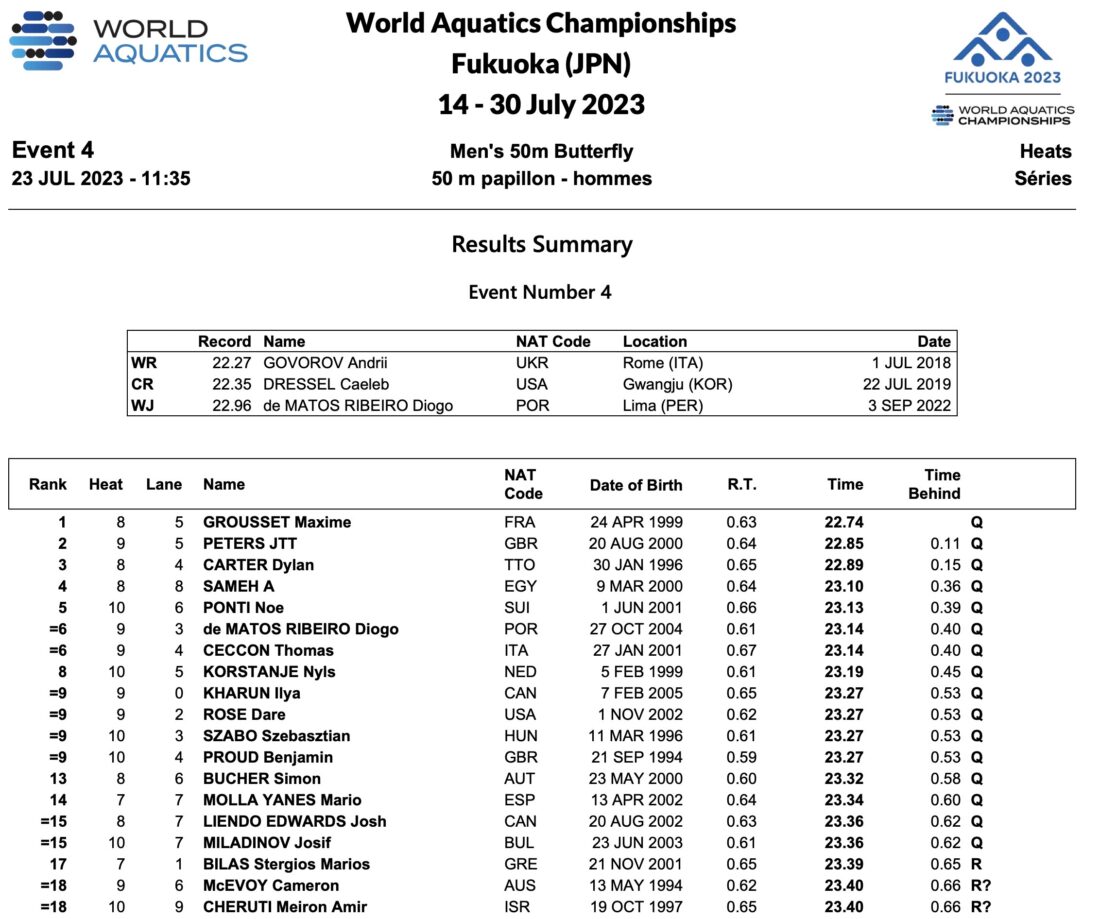 W100 Butterfly – Zhang Yufei & Emma McKeon Square Up
Zhang Yufei, Olympic silver, Emma McKeon, Olympic bronze, one of her record seven medals in Tokyo as queen of the pool, were swiftest through to semis, 56.89 to 57.05 respectively. Angelina Kohler of Germany was closest on 57.23. There were no big-name casualties, Sarah Sjostrom missing and focussing on the dash events, while Rikako Ikee's comeback from cancer recovery left the Japanese star in 17th as first reserve for semis on 58.6. A. fine return on the way to a date in Paris next year.
W200IM – Kate Douglass Leads 7 on 2:09
Kate Douglass led the way to semis on 2:09.17 at the helm of seven on 2:09, double Olympic backstroke champion Kaylee McKeown nearest on 2:09.50. Then came Mary-Sophie Harvey, defending champion Alex Walsh, Yu Yiting, Jenna Forrester, and 2012 Olympic champion Ye Shiwen. Olympic champion Yui Ohashi sailed through in 9th: