Shoma Sato Rattles World Record With 2:06.40 Asian Standard For Tokyo Ticket To Home Olympics – Ippei Watanabe Out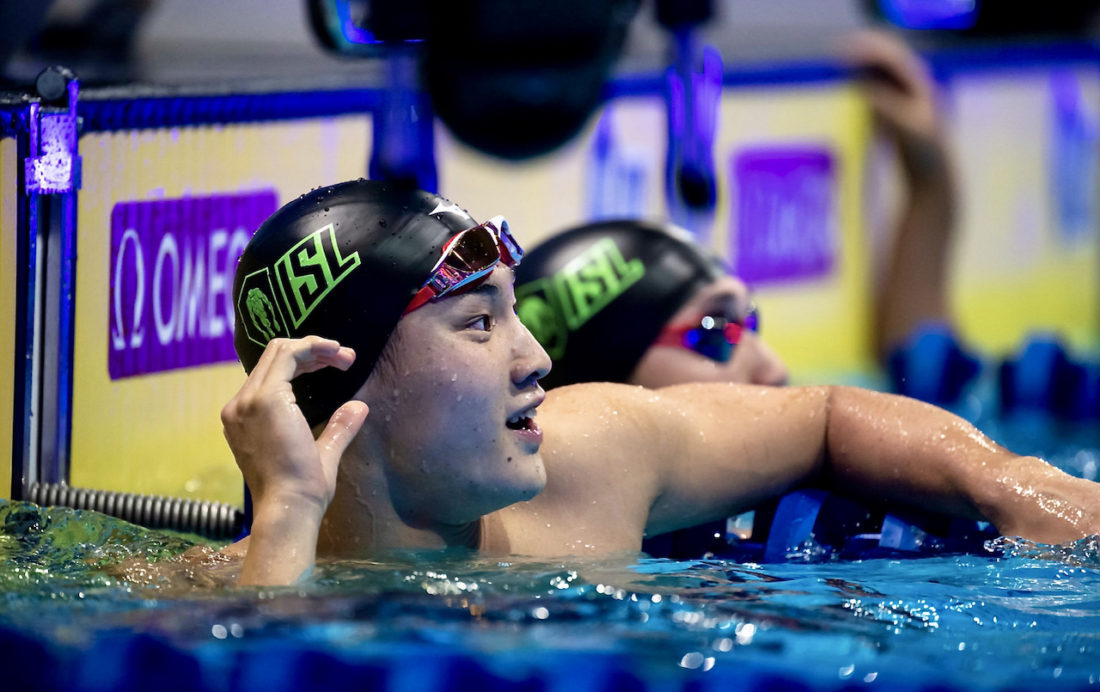 Shoma Sato took down the Asian 200m breaststroke record with a 2:06.40 triumph at Tokyo Olympic trials and national swimming championships in a final that continued the roller-coaster drama of Japanese four-length 'frog' racing: it spelled the end of hope for former World-record holder and standard bearer Ippei Watanabe, third and out of a home Olympics.
The winning time at the Japan Open today left Shoma Sato just 0.28 shy of Anton Chupkov's 2:06.12 World record and placed him second-swiftest on the all-time World Rankings.
The Japanese record had been held by Ippei Watanabe at 2:06.67, the time in which he established a World record in 2017 before Matthew Wilson, of Australia, matched that in semis at World Championships in Gwangju in 2019, Chupkov then taking gold ion the current global standard in the final a day later.
Watanabe was in the race for the first 100m, still in contention for a Tokyo 2020 berth at the last turn but unable to find his best form this day as Ryuya Mura sailed past him on the way to the end wall of fate.
The ebb and flow, and all-flow of Shoma Sato: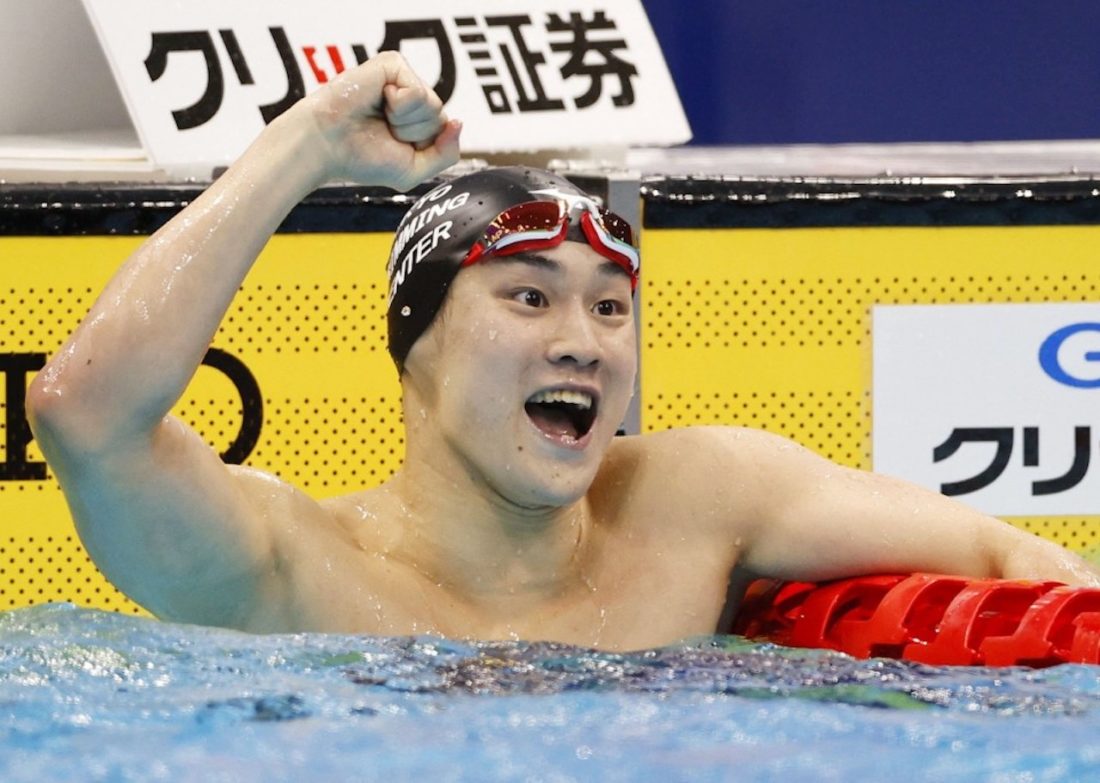 28.88; 1:00.89; 1:33.39; 2:06.40 Shoma Sato
29.16; 1:01.72; 1:34.89; 2:07.58 Ryuya Mura
28.81; 1:01.53; 1:34.61; 2:08.30 Ippei Watanabe
Sato was in the zone:
"I couldn't see others around me at all, I was just focused on my race from start to finish. In my semifinal, from 100 meters to 150 meters, my pace dropped off, so I tried to maintain it there. I managed to keep my calm, to my surprise. I couldn't get the world record, but I don't mind that at all…I've always talked about world record, but I want to win at the Olympics."

Shoma Sato to Kyodo
Watanabe pointed to his love of a sport that could sometimes be "cruel". He noted to Japanese media: "I've done everything I can. Yesterday's semi-finals were calm; but I can't say anything about today's swim. I've been working towards this for months…it should have been the best time of my life. I gave it everything, this is the best I could do. To get third on that time shows that I just wasn't mentally ready."
Video of the closing moments of the Race at NHK:
The Japanese 200m breaststroke history is stacked with quality, dreams, dramas, thumbs up, thumbs down. It was September 2012 not many weeks after London had waved goodbye to the Olympic Games that year when Akihiro Yamaguchi clocked 2:07.01. World record. He never made an international podium for Japan as a senior swimmer.
Indeed, his prospective international career all but came to a halt from the moment he established that world record a year after taking gold in the 200 at the World Junior Championships in Lima, Peru, his triumph backed up by silver medals in the 50m, 100m breaststroke and the medley relay with Japan mates.
Japan's
Big 200m Breaststroke Tradition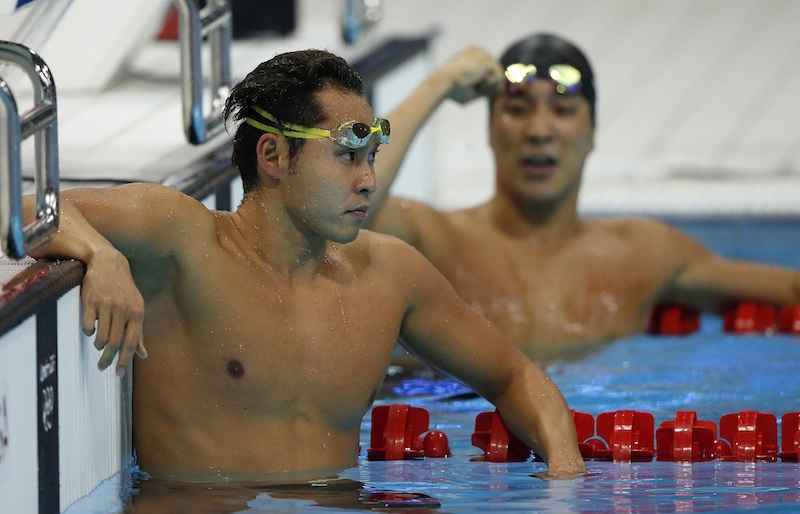 Soma Sato will lead the charge for the home nation at the Tokyo Games on the shoulders of the giants who made Japan the most successful 200m breaststroke nation in Olympic history, with six golds to the 5 won by Americas.
It all started with Gold for Yoshiyuki Tsuruta in 1928. Four years on, he became the first two retain the title, Japan, courtesy of Reizo Koike, celebrating silver, too, at the 1932 Games. Kipke ws back four years later for bronze when the 1936 title wen to Tetsuo Hamuro. The war, the shame of Japan's role in it and a long recovery intervened. By 1952, there were signs of hope for Japan once more, the nation filling the 4th, 5th and 6th-place slots in the 200m final at the Helsinki Games.
At Melbourne 1956, Japan was back on top, Masaru Furukawa taking gold, Masahiro Yoshimura silver. It was silver for Yoshihiko Osaki four years later before a gap to bronze for Nobutaka Taguchi – the 100m champion – in 1972.
Drought followed and it was not until Kosuke Kitajima claimed his first double gold in 2004 (his second following in 2008 for GOAT status). That's 6 gold, 3 silver, 3 bronze since 1928 for top of the all-time 200m breaststroke medals table as Tokyo gets ready to host the Covid-delayed Olympics from July 23.
The current generation of Japanese breaststroke aces is the latest wave of world-class challengers. Ippei Watanabe's career for Japan has been more impressive, With bronze medals in the 200m at the past two World Championships and gold medals at Pan Pacific and Asian Championships and the Youth Olympics title back in 2014. It looked for a while as though he would lead the charge among those hoping to provide his nation with the closest thing possible to Kosuke Kitajima, the all-time Olympic breaststroke great with double, double gold as winner of the 100 and 200m at both the 2004 and 2008 Olympic Games.
Kitajima is the founder of the pioneering Tokyo King Frogs team, the first Asian pro-swimming team in the the International Swimming League and revolution in the sport.
Shoma Sato is a member of Kitajima's squad and doubtless the pro-team boss will have some fine tips to share with a man who turns 20 this year and now heads into a home Olympic Games as a medal, if not title, contender.
Pressure Builds On The 2:05 Realm…
The writing was on the end wall back in January at the Kosuke Kitajima Cup in Tokyo, when Shoma Sato scorched below 2:07 with a 2:06.78 just 0.11sec shy of Watanabe's 2017 World record. That 2:06.78 took 0.24sec off Sato's best and was followed by a 2:06.74 a month later. Those swims and his efforts at trials this week in Tokyo proof of the kind of consistency that builds before a dam bursts.
The club of sub-2:07s in the 200m breaststroke is growing, as is the consistency of 2:06s among those on the crest of a wave of new speed over four lengths: Chupkov has five efforts on or inside 2:07.0 since 2017, while Sato now has three – all of them clocked this year to swell the club of 2;07s to five men since Yamaguchi's 2:07.01 back in 2012.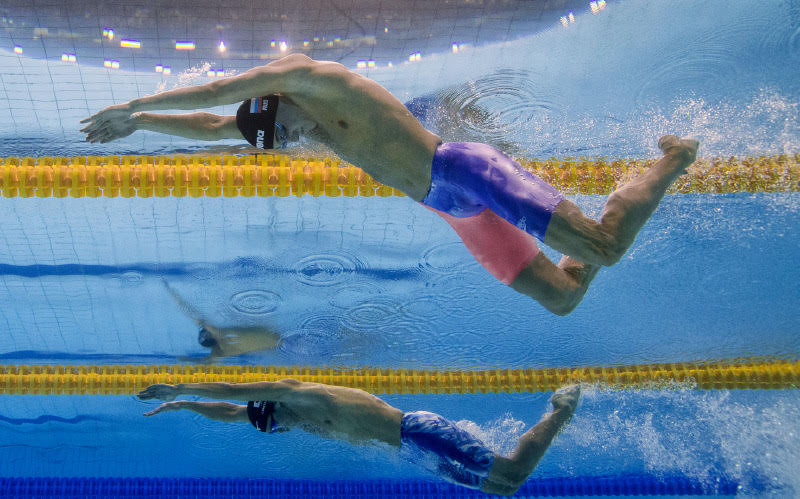 2:06.12 Chupkov, Anton, RUS LCM2019
2:06.40 Sato, Shoma, JPN LCM2021
2:06.67 Watanabe, Ippei, JPN LCM2017
2:06.67 Wilson, Matthew, AUS LCM2019
2:06.68 Wilson, Matthew, AUS LCM2019
2:06.73 Watanabe, Ippei, JPN LCM2019
2:06.74 Sato, Shoma, JPN LCM2021
2:06.78 Sato, Shoma, JPN LCM2021
2:06.80 Chupkov, Anton, RUS LCM2018
2:06.83 Chupkov, Anton, RUS LCM2019
2:06.85 Kamminga, Arno, NED LCK2020
2:06.96 Chupkov, Anton, RUS LCM2017
2:07.00 Chupkov, Anton, RUS LCM2019
2:07.01 Yamaguchi, Akihiro, JPN LCM2012
In other finals…
The first two home in the 100m freestyle final turned at the 50m mark on a 23.27 snap in third behind pace-setters Shinri Shioura, on 23.09, and Akira Namba, on 23.21.
The hunt for honour produced triumph for Katsumi Nakamura, on 48.23, Japan's second berth in Tokyo likely to go to Katsuhiro Matsumoto, on 48.37, while Kaiya Seki swept past the first-length leaders on the way home, for bronze in 48.87, Namba 0.01sec away, Shioura on 49.07, having been faster in the rounds. The 4x100m freestyle relay looks set.
In the women's 200m butterfly, Suzuka Hasegawa led from go to gold in 2:07.24, the podium completed by Hiroko Makino and Kina Hayashi in respective efforts of 2:08.66 and 2:08.76.
The men's 800m freestyle will become an Olympic event for the first time in Tokyo. Japan sported three sub-8min efforts at the Open today, Shogo Takeda taking the crown in 7:53.04, followed by teenager Shui Kurokawa, on 7:56.97, and Rio Nakajima, on 7:58.82.
In semi-finals, the Japanese 200m medley duel between long-time rivals and friends Kosuke Hagino and Daiya Seto its set: Hagino on 1:58.07 and Set on 1:58.30 respectively for lane 4 and 5 in the showdown tomorrow. Six years their junior, Shuya Matsumoto, 20, clocked 1:58.97.
In the other semis, Rikako Ikee led the way to the final of the 100m freestyle, in 54.36; Rysosuke Irie topped the 200m backstroke qualifiers, on 1:57.53; and Yukino Miyasaka led the way into the 200m breaststroke final on 2:25.01, four others inside 2:26.