46.86! Shiny Suit Slayer David Popovici Youngest Euro World-Record Holder In History Of 100m Free A Century After Tarzan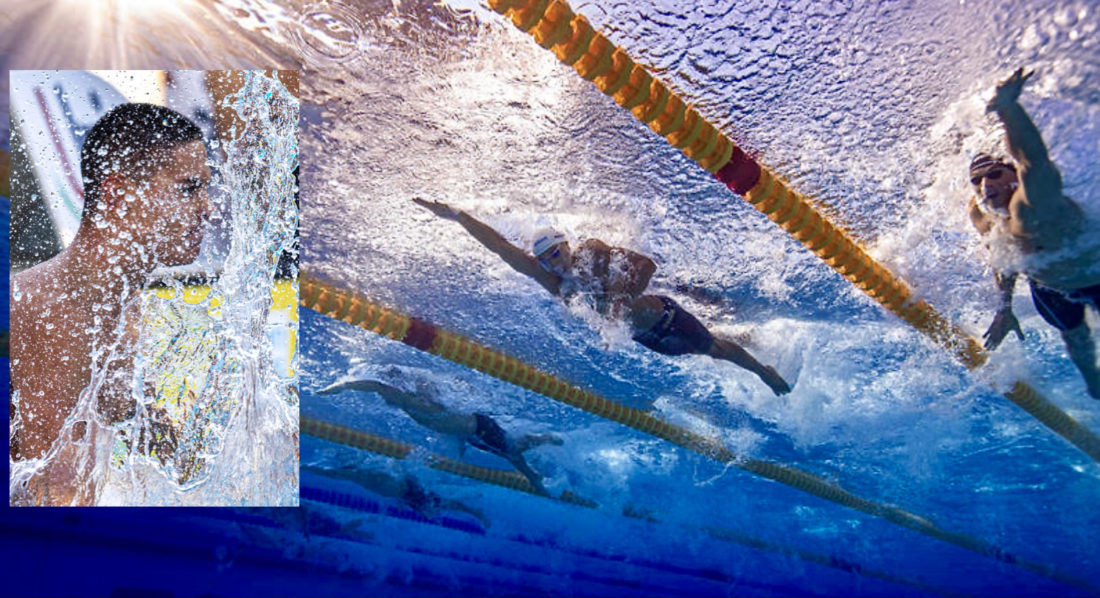 David Popovici, the 17-year-old Romanian swimming sensation, became the youngest World-record holder in the rich history of blue ribbon 100m freestyle with a 46.86 blast for a debut European title here in Rome 100 years after Johnny Weissmuller took the pace of the two-length race below the minute for the first time.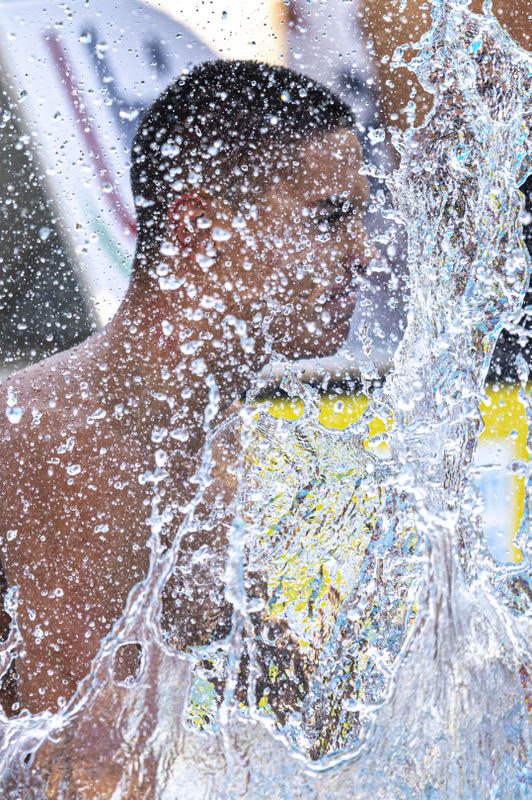 A Tarzan for a modern age of remastered classics, Popovici and his people may soon have Hollywood on the line with offers for a swimmer who in his youth looked for all the world like Mowgli's stunt double.
Popovici is the first Romanian to hold the World 100m freestyle record and the first to claim a European freestyle title going all the way back to 1926. Weissmuller, 18 when he claimed the World record in 1922 as an American citizen, was born in Freidorf, then part of the Austrian-Hungarian empire but now part of Romania.
The youngest ever European holder of the 100m world record had been Frenchman Alex Jany, who achieved the feat at 18 years and 9 months in 1947. Andy Coan (RIP – March 4, 1958 – March 20, 2017), of the USA, was also 17, and a few months younger, when he held the World mark for just 20 days in 1975.
The World record had stood at 46.91 to Brazilian Cesar Cielo, who claimed the World title in the same pool in Rome in 2009 before booster bodysuits were banned in 2010. Popovici needed no shiny suit.
Out in 22.74, second at the turn, Popovici mastered the water and his opposition on the way home to a 46.86 Pavlovian World record that pencils in a date with destiny in Paris at the 2024 Olympics that will be one of the most anticipated moments of the Games: a new "Race of the Century", this time over 100m, perhaps.
The questions flowed as fast as his majestic strokes had graced one of the finest pools anywhere in the world.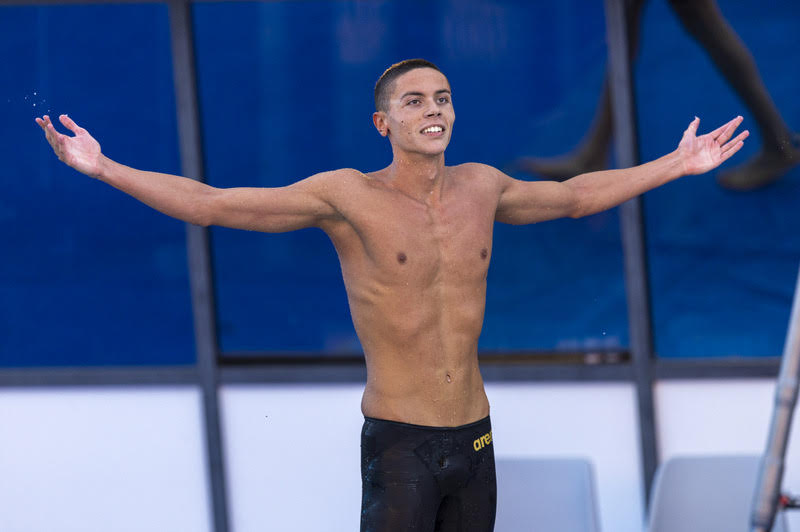 How did it feel to be World record holder?

"Its nice being able to say that I'm the fastest to ever do it, this distance. It's a good thing to know I clashed with all of the titans of this race and distance.

Had he delivered the perfect race?

"I think two, yes. My coach will decide that but for the moment I think it's the best race I've ever done. I planned to go very fast and have found. And that was about it. We had some technical things to think about and keep in mind but other than that the medal is a bonus, a good bonus, of course. I'm really glad that I got to break this legendary world record."

David Popovici – world record holder – (Photo by Patrick B. Kraemer / MAGICPBK)
I ask what it means to him to be a part of the rich history of the 100m and its club off world-record holders stretching back to Johnny Weissmuller, before and since. Says Popovici: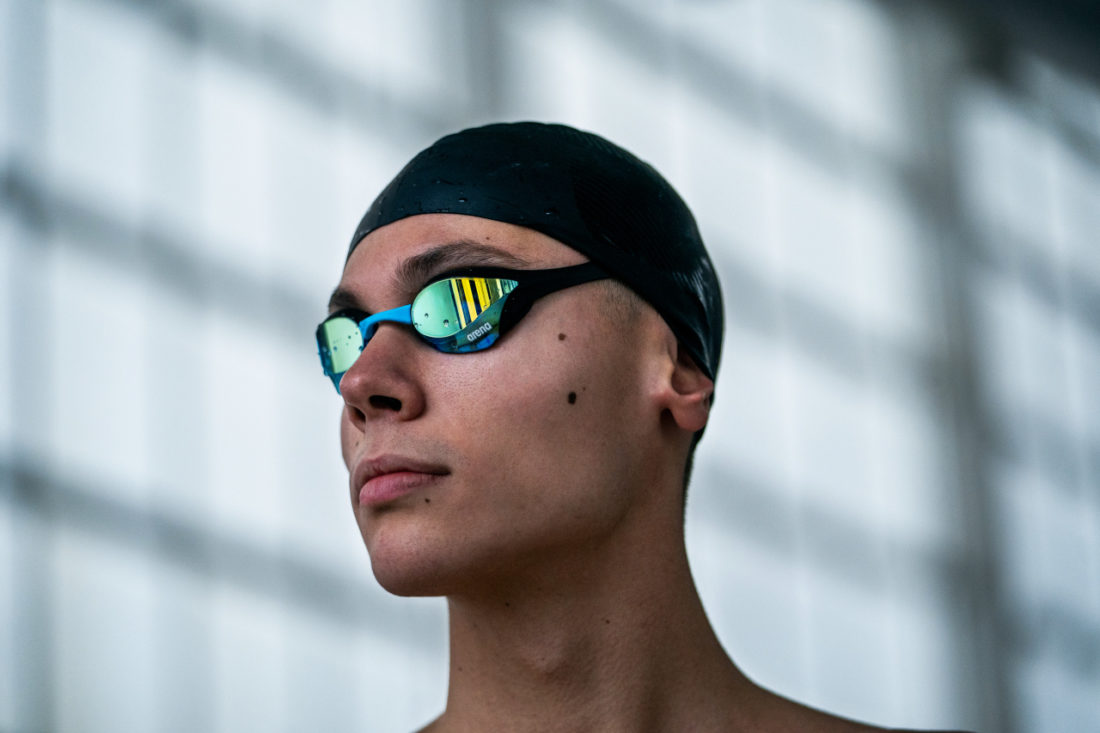 "So, I'm sort of in a World-record club and after I finished, Kristof Milak said to me 'welcome to the club'. That was a nice welcome, I guess. It's good to set new boundaries. Records are meant to be broken. I hope someone's going to break mine and that I'm going to break his. That's what sport is all about."

David Popovici – David Popovici by Mine Kasapoglu – courtesy of arena
He was pleased to hear that he is the youngest European, one of the youngest world-record holders of the 100m ever and one of just three teenagers in the club of standard bearers. He was "simply happy".
And that at the end of the race when he leapt win the lane line and slapped the water in a show of emotion? Broad smile. "That was just euphoria."
The crowd matched the roar it reserves for Italians with one just for Popovici. Had he noticed in a venue stacked with a majority of home fans? "Yes. There's a majority of Italian fans but also a majority of Romanian fans because a lot of Romanians live here. It was great seeing them altogether. They really helped me out."
Asked which of the 100 and 200 events was his favourite, Popovici said: "I think I still like the 200 more but I think I have to get a little closer [before the WR is possible], maybe not tomorrow or the days after tomorrow but I have a lot of time. There's no rush."
So dominant was Popovici that Kristof Milak's new Hungarian high of 47.47 looked tame, though it was anything but. The bronze went to Italy's Alessandro Miressi in 47.63.
Milak, his own terrific effort in the vault of great prospects two years out from Paris, paid plaudits to Popovici: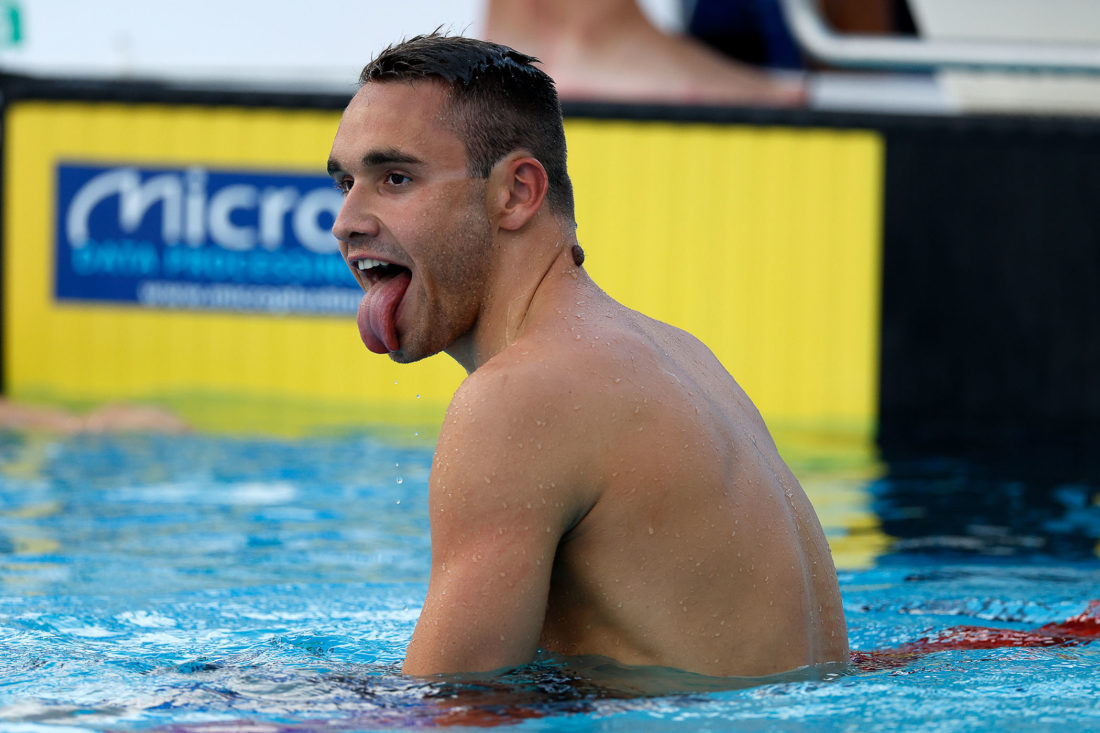 "This was a brilliant race, a joy to swim next to David. I've just thought that perhaps I have a presence which itself means some motivation as this is the second world record set in the lane next to me.

"David is a fantastic swimmer, I think the same crazy genius of the freestyle that I am in the butterfly and it's great that his name will hit the headlines for long, long years.

"I don't care about this new national record here, my goal is very clear: I just want to reach a level in this event to arrive to Paris 2024 with the capability of swimming a time somewhere very close to 47sec."

Kristof Milak – courtesy of LEN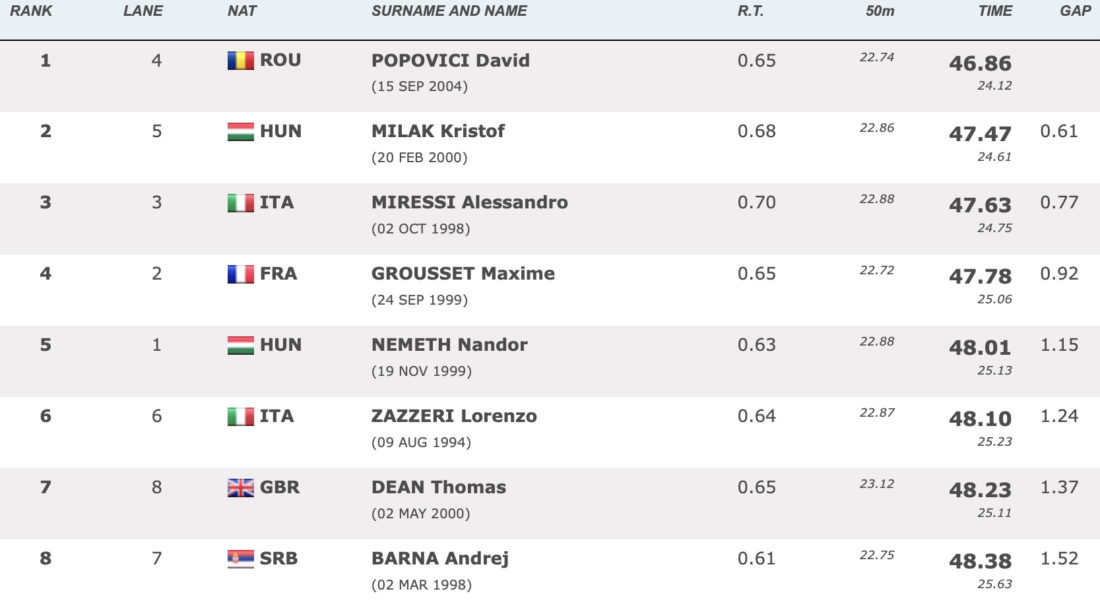 Popovici's progress places him in the lane of young pool pioneers with the likes of Ian Thorpe and Michael Phelps, respectively 15 and 16 when they claimed their first World titles. In June, the Romanian claimed his first two senior global crowns, in the 100m and 200m freestyle, the latter ahead of Tom Dean, Britain's Olympic 200m champion in a Tokyo final that marked Popovici's Olympic debut.
And what a debut: fourth just 0.02sec shy of the podium at 16, within half a second of Dean and teammate Duncan Scott as they delivered the first gold-silver punch in the Olympic pool for Britain since London 1908.
Popovici & 100m Challenge Posed To Dressel & Chalmers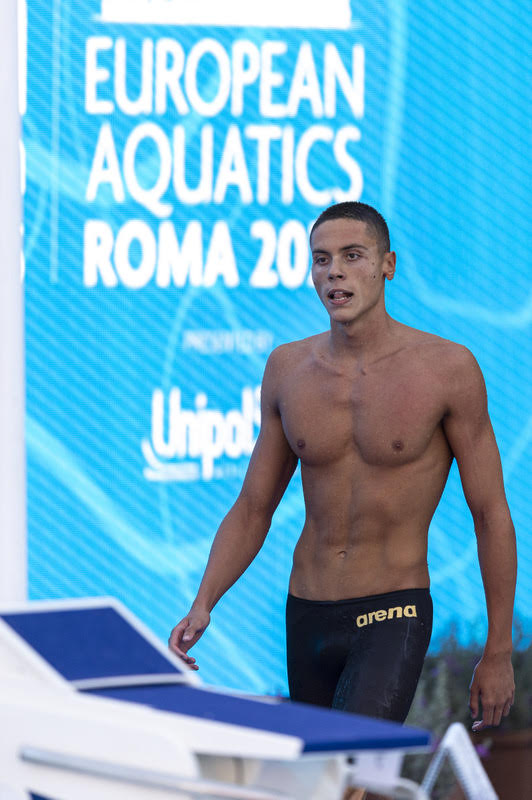 The first Romanian to claim a World and now European freestyle title, Popovici booked lane 4 for the final at the Foro Italico's Stadio del Nuoto with a 46.98sec European and World Junior record in his semi-final on Friday. The youngest swimmer ever inside 47.5 and now 47sec, he is on a trajectory to the top of the podium at the Paris Olympic Games in 2024.
Popovici will still be a teenager as he heads into a likely showdown with the Alpha-Male sprinters of the past two Olympic cycles, American seven-times Olympic gold-medal winner Caeleb Dressel and Kyle Chalmers, the Australian who was only 18 when he lifted the 2016 Olympic title five years ahead of silver 0.06sec behind Dressel in Tokyo, 47.02 to 47.08, in a thrilling and gladiatorial battle.
The Romanian poses a particular challenge to both: his first 50m is down on their top pace but his second 50m is significantly faster than Dressel's and better than that of Chalmers.
On paper, Popovici is now king of pace, inside Dressel's 46.96 of 2019.
Expectations are great when it comes to prospects of a challenge to the established order in the Paris 2024 Olympic 100m. Asked 'what's the difference between you, Dressel and Chalmers', Popovici said: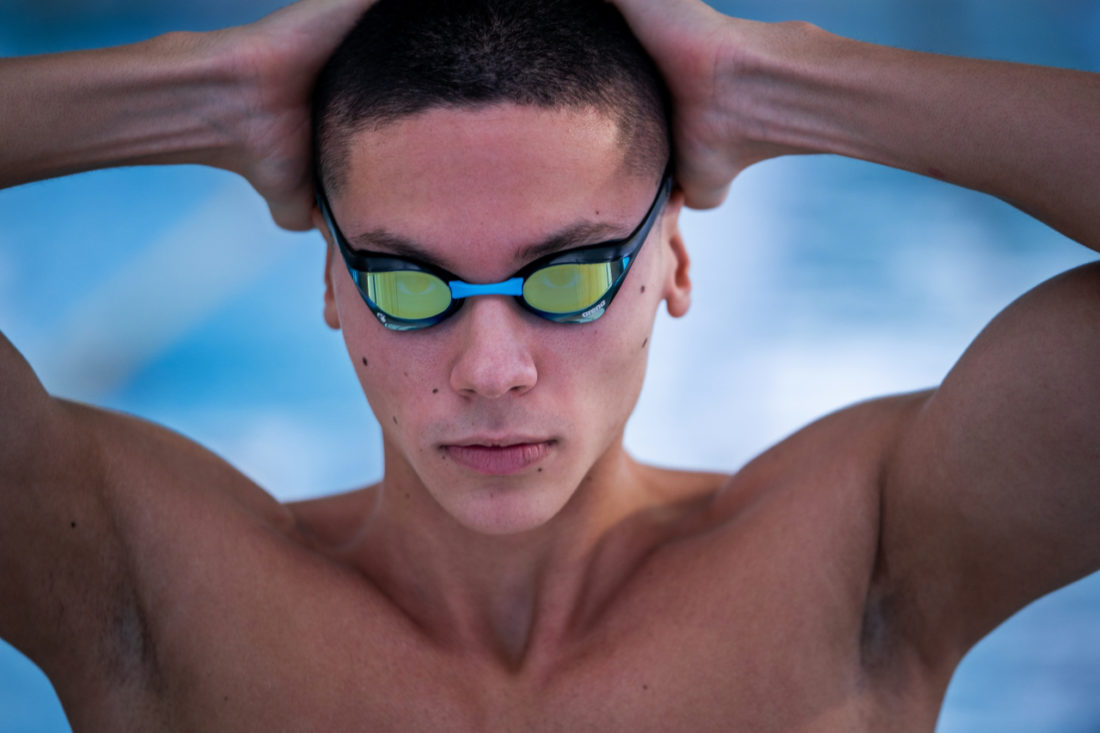 "Well, they're bigger than me. Dressel has a whole different strategy in the 100, for example. Our common ground is the 100 for us three. Me and Chalmers have a similar 100 strategy so when all three of us are almost as good as each other and are all more or less as close to the World record, I think what differentiates us in a race is who's hungry…. That's really what it's about."

David Popovici – by Mine Kasapoglu, courtesy of arena
Popovici, racing in textile, clocked 47.20 for the fastest heats time in history in prelims on Friday morning and emerged to say "it's normal for me to try to improve with every race." World records are there for breaking.
Thorpe and Phelps took a similar approach and were also street-wise beyond their age. Popovic has also been compared to the third man in the "Race of the Century" over 200m freestyle at the Athens Olympics in 2004, the Eindhoven Express, Pieter van den Hoogenband, as well as Russian sprint Tsar Alex Popov, Olympic 50 and 100m champion in 1992 and 1996.
"It's an honour to be compared to him," says Popovici. "And all of them," he adds with a nod to Thorpe, Phelps and Van Den Hoogenband. "I looked up to them but I just want to be the first David Popovici … I just do me. Everyone can do themselves. If I manage to do me correctly, I'm probably going to win."
More later.