Sheikh Ahmad – 'Kingmaker' Of Sports Bosses & FINA Prize Winner – On Trial In Geneva Next Week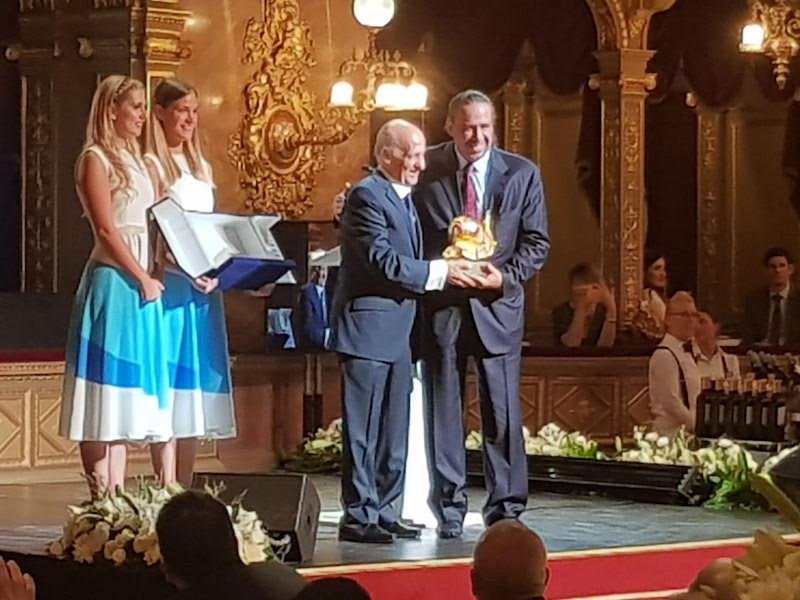 The forgery trial of Sheikh Ahmad al-Fahad al-Sabah, FINA Order recipient and Olympic Council of Asia (OCA) boss of the heir to the throne of aquatics at elections this June, will mark a critical moment for the Olympic Movement when it unfolds in Geneva next week.
Head of the Association of National Olympic Committees (ANOC) , Sheikh Ahmad is also described as a "kingmaker" in Olympic sports: he backed Thomas Bach for the International Olympic Committee presidency and, in aquatics, he was a hefty presence in the background of a succession plan intended to have OCA director Husain Al-Musallam replace Julio Maglione as FINA president at coming elections delayed by the coronavirus pandemic.
In 2017, after Maglione had been voted in as president for a third term, eight years after taking the highest 'volunteer executive' seat in aquatics sport on a ticket of "one term only", Sheikh Ahmad, 57, was handed FINA's highest honour, the FINA Order, by Maglione at a ceremony in Budapest.
Lawyers for Sheikh Ahmad issued a statement last week to say that Sheikh Ahmad is determined to clear his name in the face of allegations of forgery and a case that may bring significant repercussions for the Olympic Movement.
Last November, Sheikh Ahmad was one of five people charged by Swiss prosecutors of creating fake videos allegedly designed to prove that two Kuwaiti Government officials were guilty of coup-plotting and corruption.
Lawyers for the Sheikh told Associated Press last week that their client would attend the hearing in Geneva scheduled for Monday to Friday next week.
Sheikh Ahmad denies the allegations but stood down as an IOC member and stepped aside as president of the ANOC pending an outcome in the legal case in Switzerland. He remained, however, in his role as president of the OCA.
A former secretary general of the Organization of the Petroleum Exporting Countries (OPEC) and an IOC member since 1992, the sheikh has been a leading powerbroker in Olympic sport for a quarter of a century. Along the way, he has also courted controversy.
In December 2013, connections of Sheikh Ahmad claimed to possess tapes of former Prime Minister Nasser Al-Mohammed and ex-Parliament Speaker Jassem Al-Kharafi discussing plans to topple the Kuwaiti Government.
In December 2015, Sheikh Ahmad was convicted of "disrespect to the public prosecutor and attributing a remark to the country's ruler without a special permission from the Emir's court." Sheikh Ahmad was served a suspended six-month prison sentence and was ordered to pay a modest fine of 1,000 Kuwaiti Dinar (€2,727).
In January 2016, the Kuwaiti appeals court overturned the prior ruling and cleared Sheikh Ahmad, whose family ties in the House of Al-Sabah link him to the Emir, of all charges.
Further reading:
In a statement to the AP last week, Geneva legal firm RVMH said of the Sheikh: "He is absolutely determined to obtain a full acquittal and is confident about the positive outcome of the case."
A panel of three judges will hear the evidence next week. It is unclear how long the process of coming to a verdict will take. The penalty for the alleged crime carries a jail term of up to 10 years in Switzerland.
The IOC Ethics Commission is said to be "monitoring developments".
Other Controversies Linked To Sheikh Ahmad
In April 2017, Sheikh Ahmad resigned from the FIFA Council after being implicated by the U.S. Department of Justice, as a "co-conspirator" to fraud in a guilty-plea case in which Richard Lai, a member of the FIFA Audit Committee from Guam (and therefore an American citizen), admitted to taking $950,000 (£685,000/€783,000) in bribes. Lai alleged they came from an account at the OCA in the sole control of the sheikh and another DoJ-cited "co-conspirator" Husain Al-Musallam. Both Kuwaitis denied the allegation. Their cases have not been tested in a court of law.
This year has also delivered a ruling from the Court of Arbitration for Sport (CAS) that Sheikh Ahmad offered inducements to Mariyam Mohamed to withdraw her candidature for election to the Executive Committee of the Asian Football Confederation (AFC)