Sharon van Rouwendaal Grabs First Swimming Gold At Budapest Euros Over 5km With Olympic Marathon Title Defence On The Horizon
Olympic marathon champion Sharon van Rouwendaal grabbed the first swimming gold of the European Championships for The Netherlands at Lupa Beach in north Budapest with a decisive 58mins 45.2sec victory over 5km. Italy and France completed the podium, courtesy of Giulia Gabbrielleschi, on 58:49.3, and Oceane Cassignol, on 58:51.4, 5-6sec clear of France's Lara Grangeon and Germany's Leonnie Beck.
The race, held on a clement day in calm lake conditions around a buoyed circuit in the manmade Lupa Beach venue where the waters are mostly 4-5m deep, confirmed that Sharon van Rouwedaal is in fine form as she approached the defence of her Olympic crown in Tokyo in the first week in August.
Sharon Van Rouwendaal emerged from battle to note that this had been her first race since 2019: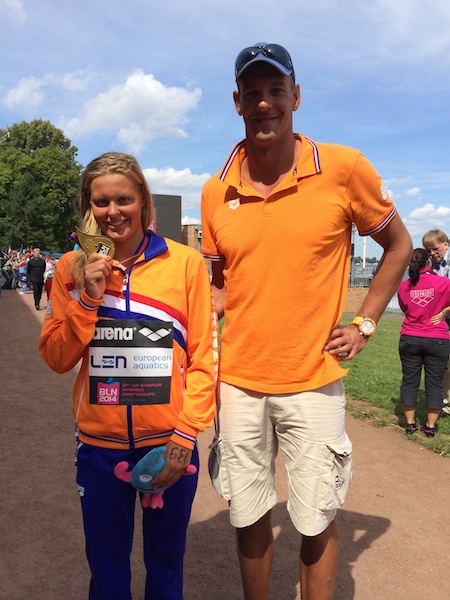 "I didn't do any race in the past one and a half years so I felt some stress but good kind of stress before the start. This was also the first competition with my new coach so I could prove that I could swim fast and and that approves my decision from last year. I wasn't afraid of the water temperature, I could handle cold water pretty well, I even trained in my normal suit this morning to warm up. I'm happy that the race went like this, I could have even swum a bit faster at the end. Now hopefully I can recover and have another good race tomorrow."

Sharon van Rouwendaal – image – Sharon Van Rouwendaal added to a European collection that started with a first gold back in 2014 under the guidance of coach Marcel Wouda
Van Rouwendaal followed her Olympic triumph of 2019 with three golds and a silver at the Glasgow 2018 Europeans but was disappointed by a medal-less Gwangju 2019 World Championships, at which she narrowly avoided missing the automatic cut for the Tokyo 2020 (now 2021) Olympic Games. Today appears to confirm that Gwangju was a blip.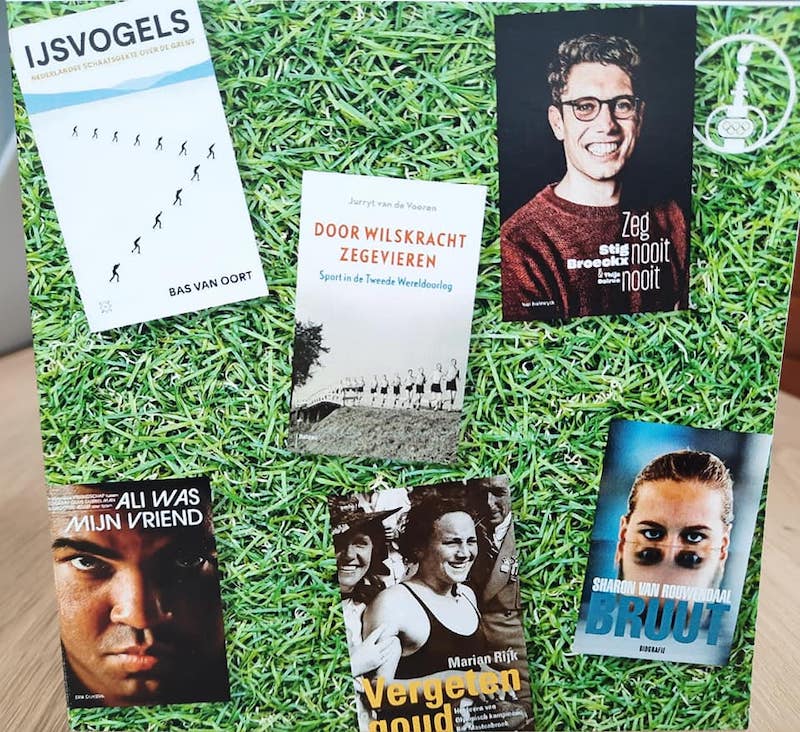 The marathon in Budapest unfolds tomorrow and whatever the outcome, Van Rouwendaal will have a Friday rest-day celebration courtesy of the book written about her that is up for the honour of "Sports Book of the Year" on a shortlist that includes no work on football for the first time in the history of the prize (yippee!)
Six books were selected for a shortlist from 44 submissions considered. The winner of the Nico Scheepmaker Cup will be announced on Friday 14 May on the TV program De Vooravond.
One of the six nominated books is Bruut (Brutal), about Sharon van Rouwendaal, written by Natasja Weber (Eindhovens Dagblad), while another shortlisted work is also focussed on swimming: Forgotten gold, by Marian Rijk recalls the achievements and life of Rie Mastenbroek, the Dutch ace who claimed three golds and a silver at the 1936 Olympic Games in Berlin, her victories unfolding in the 100m, 400m and 4x100m freestyle, the silver earned over 100m backstroke behind teammate Nida Senff for a Dutch 1-2.
The other four nominated books are:
Never say never – Stig Broeckx and Thijs Delrue about the young Flemish cyclist Stig Broeckx, who ends up in a deep coma after a fall.
Ali was my friend – Erik Dijkstra about photographer Guus Dubbelman's friendly relationship with boxer Muhammad Ali
Kingfishers – Bas van Oort on the Dutch skating culture
By Will Power to Win – sports historian Jurryt van de Vooren on sports in the Second World War.
Budapest 5km – the sub-hour finishers:
Pos
No
NAME
BORN
DOB
Time
Gap
1
13
NED
VAN ROUWENDAAL Sharon
09 SEP 1993
58:45.2
2
8
ITA
GABBRIELLESCHI Giulia
24 JUL 1996
58:49.3
4.1
3
6
FRA
CASSIGNOL Oceane
26 MAY 2000
58:51.4
6.2
4
18
FRA
GRANGEON Lara
21 SEP 1991
58:56.4
11.2
5
20
GER
BECK Leonie
27 MAY 1997
58:57.2
12.0
6
17
ITA
TADDEUCCI Ginevra
03 MAY 1997
58:57.8
12.6
7
1
GER
SPIWOKS Jeannette
18 NOV 1998
58:59.4
14.2
8
14
POR
ANDRE' Angelica
13 OCT 1994
59:00.3
15.1
9
15
ITA
POZZOBON Barbara
17 SEP 1993
59:00.4
15.2
Like Van Rouwendaal, many swimmers are racing at the Championships with little race practice under their belts of late. Giulia Gabbrielleschi noted: "It was my first real race for a long time, I took part only in the Italian championship so I was really hungry and aggressive this morning. I wanted to go for a medal and I'm happy that I could get it. I tried to catch Sharon but she was too fast today."
Oceane Cassignol celebrated her first senior medal in international competition: "It was a very fast race, I tried my best but I couldn't pass Sharon and the Italian girl. Sharon set a very fast pace and I did try to keep up with her but at the end she did really well in the finish and Giulia also closed down the lane where I could have passed her. I saw that there were three of us so I thought, 'OK, I could settle for a medal', which was great as it had also been hard to pass the other Italian at the second buoy in the last lap. I can say I'm really happy with this medal, first one for me at senior level in individual races."
The Paddling Pool & The 'Brutal' Training Regime Of Sharon Van Rouwendaal
Sharon van Rouwendaal prepared for this season in various conditions, stretching from a backyard paddling pool with a harness attached to her so she could swim own the spot during pandemic lockdown through to a return to open water and pool training of 90km and even more than 100km a week. She warmed up for Europeans with efforts over 200m upwards at the Eindhoven Qualification Meet last month.
In Montpellier she is coached by Philippe Lucas, mentor to Laure Manaudou, the French ace who took down Janet Evans' 400m freestyle world record in 4:03.03 in May 2006 after the standard had stood to the American legend at 4:03.85 since she claimed Olympic gold in Seoul on September 22, 1988. Sharon Van Rouwendaal's home club is Eiffel Swimmers PSV, her coach the Dutch open water boss and former international Marcel Wouda.
Van Rouwendaal is used to going the distance in pool, rivers, lake, sea and ocean. She trains 90km or more a week. The coronavirus (COVID-19) pandemic changed all that. On April 1, 2020 – and it was no joke – the Olympic marathon champion was to be found in her backyard on a rope pacing herself standing (or swimming) still in a paddling pool.
Containment measures the world over forced pools and swim programs to shut their doors. Sharon Van Rouwendaal, like most others, was confined to keeping fit with dryland exercise but she doesn't want to lose the feel of the water.
At the Rio 2016 Olympic Games, Van Rouwendaal claimed gold in the marathon by 17 seconds after 10km. For that kind of efforts, she covers 90-100km a week over 10 training sessions on average.
She couldn't quite match that in her paddling pool but the point was to get valuable time in the water replicating regular movement and keeping specific muscle and sensory systems alive in preparation for Tokyo 2020 in 2021.
In her temporary, less 'brutal' regime, Van Rouwendaal wears a belt around her wetsuit and is attached to a rope tied to a pole that helps hold her position in the paddling pool:
In other Action so far in Budapest, courtesy of LEN Media Service:
Day 2
Ukraine shines, Italy Goes 1-3 in Women's 1m
Ukraine clinched two titles on the second day in Budapest: one in artistic swimming and one in diving. Marta Fiedina won the solo technical, while Kseniia Bailo and Oleksii Sereda came first the mixed 10m synchro despite practicing only for a week together. The last final brought two medals for Italy, Elena Bertocchi finished atop, Chiara Pellacani came third.
As usual in artistic swimming, if no Russian in the competition, the road opens up to the top of the podium – and this time it was Ukrania's Marta Fiedina who went all the way in the solo technical. Her routine was rated slightly higher than Greece's Evangelia Platanioti's fine performance, the gap was 2.5 points. The bronze went to Vasilina Khandoska from Belorussia.
The mixed synchro event in diving offered some real excitements. For a while Russia's Victor Minibaev and Ekaterina Beliaeva seemed to have it but their last two dives went wrong and the rivals thanked the opportunity.
Ukraina's golden boy Oleksii Sereda and championship rookie Kseniia Bailo came up with the best effort of the evening, an 80-pointer in the fourth round and their last dive was also good enough to land the title. It's a fairy tale story for the two since they had one week to practice together, after a sudden illness had brought the originally nominated duo down. Sereda, still only 15, but visually stronger than he had been in Kiev 2019 when he had become the youngest ever European champion, continued his winning streak from two years ago. He also paraded with a couple of English comments, another significant change for the shy boy we knew from Kiev.
Britain's Noah Williams and Andrea Spendolini-Sirieix also surprised themselves with the silver medal as they spent a single hour with joint trainings before the competition – sometimes less is more, as the saying goes.
The first individual final saw Italy's first gold here in Budapest. Until the last round Chiara Pellacani was in pole position but at the end it was compatriot Elena Bertocchi who finished atop. All divers were a bit tense, perhaps the 2017 champion managed to stay the calmest among them to win the event by 4.35 points ahead of Michelle Heimberg. The Swiss had written history by becoming the first-ever diving medallist for her country and now she added a silver chapter to the story. Pellacani had to settle for the bronze at the end, trailed by 1.4 points behind the Swiss.
Day 1
Russia kicks off the event with two golds
Russia clinched two titles on the opening day at the European Aquatics Championships, grabbed gold in the mixed duet technical in artistic swimming and won the team event in diving. The Italians claimed a silver and a bronze on Monday.
It seemed inevitable that the first title will go to Russia – in the mixed duet Aleksandr Maltsev and Mayya Gurbandiyeva was a sure bet as their Italian arch-rivals could not be present due to Covid-infections. Giorgio Minisini and his actual partner caused a couple of upsets in the past but Maltsev&Co., already superior in 2019, was a cut above the rest in the current field.
Spain's Pau Ribes and Emma Garcia did its best and deserved the silver, while the young couple of Nicolo Ogliari and Isotta Sportelli from Italy managed to reach a fine level in ten short days to earn the bronze ahead of the Slovakians.
According to the schedule, the Russian duet of Svetlana Kolesnichenko and Svetlana Romashina should have won the first title in the Duna Arena but due to a technical failure of the under water loudspeaker system the duet technical final had to be halted. It was then rescheduled for Thursday morning while the team free prelims were cancelled in the same session since the number of teams entered (8) is equal with the number of spots in the final.
The diving competitions kicked off with the newly shaped Team Event where each team had to perform dives from 3m (one man, one woman, and one synchro) and from 10m (same). Germany was leading after the springboard part but in the platform they were overtaken by the Russians and at the end by the Italians as well.