Sharon van Rouwendaal Goes Double Dutch Adding 10Km to 5Km European Open Water Title On Way To Olympic Defence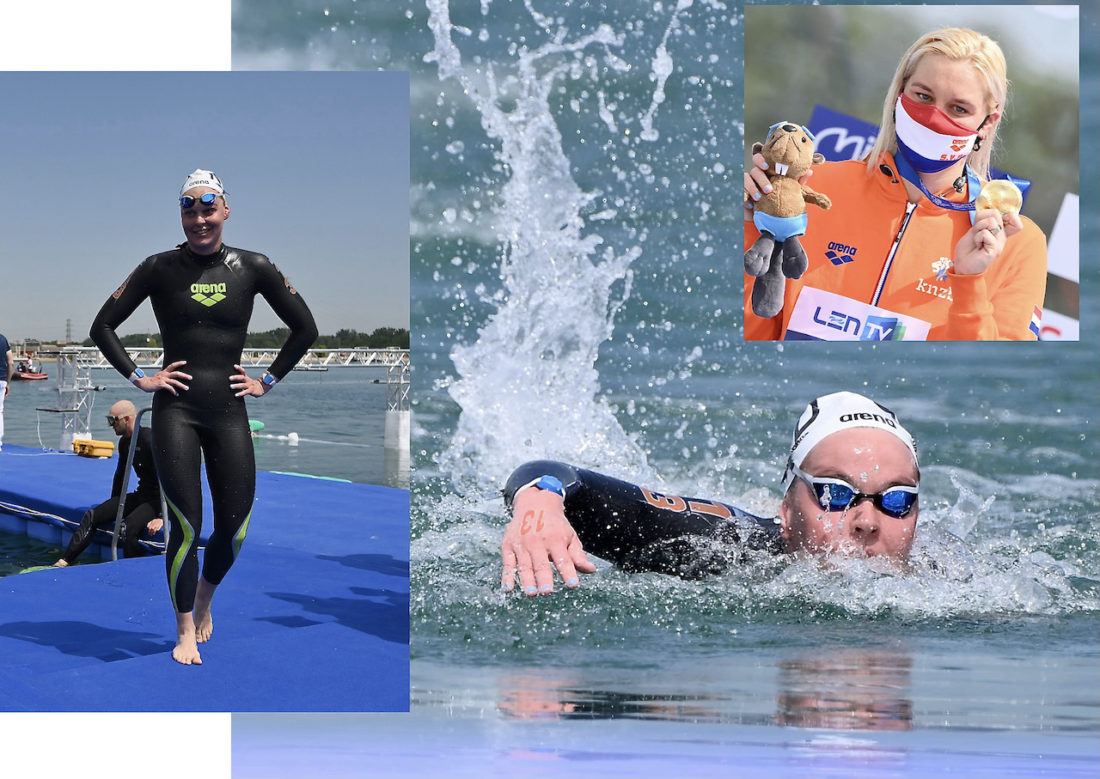 Sharon van Rouwendaal will arrive in Tokyo for the defence of the Olympic marathon crown as double European open water champion after she added the 10km title just before noon at Lupa Beach north of Budapest to her triumph over 5km yesterday. That took her career tally of European titles to seven.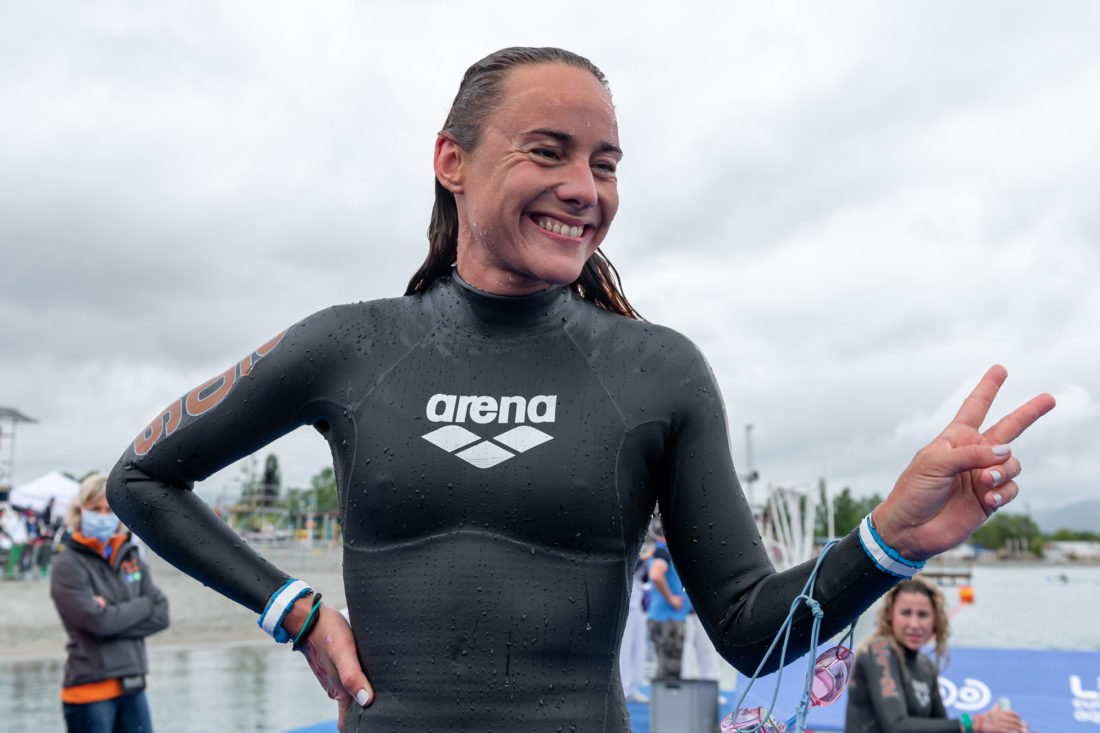 In a time of Covid-19, the spectating is all online, no crowds lining the beach, no cheers beyond the teams supporting their mates and charges as a sprint finish marked the end of a gruelling 10km. Hungarian Anna Olasz proved the fighter who made it a thrilling race with the Olympic champion and defending European title-holder.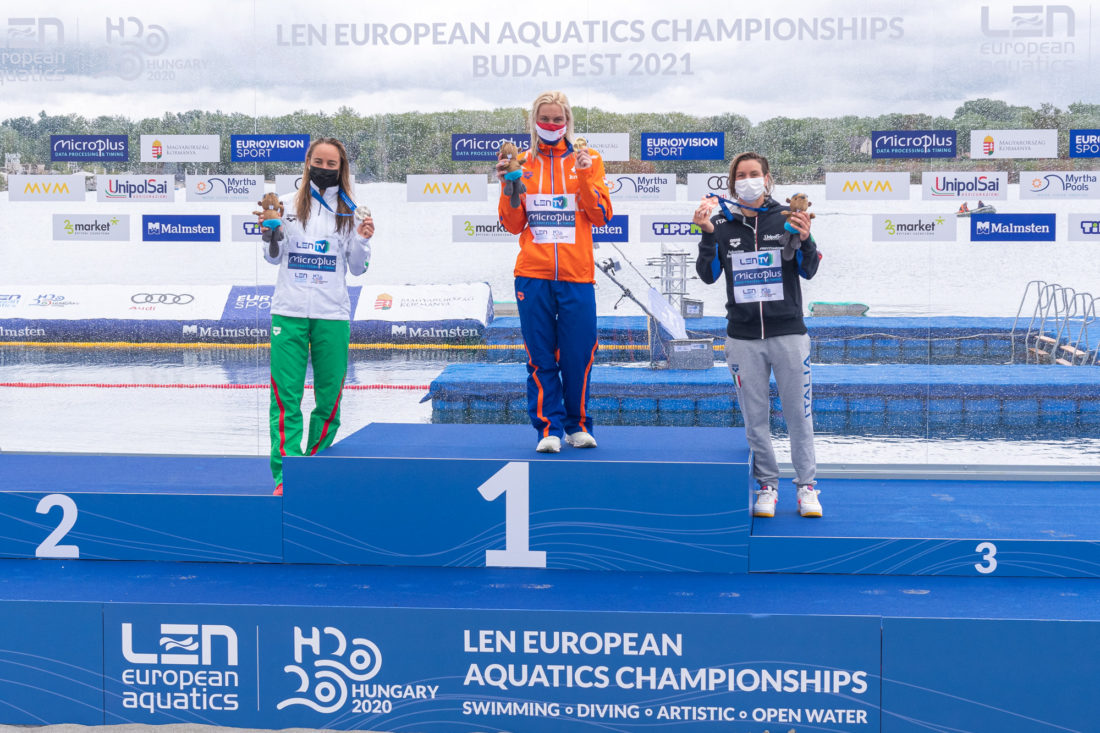 The crown was retained in a second triumph in as many days by Sharon van Rouwendaal. It was earned with courage and then steady nerve and then sheer guts, a big lead reduced to nought with about 8 minutes of racing to go before Sharon van Rouwendaal, who recently joined German national coach Bernd Berkhahn in the training group that includes German ace Florian Wellbrock, dug deep for the last reserves in her tank and showed why she's the Olympic champion.
The 27-year-old made a decisive move away from the aquatic scrum not long after the mid-way point of the race and spent the bulk of the second hour of battle serving as quarry to the chasing shoal.
Though they clawed back on Van Rouwendaal's advantage in the closing 20 minutes of the race, she still had a lead of more than 6seconds as the clock ticked over to 1hour 51min, the bulk of the drama in race unfolding in the final 800-1000m.
It took two further minutes, to just over 5mins to close of battle, before the chasers were on the pacesetter's feet, Olasz closest and appearing to have momentum with her. From then on, the battle was eye-to-eye, neck-and-neck. At 1hr 54, Olasz drew almost level. What had the Olympic champion left in her tank.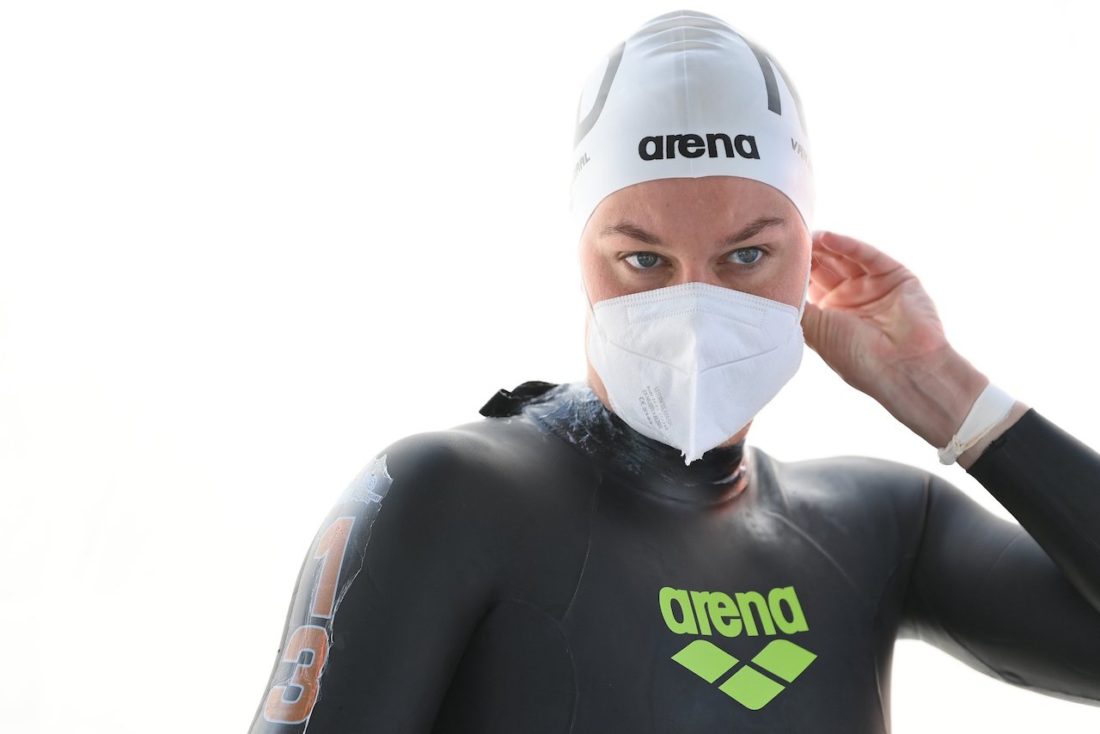 At 1:55, Olasz took the lead but Sharon van Rouwendaal rallied and at the last buoy took the inside track and gained a body length lead once more. Olasz fought back with every stroke and the two rivals stared each other goggle-to-goggle.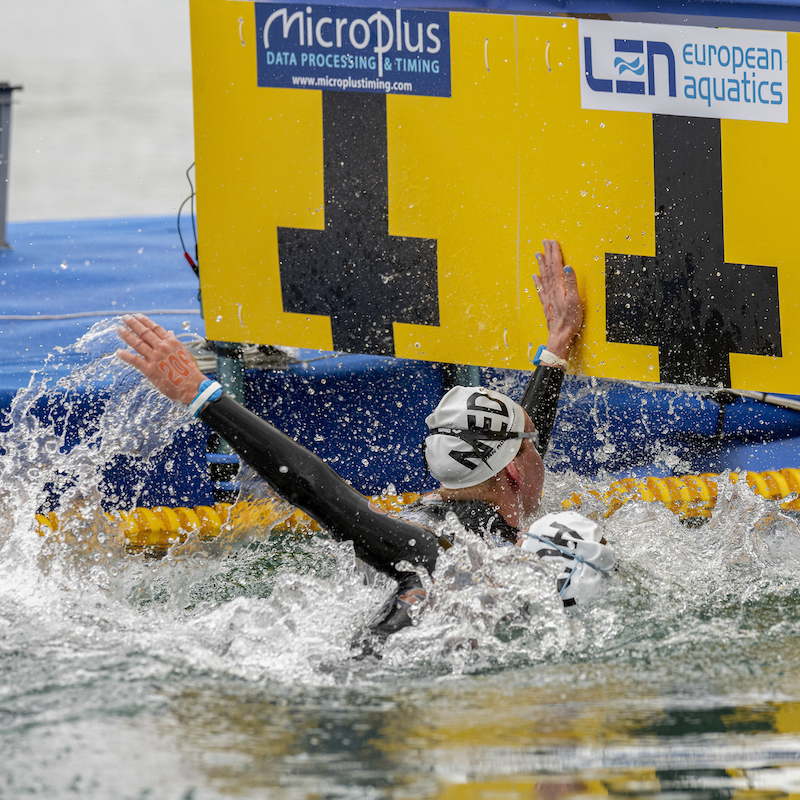 At 1:57.30, Olasz sprinted and took the lead. Again, Rouwendaal rallied and by 1:58 she had her hand at the helm of pace.
The fight for the end pad was roar versus splash as both swimmers kicked furiously and those close behind surely felt the wash of it all.
Sharon van Rouwendaal holds the Dutch 400m record at 4:03. It showed as she made Olasz and the hosts settle for silver, 1hr 59mins 12.7 to 1:59:13.0.
The bronze went to Italy's Rachele Bruni, in 1:59:15.1, just 04sec ahead of Spain's Paula Ruiz.
Van Rouwendaal was delighted with her double Dutch gold:
The sub-2-hour finishers topped by Sharon Van Rouwendaal
P
No
Nation
Name
DoB
Time
Gap
1
218
NED
VAN ROUWENDAAL Sharon
09 SEP 1993
1:59:12.7
2
206
HUN
OLASZ Anna
19 SEP 1993
1:59:13.0
0.3
3
217
ITA
BRUNI Rachele
04 NOV 1990
1:59:15.1
2.4
4
221
ESP
RUIZ BRAVO Paula
16 FEB 1999
1:59:15.5
2.8
5
202
ITA
GABBRIELLESCHI Giulia
24 JUL 1996
1:59:16.2
3.5
6
216
POR
ANDRE' Angelica
13 OCT 1994
1:59:18.0
5.3
7
210
ITA
TADDEUCCI Ginevra
03 MAY 1997
1:59:19.1
6.4
8
213
RUS
KIRPICHNIKOVA Anastasia
24 JUN 2000
1:59:19.3
6.6
9
203
FRA
GRANGEON Lara
21 SEP 1991
1:59:21.8
9.1
10
212
HUN
ROHACS Reka
28 MAY 2000
1:59:33.2
20.5
The Versatility of Sharon van Rouwendaal
All eyes on Sharon van Rouwendaal, then, and whether she can become the first Olympic marathon swimmer to retain the open water crown since it was introduced at the Beijing 2008 Games. Her Dutch teammate Ferry Weertman also has a chance to be that swimmer, after he and Van Rouwendaal turned the waters off Copacabana orange back in 2016.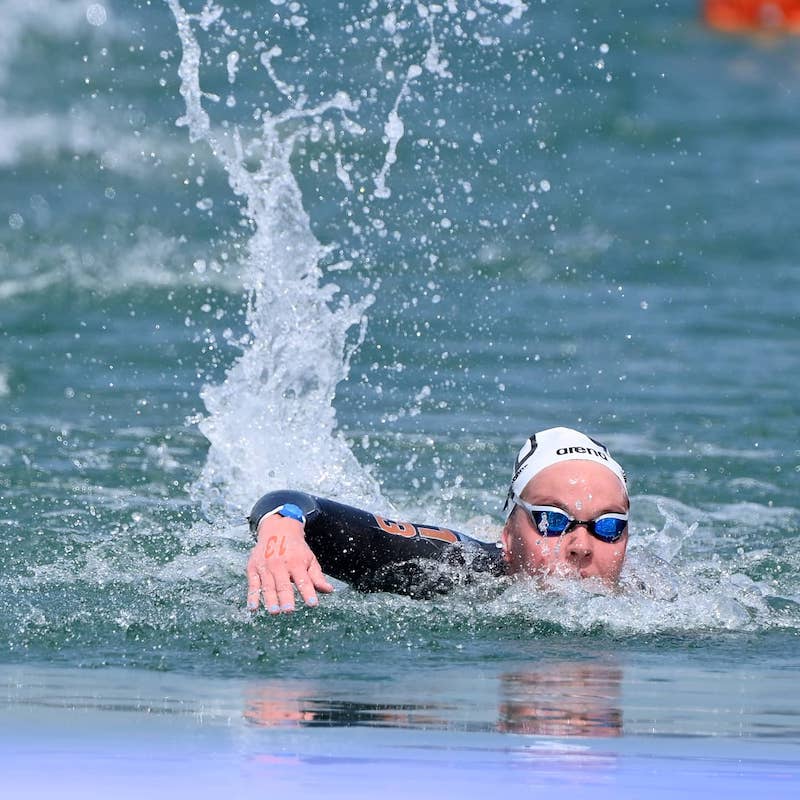 Sharon van Rouwendael grew up in Soest, and later moved to France with her parents. In 2009, switched to the Eindhoven swim program run by Jeanet Mulder and after she had qualified for the 2010 European Championships she changed coach to Jacco Verhaeren, mentor to Pieter van den Hoogenband and Ranomi Kromowidjojo, among other pace-setting sprinters, before he headed out to lead the Australian program until last year.
In 2014, Van Rouwendaal moved back to France to be guided by Laure-Manaudou mentor Philippe Lucas, with Marcel Wouda back in Eindhoven a part of the coaching team steering an Olympic champion-to-be.
She brought to the pools in which she carries out most of her training a tremendous versatility that stretches from International podium placer over 200m backstroke, a 1:58 200m free that makes her 5th fastest Dutch woman ever, through national-records and No1 status at home over 400 (4:03), 800 (8:24) and 1500 (16:03) and on to an open water champion in international waters over 5 and 10km.
Though the marathon fight and finishing speed of the kind we witnessed today speaks to that versatility, Van Rouwendaal's success also comes down to an ability to commit to and then carry out a soaring workload, week in, week out, year in, year out.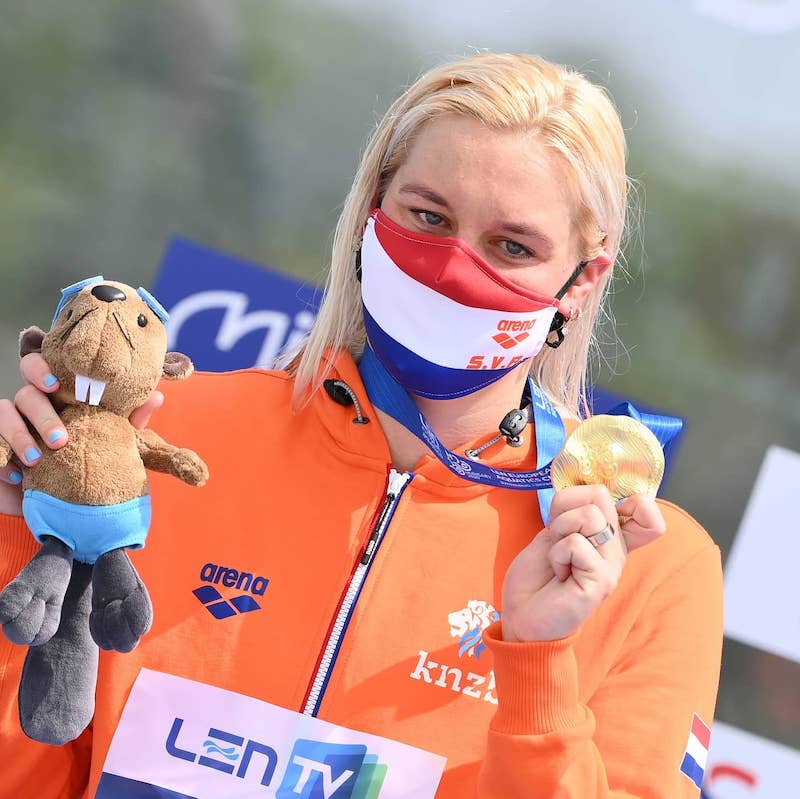 It paid many fine dividends. Van Rouwendaal made her senior debut at the 2008 European Short Course Championships in Rijeka but it was two years on at the same event in Eindhoven in 2010 that she made her international breakthrough by winning two silver medals, in the 100m and 200m backstroke. Open water freestyle was nowhere on the horizon at that stage: two weeks later she took fifth in the 200m back at the 2010 world short course championships in Dubai and then, a year later at the 2011 global long-course showcase in Shanghai she claimed bronze in that same event behind Olympic champion in waiting Missy Franklin, of the USA, and Australia's Belinda Hocking.
Sharon van Rouwendaal's 2:07.78 that day in Shanghai remains the Dutch record.
In the year to the London 2012 Olympics, she sustained a shoulder injury and while she made it to the Games, she was not in medal-contention form. Van Rouwendaal missed the World Championships in Barcelona in 2013 after rehabilitation of her shoulder and in a season that marked a decisive move: she would Gove open water a try.
That try resulted in two gold medals at the 2014 European Aquatics Championships in Berlin, though her pool days were far from over. Van Rouwendaal claimed 10km gold ahead of then reigning Olympic marathon champion Éva Risztov, of Hungary and then joined teammates Marcel Schouten and Ferry Weertman for a second gold in the 5km team time trial. There was also silver in the 5km and silver in the 400m in the pool behind Britain's Jazmin Carlin, who would go on to take two silvers, over 400m and 800m, adrift Katie Ledecky, of the USA, at the 2016 Olympic Games.
After silvers at the 2015 World Championships, behind Aurélie Muller, of France, in the 10km, and then in the 5km team time trial with the same teammates, Schouten and Weertman finished in tied second place, there was silver in the 400m free behind Ledecky in the pool, her 4:03.02 a Dutch record that stands yet. She also set an 800m national record in the 800m free heats.
In 2016, she warmed up for Olympic gold with a fourth place at the European Open Water Championships in Hoorn, the Netherlands: Sharon Van Rouwendaal was leading when she missed a turn at a buoy towards the finish. Two days later, she claimed 5km bronze.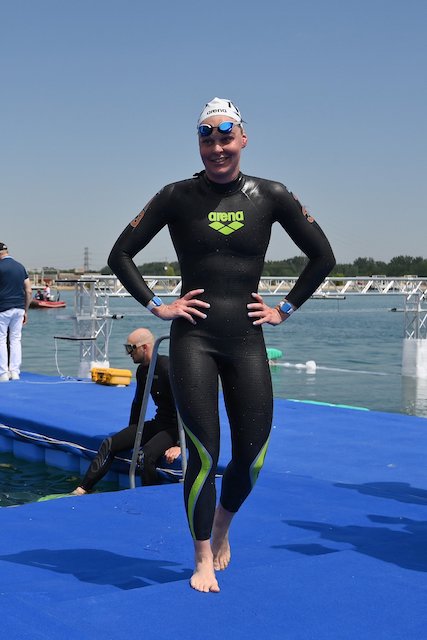 At the Rio 2016 Olympic Games, Van Rouwendaal seemed out of sorts in the pool: she finished 19th in the 400m and withdrew from the 800m. It was all to the good, as it turned out: her taper was geared for the week after. In the marathon at Fort Copacabana, she broke away from the shoal at 6km and never looked back, taking gold in 1:56:32.1, 17 seconds ahead of Italian Rachele Bruni, as Aurélie Mueller paid a price for a bad course construction that drove her face on into a buoy in the closing stretch of the race, requiring her to swim sideways to avoid collision.
FINA judges decided that she'd created an obstruction for the swimmer next to her but they said nothing of the obstruction FINA had put in her way and the way of any swimmer who found themselves on the rope heading for the finish pad after 10km of grilling swimming and years of preparation.
In 2018 at the European Championships in Glasgow, Sharon van Rouwendaal looked all but unbeatable: gold in the 5k, the 10km, the team event with Dutch mates, and silver in the 25km 0.1sec behind Arianna Bridi, of Italy. The 2019 World titles did not go well for the Dutch champion but the past 24 hours in Budapest appear to confirm that Sharon van Rouwendaal, the topic of the book Bruut that is one of six works shortlisted for a Sports Book of the Year prize to be announced tomorrow, is in fine fettle on her way to her second Olympic marathon battle come August in Tokyo.
In other action on day 4 in Budapest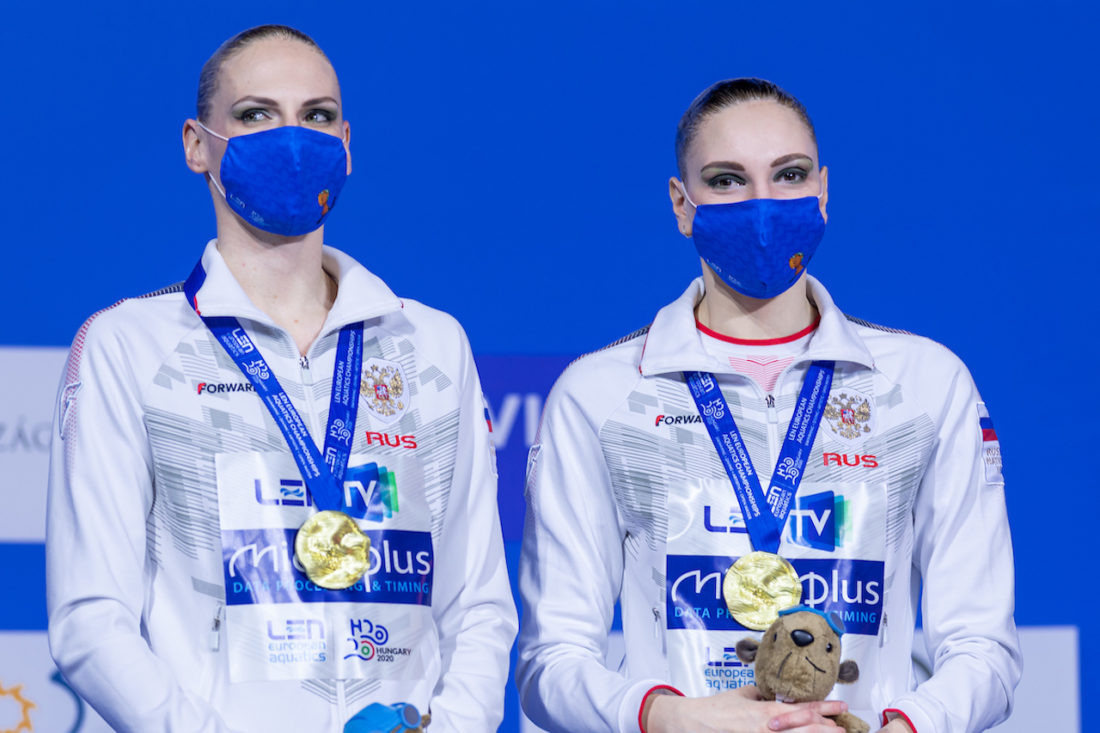 Notes courtesy of the LEN media service: In the Duna Arena Russia's wonder artistic swimming duet of the two Svetlanas, Romashina and Kolesnichenko added one more gold to their tally in the technical final (postponed from Monday), collecting a couple of 9.7s and 9.8s. Romashina's treasury now contains 12 European titles while Kolesnichenko's account stands at 10, add that they earned those from as many entries. Behind them, two of the Alexandri triplets, Anna Maria and Eirini recalled the good old '80s when Austria was among the leading nations in the sport – now they managed to earn a bronze, 34 years after the country's last medal in this discipline.
In the afternoon it was time for another Ukrainian win, in the free combination (the Russians skipped this event). It was the usual show from them, with plenty of brilliant lifts and jumps for a handful of 9.5s and 9.6s. Greece earned the silver, the bronze went to Belorussia.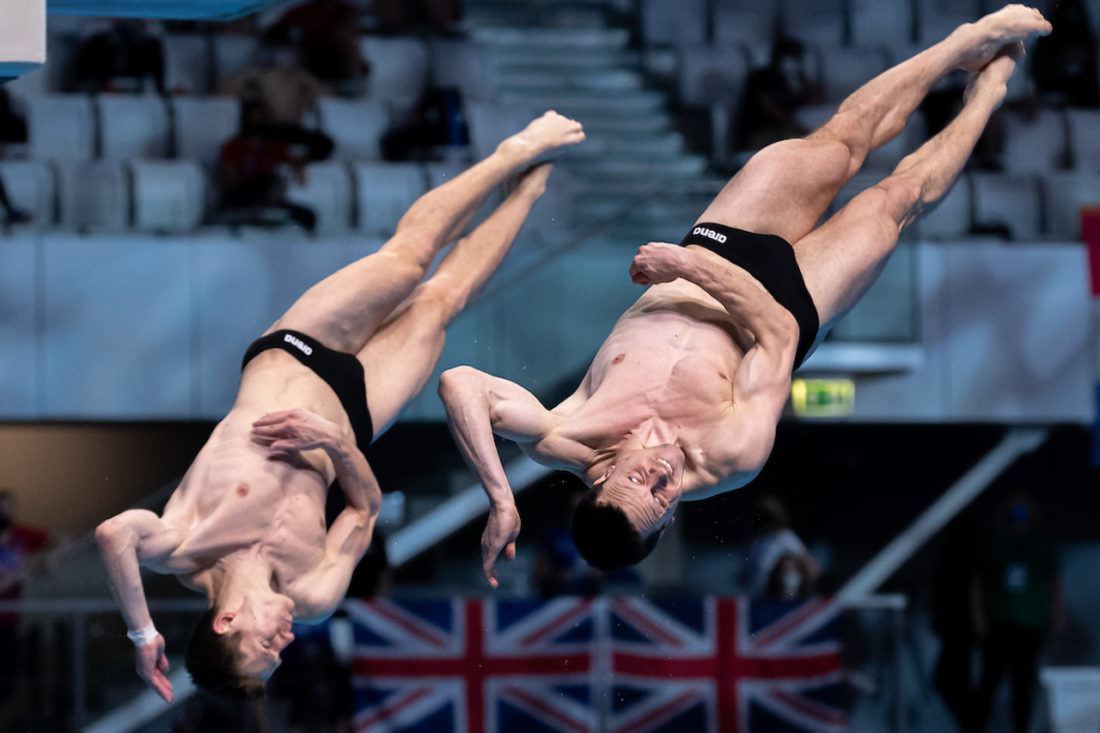 The men's 3m synchro diving final turned into another triumphant march of Patrick Hausding who is flying high again. Already a legend with a medalling streak since 2008, Hausding won the 3m in several editions, first time in 2010, landed wins in the 10m synchro (9 in a row, an incredible record), was champion in the 1m (again here yesterday) but this was the first time he could clinch gold in the 3m synchro. Partnering with Lars Rudiger, they improved by each championships, after a bronze and a silver now they came first.
Again, it was their balance, which brought them this title. Their dives in rounds 3-5 were pretty good, two of them in the range of 85 points and that left room for even for an error in the last round, they still won by 11 points. The Russians, Evgenii Kuznetsov and Nikita Sleikher were also good but only one of their dives scored more than 80 points (barely), while Ukraine's Oleksandr Gorshkovozov and Oleg Kolodiy clinched the bronze –they offered the best single dive in the fifth round, the only 90-pointers in the evening.
Britain's Daniel Goodfellow and Jack Laugher were second at halfway but a completely missed dive ruined their campaign.
The closing event saw the first 1-2 finish for a country. Russia's Anna Konanykhina and Iulia Timoshinina claimed gold and silver respectively in the women's 10m. The 16 years old rookie, Konanykhina came up with a really difficult programme and despite two relatively erroneous dives, the high DDs put her on top since she did the other three brilliantly, earning a series of 8.5s and 9.0s (the last attempt for 86.40 was the highest scoring dive in the final). It was an amazing turnaround after the prelims where she finished 11th.
Timoshinina was leading by 20 points after three rounds but her last two attempts were faulty ones – still, she could hold on for the silver as the others had problems too. After a weaker opening dive, the other teenage rookie of the final, Britain's Andrea Spendolini could keep her performance on a fine level to earn the bronze, ahead of much experienced competitors, like Ukraine's Sofia Lyskun who came first in the prelims and Celine van Duijn from the Netherlands who had won the last two editions.