Settlement Talks Stall In League & Swimmers Vs FINA Dispute As Global Regulator's Legal Bill Approaches $6 million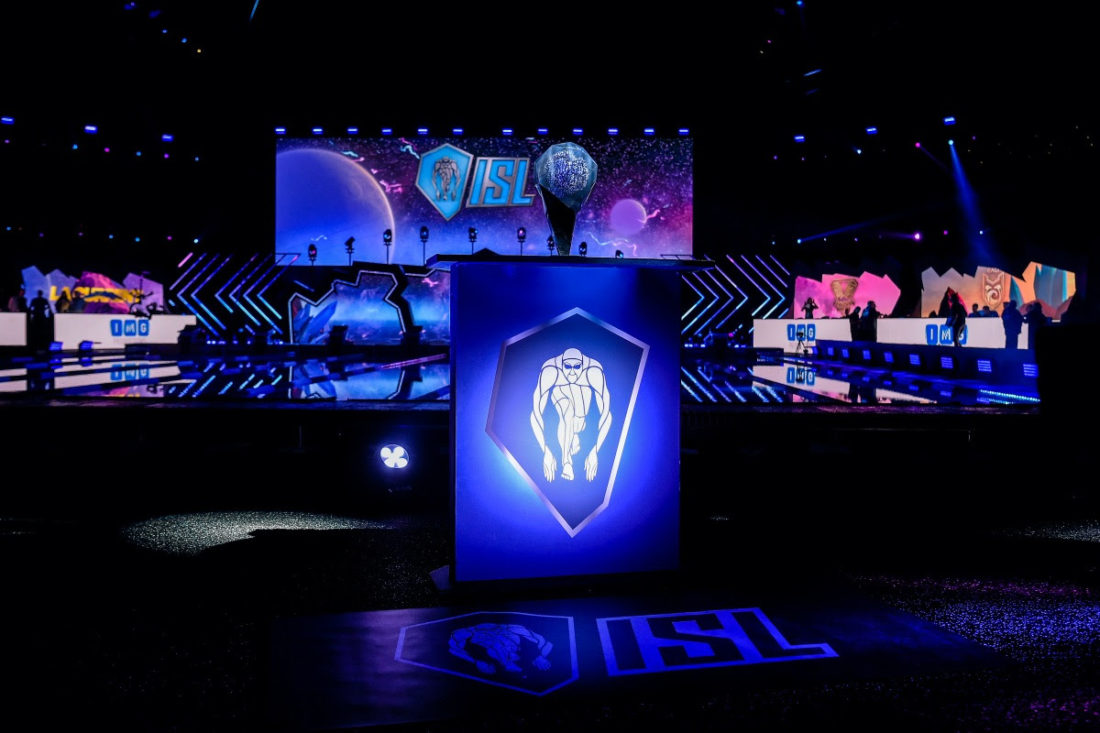 Settlement discussions have stalled in the costly legal dispute between the International Swimming League (ISL), Olympic swimmers bringing a class action and FINA, the global regulator being sued over governance practices and rules in swimming they say amount to a monopoly that prevented competition.
After FINA revealed to this author that it has waited months to hear back from the League after making an offer aimed at settling lawsuits started in late 2018 in the United States District Court, the legal firm representing the League and Katinka Hosszu, Tom Shields and Michael Andrew, the trio fronting the class action on on behalf of swimmers, noted that it has also made settlement offers on behalf of its clients but it yet to receive a response from the global regulator.
Further, Neil Goteiner, a partner at Farella, Braun & Martel, tells State of Swimming on behalf of his League clients, that Husain Al-Musallam "has declined" to speak to Konstantin Grigorishin, the Ukraine energy sector magnate who founded the League, since he was elected president of FINA on June 5.
The dispute has rumbled on long enough to have outlived big developments at FINA, which this year replaced its Executive Director after the 34-year tenure of Cornel Marculescu. On the athletes side, the medley relay efforts of Andrew and United States team-mates at the Tokyo 202One Olympic Games translate to a class action now fronted by three Olympic gold medallists.
Both sides in the dispute note that they are ready to settle but common ground seems hard to come by.
Imminent legal moves may break the stalemate as the FINA legal bill approaches $6 million and both sides lament the use of vast sums of money in dispute over principles that have largely been accepted and settled in practice but are shy of legal resolution, because, as Goteiner puts it in a response to questions from SOS: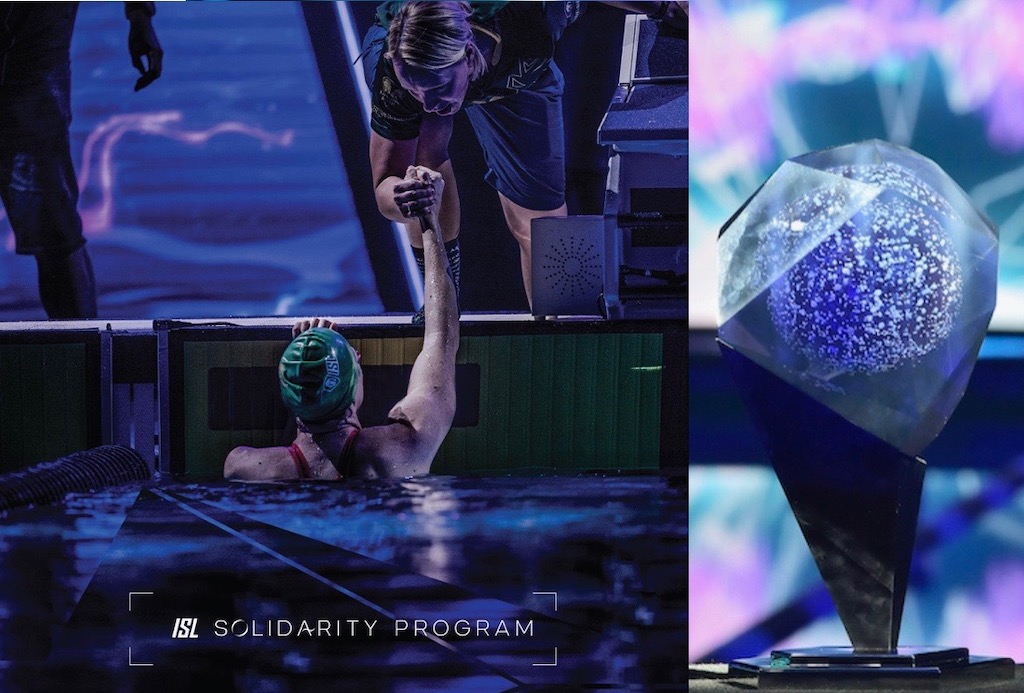 " … the swimmers and the ISL have the right to be compensated for litigation expenses and the loss of income because FINA illegally threatened swimmers and interfered with ISL's plans to launch a competitive swimmers' league".

Neil Goteiner on behalf of the League plaintiffs – image: the League ran a Solidarity Camp for athletes during Pandemic 2020, Season 2
The League did proceed, after athletes called FINA's bluff in 2018 and refused to end their engagement with the ISL despite calls from the regulator to its member federations to punish any who took part in an "unapproved" event run by a "non-affiliated" organisation.
Now in the midst of Season 3, the League has forced a revolution in swimming and blown a hole in tired competition formats that work very well on the biggest of occasions, at the Olympic Games and World Championships but have left the sport of swimming looking stale and struggling to find a big audience outside its backyard pool in between the biggest of competitive occasions.
In an exclusive interview with The Times newspaper and State of Swimming (S.O.S), the new FINA president Husain Al-Musallam laments the large amount of money that has been lost to swimming in legal action launched in 2018, when swimmers made clear their wishes for a new start in the sport and refused to be "bullied" by FINA.
Three years on, judgment is still pending, the legal bills are piling up on both sides, responses are pending to offers to settle made before a judge and the ISL states that FINA has broken confidentiality in discussing settlement offers.
The current impasse in legal action coincides with a reform process at FINA called by Al-Musallam and now in the hands of a Reform Group whose recommendations will be made public later today; and rumblings from swimmers and service providers that they have not received the money they are due from competing and working with the League.
Asked whether he was keen to bring the legal cases in the U.S. to a conclusion, Al-Musallam said that he has reached out to Grigorishin but has had no response: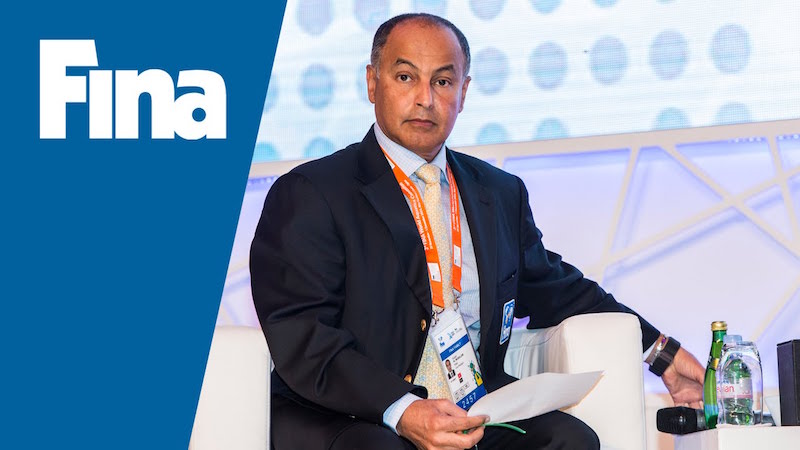 "I offered to ISL in front of the court [that] whatever he [Grigorishin] wants we are ready to work with him. In front of the judge, I asked him what he wants – and we are ready to look at it. We're not acting as an obstacle to that. At least now we are not an obstacle. They have their program running, their work is running. And I don't want to go into the past, the history of it all because he was also involved in what has been reached [in what it all came to] … he was cooperating with Cornel [Marculescu, the former director], and we didn't know anything about that; we only discovered it later, from you perhaps [through SwimVortex reports earlier in 2018]."

Husain Al-Musallam – image courtesy of FINA
Al-Musallam added: "We [FINA] are doing everything possible to stop the draining of cash but we've had no reply from the other party."
Not so, according to Goteiner, who tells SOS: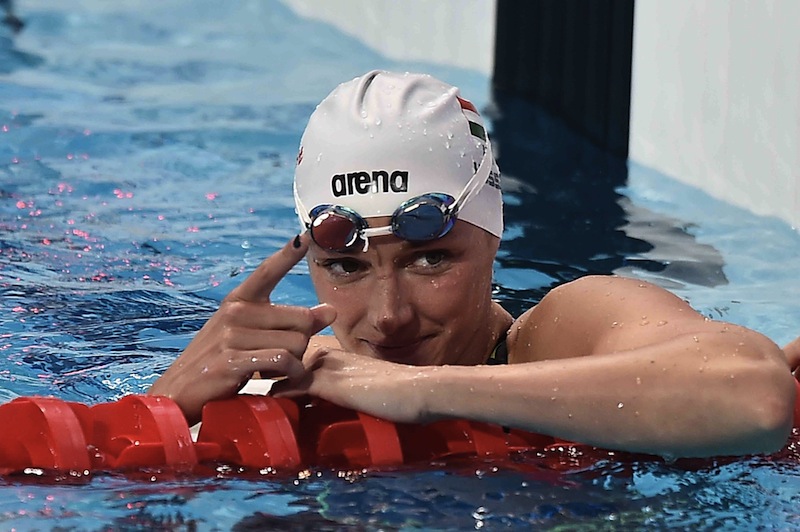 "Speaking for the swimmers and ISL, it is regrettable that FINA has breached the confidentiality rules of settlement discussions. It is also a shame that FINA has offered inaccurate information. The swimmers and ISL are constrained to say no more than that we have been waiting since March 2020 for a response to our demand for damages made before a settlement judge. The swimmers have made progress with FINA on an agreement which would legally bind FINA to never try to stop swimmers from competing in events that would boost their income.

Mr. Konstantin Grigorishin, the founder of the ISL, has always been willing to speak directly with Mr. Al-Musallam. Mr. Al-Musallum has declined to speak with Mr. Grigorishin since June 2021. The case is expensive, but the swimmers and the ISL have the right to be compensated for litigation expenses and the loss of income because FINA illegally threatened swimmers and interfered with ISL's plans to launch a competitive swimmers' league."

Neil Goteiner on behalf of Farella, Braun & Martel's League clients – image Katinka Hosszú by Fabio Ferrari – LaPresse
As things stand, the dispute trickles on and a ruling on FINA's initial response to the arrival of the ISL looks more likely, as things stand, to require court judgment than rely on the parties arriving at a settlement.
It is against that backdrop that Matt Biondi, head of the International Swimmers' Alliance, will speak to the FINA leadership in December during the World short-course Championships in Abu Dhabi about what measures and moves will be required to improve the relationship between a regulator and its prime assets, the athletes.
Backgrounder: The League & The Law Already On Its Side
There is precedent on the issue at the heart of the dispute in swimming, though the challenge in the United States would establish precedence on a number of levels in that jurisdiction. In the European Union, even though FINA's Constitution and rulebook is yet to be changed when it comes to permission for athletes and others to engage with, compete in events and join "tours" run by "non-affiliated" organisations, the argument was over before the League pressed its case in the United States.
EU competition law sided with athletes and others in the realm of speed-skating and an instruction went to the relevant federations to tell them to change their rules: preventing athletes from competition in events organised by outfits staging competitions, for prize money but under the rules set by the relevant regulator (International sports federations, for example). An argument dating back to 2014 was finally and legally settled in December last year when the General Court of the European Union issued a statement [in full] noting: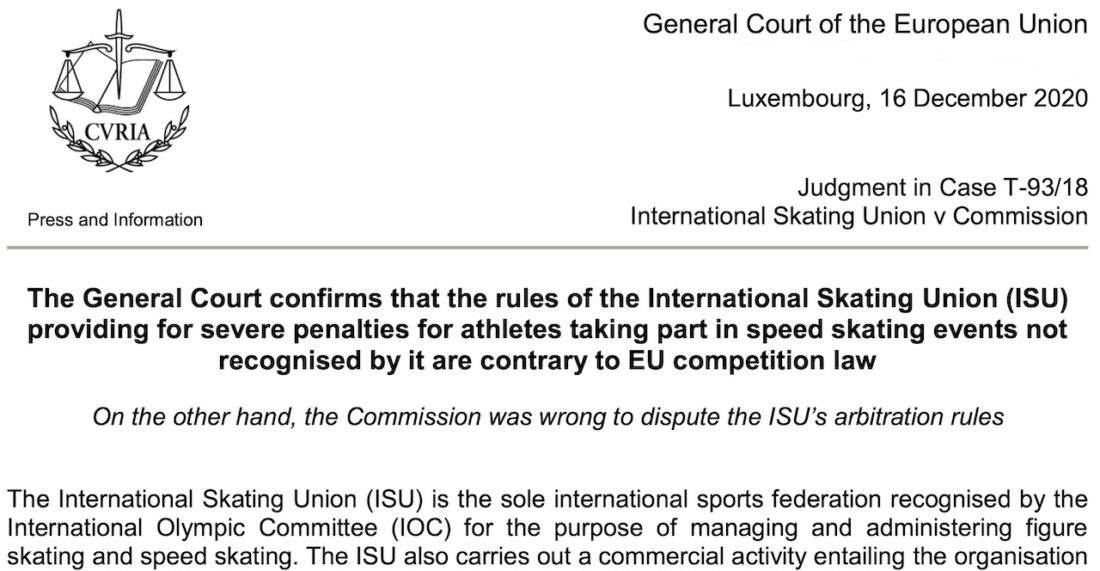 "The General Court confirms that the rules of the International Skating Union (ISU) providing for severe penalties for athletes taking part in speed skating events not recognised by it are contrary to EU competition law.

"On the other hand, the Commission was wrong to dispute the ISU's arbitration rules … [though even there] … the Commission was therefore right to conclude that the eligibility rules reveal a sufficient degree of harm, in particular with regard to their content, to be regarded as restricting competition by object."
Moves to punish athletes who wish and opt to compete in alternative forums with new sport-event operators and exercise their right to make a living as professional sportsmen and women form a key part of the ruling and judgment in the skating case – and the EU has made clear that any similar challenge from athletes in other sports and pertaining to other federations, aquatics included, would result in an instruction for those federations to change their rules and constitutions if and where those sought to or did indeed restrict the right of athletes to take part in competitions and activities organised by "non-affiliated" operators provided that other rules the regulator was entitled to set were observed. The Court of Arbitration for Sport (CAS) was the proper forum for resolving disputes and challenges in particular circumstances, the EU ruled, while EU authorities has a right to intervene and over-rule judgments where there is an 'aggravating circumstance'.
While FINA effectively accepted that principle by the very act of allowing the League to start its series three seasons ago in 2019, after having asked domestic federations to warn and even punish athletes who took place in what was to have been a precursor/warm-up event for the League in Milan in December 2018, it all came too late to avoid the legal challenges mounted in court in the United States.
Grigorishin visited FINA headquarters later than year and claims that one of those present in Lausanne was Sheikh Ahmad al-Sabah – the "self-suspended" head of the Association of National Olympic Committees (ANOC) and the head of the Olympic Council for Asia of which Al-Musallam serves as director, that circumstance at the heart of an unsettled matter on which the U.S. Department of Justice has an open case file. The Sheikh, Grigorishin told The Times and SOS, told the Energy-sector billionaire that he had no function in swimming but "I run swimming, so you can track to me".
That is one of the single biggest challenges facing Al-Musallam as he sets about a reform process that previous presidents and those backing them have singularly failed to get to grips with. The Sheikh has appealed a recent court ruling in Switzerland that could land him a jail sentence but which, if "guilty" is the verdict confirmed, will almost certainly end his days as an operator in the Olympic Movement.
Meanwhile, Al-Musallam, who suggested that Marculescu and the League had started to hold talks before the ruling Bureau even knew of the ISL's existence and plans in summer 2018, laments what the League dispute has come to. He tells SOS: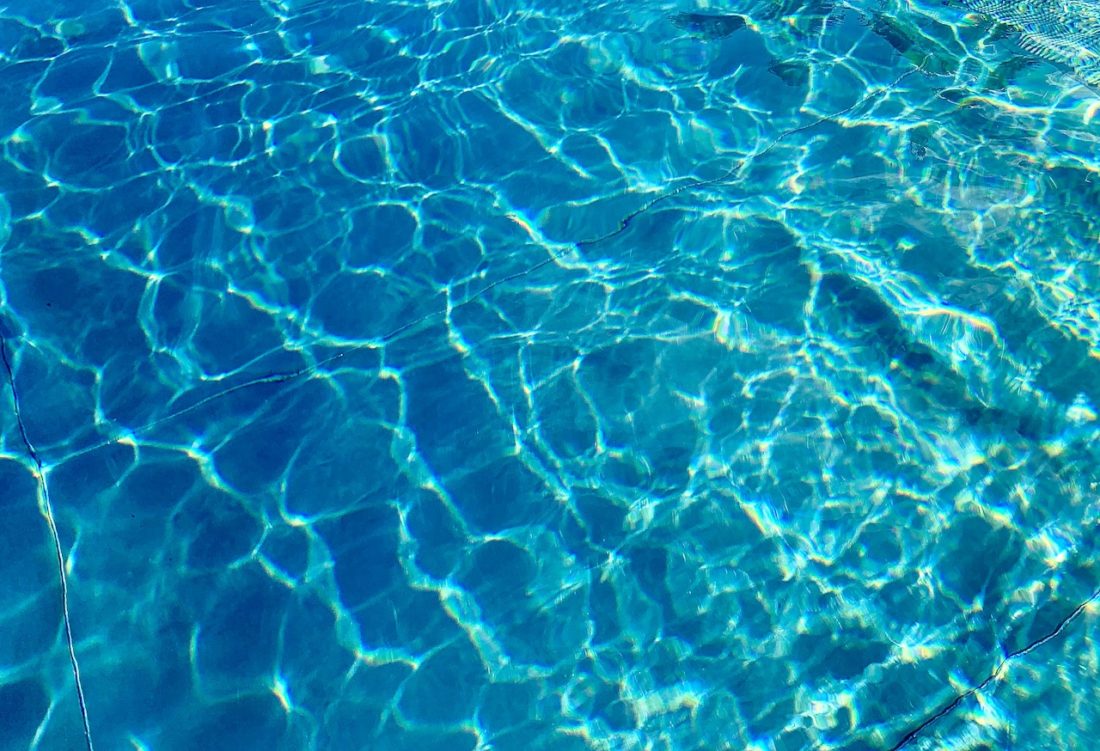 "I feel very sorry that such an amount of money is being wasted. We've reached nearly six million. This money is not my money or your money: it is the athletes' money; it is the development money. If someone loves swimming, loves the athletes, loves the sport, he would not burn this money. Imagine with this money we could do a lot of events, with prize money, do a lot in the development program, and not only for one year. I'm saying that now we've reached six [million] but the [process] is open … this is unfair to the future generations of athletes, I feel. He can take me to court if he thinks I did something wrong but why punish the athletes?"
In that sense, there's a touch of touchė returned about the situation.
During meetings at FINA headquarters in Lausanne at which Grigorishin addressed FINA executives – including now FINA Treasurer Dale Neuburger, of the United States ands a member of the Board of the U.S.-based International Swimming Hall of Fame, an unaffiliated organisation that has requested funding from FINA – a hefty fee of a couple of a million was requested just for permission to get the League series off the blocks, court documents confirm.
The request for a large fee from Grigorishin, it is understood, was made without any apparent reference to key stakeholders, including the world-class swimmers who wished to join the League, and the ultimate authority at the regulator, the Congress of nations.
If the request for a large fee went down badly with Grigorishin, who anted his investment in swimming to go in the athletes and the new show, then so, too, did his words to disgruntled FINA leaders who were asked: "You say you love your children (the athletes) so why do you treat them so badly".
Grigorishin's point focussed on the fact that the regulator and a bureaucratic structure much heavier on blazers than the standard shape of things in the world of big professional sport, has consistently spent well under 10 per cent of its revenues of prize money for elite athletes over the past 20 years.
Al-Musallam says he is now in a position to reform aspects of governance and regulation in a way that can "save millions" and mean there is much larger pot and resource for athletes.
He was, of course, a member of the Bureau and executive during the years when the bill for the bureaucrats and moving the circus of Bureau, committee and commissions around the world in fine style and having them kitted out in kit and gifts they largely do not need, was just as big (in some measures bigger) than the amount spent on prize money for athletes.
Al-Musallam says those days are done (more on that shortly), among aspects of FINA he would like to see changed, the payments of "per diems" to cover costs already covered (as opposed to a professional and transparent structure of reasonable payments for professional contribution, for example).
Al-Musallam has pledged an end to the largesse that stretches to limos for Bureau members during World Championships that come with a budget of more than $100m for hosts, the cost of a two week festival of aquatics sport prohibitive to many would-be hosts in swimming nations that simply cannot justify such expense to taxpayers in societies where the opinions of the electorate are sought and heeded.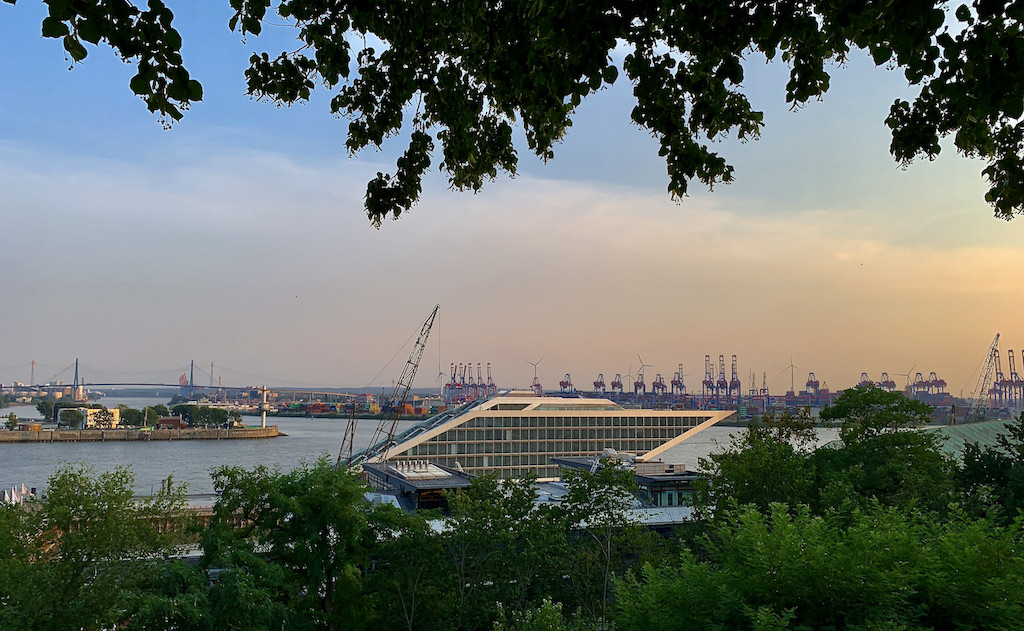 Hamburg is among cases in point. Before the wealthy Hanseatic port city contemplated a bid to host the Olympic Games, city authorities first held a citizens' referendum, conscious of democracy and the fact that it must justify its budget to those who provide the money for that budget: taxpayers. The answer was "nein!" – and that was that, even for an event that does have the potential to be of benefit, financial included, to the host nation/city (as in some regards was the case for London 2012).
If the Olympics, with its assurances of huge crowds and marketing possibilities, results in a "nein!", forget the much smaller fry of a World swimming (and aquatics) championships unless the hosts are able to say 'nein' when it comes to providing limos for blazers; when it comes to asking sponsors to hand out tons of kits and goodies and gifts when the money would be far better spent on athletes, a fee for coaches whose athletes succeed, development programs and much else, critics note.
That message has been as rare as glaciers in the Sahara as far as it being spoken by those in positions of authority at FINA.
Al-Musallam gets it. And as he pledges reform at the international regulator he wants Grigorishin and Co to end what has become a sort of legal war of attrition on a matter largely resolved: FINA's days of monopoly over who can swim where and when and for what money are over, even if the legal cases attempting to have it written in law are not.
To resolve the legal cases will take more than FINA has so far been prepared to offer: the global swim regulator will have noticed the ISU Vs EU competition authority case some while back. Beyond the demands for costs and compensation in the legal case, now, says observers of the dispute, is the moment to review the rulebook and strip it of any references that claim monopoly of the sport in terms of forbidding relations and engagement with non-affiliated organisations.
In place of the current rules, FINA would need to write in new clauses that protect the best interest of athletes and make clear that FINA is indeed the regulator and rule-setter: any non-affiliated body wishing to host competitions with athletes affiliated to FINA member federations must agree to follow the competition rules of FINA. That, say observers, is a must if the value of standardisation in a sport is to be upheld with fairness to all. It's basic stuff, including length and depth of pools, water temperature, how races start and finish, what allowances are permitted for timing equipment, how tall a starting block is over the water, etc., etc.
Whatever FINA's offer to the League may be, it seems fairly obvious that any settlement will need clauses that set precedence for non-affiliated organisations to host swimming competitions under FINA/regulator rules and make provision for the right of athletes to work and earn a living as professional sportsmen and women – self-determination, in effect.
And then there's 'who pays the bill'. Both the League – and now the new president of FINA – have noted the vast sums of money that, for a variety of reasons – just does not make it to athletes. Athletes are watching and waiting for better days yet.
Talks Due With Swimmers Alliance
As stated, in December, Matt Biondi will meet Husain Al-Musallam after the FINA president, just beyond his election in June, called the American swimming legend and winner of five golds atop seven medals at the 1988 Olympic Games, to assure him that the federation was now under new management and things were going to be handled somewhat differently. Says Al-Musallam: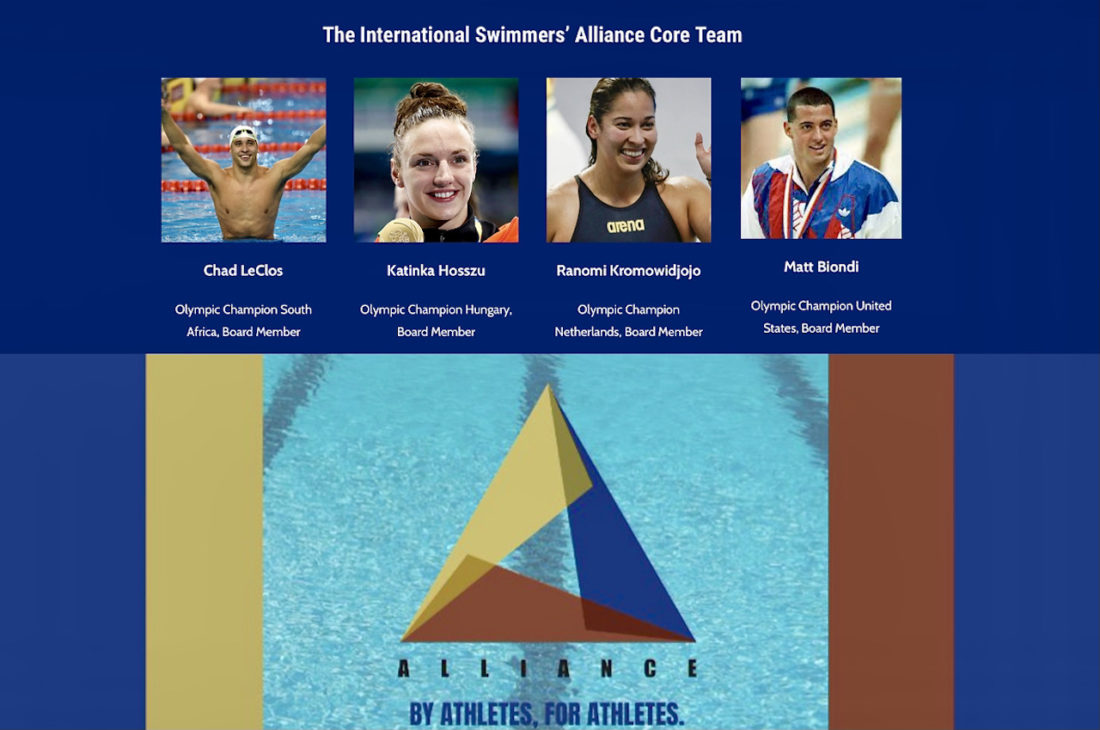 "I told him 'this is your home. You were athletes, you were part of the development of the sport. Help me! If you have a new idea, come, the door is open. Tell me what to do. I am ready to listen to you, sit down with you. Give me your idea and be a part of the family: I'm not against anything."

Husain Al-Musallam (image – The four key core members of the 10-person board of the new International Swimmers' Alliance – l-r – Chad Le Clos, Katinka Hosszu, Ranomi Kromowidjojo and Matt Biondi)
It is the kind of dialogue with athletes that has been available to some within FINA if they joined the inner circle and struck to an unspoken code of omertà and going along to get along.
Those days are over, says Al-Musallam. His words are a pledge to the deed and cultural shift he says he is committed to.
More on the interview with Al-Musallam and related news to come over the course of the day.