Sarah Sjostrom Tops Europe's Golden League Of Short-Course Champions With Four Victories in Kazan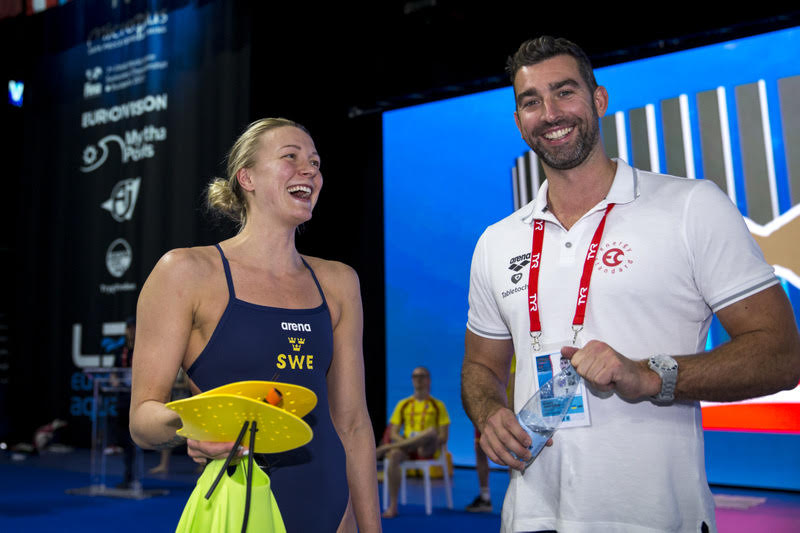 Sarah Sjostrom, the Swedish ace who overcame a broken elbow to make the Olympic podium against the odds in Tokyo, emerged from the European short-course Championships in Kazan as champion of champions with four gold medals as racing ended on Sunday.
Her Energy Standard teammate, Kliment Kolesnikov, of Russia, topped the men's league of champions with three solo golds, helping the hosts in Kazan to top the medals table at a championships marked not only by swimming but damaging politics and a continuation of the calendar chaos holding back the ability of swimming to reach wider audiences.
Great Britain, top European nation at the Tokyo Olympic Games, was absent from the fray, for example, that and other absenteeism a continuation of a narrative in the sport that begs the question 'when is a championship no longer a championship'
There was no absence of quality in the water among those who did attend the Kazan event, which witnessed two equalled world records and two world junior records in solo events (a flurry of 'world' records in relay events reflected sizzling speed and a perennial truth: the rest of the world doesn't race 4×50 relays in peak form).
Sjostrom took the 50 ands 100m freestyle in 23.12 and 51.26, and the 50 and 100m butterfly in a championship record of 24.50 and 55.84, respectively. Since her first appearance at the European s/c championships in 2008, Sjostrom, who also claimed silver with her 4x50m medley teammates and bronze in the 100m medley in Kazan, has amassed 12 gold, 12 silver and two bronze medals for Sweden.
Kolesnikov's wins came in the 100m freestyle in 45.58 and the 50m and 100m backstroke, in respective times of 22.47, a championship record, and 49.13.
World marks were matched in dash events, by Ilya Shymanovich, of Belarus, in 25.25 over 50m breatsstroke, and Szebasztián Szabó, of Hungary, on 21.75 in the 50m butterfly. Shymanovich also finished second in the 100m, on 55.77, adrift Italy's Nicolò Martinenghi, on 55.63, and behind Dutch challenger Arno Kamminga, the man who beat them both and the rest barring the best, Adam Peaty, in the big pool at the Olympic Games back in July. In the 200m in Kazan, it was gold for Shymanovich in 2:01.73, Kamminga just 0.01sec away just over three months after putting in a much bigger swim for Olympic silver behind Australia Zac Stubblety-Cook.
Peaty, meanwhile, will launch his book this week and then make his way back to the pool for a new chapter in his career as one of the outstanding pioneers of pace and title haulers in the history of breaststroke and all strokes, with a few life lessons in tow:
The World junior records fell to Evgeniia Chikunova, on 2:16.88 in the 200m breaststroke, and Russian teammate Ilya Borodin, on 3:58.83 in the 400m medley. Global junior marks do not always reflect the best junior times, nor fastest juniors, there have ever been, courtesy of a failure of swimming leaders to apply retrospection to the standards when they were declared official, as well as the fact that some of the most outstanding swimmers in history, Michael Phelps and Katie Ledecky among them, never swam in the short-course pool in peak form, their focus on the moments that have long mattered most, in the long-course pool.
Other highlights in Kazan included a distance-freestyle triple from Russia's Anastasiya Kirpichnikova – 3:59.18, 400m; 8:04.65, 800m; and 15:18.30, a championship record in the 1500m – and a backstroke triple from Kira Toussaint, of the Netherlands, on 25.79, 55.76 and 2:01.26.
Prize Money – Kazan 2021:
Prize money distribution – Top 15 individual performers, based on FINA Points:
LEN paid out euros 300,000 in prize money, with the top 15 receiving prize money for their best individual swims in Kazan.
Women
25,000 € – 999pts Anastasia Kirpichnikova (RUS) 1500m FR
20,000 € – 985 Sarah Sjostrom (SWE) 50m FL
15,000 € – 978 Kira Toussaint (NED) 50m BK
13,000 € – 950 Evgeniia Chikunova (RUS) 200m BR
12,000 € – 949 tied Analia Pigree (FRA) 50m BK SF / Simona Quadarella (ITA) 1500m FR
10,000 € – 948 Maaike de Waard 100m BK
9,000 € – 939 tied Martina Caramignoli (ITA) 1500m FR / Marrit Steenbergen (NED) 200m FR
7,000 € – 938 Katarzyna Wasick (POL) 50m FR SF
6,000 € – 934 Silvia Scala (ITA) 50m BK
5,000 € – 933 tied Maria Kameneva (RUS) 100m IM / Alicja Tchorz (POL) 100m IM
3,000 € – 932 Isabel Gose (GER) 800m FR
2,000 € – 925 Elena di Liddo (ITA) 50m BK SF
Men
25,000 € – 1000 pts, tied: Szebasztian Szabo (HUN) 50m FL/Ilya Shymanovich (BLR) 50m BR
15,000 € – 993 Florian Wellbrock (GER) 1500m FR
13,000 € – 985 Nicolo Martinenghi (ITA) 50m BR SF
12,000 € – 984 Emre Sakci (TUR) 50m BR SF
11,000 € – 982 Gregorio Paltrinieri (ITA) 1500m FR
10,000 € – 975 Arno Kamminga (NED) 100m BR
9,000 € – 966 Kliment Kolesnikov (RUS) 50m BK
8,000 € – 953 Mikhail Dorinov (RUS) 200m BR
7,000 € – 951 Erik Persson (SWE) 200m BR
6,000 € – 950 Ilya Borodin (RUS) 400m IM
5,000 € – 948 Matteo Rivolta (ITA) 50m FL
4,000 € – 947 Fabio Scozzoli (ITA) 100m BR
3,000 € – 946 Alberto Razzetti (ITA) 200m FL
2,000 € – 945 Andreas Vazaios (GRE) 200m IM