Sarah Sjostrom Sizzles On 23.62 To Keep 50 Free Crown 0.01sec Shy Of Her Day-Old WR – Now Has More Solo Medals Than Phelps & Ledecky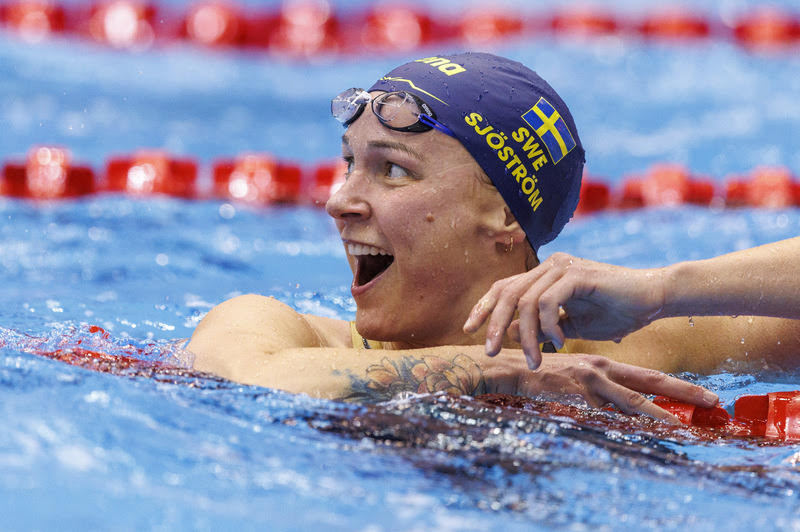 Sarah Sjostrom crushed the opposition in the 50m freestyle to retain the World title with a 23.62sec blast ion the last day of action in Fukuoka just 0.01sec shy of the World record she established in the semi-final yesterday.
The silver went to Australia's Shayna Jack in 24.10, the bronze to China's Zhang Yufei in 24.15.
First on the 50m freestyle podium with bronze in 2015, Sjostrom took the 2017 title before silver in 2019. Then last year in Budapest she was back on the top of the podium in 23.98. Today marked podium No5 and solo-event medal No 21, the record haul in the sport just ahead of American greats Michael Phelps and Katie Ledecky.
Sjostrom is the first in history to claim a gold medal all at eight World long-course championships, her record run dating back to 2009 and victory in the 100m butterfly (and the first one with a chance to do that in a 14-year-time frame, calendars being what they have been since the Covid pandemic).
Sweden's dashing queen of sprint now owns six of the fastest 10 performances in the freestyle dash, her top 4 the top four and all in 23.6, including the 23.67 World record she established in 2018 when teaching down the 23.73 2009 shiny suit standard set by Germany's double sprint 2008 Olympic champion, that effort still all-time No5 performance and No2 performer.
Also on 23.69 in 2018, Sjostrom returned to the 21.6 zone yesterday with a sensational 23.61 World record just 12 minutes after claiming the 50m butterfly title.
Sjostrom, seen relaxed and laughing with others in the call room before the final, emerged to note that she'd had little time to think about any "pressure". She said: "It was a very busy day yesterday with the World record and then the gold medal [in the 50 butterfly]."
Jack* and Zhang made the 50m free podium for the first time.
More later…
The Result in full