Sarah Sjostrom Opens World Cup Campaign With 23.9 In Berlin Battled Rejoined With Cate Campbell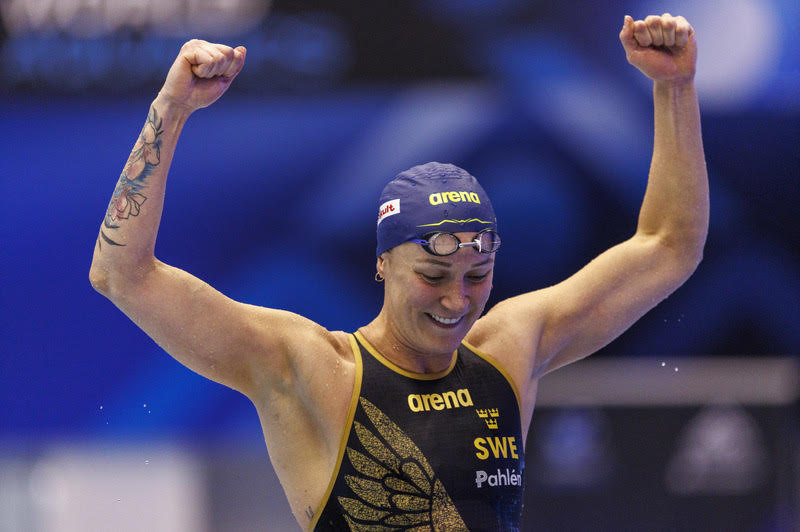 Sarah Sjostrom and Cate Campbell have had many close dash duels down the years and the moment battle was rejoined for the first time since the Tokyo 2020ne Olympic Games did not disappoint here on the opening day of the 2023 World Cup in Berlin this evening.
Back in July, the Swedish ace took the World 50 free title in 23.62 a day after a World record 23.61 in the semi-final 12 minutes after she claimed the 50m butterfly title for a record fifth time.
The start of a World Cup campaign in October before Olympic season is not the kind of moment you'd expect the sprinters to be at their sizzling best and yet a 23.95 from Sjostrom spoke of the habit-like consistency she has made of sub-24 racing.
Australia's Campbell was not far off: 24.11 on her return to global racing. The two friends and rivals in water hugged before addressing the crowd. Sjostrom confirmed, with a nod to a slight improvement in the standard of competition on the cup after years of decline from the high point of the series in the 1990s: "Yes, I love it. It's nice to have a few more girls at the party!"
Campbell chimed in: "It's so great to be back racing at the world cup and to be racing Sarah … we've had some great battles over the years … it was wonderful [to be back in the battle]."
More of that to come in Athens and Budapest before the 2023 Cup wraps up later this month.
The Berlin Race:

Australia spent the first day of their tour teaching quiet lessons to much of the rest of the world when it came to focussing on swift heats and then backing them up with faster in finals. Campbell did it in the women's dash – and then Isaac Cooper matched the pattern to win the men's dash.
On 21.95 in heats as the only man inside 22, he backed up with a 21.93 as the only man inside 22 in the final, American Michael Andrew on 22.03, with Dutch sprinted Stan Pijnenburg 0.01sec away in third. The Berlin race: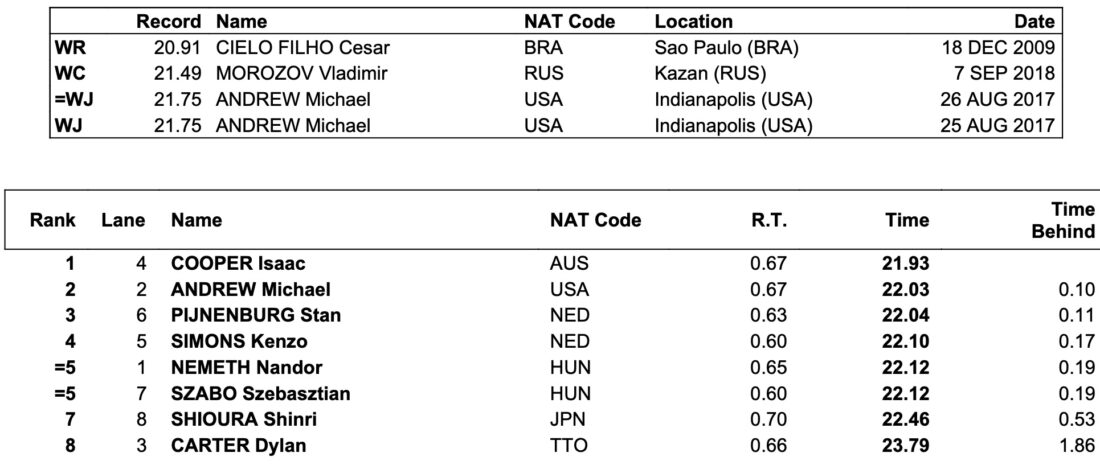 Qin Matches 57.69 Asian Record As Key Olympic Rivals Leave The Fight For Another Day
Qin Haiyang, of China, added a fourth 57sec swim of the year and his career in the 100m breaststroke here this evening in a 100m breaststroke final that featured a throng of key Olympic rivals who are keeping their powder dry for another fight, another day.
Qin, who's fascinating trajectory to world No1 is unlike any of those of his rivals, is now favourite for Olympic gold heading into Paris – as things stand. After a World-titles triple that included his first 57.69 and the World 200m record in Fukuoka in July, Qin took another triple in slower but still speedy times at the Asian Games that ended just a week ago.
In Berlin this evening, he showed no sign of jet lag, season or race fatigue, matching his best ever, a World Cup record after he set the standard on 58.41 in heats. The mark had stood at 58.73 since 2019 to Ilya Shymanovich, of Belarus and currently barred from international competition because of his nation's backing for Putin's illegal war on Ukraine.
The race featured many of those Qin will have to beat if he wants an Olympic crown next summer, including 2016 and 2020ne champion Adam Peaty on his return to racing.
Double Olympic silver medallist Arno Kamminga was closest to Qin at a distant 59.01, while Kamminga's teammate Caspar Corbeau delivered a 2-3 punch for the Dutch in 59.27. Worlds medallist Nic Fink, of the USA, and Olympic medallist and World champion of 2022 Nicolo Martinenghi followed, with Peaty sixth in 59.86.
The British ace is working his way back to being "the best I can be for Paris" and today's test was about getting out as hard as he could and then holding on despite the work in his arms and legs. Qin was out in 27.09, home in 30.60, compared to 26.96 and 30.73 splits in Fukuoka.
Peaty was second to the turn in 27.56 and home in 32.29, after 27.67 and 32.36 in morning heats. A good day's work in the life of a man who suffered a breakdown in February this year and has been taking measures, with the support of excellent people, to gain perspective and put himself back in a place where it's possible to be back down to podium times by Paris but via a different route to the ones that led to 2016 and 2020ne gold and all the World titles and records in between.
Qin speaks a few words of English and managed to say he was very happy. The media wanted to talk to Peaty… and this is what he said: "I'm very grateful for the opportunity to be back in the swim against some of the best in the world. It was good to feel that today and the confidence will build from here."
He was, he said, "doing things a little differently this time round" but that swimming was a sport where "you can't change too much when not comes to the work you have to put in". The point of Berlin was to find out "what we need to build on".
He was asked if it would not be a constant rise back to the top. After he stopped laughing, he said: "It would be nice to think it was always a constant up but that's not what it's like. This sport is very demanding and much can depend on how happy you are."
Peaty spoke exclusively to The Times back in April about his depression, breakdown and the "self-destructive spiral" he'd been on. He said: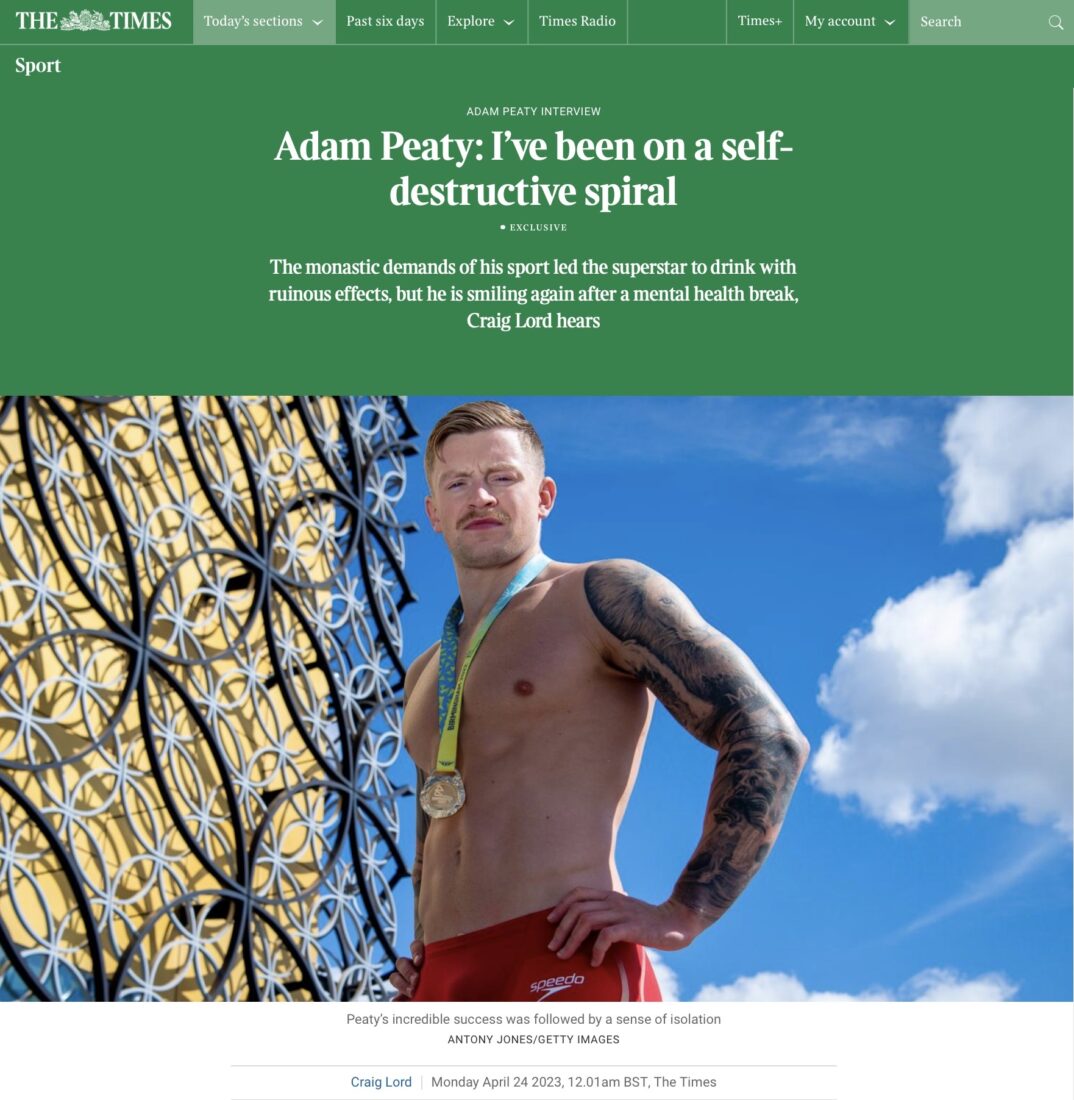 "It's been an incredibly lonely journey. The devil on my shoulder [says], 'You're missing out on life, you're not good enough, you need a drink, you can't have what you want, you can't be happy.' "

Adam Peaty – image: Adam Peaty talks to Craig Lord about his mental-health struggles on the way to Paris 2024 in an exclusive interview with The Times
Since then, he has turned himself around and is taking a different mental approach to performance on his way to Paris, a story that will unfold as Olympic season progresses.
Asked about loneliness today, Peaty noted: "You are own your own all the time. It's a very individual sport … it's about me, every single day. It's lonely because you have to be selfish and you have to push away opportunities that you would otherwise enjoy because they would compromise the training,. It's not what I signed up for but that was 18 years ago…"
And long before a stellar career unfolded from the work he put in. "We're making the best of it and we'll see where we go."
The motivation must be there, it was suggested. "Of course," said Peaty. "It's a challenge for me because you can stop this sport of life in a place which is low but its really about the challenge you make for yourself. I'm not doing this for any other person than me, for the first time ever. That means I don't have to be here. I want to be here, enjoy it and swim fast. It's going to be a long climb but it doesn't mean you can't have a laugh along the way."
The Berlin race: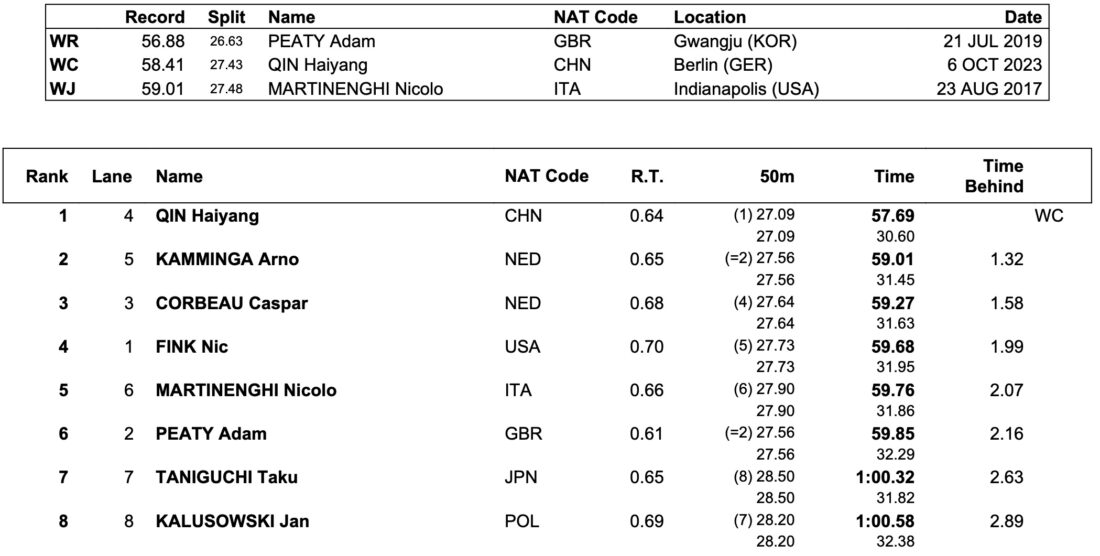 The first finals session witnessed World-Cup records in the 400m freestyle, Erika Fairweather on 4:01.09; in the 50m backstroke for Kaylee McKeown, in 27.24; and the 200m breaststroke, Tes Shouten on 2:22.13.
Berlin 2023 WC, Day 1 Results in Full
Wrap of The Rest of the Action:
W400 Free: Fairweather Takes Down Fellow Kiwi Boyle's Cup Mark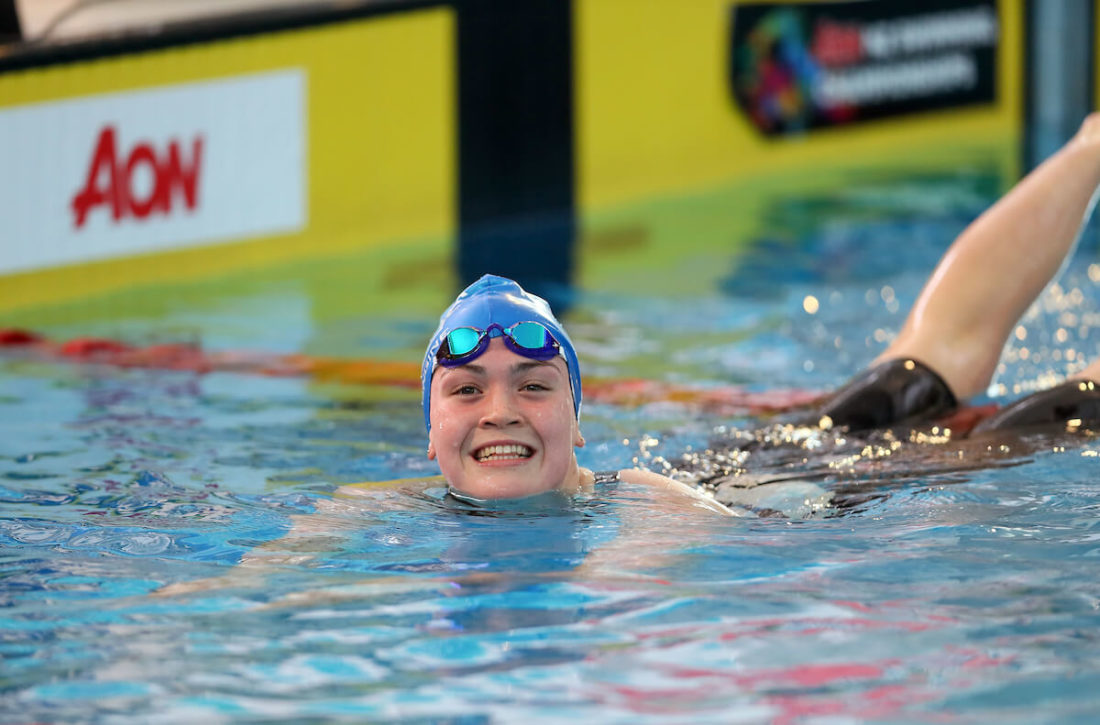 Erika Fairweather, of New Zealand, took the win in a World Cup record of 4:01.09 ahead of Australian Lani Pallister, on a personal best of 4:02.07 at the start of a Dolphin's World Cup in Berlin this evening.
The cup standard had stood to fellow Kiwi Lauren Boyle at 4:04.26 since 2015.
Fairweather took bronze in the world-title fight over 400m, her place on the podium with Ariarne Titmus and Katie Ledecky locking a third World-record holder in the event out of the medals.
Canadian teen Summer MacIntosh bounced back in tremendous style in Fukuoka but on the opening day in the company of 202One Olympic champion Titmus, on sizzling world-record form, and 2016 Olympic champion Ledecky, she could not reproduce the 400m pace that had delved the global standard at Canadian trials earlier in the year.
As MacIntosh struggled at the end of battle, Fairweather broke through to become the fifth woman in history to race inside 4mins, for bronze in 3:59.59.
The Berlin race: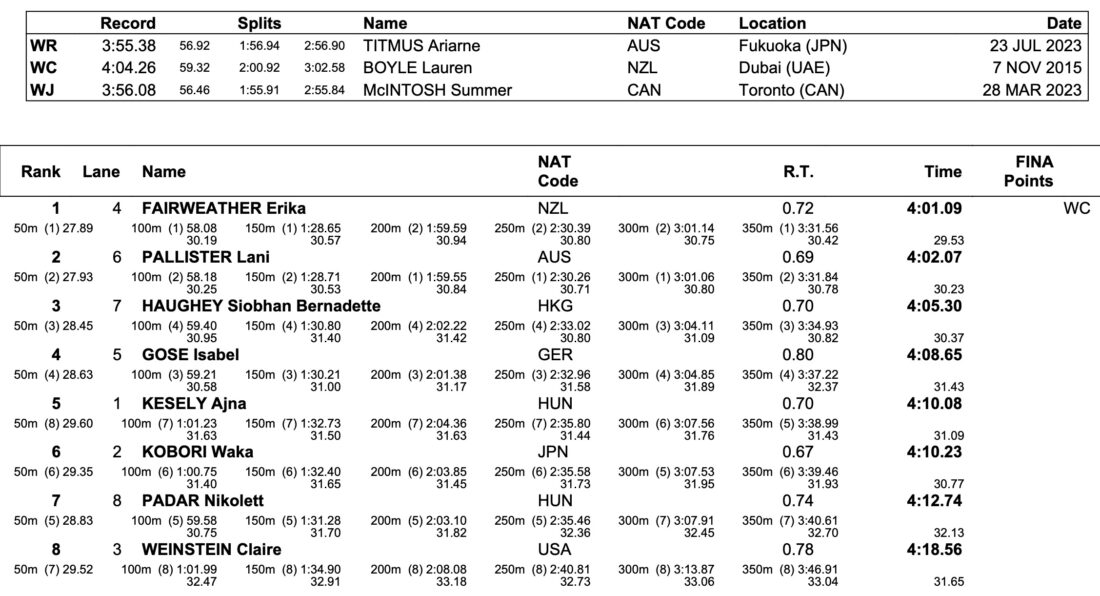 M400m free: Rapsys Thumps Rivals With Outside-Smoker 3:44.86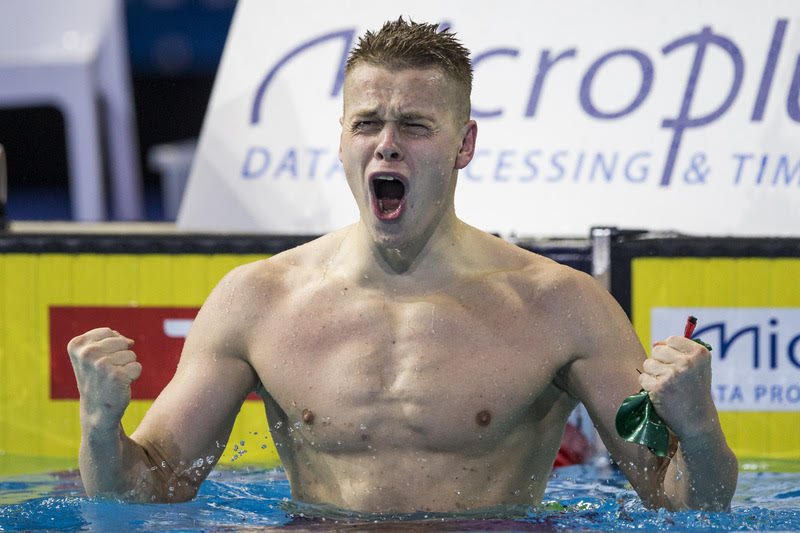 Danys Rapsys only made the final because Lukas Martens withdrew ill but once in lane 8, he swam to form as the most experience and fastest man in the fight (3:43.36 from 2019). That was the year he just missed the world-titles podium with a 3:43.50 suit was the third man home with a clean record, Sun Yang* at the helm after a positive test in 2014 on the way to a four-years/three months suspension for manipulation of a test sample in 2018. Rapsys set the World Cup record at 3:43.91 in 2019. Today in Berlin, he was a class apart.
The Berlin Race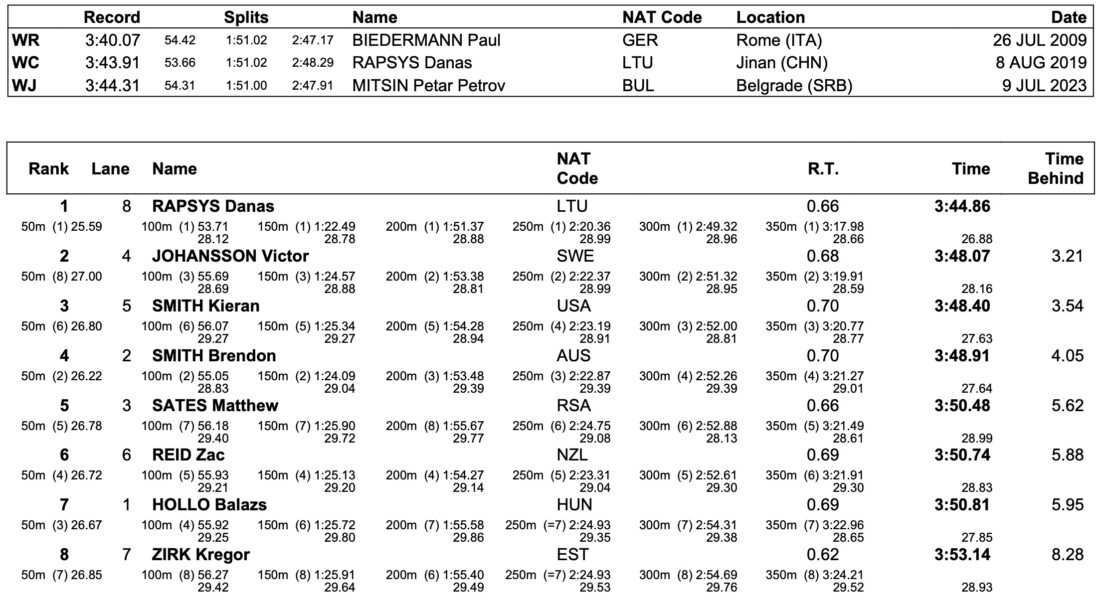 W50 Back: McKeown Makes Gauntlet-Chuck Of Star With Cup Record 27.24
Like most of this touring Australia team, triple World and double Olympic backstroke champion Kaylee McKeown made a cracking start to her race-test campaign in Berlin today with a 27.24 World-Cup record ahead of Ingrid Wilm, of Canada, and Maaike de Waard, of The Netherlands.

M200 Back: In Pursuit Of Stamina For Paris Ceccon Takes 1:56 Win
A World 50 and 100 champion ops backstroke and butterfly, Thomas Ceccon dispatched his rivals in the four-length final with a 1:56.64 that hints at stamina building en route to Paris 2024 as one of Italy's biggest golden hopes in the pool.
The Berlin final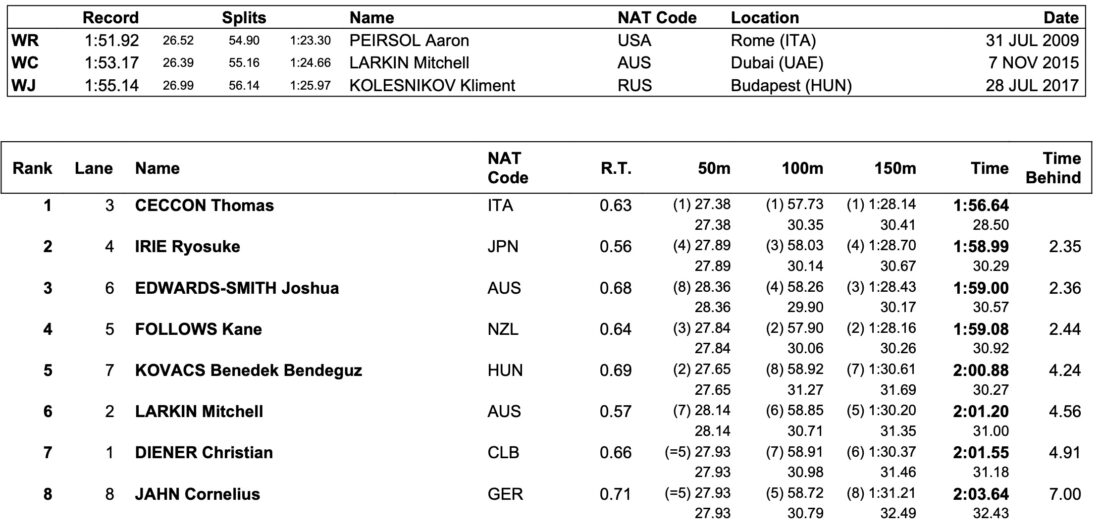 W200 'Fly: Easy Win For Zhang On 2:07
Zhang Yufei, with milii-medal campaigns at World titles, Universiade and the Asian Games, did not need her top pace to take the win, a 2:07.11 leaving her with plenty of room for comfort.
The Berlin Race: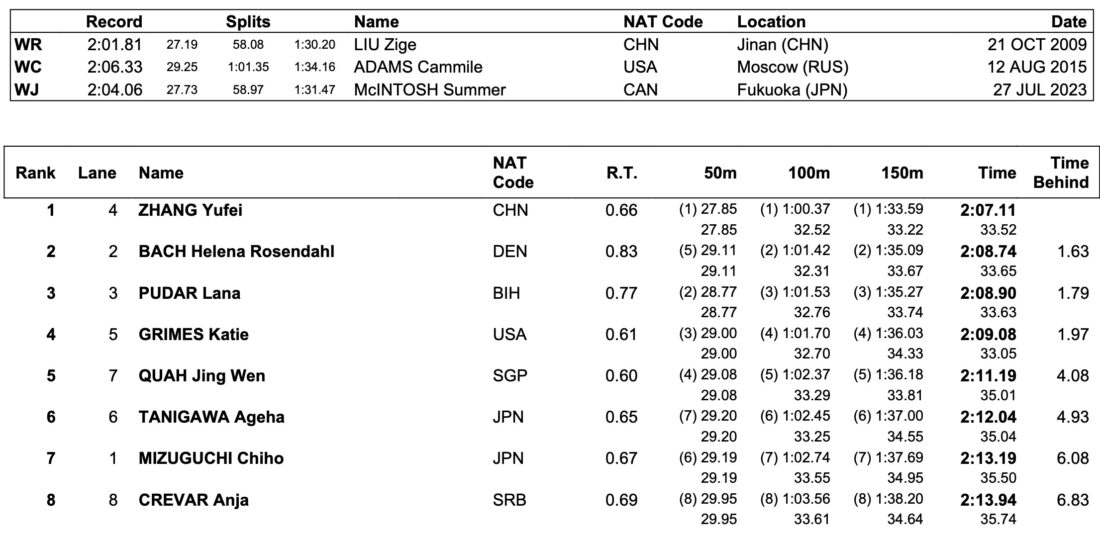 W200 Breaststroke: Schouten Takes Cup Mark In Battle With Strauch
Australian Jenna Strauch, on a comeback tour from knee rehabilitation, led at the last turn after Dutch rival Tes Schouten led to half way. Schouten was not done. Out of the turn, she piled oil the pressure and past Strauch on her way to a World-cup-record win of 2:22.13 to the Dolphins' 2:23.60.
The Berlin race