Sara Franceschi Takes Down Italian 200IM Record In 2:10.05 In Riccione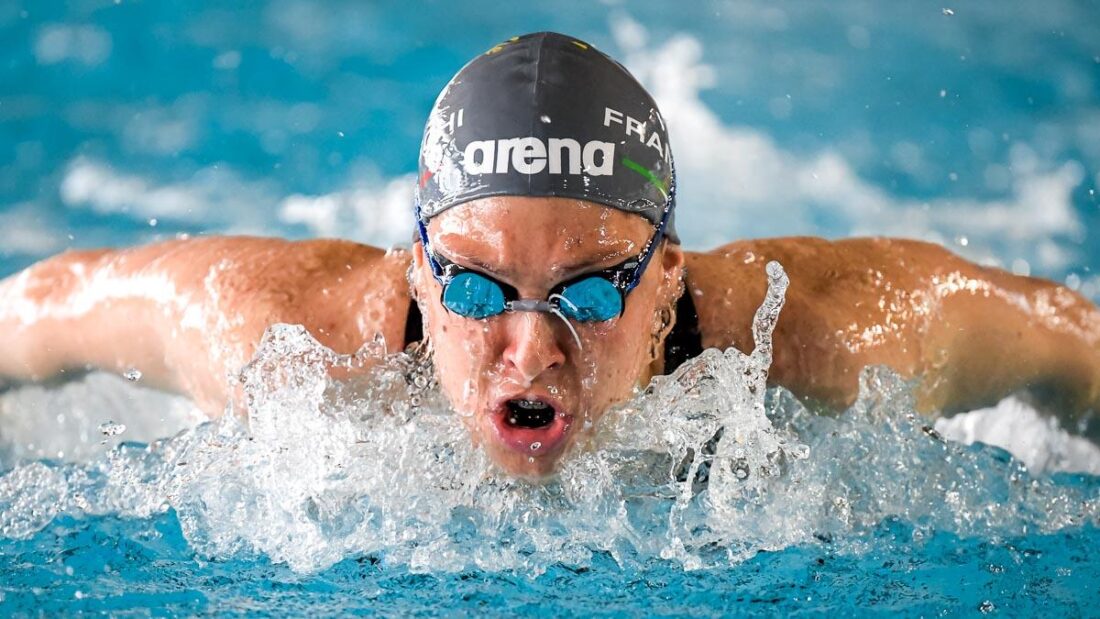 Sara Franceschi, of Fiamme Gialle/Livorno Aquatics, took down the Italian 200IM standard with a 2:10.05 victory on the third day of racing at Italian Championships in Riccione for a ticket to World titles in July.
The only other automatic qualifier for the World Championships was Simona Quadarella (CC Aniene), courtesy of a 15:53.29 win the 1500m free for the 2019 World champion.
Both Franceschi and Quadarella had already claimed tickets to Fukuoka this week, in the 400IM and 800 free respectively. With the addition of Nicolo Martinenghi to the list of qualifiers, courtesy of his status as a defending World champion after he finished second to Federico Poggio in the 100m breaststroke yesterday, Italy has confirmed 9 swimmers for duty in Fukuoka so far (list at the foot of this file).
Olympic and World-champion distance freestyle ace Gregorio Paltrinieri, of Fiamme Oro/Coopernuoto, took the 800m freestyle in 7:46.47, 7sec shy of his European record and say of the Italian cut for automatic selection to the 2023 World Aquatics showcase in Fukuoka this July.
Franceschi and Quadarella top the bill on Day 3 – The Podiums In Riccione
800 free M
1. Gregorio Paltrinieri (Fiamme Oro/Coopernuoto) 7'46″47
2. Matteo Lamberti (Carabinieri/GAM Team Brescia) 7'49″48
3. Luca De Tullio (Fiamme Oro/Aniene) 7.54″40

200 IM junior W
1. Giulia Pascareanu (RN Florentia) 2'20″30
2.Giulia Viacava (Genova Nuoto My Sport) 2'20″31
3. Angelica Guerra (Padova Nuoto) 2'20″54

200 IM W
1. Sara Franceschi (Fiamme Gialle/Livorno Aquatics) 2'10″05 RI qualified for Fukuoka 2023
2. Anita Gastaldi (V02 Nuoto Torino) 2'11″81
3. Anna Pirovano (Fiamme Azzurre/IN Sport Rane Rosse) 1'13″73

200 IM junior M
1. Leonardo Percoballi (Sport Village) 2'05″72
2. Gabriele Gambini (Chimera Nuoto) 2'05″96
3. Matteo Venini (IN Sport Rane Rosse) 2'06″67

200 IM M
1. Alberto Razzetti (Fiamme Gialle/Genova Nuoto My Sport) 1'58″48
2. Christian Mantegazza (Team Trezzo Sport) 2'00″70
3. Lorenzo Glessi (Esercito/Gorizia Nuoto) 2'01″14

100 Free junior W
1. Cristiana Stevanato (Team Veneto) 56″01
2. Caterina Santambrogio (Nuoto Club Seregno) 56″67
3. Viola Petrini (Virtus Buonconvento) 56″80

100 free W
1. Chiara Tarantino (Fiamme Gialle/IN Sport Rane Rosse) 54″40
2. Sofia Morini (Esercito/Azzurra 91) 54″76
3. Emma Virginia Menicucci (Esercito/Aniene) 54″93

100 free junior M
1. Mirko Chiaversoli (Team Centro Italia) 50″14
2. Lorenzo Ballarati (CC Aniene) 50″47
2. Alessandro Ragaini (Sport Village) 50″47

100 free M
1. Alessandro Miressi (Fiamme Oro/CN Torino) 48″61
2. Leonardo Deplano (Carabinieri/Aniene) 48″80
3. Giovanni Carraro (Riviera Nuoto Dolo) 48″90
1500 free W
1. Simona Quadarella (CC Aniene) 15'53″29 qualified for Fukuoka 2023
2. Ginevra Taddeucci (Fiamme Oro/CC Napoli) 16'14″09
3. Isabella Sinisi (CC Aniene) 16'26″84
The Italian Confirmed Qualifiers For 2023 World Championships, so far:
Simona Quadarella (CC Aniene) 800 stile libero 8'21″14
Marco De Tullio (CC Aniene) 400 stile libero 3'44″69
Lisa Angiolini (Carabinieri/Virtus Buonconvento) 100 rana 1'06″18
Alberto Razzetti (Fiamme Gialle/Genova Nuoto My Sport) 200 farfalla 1'54″98
Sara Franceschi (Fiamme Gialle/Livorno Aquatics) 400 misti 4'35″98
Leonardo Deplano (Carabinieri/CC Aniene) 50 stile libero 21″89
Thomas Ceccon (Fiamme Oro/Leosport) 100 dorso 53″36
Federico Poggi (Fiamme Azzurre/Imolanuoto) 100 rana 58″73
Nicolò Martinenghi (CC Aniene) 100 rana 59″06
Sara Franceschi (Fiamme Gialle/Livorno Aquatics) 200 misti 2'10″05 RI
Simona Quadarella (CC Aniene) 1500 stile libero 15'53″29