Sanchez & Liendo Top 100 Free Finals & McIntosh Flies To A Third Win At Canadian Trials

Summer McIntosh added a third World-titles ticket to her targets with victory in the 200m butterfly in 2mins 07 and the 100m free finals went to Kayla Sanchez in 53.6, 0.03sec up on Penny Oleksiak, and Josh Liendo in a tight tussle with Ruslan Gaziev 48.3 to 48.4 on day 4 at Canadian Trials in Victoria.
For McIntosh, based at the High Performance Centre in Ontario and the daughter of former Canadian Olympic team swimmer Jill Horstead, a 2:07.60 in the 200m butterfly, after a Canadian record-breaking 400m free, in 4:01, and a 1:55 victory in the 200m free, marked the build up to a 400m medley on Saturday that will give us a glimpse of one of the Olympic title contenders come Paris 2024.
The delay to the Tokyo 2020ne Games caused by Covid, made it possible for McIntosh to make inherit Olympic debut ahead of Paris: in May 2021, McIntosh qualified for the Games in Japan after clocking 4:05.13 in the 400m freestyle, the fastest time ever by a 14-year-old in that event. She also clocked 1:56.1 to become the fastest ever 14-year-old over 200m freestyle.
In Tokyo, McIntosh finished fourth in the 400m, breaking the Canadian record in 4:02.42 and in the 4x200m free relay with teammates Penny Oleksiak, Rebecca Smith and Kayla Sanchez took another fourth place in a second Canadian record for her that week.
In Victoria today, she emerged from the 200 'fly to say: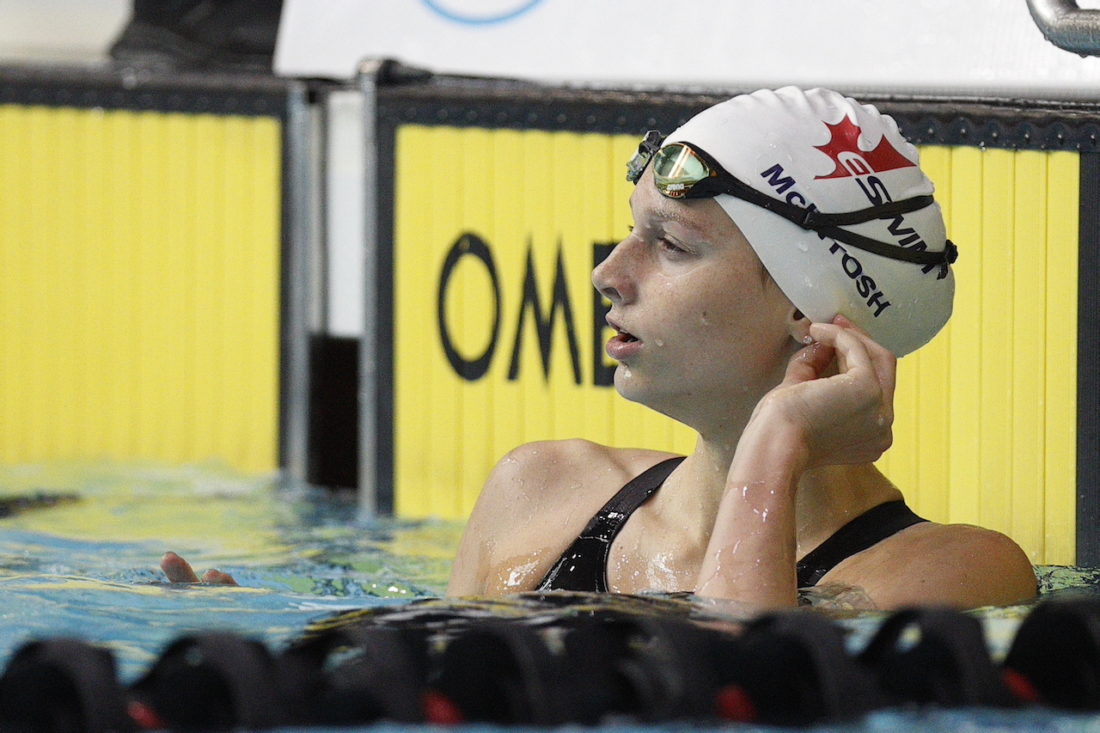 "Overall I'm not exactly happy with the time but there's always things to learn from every race. very time I race I know I'm going to learn something from it and that's what I'm trying to do going into the summer."

Summer McIntosh, by Kevin Light, courtesy of Swimming Canada
The 15-year-old enters the 400m medley Saturday on 4:29.12, the third fastest in history … with two years to get set for the Paris showdown. She said: "I'm really excited for it and hopefully I can put a good race down and learn from that as well."
Kayla Sanchez & Josh Liendo Top 100 Free Finals
Kayla Sanchez got her hand to the wall 0.03sec ahead of 2016 Olympic champion and HPC – Ontario teammate Penny Oleksiak, a four-time national champion in the event and a swimmer with seven Olympic medals in her pantheon from her first two Games.
Both Sanchez and Oleksiak were comfortably under the standard required to take the two solo berths in the event at World Championships in Budapest in June. Taylor Ruck (53.99) and Katerine Savard (55.26) rounded out the top four, qualifying for 4×100 relay spots. Sanchez was delighted to get the solo swim: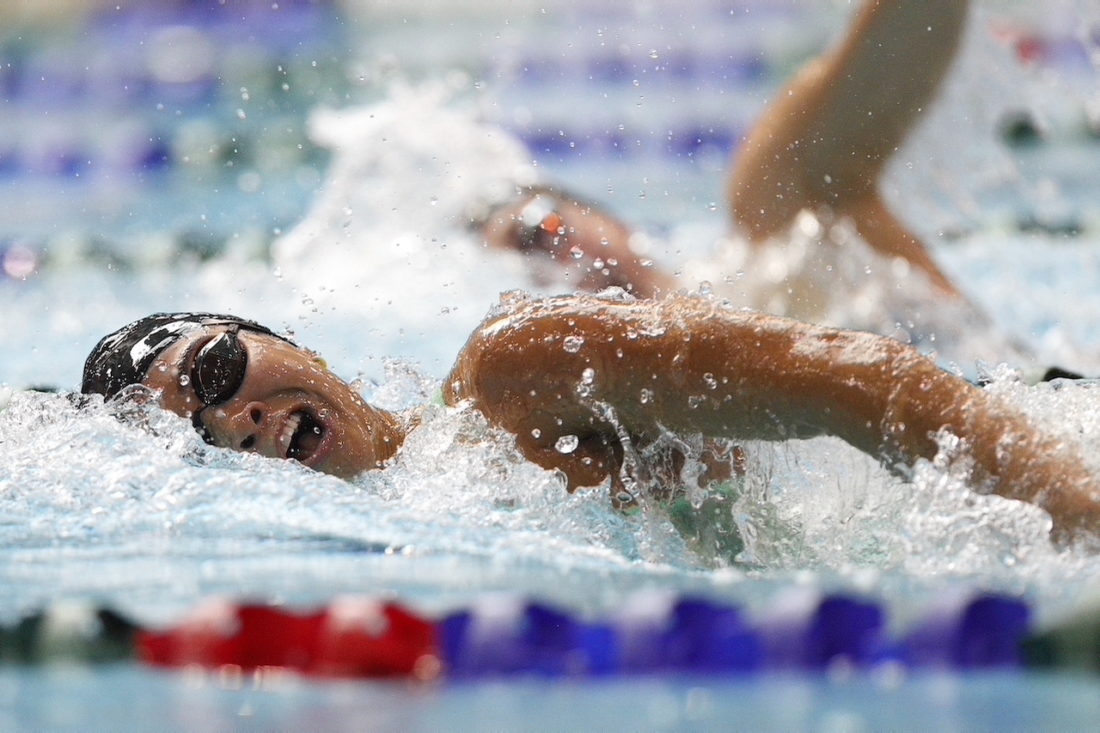 "It's always such a tough race against some of the best sprinter women in the world. To get my hand on the wall first is just a fun feeling. It was rewarding for sure. I know that my parents watch and my goal is to make them proud. Touching first, I immediately think of them. That's probably the best feeling that I have, just thinking of them watching me win."

"They're such deep events, the 100 free and 200 free. I've been wanting to win the 100 free for a long time, so I just tried to race smart. Penny is an amazing finisher so I just tried my best to get my hand on the wall first."

Kayla Sanchez – image: Kayla Sanchez speeds to victory in the 100m free in Victoria, by Kevin Light, courtesy of Swimming Canada
HPC-Ontario also celebrated the win in the men's 100m free after a scrabble for the wall favoured Josh Liendo, on 48.35, over faster-finishing Ruslan Gaziev, ESWIM, on 48.41. Liendo was there in 22.80 and back in 25.55, while for Gaziev it was 23.22 and 25.19. Yuri Kisil (48.80) and Javier Acevedo (49.12) rounded out the relay qualifiers. Liendo said: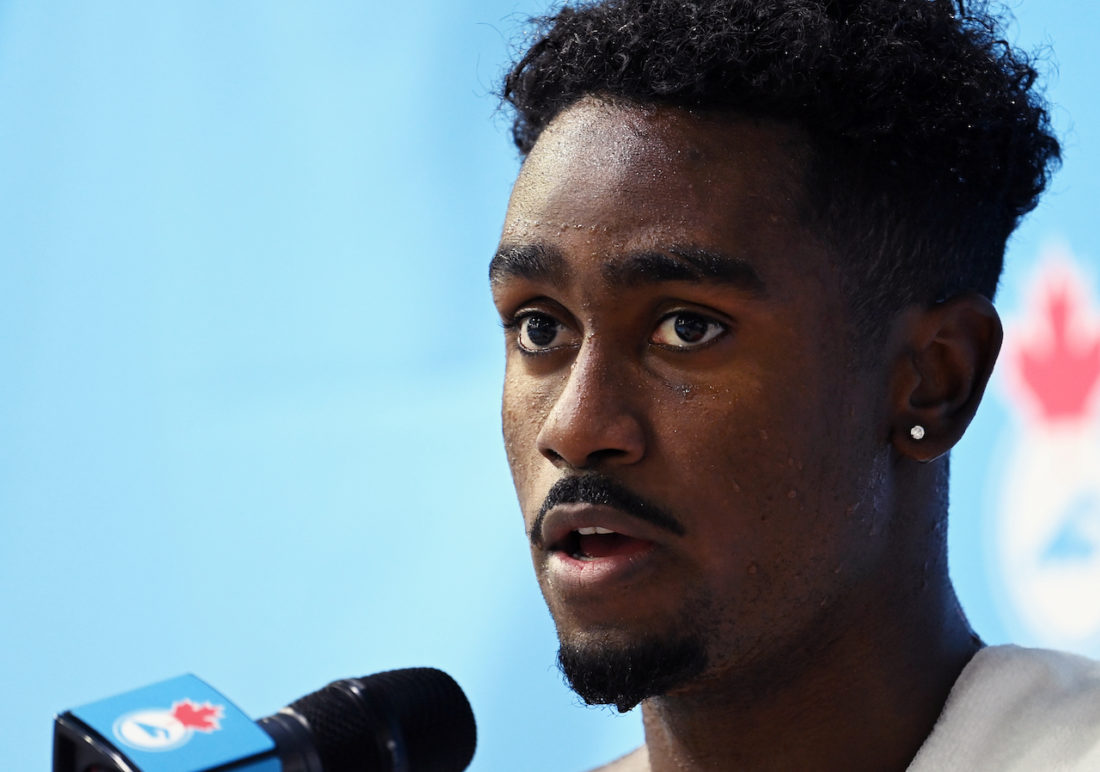 "I definitely wanted to be faster than that but I gave it everything I had. I know I can go a lot faster than that. I have the speed, I just have to work on it. The top four guys were good. To see we have three 48s, obviously Yuri has been 48.1 and that was a big best time for Ruslan, it's a good field."

Josh Liendo. Image: Joshua Liendo, by Scott Grant, courtesy of Swimming Canada