Sam Short Leapfrogs Perkins, McKeon, McLoughlin & Even Hackett On Way To 3:42.4 Win Over World Champ Winnington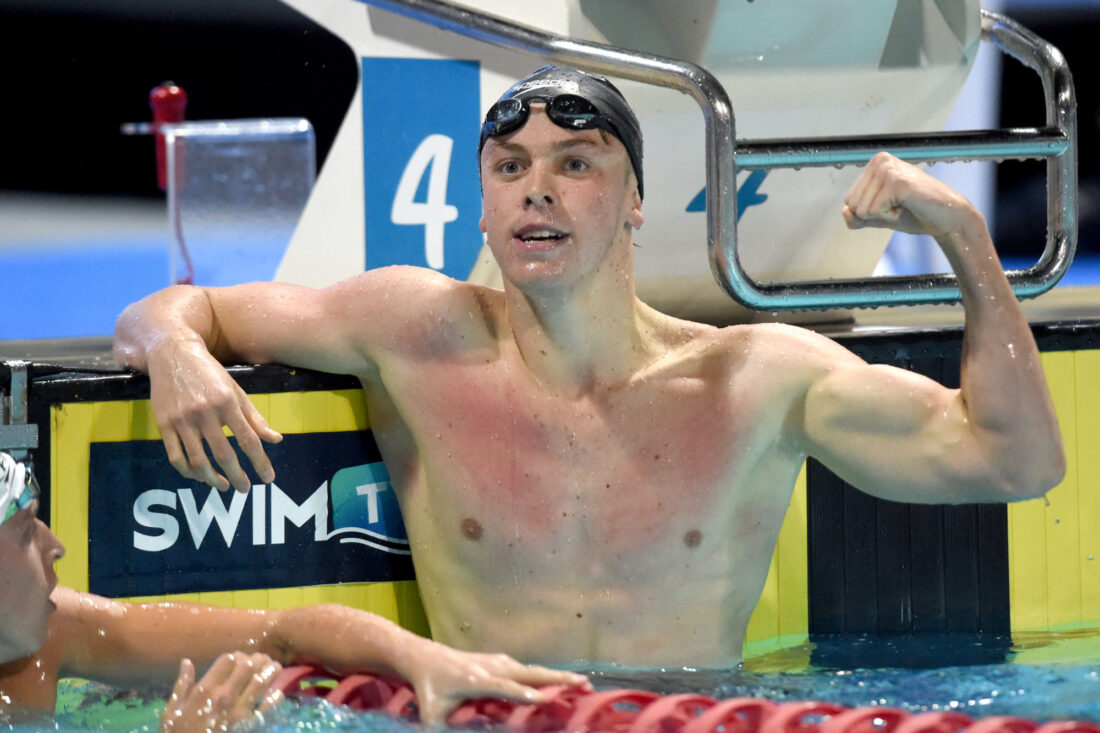 In 3mins 42.46, 19-year-old Sam Short leapfrogged Kieren Perkins, David McKeon, Jack McLoughlin and even Grant Hackett at his fiery best on the clock to rise from eighth to fourth on the most impressive all-time domestic line-up of 400m freestyle speedsters in swimming history.
On the opening day of Australian Championships at The Gold Coast Aquatic Centre, the 19-year-old Short raced neck-and-neck with World champion Elijah Winnington for the first 100m before piling on the pressure on the way to the title in the swiftest eight-length swim in the world so far this year. The podium ended with St Peter Western's Winnington in the middle of Rackley teammates Short and Thomas Neill:
26.05; 53.99 (27.94) 1:22.01 (28.02) 1:50.14 (28.13) 2:18.29 (28.15) 2:46.44 (28.15) 3:14.78 (28.34) 3:42.46 (27.68) Short
25.83; 54.05 (28.22) 1:22.37 (28.32) 1:51.00 (28.63) 2:19.84 (28.84) 2:49.16 (29.32) 3:18.15 (28.99) 3:46.39 (28.24) Winnington
26.57; 54.69 (28.12) 1:23.22 (28.53) 1:51.96 (28.74) 2:21.29 (29.33) 2:50.76 (29.47) 3:20.65 (29.89) 3:49.28 (28.63) Neill
Short's previous best from May last year: 3:44.34. Ian Thorpe, two-time Olympic champion, 2000 and 2004, (3:40.08, World textile best, Commonwealth Games, 2002), Winnington (3:41.22 2022 World title) and 2016 Olympic champion Mack Horton (3:41.55, Rio gold) lived to fight another day on the clock and on the World and Aussie all-time rankings.
Short & The Long Game
Two years and a week ago, Short, coached by Damien Jones at Brisbane's Centenary Pool, took down Perkin's 30-year-old 800m free all-comers Australian standard at Australian Age Championships. It was 1991 when a teenage Perkins clocked 7:52.93 feet-on-wall at the 800m turn in an epic 1500m free battle with Germany's Jorg Hoffmann at the 1991 World Championships in Perth, Western Australia. What a moment, what a meet.
Hoffmann won it, the young pretender taking silver ahead off the teammate tipped for there title before battle, Glen Housman, who'd clocked a world record the previous year but been denied because the electronic timing failed and FINA would not accept the hand-held chronometry.
In 2021, Short topped the pace of Perkins in 7: 52.18. Two years on, we find him leaping up from 36th on the all-time rankings to No10, knocking Hackett out of that height to 11th with the 3:42.51 in which he claimed silver behind Thorpe at the 2001 World titles the last time Fukuoka hosted the showcase.
It's Fukuoka once more in 2023, this July, a month after Aussie trials. If Short can replicate his 3:42 form or anywhere close to that or the 3:43.80 in which Perkins claimed the World record and title in Rome back in 1994, he's likely to be in the Fukuoka fight.
All-Comers Records For McKeown & Armbruster As Mollie O'C Tops the World's Top 100m Free Force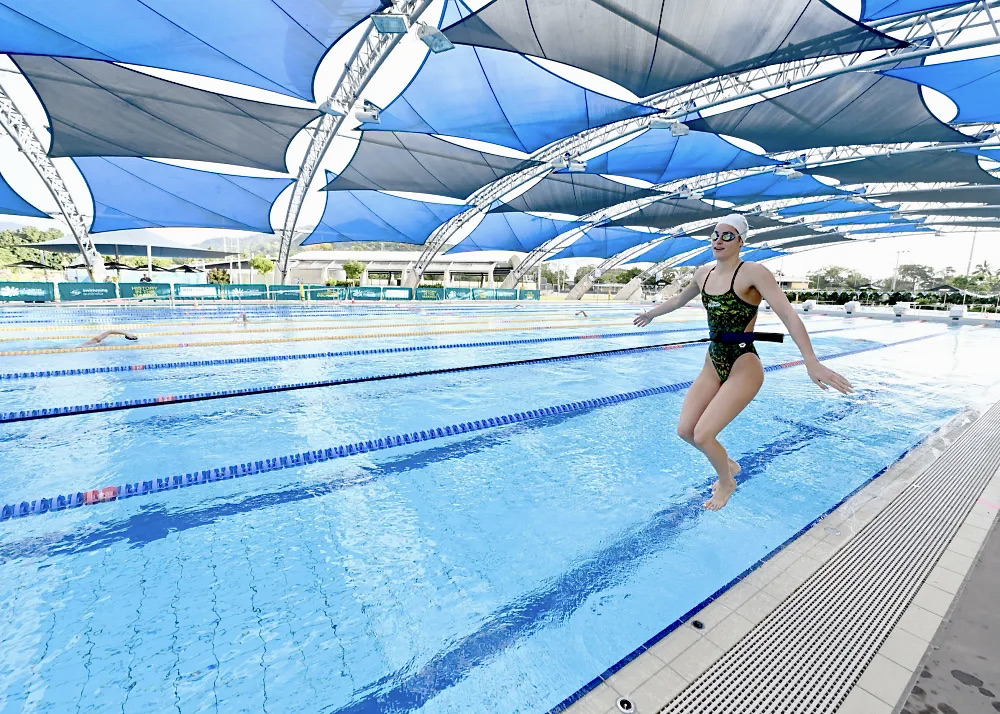 Snap for all finding their form at nationals this week. In the women's 200m medley, Kaylee McKeown set an All-comers record of 2:08.16 for the win, 0.03sec swifter than her 2021 mark and a couple of strokes ahead of Jenna Forrester, who swept inside the 2:01 mark on 2:09.32, Ella Ramsay third in 2:12.39.
28.14; 1:00.59 (32.45) 1:37.91 (37.32) 2:08.16 (30.25) McKeown
28.25; 1:01.42 (33.17) 1:38.77 (37.35) 2:09.32 (30.55) Forrester
There was also an all-comers mark for Ben Armbruster, on 23.05 in the 50m butterfly ahead of the 23.11 standard set in the shiny suits era by Geoff Huegill. Next home were Kyle Chalmers, 23.35, and Cameron McEvoy, 23.68, the two men who made headlines around the world in 2016 when Chalmers claimed the Olympic 100m free crown and McEvoy, among those tipped for the gold but the day not his, waited for the teen to emerge from the pool to salute and celebrate his teammate.
Australia has the fastest domestic force ever seen In the 100m freestyle. The top six today, including a tie for fifth, would have won the title at nationals in almost every other country in the world. Here's how it went:
25.85 52.63 (26.78) Mollie O'Callaghan
25.31 52.64 (27.33) Shayna Jack
25.56 53.22 (27.66) Emma McKeon (Olympic champion; Comm record holder 51.96)
26.02 53.46 (27.44) Meg Harris
26.33 53.78 (27.45) Madison Wilson
25.45 53.78 (28.33) Cate Campbell (all-comers record holder 52.06
The Aussie 4x100m bull run looks set to continue this northern summer.
Sticking with Aussie freestyle forces, Ariarne Titmus took the 800m free crown in 8:20.19 ahead of Lani Pallister, 8:24.72, Madeleine Gough, 8:26.08, and Kiah Melverton, 8:26.28. All working for a flaming June and scorching July.
In other action, Olympic 200m champion Zac Stubblety-Cook took the 100m breaststroke in 1:00.07; the women's 50m breaststroke went to Jenna Strauch in 31.16; and the men's 200m backstroke produced a tight finish of three 1:57s, Brad Woodward the champion in 1:57.42 ahead of Josh Edwards-Smith, 1:57.63, and Ty Hartwell, 1:57.84.