Ruta Meilutyte Makes 1:04.6 Return To Top Of World After 10 Years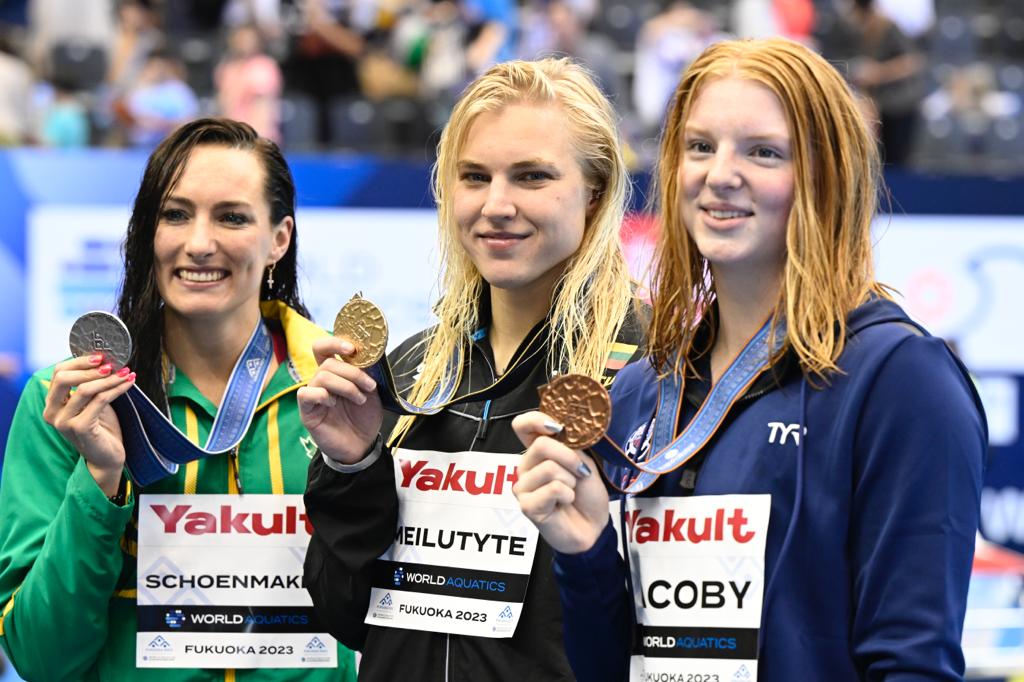 Ten years after her debut World title in Barcelona, Lithuanian Ruta Meilutyte returned to the top of the podium at the 20th World Championships in Fukuoka with a dominant 1:04.62sec victory that left three other Olympic champions reeling 1.22 seconds and more behind her.
Tatyana Schoenmaker, the Olympic 200m champion, took silver and Lydia Jacoby, Olympic 100m champion, the bronze ahead of teammate and Olympic champion of 2016 Lilly King, all on 1:05s.
Mona McSharry clocked 1:06.09, after two 1:05 Olympic qualification times in the rounds, for fifth place and the honour of becoming the most highly placed Irishwoman in a World Championship final (barring the disgraced Michelle Smith*, who finished fifth in the 200m butterfly in her breakthrough year of 1994). Those two swimmers are the only Irish woman ever to have made a World-titles final to date.
Meilutyte upset the apple cart at 15 when she claimed Olympic gold in the 100m at London 2012. A year later, she was World champion and until her brief and for a moment unofficial retirement in 2019, she never went faster.
Today was the closest she's ever come to the 1:04.35 she clocked as a teen when based in Britain with coach Jon Rudd, now performance head off the Ireland program.
Meilutyte was handed a suspension not long after she said she had retired because her federation registered no such retirement and anti-doping officials turned up to run out-of-competition tests on the swimmer three times before she was handed a penalty.
The irony of that was lost on no-one familiar with RRuta Meilutyte's story..
Today was the third fastest winning time in the history of the event after Lilly King's 1:04.13 world-record win in 2017 and Meilutyte's 2013 win.
The Race:
The Result in Full: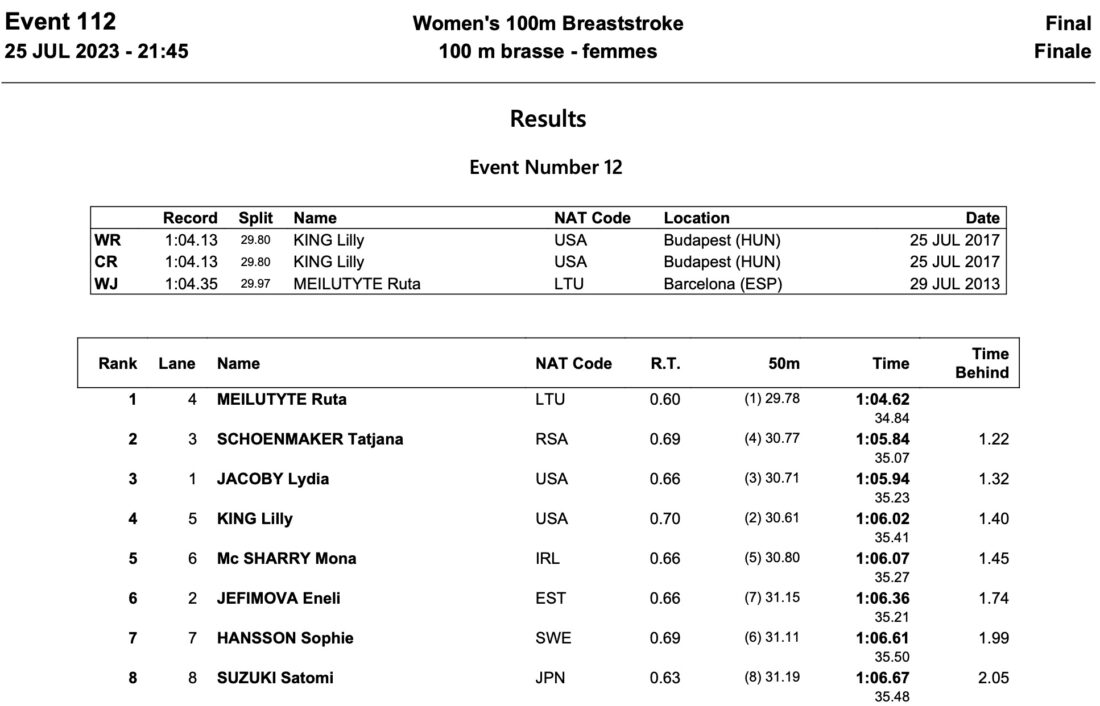 – * – swimmer was suspended for manipulation of an anti-doping test sample in 1998 and never retired to the sport