Ruta Meilutyte 29.16 WR Turns Back The Clock For Breaststroke Double 10 Years On After Debut World Title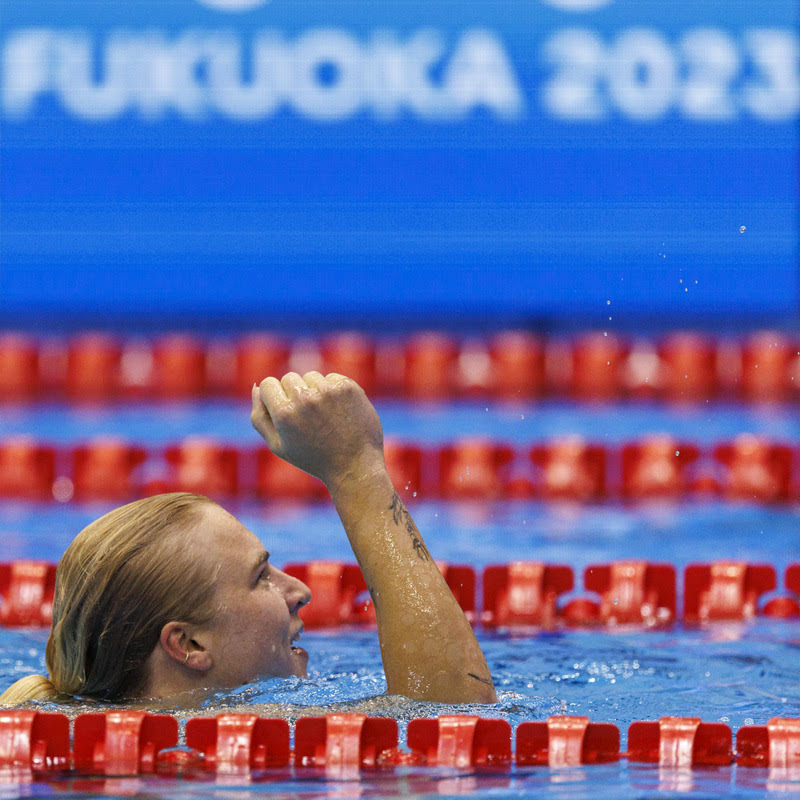 Ruta Meilutyte turned back the clock to claim a breaststroke 50-100m World-title double in Fukuoka in a World record of 29.16 in the dash 10 years after gold in the 100m at her debut World Championships back in 2013.
The silver went to Lilly King, of the USA, a relative ocean away in 29.94, former World record holder Benedetta Pilato, of Italy, taking bronze in 30.04. Meilutyte took retained the title she claimed a year ago in Budapest on 29.70 0.1sec ahead of Pilato.
The Lithuanian entered the final of the 50m breaststroke as joint world-record holder on 29.30 with Benedetta Pilato after matching the Italian's mark in her semi-final yesterday. Each of those swims earned her US$30, 000… a fine 60k in 24 hours.
Meilutyte dominated the Fukuoka final with a blast that swept us into the future and back to the past and memories of a Britain-based ace who at 15 found herself an Olympic champion at London 2012 in the 100m and then a year later in Barcelona a World champion and record holder.
Last Monday, Meilutyte gave a hint of the world-beating form she'd worked her way back to after a break from the sport when she swam the 100m breaststroke heats in 1:04.67, off a 29.99 at the turn.
The next day, she recaptured the 100m World crown in a crushing 1:04.62, 1.22 seconds ahead of two Olympic champions of Tokyo 2020ne, silver medallist Tatyana Schoenmaker, the Olympic 200m champion, bronze medallist and Lydia Jacoby, Olympic 100m champion. The third Olympic champion beaten was King, like those who took the minor spoils on 1:05s.
Ruta Meiliutyte's 1:02.36 World 100m short-course record from October 2013 remains the longest-surviving global textile-suit standard among women. 
The Fukuoka 50m Race:
The result in full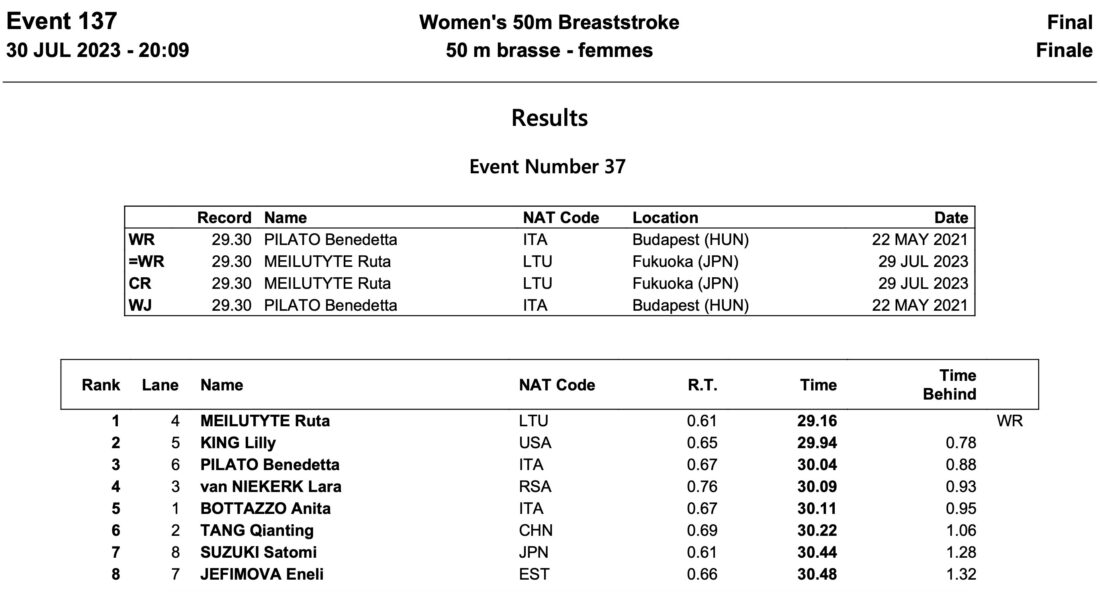 Meilutyte Maelstrom
The Lithuanian returned to the sport during the Covid pandemic after a turbulent time that led to he being handed a suspension not long after she said she had retired. Her federation registered no such retirement and anti-doping officials turned up to run out-of-competition tests on the swimmer three times before she was handed a penalty.
The irony of that was lost on no-one familiar with Ruta Meilutyte's story.