Rome's Favourite Gregorio Paltrinieri Leads Towering 800 Tussle As Ndoye-Brouard Writes History For France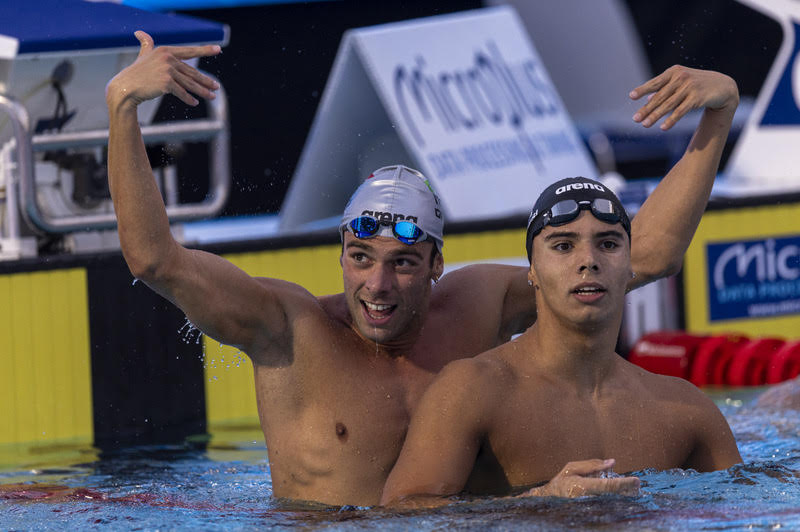 Gregorio Paltrinieri, a golden World Championships of 1500m victory and marathon triumph in the mirror, stared down the lane at home in Rome with eyes on the prize in front of him: 800 freestyle gold, and a bonus of celebrating a World Junior record for his teammate Lorenzo Galossi, third behind Germany's Lukas Maertens in the tussle of the third night of racing at the Stadio del Nuoto – beyond the race and result of the championships (hint: 46.86).
History was also written in the 200m backstroke, Yohann Ndoye-Brouard becoming the first Frenchman and the first black swimmer ever to claim gold in the event. Ndoye's victory was all the more remarkable for the tortuous route he was forced to take to get to the final: his backstroke start wedge slipped at the start of his semi and he was left trading water as the race proceeded. A successful protest allowed him to qualify for the the showdown in third place via a time trial at the end of day 2 finals.
Other winners on the day were Sarah Sjostrom, of Sweden, in the 50m butterfly, Bernadetta Pilato, at the helm of isn Italian 1-2 in the 100m breaststroke, Viktoraia Mihalyvari at the helm of an Hungarian 1-2 in the 400m medley after triple Olympic champion Katinka Hosszu missed the cut with a domestic third-place finish in heats, and Britain, whose Lucy Hope, Anna Hopkin, Medi Harris and Freya Anderson celebrated a title;e retained in the 4x100m freestyle.
Men's 800m Freestyle – Summer of Plenty For Gregorio Paltrinieri
He gave no quarters and emerged from the 800m freestyle with gold in 7:40.86 and a ringing in his ears, the Roman crowd emitting a roar gift to run to the roots of the ancient foundations you can't avoid walking on wherever you roam in the Eternal City.
Lukas Maertens, of Germany, took silver in 7:42.65, the battle for bronze going to Lorenzo Galossi in a World Junior record of 7:43.37 ahead of Ukraine's Mykhaylo Romanchuk, whose efforts in the most trying of circumstances were celebrated by all at a European showcase void of Russians and Belarusians in response to Putin's illegal war on and crimes against Ukraine.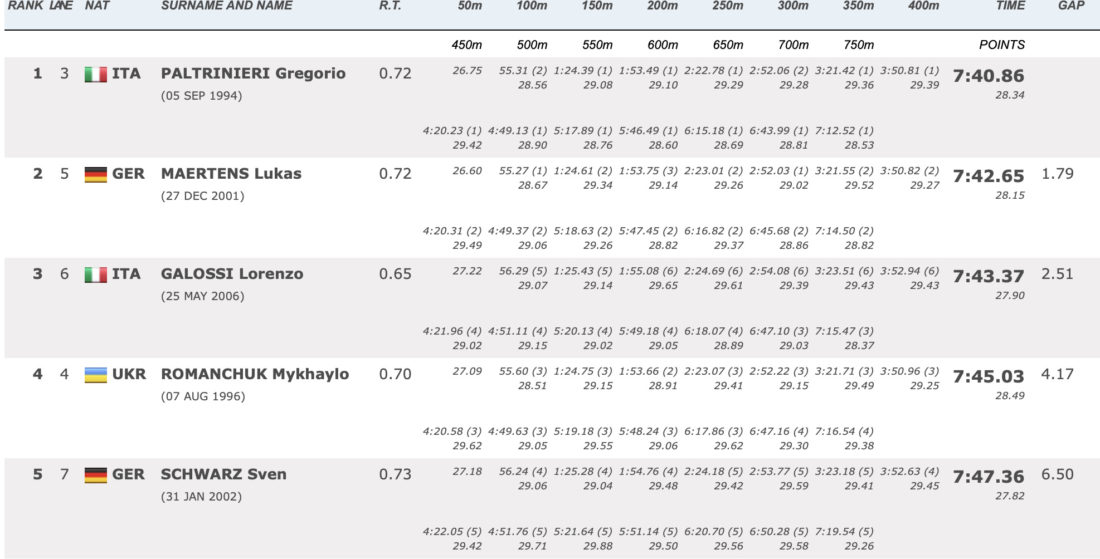 Men's 200m backstroke:

Women's 50m butterfly:

Women 's 100m breaststroke

Women's 400m medley

Women's 4x100m Freestyle – Gold Retained For Britain
Britain, in 'as-good-as-we-can-be-right-now' mode at the third of three major internationals in six weeks, landed it first gold in Rome when Lucy Hope, Anna Hopkin, Medi Harris and Freya Anderson took on the fight from lane 8 (a draw, in an event that, astonishingly, needs no heats to fill the eight lanes for the showdown).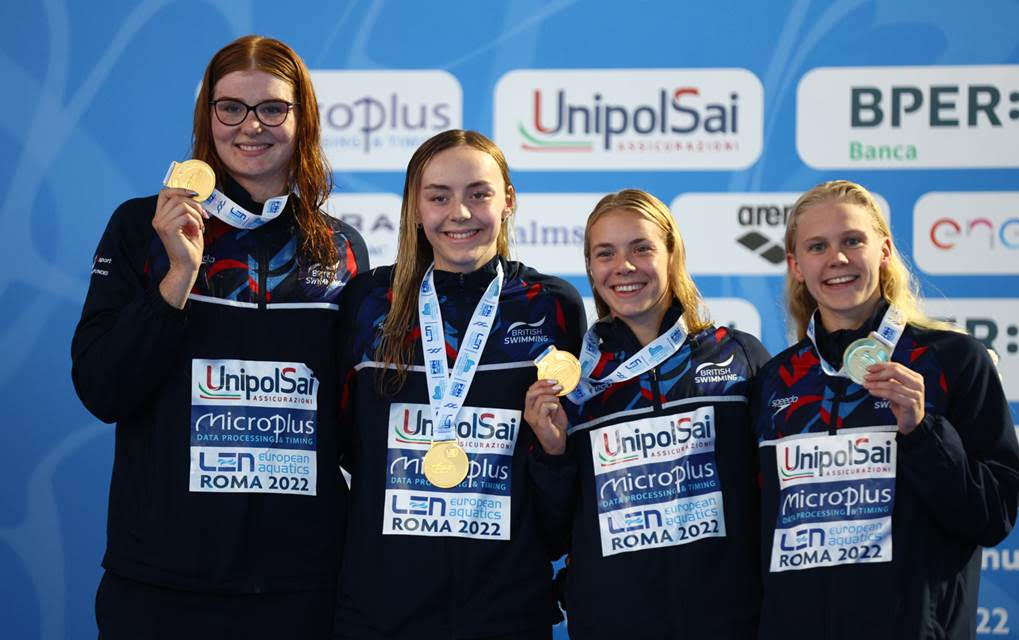 British Swimming noted: "University of Stirling's Hope laid the foundations for the success with a solid opening leg, handing over to Hopkin with the British foursome third, less than one tenth off the Italians in second. From there, Loughborough Performance athlete Anna clocked the third-fastest split of the entire race, overtaking the Italians to put GB second at the halfway stage.
"Swansea University competitor Harris again went on to emphasise her valuable versatility, diving in less than an hour after her 50m Backstroke semi-final to keep the team right in medal contention, moving them to within half-a-second of Sweden at the front of the race, before anchor specialist Anderson took over.
"Freya (Bath Performance Centre) was also swimming her second race of the night after the 200m Freestyle semi-final, but there was no sign of fatigue as she cut down the entire Swedish lead in the opening 50m with a powerful surge, completing the victory down the home straight to touch nearly a second ahead of their nearest rivals, defending the European title from Budapest in 2021 in the process.
"It was a third medal in as many days for Anderson and Harris, with the latter still relishing being a part of successful GB relay efforts."
Medi Harris said: "I keep saying it, but I'm really honoured to be able to be on the team with these girls. It wasn't long ago that I was watching them in Tokyo do really well, so I'm really happy to be able to defend the title they won last time at Europeans and bring home a gold for GB."
Anna added: "It was amazing. It's our first gold of the competition, I think everyone has come in here without too many expectations with it being a really hard and busy year. Moments like that make the pain worthwhile, obviously with coming into our third major international meet, it is hard and you have to work that little bit harder to get yourself up for races and get yourself in prime condition. But we all put together a really good race and I'm really proud of us.
"This is a relay that we are really focusing on going into Paris. We've put together really good relays throughout the year, and to come out at the end of it with a gold at the European Champs and defend our title, it puts us in a really good position going forward."
Freya noted: "It's a really good feeling. I think my last individual is tomorrow, so get that done and then there's more relay fun, so hopefully we can stand on top of the podium a couple more times, that would be lovely!"
For Hope, moving things on individually was a pleasing factor too. "I was happy to go faster than in my individual, and to get the gold with the girls, it's what we came here to do, as defending champions there's a bit of pressure – but I think we all knew that if we put four good legs together, we could get the gold. We all had four good swims, so I'm really happy with tonight."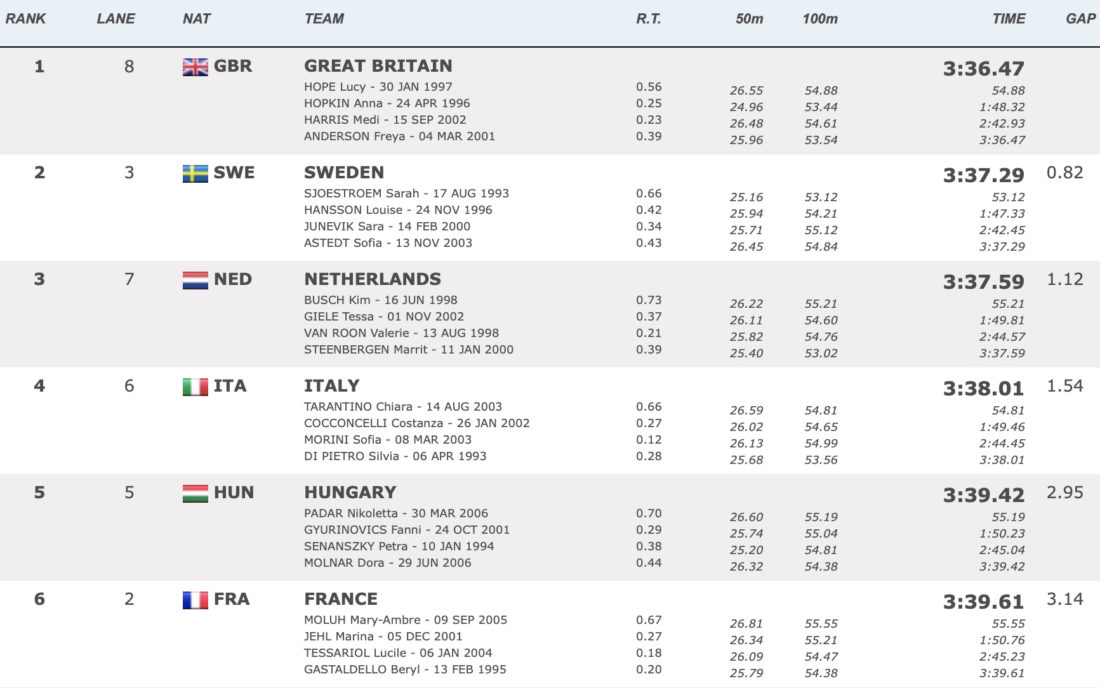 More later…