Rob Greenwood Gets 'Full Support' Of BSCA As Alleged Bullying Inquiry Raises Questions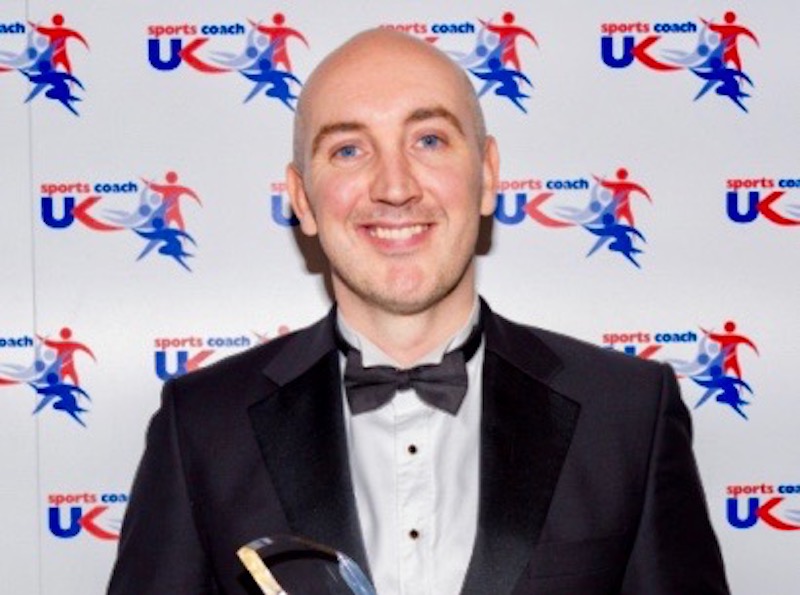 Rob Greenwood, the coach of the year who has been accused of "bullying" para-swimmers, has been given the "full support & backing" of the British Swimming Coaches Association in the face of an inquiry report and British Swimming apology for allegations, as one source put it, "he simply isn't guilt of".
An independent report into the allegations , confidential yet leaked to the BBC and in the hands of some of the accusers whose names cannot be revealed but not shown to Greenwood, concluded, after an investigation by two former police officers, that British Swimming staff had spread a "climate of fear" among para-swimmers.
The allegations led to Greenwood losing job offers and could cost him the coach of the year award he won from Sports UK after Britain's successful Paralympics campaign in Rio.
In allegations said to include bullying, coaches and officials are said to have:
"acted in an intimidating manner towards athletes"
"used derogatory terms to describe athletes owing to their disability"
"inappropriately disclosed medical information of a Para-swimmer"
"asked an athlete to perform a task they were unable to do due to their disability"
banned athletes from leaving hotels and confined them to a resort "as a punishment… leaving them unsupervised and unattended whilst abroad or on a training camp".
The author has made inquiries into some of the allegations related to factual events and found holes, some of them gaping, in some of the evidence that helped investigators to conclude what they did.
British Swimming last week apologised to athletes and their families for "unacceptable behaviours" but this site understands that Greenwood, who had resigned from British Swimming to take another job before the inquiry was called,  denies the allegations and has sought legal advice to help to clear his name.
Since British Swimming announced an inquiry, the conclusion of which led to the British Swimming apology but no resignations among those who approved the program para-coaches work to, Greenwood has forfeited at least two big job opportunities, one while investigations were pending, the other as a direct consequence of a report that he has been denied access to, according to sources in swimming.
To date, Greenwood has declined to comment while taking legal advice on his position as a coach no longer employed by British Swimming and therefore unable to put his side to any disciplinary hearing, a facility that has been open to those who face the same and/or similar allegations, including the para national performance director Chris Furber.
Meanwhile, the BSCA has issued the following in response to the bullying claims …
Statement in response to recent allegations regarding BSCA member, Mr Rob Greenwood
The British Swimming Coaches Association (BSCA) as body represents swimming coaches the length & breadth of the British Isles. It has within its membership coaches who are committed volunteers and those for whom the activity is their livelihood, regardless of the level they operate at within the sport.
Whilst we will, as a benefit of membership offer representation to any member who requires our support, we also take a wider view, recognising that we also have a responsibility to the activity and profession of swimming coaching in this country, let alone the sport itself.
As a result when any allegations are made against a member we believe it is our responsibility to ensure that we consider all facts available to us and where necessary do our own research to ascertain the best course of action for all concerned, as well as considering whether the BSCA can & should continue to offer its support, given the above.
Like any sensible & reasonable body, we do not wish to have unsuitable or inappropriate adults, working with swimmers in the UK or elsewhere. However we will only act against a member if their "unsuitability & inappropriateness" are proven.
The BSCA has been acutely aware recent Press & Media speculation regarding the above member. We have been offering support & representation to him through this long affair and continue to do so. So that there is no doubt, we wish it to be known that the BSCA as a body, continues to give Rob Greenwood its full support & backing, whilst there is no 'proven' evidence to the contrary.
It is imperative for all parties to be aware that at the time that this document is being written, neither Rob Greenwood, nor the BSCA have had sight of the report that the press & media have referred to. He was categorically told that he had no such right to see it and has only been given a redacted summary of conclusions and outcomes, without any substantiation of these.
It is for this reason alone that he has not responded publicly as he simply has not been able to.
It is important to note then, that these are STILL all allegations. He has not faced any criminal or disciplinary action and has NOT been found guilty of anything.
Whilst we have been told that this matter and that this report was highly confidential, has not & would not be distributed, it is clear that it has managed to get into the hands of reporters, and certain parties, including at least one complainant, given statements made on the BBC news.
In coming to their decision the BSCA has considered many factors but in short were influenced by some key points. A BBC report cited pressure training as an example of the negative & fearful culture that allegedly prevailed. The English Institute of Sport (EIS) have countered this, however …

"In this instance, the programme was designed with input from athletes at a series of workshops and intended, at their request, to help produce training conditions that felt more like a competition situation."

"All practitioners operating within the high performance system are required to meet the standards set out in the Professional Code of Conduct which requires them to place the athlete's health and welfare at the heart of everything that they do. Confidentiality is an element of this. There is nothing to indicate that any practice in this case did not meet the high standards set."
EIS Statement Supports Coaches Amid Bullying Claims
The EIS issued a statement that effectively rejected any allegations that the test set for swimmers represented anything like "bullying" or references to a "climate of fear". The EIS noted:
"The pressure technique deployed is an example of a range of services that a performance psychologist would routinely deliver as part of their work to support coaches and athletes in achieving improvements in performance.' In this instance, the programme was designed with input from athletes … and intended, at their request, to help produce training conditions that felt more like a competition situation."

EIS
The fact that such a reputable body as the EIS have felt compelled to issue such a statement suggests that their views were not sought by the independent investigation team when considering whether such allegations had merit. This is a very serious omission and as such undermines the whole context within which these matters and evidence provided by all sides has been considered.
A further point to consider here is the status of the position of Head Coach of a National High Performance Programme. No such post holder operates alone, they have around them on a daily basis, other performance coaches, physiotherapists, medical staff, sports psychologists, sports science & conditioning staff, nutritionists and staff responsible for athlete welfare & support. These are highly qualified, experienced and professional individuals, working in an environment for a National Federation where it is made clear that only Gold will do from the professional athletes they have worked with.
No such post holder will and is able, to operate in isolation, so they should not be left to deal with such & be held responsible for such alone. That is simply not fair.
The BSCA will not remark further upon any specific details but continues to offer what support it can to Mr Greenwood.
End statement.