Richards Bounces From 200 Gold To Lead Heats In 47.5 GB Mark; Scott Tops Medley, Wang 16th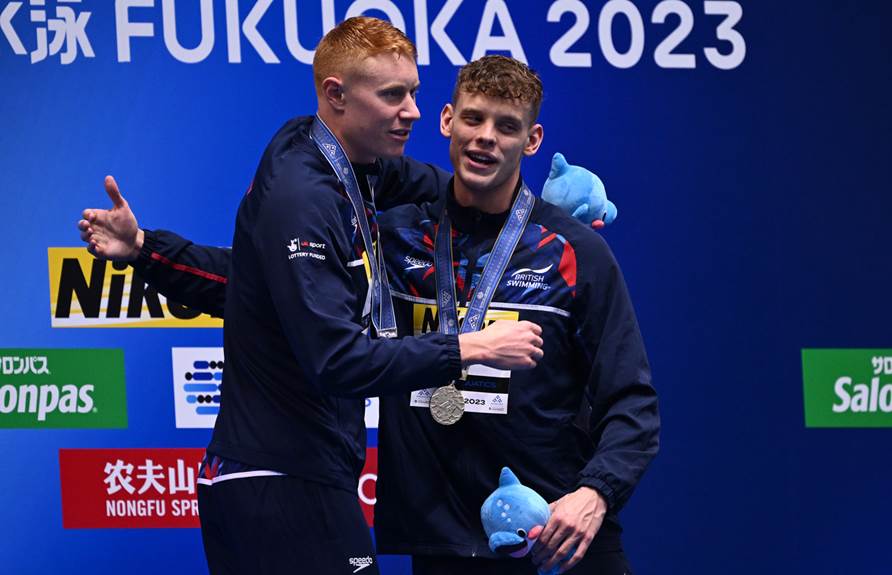 Matt Richards bounced from a 1:44.30 World title in the 200m freestyle to a 47.59 top-qualifying heats blast in the 100m freestyle on day 4 at the 20th World Championships in Fukuoka. Richards new personal best also set a British record.
The mark had stood to Lewis Burras at 47.63 since last year but this morning the now former holder was 31st in 48.99.
The morning after Richards and Olympic champion Tom Dean punched a 1-2 for Britain in the 200m free, the third British ace in that event, Duncan Scott, 0.04sec behind Dean in Tokyo for silver, topped the 200m medley prelims in 1:57.76.
Apart from Greece's Andreas Vazaios in the 200IM (18th and second reserve), No big names missed the cut in four solo events leading to semis on the fourth morning of action at the Martine Messe but Zhang Yufei, Olympic champion from China, did not swim the 200 'fly heats, and there were very close shaves for two others in title-contention events: in the 200m medley for Wang Shun, Olympic champion ahead of Scott's silver in Tokyo and this morning in 16th place 0.1sec from the cliff edge on 1:59.05, and in the 200m butterfly for Regan Smith, Olympic silver medallist and through in 15th place on. 2:10.80, 0.23sec from the drop, not long after she topped the 50m backstroke heats the morning after silver in the 100 back behind Aussie Kaylee McKeown.
It didn't show this morning in 100m free heats but Richards was a busy man late into the night after his 200m freestyle. In several rounds of interviews, reported in today's newspapers, he said of the four-length battle: "It wasn't exactly how I thought it'd go, I was expecting Hwang Sunwoo in the lane next to me to be out slightly faster, so that was a challenge in itself to manage that and, in the race, adapt the race plan slightly. But the plan going into it was to back-end it and be strong on that last 50m. I think that's what we did, and ultimately, that's why I was able to come away with the win tonight.
"But it was an incredibly tight race, 0.12 between the top three, some incredibly stacked competition in there too. A great race, but fantastic to be stood on top of the podium this year, and hopefully we can do it again moving forward now. It's been a long process, these things don't happen overnight. My coach Ryan Livingstone [Millfield] has been incredible, all season long he's been phenomenal, I can't thank him enough. But hopefully this is the first of what will be many medals and success. It's pretty awesome to come away with my first individual gold."
On getting the better of David Popovici, Richards noted: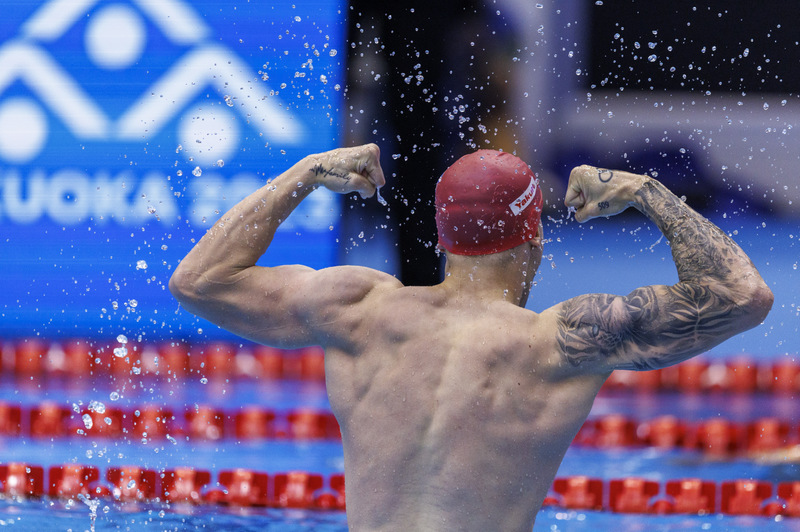 "To be honest, I couldn't actually see him on that last length. I could see Sunwoo in the lane next to me and I could see a lot of whitewash beyond that, but I didn't know who was where – so for me, it was just about keeping my head, staying within my own race plan. Something Ryan and I spoke about before is that swimming isn't a sport like boxing, nobody's going to come in and hit you in the face, it's all about you and what you do in your lane. So that's what tonight was about, just maintaining my own race plan, executing the plan we'd set out and fundamentally that's why I came out on top tonight.

"Last year was a bit of a setback for me, it wasn't going my way, but I made some changes and learned a lot from a tough year – so it feels pretty incredible now to be stood on top of the podium, a year out from an Olympics again, it fills me with a lot of confidence, but the work is far from done yet.

"We've still got guys like David Popovici going 1:42s, so a 1:44.3 is great, but that may not be enough to win it next year. This is just the beginning of a two-year cycle into the Games, we've got a big step of work to do now to get to where we want to be next year."

"Hats off to David, it's been a pleasure watching him over the last two years, and absolutely a pleasure being able to race in the lanes across from him in this Championships. I'm sure it won't be the last time that the two of us will go head-to-head. Definitely a pretty cool feeling! I said after Tokyo, being part of the 4x200m Free relay gold, that the next step for me was trying to win individual medals."

Matt Richards – (Photo by Patrick B. Kraemer / MAGICPBK)
For his part, Dean noted his post-race chat with Richards on Britain's 4×200 strength, saying: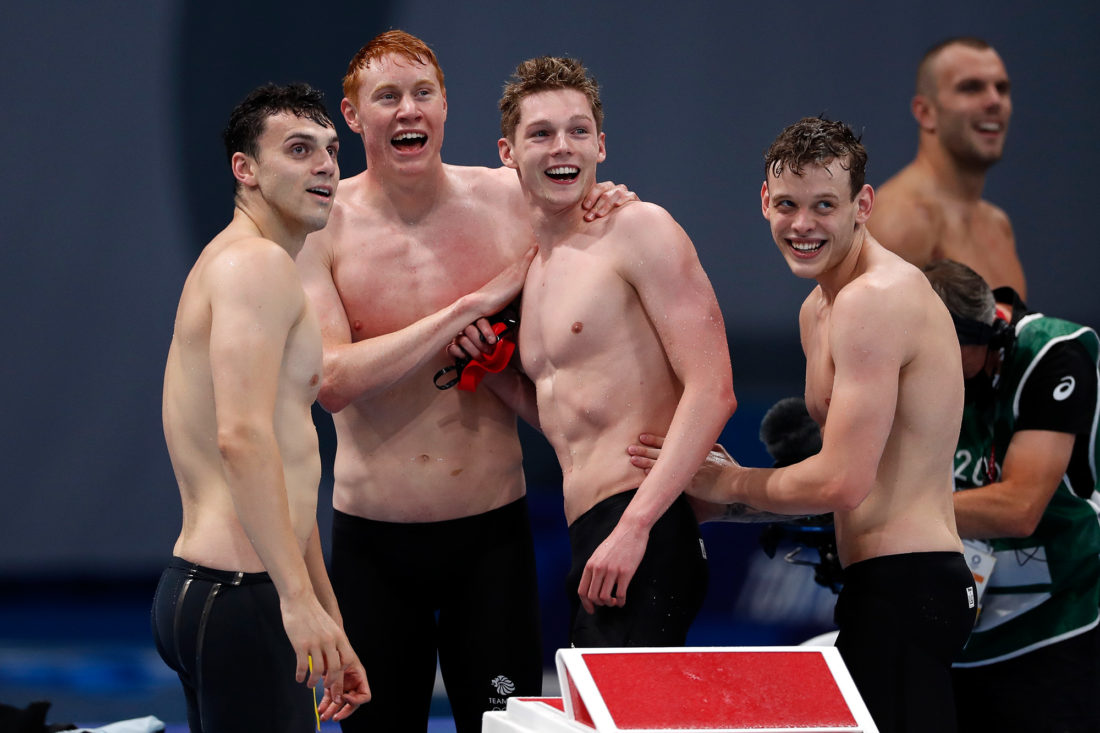 "Seems to be every time we step on Japanese soil, we get a 1-2 in the 200m Free! It's almost a carbon copy of the Tokyo Olympics, just the other way around this time for me. I was just saying to Matt, I can't think of another country that's been this dominant in one event for a number of years now. 1-2 at the Olympics, 1-2 at the World Champs two years later, it's brilliant for the country, it's brilliant for the Men's 4x200m Free and it's brilliant for Paris.

"I was breathing the other way so I didn't see the other boys! I was just 'get your head down, work for that last wall'. I've had so many people come up to me and say, 'that was a great race!', I wish I could've watched it, but unfortunately I was in it. That last 50m, you just have to go hell for leather, give everything you possibly can and hope you can get your hand on the wall first. There was about 0.10 secs between the top three boys, so a really, really tight race."

Tom Dean – Photo: flashback to Tokyo 2020ne – Great Britain – (l-r) James Guy, Tom Dean, Duncan Scott, Matt Richards – the nation's first 4x200m freestyle Olympic champions since the only other time it happened, at the very beginning, in 1908 – by Simone Castrovillari, courtesy of Speedo
Adam Peaty has been the man who has got the ball rolling for Britain at major championships in the past decade in the 100m breaststroke at the top of schedules. In his absence – which will be sorely felt this evening in the 50m breaststroke and the 4×100 mixed medley relay (heats results below), the top 2 200m men in Fukuoka, Richards and Dean, have performed the same task and trigger.
After qualifying for the women's 200m free final last night, Dean's Bath teammate Freya Anderson said she hadn't calmed down "from Tom and Matt's race! I was watching it just before I got into warm-up, I had the shakes! It was amazing – it's a good night for GB, I'm buzzing for them and hopefully it gets the ball rolling."
This evening's finals hold the prospect of another great evening for Australia, top of the medals with five golds after three days. The finals: men's 800m free; women's 200m free; men's 200m butterfly; men's 50m breaststroke; mixed 4x100m medley.
Day 4 Heats – Results in full at Omega: