Red Card For Russia Is The Only Moral & Ethical Response From Sport To Putin Power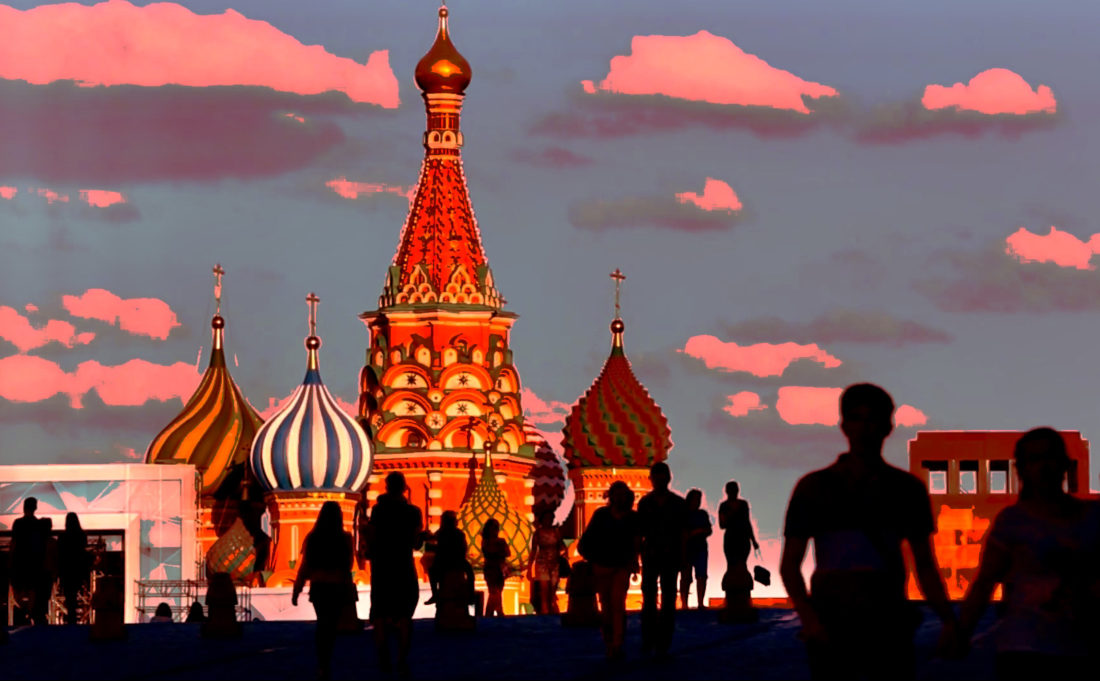 Editorial – Red Card For Russia is the only option for sports authorities that must rapidly wipe a warmongering regime off the sporting map in the wake of Vladimir Putin's illegal invasion of Ukraine, a sovereign country with a legitimate, democratically elected government.
The civilian death count in Ukraine mounts and condemnation from around the world stretches to the world of sport that Putin has made a realm where business and politics have been woven into the very fabric of autonomous authorities governing realms football and Olympic.
Red Card for Russia. Wiped off the map. Banished from all sport and from hosting all sport as a nation that has now been sanctioned three times by the International Olympic Committee since 2014. The first two offences by Russia centred on systematic doping and mass manipulation of the data proving the biggest deception in world sport since the days the GDR's Research Plan 14:25 and a time when Putin was the local KGB in Dresden living and working a 20-minute drive from the Kreischa laboratory that made sure that the positive doping results of GDR athletes confirmed by the IOC-accredited laboratory in Saxony never made it to the outside world.
Foxes in charge of the chicken coup. Then and now.
Red Card for Russia. Wiped off the sporting map. About time. And this time, Ukraine lives depend on it.
"Good riddance", writes Julian Linden in the Australian Daily Telegraph today, echoing the thoughts of millions around the world. But why did it take so long?
Some explanations are to be found in this piece by Barney Ronay at The Guardian, entitled "Uefa and Fifa are too late: Russia's sportswashing has served its purpose". Ronay's analysis is spot on but for key points: the lack of emphasis on the Olympic realm and the toothless nature of the whole-nation sanctions imposed by the IOC on Russia; and the notion that 'we were all played'.
Actually, no, we were not, some were and Russia was allowed to get away with it, but a whole string of journalists have been bullied, harangued, ostracised, harmed and in Russia even wiped out, because they were not played, they were not brainwashed, they were not prepared to simply "report the result and shut up". Those journalists worked with courageous whistleblowers, advocates, coaches, doctors and others prepared to work on truth and transparency, when the much easier option would have been to look the other way, go along to get along, feather the nest, 'work within' the system for change knowing all the while that there was absolutely no chance of changing the system from within.
Now, in the wake of the horrors unfolding in Ukraine, International Criminal Court Prosecutor Karim A.A. Khan QC, fired a warning at Putin and all his invading forces: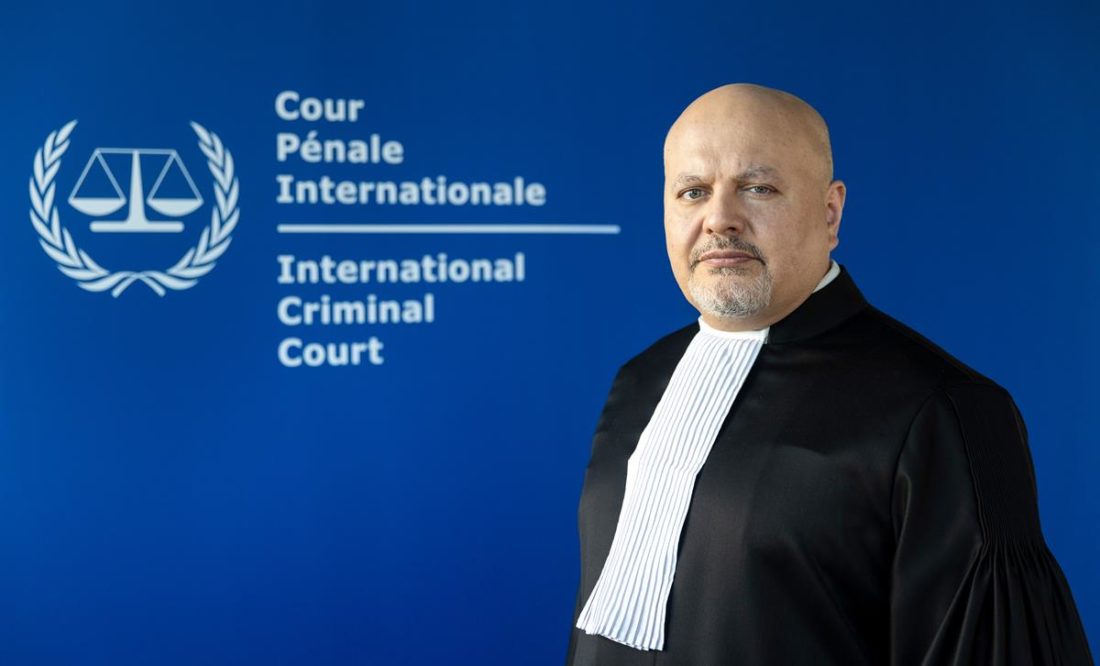 I remind all sides conducting hostilities on the territory of Ukraine that pursuant to the declaration lodged on 8 September 2015, accepting jurisdiction of the International Criminal Court ("ICC" or the "Court"), my Office may exercise its jurisdiction over and investigate any act of genocide, crime against humanity or war crime committed within the territory of Ukraine since 20 February 2014 onwards. 

Any person who commits such crimes, including by ordering, inciting, or contributing in another manner to the commission of these crimes, may be liable to prosecution before the Court, with full respect for the principle of complementarity. It is imperative that all parties to the conflict respect their obligations under international humanitarian law.

International Criminal Court Prosecutor Karim A.A. Khan QC
Against that backdrop, leading sporting federations around the world, including authorities in football, formula one, tennis have taken strong and decisive action by issuing a Red Card For Russia because of the illegal acts of Putin and those around him defending the indefensible.
The IOC has been more decisive than usual since it noticed the way the wind was blowing. In urging international federations to issue a Red Card For Russia and cancel all events planned for Russia and Belarus, however, it bypassed the word "war". Instead, it focused on the breaking of the Olympic Truce, as if to say, 'ah, now you're talking: invasion of a sovereign country is politics but breaking our Truce is an act of Olympic treason'.
The citizens of Ukraine having to take up arms to fend off a foreign aggressor in 2022 may well care less about the IOC's Olympic Truce.
We have witnessed an act of war that has broken every international agreement Russia has signed on the matter; and it has done so after weeks of telling the world 'invade? us? pure western propaganda – we would never do such a thing'. Well Putin did. And he knew he would all the time he was telling lie after lie after lie after lie, just as he told a ton of lies every time he denied systematic doping and cover up in Russian sport.
If the IOC was tardy in its response, its word did grant permission for every Olympic sports federation to do what it was being urged to do: remove Russia from the map of world sport.
FINA cut two events but has left two World Championships on the calendar for Kazan later in the year. Their reasons are likely to be twofold: time needed to find alternative venues and not upsetting the Kazan hands that have fed FINA funds generously in the past decade.
Neither of those reasons are reasonable at a time of Russian invasion of Ukraine. That act of war wipes out any room for compromise, for 'wait-and-see'. FINA leaders must surely know that there will be no going back to Russia to stage sports events this years or for several to come without a massive price being paid, namely the loss of a constituency and membership, the loss of authority, the loss of anonymity.
FINA, on a reform path, including invitations for applications to serve on an Integrity Unit, will not want to go there and we should take pledges from 'sources close to' that the leadership is working to get it right as genuine.
Come Monday, if there is no announcement before then, FINA will, however, have to do the right thing, regardless of alternative plans and sensitivities to organisers in Russia.
The note to Kazan must read something like: "We have to inform you that in light of the acts of war initiated by the president of Russia and the government of Russia, we have no choice but to withdraw the hosting rights granted to you for the … etc." Kazan will surely understand. And if they do not, then they will have made their bed.
It is not personal. It is essential. It is the message that Russian state authorities, Putin downwards must hear loud and clear: you are a rogue nation refusing to play by the rules of international law. What chance that such a state will play by the rules of international sport? None is the only conclusion we can derive, even if we set the war on Ukraine aside and focus purely on sport: two whole-nation doping bans and a broken truce.
Red Card For Russia is the only option until Putin has not only gone from Ukraine but gone from the Duma and any position of power in the country he has led astray, over the people of Russia who no more want war than the rest of us.
In swimming, it is now for every domestic federation and member of FINA around the world to send the FINA executive a short note: Red Card for Russia.
Strip Putin Of The FINA Order
That must include stripping Putin of the FINA Order, the federation's highest honour, granted in 2014 on the cusp of a doping crisis to the Russian president now waging war on Ukraine. That doping scandal involved state security services taking part in the switching of anti-doping samples through a concealed power point running from the real Olympic lab to a hidden one in an adjoining building. Ethical? Moral? Fair Play? Integrity? None of those things anywhere to be found.
British journalist Nick Harris reminds us in a Twitter thread that it was 2013 when, armed with evidence he alerted the IOC too, he warned Olympic bosses that the Sochi 2014 Winter Games would be corrupted by a doping heist. Then FINA president Julio Maglione was a member of the IOC at the time and remains there as head of the Uruguay NOC: all of the evidence was published and available to Maglione. In 2014, when SwimVortex criticised the FINA executive for granting Putin the swim federation's highest honour, the FINA Order, Maglione and Co responded by shooting the messenger(s).
A plan was hatched and $150,000 was handed over to a dram arts and crafts company to promote FINA and "discredit" the work of SwimVortex, the World Swimming Coaches Associations and others who were asking FINA to turn its ship around.
It did not. It ignored a call to review and reform led by Bill Sweetenham. And here we are:
Linden in one of two commentaries in the Telegraph Down Under notes:

" …the few remaining stragglers who still haven't figured out which side of history they want to on have been given a shrift boot up the backside and told to do the right thing. This includes Australia's favourite Olympic sport of swimming, whose out-of-touch leaders have been pandering to Putin for years, aiding his shameless attempts to legitimise his brutal rule through 'sportswashing'. Astonishingly, neither swimming's world governing body FINA, or key member federations including Australia, have pulled the plug on the two world championships set to take place in Russia later this year. This includes the junior world championships, for the best underage swimmers. If there is anyone out there who still doesn't realise what's wrong with sending child swimmers to Russia in the middle of a war, the International Olympic Committee (IOC) executive board has spelt it out in crystal clear terms."

Daily Telegraph, Australia
Olympic sport has precedence to refer back to: apartheid. It was unacceptable and it costs South African athletes and coaches decades of lost prizes and recognition and opportunity, from Karen Muir through waves of others in swimming alone.
Russia is the modern South Africa of old: it must be banished until it renounces all that has led it to wage war on a sovereign country at the heart of Europe in 2022.
FINA and all sports authorities must surely realise that if the banking system and fund-transfer systems of Russia, if the business of Russia, if just about every contact and exchange with Russia is out of bounds because of almost universal response to an act of war, they can be no trading with Russia in the sports business.
The sports realm is stacked with compromise, Kompromat and conflicts of interest, the words of Alexander Dyukov on the decision of Uefa to remove the Champions League final from St Petersburg – "We believe that the decision to move the venue of the Champions League final was dictated by political reasons.The R.F.U. has always adhered to the principle of 'sport is out of politics,' and thus cannot support this decision." – steeped in political influence, the status of the man – CEO of Gazprom AND a board member of Uefa – the very death of any notion that sport is neutral.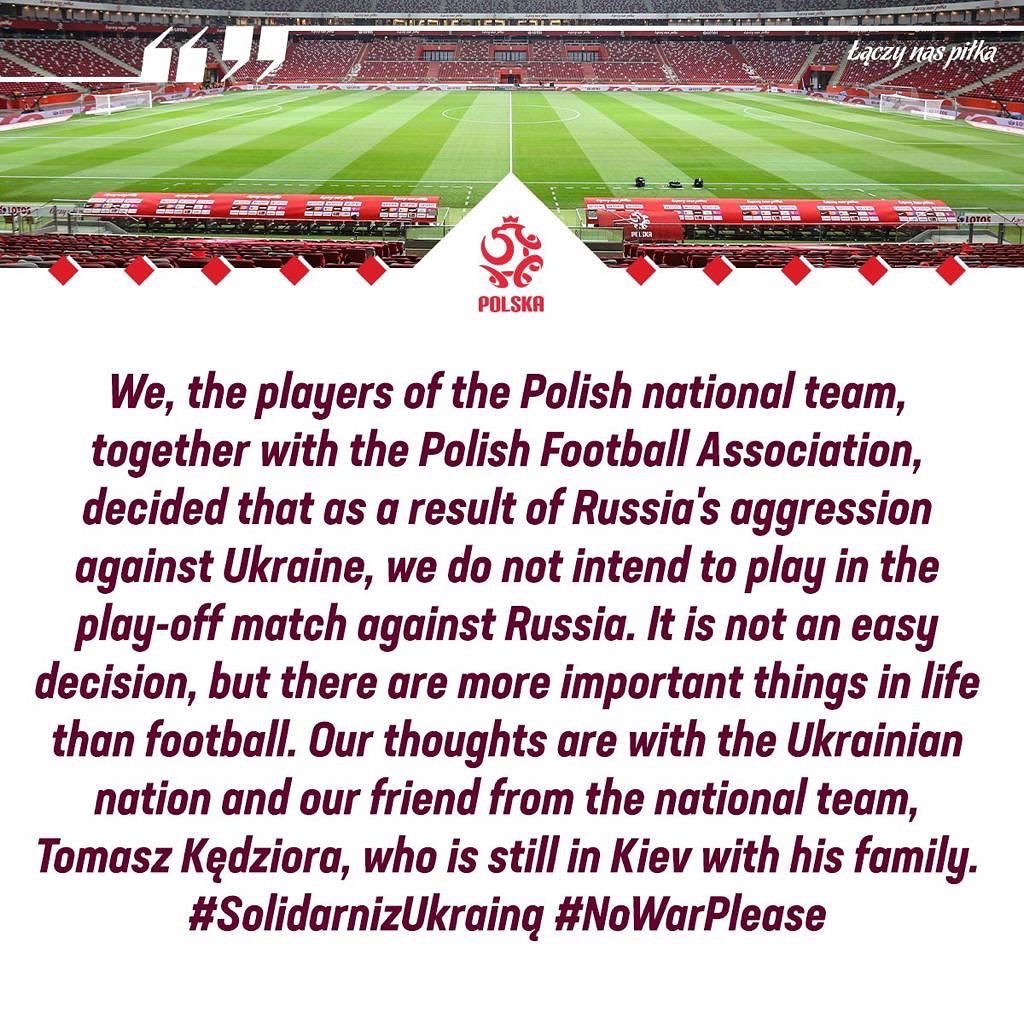 We are in a place and space where the bubble of sport autonomy is irrelevant and no romantic references to opposing soldiers kicking a pig skin about in the break between slaughter during the First World War can get past the impossibility of neutrality as an option under prevailing circumstances.
A failure to see that and act accordingly will come at a big price for Olympic sport: the loss of autonomy as national governments around the world raise a Red Card for Russia with one hand while taking a sharp needle to any bubble within their jurisdiction that has failed to see the ghost of 1936 and help to exorcise it from all realms.
One option: Red Card For Russia.